10 Best Truck Tool Boxes & Tool Chests Reviewed in 2023
last updated:
Jul 31, 2019
Every working man needs a functional storage option for his tools. Every working woman does, too! With wires and small parts galore, it's hard to find a place to keep things organized. There are several options, but the best ones are on-the-go. No matter where you go, or what you're doing, you know that your equipment is safe, stable, and, most importantly, right there with you. That's where truck tool boxes come in! Clutter and lost items are a thing of the past. You can easily access what you need without having to run back and forth from the shop.
Featured Recommendations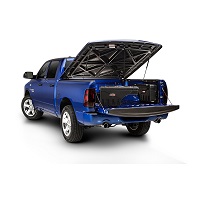 UnderCover SwingCase

Our rating
Lockable Storage Solution
75lb Weight Capacity
Price:

See Here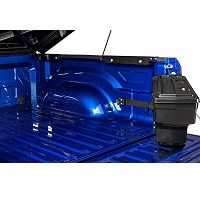 UnderCover Truck Storage Box

Our rating
1-Year Warranty
Made In The USA
Price:

See Here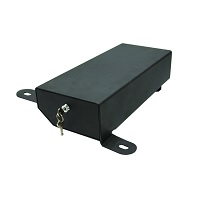 Bestop Highrock Lock Box

Our rating
Protective Powder Coating
Offers Great Mobility
Price:

See Here

Having a hard time getting organized? Worried about expensive tools being stolen? Unsure about the waterproof seal in your bed cover? Then keep reading! Truck tool boxes are the go-to for just about every person who has to carry tools on them. Whether you work in construction, are a mechanic, or just an average joe, there is a reason for everybody to invest in one. Truck tool boxes are generally made out of aluminum, and many versions come with a built-in lock. This is vital for deterring theft, especially when working in congested areas. You won't have to worry about water damage, either, since these toolboxes are weatherproofed! They're made to keep your things safe, dry, and out of the way until you need to use them.
Truck tool boxes can be used to store other valuables, as well. This is handy when traveling in the city, or otherwise unsafe areas, since trucks do not have a locked trunk. It can be troubling to know that all somebody would have to do is break into the cab of your vehicle! With one of these toolboxes, however, you can leave your fear behind. Just throw whatever you want to keep safe in with your tools, lock 'er up, and get 'er done! It's that easy. Since they're waterproof and weather resistant, you know that your valuables will be dry, and protected. It's a win-win!
10 Best Truck Tool Boxes
1. Bestop Highrock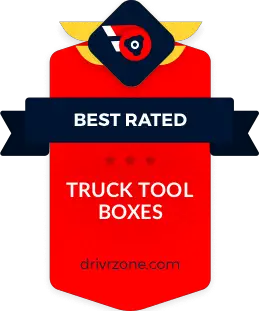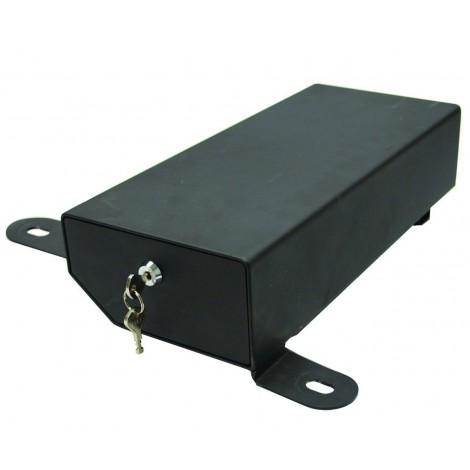 Truck beds are built to haul. Whatever you're loading up with, you need that space clear for your freight. That's where Bestop comes in with this smooth design that fits almost anywhere. A built-in lock keeps it safe and secure in any situation. Bestop doesn't ask you to compromise safety, dependability, or mobility. This truck tool box easily packs in all three traits in a compact package.
Expand to see more
Highly Secure Lock
This lockbox is made to keep would-be thieves exactly where you want them- out! Not only does this store easily out of sight, it also comes with a built-in lock for added security. This lock provides you with the knowledge that it's ready to keep your valuable tools safe. Just pop it out of the pop, and pop your tools inside. It's that easy!

Easily Stored
While this isn't the type of toolbox you'd store in the bed of your truck, you'll find the easy access useful! This toolbox is made to slip under your seat and will fit with most car models. It's suggested for Jeeps, but many people use it in a large variety of vehicles.

Cost and Value
Bestop easily wins the prize for compact, budget-friendly solutions. This under-seat option for tools allows you to keep your collection close by. Even if your truck bed is loaded up with freight, you can still be prepared to tackle the next job on the list. Don't judge a book by its cover! This smaller option is truly more bang for your buck.

Fits easily under your seat

Blends in with most interiors

Locks securely to prevent theft

Easily installed

Sturdy, metal construction
Does not fit in all vehicles

Lacks storage space
2. Better Built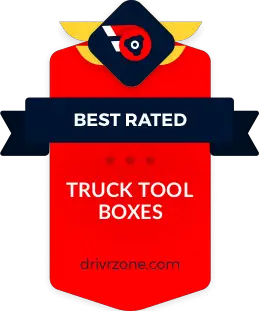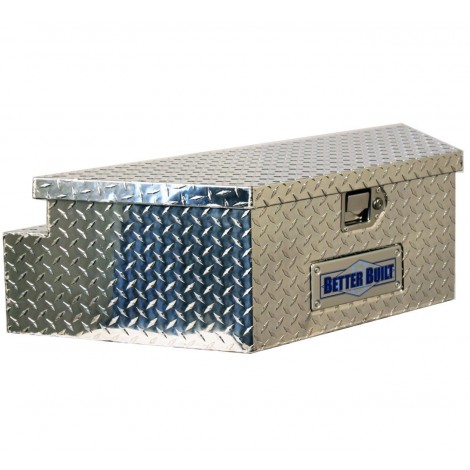 Better Built has fashioned a toolbox that is better built just for you. It's right in the name, after all! Many Americans trust this brand to keep their collection of tools organized, and in good condition. Your tools are your livelihood. Don't make the mistake of trusting them to a toolbox that can't live up to your needs!
Expand to see more
Rugged and Stylish
Some toolboxes can feel too flashy for professional work. You want a toolbox that reflects your lifestyle, one that really says something about who you are. It's not just a toolbox- it's a statement. Better Built gave this product a rugged design that is stylish in all the right ways. Gone are the days of your toolbox sticking out like a sore thumb!

The Multi-Tool of Tool Boxes
We all know that the best tools out there have multiple uses. Now, meet the toolbox that matches! Better Built is absolutely just that- better built. This toolbox will mount just about anywhere, meaning that you'll never have to leave it behind. Trailer, truck, or anything in between, Better Built has you covered!

Cost and Value
You'll find a truck load of value in this classically built tool box. It's easily customizable storage space and multi-use mounting system separates it from the rest. The aluminum exterior can be easily hosed down after a hard day of work to keep it looking clean and new. Find real value when you order your Better Built tool box, the best build for you.

Weather-resistant material

Fits onto trailer tongues

Matches any truck's exterior

Made of easily washed aluminum
Technically made for trailer tongues

Aluminum is thin
3. Undercover Swing Case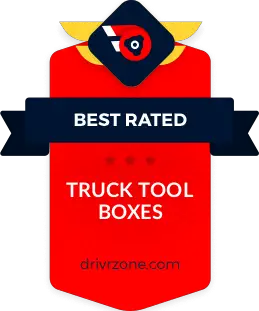 An easily portable design is so hard to find with truck tool boxes. Most mount directly to the bed, or your trailer, so you can't exactly bring them with you. Undercover recognized this, and created a compact design that's still large enough to meet your needs. This Swing Case Storage Box allows your tools to be taken with you, and doesn't take away from your mobility.
Expand to see more
Easily Portable
Having a hard time getting in the game with your tool box weighing you down? Undercover designed this product with you in mind! This storage option is easily portable, and does not require a two person carry. Step on the scene in style, without extra bulk weighing you down!

Fits Any Truck
Some tool boxes only fit to certain models. While there is a suggested truck for this tool box, you can fit it on most others, as well. Even if it doesn't fit, you can always store it in the cab since it's a lightweight, compact option!.

Cost and Value
Undercover really captured the needs of their consumers with the SwingCase Storage Box. It fits snugly out of the way, and allows you to carry it around unassisted. No more running back and forth from your truck to the work area! Get the compact, portable design you need, while still being able to carry up to 75lbs of gear at once.

Stylish flat-black color

Easily accessible

Small enough to be portable

Carries up to 75lbs

Securely locks up
Limited storage capacity

Made of plastic
4. Rampage Products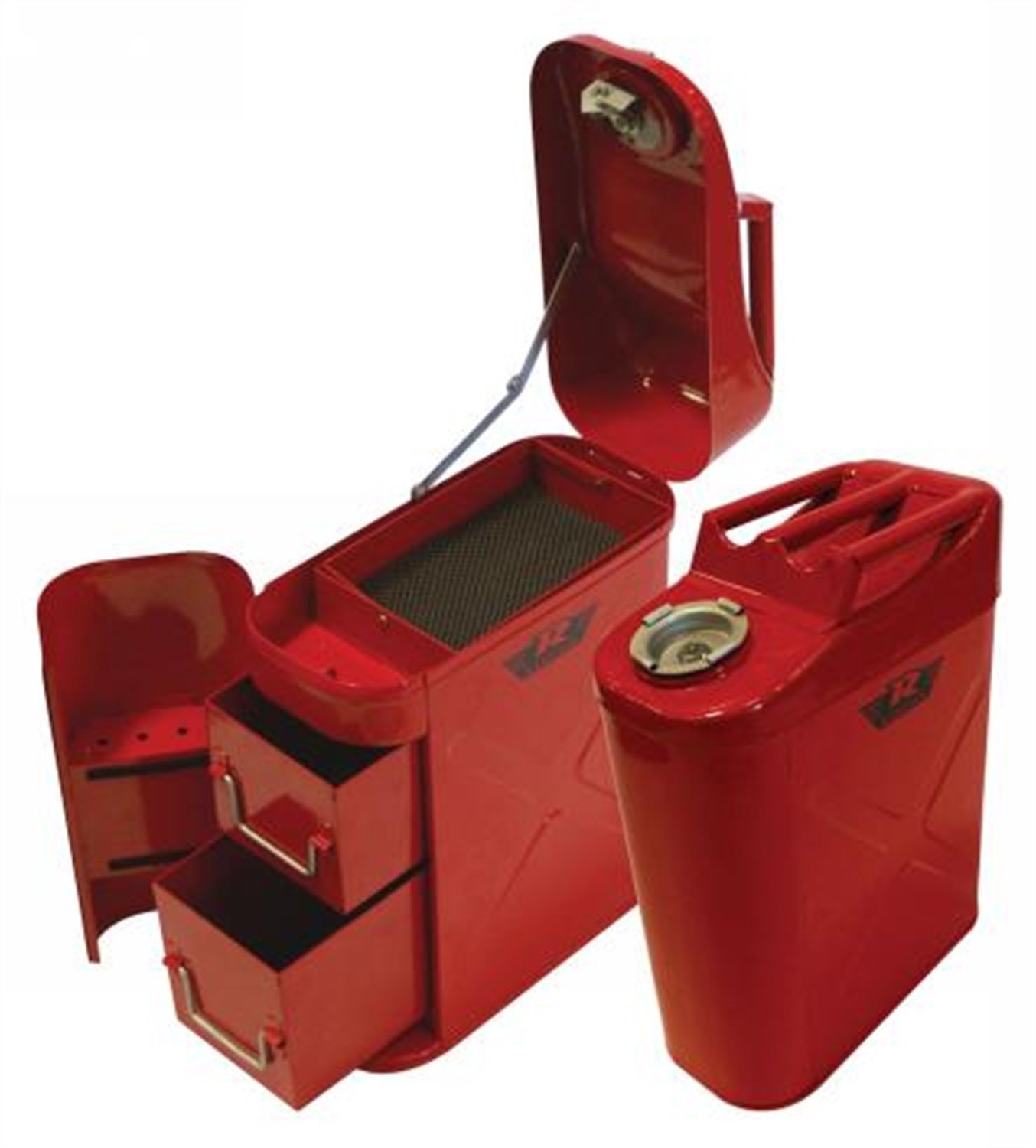 There's nothing better than a neatly organized workspace. You know that when your area looks like a million bucks, you feel like a million bucks, too. That's why Rampage created this tool box with a crazy amount of storage options. From screwdriver slots to non-slip drawers, this tool box really has it all! You'll fall in love with the sheer usability of this product, and wonder how you ever lived without it.
Expand to see more
Multiple Storage Compartments
Even the best designs can't beat a tool box with organized storage space. It's even better when you can get both in one! This company really outdid themselves, and the competition, with the sheer amount of compartments to keep your tools organized. You'll never have to sift through a mess of metal again!

Screwdriver Storage Slots
What's especially unique about the storage options is the slots for screwdrivers. Think about how often you use a screwdriver even in your daily life! How great is it that you can pop this open and grab the one you need without the added hassle!

Cost and Value
Don't settle for less than best. The manufacturer provides a helluva deal with this tool box that's jam packed with an arsenal of storage options. Keep everything neat, tidy, and just the way you like it! It even closes up neatly and comes with non-slip liners. The extras really seal the deal!

Stores tools efficiently

Closes up neatly

Multiple ways to store tools

Comes with non-slip liners

Durable, weather-resistant design
Bold red is the only color option

Lock is poorly designed
5. UWS Single Lid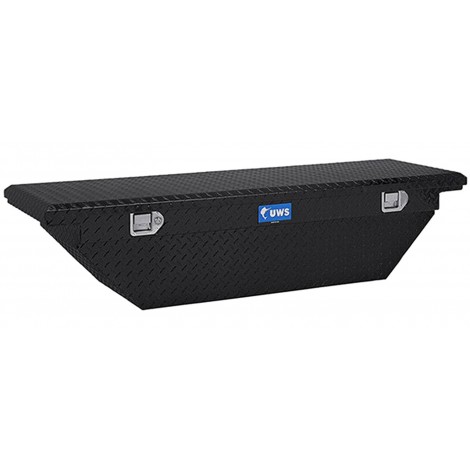 Find a deeper level of protection with the UWS Single Lid toolbox. Rain can ruin almost anybody's day, but this is especially true for people who work with expensive tools. Even if there's a downpour, however, this product will protect what's important to you. Experience the feeling of security that only this toolbox can bring to the table.
Expand to see more
Patented Lid Design
There is a rigid layer of foam between the outer aluminum layers. This choice in design leads this toolbox to the top of the list for hardiness. Warping is a worry of the past with this patented lid design!

Protects Against Leakage
Most toolboxes are built with generally the same shape. The manufacturer created this product with a beveled lip and swooped in the sides for a more triangular design. This keeps your toolbox dry and lessens the chance of water damage by directing rain off of it.

Cost and Value
Choosing UWS means choosing value. It's that simple. Toolboxes should stand the test of time, and keep you happy for a while to come. Durability is incredibly important when you're working on machinery. This company will give you a patented design that protects your tools against the elements.

Designed to protect against warping

Built-in tool trays included

Self-closing struts

Lid opens a full 90 degrees

Fits most truck models
Poorly packaged by manufacturer

Only closes from driver's side
6. JoBox Deep
Looking for a luxurious experience while maintaining your down-to-earth lifestyle? Look no further. JoBox provides a cleanly constructed tool box that doesn't settle for second best. You know that when your truck looks good, you feel good. Make sure that your tool box carries that same glow so that you can cruise in style on even the longest work days.
Expand to see more
Offers Superior Security
Never fear for the security of your storage system. The manufacturer fashioned a built-in lock that will stand up to even the most determined criminals. Tools are expensive, and you don't want to lose anything in your collection. Keep them locked up, and keep them safe, with this truck box.

Premium Construction
This company offers an amazingly well constructed product with this tool box. You'll never have to worry about broken latches, or faulty pieces. Good craftsmanship shows, and as a crafter you know that. You'll be sure to appreciate the thought that obviously went into this design!

Cost and Value
You'll find these manufacturers are a premium option for the savvy consumer. This expertly designed tool box gives off a high-end vibe while staying true to it's practical roots. You won't have to trade luxury for usability with this model. It's hardcore enough to handle any lifestyle, and stand up to whatever you throw at it.

Entirely waterproof

Warp-resistant

Rugged, stylish design

Fits almost any truck
Prone to denting

A more expensive option
7. Dee Zee Red Label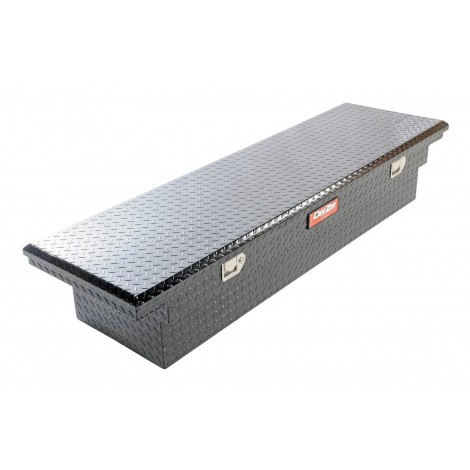 You'll rest easy with tis toolbox! This extra-large option gives you access to all the space you need with no tools left behind. It offers rust-resistance as well as waterproofing so that you can be ready for anything in any weather. The glossy black finish blends practical details while still being pleasing to the eye That's a tool box that you can count on, and be proud to have!
Expand to see more
Protective, Non-Rusting Coating
This company made sure to coat this product in a protective powder. Not only does this give it a black finish, but it also protects against rust. Get the best of both worlds with a rugged exterior that blends seamlessly in with your truck bed!

Strong And Rigid
Some tool boxes can be prone to denting. While some wear and tear is to be expected, it can be annoying when this happens right off the bat. The material used to create this tool box is rigid and offers a sturdy defense against dents and dings.

Cost and Value
With a glossy finish, protective coating, and dent resistance, this toolbox is a great way to go. This tool box offers incredible value in a seamlessly crafted package. You'll especially appreciate this when the weather gets bad and your tool box is still going strong!

Classy black gloss finish

Made of durable aluminum

Weather-proof

Rust resistant
Lacks mobility

Lacks storage for big tools
8. Buyer's Products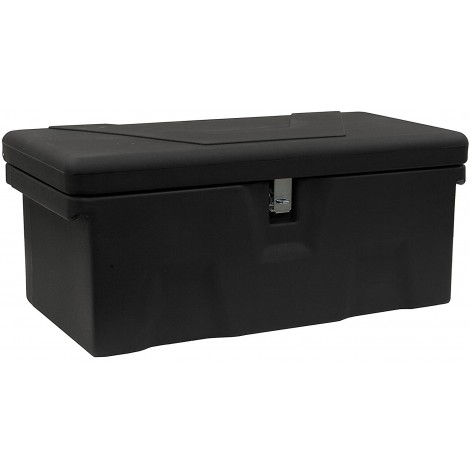 Find your perfect fit with this truck tool box. Whether you have a black truck bed to match, or are stylin' with silver, this storage system will match any finish. It's made with a weather-resistant, polyethylene material that keeps water out, and the good stuff in. Also, it attaches nearly anywhere! Mount it to your truck, your trailer, and anything in between.
Expand to see more
Flat Black Finish
Most of these tool boxes come in a rough, bumpy finish. Although this can look great on some trucks, you definitely don't want it to look out of place on yours. For a truck with a black bed, this is a great option! It blends in to the finish, and looks fantastic while doing it.

Lightweight And Durable
This truck tool box isn't made with aluminum, so it's even more lightweight than the others. Aluminum is pretty easy to lift as far as metals go. It's still a metal, however, and with the added weight of tools it can be pretty tough to take out. Skip the struggle with this Buyer's Products option!

Cost and Value
This company offers an assortment of features with this all-in-one option for storage. Between the classy, black finish and the ease with which it's transported, there's something for everybody here. Know that your tools are well organized, easily moved, and entirely accessible when you have this tool box with you!

Weather-resistant

Multiple ways to mount

Easy installation

Lightweight design

Made to work with padlocks
Faulty latch system

Lacks a built-in lock
9. Topeakmart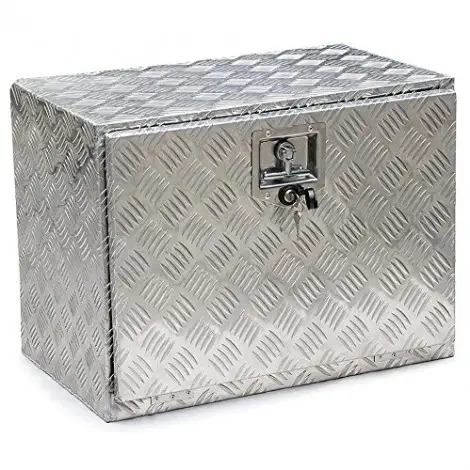 Take your tools anywhere with this smart option by Topeakmart. The excellent craftsmanship really shows through in a small, square package that stores practically anywhere. You'll know that your tools are right where you need them. Most importantly, you'll know that no matter what they're safe. You can't beat it!
Expand to see more
Stores Almost Anywhere
Don't want to keep your tools out in the open? Already have a gaggle of gear taking up the space in your bed? Have no fear! Topeakmart is here! This small, square tool box can be put almost anywhere in your truck. Slide it into the backseat, or onto the floorboard! Wherever you need it to go, it fits.

Comes With Two Keys
Have you had problems in the past with locking yourself out of your tool box? We've all been there! That's why having a copy of your key is so vital. You never know what can happen, and you never want to be unable to access the tools of your trade. Keep one copy on you, and the other in your home or your glove box!

Cost and Value
This manufacturer has provided multiple ways to make your life more convenient. Easily manage your tools, and keep them within reach, with this rugged, aluminum option. The built-in lock provides security you can trust in. It even comes with two copies of the key!

Stylish textured finish

Comes with two keys

Entirely weather-resistant

Easily affordable price point

Stores almost anywhere
Less heavy duty than others

Aluminum material is thin
10. Yaheetech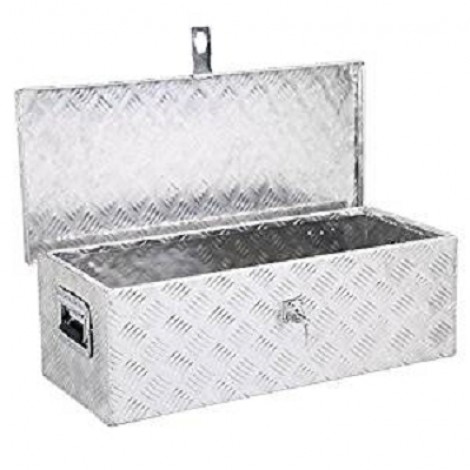 This storage option is last, but certainly not least. Yaheetech is the maker of a few different products, but this tool box is one of the fan favorites. It's made out of weather-resistant aluminum, like most tool boxes, and comes with a built-in lock for added security. It even comes with two keys, so you'll never get locked out! Although small on the inside, you'll find that it can still pack quite a punch in terms of keeping your tools organized.
Expand to see more
"Easy Grab" Handles
Some tool boxes can be difficult to manually transport. Although this box is still a two-person carry when loaded completely up, the handles make it more comfortable to move. They have a sturdy, wide design that spreads the weight out, and take the pressure off of your hands.

Functional Security
This company went out of their way to craft a lock that lasts. You don't have to worry about a thing once you've turned the key, and your back. This tool box will stand up to most things you throw at it, and easily deters a would-be thief.

Cost and Value
Although this tool box has a thin outer shell, and can be prone to warping, it's a good value for the price. Some truck bed storage options can run into the hundreds. Yaheetech offers this tool box for less than a hundred dollars, making it a budget-friendly option for almost any person. The multiple ways to mount combined with the built-in lock make this multi-use container a great option for just about anybody.

Secure storage system

Affordable price

Lightweight aluminum build

Multiple mounting options

Two keys included
Thin outer shell

Aluminum is prone to warping
You now have all the information you need to make an informed decision and find the perfect fit for you! Truck tool boxes are an excellent storage method for your everyday needs. They're just like the best tools in the trade: multi-use, durable, and always ready to get the job done. The truck tool boxes we selected for this list have been tried and tested by people across the board. Each one is an excellent option for your busy lifestyle. After all, they're good for so many things! Valuables laying around? Lock 'em up! Fishing tackle got you tangled up? Store it securely! Trucks were made for hardworking, everyday folk. These toolboxes mirror that perfectly with the rugged craftsmanship you want, and the practicality you crave. Don't hesitate to pick one out and order today. After all, the longer you wait, the longer your tools go unprotected, unorganized, and sometimes out of reach.
Criteria Used in Evaluation
Of The Best Truck Tool Boxes
Durability
One of the most important factors in deciding on the best fit is without a doubt, durable. Generally speaking, people who use truck tool boxes are hardworking folk who do the majority of their work outside. Not to mention, the toolbox itself is kept in the back of a truck, right out in the open. A good toolbox, one that is built to last, can take a beating. We specifically looked for a selection of products that live up to that standard.  You want to make sure your toolbox is going to weather the elements, and stay in tip-top shape while doing so. It's not just about the weather, however. Durability is a huge term that encompasses so many different situations!
How often do you drop heavy tools, or throw things around in the bed of your truck? Heavy freight can do a lot of damage to a toolbox that can't take the abuse. Don't settle for a toolbox that isn't going to be up to the task! Nobody wants to replace their storage system every single time something goes a little wrong. When you choose a highly durable piece of equipment, you're choosing to be ready for anything, no matter what.
Weather-resistance
While you might think that this falls under "durability," you might want to think again. Weather-resistance is a category all it's own because of the impact it has on the decision-making process. A toolbox can be perfectly durable, but if it rusts in the rain, then it probably isn't a product you want to choose. Keep in mind that rain isn't the only weather condition that can be harmful! Snow, sleet, heavy winds that blow other objects around… all of these can do some damage to your toolbox.
Depending on where you live water-resistance might make all the difference! Where you work makes a difference, as well. If a job takes you close to the ocean, for example, you have to account for extra moisture in the air. Are you working out near the desert instead? Watch out for warping from the heat of the sun! General durability is important, but weather-resistance is crucial since your truck tool box will be exposed to the elements constantly.
Some toolboxes come with an outer coating that acts as a protective coat, too. Even if you find the right toolbox and it doesn't have that coating you can still get the same effect! Many stores sell waterproofing supplies that'll do the job just fine. Either way, you'll be able to get the satisfaction of knowing your toolbox is going to last that much longer.
Mobility
Having a toolbox for your truck is great until you realize that you can't move it around. When you have to go to and from the truck to get your supplies, work can be a hassle. The entire idea is to make things easier! Choosing products that are light enough to be mobile was important. How many jobs have required you to bring most of your tool supply with you? Did you have to constantly go back to your truck for the right piece of equipment? It's much easier to pick it all up and bring it wherever you need it. Most truck tool boxes are made of an aluminum material that makes them lightweight enough to do just that.
Even if you load it up with heavy tools, you can always increase mobility by investing in a small cart. You need to be able to have easy access to your tools, no matter how on-the-move your work brings you. Being able to slide your toolbox right out of the bed of your truck, and over to the work site, is a huge plus!
Storage Capacity
Admittedly, this one is pretty self-explanatory. Some of these truck tool boxes are no good if it can't fit everything you need! Storage capacity can be a little at odds with the mobility criteria, but when you find the perfect compromise, it can be magical. It's not just about how much weight a toolbox can handle, however. Remember that some of these systems come with some pretty intense storage options. Being able to keep your tools organized at all times is a huge plus, especially when you're always moving to new job sites. You'll never leave a tool behind since you'll be able to tell when there is an empty slot where there definitely shouldn't be an empty slot.
For the tool connoisseur, no space is too large, nor too organized. You want to reach into your toolbox and get what you're looking for the first time! There are a few different models on the list that can satisfy both of these needs, luckily! "Internal storage system" is a pretty broad term, so let's explore it a little further. Some truck tool boxes include a couple of levels, or a tray, on the inside. Others may include a couple of drawers for a little better separation. There is even a model which have some amazing storage amenities, like slots specifically for your screwdrivers.
Security System
Tools are expensive. Truck tool boxes are just as expensive. Losing equipment when your equipment is your livelihood is life altering. You want to make sure that your tools are secure in any situation. Those of you who work in the city especially should take note of these criteria. The higher level of crime in your area, the higher level of security you want for what is likely your livelihood. Built-in locks are a huge part of making sure that you can feel at ease while you're away from your truck. Would-be criminals are easily scared off by the daunting task of breaking open a sturdy lock. Not only does this take time, but the noise is sure to alert somebody to what's happening.
Although you can install a different security system, we provided this list with safety in mind. Almost every product has a built-in lock, and if not, it has a place for you to padlock it closed. An extra security system never hurts, but you'll find that the products we chose are fairly secure even by themselves.
Multiple Mounting Options
 Having a toolbox that can mount to multiple surfaces is incredibly beneficial. It's the best option for those who have to haul freight, for example, which is quite a few! You can load up the bed of your truck without worry, which is just the way you want it. Choosing a toolbox with multiple mounting options will allow you to keep it elsewhere on your truck, while still keeping it within reach. The truck tool boxes which mount to multiple surfaces generally attach fairly easily to trailers, for example.
Unfortunately, it's just a fact that a large selection of truck tool boxes does not have flexible mounting options. If you're not falling in love with any of the products with this option, try to look for a smaller toolbox for your truck. This way you can move it into the cab if you need your bed cleared out. This will also lend you more mobility, which we also used as a criterion for finding the products on this list! No matter what, you'll surely find exactly what you're looking for if you just keep this in mind.
Frequently Asked Questions
About Truck Tool Boxes
Q: Why is aluminum such a popular material?
Aluminum is incredibly interesting as a material. It's also easily recycled into new products, which makes it environmentally friendly as well. Aluminum doesn't rust easily, lasts forever, and is surprisingly lightweight. This makes it the perfect material to make some of the perfect truck tool boxes!
Q: How do I make sure my toolbox is tough enough?
Make sure you check to see what materials the product is made out of. Also, does it have any sort of coating to help protect it? Some truck tool boxes come with an outer coating that acts as a protective shell.
Q: How does having a lightweight toolbox benefit me?
 You would think that the heavier the toolbox, the better. It is not so. Think about all the times you've had to bring your toolbox with you, for example.
Q: Will a lightweight material make the toolbox less durable?
Durability can come into question, but it's generally not that big of a deal. Aluminum can be prone to warping or denting, but you can pop those out pretty easily if it bothers you. Some wear and tear are to be expected, after all, considering the type of work you're doing.
Q: What are the best ways to make sure it'll stay organized?
The number one thing to look for in a toolbox for you is storage capacity, and an included organizational system. The amount of storage you need is entirely up to you. Just make sure you look for a toolbox that can satisfy those needs and has the extra storage space you need.
Q: My truck has a bed liner. How do I find a toolbox that will still fit?
In that case, you'll want to take some measurements before you order. Even if a toolbox claims it's "made" for your specific make and model, a liner can throw off those measurements completely.
Q: What if my toolbox doesn't fit in my car?
If you're buying in a store, you just have to take it back and see what they can do for you. If you decide to buy on Amazon, there are several ways you can send your toolbox back.
Q: How can I improve the weatherproofing?
If you're still worried about your toolbox surviving the weather, there are solutions out there! We recommend going to a hardware store and looking for waterproofing coats. These are usually spray-on solutions that'll keep your toolbox safe, and leak-free.
Sources
Best Bed Liner – How To Install a Truck Tool Box
Live Science – Facts About Aluminum
Subscribe to our Newsletter