Kayak Roof Racks Reviewed & Rated for Quality
last updated:
May 21, 2019
Transporting a kayak isn't an easy task, especially if you're up to traveling with your friends and family who all have their own yaks! Actually, most people keep their kayaks stored for years because they don't have a proper way to transport them to the desired location. You shouldn't deprive yourself of the enjoyment that this recreational piece of equipment brings in your life, especially considering how popular these days are kayak roof racks! These little devices will help you transport your kayak whenever you want and as frequently as you wish! They attach easily on the roof of your vehicle (usually on the existing rails), and they can carry all kinds of sports and traveling equipment.
Featured Recommendations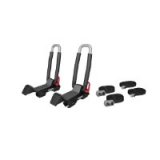 Yakima

Our rating
Compactly Designed
Price:

See Here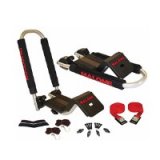 Malone Downloader

Our rating
User-Friendly
Price:

See Here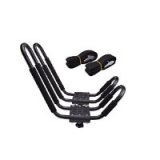 TMS

Our rating
Easy Loading
Price:

See Here

However, you can't just walk into the store and pick the first kayak roof rack you find! First of all, they are not universal, and you have to check whether they'll fit your vehicle, your kayak, and a bunch of other stuff. Secondly, they are not all equally made, and you might bump up on a poorly designed one. Here's where we step in! After thorough market research, we came up with 10 best kayak roof racks you can find on the market right now. It should help you pick the perfect product for your needs, and guide you through the tiresome purchase process. Now, may we present to you:
10 Best Kayak Roof Racks
Yakima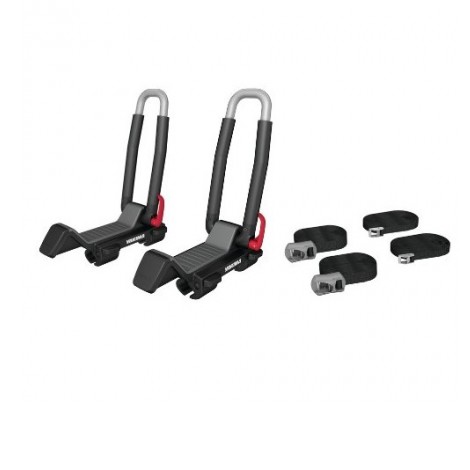 This Yakima product is one of the most popular kayak roof racks on the market! It is designed for vehicles that have raised side rails, and it comes with a set of features to enable easy installation, secure transportation, and a long lifespan. Whether you only need to transport one kayak or an entire set for your family, you'll find this carrier super stable and safe for your every need. It is, after all, one of the most praised roof racks available right now!
Expand to see more
Improved Safety
Yakima allows for the transportation of 3 kayaks – you can set up one in J-Cradle and the other two in a vertical position, and you're good to go on a family trip! It is versatile enough to allow for simple and safe transportation of every type of kayak. It features double padded contact points for improved safety and firm grip during the ride.

Not to mention that it gives you an option to lock the rack with SKS Lock Cores in case you want to have complete peace of mind when transporting your equipment. However, keep in mind that they are not included in the package and you'll have to order them separately.

Compact
It measures 20 x 6.7 x 6 inches and weighs around 11 pounds, giving you the option to mount up to 110 pounds on the roof of your car. Thanks to the included straps and tie-downs you'll be able to secure your kayak with great ease, but keep in mind that it could produce some whistling sound at higher speeds. Although this is not exactly a deal breaker because it doesn't influence the stability of the load, some people find it quite annoying.

You can also simply fold it down when not in use. The compact design takes less space in your garage yet it promotes aerodynamics unlike most of the other bulky roof racks.

Cost and Value
We have to admit that Yakima is on the expensive side, although it won't cost you a fortune like some other first-class products from its category. Along with other incredibly useful features, the package includes an installation set to help you mount the rack on your car's roof. All in all, Yakima is worth every penny and we strongly recommend if you have some extra cash to spend!
Allows for transportation of 3 kayaks
Simple installation
Super safe
Carries up to 110 lbs
Compact design
Comes with the installation kit
Malone Downloader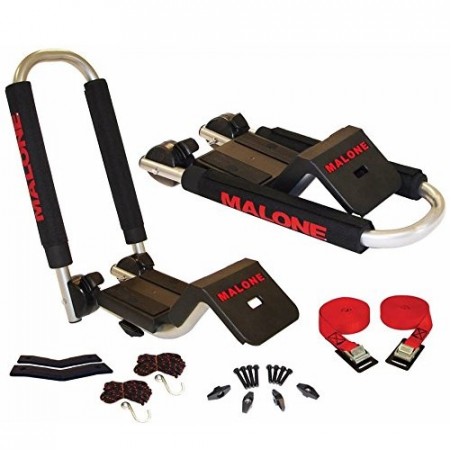 Here we have a top-notch kayak roof rack that has a lot to offer in terms of quality and durability! Malone produces all kinds of racks and kayak equipment, and it's among the most popular manufacturers in this area. We picked two of their exceptional products for our top 10 list, and Downloader definitely provides the best value for the money!
Expand to see more
User-Friendly
Malone has a boarding ramp that allows for easy kayak loading and features high-quality straps that you get to tighten up firmly around your load. We especially liked the extra padding that protects all loads from possible damage during transport, and it features a foldable design that allows for simple storage when not in use.
Lastly, the
installation of the rack
itself is quite easy, you won't need any professional assistance or additional instructions.
Durable
Malone offers sturdy and durable construction with corrosion-resistant aluminum coating. It measures 17 x 6 x 19.5 inches and weighs around 11 pounds, which gives it the load capacity of 75 lbs. Although the manufacturer claims that Downloader has a universal fit and that it is compatible with all kinds of cross rails, this is not quite true.
There were many complaints about this ''universal rack" not being universal at all. Most users managed to adjust and mount it properly on the cross rails despite the issue, but you should know that this might happen to you as well.
Cost and Value
This product from Malone is quite pricey, so you'll have to add a few more bucks to get it. However, most of the competition comes with a higher price for this set of features, so Malone is probably the cheapest option among them! Despite the little issue that might occur during the installation, Malone proves to be incredibly valuable. We strongly recommend it to all those kayak fans who are not on a limited budget.
Boarding ramp allows for easy kayak loading and unloading
Quality straps and extra padding for more protection
Folds down for convenient storage
Easy to install
Sturdy and durable
Holds up to 75 lbs
Doesn't provide a universal fit
Pricey
TMS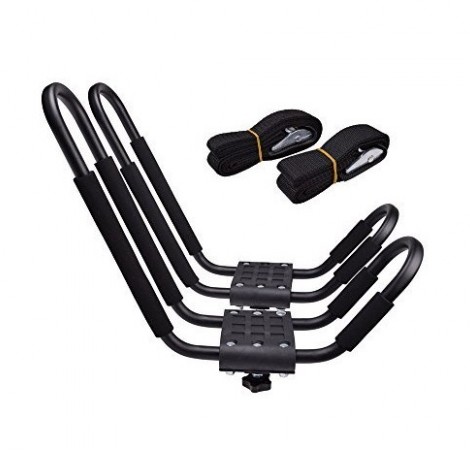 If you need a solid roof carrier for transporting recreational equipment for the entire family or group of friends, we have a perfect product for your needs! TMS offers this high-quality product that can hold up to 4 kayaks as well as canoes, boats, surfboards, and more. You can finally enjoy every trip and holiday and take all your equipment with you because TMS guarantees easy loading and safe ride!
Expand to see more
Superior Protection
This is an incredibly versatile roof rack that allows for simple installation on all crossbars. The kayak mounts on the side to take less space on the crossbar so you can transport 2 kayaks in this way (you have to purchase the additional carrier for 4 kayaks). TMS features steel design with adjustable padding to firmly hold your boat on the roof and yet to protect it from possible scratches and other damage during the ride.
There are also 4 high-quality straps that you can use to properly secure your kayak to the rack. The only downside is the assembling part that requires a little effort and more of your free time. Once you manage to install it on your car roof, things are quite easy, but getting through the process without detailed instruction could be a real hassle!
Easy and Secure Loading
TMS designed this roof rack to provide easy loading and unloading of your kayaks. Using these little devices allow for frequent trips and vacations because you get to
easily transport
recreational equipment and fully enjoy your free time. These racks also have a rust-resistant coating for superior durability. The product measures 18 x 7 x 7 inches and weighs 8 pounds, and it can hold up to 75 pounds (36 inches wide kayaks).
Cost and Value
Not only that TMS offers this amazing carrier at a reasonable price, but it also gives a lifetime warranty! Yes, you read it right, the company stands behind their products and offers full customer support, so you'll definitely be pleased with the provided service.
Simple loading and unloading
Designed for 2 kayaks and other recreational equipment
Steel design and adjustable padding for improved safety
4 straps for a secure position and rust-resistant coating
Holds up to 75 lbs
Reasonably priced
Assembling part requires a little effort
Thule Hull-a-Port Pro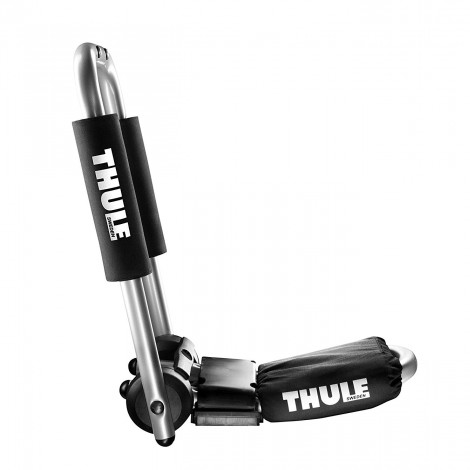 Thule is a well-known company that produces all kinds of traveling and transportation equipment. Their name is synonymous with high-quality, and you just can't go wrong with picking one of their products. We had to include several carriers from Thule due to their exceptional performance, and this particular kayak roof rack is among the best! It's versatile and allows for transportation of kayaks and all kinds of boats, keeping your loads safe during every ride. For more details about this Thule product, look below for our in-depth review!
Expand to see more
Tools-Free Installation
Thule offers this great carrier with new J-profile for easy loading and unloading of your kayak. Not only that it fits almost every crossbar but it's also so easy to mount it that you probably won't have to use any
tools
at all!
Your kayak will be completely safe thanks to the provided straps, tie downs, and ratcheting attachments that you get to adjust according to your needs. Additionally, the adjustable padding will protect your load from possible damages and scratches during transportation.
Heavy-Duty
Thule features steel design and rust-resistant coating for a longer lifespan. Overall, it's one heavy-duty roof rack that is meant to last! Along with all great features that provide easy loading and unloading of your kayaks and boats, it features what Thule calls PFD lever to allow you to simply pull and fold down the racks for simple storage. It can transport all kayaks that weight up to 75 lbs and are up to 34 inches wide.
We would only like to see this carrier with a locking system because it makes an easy target for every thief! Sure, we can purchase the lock separately, but it should really be in the box, especially for the price!
Cost and Value
If you want to purchase this amazing product from Thule, you'll have to spend some more cash on it. However, don't doubt for a second that you'll get incredible value for the money as well as a limited lifetime warranty for additional peace of mind.
Easy loading and unloading
Fits almost every crossbar
Tools-free installation
Stabile and secure
Adjustable padding for more protection
Sturdy and durable
An easy target for thieves
Pricey
Malone SeaWing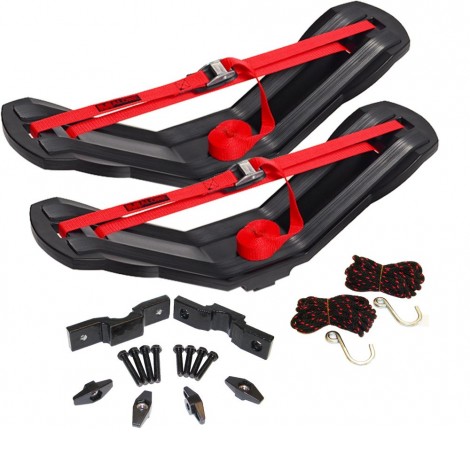 Just as we promised, we present you the second best kayak carrier from Malone! Sea Wing is super durable and safe for transportation of all your recreational equipment. It offers a unique design that allows for simple loading and unloading of the cargo and guarantees a safe ride to the final destination. For more information about this great Malone product, keep reading our detailed review!
Expand to see more
Easy to Use
These are low profile carriers that are compactly designed and therefore take less space on your car's roof. They are designed to transport one kayak or some other boat, that you get to load easily thanks to the straightforward design of the entire rack. We shouldn't forget to mention included bow and stern straps for improved safety as well as rubber coating for more protection against scratches.
Also, the installation is as easy as it should be, no tools are required. Additionally, Sea Wing folds down to reduce wind resistance when not in use.
Sturdy and Durable
Sea Wing is made from polycarbonate material that is not only very durable but also corrosion-resistant, which means that you don't have to worry about weather threats damaging your rack. These particular gadgets measure around 27.5 x 6 x 4.5 inches and have a load capacity of 75 pounds.
We only have to address one possible issue – depending on your vehicle type, you could have some issues with the included bolts. Some users had to purchase shorter bolts separately to prevent included ones digging into the vehicle roof.
Cost and Value
Although this particular Malone carrier isn't the cheapest option on the market, it's reasonably priced and you can make it
a part of your recreational equipment without being hard on your pocketbook.
Once again Malone doesn't disappoint in terms of quality and durability, so you'll find this roof rack very useful for many years!
Compactly designed and easy to use
Stabile and safe
Rubber coating for more safety
Foldable
Sturdy and durable
Reasonably priced
Possible issues with provided bolts
Vault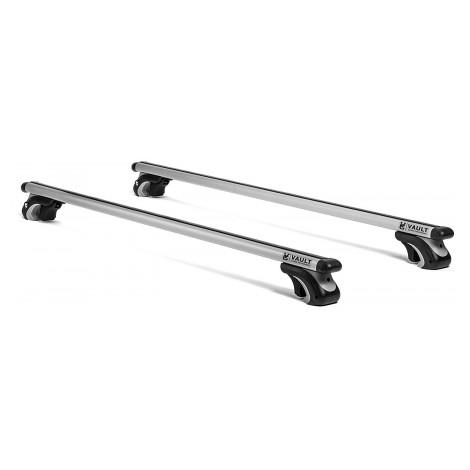 Vault offers this great roof rack that can help you transport not only your kayaks, canoes, snowboards, and other recreational equipment, but also luggage, camping gear and more. You'll definitely benefit from having these carriers on your car roof, and thanks to the overall quality and first-class materials you'll get to use them for a long time! Vault guarantees safe and easy transportation at any time.
Expand to see more
Versatile
You can use these versatile roof bars to transport kayaks, canoes, and more. The installation is quite simple, they allow for simple adjustments thanks to the extendable bars, and come with a locking system that ensures they'll stay on your roof all the time.
For this rack to fit your vehicle you have to have cross rails that are 34.5-49.5 inches wide. Don't forget to double check the size of your crossbars just in case! Also, this rack can hold up to 150 lbs which is quite impressive and allows for the transportation of heavy loads.
Low-Profile Bars
Vault made sure to cover all contact points on this carrier with soft rubber to protect your car as well as your boat from scratches during transportation. Also, we should mention that they are designed as low-profile bars to improve aerodynamics, although they might produce some whistling noise at higher speeds.
Cost and Value
You can get this excellent kayak rood rack at an attractive price and transport all your recreational equipment with great ease for years. Additionally, choosing this Vault carrier will save you some money that you can spend on other parts of your
traveling gear
!
Versatile
Easy to install
Comes with the locking system
Holds up to 150 lbs
Soft rubber at contact points for more protection
An attractive price
Annoying noise at higher speeds
HandiRack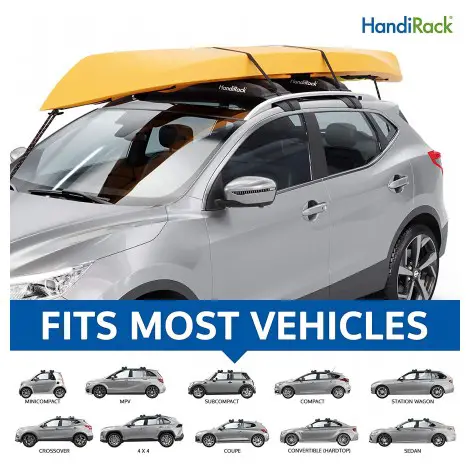 If you are a fan of inflatable rooftop racks, this is a perfect choice for you! HandiRack is one of the best sellers in this category, allowing for simple transportation of kayaks, boats, canoes as well as camping gear, pieces of luggage and other stuff you might need on your road trips. We really like this product because of its incredible versatility and compact design, so we definitely recommend trying it out!
Expand to see more
User-Friendly
HandiRack fits almost every vehicle type, and it doesn't even require side rails or gutters. It features this super cushioned design for better protection during transportation, not to mention how easy is to install it on the roof of every vehicle. You'll lose only a few minutes while you pump up the racks, but that's all, no tools are required. This design allows for simple storage and portability too.
Considering how easy is to put them on the roof, you can simply take them off and put them back on when you need them rather than keeping them installed all the time. It will also significantly improve their lifespan!
Lightweight yet Durable
HandiRack is made from 420-denier nylon that proves to be very durable. These are incredibly lightweight roof racks yet they are very safe and sturdy. With the load capacity of 180 lbs, they can help you transport even all your heavy-duty equipment. The best thing about them is the absence of noise! Unlike most of the racks that go on top of the cross rails, this type doesn't produce that annoying whistling sound. HandiRack measures around 38 x 3.5 x 9.5 when fully inflated.
We only have two issues with the design of HandiRack – they can't withstand a lot of pressure nor direct exposure to the sun. You should carefully inflate them so that they don't break down, and keep in mind that you shouldn't leave them exposed to the sun for too long!
Cost and Value
Not only that HandiRack comes at a budget-friendly price but it also includes tie-down straps, a HandiPump, a detailed manual and a travel bag that turns out quite useful for
simple storage
in the back of your trunk. You'll get all that you need to start your trip and fully enjoy the ride, knowing that all your staff is safely mounted on the roof.
Fit almost all vehicle type
Easy to install and use
Lightweight yet durable
The load capacity of 180 lbs
Budget-friendly
Can't withstand a lot of pressure
Can't be left under the sun
Thule Stacker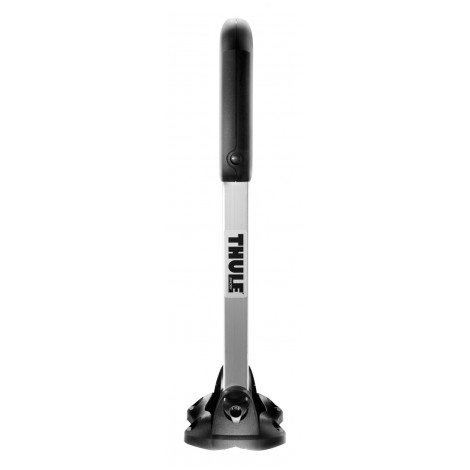 If you're searching for a rack that can help you transport up to four kayaks on the roof of your vehicle, this Thule carrier is a perfect choice for you! It allows for simple installation and transportation of your kayaks and other loads. You can finally enjoy every adventure with your family and friends, and transport all your equipment on a single roof!
Expand to see more
4 Kayaks
This is a stacker roof rack that holds kayaks vertically to save some space and allow for transporting up to 4 kayaks. It's designed for all those kayaks that measure up to 36 inches in width, although it can work with other types if adjusted properly.
The load capacity of this carrier is 75 pounds. It measures 5 x 5 x 20 inches and weighs only 1 lb. This makes it very easy to store, and you can also fold it down when not in use. Also, the installation of the carrier takes only a few minutes and it's quite simple.
Safe Transportation
Once again Thule offers a variety of features to provide safe transportation of your sport and other equipment. This carrier has an extra padded coating to prevent scratches and other damages. However, keep in mind that some users complained about loading the kayaks on the rack being quite tricky. You'll definitely need some help to do it properly.
Also, the package includes straps for transportation of one kayak and you'll have to purchase more of them separately. If you decide to go for this one, we recommend purchasing additional straps immediately, so that you get them at the same time as a carrier. After all, you never know when you may need them!
Cost and Value
Considering that this Thule carrier allows for transportation of more than one kayak, it comes with a fair price. It's not a
budget-friendly product
, but it's worth every penny. It also guarantees safety during every ride and proves to be quite durable. We say it's smart to spend a few more bucks to get it!
It can transport 4 kayaks
Lightweight and easy to store
Easy to install
Safe and durable
Extra padding to prevent damage during transportation
Worth every penny
The loading of more kayaks could be tricky
Comes with straps for only one kayak
Rhino Rack Nautic 570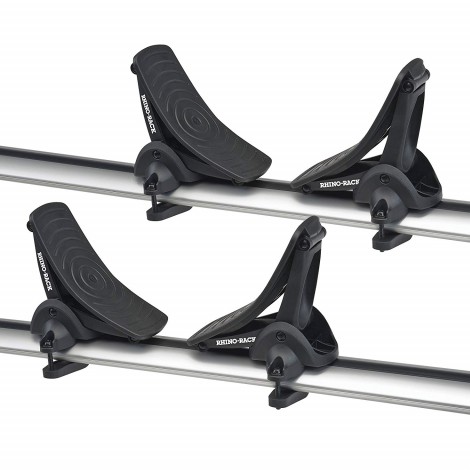 If you're looking for quality saddle roof racks, we have an excellent recommendation for you! Rhino Rack is made from quality and durable materials to provide safe and easy transportation. It allows for easy loading and unloading of your kayak, takes less space, and gives you the possibility to do all on your own! If you're interested in this versatile and unique carrier, keep reading our detailed review for more information.
Expand to see more
Saddle Roof Carrier
Here we have a saddle type of roof rack that has four rubber pads to hold your kayak and keep it on the roof. Of course, it includes straps for a stable position on the roof and safe transportation. These gadgets look just like little plastic hands that extend from the roof of your vehicle to hold the kayak.

Although the product's description says that Rhino provides a universal fit, we recommend double-checking its size and comparing it to the size of your cross bars. Also, you can use a tool provided in the Rhino website to match the rack to your type of vehicle.

Side Access
The best thing about this type of roof racks is the fact that you can load your kayak from the side. This makes the loading process a lot easier and allows you to do all on your own! However, we recommend taking these racks off when you don't intend to use them. We know, it is a real hassle, but the rubber padding might get damaged by the outside threats which jeopardize the functionality of the entire device.

However, this doesn't mean that they are likely to get damaged on the first sign of harsh weather condition. They feature water and rustproof design, and they are protected from harmful sun rays, so you shouldn't worry too much about their durability!

Cost and Value
This is a reasonably priced kayak roof rack that will last for years! Although it might cause you some headache because of the frequent mounting, it gives you a lot in terms of quality and durability. Also, you'll get a 5-year warranty for complete peace of mind!
Fit a wide range of vehicles
Unique design for easier handling
Safe transportation
Easy to load and unload the kayak
Reasonably priced
May not be a universal fit
Padding could get damaged if left on the roof
Thule Dockgrip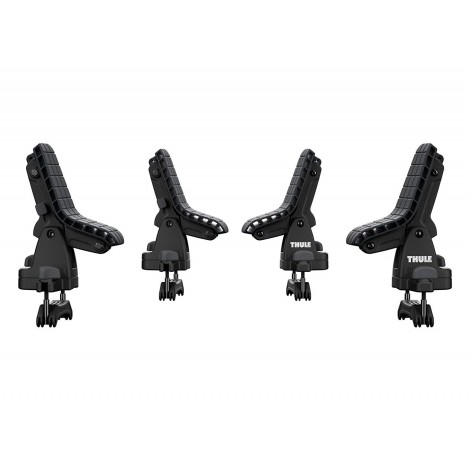 Last but not least, here comes another high-quality product from Thule. Once again we have a unique and user-friendly option that allows for simple transportation of your equipment. Thule doesn't fail to deliver exceptional performance and admirable overall quality, so we definitely recommend checking out this saddle racks. You might end up surprised by all the features it has to offer!
Expand to see more
Safe and Easy to Use
This features 4 cushioned pads for safe transportation and protection against scratches and other kinds of damages that can easily occur during transportation. It can hold up to 75 pounds and all kayaks that are wide up to 36 inches. There are also straps that will help you secure your load more firmly to the roof.
Also, we shouldn't forget to mention that this particular carrier fits almost every vehicle type, but we still recommend double-checking the sizes.
Unique Design
Thule's unique design, which is to say its independent pivoting saddles, allow for incredibly easy handling by loading your kayak from the side. With Thule, you'll be able to do all on your own without too much effort. You can also adjust the saddles according to your needs.
Overall, it's made from durable materials and allows for
simple and safe transportation
. The only downside we could find with its design is a slight vibration that occurs at high speeds.
Cost and Value
The biggest drawback with this Thule carrier is its price. Although it makes kayak transportation a lot easier than most of the competition, you'll have to spend quite some cash to get it.
Safe and easy to use
Sturdy cushioned pads and included straps
Holds up to 75 pounds
Fits almost every vehicle type
Unique design for easy loading
Slight vibration at higher speeds
Expensive
Criteria Used in Evaluation of the Kayak Roof Racks
Ranking our best picks wasn't an easy task at all! We had to examine all their features and compare them in order to rank the roof racks according to their overall quality and performance. Here is the criteria we used in the evaluation:
Safety
Safety is the most important thing that any roof rack has to ensure. Truth to be told, we picked only the best products on the market, so all of our picks are super safe for your vehicle and for your load. However, we were nitpicking over tiny details and we assigned some points to all those roof racks that offer additional features to improve safety on the road!
Installation
Although all of these products look very intuitive when it comes to installation, some of them could demand more effort! The hassle about the installation doesn't influence the overall quality and performance of the product itself, but it makes your life more complicated, so we had to take this into account during the installation.
Loading Process
After we determined whether a particular roof rack allows for simple installation or not, we examined how easy is to load a kayak on every roof rack on our list. Kayaks are rather bulky and it's sometimes really hard to mount them on the roof of your vehicle all on your own. All of the carriers on our list that allow for easier loading and unloading of your recreational equipment and other stuff are ranked higher on the list. Those who may require some extra effort are ranked lower.
Cost and Value
These incredibly useful transportation devices are not cheap at all, which is why we had to break down the balance between the cost and value of every product on our list. This was a very important factor regardless of the fact that we have both expensive and inexpensive products on the list. We included a variety of kayak roof racks to meet all users' needs, but we also had to make sure that all of you will get what you wanted!
Other Factors to Consider When Buying a Kayak Roof Rack
Before you make up your mind and go for one of these great products, there are some additional factors you might want to consider. Here is what we have in mind:
Rack Type
First thing first, you should determine which type of kayak roof rack you want to get! There are pads, crossbars, J-cradles, saddlers, and rollers, and you should pick the one that meets your personal preferences and requirements. Pads are for those who don't have crossbars and factory racks on their vehicles and they allow for simple installation through side windows. People mostly use crossbars that attach on the roof of the vehicle, and they are known to be the most sturdy and durable version of roof racks. You can load a lot of stuff on these! Another popular type is a J-Cradle that allows for simple loading and unloading of the kayak from the side of your car. It also gives you more free space on the roof for your other stuff. With J-Cradle you can do the loading process all on your own! On the other hand, saddles feature a set of pads that attach to the roof rack and hold the bottom of the kayak like a set of hands. They are very adjustable, easy to use, and you can take them off and put them back on as you please. Rollers allow for loading a kayak from the back of your car by simply pushing it into the rollers. Lastly, we have highly popular stackers that will let you transport several kayaks on your vehicle. They are a perfect option for all those who plan to travel with friends and family!
Now that you know more about kayak roof racks, you can decide for a particular type. Think carefully, and take into account all other factors that could influence your decision. It's important to consider where and how often you'll be transporting your kayak, whether you need a single-kayak carrier or one that can hold up several kayaks, and more.
Vehicle Type
To be able to pick a particular type of kayak roof rack, you should also determine which one is suitable for your vehicle. Roof racks are not universal devices, and although some of them can fit most vehicle types, there's always an exception. Make sure to check the required measurements and compare them to your vehicle. Only then you'll be able to pick a perfect type for your vehicle and for your needs.
Kayak
You shouldn't forget to check whether a particular roof rack is suitable for your kayak or not. Most first time buyers forget to do this when choosing a kayak carrier. They check the vehicle type and wrongly assume that carriers are universal and therefore suitable for all types of kayaks. Don't make that mistake because you will make a real hassle out of the simple purchase! Carefully follow the products description and double-check all measurements, and you should be just fine.
FAQ
Frequently Asked Question
Q: Are they universal?
A: No, they most certainly are not. These days, there are many differently designed roof racks that won't fit every vehicle. You should check their sizes and compare them to your vehicle roof racks before the very purchase. We provided more detailed recommendations above for all those who struggle with finding the perfect rack for their vehicle.
Q: Can I transport multiple kayaks on them?
A: Absolutely, you can transport one of four kayaks with great ease, just make sure to purchase the right type of roof rack. Not all of them can support and hold securely multiple kayaks.
Q: How difficult is to load?
A: It really depends on the type of roof rack. If you plan to transport several kayaks you'll definitely need some help! However, if it's just you with one or two kayaks, you can easily do all on your own. You can also go for the type of roof rack that is designed to improve the loading and unloading of the kayaks such as J-Cradles and Rollers. Purchasing one of these will definitely allow for easier loading.
Q: Can I add aftermarket rails to my car?
A: Yes, but you might want to let a real mechanic do all the mounting. Don't get us wrong, if you're a handyperson that does all your repairs and tasks on your own, you could install one of these quite easily. We only want to warn you that you might make some mistakes when drilling that you can't fix later on, although you may as well go for the ones that don't require modifications.
Sources
Subscribe to our Newsletter