Best Air Compressors Reviewed & Rated for Quality
last updated:
Feb 23, 2019
An air compressor is a necessity for the professional garage and an upper-middle level tool for the home garage. Any air compressor is not so much a tool in the shop, but a power source. You use it to power air tools. Well, there are a couple of direct tasks an air compressor can do, like inflate tires, and blow dirt and scraps away, kind of like a leaf blower, only on a little smaller scale. The kind of air tools we are talking about are air impact wrenches (you've probably seen them at the tire shop, that's that noisy tool the tire technician uses to pop your lug nuts off), air-powered angle grinders, air-powered drills, lots of good stuff. Anything you can do with a hand tool, you can do faster with an air tool
Featured Recommendations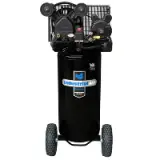 Industrial Air IL1682066MN

Our rating
Best all-around
Price:

See Here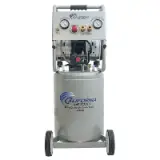 California Air Tools 10020C

Our rating
Air when you need it
Price:

See Here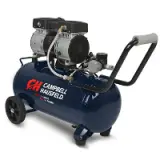 Campbell Hausfeld DC080500

Our rating
Value leader
Price:

See Here

So what do you need in a good air compressor? We run down the criteria we used in selecting them further down this page, but just as a brief introduction, let's talk about what we (and you) are looking for. Most importantly, a good-sized tank is critical. This is a direct measure of how much air it can hold. If it's too small for your needs, you will run out of air while trying to work, and the compressor itself will run continuously, trying to catch up with you. Tank sizes are measured in gallons (in the US), we liked the 20-gallon size the best. That said, smaller tanks are OK for less intensive uses. You can scale your compressor and the expenditure to your needs. Now let's review…
10 Best Air Compressors
1. Industrial Air IL1682066MN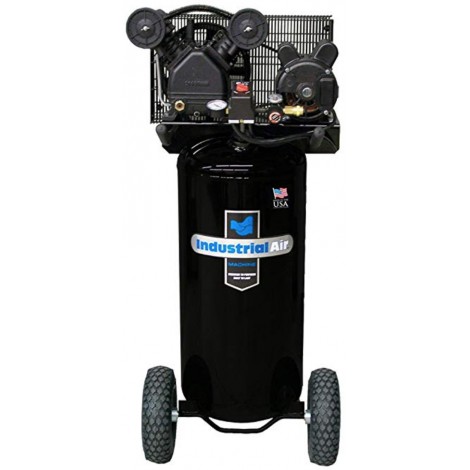 The Industrial Air IL1682066MN is a 20-gallon (75 liter) air compressor with a max pressure rating of 135 psi (930 kPa). The cast-iron, v-twin, oil-lubricated design will deliver 5.3 cfm at 90 psi, and 6.2 cfm at 40 psi. It's an attractive choice for a serious home mechanic, and the cast iron, oil-lube system will provide years of trouble-free service.
Expand to see more
Air when you need it
The Industrial Air IL1682066MN will deliver plenty of air power for the small garage. We chose the compressors on this list with an eye towards the home user, not professional or industrial applications. This one is excellent for the advanced shade-tree or DIY mechanic needing air power to speed those tough jobs, or do those, like spray painting, that can only be accomplished with a compressor. Anything you can do with a hand tool, you can do faster and with less hassle using an air tool. You'll be glad you've made the jump to a professional level system.
Air needs air tools
We do want to point out as well that an air compressor is not a complete stand-alone tool; you'll need an array of air tools to make good use of it. You can do simple chores like
inflating tires
right out of the box, but we know you are destined for bigger and better things! And bigger and better is what you'll get with an air compressor in your corner. Add an impact wrench, or an air ratchet, or a pneumatic angle grinder, and you'll be powering through jobs with a smile on your face.
Cost and value
A 20-gallon air compressor is not going to be inexpensive, but it is a tool that will be chugging away in the garage for years to come. We recommend doing your due diligence (that's why your here at Drivrzone, of course!) and buying a quality compressor that will meet your needs now and in the future. Don't hesitate to invest a little to get one that will meet your needs. There's nothing worse than under-specing your purchase and running out of air constantly.
Cast-iron cylinders
V-twin design
Big tank
Wheeled for portability
120 or 240 volt operation
2. California Air Tools 10020C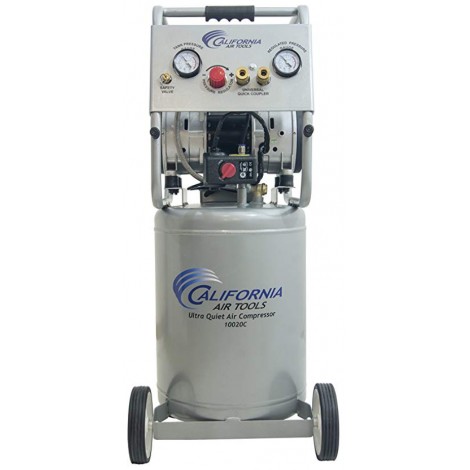 California Air Tools' 10020C air compressor takes a higher-tech look at the humble air compressor. An advanced-design pump using modern materials enables the use of lighter-weight aluminum in its construction. The California Air Tools 10020C still delivers 125 psi of air in its main tank. Air volume is 5.3 psi at 90 psi. You'll wonder how you ever got by without one of these in the garage!
Expand to see more
Lighter and smaller
The California Air Tools 10020C uses high-tech materials in the internals of its pump, such as teflon piston rings, to achieve oil-free operation in a lightweight aluminum pump. Designed for long life, the California Air Tools 10020C air compressor will deliver plenty of air for your needs. It's also quiet, operating at a low 70 dB while running. If you like to work in the quiet of the evening, your neighbors will appreciate this machine, which will not disturb the peace.
Crossover air compressor
This air compressor, with its ten-gallon tank, is mid-way between the larger shop-sized compressors and small units that are intended for lower-volume tasks like
inflating tires
or running nail drivers. As such, it represents a small, lighter-weight option for your compressed air needs. It also represents a more easily portable option, and moving your portable power around to where you need it will give you options you only dreamed of before.
Cost and value
The California Air Tools 10020C is a mid-priced option on the list of home/small shop compressors. Its long-life design should make it a good value, when price is pro-rated across many years of life. Analyze your needs, and if this compressor is a good fit for you, you'll be thrilled to have it in your corner.
Advanced design
High-tech pump
Lighter weight
Oil-free
Quiet running
3. Campbell Hausfeld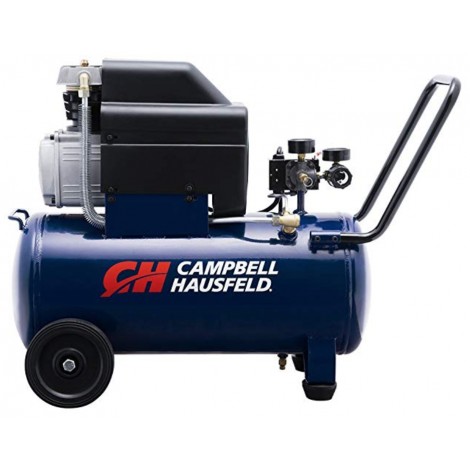 Third on the list of best compressors, and our personal value leader is the Campbell Hausfeld DC080500. It's 50% quieter than many similar units, at just 68 dB of noise. It does have an eight-gallon tank, operates at 125 psi and provides 2.4 cfm at 90 psi. It's smaller compressor, but good things do come in small packages.
Expand to see more
Small and lighter
This is another smaller, lighter compressor for light-duty use. It's still made well, with a strong,
welded-steel
tank, but it's not a heavy, cumbersome piece of equipment. We like it because it's exactly what it says it is, and comes in at a good price-point.
Nicely designed
The Campbell Hausfeld DC080500 features an oil-free, maintenance-free pump incorporating advanced materials for long life and durability. We liked that it was a very quiet machine. Some compressors blow you right out the garage door with raw noise; this is not one of those! 68 dB comes in just around a vacuum cleaner; not super quiet put not calling for ear plugs.
Cost and value
The Campbell Hausfeld DC080500 is a nice value at a lower-middle price point on our list. While not a huge industrial machine, it's a capable unit in the home setting, just what we are aiming at today. You'll like its quiet operation and smooth delivery of 125 psi air. It will give you about half the volume of larger, noisier units. If that's enough, then here's your compressor!
Quiet
Low electric draw
Lighter weight
Advanced design
Two cylinders
Smaller eight gallon tank
4. WEN 2202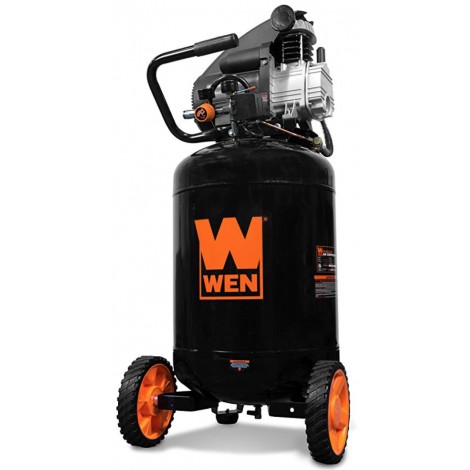 Rolling in the shop door at number four is the WEN 2202 20-gallon tank capacity air compressor. The big tank helps insure you have all the air you need, while the conventional
oil-lubricated
, two-cylinder design provides long, efficient service life. This is a serious compressor for serious work!
Expand to see more
Bigger and badder

The first three entries on the 10 best list of air compressors offered a variety of sizes and capabilities; now we turn back to the big 20-gallon size. You'll not run short of air for most home and small shop operations with the 20-gallon WEN 2202. WEN is an experienced maker of power tools, and their experience translates to quality and durability with this compressor. We like the 20-gallon size, and the welded steel tank. It does weigh in at 86 pounds (39 kg), so it won't be a completely portable rig, though the handle and wheels ease movement when you need them. It is a little louder than average. Though we couldn't determine an exact dB value, it was noise than others we rated higher on the list.

Air WEN you want it

This machine carries a max pressure rating of 135 psi, and will deliver 3.8 cfm at 90 psi. This will run a 3/8-inch air ratchet quite well. Super air-intensive operations like large-scale spray painting may take a larger compressor, but it will handle air brushing quite easily. All in all, this a good choice for home use. It does have a quick-drain valve to release pressure and the water that accumulates at the bottom of the tank.

Cost and value

This is a good-quality, capable compressor that represents a nice value. Factor in the mid-range price and it's a great deal. You always get what you pay for, and the WEN 2202 demonstrates that's true, and shows it's possible even to get a little more than what you pay for.

20-gallon tank
Portability
Good air volume
Quick drain valve
Two gauges
5. NorthStar 20-Gallon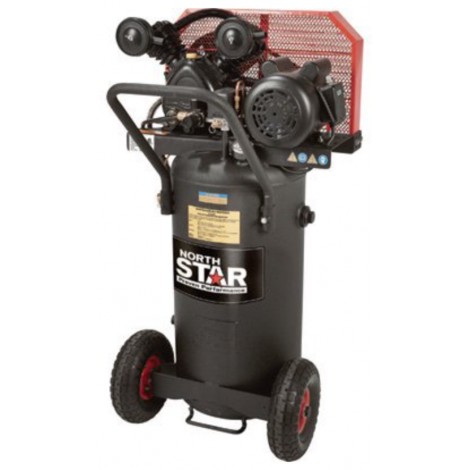 Fifth on our list of 10 best air compressors is the NorthStar 20-Gallon compressor, featuring a cast-iron, belt-driven, v-twin design, and delivering 5.0 cfm and 90 psi, plenty of air for operating an impact wrench, air ratchet, framing nailer, air brush, touch-up spray gun, or a nibbler. Lots of air for lots of projects! You'll be the envy of the neighborhood as you knock out job after job using air power!
Expand to see more
Conventional design

The NorthStar 20-Gallon air compressor is a belt-driven, v-twin (eliminating heat transfer between cylinders), cast iron design. There is a steel mesh shroud over the belt drive section for safety. The NorthStar will handle the heat well. It is noisy, rated at 80 dB; you might consider ear protection if working in close quarters with this machine while it is operating.

Top heavy

The big cast iron pump and motor on top of this vertical unit make it top heavy, and care should be exercised when moving it. It's oil-lubricated, like most conventional design; it will give a long service life, but the oil needs to be checked from time to time, just like your car. It is delivered set up for 120V operation, but can easily be reconfigured for 240V. Contact a qualified electrician to exercise this option.

Cost and value

This big, heavy compressor carries a big price, too, up at the top end of the range we considered. However, its air-handling qualities, and its sheer weight and apparent toughness lend a feeling of quality and solidity that we find reassuring. You can't put a price on quality, it's said, but here you can. It is a pricey unit, but seems well worth the cost.



Cast iron construction
Belt-driven
V-twin design
5.0 cfm at 90 psi capacity
120/240V operation
6. DeWalt D55168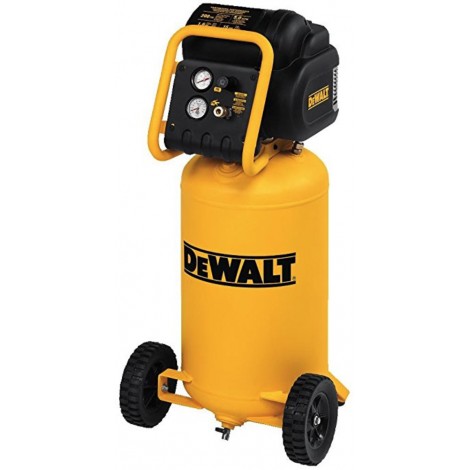 Number six on the list of compressors is the DeWalt D55168 15-gallon compressor. It's powered by a 120V electric motor, and has a high 225 psi max pressure. This lets it deliver a big 5.0 cfm at 90 psi, enough to keep your air tools going strong. You know the DeWalt name, and it means tools you can trust.
Expand to see more
Under pressure
So this air compressor has a smaller, 15-gallon tank, but operates up to a higher 225 psi max rating. This pushes more air into a smaller space, and lets it provide 5.0 cfm at 90 psi, higher than larger tanks operating at lower pressure. Throw your mind back to high school chemistry and physics, this is Boyle's Law in action. Or forget Boyle's law, and just say "more power"!
120 pounds of power
This is 120 pounds of good old cast iron and steel designed to run long and strong. It's a little quieter than average, with a 78 dB noise rating. A compressor like this is one of the best investments you can make for enhancing productivity in your
home shop
.
Cost and value
Well, we are not going to deny it, this is one of the more expensive air compressors in our line up. We do think the oil-free design, the quality components, and the high
pressure
rating set it apart from may competitors. If you need a big compressor with good capacity numbers, the DeWalt D55168 may be for you.
5.0 cfm at 90 psi
Oil-free
78 dB quiet
Efficient high pressure technology
Low maintenance
7. California Air Tools 8010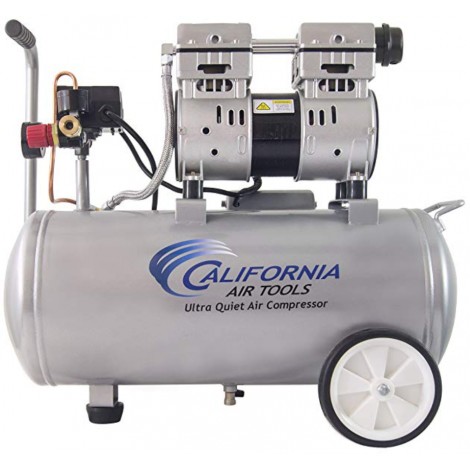 The California Air Tools 8010 rolls in at number 7 on the list, because we liked its quiet 60 dB operation. It's a smaller, 8-gallon unit that will serve many needs quite well. Max pressure is 125 psi, and it will deliver 2.2 cfm at 90 psi, operating on 120V AC. This a good, competent machine, ready to give you the years of service you deserve.
Expand to see more
Smaller and quieter

This fine compressor is a smaller option at 8-gallons, and has a max pressure rating of 125 psi. The twin cylinder, aluminum, oil-free pump uses modern materials and a high tech design to dissipate heat and give a long, low-maintenance life. For the low end of the requirements spectrum this is an effective option. At 54 pounds it's easy to move and store.

Quick action

We liked its fast pump - only 130 seconds to fill from zero to 120 psi. Recovery from 90 to 120 psi, like during air tool use, to only 30 seconds. You won't spend a lot of time waiting for this compressor to catch up with you. You only have so many hours to spend in the garage, make those most of them with air tools and a compressor to power them.

Cost and value

This compressor is a mid-range priced entry. It will serve your needs well, and you will not regret your expenditure one bit. Do yourself a favor and check it out. Remember, if the eight gallon tank isn't quite enough, there are larger options on our list to choose from!

Two cylinders
Oil-free
Quiet
Portable
Efficient
You may want a larger tank
8. Campbell Hausfeld HL540100AV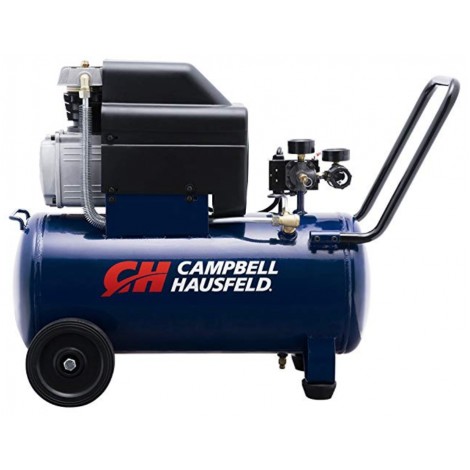 The Campbell Hausfeld HL540100AV is an eight-gallon tank compressor with a max rating of 125 psi. It will deliver 3.7 cfm at 90 psi. It is a horizontal design, with a convenient pull handle and wheels, and oil-lubricated pump design. You'll be moving this unit around to all your tasks before you know it.
Expand to see more
Number 8 at the gate

Here is another Campbell Hausfeld compressor, landing at number eight on our list: the HL540100AV. It's another eight-gallon tank compressor, able to compress air to a maximum of 125 psi. As a medium-small air compressor, it is intended for the home/DIY market. It will deliver 3.7 cfm at 90 psi, enough to run small air tools, or larger ones on an intermittent basis.

Long years of experience

Campbell Hausfeld began when the Campbell brothers established a blacksmith shop in Harrison, Ohio in 1836. Over 50 years ago, the company began producing two-stage air compressors for general consumption. They've clearly mastered their trade. This small unit is powerful enough to boost your home projects to the next level. If you've going to spend a weekend on your DIY tasks, get more done faster with this compressor in your garage.

Cost and value

The price of this air compressor sits around the lower-middle part of our list. We like its price-point in relation to the features and capabilities. It's a good buy and a very good piece of garage equipment.

Good price
3.7 cfm at 90 psi
Horizontal design
Oil-lubed pump
Portable
9. Xtremepower 65151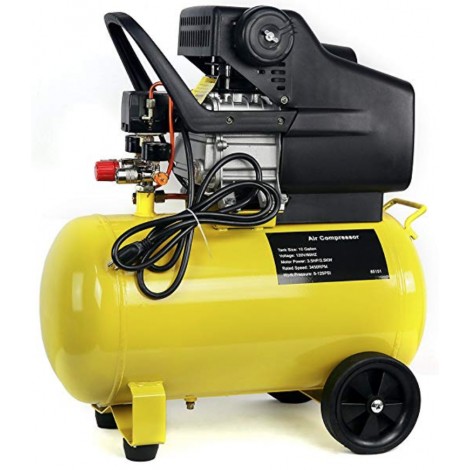 The ninth machine on the list of best air compressors is the Xtremepower 65151 3.5 horsepower 10-Gallon tank portable air compressor. Max pressure in the tank is 125 psi, and it will deliver a respectable 3.5 cfm at 90 psi. Twin gauges, two quick-connect ports, and an output regulator are easily reached on the top of the horizontally mounted tank.
Expand to see more
Solid citizen
The Xtremepower 65151 is another in a plethora of very competent executions of small to mid-sized compressors. You'll see it's got everything you'd need to run your DIY garage and home improvement projects with the power of air tools. It's another great example of the modern oil-lubed pump compressor art. We liked its compact design and good-sized 10-gallon tank. A little more air. like a ten-gallon versus an eight-gallon tank may just meet your needs that much better. We always like bigger and better!
Cast iron, but loud
This air compressor is fed by a cast iron pump. Unlike many, it is a single stage pump, with only one cylinder. That's no great drawback, but it may run
hotter
and take a little longer to cycle to operating pressure. Still, it's a strong design, sure to give many years of excellent service. It's one problem is it's loud... 88db! Protect your ears around this one.
Cost and value
The compressor is at the lower end of the mid-priced compressors, and so it's very appropriately priced and certainly worth what you'd pay. We liked it, and for the price it's effective and complete. In today's marketplace, how often can you say that?
10-gallon tank
Oil-lubed single stage pump
Twin gauges
Cast iron cylinder
10. Central Pneumatic 8-Gallon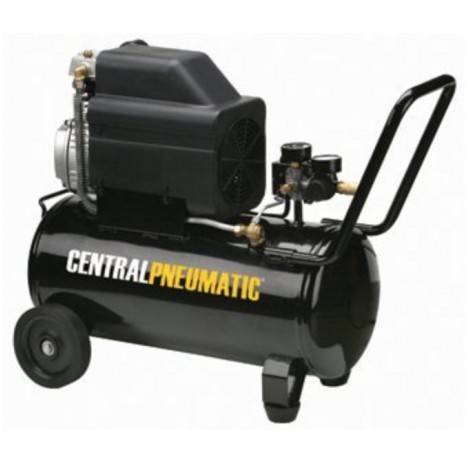 This final frontier on our journey to seek out new solutions for air compressors is this Central Pneumatic 8-Gallon. It's got a maximum rating of 125 psi, and will deliver 3.3 cfm at 90 psi. Two gauges, an output regulator, and a quick-connect port sit right on top of the horizontally mounted tank.
Expand to see more
Portable air power
The Central Pneumatic 8-Gallon air compressor is a horizontally mounted design with wheels and an angled handle designed for easy mobility. It's oil-lubed, with an innovative window allowing instant determination of the oil level without use of a messy dipstick. There's nothing earth-shaking in its design, but you will like the simple execution of a machine that's adaptable to many tasks.
Getting you there
This air compressor has all the power you'd need for at-home mechanical projects. Buy a few air tools to go with it and you'll be
wrenching
like the pros. The air supply is even sufficient for
spray painting
, with appropriate accessories. You'll go a long way towards your goals with an air compressor in your garage.
Cost and value
This is a low cost alternative that will power your shop without breaking the bank. We'd certainly recommend a larger, more expensive compressor if you can afford one, but if you are working on a budget (who's not?) you'll love the price of this unit and want to give it a close look. It will do what you want it to!
Low cost
125 psi rating
Portable
Oil level window
Output volume not as high as others in its class
Criteria Used in Evaluation of the Best Air Compressors
Cast Iron
Cast iron cylinders and heads are a great thing in an air compressor! Compressing any gas causes it to become warmer. You've all experienced this when inflating a bicycle tire with a hand pump. All that work you're doing with your hands and arms as you pump is transferred to the gas (air) you are compressing into the tire. The pump itself gets warmer as heat from warm air is transferred to it. This is the First Law of Thermodynamics in action!
If your bicycle pump gets warm with that little bit of pumping you do by hand, what do you think will happen with your compressor belting along at some large number of cubic feet per minute, pumping the tank up to four or five times the pressure in your bicycle tire? I'll tell you: it gets hot. The cast iron cylinders of a good compressor can absorb, withstand, and dissipate all this heat without damage. The downside of that strength and heat-handling capability is weight.
Oil-lubed or not?
Oil-lubed, cast iron cylinder air compressors are quieter and tend to last longer, but they will likely be more expensive, and certainly heavier than aluminum or alloy machines. Of course, like anything oil-lubricated, you need to check the oil from time to time. Let it run out, and you are courting disaster, or at least the destruction of your air compressor. Oil-free designs are less expensive, lighter, and push just much air flow at pressures comparable to oil-lubricated models. They are definitely louder and not as durable as the classic oil-lubricated cast iron pump. Given all that, they can still be a good choice for the DIY mechanic or homeowner.
However, if you are a buying for industry or commercial purposes, and even if you're "just" a serious DIY mechanic or home project enthusiast, an oil-lubricated, cast iron design compressor is the best choice. It depends on your level of usage: just occasional and intermittent, or continuous, hard use. Like most tools, a larger expenditure up front for an oil-lubricated air compressor will probably provide the best value for your dollar in the long term. Buy the best you can afford, and try to project your future needs when you spec out a compressor.
Tank size
The tank size of an air compressor quite obviously determines how much air the unit can hold. What's not so obvious is the influence of the pressure rating. An 8-gallon tank that's rated and pressurized to 125 psi does not hold as much air as an 8-gallon tank that's rated and pressurized to 225 psi. Boyle's Law tells us that pressure and volume are inversely related. In this case, the pressure is increased, and the volume is staying the same, so there is more air in the tank.
This will influence how long and how much air you can draw out of the tank before the compressor starts to run again, and, most importantly, if you are drawing more air out than the compressor can supply, the compressor is not big enough for your needs. You'll frequently have to stop work to let the tank pressure build up again. Some air tools, like impact wrenches and drills, use a lot of air. Others, like pneumatic nailers, use only a little bit. What you need is dependent on your tools, and your tool usage. Bigger is always better, we say here in our shop!
Portability
If you are planning on carting your compressor around to different job sites, you'll want something easily portable. A big, 120-plus pound compressor is not going to lend itself to that. We've all seen the tire service truck running around with the big, gasoline-powered compressor permanently mounted in the bed. That's one extreme of the capability/portability scale. If you are thinking you'll want to move your compressor to different areas of your home as you take on different chores, you might consider a smaller unit, if it will meet your other needs. We tried to present a range of options in portability in our list, we are certain you'll find one you like!
CFM
CFM (or cfm) is short for cubic feet per minute. It is a measurement of how much air flows through space, or moves in an air line. CFM is the standard for air flow measurement and is routinely used in bathroom, kitchen, or whole-house ventilation, HVAC systems, fans, greenhouses, and all those other places where air volume is a consideration, like your air tools. Essentially, if your compressor can provide enough cubic feet per minute to meet your air tool's needs, you are good to go. If your air use exceeds the capacity (in cfm) of the compressor, you will spend lots of time waiting for your compressor to catch up to what you're doing. That's not much fun, and more-or-less defeats the purpose of having a powerful, fast air tool at your disposal.
FAQ
Frequently Asked Questions
Q: What kind of electric power does an air compressor need?
A: Portable compressors air ordinarily operate on standard household 120-V, 15-amp circuits. That's most of these on our list. Big, stationary single-stage compressors and some of the larger portable compressors operate on single-phase 240-V power. Many can be wired to operate on either 120-V or 240-V. 10 horsepower and larger two-stage air compressors (none on our list) likely operate on three-phase power only, while mid-sized 5 to 7.5 hp two-stage air compressors are made for both single-phase 240-V and three-phase 240-V electrical power.
Q: What kind of accessories will I need with an air compressor?
A: You'll want to buy a range of tools and accessories to make your compressor fully useful to you. You can usually buy a whole set of accessories in one kit, which would ordinarily include:
An air hose with quick connect/disconnect fittings on both ends
An air blow gun for cleaning purposes
A safety nozzle
A tire inflator
A tire gauge
Several male quick-connect fittings to attach air tools
Several female quick-connect fittings
A sports ball needle or two
Teflon tape for assembling air fittings, preventing leaks
Now it's time to buy some air tools!
Q: What air tools would I need?
A: That will depend on what you like to do in your garage! We highly recommend an air impact wrench as your first tool. This will let you get difficult fasteners off in no time, without aching arms and busted knuckles. An air ratchet to complement the hand ratchets in your socket set is another good one. You can use air power instead of finger and arm power to turn those nuts and bolts. You'll wonder how you ever got along without one!
You may also want to consider a pneumatic angle grinder, a pneumatic drill, a pneumatic nibbler, and a pneumatic paint sprayer, depending on what you do and how you like to do it. All of these are handy and quick. Whether or not you need them is another question. But sometimes need is a relative thing!
Q: Are air compressors safe?
A: You're working with a lot of pressure and power when you have a compressor in your garage. However, they are designed and tested to withstand the loads put on them. You don't have to worry about an explosion with a properly maintained tank! You do have to remember to drain them from time to time. Water vapor is compressed into the tank right along with the ambient air. That water will collect at the bottom of an air tank, and eventually cause rust. That's why every now and then you should open the drain (which will always be located at the bottom of your air tank) and let the pressure blow the water out. It takes only a few seconds and will save you trouble, years hence. These are very safe, and usually over-designed tools, you don't have to worry!
Subscribe to our Newsletter