Best Kobalt Tools Reviewed & Rated for Quality
last updated:
Jul 31, 2019
Kobalt is a brand owned by home improvement giant Lowe's, launched in 1998 to compete with Craftsman and Husky brands. Kobalt makes a full range of hand tools, as well as power tools and air tools. Everyone needs tools from all three categories! We spent some time working through the complete catalog of Kobalt tools to come up with a good selection of what we feel would be the best for the home mechanic. Any of the following (and anything else, really, in Kobalt tools catalog) would be an awesome addition to your garage.
Featured Recommendations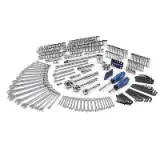 Advanced Mechanic's Tool Set

Our rating
Best all-around
Price:

See Here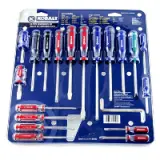 20-Piece Screwdriver Set

Our rating
Super useful
Price:

See Here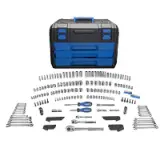 Mechanic's Set

Our rating
Great starter set
Price:

See Here

Kobalt sells everything from simple tools like a single screwdriver to massive master mechanic toolsets. You can find what you want and need from Kobalt! Their tool catalog is filled with well-made, precision tools. Their hand tools are generally crafted from fine chromium-vanadium steel, coated with a heavy chrome plating for protection. They look as good as they work, and they feel as good as they look. There's not much to better inspire your manual creativity than a nicely engineered, well-balanced set of tools at your fingertips.
We here at the Drivrzone garage have more than a few Kobalt tools around. They are consistently among the most-used tools in the box. The basic hand tools are masterful executions of the craft. We pick them up and find ourselves feeling ready for anything. We know you will, too. You'll be happy with the value you find in Kobalt tools, as well. So join us as we work our way down the…
10 Best Kobalt Tools
Advanced Mechanic's Tool Set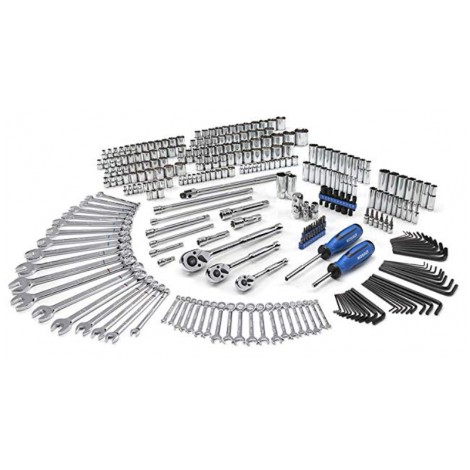 Leading the list is Kobalt's 856855 Advanced Mechanic's Tool Set. This is 300 pieces (40 pounds!) of Kobalt tools that will fill out your tool chest with just about everything you need in the way of mechanic's tools. 1/4-inch, 3/8-inch, and 1/2-inch ratchet handles and both standard and deep sockets in SAE and metric sizes make up the bulk of the set, but there are many, many others such as hex keys, driver handles, extension bars, and spark plug sockets. And, the entire set comes packaged in foam organizer trays that will fit directly in the drawers of any tool chest you happen to have, making it easy to find anything you need, quickly. Furthermore, the entire set is wonderfully executed in strong chromium-vanadium tool steel, promising a very long life of good service.
Expand to see more
Complete and useful
This 300-piece set has pretty much everything you need for most mechanic's tasks. There are 1/4-inch, 3/8-inch, and 1/2-inch ratchet handles and both standard and deep sockets in SAE and metric sizes, and the SAE sockets and wrenches have a nice red identification stripe on them, while the metric sizes have blue identification bands. Consequently, there will be no more
squinting
to figure out what's what! We all know the pain of searching for that 10mm socket, now you can narrow down the search radius very simply.
Well-made
This tool set is made of strong chromium-vanadium (Cr-V) tool steel. Cr-V steel accepts extra hardening, and the Cr component resists corrosion and abrasion. A thick chrome coating is applied over the forged steel tool for appearance and additional corrosion resistance. Always wipe them down when you're done with them, the chrome plating makes it easy to keep them looking life new.
Cost and value
This is probably the most expensive item on our list, but you're getting a lot for your money. We think this is a great value. The quality and completeness of this set mean you'll be fully equipped for anything that comes your way. There's nothing worse than having to stop a job to run to the store for another tool you don't have. Dodge that issue by purchasing a complete set. Furthermore, these tools are backed by Kobalt's lifetime hassle-free guarantee. If you have a problem, just return the tool to that place of purchase for a replacement, no questions asked! You can't beat that.
Very complete set
Hassle-free guarantee
Hex and spark plug wrenches included
Foam organizer trays included
Cr-V steel for long life
Must purchase tool box separately
20 Piece Screwdriver Set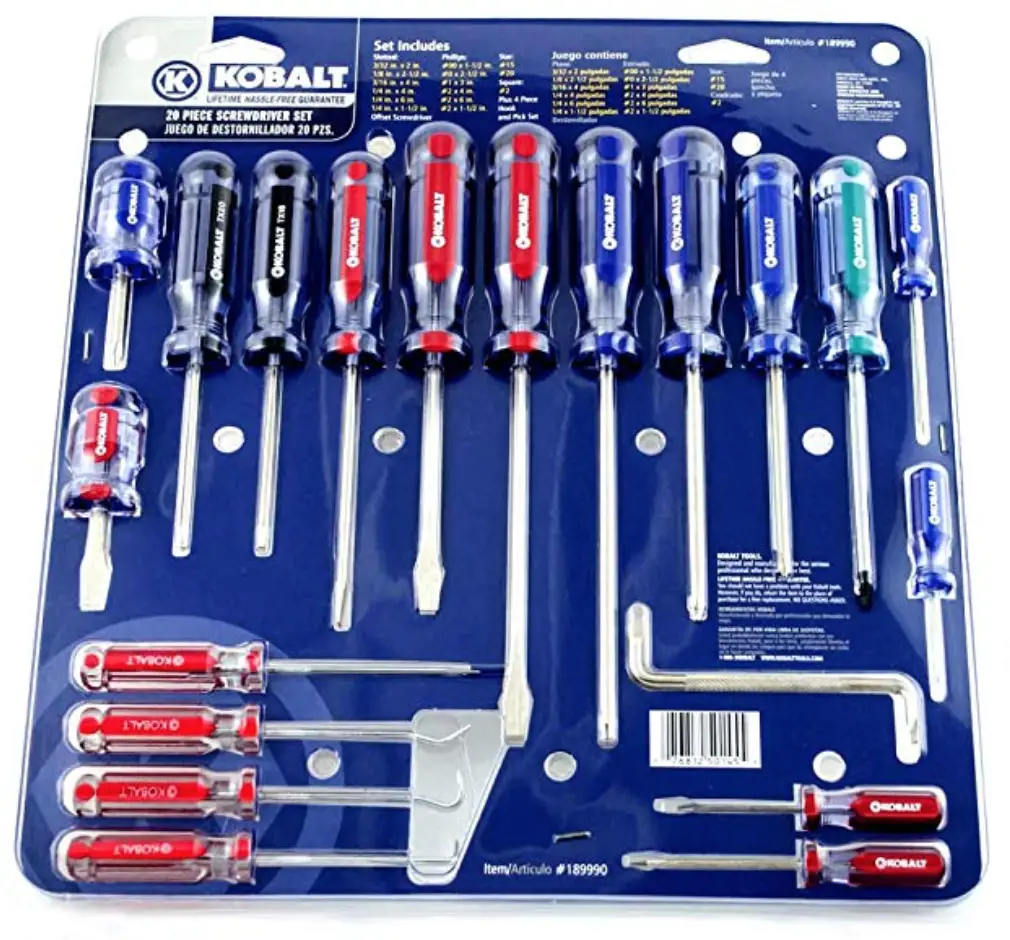 Who doesn't need screwdrivers? More screwdrivers? We're always looking for them, so are you. Make 'em easy to find with this great big Kobalt 324GC20N 20-Piece Screwdriver Set. Above all, it's got a little bit of everything: Phillips, flat, Torx, even a square drive, and an offset driver for those tight spaces! Don't stop everything to look for a screwdriver, grab this set and make sure you are well-supplied!
Expand to see more
Lots of everything

This set has a lot of everything: six Phillips, six flat, two Torx, one square, one offset driver, three hooked and one straight pick. Well, the last 4 aren't technically screwdrivers, but they're handy anyway. All that aside, the screwdrivers here will answer almost every need for a driver to turn fasteners in your garage. Did you know that Henry F. Phillips invented the phillips screw and driver in the early 1930s to speed production on automotive production lines?

Tool steel

These screwdrivers are forged from Cr-V steel for strength and resilience. The handles are bonded to the shafts for durability. These screwdrivers will stand up to just about anything you can dish out. And hey, they're covered by Kobalt's lifetime hassle free guarantee! one more thing... they are color-coded for easy identification. How cool is that! Don't you hate having to pull every screwdriver out of the box before you can find a Phillips (or regular - does't seem like all the Phillips drivers disappear at the same time?).

Cost and value

This screwdriver set nicely compliments the mechanic tool sets, but way, way cheaper. You'll find this set rolling in towards the bottom of the price range of our tool selections today. It's a nice price for a complete set of screwdrivers that will make you happy!



Tool steel
Includes Torx and square drive
Handles bonded to shafts
Straight and curved picks included
Mechanic's Tool Set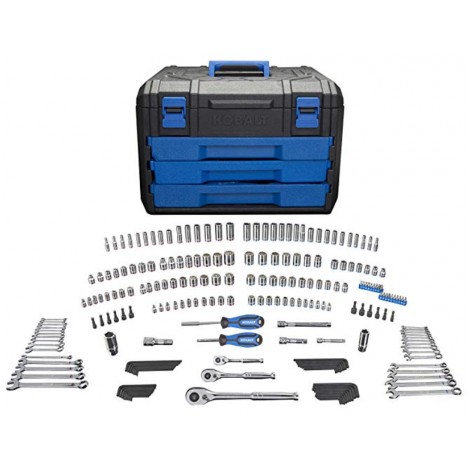 The third item on our list, and a Best Value, is the Kobalt 86756 Mechanic's Tool Set. This set contains the most frequently used, in-demand
mechanic's hand tools
, including SAE and metric sockets, combination wrenches, and hex keys. This is a great set that would form an excellent base for a very capable set of tools.
Expand to see more
Most of your needs

Here's the bulk of what you'll need to get through most tasks as a home mechanic, all packaged up in one set and housed in a nice tool chest. The most commonly used tools are here, and are kept organized in compact tool chest, in Kobalt tools blue, of course. Great quality tool steel means durability, strength and corrosion resistance. This set will cover you in most situations, and it will give you good, durable service for years to come.

Color-coded

And here's an added bonus: the sockets and combination wrenches are color coded. Blue for SAE and red for metric; that will keep you from guessing and squinting to see what wrench you need. You'll know at a glance. Maybe you know the story of the mythical 10mm socket that seems to grow legs and walk away. It's going to have a harder time getting away from this set!

Cost and value

This tool set is moderately priced, but certainly reasonable for what you get. You'll be pleased with your purchase what you unpack this comprehensive set of mechanic's tools. This is a great set for starting out, or if you are trying to bring everything together and make it neat and organized.

Color-coded wrenches
SAE and metric sizes
Three socket drive sizes
Organizing tool chest
Chrome-plated Cr-V tool steel
Socket size markings could be deeper
Pliers and Wrench Set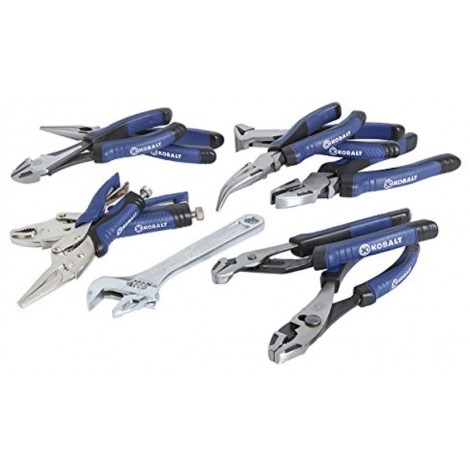 Fourth on our list is Kobalt 55753 Pliers and Wrench Set. Here's a bucket full of pliers (and a wrench) for you. If you spend a lot of time groping around the garage looking for pliers, this set is for you. It has slip-joint, lineman's, needle-nose, and locking jaw pliers in various sizes (and a wrench). If you're looking for
pliers
, this is where you'll find them (and a wrench!).
Expand to see more
All the pliers you need

If you're equipping a garage from scratch, or you just need a few more pliers around, this set is for you. Every popular type of pliers that you might want, need, or be looking around for is here (and a wrench, 8-inch adjustable, to be exact). There are slip-joint, needle-nose, groove-joint, side cutters, and end nipper, and locking jaw pliers in this set.

Steel yourself

All the pliers are forged from chromium-nickel (Cr-Ni) steel; the adjustable wrench and the locking jaw pliers are made of chromium-vanadium (Cr-V) steel. These alloys are chosen for their strength and corrosion resistance.

Comfort handles

All the pliers in this set have Kobalt's comfortable rounded handles. Gripping and squeezing anything is not a painful chore with these grips. You won't find yourself slipping off and losing your grip either. They are definitely easy to hold, and attractive besides.

Cost and value

Considering you get nine pliers and a wrench in this set, it's a good deal. The price is moderate, but divide by ten and you'll see each set of pliers is offered here for much less than if you bought them one by one. This is a good deal all around.

Nine pliers, one price
8-inch adjustable wrench included
Cr-Ni and Cr-V tool steel
Nice grips
Meets ANSI standards
Case or tool wrap not included
Power Tool Accessories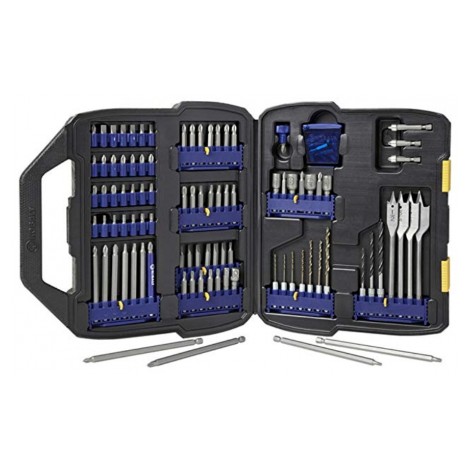 We are midway through our list of Kobalt tools, and here, in all its glory, is the Kobalt 0515933 Power Tool Accessories Set. Not a tool, in the conventional sense, it's more a set of enablers. This boxed set will allow your power drill and screwdriver perform to its fullest, with every kind of drill bit, screwdriver but, and nut driver you can think of, and maybe a couple you haven't.
Expand to see more
Drilling like there's no tomorrow
It's a badly kept secret that when you buy a
drill
, it does't come with drill bits or screwdriver tips. Those are extra. But wait, here is everything you need to make your drill sing. Drill bits, screwdriver tips, nut drivers. All ready for you in a nice case/organizer! The case is a little large to fit in a toolbox or chest, so it may not be the best choice to take along if you go mobile a lot. But we're going to tell you, this is a super set to have in the shop, with all these bits, tips, and accessories right together in one place.
But there's more
This set has a little more than the standard, though. First, it has spade bits. Those are the flat bits you see for drilling larger holes in wood. The sizes included are 1/2, 3/4, 7/8, and 1 inch. And, there are three patented magnetic screwdriver bits to make your screw driving chores quicker and easier. You have everything you need here to get maximum utility out of your electric drill.
Cost and value
We'll come right out and say it: this set is dirt cheap for what's in it. You'd pay many times what we see this set priced at to buy the individual components one-by-one. This set is an amazing deal. It would make an
awesome gift for the mechanic
or DIY person in your life! We are absolutely in love with it. We are sure you'll be happy, too!
Big set in a nice case
Spade bits included
Nut drivers
Drill bits
Screwdriver and Torx tips
Magnetic driver bits a little fragile
Adjustable Wrench Set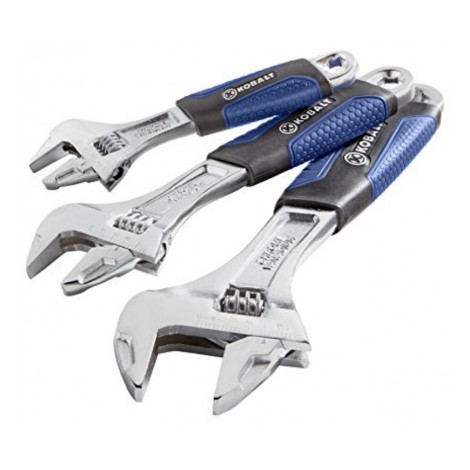 This Kobalt 464624 Adjustable Wrench Set is number six on our list of essential Kobalt tools. What's more essential than adjustable wrenches? There's a million uses for them, and there are the three best and most useful sizes present in this set of three.
Expand to see more
A great tool
The first adjustable wrench was made in 1842! We are using the same tool our great-great-great-gandparents did. Something so simple and elegant has a place in everyone's
tool box
, and this set covers all bases by giving you 6-, 8-, and 10-inch examples. Use a longer
wrench
if you need more torque. With these wrenches on your side, you'll be ready for anything.
A gripping story
Instead of hard steel, your hand is gripping resilient plasticized rubber when you handle these wrenches. When you are really giving it a pull, they'll be easier on you than bare steel. And we all know that's one of the times you break out the 10-inch adjustable wrench, when you are trying
really
hard to break a nut loose!
Cost and value
This is another great value from Kobalt tools; three adjustable wrenches, a mechanic's icon, for one moderate price. We're happy with the price-point of this set; we're sure you will be too. As an added bonus, there are laser-etched markings on the jaws to show you what size you have the screw adjustment set at. This is handier than guessing or eyeballing it and having to continually readjust!
Three wrench set
Cr-V tool steel
Rust resistant
Smooth grips
Wide opening jaws
24V MAX Brushless Set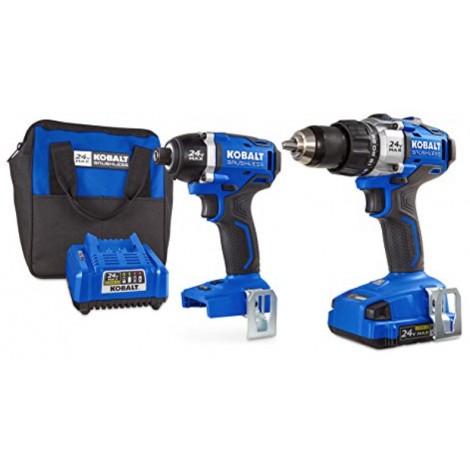 Rolling along into the seventh position is the Kobalt 24V MAX Brushless 2 Tool Combo Kit, 43308-8247. This is a little different, the sole example of a
power tool
on this list. Or power
tools
, because this is a two-for-one deal: a cordless drill and a cordless impact driver!
Expand to see more
High impact

The first part of this two-part deal is a cordless, 1/4-inch drive impact driver. This impact driver has a long-lived brushless motor delivering as much as 1,800 inch-lbs of torque. A three speed control yields settings of 0-850 rpm, 0-2,000 rpm, and 0-2,700 rpm. This impact driver will remove or replace the toughest fasteners quickly, to get you on your way that much faster. Don't hesitate to get these in your tool set right away!

Drill sergeant

The drill half of this team is a big 1/2-in chuck machine that also has a brushless motor for long, trouble-free life. It will deliver 650 in-lbs of torque via a two-speed gearbox. Its variable-speed trigger gives you complete control of the job, and the keyless chuck makes bit changes quick and easy.

Cost and value

This is not a cheap set, but you are getting two powerful, cordless tools for the price. It's still less than the most expensive items on the list today. You'll be excited and satisfied to have these two fine tools in your arsenal. We like them a lot, and look for excuses to use them. We know you'll agree!


Two powerful tools
Lots of torque
Easy change bits and tips
Rechargeable
Brushless motors
Locking Pliers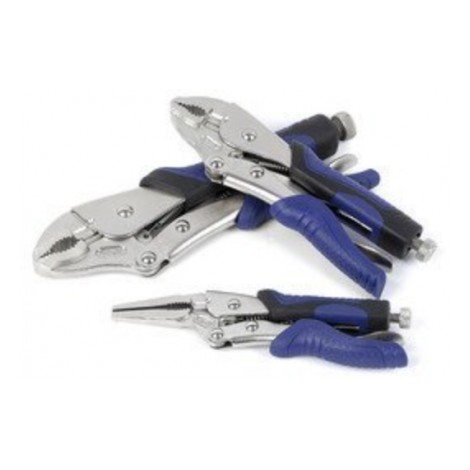 The eighth entry on the list is this Kobalt 55740
Locking Pliers
Set. Locking pliers are a necessity for shop operations, they let you clamp and lock down all kinds of parts and lock on rounded bolts to give you a chance at getting them out. If you need to clamp on to something like the jaws of a shark, these Kobalt locking pliers will do just that. This is a set of three! You'll have everything you need! Add them to your Kobalt tools kit today!
Expand to see more
Lock 'em up

These Kobalt locking pliers are forged Cr-V steel with hardened jaws to grip and clamp the toughest surfaces. Locking pliers you say... these look just like V***-Gr**s! Well, that's because that's a trademark that's been adapted as a generic name. These Kobalt examples are called the even more generic name locking pliers. It's simple: they are pliers, and they lock! And do they ever lock tight. Clamp them on and they'll hold better than an angry pit bull.

Long history

V***-G***, uh, locking pliers were invented in Nebraska in 1924. They were an immediate hit, the ease of use and utility making them the mechanic's favorite. They are especially handy in welding, being used to clamp metal together until it's welded and permanently bonded. Did you know in the UK they are referred to as Mole grips? They were manufactured in the Mole works in South Wales.

Cost and value

The price point on these three outstanding tools makes them almost an impulse buy. You'll be happy to pick up a set of three of these versatile tools for what seems like the price of one. We rate this set a five-star value!

Three tools
Hardened jaws
Cr-V drop forged tool steel
Ergonomic grips
Sometimes difficult to adjust
SAE and Metric Ratchet Set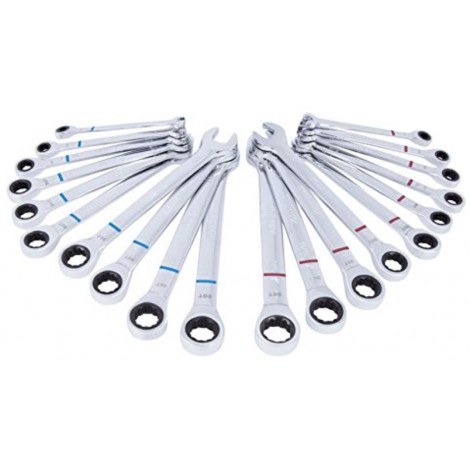 The ninth entry of the list of Kobalt tools is here: the Kobalt 87717 SAE and Metric Combination Ratchet Wrench Set. This is a handy innovation: a combination wrench where the box end is actually a
ratchet
, which saves time instead of taking it on and off to keep turning a bolt. This set is both SAE and metric, color-coded for easy identification. You want this set, you know it! It's one of the essentials that define a tool chest. This ratcheting combination wrench set opens your horizons and brightens your outlook on tough garage chores.
Expand to see more
Heart-wrenching
These wrenches are so cool your heart will skip a beat when you see them. They are SAE and metric combination wrenches, but the box end is a 12-point, 90-tooth ratchet! And the head is not angled, so it will fit in the tiny spaces where a socket won't. These wrenches will be your go-to in the wrench drawer of your
tool box
! DO your heart the favor of adding them to your collection. Not only are they pretty, they're super useful.
SAE and metric
This comprehensive wrench set includes 1/4, 5/16, 11/32, 3/8, 7/16, 1/2, 9/16, 5/8, 11/16, and 3/4-inch SAE sizes, and 6, 8, 10, 12, 13, 14, 15, 16, 17, and 18mm metric sizes, just about covering anything you might encounter. Red and blue strips differentiate SAE from metric, for easy selection. All are made of strong, forged chromium-vanadium tool steel for long life.
Cost and value
This a pricey set, but they are premium quality specialty tools that will save your butt if you need to get into a tight space where absolutely nothing else will fit. How often has that happened to you? Especially working behind the dash, it's a tough fit sometimes. Be ready with this set of ratcheting combination wrenches. You'll want to lubricate the ratchet side occasionally with a little squirt of WD-40 or a similar lubricant to keep them turning freely, but other than that, you should get years of good service out of this set of wrenches.
90-tooth ratchet
Flat, no angle
Cr-V tool steel
Compact to fit in tight spaces
SAE and metric
Ratchet end occasionally fails
Impact Sockets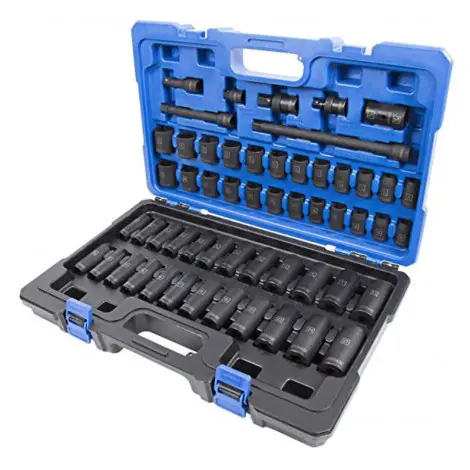 Last but really, really far from last on our list is the Kobalt 856843 1/2-Inch Drive Deep and Shallow Impact Socket Set. You have the impact driver, now get the sockets! Most impact drivers, pneumatic or electric, don't come with sockets. This big set takes care of that need. You'll be making a big impact in your garage with an impact driver and this complete set of impact sockets.
Expand to see more
High impact
Impact driver
sockets are built heavy and tough to take punishment. Just the name, impact driver, tells you what's going to happen. Big, tough fasteners are going to be loosened or tightened with repeated impacts from a
high-torque tool
. You can't just use your everyday sockets in this application. You need specially engineered impact sockets. These, as they say, are them.
SAE, metric, deep, regular
You have all you need in this set, plus accessories like extensions up to 10-inches. Socket sizes up to 1-1/16 inches and 27 mm are here. This, my friends, is 25 pounds of forged tool steel, ready to do your bidding. It's not for the faint of heart... it's for the mechanic at heart. That, my friends, is
you
. Some might say you're only as good as your tools. We don't believe that. We think your abilities transcend your tools. However, if you have that innate desire and ability, your efforts will only be magnified by having excellent tools like these. Make the investment in yourself.
Cost and value
This is at the upper end of the price spectrum for tool sets on this list. But, for black-oxide finished, heavy Cr-V steel construction impact sockets, the price is not bad, and compares well to competitors. The value is certainly there, if you need this heavy-duty set, it's well worth the price. These impact sockets are as good as any out there, and they can be delivered right to your house, no waiting for the tool truck to come around!
Heavily engineered
Cr-V steel
Black oxide finish
SAE and metric
Deep and regular sockets
Sockets are a little loose in the case
Criteria Used in Evaluation of the Best Kobalt Tools
Materials
We always look to the materials a tool is made to decide whether or not it's deserving of our recognition. Most decent quality mechanic's tools are made of chromium-vanadium steel (Cr-V); some of the chromium-nickel steel (Cr-Ni), and you might occasionally encounter chromium-molybdenum steel (ChroMoly). All those elements alloyed with the steel give it various properties. Chromium aids in corrosion resistance and hardening. Molybdenum helps with toughness, and nickel with corrosion resistance.
Durability
A tool's durability can be inferred from its materials, its workmanship, and design. Modern sales on the internet allow for gathering lots of user reviews, as well, and we scan those for problems that crop up on a consistent basis. When there are thousands of examples of tools in daily use in a variety of environments, design flaws will show up quickly. It's good for us, and better for you, to have access to all these reviews. WE use them to look at trends of long-term customer satisfaction. Therefore you can trust us when we say a product is durable.
Grips
Getting a grip on it is the most important thing you can do with a tool. If you can't hold on to it, you can't work with it. So we love when a nice tool comes along with a hand-friendly, ergonomic grip. Some tools don't have any soft or textured grip built-in at all. Some are all-metal, but with a pleasant rounded shape that is comfortable to hold. Overall, we enjoy those with well-designed comfort grips that soften the wear and tear on the sensitive skin of your hands. Of course, the softer the material, the more prone to damage it is. And 10 or 20 years from now, what will that grip look like? There are pros and cons both ways; you need to decide what's important to you. We like nice grips for the home mechanic who is just looking to get a job done for enjoyment or saving money.
Usefulness
Notice we haven't recommended specialty tools like brake tools, feeler gauges, gear pullers, etc. This is not because they aren't good tools, just that they may not be generally useful other than for the specific task they are meant for. A good socket set you can use in the garage, in the house, in the yard, on the road, all over the place. It's a very useful tool. That's what we look for, things that are not just serving one narrow purpose. We will certainly be reviewing automotive specials tools in the future, but a more general review like this will include things you will use often.
FAQ
Frequently Asked Questions
Q: Are Kobalt tools guaranteed?
A: Are they ever! The following categories are covered by Kobalt's lifetime hassle-free guarantee: sockets, ratchets, wrenches, hammers, pry bars, utility knives, chisels, files, pliers, and levels. If you ever have a problem, take them to the place of purchase for a free replacement, no questions asked! It doesn't get much easier or better than that. As a result, we are very excited about not just the tools themselves, but the way Kobalt stands behind them.
Q: How do I care for my Kobalt tools?
A: First of all, keep them clean. If you use them in a greasy or dirty environment, wipe them down with a shop towel when you're done. Second, keep them dry. If you use them outside and you get rained on, or if you're using them of water or coolant pipes, and you get some of them, dry them before putting them away. Third, store them in a cool, dry place. Get yourself a nice toolbox or chest for that.
Stubborn grease or dirt can be removed with a squirt of something like WD-40. You'll also want to wipe them down occasionally with light oil to prevent corrosion. This is because the chrome plating and chromium alloy steel will resist rust, but not completely defeat it. If you take good care of your tools, they'll take good care of you!
Q: Are there any safety precautions I should take while using Kobalt tools?
A: We always wear gloves ourselves, and we always recommend you do the same. Seems like you just never know when that rusty bolt is going to cut loose, and you'll end up with scarred up knuckles if you're not careful. Wear safety glasses while you're at it. Chips and fragments can go flying at any time, and the last thing you want or need is rusty iron fragments embedded in your eyeball. You should always consider your safety when working on or around a vehicle. Take the time to lay out your tools and neaten your work area, so you're not tripping over things or losing tools in the clutter.
Q: Are there new models of Kobalt tools every year, or are these models going to be around for a while?
A: Most of these tools are evolutionary advancements in tool technology. They are basic and simple. It is unlikely there will be new models any time soon. You never have to worry about classic, timeless tools like these becoming outdated. There have been sockets and wrenches and screwdrivers since the beginning of the industrial age. Even the cordless power tools have replaceable rechargeable battery packs. As you know, eventually rechargeable batteries lose their effectiveness. You can buy a replacement pack and keep them going. Good tools, like diamonds, are forever.
Sources
Subscribe to our Newsletter