Best Garage Door Openers Reviewed & Rated for Quality
last updated:
Oct 23, 2019
If you live in or anywhere near a suburb, then you've likely seen a garage at some point. Heck, if you have a rather large family and thus have to live in a big house, the construction company probably threw in a garage attached to the house in the general design. And with a garage comes, of course, the garage door. A big slab of plastic and/or metal that keeps the elements or potential thieves away from your car. But with that big door, it's a lot nicer when you have an automated way of opening it.
Used to be, a person would have to physically lift up a garage door on their own. And while the chain and pulley system took a lot of that weight off, it was still too much for the elderly or injured. Garage door openers succeed where normal human strength fails, allowing you to exit and enter your garage with ease. And we're counting down the ten best currently on the market, here today. 
Featured Recommendations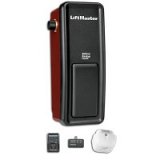 Liftmaster

Our rating
Space Saving Design
Price:

See Here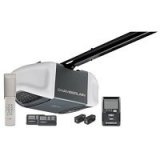 Chamberlain WD832KEV

Our rating
Steel-Reinforced Belt
Price:

See Here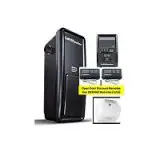 8500 Liftmaster

Our rating
Runs ultra-quiet
Price:

See Here

10 Best Garage Door Openers
1. Liftmaster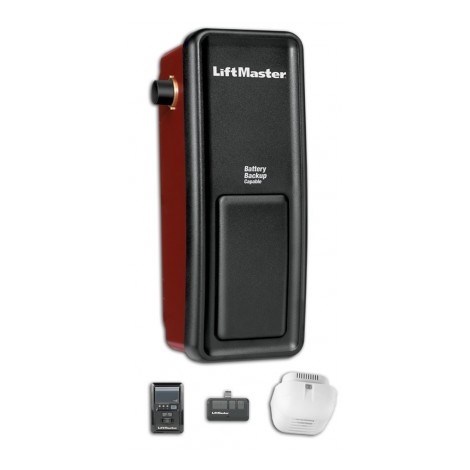 Kicking off our list, we have the Liftmaster Garage Door Opener. With garage door openers, you're either buying the whole system, including the mechanical winch, or you're just buying a new keypad that connects to the said winch. This is the latter and seeing as how it's from the masters of this niche market, Liftmaster, this opener is about as good as it gets.

Expand to see more
Backlit keypad

These sorts of keypads have been around for a while, but it took way longer than it should have for one of these to have a backlit display. Not to say that this is the only garage door opener keypad to feature a backlit keypad, but it was definitely one of the first when the first models hit the shelves. So now, if you have to get into your garage at night and can't see two inches in front of your face, just punch in a code on the keypad and voila.

Completely wireless

Before you start thinking that you need to wire this thing into your winch, and start adding up the numbers, calm down because there's no need for that here. In fact, most garage door opener keypads are wireless, simply due to how much easier, it is to do so. There is still installation, of course, but nothing too messy.

Cost and Value

Since this is for the keypad and not for it and a winch, the price isn't all that bad, all things considered.


Backlit keypad
Completely wireless
Affordable
Programming the key code can be tricky
2. Chamberlain WD832KEV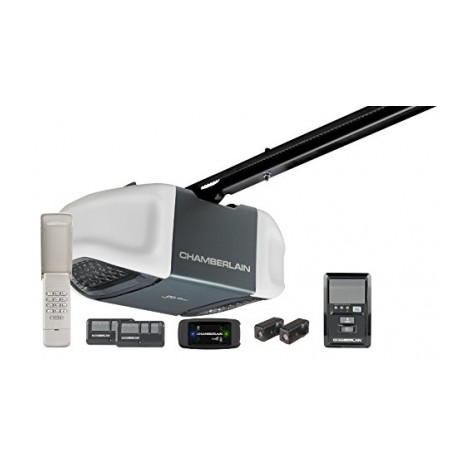 Coming in second place is the Chamberlain WD832KEV Garage Door Opener. Unlike the previous entry, this is the whole shebang, the keypad, winch, and loads more other accessories to go with it. And while it may have the price to reflect this, we believe that it is money very well spent.

Expand to see more
Timer-to-Close feature
While this garage door opener comes equipped with a handy
pair of remotes
for your vehicles, there are still times when you forget to close the garage door on your way out, and since lady luck has it in for you that particular day, you realize this as you're getting on a plane bound for across the country. Well, don't worry, as this garage door opener comes with a timer-to-close feature, where you can set a designated time of up to 10 minutes. Afterwards the garage door will automatically close for you.
Protector system safety sensors
One thing to remember about garage doors is that they're heavy and they are not made of delicate stuff. So, they aren't exactly the kinds of doors you want coming down on your head. As such, this garage door opener is equipped with top of the line safety equipment. This winch projects an invisible light beam across the opening of the garage door. So, when something is in the way during the closing process, the rapid snap brackets will immediately stop and reverse the door.
Cost and Value
It should come as no surprise that this is one of the priciest entries on the list. While definitely not the most expensive thing we're going to be looking at today, if you want this excellent garage door opener, you'd best set aside a lot of payday money.
Timer-to-close feature
Protector system safety sensors
The quick install rail system
3. 8500 Liftmaster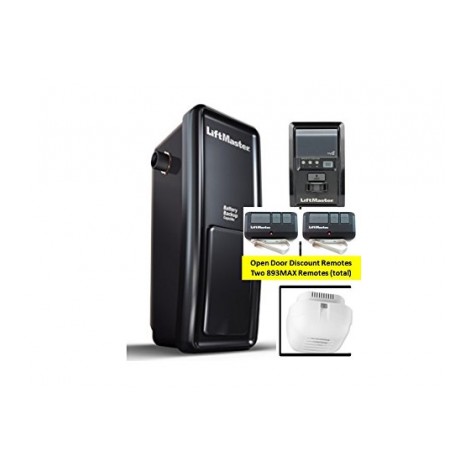 Finishing up our top three segment, we have the 8500 Liftmaster Elite Series myQ Enabled Garage Door Opener. We go from a Liftmaster keypad to the whole set, including a winch, keychain remotes, and car remotes. So, let's see how Liftmaster compares to its peers when it puts all of its cards on the table.

Expand to see more
Space saving design

Garage door openers can often be pretty bulky pieces of hardware that take up a lot of room. Which is why most people put them on the ceiling, along with the obvious benefits of leverage. However, this winch is actually stationed on the wall of your garage, right next to the garage door. And its sleek design saves a ton of space by being about as out of the way as a garage door opener can be.

Ultra-quiet

This is one of the most quietly running garage door openers on the entire market. Not a high bar, we know, but it really is about as quiet as a machine like this can be, despite being made with high powered p3 motors. Most of the sound you hear from a garage door opener is from the sound and vibrations the machine is sending through the ceiling. But this machine is built to eliminate such noises, so there's no issue.

Cost and Value

Being so advanced in its design and technology, it should come as no surprise that the price of this garage door opener is even higher than the last one. Not by a lot, mind you, but still pretty high.


Space saving design
Ultra quiet
Powerful p3 motors
Some types of garage doors are incompatible
4. Chamberlain C410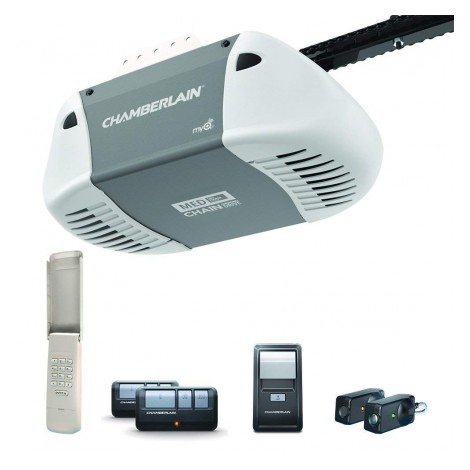 Coming in at #4, we have the Chamberlain C410 Chain Drive Garage Door Opener. Chamberlain is always known for high quality garage door openers, and nowhere is that more apparent than with this one here. So, what makes this one so special? Let's find out.

Expand to see more
MED Lift Power System
The speed at which a garage door opens is entirely dependent on the strength of the winch and opener system in general. Otherwise, the door would shoot straight open like the automatic doors at a supermarket every time. While we're not quite there yet, the MED Lift Power System certainly gives it the old college try by having one of the
strongest lifts
on the entire market. Making for
effortless lifting
and reliable performance, even after years of repeated use.
Durable chain drives
There are few things quite as harrowing as the chain holding up your garage door suddenly snapping, sending the large metal door crashing down on the ground below, and that's if you're lucky enough to not have anything in its way at the time. Which is why you should always check the quality of the chains you're using for your garage door opener. Something you won't have to worry about with this one, as the chains used for this winch are made with a rugged steel construction with precision fabrication, providing longevity and reliability.
Cost and Value
For such a highly advanced garage door opener, this device is remarkably affordable, given what it's offering you. So, if you're on a rather tight budget but need a new garage door opener, this is the best you're likely to get.
MED Lift Power System
Affordable for what it's offering
5. Direct Drive 1042V004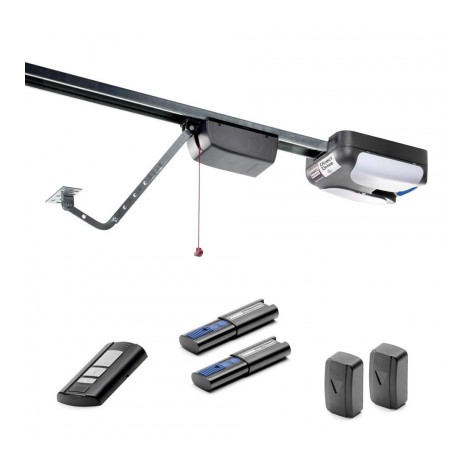 For our #5 spot, we chose the Sommer Direct Drive garage Door Opener. If you're looking for a model of efficiency as far as garage door openers are concerned, then you have definitely come to the right place with this entry, as this is one of the most efficiently constructed garage door openers on the market. Allow us to explain why.

Expand to see more
Extremely quiet
While not nearly as quiet as the #3 entry, it's a lot more quiet than most other ceiling mounted garage door openers. This is mostly attributed to the fact that this garage door opener is built to reduce the amount of vibrations it puts off by a considerably wider margin than most of its peers. So, if you have
family
who work at night and thus prefer to sleep through the day, this is the perfect consideration for them.
Secure rolling
Just because these things are built to withstand the weight of a garage door time after time, doesn't mean that it isn't still heavy. And since a garage door opener needs to roll in order to pull up the garage door, this can be a problem. Fortunately, this garage door opener is made with secure rolling code technology that can handle up to 310 Mhz.
Cost and Value
This entry drifts somewhere between the price for the previous entry and the ones before it. Not too expensive, but definitely not affordable either.
Extremely quiet
Secure rolling
Capable of lifting doors up to 7 or even 8 ft in height
6. Chamberlain B970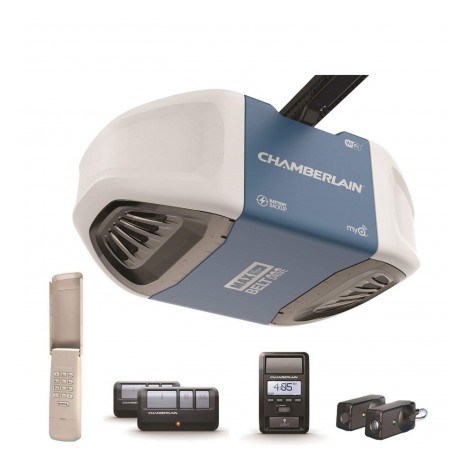 Coming in at #6, we have the Chamberlain B970 Strong Belt Drive Garage Door Opener. Made with top of the line construction and advanced myQ technology, this garage door opener is one of Chamberlain's top tier products.

Expand to see more
myQ technology
Like other Chamberlain entries on this list, this garage door opener is made with highly advanced myQ technology. Basically, this allows you to access the garage door opener's functions through a dedicated myQ app. Think of it as a backup in case your normal garage door openers remote runs low on
batteries
.
Strong belt drive
Not only is this almost as quiet in its operation as the 3rd place entry, but it's also equipped with one of the strongest belt drives on the market. With these winch-like systems, the strength of the belt drive is paramount, and with this one's steel reinforced drive, constructed with the highest grade materials that can be put into a system like this, this product definitely understands this.
Cost and Value
This entry exists in between the cheaper and more expensive entries on this list. Not too high to be considered pricey for this list's standards, but not too low to be considered affordable.
myQ Technology
Strong belt drive
Ultra quiet
Drive motor brackets are a bit light for this model
7. Craftsman Sears Remote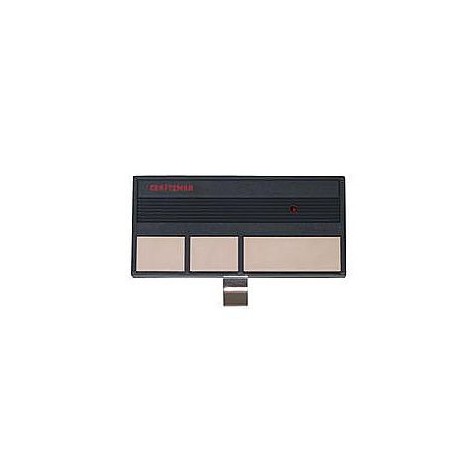 For our 7th place pick, we have the Craftsman Sears Remote Garage Door Opener. This is a classic design from the master engineers at craftsman. Made in 1992, this model has seen a surprisingly little update since, mostly due to a lack of need for such updates. So, let's see what makes this remote so good.

Expand to see more
Greater distance

When you're coming home from a long trip, the last thing you want as you drive up the driveway is to wrestle with the garage door opener remote for how close you have to be to the garage before it gets the hint to open. Which is why this remote has a much longer range than most other remotes of its type.

Versatile

If you have a craftsman door opener already, but you lost the remote that came with it, then you're probably thinking you're at a loss. Well, don't worry, because this remote, with some light calibration, can sync up to any craftsman garage door opener. So, you don't need to worry about not having a means of opening your garage door from your car.

Cost and Value

Being just the remote that goes with a garage door opener, this entry is, of course, one of the cheapest on this list. So, if you need a new garage door opener remote from Craftsman, this is the one for you.



Greater distance
Versatile
Affordable
Only works for craftsman garage door openers
8. Genie SilentMax 1200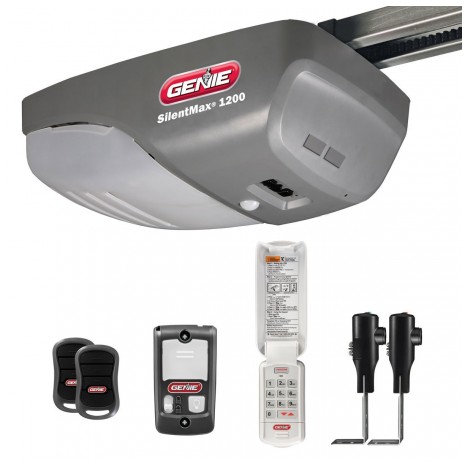 Kicking off our final three entries, we have the Genie SilentMax 1200 Garage Door Opener. If you need a new garage door opener for your home, then we consider this one to be one of the ideal choices for that particular need. What makes it so worthy of that confidence? Let's find out.


Expand to see more
Powerful and smooth operation
This garage door opener is called the SilentMax, so saying it's incredibly quiet and reduces vibrations down to basically nothing should go without saying. However, you shouldn't mistake this quiet for a
lack of power
, as that is definitely not the case here. This garage door opener is outfitted with a powerful 140V DC motor that features a soft start and stop control. This allows for smooth door travel both up and down, with none of the grinding or mechanical moaning you get from other garage door openers.
Fast and easy installation
With other garage door openers, you usually have to hire someone to come and install it, or the company will send someone as a package deal. And the installation will take a few hours, sometimes the entire day. Not so with the SilentMax, as even if you do it yourself, you'll be shocked at just how fast an installation this garage door opener's c-channel rail is.
Cost and Value
While technically in the same price limbo the #6 entry was, it leans close enough to being affordable that we have no problem labeling it as such. So, if you want a quiet, efficient garage door opener for your home, we can't recommend this entry to you enough.
Powerful and smooth operation
Fast and easy installation
Affordable
Remotes can be unreliable
9. Decko Heavy Duty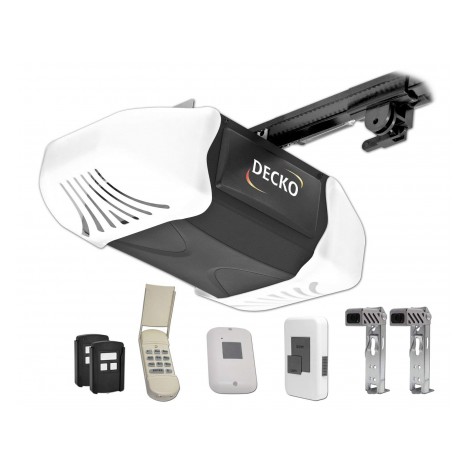 For our second to final entry, we have the Decko Heavy Duty Garage Door Opener. Like the name says, this garage door opener is meant for the really big garage doors, the kind you put on
storage containers
and warehouses. So, let's see just how well this one measures up.
Expand to see more
Capable of handling large doors
There are two things that make this garage door opener able to take on even the biggest garage doors. The first is its rail bar, which can be extended as far as 8 ft in length, giving the opener much more leverage against heavier doors. The second is its
powerful chain
drive, made from top grade materials and some of the best chain that money can buy. Combined, this garage door opener can take on garage doors of up to 7 ft tall and 18 ft wide.
Auto reverse system
When you have to work with such large garage doors, you want to make sure that all potential accidents are covered and accounted for. Which is why this garage door opener comes with an auto reverse system, where a sensor keeps watch over the opening of the garage, and immediately reverses the direction of the garage door if it senses anyone or anything in the closing door's way.
Cost and Value
This garage door opener, despite its heavier duty design and capabilities, has a very average price tag. So, if you need a new garage door opener for that big storage unit you have, you've come to the right place.
Capable of handling large doors
Auto reverse system
Easy installation, features non-polarizing wiring for error free installation
10. Chamberlain B970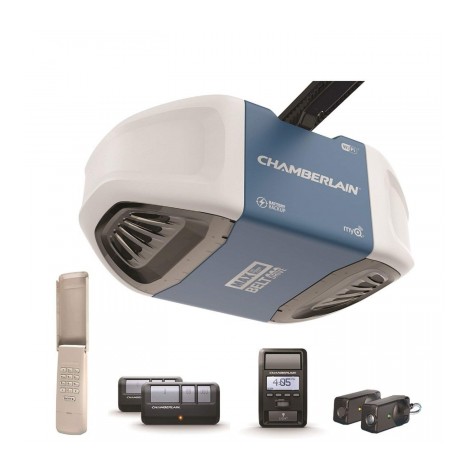 For our final entry for this list, we have the Chamberlain Smart Garage Door Opener. If you have a habit of forgetting to close the garage door, whether from inexperience or memory loss from age, then this is a dream come true. Why is that? Well, let's close out our list by finding out.

Expand to see more
Customized notifications

If you have a big busy family, you want to keep track of who's coming in and out of the garage in real time for various safety reasons. Which is why this garage door opener comes with a specialized myQ app that lets you keep track of when the garage door is opening and closing in real time. And if you forget to check, don't worry, as this app can be set up to give you notifications automatically.

Compatible with most brands

From Chamberlain to Craftsman to LiftMaster, this particular garage door opener can interface with almost any kind of device. Whether you just don't want to install a new keypad, or you want to make the garage door opener you already have more automatic, this device will open up a myriad of avenues for you.

Cost and Value

The best part about this device is its price. Since it's not necessarily a garage door opener itself, but rather an add on for one you already have, it's much more affordable than you might think.


Customized notifications
Compatible with most brands
Affordable
Setup is very complicated
If you own a garage, then simply put, you need a garage door opener. Unless you're the kind of person who likes to lift up large slabs of metal for kicks, then you're probably not the kind of person who can keep lifting up and pulling down a garage door over and over every day. It can be a real lifesaver when you need to get out of the garage and on the road nice and fast. Whether you just want something that opens and shuts the garage for you in a nice and fast fashion, or if you want something that's a bit more advanced, there's a garage door opener for you. Whether you're looking for an opener for your home's garage, or if you own a warehouse that needs a new garage door opener, one of the entries on this list is precisely what you're looking for.
Criteria Used in Choosing the Best Garage Door Openers
Coming up with a good list of criteria for this article was simple enough, once we had the basics down for what makes a good criteria list for this particular product. It was just a matter of looking at the technical makeup of the devices and looking for what we valued more from a garage door opener. So, with that said, here are the most vital criteria we used to determine who got on this list and where.
Set completeness
This was a tricky criterion to follow, so we may as well get it out of the way first. Yes, as you've no doubt seen, there are a few entries on this list that do not include the full device for a garage door opener but instead consist of either a keypad or a car remote. Lots of manufacturers for these devices know they can be easy to lose track of, so they make them able to be interfaced with other devices like them to make them easy to replace. This technically qualifies things like individual garage door opener remotes or keypads for this list, since everyone needs a replacement for those devices sooner or later. However, we did give extra consideration to garage openers that offered the complete set all at once, including winch, remotes, and keypad.
Horsepower
If it has any kind of motor, it has the horsepower, so of course, this one gets near top billing in this section. Horsepower determines the strength of the motor installed into the garage door opener. This, in turn, determines how strong the garage door opener itself actually is. Let's say you live in a normal suburban home with a garage. Your average garage door doesn't need a lot more than ½ horsepower to be lifted up with ease. However, if you have a heavier garage door, such as one made from solid wood, then you'll need something with a bit more kick, like ¾ horsepower. And if you have a warehouse that needs a lift for its massive garage door, then you'll need either a ¾ or something even stronger than that. Always have a technician come over to look at your garage door to determine what horsepower is needed to lift it, because if you don't already know that kind of stuff, then there can be a lot of guesswork involved.
Reversing module
Reversing modules have been a law mandated requirement in garage door openers since 1993, so it's a good idea to make sure that your opener has one of those. Although as you can imagine, you don't have a lot to actually worry about. A reversing module comes in one of two forms: either the door will reverse when it feels the pressure too specific and high up to be the ground or the winch will have a sensor that keeps tabs on the opening of the garage, watching for anything that enters its field when the door is closing. If it senses something, it immediately yanks back the door. Because of its added efficiency, most manufacturers prefer the latter of those two these days.
Noise level
If you're getting a garage door opener for your house, then you probably don't want it to actually make a ton of noise. The majority of noise created by a garage door opener comes from the vibrations it's putting in the wall or ceiling, as well as the drive straining itself to pull on the garage door. This is another reason why horsepower is so important, as the motor is strong enough to lift the garage door with ease goes a long way to cutting down the noise it makes. If you're looking for quiet operation, however, it's recommended that you stay away from chain drives. While the chains are usually strong enough to handle anything you have them lift, they also make a lot of noise as the motor shakes them around. So for the best quiet operation, we recommend sticking with a belt drive.
Price
The main thing that decided the price of each item was the number of items included in the entry. An entry that provided everything you could possibly need from a garage opener would, of course, be the most expensive thing on the list. Whereas an entry that consists of one or two keypads or remotes would be a lot more affordable. So as such, we looked at each item in terms of what they were offering us in exchange for the prices they were asking. If you feel like you're getting everything you could possibly want and more, after all, then you're going to be a lot more forgiving of a high price tag.
FAQ
Frequently Asked Questions
For the last segment of this list, we'll be taking a look at some frequently asked questions surrounding garage door openers. You're trusting this device to open a big heavy slab of metal for you multiple times a day, so it only stands to reason to want as many doubts cleared up and questions answered before you actually made a purchase, which is why we're here. So here are the most frequently asked questions and commonly voiced concerns surrounding garage door openers, and the answers thereof.
Q: Which is the best drive system?
A: When you shop for a garage door opener, you have the choice of about three different types; belt, chain, and screw. First off is the belt drive. Now, ideally speaking, this is a rubber belt, reinforced with steel, ran through a trolley system that raises and lowers the door. This is the most popular type among homeowners because it is the quietest of the three, making it ideal for those who have to sleep through the day for work. However, it's also the most expensive type.
Chain drives are basically the same, except they use solid steel chains to raise and lower the door. One of the main benefits that people overlook is that, if the power goes out during a storm, and stays out long into the morning, you can still get to class. Chain drives remain perfectly operational with or without power, so you can just lift it up and be on your way. However, they're also incredibly noisy. Still though, with periodic maintenance, they can outlast both other types of drives by years.
Finally, there are the screw drives. These use a threaded rod mechanism (basically a particularly long screw) to move the door up and down. One benefit is that a garage door opener that uses this system requires the least amount of parts to function, so it's less likely to malfunction. They're also not as loud as a chain drive, but that isn't a high hurdle to overcome, so it may seem like false praise to some. It also needs a bit more maintenance than a chain drive, though nothing much more complex than two lubrications a year.
All three options work just fine, so it's up to you to discern which is the best for your living situation.
Q: What are some good security options to look for with my garage door opener?
A: Well that all depends on what level of security you're looking for. There are of course the mandatory features, such as the fact that all garage door openers are required by law to have a reversing mechanism. But there are also other optional security measures you can obtain. These include models that change the keypad access code after every use to prevent break-ins. And if you want to be clever, you should avoid getting a chain drive opener, because those can be manually lifted, while screw drives and belt drives can't.
Q: What kind of power does a garage door opener use?
A: You'll find garage door openers that use both kinds of power, AC or DC. In either case, you plug the device into the wall or ceiling right next to where you install it. However, if your area gets a lot of power outages from storms, then we recommend getting your hands on a DC powered opener. Most garage openers that use DC power also come with DC battery packs, which will let you use the door in the event of a power outage. And on top of that, they're just the quieter, smaller option of the two.
Subscribe to our Newsletter