Best Skil Tools Reviewed & Rated for Quality
last updated:
Aug 01, 2019
We're excited to bring you this next category of "best": Skil tools. Skil is an icon in the annals of power tools. "Skil" has even been elevated to the level of a proprietary eponym. Whoa, there, a what? A proprietary eponym. That's where a class of items is referred to by a company name. Kleenex. Xerox. Coke. All trademarks that folks use in a much more generalized manner. So, bringing this to a point: Skil saw. If you've been around the DIY, home improvement, or trades world, you know exactly what I mean when I say, "hand me that Skil saw, please." You'll hand me a 7-1/4 inch circular saw. The brand may be Black+Decker or Craftsman, but that's what I'll get.
Skil, then, pretty much invented the portable, electric circular saw. In 1924, to be exact, they created and began selling the world's first worm drive circular saw. Since then, they have branched out to make all kinds of Skil tools, building on the expertise developed over 90-plus years of building icons. That's why we were excited to go to work developing this Skil tools list. It's an opportunity to look over what's out there from one of the power tool industry leaders. We love Skil tools, and we love power, and when they come together, we are about as happy as we can get!
Featured Recommendations of Skil Tools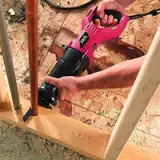 SKIL 9216-01 Reciprocating Saw

Our rating
Best all-around
Price:

See Here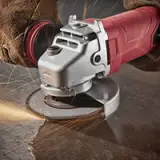 SKIL 9296-01 Angle Grinder

Our rating
Solid quality
Price:

See Here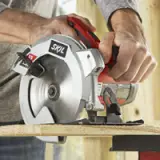 SKIL 5280-01 Circular Saw

Our rating
Iconic value
Price:

See Here

We've gathered our top 10 favorites from the Skil tools line in the following list. It was not a hard one to compile. It was a little hard not to include more than 10! There is so much to like in the Skil tools line. We know you will enjoy reading about them and looking at the photos. You'll enjoy even more getting your mitts one or two and getting out to do some work. After all, that's what we love, yes? Creating. Building. Bringing order to the chaos around us, as humans have done since time immemorial. Let's move on now to bring order to our thoughts, as we journey down the roster of the…
10 Best Skil Tools
1. 9216-01 Reciprocating Saw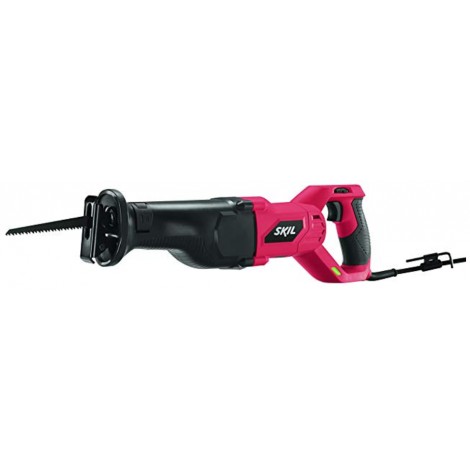 The #1 place in our Skil tools list is the SKIL 9216-01 Reciprocating Saw is a muscular 9-amp saw that can do anything a
hacksaw
can, just a whole lot quicker. It's got a variable speed control to allow setting your cutting speed to the material being cut. It's one of the handiest tools around, with a multitude of uses. Once you've got one you'll think of a few dozen more!
Expand to see more
Jack-of-all-trades
Our reviewer was first exposed to reciprocating saws back in the 90s, on a volunteer fire department in Virginia. A reciprocating saw was a go-to in a lot of
emergency situations
, like a vehicle extrication. A reciprocating saw can zip through a car's A-pillar on the way to cutting the roof off in a matter of seconds. It's a kind of super-hacksaw, but you can also get lots of different types of blades for them, for cutting all kinds of material. Metal blades, wood blades, diamond-grit blades, flush cut blades, even blades designed to cut wood with embedded nails. Whatever your need, there's a blade to fit your Skil reciprocating saw. Pruning the apple tree? Yep, there's a pruning blade.
It'll be a favorite
This will quickly become on of your favorites, a go-to in your tool box. If you have a hacksaw, you know the drill: clamp a piece in your vise, then saw-saw-saw til you finally get through. Well, fire up the SKIL 9216-01 reciprocating saw and you'll be done in a few seconds. A wise old machinist once told us, "Measure twice, and cut once", wise words when operating a powerful tool like this. You'll be cutting fast and accurate with this fine tool.
Cost and value
Obviously we think this tool is a must-have, and a good value. Well, here's the good news. You can
park one of these in your garage
for a whole lot less than you might think. You've probably spent more taking the whole family out for pizza than you will on the SKIL 9216-01 reciprocating saw. So stay home this weekend, grill hotdogs instead, and pick yourself up one of these. You'll be glad you did.
Powerful 9-amp motor
Many different blades available
Rapid cutting action
No-tool blade change
1 year warranty
Takes two hands to handle
2. 9296-01 Angle Grinder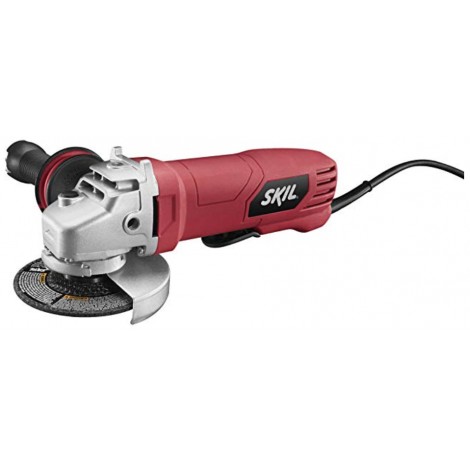 Number two on the Skil tools list and still no Skil saw? Nope. This Skil tools list is not really one of winners and losers; it's one with lots of power tools that we love, top to bottom. We're trying to give you a look at some things you may not have seen before, unless you're a bit of a
tool freak
. Or ones you've not considered buying before. Whatever it all means, here comes the SKIL 9296-01 Angle Grinder. It has a strong 7.5-amp motor that turns at 11,000 rpm, making quick work of whatever you turn it loose on. It has a paddle-style switch for easy use while wearing gloves, and a heavy-duty metal gear housing for excellent durability. A vibration-reducing handle reduces your fatigue on long jobs.
Expand to see more
Angle grinders: what are they good for?
What are they
not
good for? Angle grinders are super-versatile tools that can do the obvious, grind metal. But they can also sand, polish and sharpen. They can smoothly cut difficult material like pavers, tile, and stucco. They are great at routing out grout and mortar. They'll make double-quick work of removing rust and loose paint. You'll be wondering why you've never had one around before! Oh, did we mention it's ambidextrous? You can set it up to use either right- or left-handed. Your ease and comfort was in the engineer's mind when they put this angle grinder together.
You know you want one
After that intro, how can you resist? You know you can find a hundred uses for an angle grinder, and that's just on the first day. This particular example of the power tool maker's art is a very refined, highly evolved tool. The power of the 7.5-amp motor, turning at 11,000 rpm (that's near
rotary tool
speed) is a huge work-destroying magic wand, easily dealing with tough chores. Be sure to wear protective gear when you use it! There will be sparks and chips flying when you put it to the test. Wear work gloves and eye protection every time you fire this thing up.
Cost and value
Wow! This is a deal. A steal. It will cost you less than a tank of gas in your pickup. Less than an oil change. Way less than two tickets to the Eagles, even sitting on the grass. You can't afford not to buy this, when you figure in all the time you'll save. Are you getting the idea we think it's a good value? Yes, we do. It's a great value!
7.5-amp motor
11,000 rpm speed
Ambidextrous grip
Paddle switch
Versatile
3. 5280-01 Circular Saw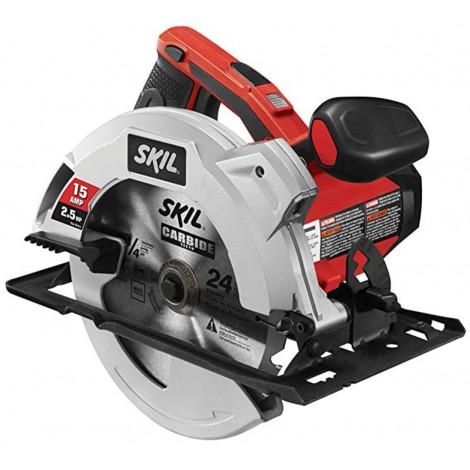 The #3 place in our Skil tools list is the SKIL 5280-01 Circular Saw. This is the saw that launched a thousand ships, except it has evolved to hold its place as the prototypical circular saw. This beautifully crafted saw has a powerful 15-amp motor turning your choice of 7-1/4 inch blades. And it's got a laser! No, not to cut, but to guide you in cutting more accurately. No squinting at a sawdust covered line, an integrated dust blower keeps the line of cut sawdust free, while the bright red laser shows exactly where you are going. This saw can cut up to 2-3/8 inches deep, and up to a 51-degree bevel (with a positive stop at 45 degrees), it can cut angles or miters over a wide range.
Expand to see more
You asked for it
Didn't you? Back at the beginning of this buying guide? "Hand me that Skil saw, please!" OK, here it is, more powerful and easier to use than ever, the Skil 7-1/4 inch circular saw. We were super excited by the
laser
guide feature. We've laid out thousands of Skil saw cuts over the years, and this laser guide would have made so many of them easier and without guesswork. It's almost a point-and-click operation now. You'll still get that satisfying roar of power and shower of sawdust though, that will never change.
Versatile tool
Ok, so it can cut wood. What else can it do? Well, look at the range of blades available, and you'll see. 24-tooth framing blades for touch cutting heavy lumber. 60-tooth general wood blades for close, accurate work. 140-tooth finish blades for cutting hardwood finish-grade material. There are a range of blades for cutting both ferrous and non-ferrous metals. How about brick and concrete cutting? Got that one covered. We found a 186-tooth blade designed for cutting vinyl siding. We even discovered one of the coolest things we've ever seen, a chainsaw-style attachment for your Skil saw called a beam cutter (it costs about 4 time what the saw itself costs). You get the idea, it'll cut pretty much anything.
Cost and value
Ok, so this is the best part. You can take one home for not much money. In fact, we soon saw, as we researched this guide, that a Skil 7-1/4 inch circular saw only costs about twice what a good-quality carpenter's handsaw does. That was a
wow
moment for us. Handsaws are great, you need, them, we have them, But for long, complicated, repetitive cuts, a Skil saw can't be beat. It's an excellent buy.
15-amp motor
Versatile cutting
Many miter cuts and angles possible
Laser guide
Sawdust blower
Use care when cutting, spinning blade can be dangerous
4. 9206-02 Reciprocating Saw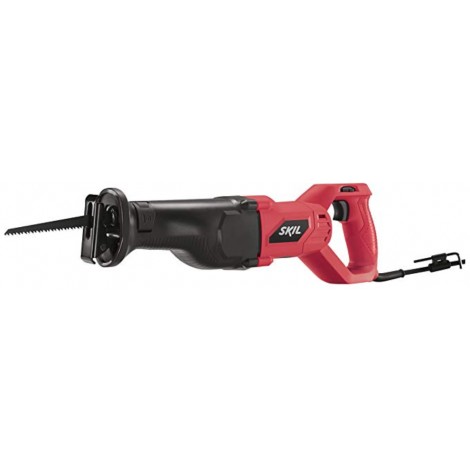 Wait, didn't we just see a reciprocating saw? Well, yes. But we think these are so handy we are putting the SKIL 9206-02 reciprocating saw on the list, too. It's got all the features of its bigger brother, but with a little less power, packing a 7.5-amp motor.
Expand to see more
Options

We are all about options, and we are glad Skil is, too. The SKIL 9206-02 reciprocating saw gives you the option of a high-quality, multi-use reciprocating saw with a slightly less powerful motor, at about 25% less cost than the bigger 9206-01.

Budget pleaser

This is a great way to get into a powerful, versatile reciprocating saw, and save a little money over the more powerful model. If you are just using yours in a general manner, as a DIY mechanic or a home owner, this will be plenty of saw for you.

Cost and value

As we've mentioned above, this saw is a little cheaper than slightly more powerful models. It's fully capable for almost any job you throw at it, though, so if price is a factor, this may be the saw for you. It's a great value at its price point.

Tool-free blade change
Ergo-friendly grip arrangement
7.5-amp motor
Wide variety of blades available
5. OS593002 Oscillating Multitool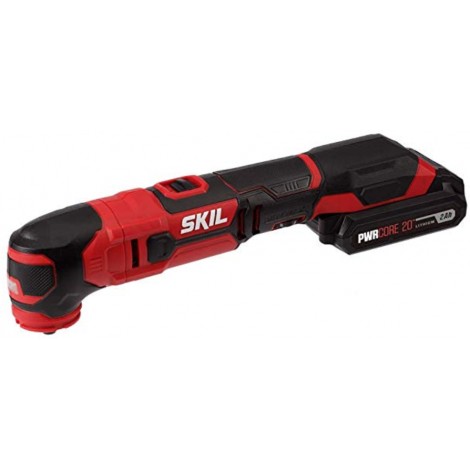 The #5 place in our Skil tools list is the SKIL OS593002 Oscillating Multitool is a tool that does all kinds of things. It will cut, sand or scrape many materials, and it can work in small spaces and corners where larger tools can't go. It's a little like a
rotary tool
, but instead of turning, it oscillates back and forth, in a motion like that your hand makes when sanding.
Expand to see more
It's a what?

It's an oscillating multitool. It can load a small cutting, sanding, or scraping tool, and move it very quickly back and forth. It's got a small work area, which allows it to slip into small spaces and corners that larger tools cannot. That's it's value, the ability to make quick work of small jobs. You can use it to carve and shape wood, and grind, sand or even polish metal. Cutting blades are available, including carbide blades to cut steel, aluminum, or copper. It's ideal for working in small spaces where nothing else will do.

It's fast

The SKIL OS593002 oscillating multitool uses a powerful 20V rechargeable battery pack to run at 11000-16000 rpm. That high speed lets its relatively small blade accomplish a lot, quickly. That's the beauty of the oscillating multitool; it uses sheer speed over raw torque to accomplish its job. This means you'll have an easy time controlling to do the fine work that is its specialty.

Cost and value

This is at the pricer end of the spectrum among the Skil tools we reviewed. Here's the thing though: the jobs it can do really can't be done with any other tool. Sure, you can wrap sandpaper around a stick and try to get in a corner, but it's going to be a tedious task with a low chance of an ideal outcome. With a Skil oscillating multitool, you'll get better results, faster, and with far less frustration. We think it's worth it.



Versatile tool
Fast
Powerful
Rechargeable
Unique
6. 6335-02 1/2 In. Corded Drill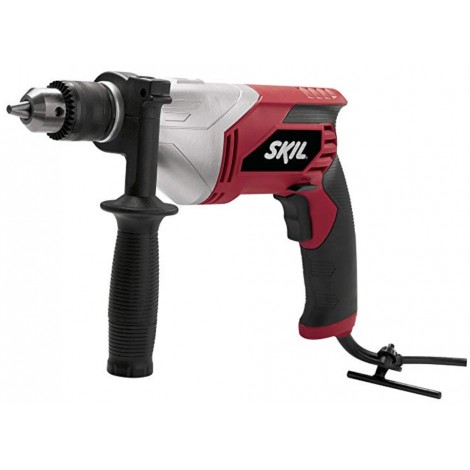 The #4 place in our Skil tools list is the SKIL 6335-02 1/2 In. Corded Drill is your dad's drill that went to the gym and worked out. Fit and muscular, it's back to tackle your toughest drilling chores, complete with an off-hand grip to complement the pistol grip. The chuck will accept up to 1/2-inch bits an other accessories. It's turned by a 7-amp motor, and controlled by a variable speed trigger switch.
Expand to see more
This a drill to give you a thrill
Here we have the SKIL 6335-02 1/2 in. corded drill, a powerful, tough example of a genre of power tools that we've known and loved since we were all kids. Who doesn't need, want, or own a power drill? This model is a big, strong example of this group of power tools. The 1/2-inch chuck will accept big bits and accessories like grinding and wire wheels. And beyond that, it's got the power to turn them. You be particularly grateful if you ever have to push big masonry bits into concrete, brick, or pavers. The power and the two-handed grip you can take gives you the advantage you need to finish the job.
But there's more
Skil calls that off-hand grip a side assist handle. It can be configured to use left- or right-handed. This is a corded drill, meaning, of course, you plug it in to 120V to make it run. Sometimes a cordless,
battery-powered drill
is more convenient, but, with a corded drill you never have to worry about stopping to charge battery packs, or worse, grabbing your drill and finding it's dead until you charge it. It's ready to go any time you are! And the chuck key attaches to a handy snap-in holder on the cord, you'll never be looking for that, either. To top it all off, there's level built in, so you can drill straight and true.
Cost and value
This drill is a strong value leader with a very moderate price-point, less than halfway up our list, if you were to order it by price. As a basic tool, it's great; it does what it claims to do, it does it fast, it does it well, and will give you years of dependable service. We love things like that! It's a great example of an iconic power tool from an iconic manufacturer. You can't go wrong!
Side assist grip
Big 1/2-inch chuck
Variable speed trigger
Chuck key keeper
Built in level
Corded, must be plugged in
7. 2354-12 iXO Power Screwdriver
At number seven on our list of essential Skil tools, here comes the SKIL 2354-12 iXO Power Screwdriver. This handy power screwdriver, with an angled grip, will save your hands and arms the pain of repetitive turning when inserting or removing screws in almost any application. This powered screwdriver includes a novel cutting blade attachment, that will slice quickly through flat materials that can be a hassle to use a utility knife on: cardboard, carpet, even denim and chicken wire. Skil even shows it being used on tough plastic bubble packaging, and you know how frustrating it can be to bring something home from the store, only to fight a tough fight with the packaging! This tool will cut through all that, in addition to its primary duties as a humble electric screwdriver.
Expand to see more
Simple and effective
The humble screwdriver is one of the
simplest tools out there
, and a powered screwdriver is not that much more complex, adding a battery and a motor. It merely rotates the interchangeable bit, not as fast as a drill, but fast enough to get your screw into place quickly with a minimum of fuss. The Skil version here is a great execution of this simple idea, and it'll get you where you want to be.
Innovative cutting attachment
This cordless powered screwdriver includes a unique cutting attachment, transforming it instantly into what amounts to powered scissors. You can cut paper, cardboard, carpet, leather... all kinds of material. Plastic packaging appears to be one of its fortes. We can think of a million uses for this handy attachment, and we're sure you can too.
Cost and value
This is a little on the pricier side, coming in near larger, more complex tools like the iconic circular saw. Still, if you reach for this tool as often as we do, it's more than with its price tag in sheer convenience. The battery is reputed to retain its charge for 18 months, so this tool can live in your tool box but be ready to go at a moment's notice. We like it several different ways, and we know you'll love it.
Right-angle handle
Ergo-friendly design
Screwdriver bits included
USB charging
Cutting attachment
8. SD561201 Cordless Screwdriver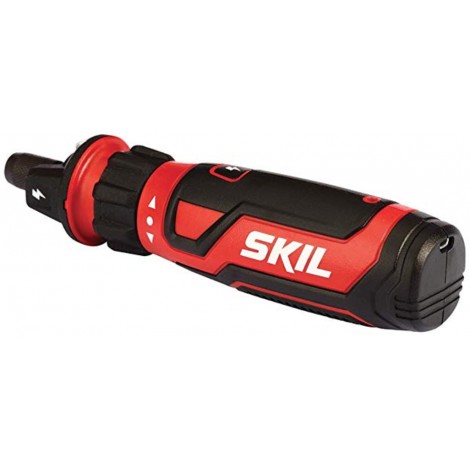 Here comes the SKIL SD561201 Cordless Screwdriver at number 8 on the Skil tools list. Wait... wasn't number seven a cordless screwdriver, too? You bet! But this one is inexpensive and not the least but complex. It's a straight screwdriver, and in fact it has three control positions: left, right and locked. Even if the battery dies and you aren't in a position to charge it, you can lock it and use it like a regular old non-powered screwdriver. It has twin LED lights that enable you to see what you're doing, and most innovative of all, it has Circuit Sensor technology, which will give you a warning if you get close to charged electrical wiring. Safety first and always!
Expand to see more
Back to the future
We have been around long enough to remember when power screwdrivers first appeared on the market (well, to be truthful, we remember when the
Stanley
Yankee ratcheting screwdriver was the ne plus ultra of screwdrivers, but we digress). This product is not that much different from the early models. It does have LED headlights, and the very cool Circuit Sensor technology built in. It's an evolutionary adaptation of a very fine class of products.
It drives screws
What can you do with it, you ask? Simple answer: drive screws. In the modern world where every product is a Swiss army knife, do-everything tool, the SKIL SD561201 cordless screwdriver is an elemental production of a tool to ease and simplify a basic task: inserting and removing screws. If you do a lot of that (who doesn't?), you deserve a little automation of the task. This cordless screwdriver is the answer.
Cost and value
Hallelujah! This thing costs less than most everything on our list. It costs less than half a tank of gas, far less than your monthly smartphone bill. You won't need to to save your pennies to acquire one of these. It's almost at the level of an impulse buy. Don't buy it on impulse, though, do your due diligence and you'll come to the same conclusion we did, that this cordless screwdriver is right up on the list of must-haves in your world of fixing, making, and maintenance.
Simple
Easy to use
LED illumination
Circuit Sensor technology
Many interchangeable bits
9. 3320-01 Drill Press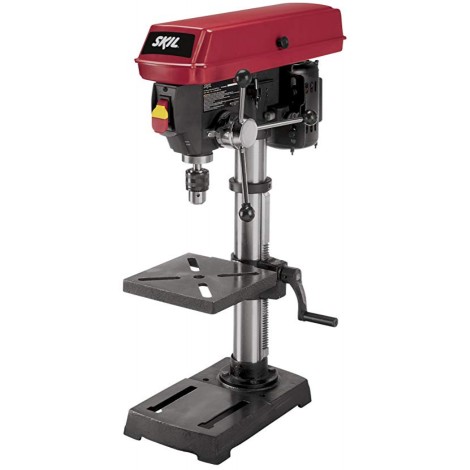 Number nine on this Skil tools list is the SKIL 3320-01 3.2 Amp 10-Inch Drill Press. This a little different from the other entries, in that it is not a portable, hand power tool. It is a fixed bench tool. We, however, always have use for an accurate, useful tool that can drill, rout, polish, sand, cut circles, and more. This example features 1/2-inch chuck, and 5 speeds from 570 to 3,050 rpm. The table tilts 45 degrees left or right, and an adjustable depth stop allows precise hole drilling. And, there is a dual-laser, x-marks-the-spot alignment system for quick set-up!
Expand to see more
A higher plane
We love the SKIL 3320-01 3.2 Amp 10-Inch Drill Press. It's not as expensive and heavy as a full-sized floor model drill press, but is fully capable for most tasks. You might not know it, but a drill press can do much more than simply drill holes. You can put circle cutter attachments in it and cut circles. You can put router bits in it and rout. You can put sanding drums in it and sand. You can put grinders on it. It's all in how you set up the work. And the best part is, you can set up a job, clamp it in place, and drill like you have a third hand. It's also very good at drilling accurate holes, exactly where you want it, no hand drill walking all over your workpiece until the drill bit finally bites in. It will drill straight and exactly perpendicular to your work surface, unlike the guesswork with a hand drill.
You'll find things to do
If you've looked at a drill press before, and wondered what you'd ever do with one, stop wondering. Once you have one of these in your shop, you'll find every excuse to set up a job and drill perfect holes, every time. The sky's the limit, and, like so many items on this and
other lists
we write here at Drivrzone, you'll wonder how you ever got along without one.
Cost and value
This is one of the more expensive items on our list, but not nearly as expensive as you might think. A tool as capable and powerful as this might be a little intimidating from a price standpoint, but you'll actually be pleasantly surprised when you price-check this item. Don't be afraid to look at it, you'll be happy with the price, and happier with the capability it adds to your daily life.
Five speeds
45 degree tilting table
1/2-inch chuck
Dual laser guide
Versatile
10. 6277-02 6.5 Drill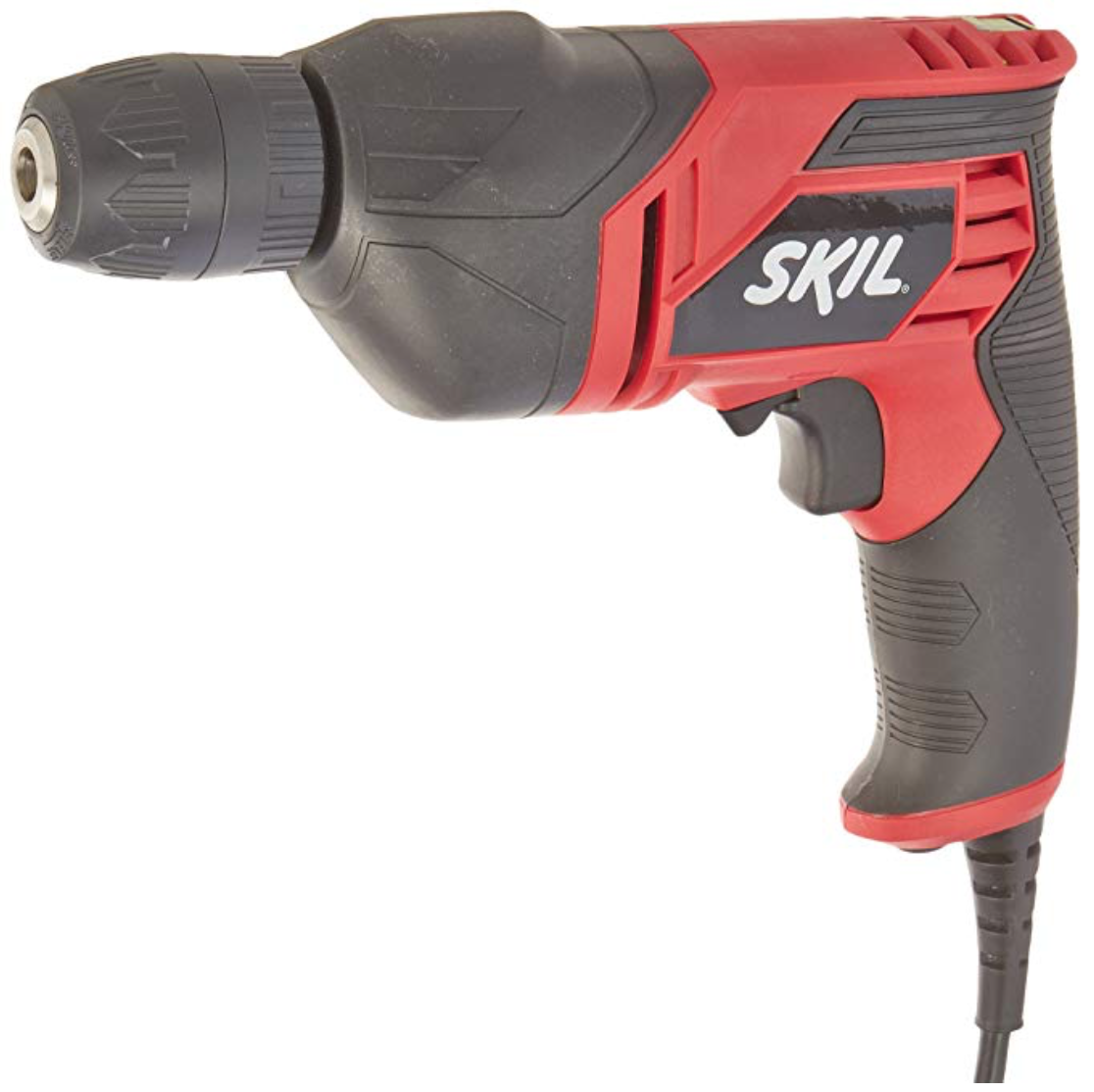 The tenth item on our list of Skil tools is the 6277-02 6.5-Amp 3/8-Inch Drill. A corded 3/8-inch drill is a staple of almost every homeowner's arsenal. It's yet another icon in Skil's lineup. You can spend more on larger, more powerful tools; you can even buy a drill press, but you won't find a tool with much wider utility than this drill. It has a 6.5-amp Motor that can turn 0-2,000 rpm, controlled by the variable-speed trigger switch. The 3/8-inch chuck is keyless, for quick changes and no lost chuck keys! And it has a built-in bubble level, for accurate orientation in the horizontal or vertical plane when drilling by hand.
Expand to see more
One everybody should have
This is one of those tools that belongs in every tool box. There isn't much that a 3/8-inch drill can't do, when it comes to drilling chores in your home and garage. This is another fine Skil tool that shows their years of experience in designing
easy-to-use durable tools
. The keyless chuck is an example; just a twist of the wrist and you can put in or take out a drill bit or any of the myriad other things that the chuck will accommodate.
What will it do?
Drill holes, yes. You can drill with the standard high-speed steel bits you're used to seeing. You can use carpenter's spade bits for larger holes in wood. You can use hole saw bits in both wood and thin metal. The possibilities are endless. You can put other accessories in it too, like wire wheels or sanding drums, and speed your big jobs to a finish. You'll never have to worry about batteries dying or needing replacement, just plug it in and go!
Cost and value
This Skil drill is in the lower middle of our price range. You'll pay about what you should for a versatile tool of this quality. It has a 30-day money back guaranty, and a 1-year warranty besides, so you really can't get too far off track when you buy one of these. It's even a great gift for a new homeowner; it would be a great housewarming gift!
6.5-amp motor
Variable speed
3/8-inch keyless chuck
Built-in level
Lock-on trigger
Not as powerful as 1/2-inch models
Criteria Used in Choosing the Best Skil Tools
Utility
First and foremost, we look at a tool's utility: will you use it routinely? Can you adapt it to a variety of tasks? A tool you buy that sits in the tool box and never sees daylight is a waste of money. That's why we look first to how well a tool will serve its purpose, and how well it will serve you.
Value
Next, we go straight to the heart of the matter: value. Is a tool worth what you'll have to pay for it? If it's durable and has good utility in your home or shop application, and it has a good price-point, we like it. And when we recommend it, we are sure you will like it too. We are all DIYers and home mechanics, just like you, and we like a good value in a great tool. We try hard to bring that to you.
Durability
All tools have a useful life; the longer that is, the more valuable your dollar has when spent on any given tool. We look for the most durable examples in any category. Durability speaks to the timeless nature of some tools. If you still have a Sony Betamax, and it still works, that's great, but it still did not prove to be a durable design. The tools we recommend are durable in design and proven performers over decades of use.
FAQ
Frequently Asked Questions About the Skil Tools

Q: Are these power tools dual power, i.e., 120V and 240V both?
A: No. You'll need to look for models set up for the power you have available if you do not have 120V power as standard.
Q: Do they come with accessories?
A: Usually not; you'll need to be drill bits or other consumables like sandpaper and saw blades separately. This is not bad; it lets you choose to buy what you need to match your use.
Q: Do they have warranties?
A: Most power tools come with at least a one-year warranty against defects in parts or manufacture. Skil tools offer as high as a five year warranty period. Check the packaging or online descriptions for details.
Q: How dangerous are the Skil tools? Can kids use them?
A: Properly used by manufacturer's instructions, power tools are not dangerous at all. Always pay close attention to what you're doing, and wear safety gear such as gloves and safety glasses to avoid injury. Kids can use power tools, but only under the direct supervision of a responsible adult! We recommend getting your kids involved in your projects and teaching them basic skills early in life.
Subscribe to our Newsletter