Best Leaf Blowers Reviewed & Rated for Quality
last updated:
Jul 12, 2019
While many people find autumn delightful, if you own a large backyard (with maybe a tree or two), it's possible that you may be one of the people that are not so happy about it. Yes, leaves are beautiful, but if you just leave them in front of your house to turn into a thick blanket, you might just end up with a lot of dead grass. Take a deep breath, we have a solution for you and it doesn't include using a rake!
These days there are many leaf blowers on the market that can fulfill our need for a tidy and clean lawn. Whether you need a simple, small blower that can clean your pathway and garden, or you want a powerful one that can blow away a thick layer of leaves, the market offers a variety of choices. However, searching for the right one can be a bit exhausting. That's why we have done the research for you and picked the best leaf blowers available. You'll find that our list is quite extensive, including both smaller and bigger tools.
Featured Recommendations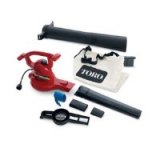 Toro 51619

Our rating
Top-Notch
Price:

See Here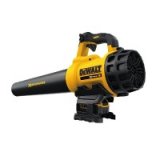 Dewalt DCBL720P1

Our rating
Outstanding Performance
Price:

See Here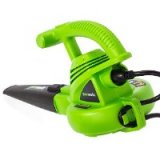 Greenworks 24012

Our rating
Eco-Friendly
Price:

See Here

10 Best Leaf Blowers
Toro 51619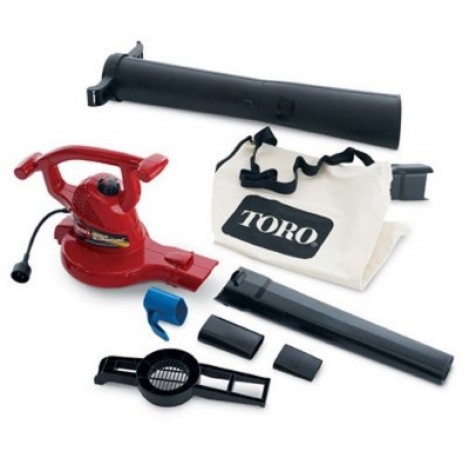 Toro 51619 is a powerful 3 in 1 machine. It works like a leaf blower, a vacuum, and a shredder. It's one of the best electric leaf blowers available, with 250 mph air speed. The large metal impeller makes it stronger than many similar devices on the market. Because of its multifunctional features, Toro can effectively blow off leaves and dirt, leaving your yard perfectly clean!
Expand to see more
Powerful Blower
We already mentioned that this electric blower has great airspeed, and what fascinates every user is the ability to control it. Toro 51619 has an adjustable power switch, which is very useful if you want to blow off leaves in your yard without blowing off flower beds or gravel as well. There were some complaints about the switch, though. It seems that it's too sensitive, so it sometimes increases the power accidentally instead of lowering it down.
The best thing about this product can be its flaw too, depending on the user's preference. Toro 51619 is an electric leaf blower, which means that you can plug it directly to the power source and don't need any batteries for it, which allows it to work without interruptions as long as you need it to. On the other hand, because it's corded, Toro isn't as mobile as a gas powered leaf blower. For a small or a medium-sized yard this is a great tool, but if you need something that will work on longer distances, a gas leaf blower would probably be a better choice.
Comfortable Handling
Toro leaf blower lightweight (8.5 lbs) and easy to handle, you won't experience any back pain, even after long usage. The vacuum bag has a bottom zipper that makes cleaning easier, and it can also be used as a storage place. The bag can feel a bit heavy while vacuuming, but the blower has a shoulder strap which helps with carrying the weight.
With a cord lock and a cord storage hook, Toro made this electric model very efficient. The cable stays in place during use and the hook prevents it from getting tangled. Even with these additional options, keep in mind that the blower cable can get tangled or stuck once in a while.
Cost and Value
Toro 51619 is a powerful tool with a reasonable price. With such
a multifunctional tool
you won't have to worry about backyard cleaning headaches ever again! You also won't have to spend a fortune to get it.
3 in 1 tool
Power up to 250 miles per hour
Adjustable power switch
Easy to handle
Reasonable price
The power switch is too sensitive
Greenworks 24012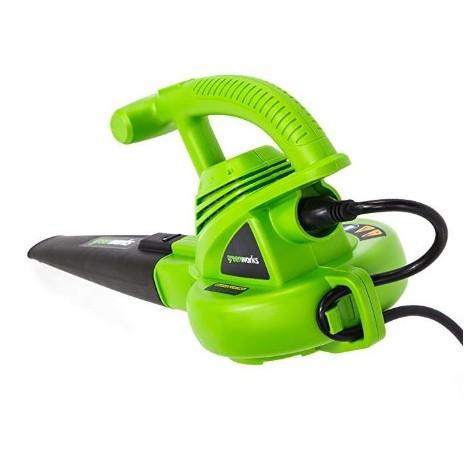 Greenworks is exactly what its name says: an eco-friendly leaf blower. It has a 7-amp electric blower motor that doesn't emit carbon. Therefore, this leaf blower is a small but powerful tool that every homeowner should have in his collection of lawn and garden equipment!
Expand to see more
Compact Tool
This is a small, compact tool designed for everyday use. It's ideal for a smaller yard or a garage. The power of the leaf blower is adequate to its size: 160 miles per hour. It's not too much, but considering that this is a light and easy-to-use tool, it's good enough. Greenworks will remove leaves, dirt, sawdust, or grass clippings without too much effort. You can easily keep your garage, patio or driveway clean.
With only 4.5 lbs Greenworks is lightweight and easy to handle. Its compact size makes the maneuvering effortless. Even a one-handed use won't cause pain in your back and arms. On the other hand, this compact tool isn't great when it comes to the cleaning of larger areas.
User-Friendly
Greenworks is easy to start and handle just like every other corded leaf blower. It's an electric tool, so you just need to connect the cable with the power socket. Additionally, the blower has a start button that comes in handy. You can just switch it off when you need a break, without plugging the cable in and out every time.
The downside is that Greenworks 24012 doesn't have a power switch, so you can't control it. If you want to decrease the power of the blower, you'll have to move away from the object. However, it does have a different useful feature: safety cord lock. When you lock the cord, it will stay in place, without plugging itself out of the power socket repeatedly.
Greenworks is also one of the quietest models in the corded leaf blowers category. You won't have any hearing problems, or quarrels with neighbors, for that matter.
Cost and Value
Greenworks 24012 is an effective tool with an attractive price. Even though it's not suited for bigger chores, it gets done all the work in your garden. The value that comes with Greenworks is truly amazing, so if you need a cheap
powerful tool
, look no further!
Eco-friendly
Compact design
One of the quietest leaf blowers
Easy to use
Attractive price
Doesn't have a power switch
Not so good for large surfaces
Dewalt DCBL720P1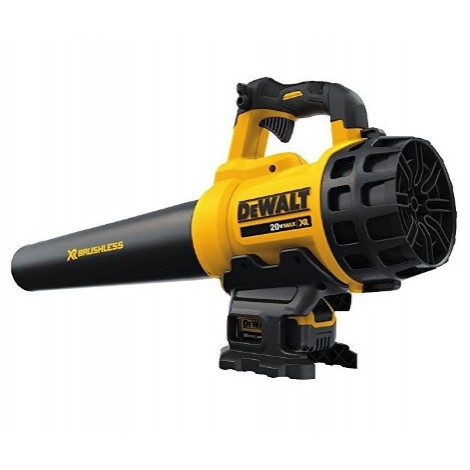 Dewalt is an efficient and easy-to-use leaf blower. It's perfect for a quick tidy-up like blowing off leaves, dirt and removing cobwebs. Dewalt comes truly handy because it's lightweight, and you don't want to bring out big tools every time your garage or yard needs a simple cleaning. Additionally, it runs on batteries, which makes it easy to handle and very practical.
Expand to see more
Power and Control
Dewalt has a brushless motor that provides great performance and increases the tool's durability. Brushless motors are about 10-20% more efficient than brushed motors. However, the Dewalt's power of 90 mph is pretty low for a leaf blower like this. Even with all the other great features, this power level is low for many users. Take into consideration what tasks you'll be performing and then make the decision. Dewalt is perfect for most smaller around-the-house chores, but it's not powerful enough to clean a bigger area.
A great feature of Dewalt is a variable speed switch. Most users want to have a maximum level of control over their tool and work, and with the speed switch, you can adjust the Dewalt's speed and do your tasks more accurately.

Long Battery Life
The package includes a 20-volt MAX 5.0Ah lithium-ion battery and a charger. Rechargeable batteries are super efficient - they save you money, but what's more important, they help the environment. The battery can consistently run for 30 minutes, which is pretty good. It gives you the possibility to get your yard tasks done in a reasonable amount of time (most battery-powered blowers don't last more than 15 minutes). Additionally, Dewalt charges pretty fast, so you'll be able to continue your work in no time. It's worth mentioning that battery-powered leaf blowers make less noise than corded or gas-powered tools.

Cost and Value
Overall, Dewalt DCBL720P1 is a good quality tool with great performance. It's one of the most efficient small leaf blowers on the market, but it's also a bit pricey. However, if you are ready to spend some extra money a new shiny backyard tool, you can't go wrong with Dewalt.


Easy to use
Perfect for a quick clean
Brushless motor
A variable speed trigger for more power control
Long lasting batteries
Less noise than other types of leaf blowers
Hitachi RB24EAP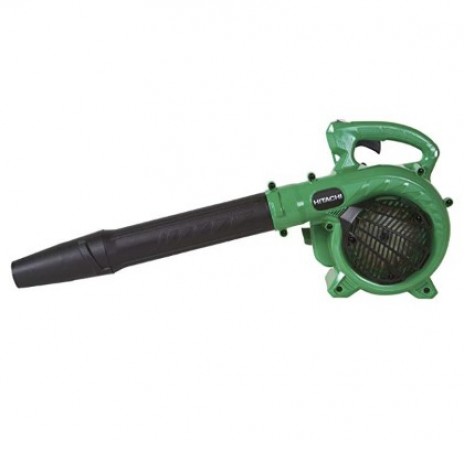 Hitachi RB24EAP is a powerful tool that pushes 441 cfm per minute at a velocity of 170 mph. It's a very efficient leaf blower, useful for almost any yard task. Cleaning leaves and wet grass from the lawn was never so simple as with Hitachi leaf blower!
Expand to see more
Gas-Powered
Hitachi is a gas blower so it's expected to be noisier than battery-powered and electric leaf blowers. The manufacturer worked on lowering the noise as much as possible, but it's still quite loud. Disregarding the noise, this gas-powered leaf blower is more powerful than most other available leaf blowers. It blasts leaves away like they are feathers!
Being a gas leaf blower, Hitachi needs to be powered with a fuel and lubrication mixture. Follow the instructions on how to make a proper mixture because a bad one can damage the tool.
Pro tip: keep the mixture in its own bottle and close the cap correctly. Otherwise, the fuel will drip all over and mess up your clothes or shoes.
Portable
A gas-powered blower has a big advantage compared to a corded electric blower: it can be used everywhere. With no cable which can get tangled around stuff in your yard, Hitachi is easy to use and maneuver. It's made of plastic which makes it lightweight, although that can be a flaw too.
The powerful motor
tends to vibrate in your hands because it isn't placed in a heavy surrounding, which can be somewhat annoying. Also, take note that people who hold the leaf blower in their right hand have complained because the air intake is located on the left side and it tends to suck in clothes.
Cost and Value
Hitachi is a quality leaf blower that's reasonably priced. It also has a 7-year residential warranty, which makes it a perfectly safe choice.
Powerful leaf blower
Easy to maneuver
No more tangled cables
Reasonably priced
7-years residential warranty
A bit shaky in the hands
Noisy
Toro 51585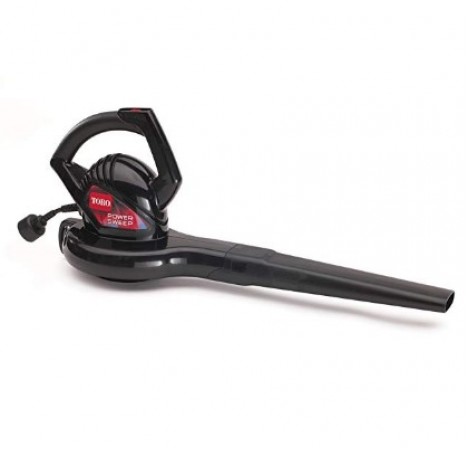 Here we have another great product from the well-known Toro company. Model 51585 is an electric leaf blower perfect for any light work around the house. If you need to clean your patio or yard from leaves and debris without straining a muscle, this electric tool is ideal for you. It's small and lightweight, so it's easy to use and yet powerful enough to get the work done.
Expand to see more
2 Speeds
Toro gives 2 different airspeeds: you can go with 130 mph if you're dealing with places that need precision like corners, or you can go with full 160 mph power for spacious areas. There is a simple switch on the handle for easy swapping from one mode to another. However, if you need a leaf blower for sweeping a larger area, you should consider purchasing another product because Toro 51585 isn't powerful enough. We can't have it all, and Toro has an ergonomic design, but not a powerful motor.
Easy to Use
Weighted only 4.7 lbs, Toro 51585 is an extremely easy-to-use model. You won't need any additional shoulder straps, not to mention that you won't feel any back pain while using it.
What contributes to the overall compact design is the card lock. Toro's card lock is designed to prevent the cable to disconnect. Toro 5158
operates quietly
, without producing annoying loud sounds as gas-powered leaf blowers do. Just connect the cord to the power socket and you are set to go!
Cost and Value
If you need a high-quality leaf blower that's also inexpensive, look no more! Toro 51585 is a great option for any garden. The drawback is that you have to buy an extension cord separately. This can also be a good thing because you can buy a longer cord if you need it, and Toro 51585 is so cheap that your wallet won't even notice it.
Compact design
2 different airspeeds
Lightweight
easy to use
Inexpensive
The cord isn't included in the purchase
Isn't suitable for larger areas
Black and Decker BV5600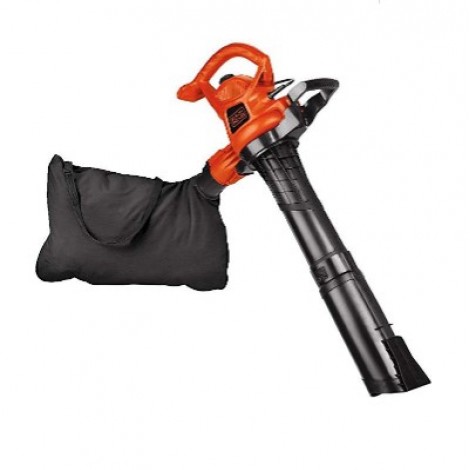 Black and Decker BV5600 is a 3-in-1 tool that functions as a leaf blower, a vacuum, and a mulcher. We are talking about a very powerful tool that blows air up to 250 miles per hour. It can blow off leaves and debris easily, but it also doesn't struggle with wet leaves like other less powerful blowers. Therefore it's very useful in various situations and also easy to handle.
Expand to see more
High Motor Power
Black and Decker BV5600 is equipped with an excellent 12 amp motor. It can achieve a stunning 250 mph airspeed, and you can rely on that maximum speed even when you use it for hours. With great power comes a sturdy metal fan that prevents clogging from debris and objects during mulching. It also ensures the durability of the leaf blower. We all know how small branches can make a lot of damage to the fan blades. Metal fan prevents that from happening. BV5600 also has a special turbo nozzle that removes the debris and leaves that are almost glued to the wet surface.
Uninterrupted Usage
This electric leaf blower has a cord retainer that keeps the cord in its place. You don't need to worry about accidentally plugging the cable off. However, many users noticed that the cord is too short for them. That is just odd for a leaf blower that is designed to clean larger areas.
The leaf blower comes with a large leaf storage bag – you'll be able to store huge amounts of leaves and debris before having to empty it.
Storage space
is always an important feature which some producers neglect, but Black and Decker did it right in this instance.
Cost and Value
For those who need a powerful leaf blower that can easily deal with bigger yard cleaning projects, Black and Decker BV5600 is a great choice! The product is not overpriced like other leaf blowers made for extended usage. It comes at a bargain and provides great value.
12 amp motor with 250 mph airspeed
Has a sturdy metal fan
Special turbo nozzle for persistent debris
Large-sized bag
Reasonable price
Worx AIR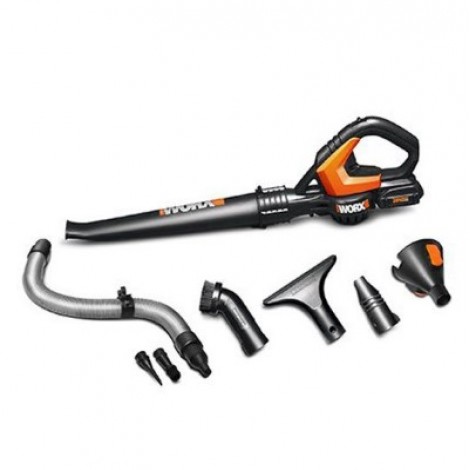 Worx Air 20V is a super-fast leaf blower - with 8 innovative attachments, it can inflate or deflate objects, clean your car, blow off sawdust or leaves and perform many other actions.
Expand to see more
Multifunctional Leaf Blower
This cordless leaf blower is a multifunctional tool that every household needs. With the power of 120 mph, Worx Air makes garden maintenance simple as ABC. It can sweep, clear, clean, blow, dry, deflate or inflate! As we previously said, it comes with 8 different attachments that can be easily replaced. Worx Air doesn't use any cables or other extensions that limit your movement. Additionally, it has only 3.5 lbs so you can move it around without shoulder brace, and you won't feel any back pain as a consequence of long cleaning.
Quiet and Safe
Worx Air is designed to be a portable and quiet leaf blower. It's one of the quietest leaf blowers on the market. No more worrying about the possibility of damaged hearing, but also no more fear that your tool will emit smelly fumes in the air. It's an
eco-friendly
blower that comes with a 20-Volt lithium rechargeable battery. It gives you approximately 30 minutes of use, which is not too long, but still good for a cordless leaf blower.
Cost and Value
Worx Air is a compact tool with many functionalities, and on top of that, it's a very reasonably priced product. If you need a multifunctional tool that can maintain your lawn perfectly clean, Worx Air is an excellent choice. However, keep in mind that it's not powerful enough for extended use or bigger cleaning tasks.
Multifunctional tool
8 innovative attachments
Lightweight
Eco-friendly
Reasonable price
Can't be used for bigger cleaning tasks
Battery life not so good
Husqvarna 125B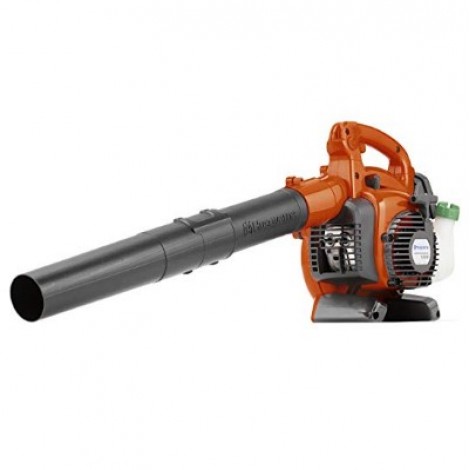 Husqvarna 128 is a leaf blower with advanced features that works great for both professionals and ordinary people who want a perfectly clean lawn. It's a good choice when you need a high power tool for fast garden cleanup. The power of 170 mph definitely makes it possible!
Expand to see more
Innovative Design
Husqvarna 125B has a few innovative features that distinguish this leaf blower from traditional ones. For example, the fan motor is placed on the right side while the other leaf blowers have it on the left side. This is great for right-handed people because they get to work without worrying that their clothes can get sucked in by the fan. Design of the nozzle is even more important! It's aligned directly with the handle for easier pointing to a particular area. This makes things easier for your arms and wrists because you don't need to twist and rotate the tool to bring it closer to the desired area.
This leaf blower is a powerful tool with innovative design, but there are a few things you should keep in mind. First, this is a gas powered blower, so it's noisier than electric or battery-powered tools. You should use earplugs while working with it. Secondly, it's important that you use the right mixture of oil and gas or the leaf blower may not work properly.
Handy Tool
Sturdy plastic is used to keep the Husqvarna lightweight but also to increase the durability of the product. It has 9.4 lbs which means that it's not lightweight like the previously reviewed model, but it will not cause fatigue and
arm pain after long usage
.
It also has an adjustable blowing tube. You can adjust its length to suit your task's requirements. With the purchase, you also get two sets of nozzles, a rounded and a flat one. You can change the tube according to your need for normal use or concentrated blast of air.
Cost and Value
Husqvarna 125B has excellent features and a mid-range price. It's great for average sized lawns. The innovative design makes it easier to handle but also makes it very durable. If you are looking for a compact and high-power leaf blower, Husqvarna is one of the best choices on the market.
High-power
A fan motor is placed on the right side
The nozzle is aligned directly to the handle
Sturdy plastic material
Adjustable blowing tube
Requires the right mixture of oil and gas
Noisy
Greenworks 24252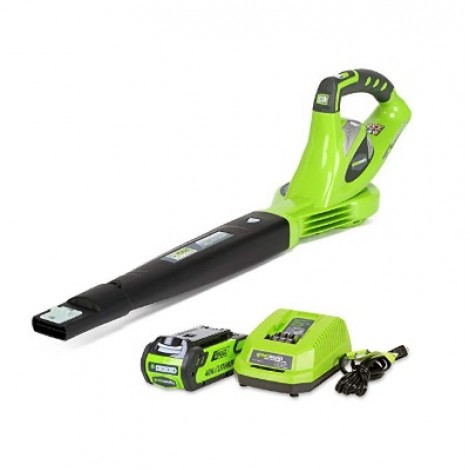 Greenworks 24252 is a battery-powered leaf blower that helps you maintain your yard fast and easy. Greenworks goes up to 150 miles per hour, which is enough power for every small and mid-sized yard. You just have to recharge the battery between uses and you're set to go!
Expand to see more
Battery-Powered
A battery-powered leaf blower is always a great choice when it comes to taking care of our environment. Additionally, it's easy to maintain this leaf blower contrary to gas blowers that demand a mixture of oils. Without cords and oils, Greenworks has only 3.3 lbs which makes it very lightweight. You can use it without experiencing any pain in your back or arms. It's also a quiet blower, and you can use it without earbuds.
Like almost every battery-powered leaf blower, Greenworks is less powerful than electric and gas-powered tools. If you need a blower that would clean big messes and work in a larger area, you should skip this product. The battery life is also not long enough for extended use. Also, this leaf blower is more pushing the leaves and dirt than blowing them away.
Adaptability
Greenworks 24252 has a two-piece blower tube that makes it easier to use than one-piece blowers. If you want to increase the reach of the blower you can just put on the extension tube and the efficiency is immediately increased. It also has a variable-speed control that let you adjust the leaf blower's power. Many smaller electric and battery-powered blowers don't have this option.
Cost and Value
For an eco-friendly product, Greenworks is very efficient and powerful. You can clean a smaller yard without putting too much effort. It's also reasonably priced, so you don't have to spend the fortune to get it. Overall, this is
a great pick for every homeowner
that needs compact and environmentally safe leaf blower.
Lightweight
Easy to maintain
Eco-friendly
Quiet leaf blower
Not powerful like other electric or gas-powered blowers
Short battery life
Makita DUB182Z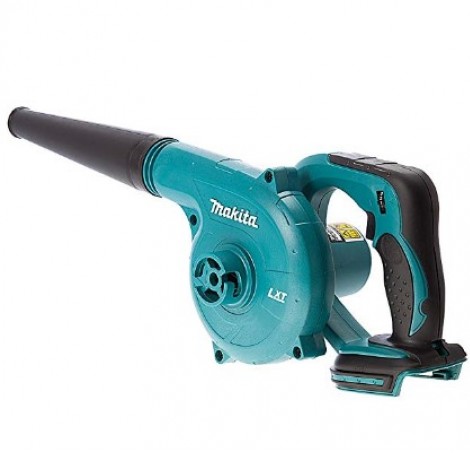 Here we have another cordless blower that offers fast and easy cleaning. Makita is a great tool for cleaning your home, workshop, garage or yard. With a speed of 179 miles per hour and lightweight design, Makita is an excellent choice.
Expand to see more
Three-Speed Motor
It has a brushless motor that increases the power efficiency and allows extended use of the leaf blower. Makita has a three-speed motor that produces air velocity up to 179 mph. You can set the speed according to your need, and clean both light and large debris. The battery life isn't so impressive tough: it can run up to 15 minutes, which is lower than most battery-powered leaf blowers.
Ergonomic Design
Makita is a lightweight (3.9 lbs) and compact tool. It's only 20.74 inches long which means that you can easily maneuver it and use it in tight spaces. It also has soft, rubberized handles to prevent callosity on your hands.
Cost and Value
With a reasonable price comes also a 3-year warranty. You also have 30 days to return the product with a full money refund. Therefore, if you have searched for
a compact and lightweight tool
that can help you with your everyday chores, Makita could be your top pick.
Suitable for cleaning various areas
Brushless motor
Ergonomic Design
Great price
Short battery life
Not good for larger areas
Criteria Used in Evaluation of the Best Leaf Blowers
Like every thorough research, our list was made upon strict criteria. We have chosen 10 best leaf blowers by following the next parameters:
Power
The main criteria in our evaluation were the power of the leaf blower because effective cleaning depends on it. We tried to pick out both smaller and bigger leaf blowers with the highest power range among them. Even when users search for a smaller leaf blower, they still need them to be powerful enough. If the machine doesn't have a high air force or speed it will not be effective. Therefore we found 10 leaf blowers that have the best power-to-size performance on the market.
Portability
It might happen that you purchase a high-power leaf blower and still don't use it because you find out that it's impossible to move it around freely. That often happens with corded leaf blowers, but in the last few years, manufacturers really made an effort to improve their portability. It's really important for a leaf blower to be designed for easy mobility. Even the most powerful leaf blowers will fail its purpose if you can't hold it in your hands for more than a few minutes. That's why we took into account all the features that provide better mobility of leaf blowers.
User-Friendly
When we use a tool that demands long-standing or strenuous movements, we want to choose a less demanding one. The same applies to leaf blowers. Things like comfortable handles and the weight of leaf blowers are very important. Additionally, nobody wants to deal with a complicated startup system, so we thought about that too while making the list.
Cost and Value
In the end, the cost is one of the most important things that everyone wants to know when it comes to buying something. However, it's often hard to compare the value and price of products, and we tend to get confused with all those features and price numbers. How can you be sure that you're paying the right amount for provided value? We answered this question separately for every product because we wanted to make your search as easy as it can be.
Other Factors to Consider
When you want to find a perfect leaf blower you should consider some additional factors other than features of the product itself. That other factors depend mainly on your preference and your needs, so consider them wisely before making the final call.
What type of leaf blower do I need?
Before you make any reckless decisions, think about the area where you want to use the leaf blower. Is it a small garden or a big yard? Do you want to just blow off leaves or you want to effectively clean debris and wet leaves as well? A type of leaf blower suitable for your needs may differ depending on your answer. For more information, you can go up to our product reviews and take a look at many different leaf blowers. You should easily find the one that perfectly fits your needs.
Annoying Features
It's important to mention that leaf blowers have some quite annoying characteristics. For example, many people find electric leaf blowers too demanding because of the cord that often gets tangled. When it comes to gas leaf blowers you may find that you don't need that troublesome work of mixing the proper oils. They also tend to be very loud, so even if you get the earbuds you maybe don't want to annoy your neighbors. Every type of leaf blower has its own qualities and flaws, so you should think about them before purchasing one.
Maintenance
If you want to buy a small leaf blower that can be easily maintained, you should go for electric or battery-powered one. It demands less and gives a lot. You shouldn't leave it on rain or run over it by your car, but other than that it should be fine. A gas-powered leaf blower requires more effort because they need a mixture of oils and stuff like that. However, they are more powerful than electric or battery powered ones. Think about the effort you're willing to spend on your leaf blower and then make a decision. If you don't need your machine to be too powerful, then electric or battery-powered leaf blowers may be the better choice. Keep in mind that fuel powered machines tend to have a bit more power, but gas leaf blowers also require more regular maintenance.
FAQ
Frequently Asked Questions
Q: Who invented the leaf blower?
A: It's considered to be Dom Quinto who invented the leaf blower in the 1950s, and that drought conditions in California during these years made this product very popular. However, there's a possibility that he didn't invent the device itself. When it was created in the 1950s, it was introduced as a method for spraying chemicals in agriculture. It seems that many people were buying the product and then removing the chemical dispersion unit, leaving just the blower. In that way, they have had a great tool for cleaning without using the water. It could be that Quinto then saw the opportunity to make a completely different product for leaf blowing and other similar tasks.
Q: How does a leaf blower work?
A: Leaf blowers use a centrifugal force to move away leaves or debris. Centrifugal force is the energy created from the movement of a rotating frame. When it moves fast enough, it generates force in nearby objects. When the leaf blower's fans are on, the blades rotate rapidly to create centrifugal force. They suck in the outside air, spin it and emit it out of the machine through a leaf blower's tube.
Q: What is better in a leaf blower CFM or MPH?
A: Two numbers are measuring the performance of a leaf blower: cubic feet per minute (CFM) and miles per hour (MPH). MPH measures the speed of air that leaf blower emits in one hour.  CFM measures the force of the air and therefore is a more important feature. A leaf blower can have high airspeed, but it can still be ineffective because of the low air volume. If you want to know what is the range of CFM power that you personally need, consider the size of your property. For smaller yards CFM from 200 to 400 is quite enough, but for bigger ones, you want to search for a number between 400 and 700.
Q: Can I use a leaf blower for snow clearing?
A: There is a good reason why leaf blowers aren't recommended for snow cleaning. Using a leaf blower on snow means being at risk of some serious accidents such as electrocution or burning yourself. However, if you still want to try it make sure you wear gloves for protection, and that the cord isn't wet (if you use an electric leaf blower). A leaf blower can clear thin layer of snow, but with more than 4 inches it's practically impossible. It can be useful for cleaning the snow from your car, though, because small leaf blowers are easy to handle and move around.
Subscribe to our Newsletter