Best Touchscreen Car Stereos Reviewed and Rated for Quality
last updated:
Aug 12, 2019
Nowadays, car stereos are so much more than a radio receiver/music player for your daily commute or that summer road trip. They have evolved into state-of-the-art touchscreen computers capable of linking to your mobile device allowing hands-free calling, guide you through the concrete jungle with GPS maps, and even interact and monitor other systems in your vehicle, such as rear-view cameras and other sensors and gizmos.
Featured Recommendations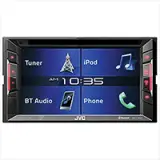 Jvc KWV140BT

Our rating
Best features
Price:

See Here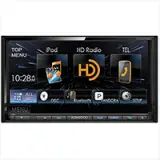 Kenwood DDX672BH

Our rating
Luxury Features
Price:

See Here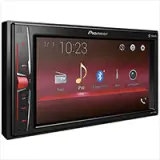 Pioneer MVH-200EX

Our rating
All-around balance
Price:

See Here

To help you make your own choice, we have put together this buying guide featuring the ten best touchscreen car stereos on the market right now, taking into account not only the quality of sound but also screen resolution, multimedia playback capability, compatibility with other devices, user-friendliness, and accessories.
10 Best Touchscreen Car Stereos
JVC KWV140BT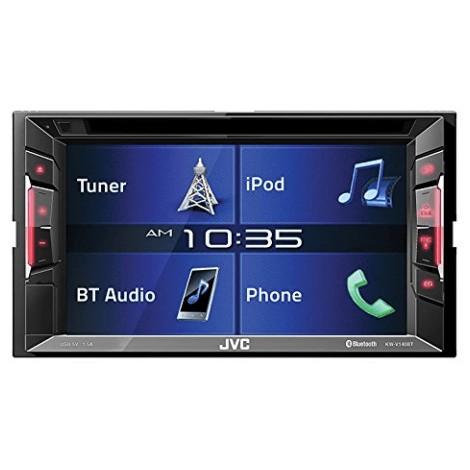 This multimedia system is a great choice for a well-balanced touchscreen stereo. The well-known brand JVC has rendered an impeccable
gadget
, with slick faceplate, user-friendly interface, beautifully design graphics and great performance. Covers all basic features that we look for in our car stereos these days, plus some of JVC's own add-ons that everyone is in love with. They even thought of a front-facing USB port to charge an extra mobile device on the go or to play media from.
Expand to see more
Excellent features
JVC has really pushed the envelope with the features developed for this line of products. From the remote control app for your smartphone to be able to have a DJ party with up to five different devices, for amazing times on the road with friends. It also has a built-in CD/DVD deck, for playing media that is still available in that format. And let us not forget to mention its 13 channel equalizer, for a fully customizable sound experience.

Great Compatibility
Developers at JVC have made a product as versatile as it is beautiful. It has automatic Bluetooth pairing, two phones full-time connectivity and is able to read and play media directly from your device's storage, supporting both Android and Apple phones for all features. Popular music apps such as Pandora and Spotify, and even navigation tools like Google Maps and Waze, are supported by this touchscreen multimedia system while paired with your mobile device.

Cost and Value
With all these features and great ratings, it is hard to believe this is the real price tag on this product. Deals hardly come as good as this one, even if you are looking for a lower tier system, you do not need to pay much extra to get a great quality system like the JVC KWV140BT.


Great unique features
Excellent sound quality
Well-known brand and quality
Pairs with all devices
Slow response of buttons
Mounting plate not included
Kenwood DDX672BH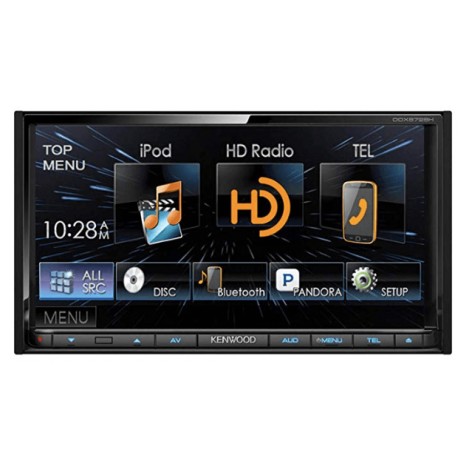 Another industry giant comes in second place in our ranking with the "Cadillac" of the in-dash entertainment systems. This amazing product goes the extra
mile
in all its features, including CD/DVD player with auxiliary video output for a second screen, 7" LCD touchscreen, rearview camera connection, SiriusXM ready FM/AM HD radio, compatible with Android and iPhone with both USB and Bluetooth, OEM remote control and many, many others.
Expand to see more
Full Features
Engineers at Kenwood have crafted this masterpiece of car entertainment, featuring everything you could wish for on your car stereo. Even the faceplate of the system has a 3 step motorized tilt angle, allowing you to adjust it regardless of its position on the dashboard. The DDX672BH offers more than your average touchscreen system, integrating features such as SiriusXM compatibility, full Siri control by Apple, Pandora app, DVD player, HD radio and the back-up camera.

Superb Sound Quality
Its patented five channel Drive EQ was specifically developed to counter road noise, boosting certain frequencies to compensate for the negative impact of the drive on your music. With a total power output of 50W x 4, a 5 band equalizer, and all the extra accessories available from Kenwood, you can rest assured that you will get as close to perfect sound as humanly possible.

Cost and Value
Of course all this quality and luxury comes with a price tag, but not as high as you would expect after reading the above. Given all its extra features and quality of sound, this product has an excellent cost/value ratio. If you are looking to get more than your average touchscreen stereo system for a reasonable price, this is the perfect choice for you.


Full features
Motorized tilt angle
Excellent sound quality
Well-known brand and quality
Price
Android's voice commands N/A
Pioneer MVH-200EX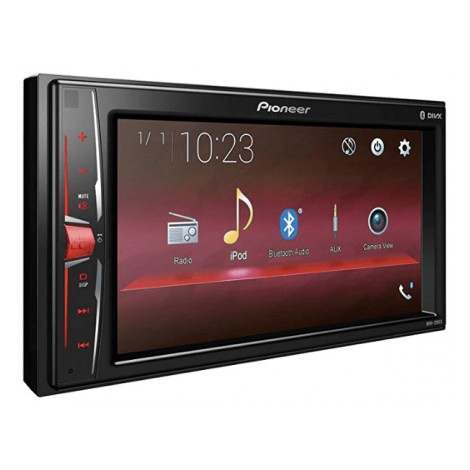 Our top choice on the list has a well-balanced sound and video quality, all the necessary features and good
connectivity
at a very affordable price. A staple brand in the industry, Pioneer has been tuning up our cars for decades, and they must be doing it right since they are by far the best selling car stereo manufacturer in the world. This gadget will satisfy almost anyone looking to replace or upgrade their previous stereo and catch up with modern times.
Expand to see more
Seamless Connectivity
This in-dash media a/v receiver offers 100% Android and iPhone compatibility via both a USB cable and Bluetooth link allowing not only hands-free calling, but you can also playback media from either device without the need of intermediate apps, directly from your device's storage drive to your car speakers. Also features an auxiliary input and back-up camera connection.

LED Touchscreen
The 16:9 aspect ratio "Clear Resistive" touchscreen will playback up nine different media formats, including audio, pictures and video files for all your passengers' entertainment needs. The 800 x 480 pixels 24-bit true color display can be customized to match your car interior scheme, and background images can also be changed to suit your mood at the time.

Cost and Value
This product scores the highest in combined value, quality, and features. With an excellent sound definition, top quality display, and all basics covered, there's hardly any other product that can compete with its price. Backed up by the biggest industry name, no wonder the Pioneer MVH-200EX made it to the top of our list.


Well-known brand and quality
All basic features covered
Links easily with mobile devices
Best Cost/Value
Pioneer MVH-1400NEX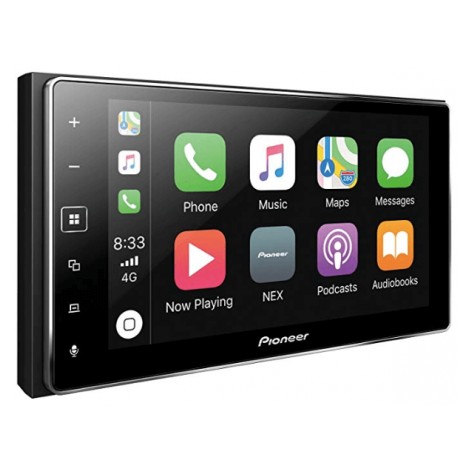 The second Pioneer system in our ranking is a top tier car multimedia system, with more features and better A/V quality than most. This touchscreen will
upgrade
your car to the digital era, with features such as screen mirroring for mobile devices, Bluetooth auto-pairing, and a wide range of supported apps that will make you feel as comfortable with your car stereo as you are with your smartphone. Of course, all basic features the likes of rearview camera support and Bluetooth hand-free calls are covered, but this system is so much more.
Expand to see more
Just like your Smartphone
This multimedia video receiver with a 6.2" capacitive touchscreen display looks and operates just like our familiar mobile devices which we have come to depend on. It has amazing capabilities to support different apps and even mirror your device's screen this turns it into one of our favorite products. Popular apps such as Pandora, Spotify, SiriusXM, Google Maps, are seamlessly operated from the touchscreen. On top of all, Pioneer's AppRadioLive will source data from different apps on your device to give you on one screen all the information you need during your daily commutes, such as navigation, news, live traffic, weather condition, and calendar events.

Top Sound Quality
The next-generation car sound system from Pioneer brings hi-res audio files out of your home or professional studio into your car. The NEX system built into this receiver allows playback of high-quality files in FLAC format, encoded up to 192kHz/24bit. Complete with a CD/DVD player is the ideal stereo system for any serious music enthusiast.

Cost and Value
This state-of-the-art gadget is capable of doing amazing things through the mobile device screen mirroring, giving way for an endless potential for entertainment. With it, you are not bound to the touchscreen's app support limitation, and anything you can watch and hear on your mobile device now can be watched and heard on your car. This is why we believe this product is completely worth its price.


Supports FLAC audio format
Super hi-res audio quality
Seamless integration with mobile devices
Mobile device screen mirroring
Price
Not all features supported on Android
BOSS Audio BV9364B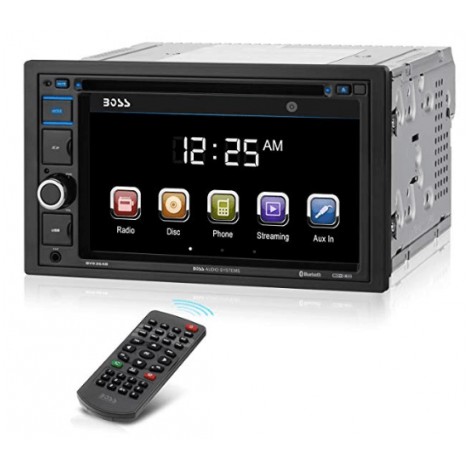 Coming halfway through our ranking we found this excellent touchscreen stereo system at an amazing price. Do not let yourself be fooled, this multimedia system has all basic features plus some more. With a "true" double-din size, fits all dashboards better than regular double-din stereos, making setup quick and easy for a DIY installation. Though-built and with a 3-year manufacturer's
warranty
, this affordable touchscreen stereo is really a good choice.
Expand to see more
Input Anything
One of the best features of this product is the variety of inputs it can take. In the faceplate, you will find a USB (charger and reader) plug, SD card reader, and audio mini-jack. Then around back, everything else, including RCA audio/video input, RCA rearview camera, USB cable for iPhone or Android and steering wheel control. There's nothing this multimedia system cannot connect to.

Powerful Sound
This gem has four pre-amped output of 80W, so make sure your speakers can take it before cranking up the volume on the system. Complete with a CD/DVD player and a built-in equalizer, it allows you to control and customize your audio experience, from a chilled classical humming in the background to a funky base line music party, this touchscreen stereo system will take over your ears and heart.

Cost and Value
BOSS Audio might not be recognizable as the other brands before mentioned, but it is still an excellent sound system manufacturer, with great quality products such as this one. With all the features it offers, we are quite certain that you will be surprised by its price, but nothing to worry, because it comes with a factory warranty to back it up.


Multiple input ports
Powerful 80Wx4 output
Great cost/value
Supports Spotify and Pandora
Harness not included
Takes some time to start up
Pioneer AVH-X390BS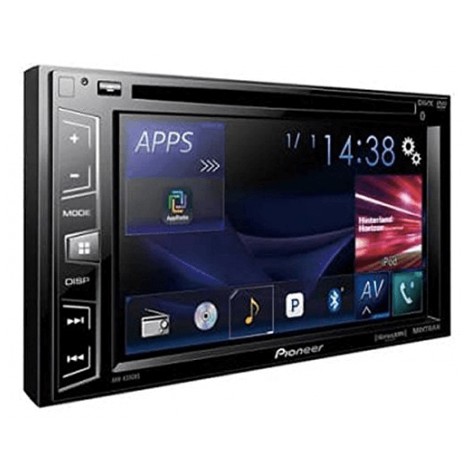 A middle tier touchscreen sound system, this stereo will make your time spent in your
car
more enjoyable and comfortable. As expected, all basic functions are covered, including Bluetooth hands-free calling, rearview camera support, direct music playback from paired devices, etc. But it is its unique features and sound quality that sets this beauty apart, with a sharp WVGA 800 x 480 screen that looks and operates amazingly.
Expand to see more
Excellent Sound Experience
The crisp 6.2" wide touchscreen on the faceplate performs excellent, but is nothing compared to the quality and features of the sound system, as only the Pioneer brand can deliver. Capable of reading CD/DVD and powering 50W x 4 outputs with separate subwoofer output/volume control, this car stereo can render near-perfect music experiences thanks to features allowing customization, including a 13-band graphic equalizer, "Easy EQ" presets and "Time Alignment", which can adjust the delivery of sound depending on the number of passengers and their positions in the car.

Quality and Functionality
On top of the sound experience, this gadget is full of extra features that will make you fall in love with it. The most sought after one-cable connection supports both Apple and Android devices, without the need of buying additional hardware if you happen to use both operating systems. It also comes navigational ready from the factory, and supports popular the music apps Pandora and Spotify. Complete with a customizable display and background graphics, it will integrate into your car's interiors seamlessly.

Cost and Value
For a middle tier and backed by the Pioneer brand, this product is an excellent choice if are not on a minimum budget. With excellent sound and great features, you will never regret buying this touchscreen car stereo.


One cable for Apple/Android
Excellent sound experience
Two simultaneously paired devices
Customizable graphics and colors
Android lacks some integration
Issues with high bit rate on videos
Pioneer AVH-2300NEX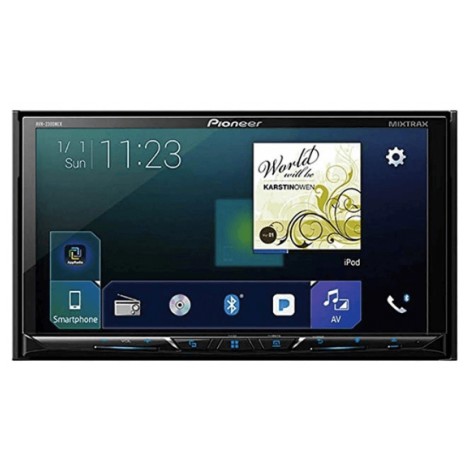 Next, in our ranking, we climb the tier ladder one step higher from our previous product. This top-shelf quality sound system will turn your car into a
professional
music studio. Covering all basic to be expected at this point, its operating system goes one step further than most of its competition, making a perfect match to its amazing A/V performance. If you are a true sound enthusiast, you will find in the Pioneer AVH-2300NEX your musical Shangri-La.
Expand to see more
Enhanced User Interface
The revolutionary Pioneer's NEX car multimedia systems are the last generation on touchscreen car receivers. Inspired by today's mobile-device-driven lifestyle, their powerful, responsive and intuitive user interface is the closest thing to having a built-in dash tablet. Featuring the new Android Auto, it extends your Android mobile device into your car stereo, purpose-designed for driving, minimizing distraction and organizing useful information such as navigation, traffic, weather, and news for your convenience on the road.

Professional Sound Quality
Another incredible aspect of the NEX sound system is their ability to play back hi-res audio file used in the professional music industry, including FLAC formatted files, encoded at 192kHz/24bit. Add this to the rest of the features Pioneer is known for --e.g. Time Alignment, which adjusts the sound to the number of passengers and their position in the vehicle, or the 13-band graphic EQ, that lets you customize the output and experience the music the way you want to-- and you get one of the most powerful and professional touch screen car stereo available in the market this year.

Cost and Value
Reasonable enough, this product has a bigger price on the tag, but if you are a professional of the music industry or a true enthusiast for high-quality sound, there is no doubt this is one of the best deals out there today. With the quality of the brand known around the world, you will never regret expending the extra bucks for this sound multimedia system.


Top-shelf sound quality
Enhanced UI
Apple CarPlay / Android Auto
Motorized tilt angle
BOSS Audio BV9986BI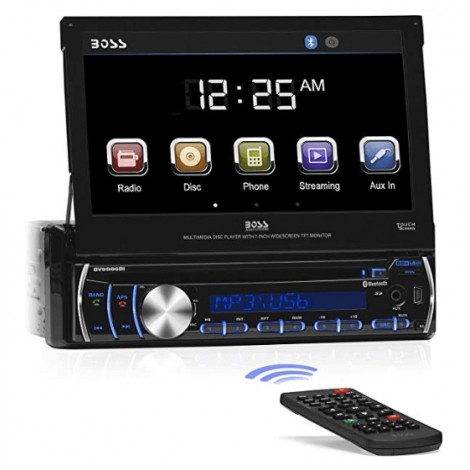 The following product lands in our list as the only single-DIN size touchscreen, meaning that it will fit the smaller
dash
receptacles on some of the car models still available today. Having a compact dashboard will not keep you from having your own touchscreen multimedia system, thanks to the engineers of BOSS Audio who have created this affordable yet remarkable piece of car electronics. Equipped with a fully-automated retractable 7" screen, you will be surprised how much is going on inside that tiny metal box.
Expand to see more
Incredible capability
For a single-DIN size car receiver, you will not believe all the things this gizmo can do, starting by the motorized touchscreen that retracts inside the casing when the car is turned off. It also has a built-in CD/DVD player and capable of playing back almost any multimedia file format, AV inputs on the back to connect a game console or any other video device, SD card reader to check your photos from your camera on the go, AUX and USB front ports to connect your favorite portable device, Bluetooth pairing for music playback and hands-free calling, back-up camera connection, and if all of this is not enough, the faceplate also detaches for security when needed.

Engineering at its best
A retractable screen is not a simple piece of machinery, mechanics and electronics must come together to achieve a perfectly synchronized operation and guarantee it time after time at the turn of the ignition key. On top of that, it must also endure the vibration and shakes inherent to a moving vehicle, which sometimes can reach extreme forces. Being able to do all this and deliver a great multimedia experience constitutes an engineering feat worthy of commendation, or at least, worthy of a place in our ranking.

Cost and Value
Given everything the BV9986BI touchscreen car stereo is capable of, the ability to upgrade your compact dash to the digital era, the quality backed by a warranty and its sales price, this deal is a steal. This product a great solution for those who thought their dash was too small for a touchscreen stereo and comes at a very low cost.


Fits 1DIN-size dashboard
Detachable faceplate
Multiple inputs
Low price
USB does not charge devices
UI lacks some functionality
ATOTO A6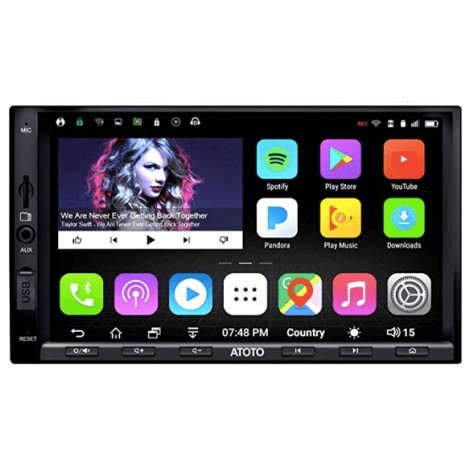 Product number nine in our guide belongs to an upcoming new breed of car
electronics
designers and manufacturers. Different from all the brands that we know and have come to love over the decades, this young blood of developers and engineers have a whole new approach on dash multimedia systems by creating touchscreen stereos with an operating system based off the Android 6.0 Marshmallow OS. The result is a new but familiar user interface, incredibly intuitive, powerful and customizable.
Expand to see more
Android for your Car
Forget what you know --and sometimes hate-- about current car multimedia user interface, this touchscreen is fuelled by a powerful OS that would do almost anything your tablet or smartphone would. It does not just support a few apps like other products mentioned above in our guide, but it will connect directly to your Google Play account and it will support over 300 different apps for download and use. Complete with a WiFi antenna, it can connect to your home or office wireless network to update and preload information necessary for the road on a daily basis. Is WiFi not available? Not a problem, pair with your smartphone via WiFi or Bluetooth to share connection a download map information, calendar events, traffic reports, or even stream Netflix directly.

A Bag full of Features
This product is at the forefront of dash multimedia systems, with features such as interpreting gesture commands from your fingers, as any smartphone or tablets would, so you can scroll, roll, pinch, drag, swipe, and tap, opening possibilities for endless applications and functionality. Also provides a Max 2A Quick Charge through its USB connection, capable of charging your mobile device faster than most car stereos. The ATOTO A6 matches and sometimes even surpasses all other features that other touchscreen multimedia systems would offer, including dash and back-up camera inputs, AV inputs, support of up to 3 Bluetooth devices at a time, among many more.

Cost and Value
For all its potential and integration, this device is much more than your average touchscreen car stereo. It truly turns your vehicle into a "smart car", giving it a multimedia touchscreen computer-like capability right at your fingertip. It should be marked at double the price, but luckily for all us, we get to buy it for what is marked now, so do not think about it anymore and click on the link to get yours.


Android-based OS
+300 available apps
Connects to Wi-Fi
Operates like a tablet
Lacks some Apple functionalities
New brand/technology
Regetek 7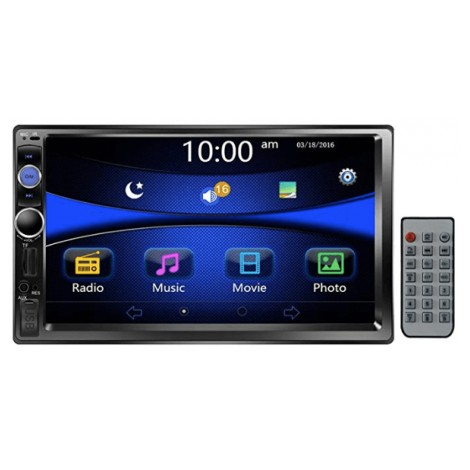 Lastly, in our ranking, this product comes as our budget choice. With limited functionality compared to the rest of our list, this
multimedia
touchscreen receiver is a great choice if you are looking to cover the bare minimums. It has built-in USB and AUX inputs, TF card reader, rearview camera support, Bluetooth pairing, free-hands calling, and of course, FM/AM radio receiver.
Expand to see more
Budget and Quality
This touchscreen car stereo is the closest to the factory default ones on most of the low and middle tier cars. Does not support navigation nor has a CD/DVD player, but every other basic feature is covered and it performs pretty good considering. The pre-amped output is as powerful as most of the other systems in our buying guide, and the quality of sound is much better than it would be expected, standing out from the rest of the products in the same budget tier.

Great Reviews
Of all the countless choices for budget touchscreen double-DIN car stereo, this product really stands out of the crowd. Good rating and great reviews made it easy for us to pick this sound system out of thousands, and according to customers experiences, it has endured the test of time and quality. From installation to sound quality, this piece of car electronic will surely surpass your expectation and last you close to a lifetime.

Cost and Value
It seems almost unreal that pieces of electronics capable of doing amazing things for our lives are available this cheap. You would be increasing the safety rate of your car by using hands-free calling and rearview camera, potentially saving you thousands and thousands on would-be damages or liabilities, for only what you would spend on a date with your SO. On top, you get multimedia playback and a decent sound system from it, say no more and take my money!


Great value
Easy installation
Great reviews
Good quality
Does not play CD/DVD
Nav support N/A
For most of us, when buying a new car stereo sound quality comes to the top of our mind, since most likely we will be listening in for countless hours of our lives, and who doesn't like to blast some good music while driving for hours on a long journey? Touchscreens bring a whole new angle to the game: not only can you operate the different menus, dials and settings at the tip of your finger, but also allows the playback of different media such as pictures and video for the passengers' entertainment.
Criteria Used in Evaluation of the Best Touchscreen Car Stereos
This buying guide is the result of extensive market research, which led us to the best of the best available out there. In the following section, we would like to share with our readers the features and characteristics of the products that were considered to rank our list.
Sound Quality
Music, pod- and broadcasts are perfect for the car: can entertain the driver without distracting him/her from the road, keeping them away from the danger of falling asleep, making the journey seem faster, reporting on up to date relevant news, and even prevent the occasional traffic jam stress-fueled road rage. For all the new technology and integration of new-generation car multimedia systems, their main purpose remains to deliver a great sound experience to the passengers.
Today's advances in sound engineering are constantly put to the test by car stereo manufacturers all around the world. In places where commuting in private vehicles is the norm, such as North America, the average person spends countless hours in the car a year, and what better time to spend that time than blasting your favorite tunes away. The era of Hi-Res sound definition has come and is not going to fade, more and more people demand better quality for their music as they do for the rest of digital media.
This buying guide has selected the best sound delivery out there, no matter which tier of the product looking to buy. Whether you are looking to spend a few bucks or get the best sound system out there, you will find in our list a product matching your ears need.
Device Integration
In today's device-drive lifestyle, your smartphone and tablet are your extension into the digital realm. Even house appliances are becoming "smart" by connecting to the information network, so the ability of a device, such as your car stereo, to connect and share data regarding navigation, calendar events, traffic news, is something worth looking at when making a choice. In a world divided between Apple and Android, the best car systems have the capability to pair to both operating systems, without hindering quality and features. Is not an easy feat, but certainly an achievable one.
But car multimedia systems must not only work with one device such as our smartphone at a time, but we might also have a guest passenger who wishes to show us his/her favorite song from her device's storage, so connecting two or more mobile devices at a time is a great plus. Some people even go the lengths to install video games consoles or other AV devices for their passenger's entertainment and let us not forget about safety features the likes of rearview and dash cameras.
For all these reasons, the ability of a receiver to integrate all its inputs into a smooth but powerful operation, whether it is via BT link, USB, AV cord is paramount of any serious car stereo manufacturer.
Media Playback
Second, to sound, all other media follow in terms of quality demand when it comes to touchscreen car system. With the continuous rise of bandwidth and data volume in our wireless communication, more and better quality videos, films and shows are being streamed through popular internet networks such as YouTube, Hulu, Netflix, Amazon, HBO, etc. It is a constant race for multimedia playback-capable electronics manufacturers to keep up to date with the rising quality in videos since new encoding processes capable of better resolution are released almost every month.
But is not only about being able to playback better quality video, but your touchscreen must also match the expectation. With an ever-growing screen resolution and new standards in the industry, LSD, LED, VGA, WVGA, and many other acronyms are constantly attached to the product's name, hinting away its capability.
So it doesn't matter what your kind of touchscreen system you are looking for, here on this guide we have selected the best quality and highest resolution screens on the market, backed by the ability to playback any popular media file out on the networks.
User Interface
Touch screens have evolved from those clumsy gadgets which you could never tap strong enough nor in the right place, to being ultra-sensitive surfaces with processing power to interpret your "finger language", while still providing amazing graphics definition, and in turn, the development of User Interface of such devices has also improved greatly, with multimedia systems that resemble more a personal tablet than a car's in-dash stereo.
With so much going through your dash multimedia system: phone calls, radio, music, navigation, traffic info, and more, being able to control everything without getting distracted from driving is not only important, is an absolute must. Whether it is via voice command or intuitive gestures, the digital age has revolutionized the way we interact with our electronic devices.
In this ranking, you will find the most user-friendly and road-safe devices, design and developed after years of industry experience. It does not matter which tier you're aiming to buy, in here, we cannot put a price tag on safety and convenience.
Extra Goodies
Everyone loves a little extra bang for their buck, and with everything above mentioned, these devices are not far from having all the capabilities of a tablet or even a personal computer, surely won't be long before that day comes. This opens up infinite possibilities for what your in-dash multimedia center can do: from different inputs for your dash and rearview cameras to extra AV ports for additional video electronics, and from supporting your favorite music app for your ears pleasure to having a built-in Android system in the dashboard, the things these gizmos are capable nowadays are amazing.
Covering just the basic is not a thing you hear much in electronics, every brand and every tier of the market does something extra or different, to stand out and be the decisive choice when it comes to the sale. Whether is mechanical features such as the motorized tilt angle or digital ones such as the mobile device screen mirroring, we have studied and selected the top manufacturers of the industry, to help you choose the systems with the feature that you want and love the most.
Manufacturer and Updates
The reason you need to buy electronics from a well-established brand goes beyond the issue of good quality and a warranty, you need the support of a manufacturer that is constantly developing their technology, keeping up to date with current trends, and are able to update your device's firmware or release an extra hardware that is going to keep your car's touchscreen stereo from becoming outdated. A lot of generic and rip-off brands fail to do this over the years if you are in luck, and sometimes over the months if you are not.
So for us it is not just about getting the best item for the lowest price, but the people behind the product are as important as the product you are buying. Keep that in mind, not only when buying electronics but as a piece of life advice in general. For this reason, all manufacturers featured on our buying guide are sure bets on the industry and any product you choose from the list will be backed up by a solid corporation of people constantly working on the development of the industry.
Value
The goal of all purchase decisions: getting the best value for my money as possible while trade for the best good available, is it not? But browsing through the flooded market of car electronics devices can be a nightmare: acronyms being born and dying every week, new and upcoming brands that crash and burn within a few months, technology outdating itself before the products hit their planned obsolesce.
Taking into account all the criteria before mentioned, we have screened the market and selected ten different products representing each a different tier or market share, balancing out all pros vs. cons and picking the best option on every level. Price marks may vary widely but rest assured that for that amount of money, you will not get anything better. It is the sole purpose of this guide to help you make the right choice in terms of value, so your product satisfaction will be complete, and we will sleep soundly knowing that we have done our job right.
FAQ
Frequently Asked Questions
Q: Do these products include wiring harness?
A: For the installation of most car stereos two harnesses are needed, one from your stereo, which is usually included in the purchase, and one from your car which is specific for maker and model. These can be acquired at most part shops where car electronics are sold.
Q: Is the mounting plate included with the purchase?
A: There are some manufacturers that include a universal mounting plate, but honestly, there is no such thing. Just as the wiring harness, every car dashboard is different from maker and model, and these so-called universal plates will not fit your dash most of the time. Is always best to consult both car and stereo manufacturer to purchase the best-fitted plate for your system, or have it done at a professional garage.
Q: Is a CD/DVD not a standard anymore?
A: In short: No. With the rising band within wireless communication, more and more people are streaming their media directly from web services, social media or clouds, so we have started to see fewer systems being released with built-in CD/DVD deck. Nevertheless, they come with an AV AUX input should you need to plug an additional device, including an external CD/DVD player. The trend is for this media to stop being a standard and become more of choice.
Q: Can I play music from any app on my smartphone through the Bluetooth link?
A: All touchscreen systems featured in this guide have the capability to playback media files from your device's storage. Some of them support popular music app the likes of Pandora and Spotify for direct BT pairing playback; the better ones can fully integrate with your smartphone and become an extension of your digital self. In any case, when this is not supported via Bluetooth, most multimedia car systems have an AUX input on the faceplate for your convenience, allowing the stereo to receive music directly from your device's headphone jack.
Sources
Subscribe to our Newsletter