10 Best Bluetooth Car Adapters Reviewed in 2023
last updated:
Aug 15, 2019
Truth be told, nothing beats listening to music while you drive with the wind against your face. But there are situations when we may desire to play a precise song or listen to a particular audiobook. This is when a car adapter is required. You can plug these devices into the lighter socket of your car and connect your smartphone or iPhone via Bluetooth or USB. This is so that the signal can be transmitted to the adaptor via your device.
The best car adaptors come alongside Bluetooth which allows you to connect wirelessly without having to make use of an auxiliary cord. Additionally, great Bluetooth adaptors come alongside extra functionalities like wake or sleep mode and various modes of playing music which ranges from USB, Memory card, or Bluetooth.
Featured Recommendations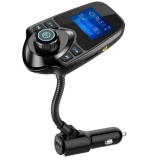 Nulaxy

Our rating
Quality
Price:

See Here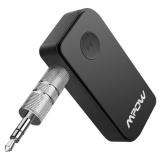 MPow

Our rating
Portable
Price:

See Here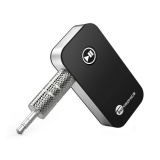 TaoTronics

Our rating
Lightweight
Price:

See Here

Nonetheless, not all cars have an AUX connection or Bluetooth functionality. Car adaptors are not pricey and provide you with high quality audio. In light of that, if you want to take advantage of all that cars adaptors have to offer, we have put together a list of 10 of the best Bluetooth adaptors that are certain to give you your money's worth.
10 Best Bluetooth Car Adaptors
1. Nulaxy AP-0674/ KM18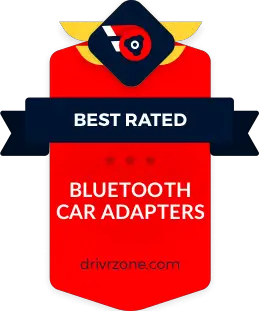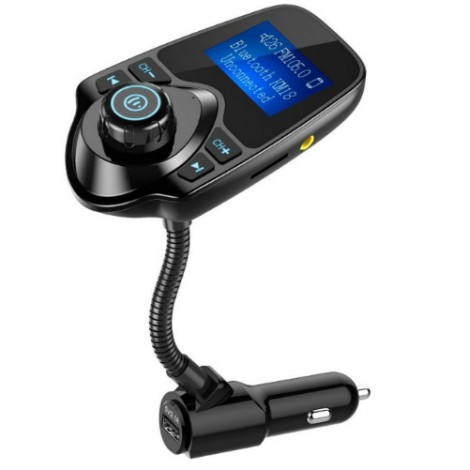 This car adapter was released in November 2015 and has become quite popular among lots of car owners. It is sometimes known as the AP-0674 model or the KM 18, which is the name on the box.When trying out any Bluetooth device, the first thing that is tested is the connectivity. The Nulaxy wireless Bluetooth transmitter pairs with any device effortlessly. You also observe a large LCD display on the device. On this display, you see if it has been paired, volume level, the title of the track, caller ID when calling, and the FM frequency.
Expand to see more
If your car radio does not come with an AUX port, then you are in luck. This Bluetooth car adapter comes with a 5mm AUX port to enable users to connect directly to their smartphone and other devices to enjoy music. You can also make use of a TF/SD card. The adapter also supports the use of Navigation apps and Music apps for more functionality.

Using the Bluetooth adapter to access different music files is also possible with the control buttons which you can use in jumping to the next track, changing the FM frequency, Volume change, and more. Working together with the flexible gooseneck, the position of the buttons does not limit its usage. All you need to do is turn it towards yourself.

Features

It Pairs easily
Bluetooth enabled
Supports USB charging
Supports up to 32GB TF/SD Card
An LED display
A gooseneck which is flexible
There is a microphone
A 5mm AUX port
Control buttons

Price

The Nulaxy KM18 is one of the most affordable transmitters on this list with some great quality features. It is also quite popular among many car owners so you can be sure that you are getting value for your money.

Conclusion

If all you are after is something mediumly priced, then this transmitter ensures you do not compromise on quality to get the price you want. Although there may be issues with the language, it is easy to make use of it once you know how to navigate through the settings.


It is affordable
Automatic connection to last paired device
Supports phone calls
Quality of music is very good
The voice on the speaker switches to Chinese (affects experience) after using over a brief period
2. Mpow Receiver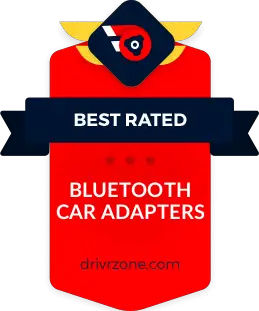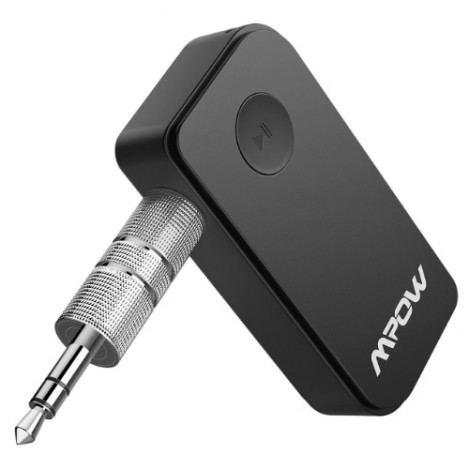 Moving, you likewise enjoy high-quality features like the latest Bluetooth 4.1 connectivity. This lets you connect to any car radio, headset, phone, home sound system, and tablet of your choice. If you don't wish to use the Bluetooth, then you can also settle for the USB port. This allows the device to play music from an MP3 player. Remember, you can also use it in making calls and all music processing depends on the A2DP technology.
Expand to see more
Features

It has a built-in battery which lasts up to 10 hours
Pairing of devices is automatic
Supports double links
Allows Bluetooth pairing and also streaming via the 3.5mm audio cable
Comes with a Bluetooth 4.1/HFP/HSP/A2DP/AVRCP
Hands-free support
An hour and a half for full charge

Price

This device cost slightly higher than the average price for these type of devices. The only positives are its functions and the fact that it comes with a money back warranty in case you feel you spent wrongly.

Conclusion

Unlike most devices which function simply as either one of s receiver or transmitter, this device serves as both. This means you can use it in transmitting the audio from a TV, CD / DVD players, and MP3 players to a connected speaker.


It functions as a transmitter and a receiver
Very portable thanks to the built-in battery
It has control buttons
High-quality music output
Does not power on automatically
3. TaoTronics Receiver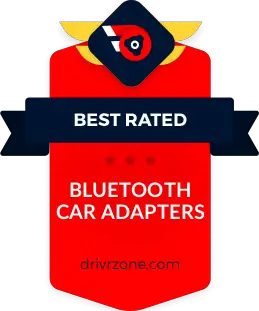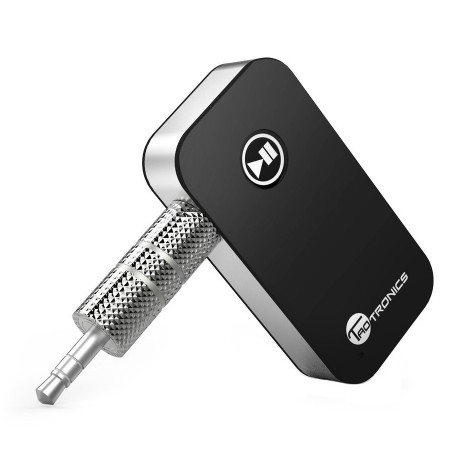 The TaoTronics Bluetooth car receiver is a great kit to have in your car at any time. The first thing you should know about this receiver is that it uses an inbuilt battery. This means you will need to recharge after a few hours or days depending on how you use the device. You can get up to 15 hours with heavy usage or 200 hours on standby mode.
Expand to see more
Features

Control buttons for volume, play/pause, and also a button to activate Siri on Apple devices
Battery can last up to 10 hours of use
Microphone to support hands-free calling
Supports connection of two devices at the same time
This is a Bluetooth 4.1 Receiver and it can work with audio systems in your vehicles and home, and also with smartphones

Price

Selling at a very cheap, affordable price, it will surprise a lot of users to see all the great features which this device packs in its case.

Conclusion

Coming up with new features to add to Bluetooth car transmitters is what makes any new release compete adequately. With this car receiver, the basic addition is the button which lets Apple device users activate Siri. There is also the multi-point feature and also the function through which you listen to your music while charging.


It lets you play music while charging
Lightweight device
Built-in microphone for hands-free calling
Two Bluetooth devices can be connected simultaneously
It lets users activate Siri on Apple devices
Complaints about low battery life
4. VicTsing Transmitter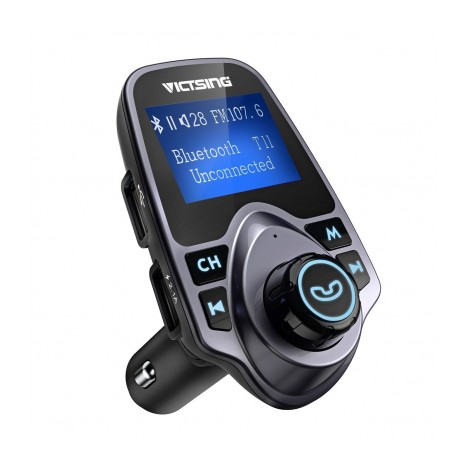 The VicTsing is another FM transmitter of excellent quality. It supports the use of hands-free calling and it also has a memory function which lets the transmitter connect automatically to the last paired device anytime it is turned on. With support for AUX cord, SD card, Bluetooth, and USB, there are many options you can select from when deciding on how to enjoy your music. You are not limited to ensuring a device supports Bluetooth, it just needs one of four options to play through your vehicle speakers. Additionally, there is also support for MP3. WMA, and WAV music formats.
Expand to see more
Features

It pairs automatically to the last device
Can be used for hands-free calls
Micro SD card, Bluetooth, 3.5mm audio cable, and USB flash disk, are different modes supported for playing music
Works with Apple devices and other Bluetooth enabled devices
Supports WAV, WMA, and MP3 formats
It has a power off button
A 1.44-inch display to show the volume level, incoming caller ID, FM frequency, and car battery voltage
It has two USB ports
It comes with a flexible neck so you can fold it when necessary

Price

Another reasonably priced Bluetooth device that allows you to turn your car radio into a music system.

Conclusion

An LCD Display, support for three different music files formats, and 4 music modes are just a few of the features which this device offers. For the price of this device, you really get double your money.


Songs are clean and consistent
LCD display
Four music playing modes
Supports iOS and Android devices
Cannot charge 2 devices at the same time
5. LDesign FM Adapter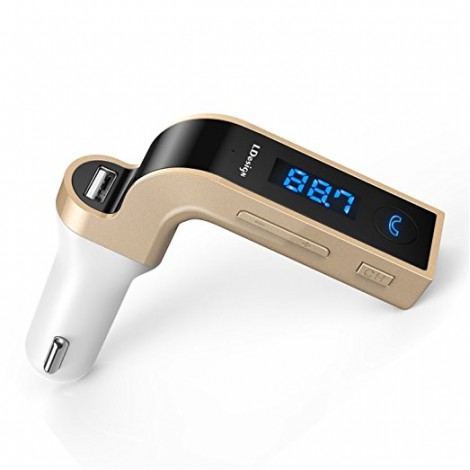 There is a lot to look forward to with the LDesign FM transmitter for anyone interested. Unlike most of the popular car adapters, this one offers a much more modern style and features. The LDesign comes in up to 7 various colors from which users can pick their preference. It can also be used in any vehicle and with any Bluetooth device.
Expand to see more
Features

It supports up to 4 music streaming modes including the Bluetooth, USB flash drive, 3.5mm AUX cord, and a TF card
Connects to the cigarette lighter
Built-in microphone for making phone calls
USB port which supports charging while playing music
It supports most vehicles and smartphones
Buttons to control the settings on the device
LCD screen

Price

The price of this device is well below average for a Bluetooth FM transmitter. What's more? You get the same features you will get on transmitters going for double the price of this affordable transmitter.

Conclusion

Making calls while driving needs to be done with a lot of consideration. What people don't often realize is that Bluetooth transmitters which come at a low price often come equipped with an in-built microphone for hands-free calling. Adding to other key features on this transmitter, then you are in for a blast.


It works excellently while streaming music
Can charge the phone while playing music
The microphone is very sensitive as it works well with the lid closed even though not as loud
The device automatically connects to the phone when in range
There have been complaints about static
6. Otium Radio Adapter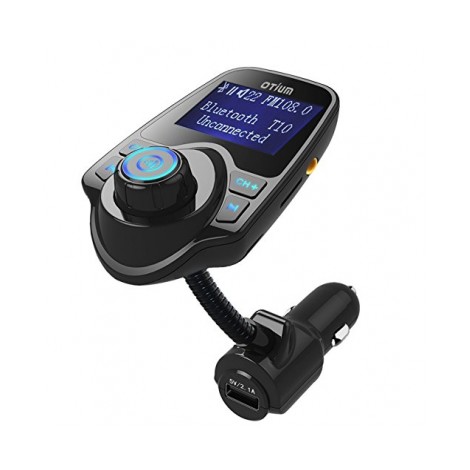 Getting the device to function effortlessly is one of the key features of any Bluetooth wireless adapter. The Otium Bluetooth wireless radio adapter audio receiver FM transmitter takes the front seat in this aspect as it follows a simple step to start functioning. With a frequency range of 87.5 to 108 MHz, all you need to do is tune the car radio frequency to the same frequency of the adapter and you can enjoy your music on the device. The 1.44 inches LED display makes it easy to identify what frequency you are tuned into on the device.
Expand to see more
Features

A2DP support for high-quality audio performance
A LED display screen of 1.44 inches
Works well with Apple devices and Android smartphones
Enjoy hands-free calls with the built-in microphone
USB port for charging your devices
Uses the car cigarette lighter so does not need to be charged
Support for Micro SD, 3.5mm audio jack, and AUX input and output

Price

Considering the features of this device, it is an excellent pick. Still, the price the device comes in is on the high side when compared to other similar devices. So, individuals on a budget might be turned off.

Conclusion

Although it is quite expensive, the features on this device give it a more positive appeal. Hence, if price is not an issue taken into consideration, this is a good product for you to try out.


No need for charging since it uses the car cigarette lighter
Easy to use with LCD display
Compatible with Apple devices, Android
Support for different input modes
Price is a bit steep when compared to others on the list
7. Imden FM Transmitter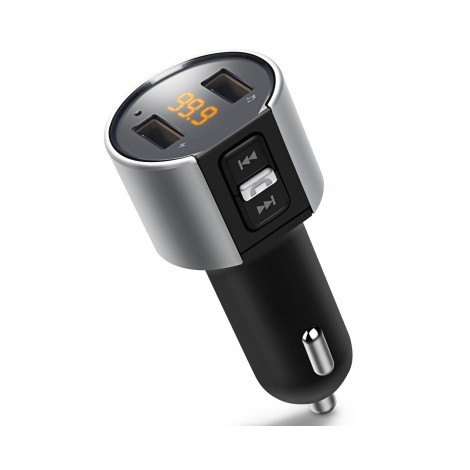 The IMDEN Bluetooth FM transmitter is another high-quality car adapter. It comes with dual USB ports which can both be used for charging. These ports are equipped with a smart charging IC which automatically detects when a device is connected. Unlike most adapters offering four music modes, this adapter offers just two modes. This is the USB disk which uses the right USB port and the Bluetooth mode. The microphone is also built-in and of high-quality with Noise reduction (CVC) and Echo Cancellation which makes it great when making hands free calls.
Expand to see more
Features

It comes with two ports which can be used in charging (5V-2.4A and 5V-1A)
Right USB port supports USB flash disk
Control buttons which also answer/end/ redial calls
Pairs as soon as you connect to the car
In-built microphone
Noise Reduction (CVC) technology and Echo Cancellation
LED screen with blue display
Supports Bluetooth and USB disk music modes

Price

The IMDEN Bluetooth FM transmitter is affordable falling at a range which is below average for transmitters. Thus, if it's to your liking, you should definitely give the product a buy.

Conclusion

With inbuilt microphone with nice suppression features and a reasonable price, you can enjoy music while using a USB flash disk. The device also pairs quickly and automatically so, it's certainly an excellent performer.


It can charge your devices while in use
Can enter pairing mode automatically
The price is good
Music through Bluetooth is clear
There is static on most FM stations
8. Sumind FM Transmitter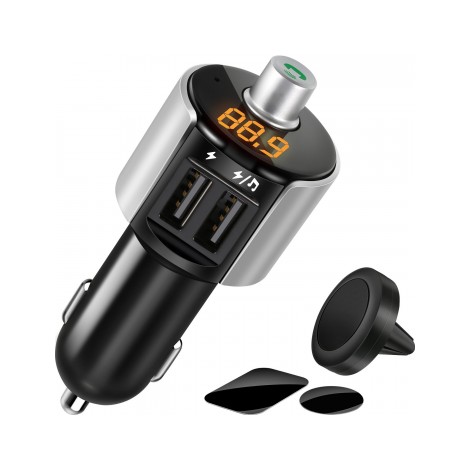 The Bluetooth FM Transmitter is another great transmitter with an innovative design which sells with a 60 day refund period. There is a frequency of range that spans from 87 to 110 MHz which is greater than the regular 88.1 to 107.9 on other transmitters. With this, you have a lot of options to avoid interference from local radio stations when making use of the device.
Expand to see more
Features

There is an LED display
The frequency range of this device is wider
Dual charging ports with smart IC for safety
Hands-free calls and inbuilt microphone
Supports USB flash players
with stable FM signal, anti-jamming design, can enhance the sound experience and noise suppression (CVC) technology, offer your hands-free talking and wonderful music.

Price

You enjoy the best price on this Bluetooth transmitter. Alternatively, we can say it has an average price for the high-performance features in its possession.

Conclusion

There are a lot of upcoming names when searching for Bluetooth transmitters. What makes them unique is that they are all out to perform. This is an outcome of this competitive nature. There are lots of top-notch features to enjoy on this device and a notable feature is the dual charging ports. There is also a safety factor considered as these ports have a smart IC to make sure they deliver the right output for a device.


Swift connection to Bluetooth devices
Enjoy music while still being able to answer calls
The audio is very clear
It has a high-quality reception
A neat and unique design
A refund period of 60 days
It is a very fragile device
9. Besign Bluetooth 4.1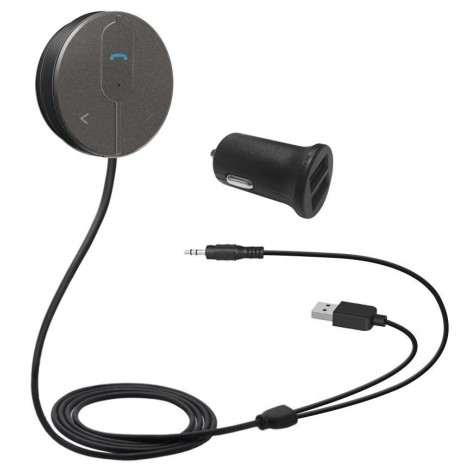 Another Bluetooth car kit which offers the multi-point feature. The product comes with Bluetooth 4.1 technology which is still recent and can easily be used in ensuring quality connections with different devices. Also, the Bluetooth type means that the power consumption is reduced and the signal is more stable which translates to a much clearer audio quality. The clarity is in addition, enhanced by the A2DP technology which is incorporated into the device.
Expand to see more
Features

It has the multi-point feature
Bluetooth 4.1 compatible
There are two charging ports on the kit
A2DP, echo and noise reduction technology for better audio
Microphone to support phone calls and hands-free usage
Improved power consumption
3.5mm audio jack for connecting to the car

Price

A high-quality device which also comes at a slightly above average price makes all the features on this transmitter too competent. This is especially true when you consider it to other products in its price range and even beyond. Moreso, the price is not a limiting factor in its design as it incorporates the latest Bluetooth 4.1 and also comes with the A2DP and noise reduction technology.

Conclusion

The most attractive feature of this transmitter seems to be the low power consumption which it offers. There is also the multi-point feature which allows you to connect up to two smartphones at once.


It produces a high-quality sound when playing music without any interference or crack
You can use two phones at the same time for better functionality
The quality of the audio on calls is exceptional
Control buttons are easy to find and press
Only works with cars which have a 3.5mm AUX port
10. Amir Criacr FM Transmitter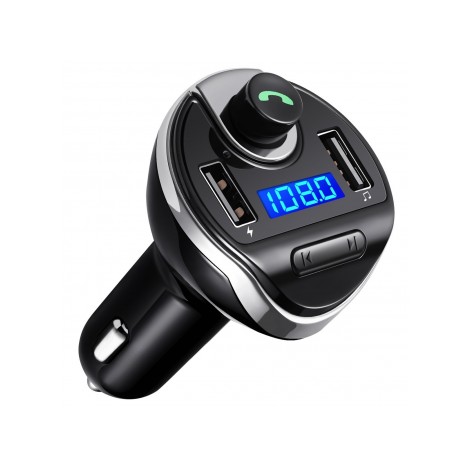 This is one of the latest FM transmitters on the market that also offers the hands-free feature, so there is not much you won't get with the device. There is support for playing music from a TF card or from a USB device. It also comes with a 1.44 inches backlit LCD display. This provides the frequency, car voltage level, volume level, and other displays. Furthermore, the product is quite durable and uses a zinc alloy which is made from using an advanced plating process in production.
Expand to see more
Features

There is a hands-free feature with the microphone built-in
A 1.44 inches LCD display
Comes with a dual USB outputs with smart chips installed
A2DP, echo cancellation, CVC noise cancellation, for better audio quality
Plays files automatically when connected
Dial and pick up calls with one press of the button
Supports TF memory card of up to 32GB
Up to 4 music playing modes including the AUX, USB disk, and TF card

Price

There are lots of support which this transmitter offers so it is not so expensive since it is just bordering on average for Bluetooth FM transmitters.

Conclusion

Dedicated control buttons on this device make it comfortable when you use your car stereo. An LCD Display screen also gives you full information on the condition and settings of the transmitter. Hence, it's an ideal car Bluetooth adapter to invest in.


USB ports to charge devices
Supports WMA and MP3 music formats
The voice clarity is excellent
LCD display for easy use
It is easy for someone to connect another Bluetooth device and disconnect yours
Criteria Used In Evaluation
Of The Best Bluetooth Car Adapters
First, we interviewed a host of car users the best adaptors known to them, from the adaptors given, we extracted their most liked and appreciated features. After which we carried out our detailed research and used the criteria below to select the top products from the list. In light of that information, they include:
Ease of Use
The first consideration for all the devices on the list is the ease of use. This includes pairing and positioning of buttons. Pairing is usually easy for most but you will notice a lot of devices that often take a long time before pairing. In regards to the button, they must be comfortable and appropriately placed to aid the user experience.
Battery Performance
Not all Bluetooth devices make use of batteries as some use the car charger to function. For those that use batteries, you will need to know how long the batteries last. While standby time is usually long, with some up to six months, the batteries often last between 10 to 45 hours when you use them on trips. As you can see, most of the products above were well researched and hence, their battery performance is satisfactory.
Multipoint Pairing
With a Multi-point pairing feature, you get to connect up to two smartphones simultaneously on the Bluetooth device. This also aids user experience since comfortability and functionality are further enhanced.
Dedicated Mute Button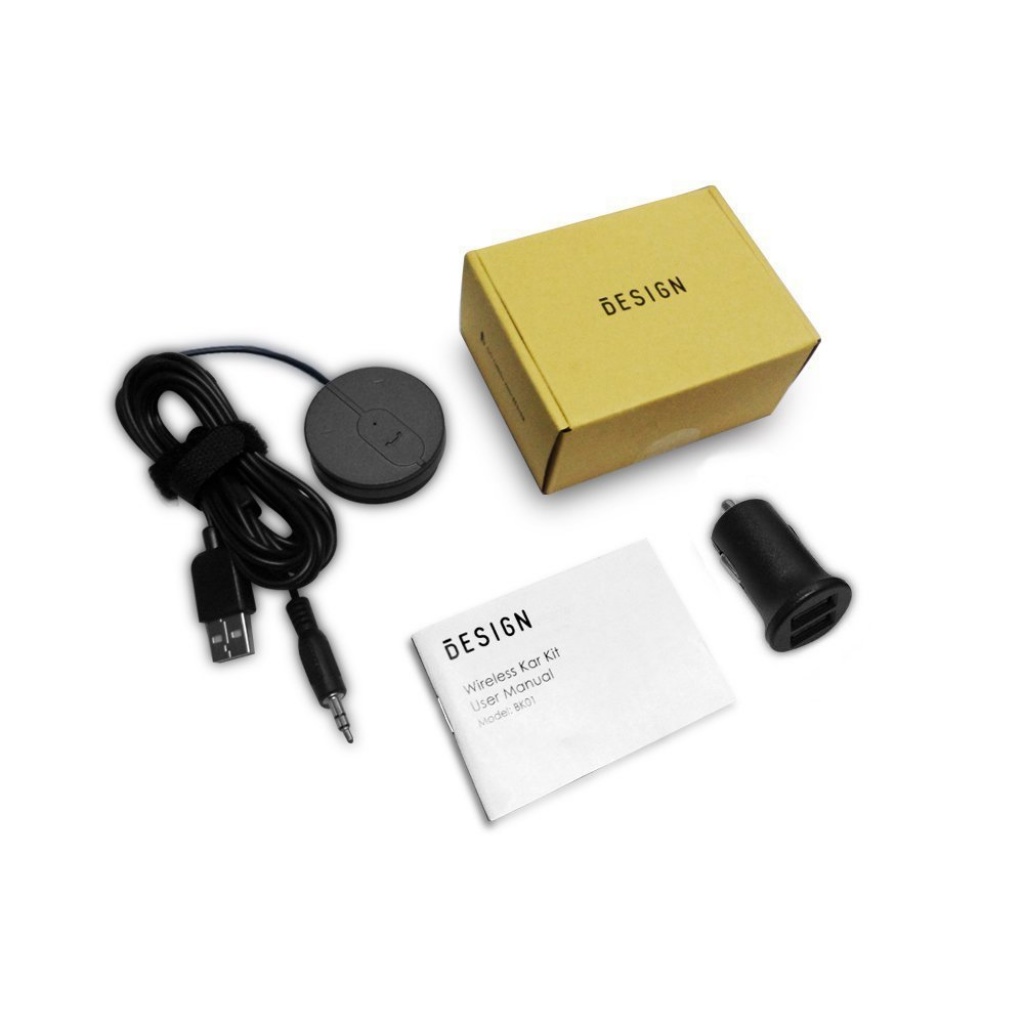 A lot of Bluetooth car kits do not come with a dedicated mute button. For those that have, it enables you to silence the device while you are able to discuss with other passengers in the vehicle. So, we can say it's a well-welcomed and appreciated feature. That said, some users might not mind the absence of the feature since all they need to do is reduce the car volume.
Compatibility With Various Devices
There are lots of different stereos in various cars and also different types of phones. This implies that there will be some Bluetooth devices which are specially designed for a particular car or phone (namely in the case of outdated technology). This is why it is necessary you select a Bluetooth device which is compatible with your phone, stereo, as well as other devices which you may need to connect.
The Quality of Sound it Produces
Don't end up having regrets about your purchase. The sound quality of any device you purchase should be thoroughly checked. In addition to ensuring the quality of sound is acceptable, you also need to consider how easy it is to increase the volume to maximum or reduce to a minimum, depending on the situation. Also, the quality of both levels must be qualitatively ensured.
Purchase Trusted Brands
If you have a brand you are quite familiar with for the high-quality products they sell, then buying a Bluetooth speaker from this company is the right choice. If on the other hand, they do not produce Bluetooth speakers, then you need to research. To find out a company that has been proven for its good work, you will need to talk to friends, family members, and other buyers. Talk to them about the device they are currently using and the performance. You will find a brand which is suggested by more people which you can buy.
For anyone who is still having doubts, you should talk to an expert in the field of electronic devices. Someone who runs an electronics shop is your best bet as they have extensive knowledge of electronics brands. Like so, we picked products from our favorite brands which we know (due to our tests) that they're exceptional performers.
The Cost/price of the Device
Having a budget is the first step to any purchase and working within that budget is also vital. But this is not an excuse to go for a low-quality device. You should make sure you are getting your money's worth by selecting a device that offers quality for your budget. So, we selected the best bang for buck car Bluetooth adapters for you to check out and pick one from.
Frequently Asked Questions
About Bluetooth Car Adapters
Where can I buy a Bluetooth car adaptor?
Kindly visit a reputable online seller like Amazon for the best Bluetooth car adaptors in terms of functionality, price, and build quality (longevity).
How do I pick a Bluetooth car adaptor by myself?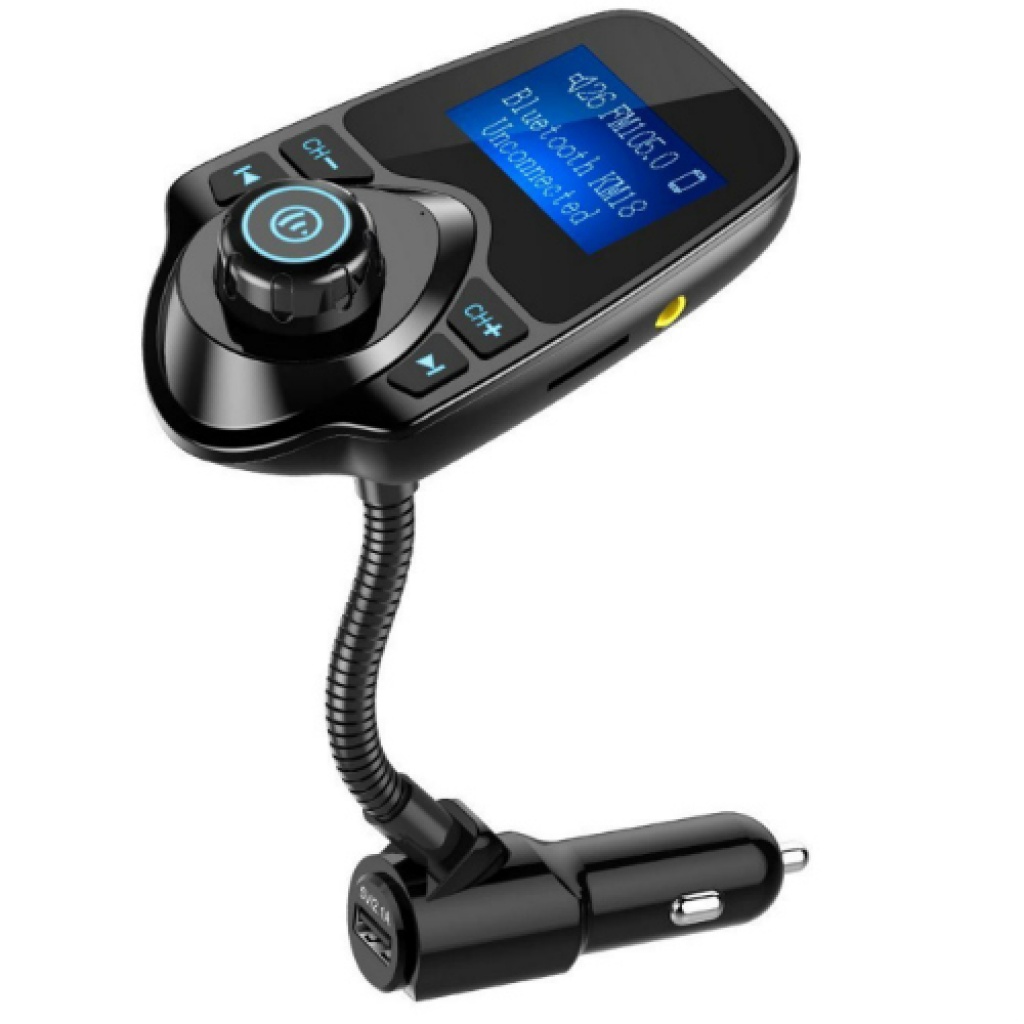 It's not that hard (for an expert at the least). So, you can use our "Criteria for Evaluation" section in that regard. Still, do keep note that our tests and selection methods aren't limited to that also. There are a lot of instinctual tests that were made too.
How do you operate a Bluetooth car adaptor?
Operating a Bluetooth car adapter is always self-explanatory and you'll even find the instructions on the product case. Most of the time, you only need to plug the product into the car lighter/turn on the Bluetooth and then pair/connect with your smartphone/device.
Subscribe to our Newsletter