Best Dash Cams Reviewed & Rated for Quality
Okay, so you got into an accident. It's pretty bad, with the front of your car resembling a chewed up tin can, and the back of the car in front of you resembling the mouth of whoever chewed up that tin can. You're angry, the other guy is angry, everyone is angry, the question is, now what? You both want to take the other to court, but you know that you had the right of way and that you can prove it if only you had video evidence. Well then, it's a good thing you read this article before this hypothetical scenario, isn't it?
Featured Recommendations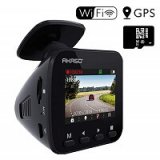 Akaso

Our rating
Built in GPS Camera
Price:

See Here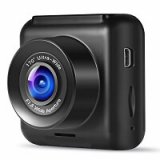 Apeman

Our rating
Super Wide Angle
Price:

See Here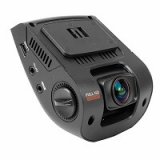 Rexing V1

Our rating
Discreet Design
Price:

See Here


Dash cams are a boon for those afraid of being in an accident and wanting to prove that any accidents that occur are not actually your fault. Some believe dash cams are the sole property of law enforcement, but that's simply not the case. Beyond it is just bad for business, everyone could use a means of recording what happens in front of his or her car. And we're counting down the top ten best of them, here today. So, get ready, because we're counting down the:
10 Best Dash Cams
1. Akaso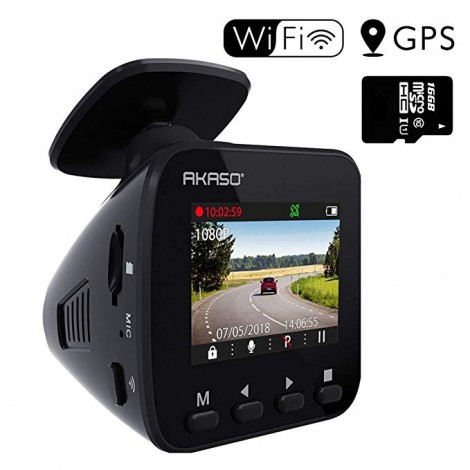 Kicking off our list, we have the Akaso Dash Cam Recording Camera. This isn't just one of the best dash cams on the market, it's one of the best cameras, period. Stick this onto the windshield of your car, and you will never be disappointed by its performance. What makes us so confident about this? Let's find out.

Expand to see more
Built in GPS Camera

When you need to use the footage taken during a car ride for whatever reason, you want to be sure that your uses of it since then have not overwritten the footage. Fortunately for you, you chose an Akaso dash cam, and so you have a built in GPS camera. This camera function tracks and indexes every single journey you take with it, to be reviewed later with the flip of a switch. Whether you're reviewing the footage in insurance court, or just sharing an awesome moment with friends, this camera has got you covered.

Super night vision technology

Of course, night driving can make things a bit harder for dash cams, especially if you're driving in places with no street lamps to help illuminate things. Which is why this dash cam is equipped with full 1296P resolution night vision technology. This gives you almost perfectly clear vision no matter how dark it gets out at night.

Cost and Value

For an incredibly advanced dash cam such as this, it's actually rather affordable. An average price as dash cams go, but very affordable when you consider what this dash cam has to offer you.


Built in GPS camera
Super night vision technology
Affordable
2. Apeman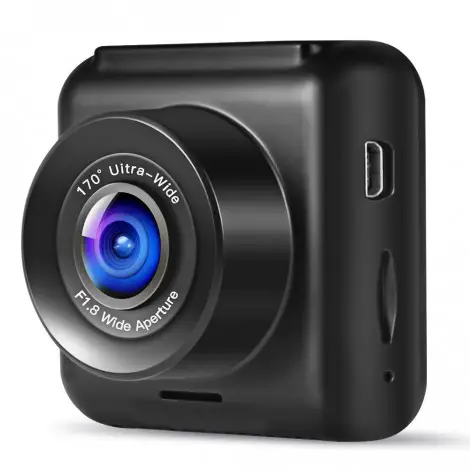 Coming in second place, we have the Apeman Dash Cam. This 1080P Full HD dash cam will record even your fastest driving with the crispness and clarity of a professional grade movie camera. But of course, that isn't the only benefit to buying this excellent dash cam.

Expand to see more
Super wide angle

It always sucks when, even if you buy a dash cam, something happens just outside of its peripheral vision that you can't get a good video of because it happens too fast and too far off screen. Not something you need to worry about when using this dash cam. This camera comes with an ultra wide, 170 degrees peripheral view that gets pretty much everything on the road in front of your car. Reducing blind spots almost completely.

Built in G sensors

Even if an accident occurs, and even if it's on screen, it may not be as completely on screen as you need it to be to prove it wasn't your fault to the insurance guys. Fortunately, along with the super wide angle lens of this camera, it also comes equipped with a built in G sensor that picks up any kind of collision or sudden shake vibrating throughout the car. That windshield reacts to almost anything that happens to your car, so this camera is guaranteed to feel it. And when it does, the camera is programmed to automatically trace the source of the collision and lock its camera straight at it.

Cost and Value

Believe it or not, in most retailers, you'll find that this camera actually costs much less than the previous entry. So, if you want high performance and low cost, then this is the dash cam for you.


Super wide angle
Built in G sensors
Very affordable
Camera button placement could definitely be better
3. Rexing V1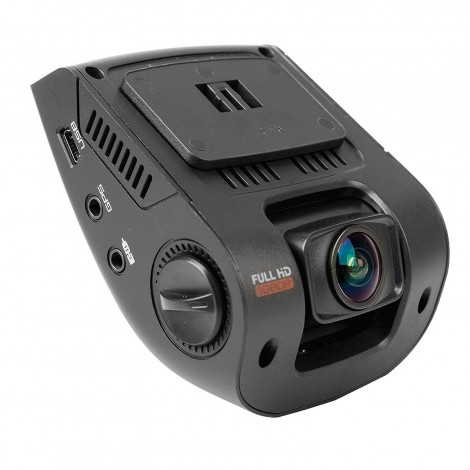 Finishing up our top three segment, we have the Rexing V1 Car Dash Cam. This discreet little thing is definitely one of the best dash cams on the market right now, for various reasons. And while it may cost a bit of a pretty penny compared to the last two, this camera is more than worth the money.

Expand to see more
Discreet design

If you think getting into an accident with someone is going to stoke the road rage, then just imagine how that person will feel if they see that you've been recording the whole thing, practically guaranteeing you any court hearing win. Fortunately, this dash cam is almost impossible to find when looking into the car from the outside, thanks to its compact, discreet design. It also helps to keep it out of your way when you're trying to focus on the road.

Accident video locking

This camera conserves its video memory by playing recording every video in 3, 5, and 10 minute segments, with previous recordings being overwritten by later ones. However, should one of those videos contain a car accident, then that video will be locked down into the dash cam's memory banks, unable to be overwritten and only able to be accessed by you.

Cost and Value

Like we said, this camera is a good bit more expensive than the previous entries, but not by all that much when you get right down to it. And this camera more than earns the price it has, so if you have a bit more money to throw around, then we highly recommend it.


Discreet design
Accident video locking
Full HD, super wide recording
4. KDLinks X1 Wide Angle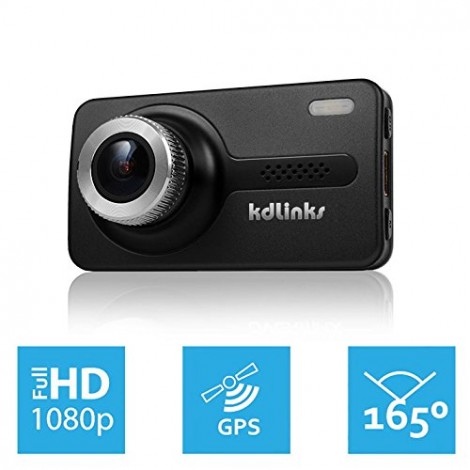 Coming in at #4, we have the KDLinks X1 Wide Angle Dashboard Camera. This may not be one of the most affordable entries on the list, in fact, it's likely one of the priciest, but like the last entry, we fully believe it to be utterly worth the money. What makes it this way? Let's find out.

Expand to see more
Superior night vision

There are a lot of different ways in which to improve the night vision of the dash cam you're using. But this camera has one of the best. Through the use of unique wide dynamic range (WDR) a size glass camera lens, and a video system found in high grade night vision goggles around the world, this camera will give you like crisp and clear a video in the black of night as you possibly can get right now.

Tough as nails battery

Your dash cam needs to be, well, on the dashboard in order to work properly. However, that basically leaves it exposed to the sun and thus, the elements. And extreme heat and cold have proven disastrous for electronics in the past. Except, of course, for this one. This camera is outfitted with a high quality Li-polymer 3.7v 110mah battery that can withstand the heat of up to 170 degrees Fahrenheit, and cold of as low as -40 degrees. Meaning you never have to worry about this camera breaking down under the weather's stress.

Cost and Value

Like we said before, this is one of the priciest entries on the list, and definitely the most expensive so far. And while that price did hurt its placement on this list, we still found it to be more than worth the asking price.


Superior night vision
Tough as nails battery
Built in GPS module
5. Vantrue N2 Dual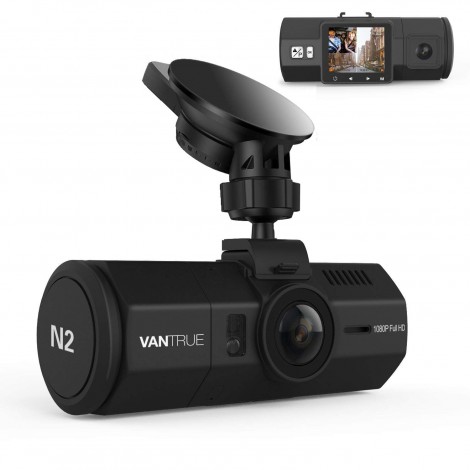 For our #5 spot, we chose the Vantrue N2 Dual Dash Cam. As the name implies, the main gimmick of this dash cam is that it's outfitted with two cameras instead of one, with one pointed outside and the other pointed in. making this the perfect dash cam for a taxi, Uber, and Lyft drivers for keeping an eye on their passengers.

Expand to see more
Flawless interior video

But the interior of a car is always going to be significantly worse lit than the outside, which can make keeping an eye on things much harder. However, the interior camera of the dash cam is equipped with a Sony IMX323 sensor, 4 infrared LED lights and a f/2.0 aperture. What all this jargon means is that it can handle even the darkest conditions and still get a clear, flawless interior video. So, no matter how dark it is, remember, you are being watched.

Auto parking mode

Usually, a dash cam will turn off the minute you turn off the car upon parking, maybe staying on for just a few minutes after before realizing that it's not going to be moving. However, this camera is programmed to automatically turn on if either the interior or exterior camera detect some kind of movement. Whether it's via the motion sensors, or if someone steps in front of either camera, if your car's about to be stolen, you now have the guy's face.

Cost and Value

The big problem, with this camera, is the price. Of course, something with this kind of tech in its system wouldn't be cheap, that's to be expected, but this entry is probably one of the most expensive on the list. And most uber and Lyft drivers likely can't afford it. Which is a problem when that's whom you're selling to.


Flawless interior video
Auto parking mode
G-sensor and looping recording
6. Aukey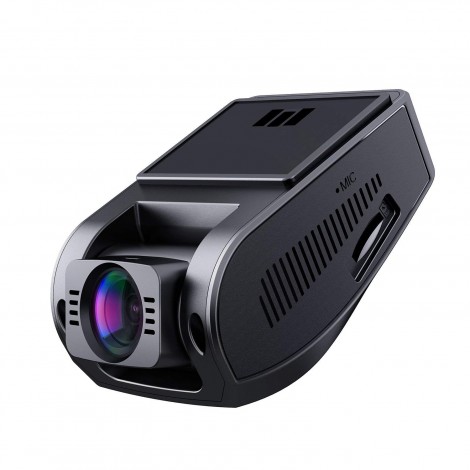 Coming in at #6 is the Aukey Dash Cam. This dash cam is the premier stealthy dash cam, sitting unnoticed behind your rear view mirror. Staying out of your way while you drive, while keeping a close, thorough eye on the road ahead. But none of that matters if it isn't a good camera, which thankfully, it is.

Expand to see more
Emergency recording mode

Like previous entries on this list, this dash cam is equipped with a built in G sensor, which will cause the camera to lock onto any point whereupon it senses a physical disturbance, such as a crash. However, this camera actually takes it a step further, creating a time-lapse video of your journey, complete with timestamp, precise GPS location and speed data for complete data on the event.

Easy and secure mounting

But of course, none of these features matter if just putting the thing on the dashboard in the first place is a pain in the behind. Fortunately, this camera is particularly easy to mount. The mount itself is nice and discreet; you'll forget it's even there half the time. And mounting the camera to it will take you just a few seconds at most. Perfect for the driver who doesn't want to deal with that kind of nonsense.

Cost and Value

Thankfully we're back to more manageable prices with this entry, as this dash cam gives you all of this excellent service for a very affordable price.



Emergency recording mode
Easy and secure mounting
Affordable
7. Rove R2-4K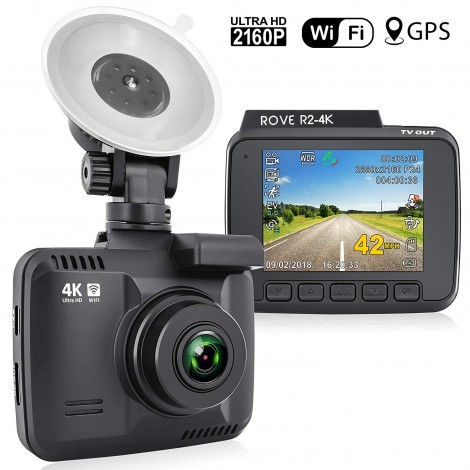 In 7th place, we have the Rove R2-4K Dash Cam. We're coming up on our final entries for this list, but don't take that to mean that the quality is going to drop in any way. These are the best of the best dash cams out there, and that definitely includes this state of the art piece of hardware.

Expand to see more
4K Ultra HD recording

This camera has probably the clearest picture out of any other dash cam on this entire list. 4K Ultra HD is one of television's newest trends, just like 3D televisions were just a decade ago. However, 4K has proven very resilient in comparison to that flash in the pan, since it really does make a huge difference in picture quality. Which is definitely something you want out of a good dash cam.

Built in WiFi

But what about when you need to get to dash cam footage, but something has happened to the camera, or maybe you just can't get to it? Well, don't worry, because this camera has the solution for you. By hooking up your phone with the special Rove App, you can transfer videos taken by the dash cam into your phone to be reviewed later. Whether when talking to the insurance guys or just sharing a cool driving moment with your buddies.

Cost and Value

This camera is a bit pricey, but given what it's offering you, it's more than reasonable. And it isn't the priciest thing on here by a longshot, so all the better.


4K Ultra HD Recording
Built in WiFi
Loop cycle recording
Internal clock can go screwy when you reset the machine
8. Yi Wide Angle Dashboard Camera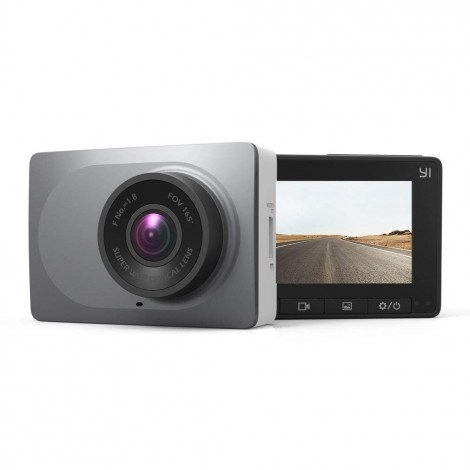 Kicking off our final three entries, we have the Yi Wide Angle Dashboard Camera at #8. Yi is considered to be one of the leading minds in camera production of all kinds, so you'd better believe their dash cams are top quality. So, what did they do to leave their mark on this dash cam? Let's find out.

Expand to see more
ADAS system

ADAS stands for Advanced Driver Assistance System. And this system is precisely what put this dash cam on the list on top of all of its other features. ADAS is the single most advanced and optimized visual recognition algorithm on the market right now. It provides real time lane departure to ensure safe driving to an extent that you wouldn't otherwise think such a change would.

Detailed emergency recording

Most dash cams will record the moment of the crash and store it away, which is fine. But the moments afterward are still up for overwriting, despite them being just as important. Which is why this dash cam records every moment before and after an emergency, in order to ensure as detailed and thorough a recording as possible.

Cost and Value

And we come right back to a very affordable price, as, despite the high grade algorithms and systems used to make this camera, it's still one of the cheapest on the entire list. So, if all of what we just listed sounds great to you, we highly recommend checking this one out for yourself.


ADAS system
Detailed emergency recording
Affordable
Mount may not be strong enough for certain windshields
9. WheelWitness HD Pro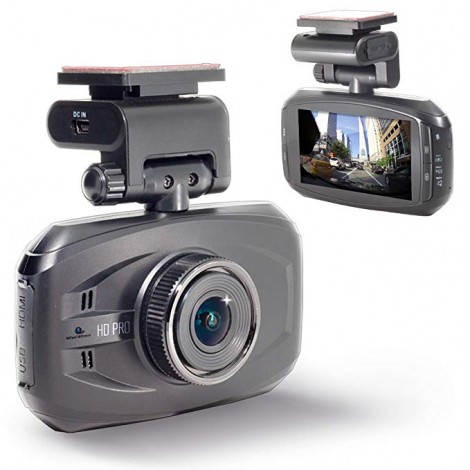 For our second to final entry for this list, we have the WheelWitness HD Pro Dash Cam. As the name implies, this is a very high quality dash cam, especially when compared to some of the others on this list, and definitely to the ones it beat out. So, let's see what made it stand out from the rest.

Expand to see more
Wide Dynamic Range Technology

Through the use of WDR technology, this dash cam has some of the best visual clarity at night on the market right now. When filming at night, exposure is the key to getting a consistently clear picture, and WDR ensures that a fully stable contact is continuously on screen at all times. It even can compensate dark and light spots of the frame in a single shot.

Continuous loop recording

With lesser dash cams out there, when the SD card becomes full, it will outright tell you such and refuse to record any more videos for you. However, this dash cam and many of the others on this list are different. Once the microSD card's memory banks are full, the computer will automatically select the oldest video files and delete them, so that new data can be stores. Allowing for continuous recording.

Cost and Value

Of course, you can't have that kind of tech without costing quite the pretty penny, but fortunately, it isn't that high, all things considered. And the camera is, once again, more than worth the price, so we find no reason to hold that against it.


WDR technology
Continuous loop recording
GPS enabled
Can't save videos for later
10. ROAV Anker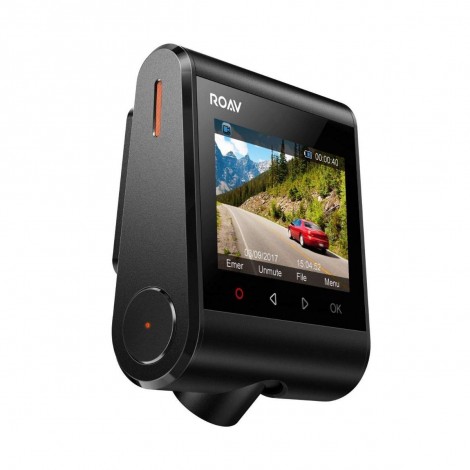 For the final entry of this list, we have the ROAV Anker Dash Cam. Now, this may be the final entry of this list, but it's also the final entry of a list of the best dash cams on the market right now, so everything's relative. This is still an excellent product that is more than worth your money.

Expand to see more
Crystal clear recording

The clarity of the recording is the most important part of any dash cam, and fortunately, this camera succeeds and then some. Through the use of advanced Sony Exmor sensors, a wide-angle lens, and Nighthawk vision technology, this camera can capture up to 4 lanes of traffic in complete HD 1080P.

Instant video access

Got an awesome road story you caught on your dash cam to show your friends? Want to provide evidence of a hit and run to the police, but don't have your dash cam immediately on you? Then get your hands on the ROAV app, where you can instantly access all recordings taken by your dash cam.

Cost and Value

The best part about this camera is the price. It's not the lowest price on the list, not by a long shot. But considering how high the prices usually get for the same features we just listed, it could've been a lot higher.


Crystal clear recording
Instant video access
Affordable
Button layout could be better
A good dash cam can be your best friend out there on the road in several situations, some more important than others. For instance, if you've been in an accident, a good dash cam will potentially be what keeps your head from being chomped off by some very displeased insurance agents. Or if you just caught an unforgettable moment on the road, a dash cam can help you show all your friends and remember it for years to come. For the most part, so long as you aren't doing anything illegal, there's basically no downside to getting a dash cam, as long as you make sure to get your hands on the right one. Fortunate for you that we came along then, isn't it? We made this list with the intent of bringing you the best of the best dash cams on the market right now, and we can say with all certainty that we succeeded in that goal, as there isn't a single dash cam on this list that we'd call anything short of excellent. So, if you want to capture the beauty of the open road for yourself on your own little camera, then find a dash cam that suits your fancy and cherishes those on the road memories for years to come.
Criteria Used in Choosing the Best Dash Cams
Coming up with a list of criteria to use for this list was not all that difficult. These are, at the end of the day, still cameras, so we just looked for what we want to see in a really good camera and translated accordingly to a more niche market like dash cams. And with that said, we like to think we came up with a pretty thorough list. So here are the most vital criteria we used to determine which entries got onto the list and where.
Image clarity
As we said, this is the most important thing to look for in any dash cam, above all else, so of course, we start with this one first. It doesn't really matter how good the other features on the dash cam are, after all, if the image quality makes those old Game Boy Camera pictures look like a Nikon DSLR. Obviously, though, we couldn't just buy up every single dash cam and then review their image clarity ourselves, so we turned to the next best thing: customer reviews. If there was more of a positive reception than negative to the clarity of the recorded image, then we were more likely to consider that entry for the list. The image of a dash cam has to not only be clear, but consistent in that clarity, very rarely messing up for any reason other than a technical glitch outside of its control.
Emergency recording
If there is anything important that dash cams do for you, it's taking pictures and videos of accidents and providing evidence that dispels any fault from you when you talk to the insurance company. Pretty much every entry on this list is outfitted with what's known as a G sensor. The sensor keeps a feel out for any changes in gravity in the car, such as during an impact from another vehicle. It then sends that data to the onboard computer of the camera for it to use to find the source of impact. And then the camera focuses on that area, and boom, you have your evidence that it wasn't you. But hang on, most cameras also overwrite old recordings to make more room, so won't they eventually overwrite whatever video you want to keep? Well, in the event of an accident, an emergency recording will not be overwritten with a lot of cameras. Not all cameras with emergency recording will do this, but we made sure to showcase as many of those that do on this list. With this kind of camera, the footage will be saved in the memory banks apart from the other recordings, and thus be exempt from being overwritten by the dash cam's computer.
Discreet placement
Road rage is a hell of a drug, and one that makes people do things that they would otherwise know is the absolute stupidest things they could conceivably do in that situation. Such as getting even angrier when they see that you're recording everything you two are doing. To avoid such situations, as well as just generally keep it out of your peripheral vision when you're trying to drive, a lot of dash cams will try to be as discreet with their placement as they possibly can be. Usually this means just doing away with the hanging design and instead mounting it to the ceiling of the car, the bottom of the dashboard, or on the windshield, and angling the camera accordingly.
Price
The final criteria we judged each entry by was the price of each item, and this was certainly more interesting to go over than it usually is with these sorts of lists. The price tended to vary based on the amount of features the camera had, what came with it, and how advanced the systems used to create it were. As such, we looked at all of these features and then asked ourselves how well these features actually performed. After all, if the source of the price is these features, then the quality thereof should be a good barometer for how justified the price of these items were. If you paid over a hundred dollars for a dash cam with features that don't even work properly, you're going to feel a tad ripped off, we imagine.
FAQ
Frequently Asked Questions
For the final segment of this article, we're going to be looking at some frequently asked questions surrounding dash cams. Dash cams are complicated little devices, and as such there are a lot of unanswered questions surrounding them that people need to know before they feel comfortable making a purchase. So, with that said, here are the most frequently asked questions about dash cams, and the answers thereof.
Q: Why is it so important that my dash cam record when I get into an accident?
A: Because if the accident wasn't your fault, then a recorded video is about as perfect evidence of that fact as you're likely to get. Which is great for keeping your insurance rates from skyrocketing, and also great if the other person drags you to court for damages. You can show the video showing who was really at fault and walk away without spending a dime.
Q: I've just been handed a ticket for a traffic violation I know for a fact I didn't commit, can a dash cam help with that?
A: You definitely do want to avoid getting a traffic ticket, especially if you didn't actually do anything wrong. A traffic violation will spike up your insurance rates, as well as a mark on your permanent driving record. But if you can beat that ticket, both of those things will be undone. And a dash cam can more than help with that. If the dash cam can prove without a doubt (very easily done, we assure you) that no traffic violation took place, then the station is legally obligated to remove the marks made on your record, and the insurance company will back off. And if you have a two way dash cam, you can save yourself from even more wrongful accusations of traffic violations. For instance, if someone accuses you of driving while using a cell phone, then you can use your two way dash cam to prove that this definitely didn't happen.
Q: Will using a dash cam make me a better driver?
A: Actually yes, it's probably one of the best ways to teach yourself how to drive out there. A dancer looks in the mirror in order to correct their technique while dancing, an athlete watches videos of their performance to see what they're doing wrong. Having a means of personally reviewing what you were doing and how well you were doing it after the fact is a great way of improving your performance in the future. It's a lot easier to know what you did wrong after the fact that in the moment when you're constantly focusing on what you need to do next. And the best part is that it will help you get even closer to your insurance company's good driver discount, which is usually a 25 percent discount. It's one of the best discounts on insurance you can get your hands on, so having a means of helping improve your driving is a great way to bring yourself closer to getting 25% of a huge financial weight off of your shoulders. However, you have to keep up with it. Always take a review of your driving performance after a long drive and keep a close eye on how well you did out there, and take note of everything you do wrong.
Sources