Best Work Shirts Reviewed & Rated for Quality
last updated:
Apr 23, 2019
Think about all those hot days when you have to mow your lawn, maintain the garden or work around your car while the sun is continuously burning your skin. The regular cheap shirts are not providing enough protection and they even make things worse, causing skin inflammation and irritation. No matter what kind of work you have, you should wear a comfortable piece of clothing that will make the situation a lot easier. What you need is a work shirt, a specially designed item that can withstand harsh conditions and provide a more comfortable experience. Combining all kinds of materials such as soft moisture-absorbing or sturdier stain and wrinkle-resistant ones, they are suitable for different situations and working conditions. The materials are carefully chosen to protect you from scratches, harmful sun rays, and uncomfortable hot days when you need a lightweight and breathable outerwear. Not to mention that these shirts are designed to be sturdy enough to endure frequent washes, ironing, and stubborn stains. All in all, every serious handy person has to have at least two exceptional work shirts in its closet, and we are here to help you with that with our guide to best work shirts!
Featured Recommendations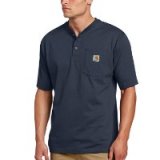 Carhartt

Our rating
Superior Quality
Price:

See Here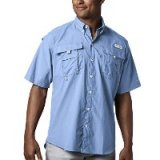 Columbia

Our rating
Breathable Materials
Price:

See Here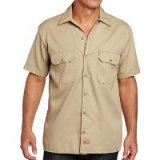 Dickies

Our rating
Classic Look
Price:

See Here

When it comes to choosing a perfect working shirt, things can get really complicated. There are so many different materials, colors, and designs to choose from that we often get confused and unable to make a decision. Guided by some universal features that distinguish the first-class work shirts, we made a list of 10 best products that we could find on the market. This list will hopefully help you make up your mind and pick the perfect product for your needs. However, if you find yourself doubting whether you're making the right decision or not, there are some additional steps you can follow for complete peace of mind. Along with in-depth reviews of all work shirts on our list, there are some extra recommendations and advises that should help you carry out through the searcing process and complete the purchase completely satisfied! Here are our best picks:
10 Best Work Shirts
Carhartt Pocket Henley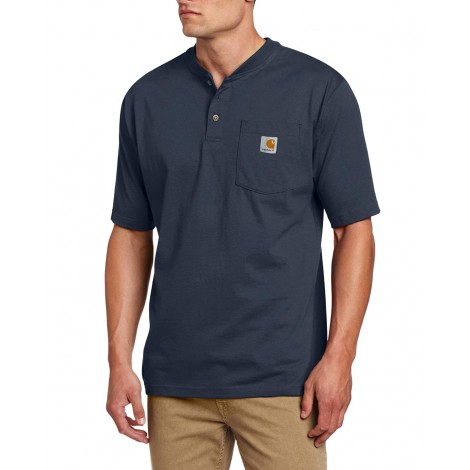 Carhartt is a well-known company that offers high-quality outwear and all kinds of accessories. This work shirt is probably their most popular product, and it collects all the praises and compliments on the market. Whether you need casual wear or a heavy-duty item to suit your demanding work conditions, Carhartt is a perfect choice. The outstanding quality and superior comfort will definitely make you love it!
Expand to see more
Quality Material
This model is made of 100% cotton and it comes in many colors and sizes. There is a dropping list that allows you to choose the perfect fit and look for the favorite color from around 15 available ones. You can go for the short-sleeve or long-sleeve model, or you might as well end up with several new shirts in your closet considering the quality of the used materials. The only drawback comes from inadequate sizes. Many customers had problems with shirts coming bigger than they expected, so you might want to consider going for a smaller size.
Stylish
When it comes to aesthetics, this model is rather elegant and stylish. It has three-button placket that makes the shirt comfortable around the neck, along with the rib-knit collar and a pocket on the right side. The manufacturer offers a relaxed fit that goes closer to the body, and an original fit with more free space. You should pick according to your personal preferences because the quality of both types is the same, you can't go wrong no matter which one of them you choose. The material is machine-washable and it will most likely withstand several years of continuous use.
Cost and Value
If you want a high-quality shirt that can withstand daily wear, sun, rain, and continuous washes, this is a perfect choice! Not only that you'll get
a durable work garment
, but you'll look incredibly stylish in it too. Considering its competitive price, you can even get several Carhartt models and colors, and wear them in many different situations and occasions.
Made of quality material
15 different colors
Short-sleeve and long-sleeve models
Elegant
Comfortable
Well-priced
Columbia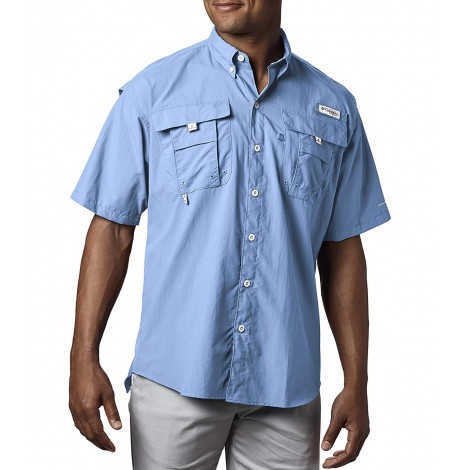 This is an excellent option for all those handypersons who are searching for a durable shirt that can withstand harmful sun rays. Wearing this light and breathable Columbia Bahama piece of clothing will make your garden, yard, and garage tasks a lot easier, not to mention how incredibly stylish it looks!
Expand to see more
Breathable
Made of Tactel nylon, this shirt is very breathable and lightweight. It's designed primarily for fishing activities, featuring high-quality fabric
that blocks harmful sun rays
and mesh-lined cape vents to keep you cool. However, this also makes it highly versatile and convenient for all kinds of jobs and situations. The quality material offers incredible durability and comfort, and it protects your skin from sunburn during long hours of working in your yard.
Superior Comfort
This Columbia garment offers quick-drying materials for superior comfort and excellent performance in any situation. It has two deep chest pockets that are very convenient for storage, and they have velcro closures for easy one-handed access. There's plenty of room there to store all kinds of stuff. You can choose a perfect shirt (or two) for yourself from several available colors and sizes. There's also a size chart that you can follow to take the accurate measures for a proper fit. We should only warn you that some users had issues with them being larger than expected, so consider buying a smaller size.
Cost and Value
Whether you're out for fishing, sports, or heavy works around the house, this piece of clothing proves to be an excellent choice. It dries fast, protects your skin from harmful sun, and it looks really nice. All in all, you'll get a perfect work shirt at a competitive price!
Breathable and lightweight
Blocks harmful sun rays
Material dries quickly
Two deep chest pockets
Available in many colors and sizes
Competitive price
Could turn out larger than expected
Dickies Short Sleeve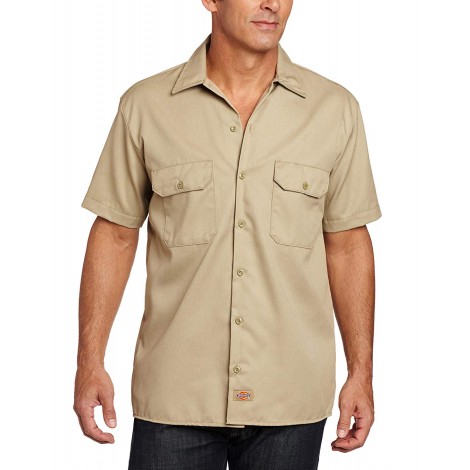 Dickies is a well-known name in the clothing industry synonymous with outstanding quality and great style. This time we have one of their exceptional work shirts to suit all kinds of situations and working conditions. Dickies offers everyday casual wear as well as a protective item to wear when working in your garage, mowing the lawn, or painting the walls. The choice is yours because Dickies shirt is a quite versatile garment!
Expand to see more
Wrinkle-Resistant
First thing first – material. It's made of 100% cotton which proves to be a sturdy and quality material that can withstand a lot of washes and weather impacts. Not to mention wrinkle-resistant fabric that ensures flawless look right away from the washer. Anyway, you can pick your favorite from more than 17 available colors, and go for a perfect fit from the provided chart. We only advise you to take your measures carefully and consider buying a smaller size than needed. It could turn out bigger than you expect.

Classic
This is a classic shirt with short sleeves and two front pockets. What makes it stand out from the competitions is a generous cut through the shoulders and chest that ensures more mobility and superior comfort. Additionally, the pockets have plenty of room for all kinds of little essentials, and there are flap closures with buttons that will keep the stuff in their place!

Cost and Value
If you want a durable work shirt specially designed to withstand a lot of washes and yet be comfortable and stylish, this would be an excellent choice. Dickies doesn't disappoint in terms of quality and price, so you'll easily make this piece of clothing a part of your everyday wear.


Made of quality cotton
Wrinkle-resistant fabric
17 available colors
Super comfortable
Two front pockets
Inexpensive
Runs bigger than expected
Carhartt K87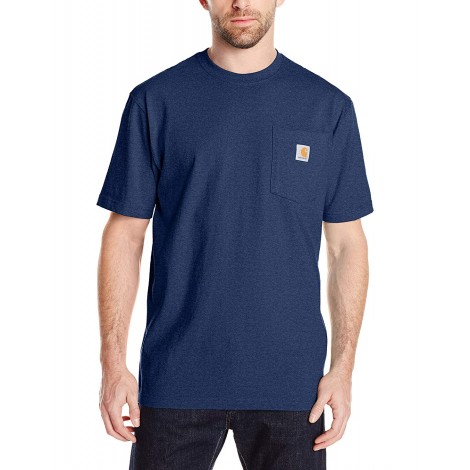 Carhartt has to offer another high-quality shirt to suit all everyday situations and tasks. This is a heavy-duty item that can withstand frequent washes and continuous wear and yet to be very comfortable. It's available in different sizes and over 20 distinctive colors, so you'll certainly find a perfect one for your needs!
Expand to see more
Quality Materials
Made of 100% cotton, this piece of clothing offers superior comfort and incredible durability. It's not as soft as fancy dress shirts, but that is not its main purpose after all – this is a work shirt designed to last despite all the harsh conditions. Also, you can easily toss it into the washer, let it dry on the hanger, and you're good to go again. It doesn't shrink, wrinkle or loosen up after the wash. We especially liked the fact that all stains are easily cleaned from this type of material, which is very useful for those who
wear them in garages
, during car repairs and other demanding tasks.
Generous Cut
This shirt has a rib-knit crewneck and pocket on the left side with tiny Carhartt logo. With generous cut across the chest and around shoulders, it proves to be very comfortable, especially during demanding household chores when you need something light to wear. However, you should keep in mind that the thick material could be too hot during long summer days. Also, it could turn out bigger than you expect, so consider buying a smaller size than usual.
Cost and Value
Depending on the color you choose there could be some differences in the price of this shirt. Some of them are expensive while others are affordable, but they are all well worth the extra money. Considering the overall quality and outstanding durability, you won't be searching for a replacement any time soon.
Around 20 different colors
Comfortable and durable
Doesn't shrink or wrinkle after the wash
Easy to remove all persistent stains
Generous cut for more comfort
Worth every penny
Too hot for summer
Bigger than expected
Dickies Heavyweight Crew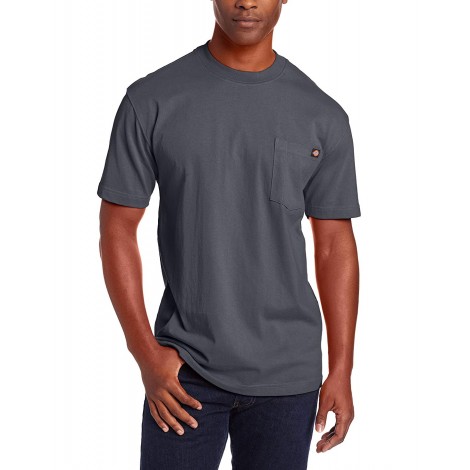 Once again Dickies offers an excellent short-sleeve shirt to suit
different work situations
and conditions. What impressed us the most is the sturdiness and outstanding quality of this piece of clothing. Whether you need something to wear when gardening, mowing or repairing a car, or you want casual wear when you go out, Dickies is definitely a great choice!
Expand to see more
Classic
These days, it's hard to find a simple shirt without big signs and headlines that drag too much attention. Dickies offers just this type of hard-to-find garment that ensures durability and comfort. This work shirt is made of soft cotton, thick and quality material that can withstand a lot. It has a crew neck tee and one chest pocket which makes it a classic piece of clothing, suitable for all those who are fans of no-nonsense design. The other great think about this shirt is accurate sizing. Choosing a piece of clothing online is a troublesome process and they always come smaller or bigger than we expect. This one is an exception, and it will fit perfectly!

Durable
Along with high-quality materials, Dickies uses extra taped shoulder and neck seams for advanced durability. This piece of clothing will not only survive going through the washer more than a dozen times, but it will remain as good as new afterward. It won't shrink or lose its shape anyhow, but we advise you to wash it in lukewarm or cold water just in case. However, we had some issues with fading colors, so keep that in mind if you are up to wearing vibrant ones.

Cost and Value
Considering its quality, classy look, and incredibly attractive price, this Dickies work shirt is a real steal! You can even get several colors of these so that you can change your wear according to the situation. Don't forget, there are more than 20 different colors to chose from, so you'll definitely find the one that suits you perfectly!
Simple and classy look
Thick and durable material
Accurate sizes
Machine-washable
An attractive price
Colors tend to fade after several washes
Red Kap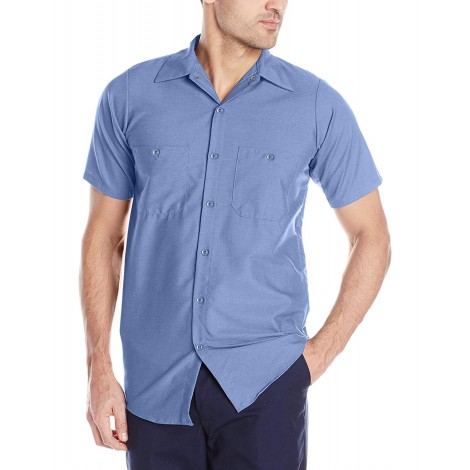 This Red Kap one is not only an exceptional work shirt but also a professional looking one that offers stylish appearance for the entire working team. Red Kap features high-quality clothing that is meant to last. Whether you purchase it for yourself or to match the outfit of all your workers, Red Kap exceeds all expectations!
Expand to see more
Lightweight yet Durable
This Red Kap shirt is made of polyester and cotton. It's lightweight and soft to the skin which ensures an all-day comfortable feeling. With a lined two-piece collar and button closure, Red Kap is a classic piece of clothing that guarantees a stylish look. There are also two chest pockets with plenty of room for storage of your little essentials. What we liked the most is a machine-washable material that features a stain-resistant formula. This ensures a flawless look whenever you pull it out from the washer, no matter how messy it gets.
Comfortable
Quality means comfort, and Red Kap made a real effort to use first-class materials and design a top-notch work shirt. They used what is called Touchtex Technology to combine breathable and moisture absorbing materials and provide a comfortable feeling in any situation. Not to mention advanced color retention and a wrinkle-resistant formula that ensures a superior look even after countless washes and wears. Customers only had issues with inadequate sizing – it seems that these shirts are longer than regular ones, so count on this before you go for a certain size.
Cost and Value
Whether you are in manufacturing, construction, automotive or any other industry, or only
a responsible handyperson
, you'll need a quality work shirt. Now you can get one at an attractive price and look incredibly stylish! Actually, you'll most likely end up with several Red Kap shirts once you try them out.
Lightweight and soft
Comfortable
Classic look
Breathable and moisture absorbing materials
Color retention and wrinkle-resistant
Well-priced
Gildan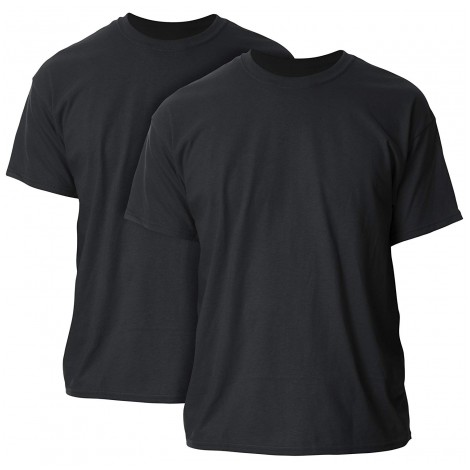 Gildan is a well-known and very popular manufacturer that produces high-quality shirts, socks, pants, and other garments. Here we have a casual short-sleeve shirt that offers a lot in terms of quality and style. To find out more about this classy item, keep reading our in-depth review!
Expand to see more
Classy Look
This particular item is made of cotton and polyester. It features classic design without any logos, letters, or other big marks. Those who like a plain classy look will be thrilled with this shirt, especially because of its exceptional quality. The material is machine-washable, and the sleeves and the bottom hem are double-stitched for advanced durability. The only downside is the fact that it could shrink a little after several washes, but it shouldn't significantly influence the size. If you make sure to wash it in cold water every time, you might not have this issue at all.

Soft Cotton
The soft cotton makes this item incredibly comfortable so you can use it for work, casual wear, or even under your regular long-sleeved shirt for a chic look at colder temperatures. It's thick enough not to be transparent and yet not too sturdy to be uncomfortable. Additionally, people praise it for vibrant colors that don't fade even after extended wears and washes. You can pick your favorites from 19 different colors.

Cost and Value
This garment is not perfect, sure, but it offers excellent value for the money. You'll be quite satisfied with its classic design and versatility, and the budget-friendly price allows you to experiment with colors and fill your wardrobe with several work shirts.
Classic look
Machine washable and double-stitched
Soft cotton for superior comfort
Not transparent
19 different colors
Inexpensive
Could shrink a bit after several washes
Wrangler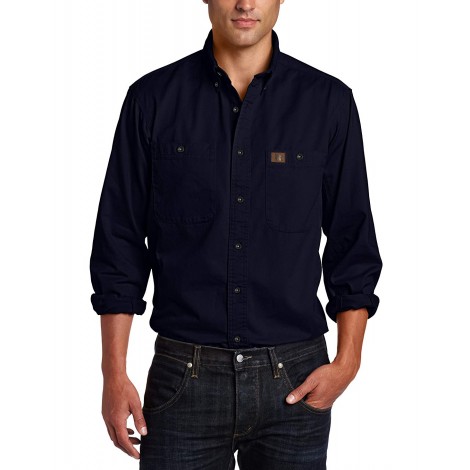 Here we have another well-known name in the clothing industry. We picked a high-quality Wrangler's work shirt that comes in several colors and sizes, offering comfort and classy look regardless of the situation. You can wear it during colder days when you have to deal with outside chores, heavy-duty repairs, and jobs or when you just want to achieve a casual everyday look. You can't go wrong with Wrangler shirt!
Expand to see more
Heavy-Duty
Made of 100% cotton this item is extremely durable. It is a long-sleeved shirt with a button-front closure and two chest pockets. It's an excellent option for those who are searching for a sturdy item to protect their hands and upper bodies from possible scratches, sun rays, and other harmful situations. Many customers even reported that they went down through the blackberry brambles without a scratch!
Super Comfortable
This shirt isn't exactly lightweight, but we shouldn't expect this from a heavy-duty shirt specially
designed for tough conditions
and lower temperatures. It is still very comfortable thanks to the regular fit design, not too tight nor too loose. We even noticed that it becomes more comfortable after several washes, and it doesn't shrink at all! The only downside is a somewhat odd sizing chart. We are not sure which is the best way to deal with this rather than taking your measures accurately and praying for the best size to come.
Cost and Value
We have to admit that Wrangler isn't as cheap as previously reviewed items, but it's also a long-sleeved shirt that can withstand a lot and give you the needed protection. If you're searching for warmer option to wear at low temperatures and in demanding situations, we wholeheartedly advise you to add a few more bucks and try out this Wrangler work shirt!
100% cotton
Sturdy yet comfortable
Designed for tough conditions and situations
Even more comfortable after several washes
Doesn't shrink at all
Size chart isn't accurate
Pricey
Dickies Long Sleeve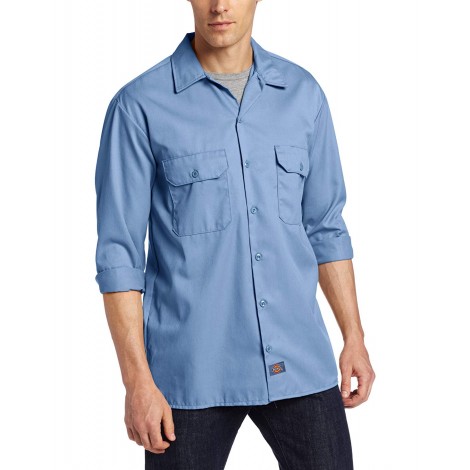 Do you need a classic work shirt to wear on your work, construction site, or even in your home and garage? You can always go for Dickies long-sleeved shirt. This is one of the most popular items on the market, and it offers exceptional quality and stylish appearance. You can choose a perfect one for your needs from over 18 available colors, and each one of them is equally fashionable. For more details about the product, keep reading our detailed review!
Expand to see more
Lightweight
Made of polyester and cotton, this item is lightweight and very comfortable. It has a button-front closure and deep chest pockets for storage. Dickies features a generous cut to provide superior comfort and more room for free movements. It's light enough to be comfortable at hot summer days yet it has layer thick enough to keep you warm at lower temperatures.
All in all, it's a versatile and nice looking item!
No Wrinkles
The sturdy material allows frequent washes and it doesn't wrinkle afterward. You can hang it to air dry and put it on without ironing – it will still look flawless. Also, we shouldn't forget that Dickies features a moisture absorbing material to keep you dry all the time. However, keep in mind that several customers complained about the inadequate sizing, so if you prefer baggy clothes go for your usual size and if you want to get a tight shirt, you should purchase a smaller size than needed.
Cost and Value
Once again Dickies surprises with incredible value for the money. Like many other products from this manufacturer, this particular shirt comes at an attractive price and has to offer a lot in terms of quality and durability.
Lightweight and comfortable
A generous cut for more room
Suitable for all kinds of situations
Wrinkle-resistant and moisture-absorbing material
An attractive price
Carhartt Cha,bray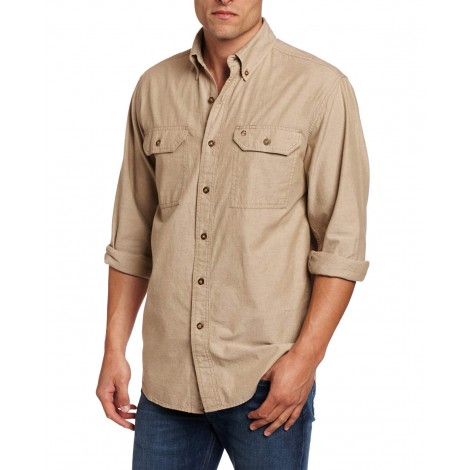 Last but not least, here comes another good looking work shirts from Carhartt. People love it mostly because of its versatility – it features classy look suitable for light work, business environment or casual wear. Overall, you can wear it whenever you want and not only for your work, it's incredibly comfortable and stylish.
Expand to see more
Durable
This work shirt is made of 100% cotton which guarantees comfort and durability. It's a long-sleeved one with two chest pockets and a button-down collar. The material is breathable and comfortable, with a lot of room to ensure free movements. It's gentle on the skin yet sturdy enough to last for years. Additionally, we were quite impressed with the quality stitching and some extra reinforced areas for superior longevity.

Stylish
When it comes to the design and overall look, this item is quite simple and classy. There are several available colors to choose from, and they all look incredibly stylish. The only issue is the size, of course. This one runs bigger than regular shirts, so if you want it to fit perfectly, consider buying a smaller size.

Cost and Value
This work shirt is pricey, we give you that, but Carhartt doesn't disappoint in terms of quality and overall value for the money. You'll get what you paid for, and even more considering that this item should last for years of everyday wear.
Versatile
Quality and durable materials
Breathable and comfortable
Stylish
Great value for the money
Runs a bit big
Some might find it pricey
Criteria Used in Evaluation of the Best Work Shirts
How did we rank our 10 best picks, you may ask? Truth to be told, that was a challenging task, especially considering all those top-notch products and brands we have on the list, but we get through it applying strict criteria. Here are some important things we took into account when evaluating the best work shirts:
Materials
First and foremost, products on our list are ranked by the quality of their materials. Although we had a hard time determining the differences because we picked the best work shirts out there. They all feature exceptional materials, so the differences between them are not so noticeable. However, we did look for additional things such as wrinkle-resistant and moisture-absorbing formulas as well as issues like color leaking, after-wash shrinks, and more. The ones that offer the best performance are on the top of our list, but overall differences are minimal and you might find the ones above perfectly designed to suit your personal needs. It's the matter of personal preferences after all.
Design
When we ranked products on our list we looked for things such as deep pockets, safe closures, durable buttons, quality stitching, and many others. We had to examine and compare the overall design of every shirt. The most important thing was quality, of course, but we couldn't deny aesthetics. We all want to look good, whether we have to tackle the regular household chores or we are going to the fancy dinner when we have to look elegant. That's why we pay some extra attention to the overall design of every shirt on our list.
Size
When it comes to choosing the perfect fit of any piece of clothing, everybody makes mistakes. They are all designed differently, with so many sizes, colors, and looks that it's just hard to keep track. That's why we tried not to judge harshly when meeting inadequate sizes and odd size charts, but we had to take this into account. Also, there are some work shirts on our list that offer a perfect fit for the particular size, and we assigned some special points for that.
Price
Last but not least, we took into account the price of every work shirt on our list. Some of them are inexpensive and some of them are not, but we had to make sure that they provide value for money. Purchasing an inexpensive product is not so smart if it falls apart after several days of use, right? Therefore, we included some high-quality cheap products as well as more expensive ones and then ranked them according to the value they provide.
Other Factors to Consider
You're almost there, a step away from getting your new work shirt to complement your everyday style. We advise you to take a few extra minutes to consider some additional factors and make sure you're making the right choice. It could influence your final decision, and it only takes a few moments of your free time. Here is what we have in mind:
Type of Work
Where do you plan to wear your new shirt? Is it for simple and light household chores, or for industrial demanding tasks? Maybe you need one to wear in your garage so you don't get stains on your everyday wear when you work on your car? The type of work will determine the type of shirt, so think carefully about this. Sure, you can always get several different items, especially when they are inexpensive, but you have to know what you're searching for in the first place. You have to know whether you need a short-sleeved or a long-sleeved shirt, the one with or without pockets, stain-resistant material or a regular one, etc.
Type of Shirt
As we said above, once you determine where you're going to wear your new shirt, you can move forward to closing the proper type. If you have already done that, think about all the additional features that it provides. Are the pockets deep enough? Do they have flaps with buttons or they are open? How about the design of front closure buttons or overall stitching? It might seem not so important in the beginning, but all of these things are crucial for you to feel comfortable and satisfied with your new piece of clothing. Don't forget things like moisture-absorbing, wrinkle-resistant, and thick or thin materials. We can go on and on with all these features, but the point remains – choosing for a proper type and features means being satisfied with your everyday work clothes.
Size
Taking your own measures accurately is very important when it comes to choosing the proper size of any piece of clothing. Double check the measures and compare them to the provided chart. Also, we strongly advise you to follow some of the other customers' reviews or our recommendations about the size because every shirt is different, and they can easily turn out bigger or smaller than you expected. You can easily prevent all the hassle that comes with returning the product because of inadequate sizing.
Final Thoughts
Lastly, you should always think about your expectations, no matter what you're about to buy. The product could be the first in its class but if it isn't what you expect it to be, you'll be unhappy with the purchase. The same applies to work shirts, so think carefully about all the things we listed above.
FAQ
Frequently Asked Questions
Q: Which material is the best?
A: It really depends on your personal needs and where you plan to wear a work shirt. For example, if you need a lightweight one that is suitable for high temperatures you should go for thin material that easily absorbs moisture and keeps you dry. Having a sun-resistant feature also helps. On the other hand, if you want something to keep your hands protected from thorns, twigs, and mosquitos while you work in the woods, you should aim for long-sleeved one with thicker material. Think about the job you'll be doing and then you can go for a certain type of material.
Q: How many work shirts do I need?
A: We can say that you should have a minimum of two work shirts in your closet, but this is only a wild guess. It is certainly good to have at least one replacement in case you ruin the first one, but if you have the means to have more than that, even better. The best thing you could do is adding a shirt or two in your closet every time you get the chance. That way, you'll have several work shirts in case of unexpected situations, and very handyperson know how often this happens.
Q: Do sun-repellent ones really work?
A: You may be surprised, but yes, they do an excellent job protecting your skin from the sun! You maybe noticed by now how often your skin gets irritated when you wear particular materials at higher temperatures. They are just not designed to withstand harsh conditions and harmful sun rays, so they get hot and consequently unpleasant (or even worse). If you need protection from the sun while working, search for specially designed work shirts that can provide comfort and keep you cooler than regular ones.
Q: Will they wear out faster if I wash them frequently?
A: Yes, every piece of clothing will wear out faster if you use it continuously and wash it on a daily basis, but work shirts are designed to withstand this better than regular pieces of clothing. They won't disintegrate after seven days of use like many people think. Well, at least not the best ones. They are specially designed to withstand hard conditions, every day of use, frequent washes, and more, so don't worry, if you pick the high-quality one it might last for years!
Subscribe to our Newsletter