10 Best Travel Blankets Reviewed & Rated in 2023
last updated:
Jan 07, 2021
Being unprepared when traveling can cause quite an inconvenience. As a result of this, we tend to over-pack. This is less of an issue with smaller items however when you get into the larger ones, like blankets, coats, and shoes, this can cause some frustration. In addition to the lack of space, this can cause additional baggage and thus incur additional baggage fees. We have created a list of the top travel blankets that are not only compact but warm, waterproof, durable and machine washable. These blankets are diverse in that they have their own unique uses. When going on a picnic or to the beach we want a blanket that won't collect and hold onto dirt and sand. We also want something light and compact that is easier to travel with (especially when hiking and carrying an already heavy backpack) and includes additional features like being ultra-lightweight, waterproof and puncture-proof. We also want something that can handle a little more wear and tear than our standard house blanket. This list goes through the top blankets on the market. We chose different types of blankets as well to suit every outdoor and travel need.
Featured Recommendations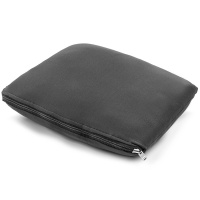 Travelrest 4-in-1 Travel Blanket

Our rating
Price:

See Here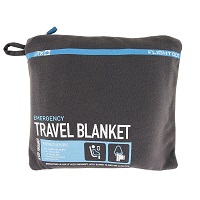 Flight 001 Travel Blanket

Our rating
Price:

See Here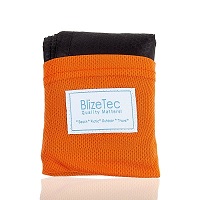 BlizeTec Pocket Blanket

Our rating
Price:

See Here

We also wanted to include different uses because people use blankets for different needs. Blankets can be used for hiking, picnics, at the beach or just to the park. We wanted to find blankets that were not only soft but also easily washable, and that can handle wear and tear. These blankets were made of top of the line material as well as offer comfort and warmth. We reviewed the top-rated travel blankets reviewed by actual consumers. We included both the pros and the cons of these blankets to get a realistic and honest view of the quality of them. We also followed up with criteria for evaluation section to let the buyer know how we chose the blankets and what we considered, and what you the buyer should consider when looking for the best travel blanket for your needs. Let's get into it. 
10 Best Travel Blankets
1. Travelrest 4-in-1 Travel Blanket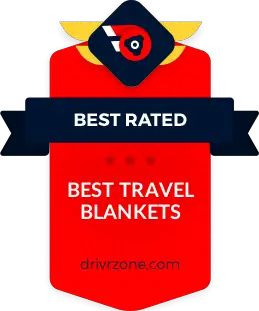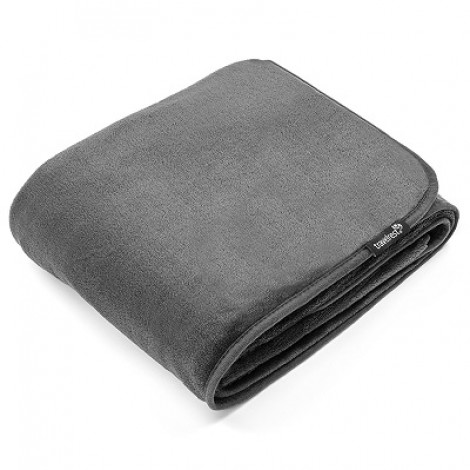 This blanket is a travel blanket and a Snuggie combined. It is lightweight and has arm holes that allow the individual using the blanket free-range movement of their arms in order to perform tasks easily while staying warm. It comes in two sizes, 38 x 60 and 40 x 72 and comes in two colors, both grey and blue. It is meant for adults but can be used with children. It is ideal for taking on an airplane and using on long trips in the car.
Expand to see more
It has arm holes
This item is unique due to it having arm holes so that the individual using it can freely do other things while staying warm.

It has 4 different uses
This blanket can be used as a blanket, as a pillow, as lumbar support and it comes with a carrying case.

Cost/Value
This blanket is in the middle of the price spectrum. The justification for the cost is the multi-uses and the convenience of the armholes. Additionally, it comes with a carrying case.

The blanket is super soft 
It also has a neck hole to keep the blanket in place 
It includes a pouch to fold the blanket into itself but can be used to hold items
Large in size 
Getting it back into the carrying case takes some practice 
It is a little narrow in design 
2. Flight 001 Travel Blanket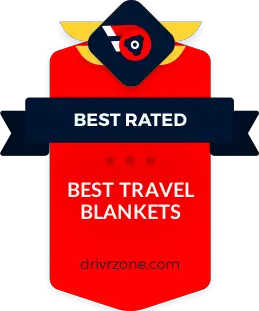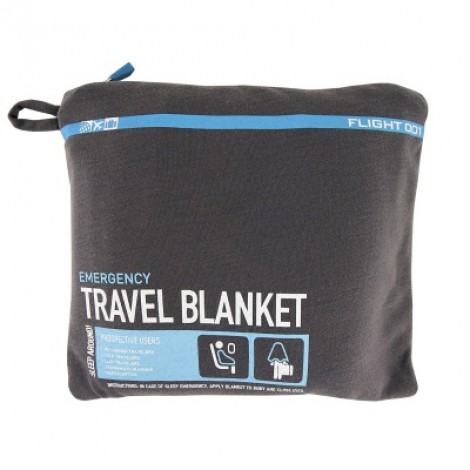 This is a more modern looking blanket. It is lightweight and is made of soft materials. It is ideal for plane travel and doubles as a pillow. It comes in two colours and is 55" by 55" when open. It is also machine washable.
Expand to see more
It is soft and warm
The material of this blanket is very soft, made of 100% polyester. Opening at 55" by 55" this blanket is also nice and cozy.

It doubles as a pillow
This blanket is both a blanket and a pillow making it ideal for plane travel and camping.

Cost/Value
This is mid range in price. The price is justified because it doubles as a pillow, it is soft and has a more modern design.

It comes with a 1-year warranty 
It is large in size for taller induviduals
It is easy to fold up and repack up 
Soft and durable 
Pillow isn't light and fluffy so can be considered uncomfortable 
Because of the blankets square shape it slips off the legs easier 
3. BlizeTec Pocket Blanket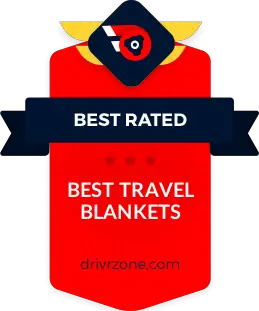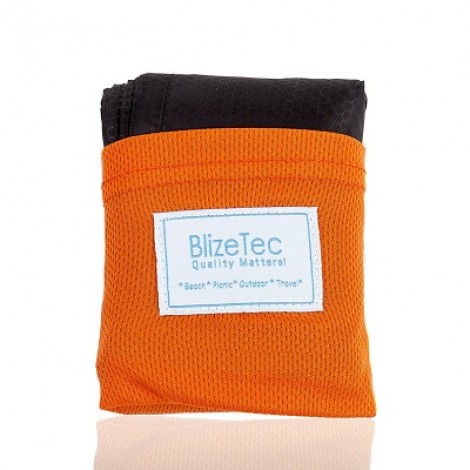 This is another compact blanket. It is lightweight, puncture proof and fits up to 4 people. It folds up small enough to fit in a pocket and comes with a carrying bag. It measures 44" by 63" when open and comes in one colour (black).
Expand to see more
It comes with a lifetime warranty
This travel blanket comes with a lifetime warranty as long as purchased directly through Biztech through the Amazon website.

It is small but strong
This blanket is tiny folded up but is puncture proof. It is also waterproof.

Cost/Value
This travel blanket is very inexpensive. Between the durability of the product and its lifetime warranty this is meant for those on a budget. Overall this is a great bang for your buck.

Great for traveling by foot (hiking, rock climbing, etc.)
Lightweight and durable 
Very inexpensive 
Doubles as a table cloth
Corners aren't weighted so blanket will lift up on windy days 
Cold/heat will seep through which may cause discomfort on really hot or really cold days
4. Worlds Best Microfleece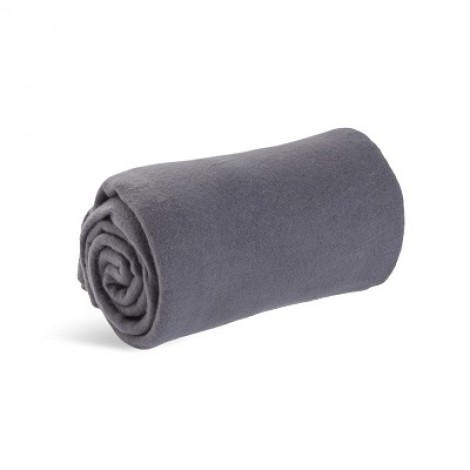 This blanket is super cozy and made of micro-fleece. It comes in one size (the dimensions are 50" x 60") and comes in 15 fun and neutral colours. It only weighs 1 pound and, is lightweight and compact.
Expand to see more
Light-weight and compact
Despite this blankets size it is very lightweight, weighing about 1 pound. It also folds up into a very small bundle making it ideal for hiking (and any other activity that requires a lighter load).

Comes in a huge variety of machine-washable colors
This blanket comes in 15 different colors ranging from black and grey to leopard-spotted and pink making it easily individualized for different types of personality types.

Cost/Value
This blanket is not only easy to carry around and ultra-soft but it is also super inexpensive. This will not hurt the wallet and is definitely a bang for your buck. And considering it comes in so many different colors it can be purchased for everyone in the family without breaking the bank.

Machine washable 
Ideal for air travel 
Made of 100% fleece-knit
Warm
Lightweight but may not be the best for people who need ultra-lightweight (like mountain climbers) 
A little small (more of a lap blanket than a sleeping blanket)
5. ZOMAKE Beach Blanket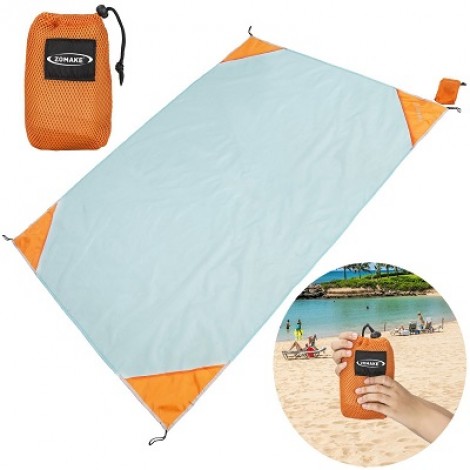 This blanket is meant for the beach. It is lightweight and portable too and is made of water and sand proof materials. It comes in two colors (orange and white mixed, and pink and white mixed) and one size (185 by 142 CM). This blanket is made to sit on the sand but also uses the sand to weigh it down with little pockets that are meant to be filled with sand.
Expand to see more
Four pockets for either sand or accessories
This blanket has four sand pockets meant to hold sand in order to hold the blanket down. This would prevent wind from carrying the blanket away. The pockets can also be used to hold accessories instead.

It is made of quality, anti-sand materials and comes with a 1-year warrenty
You will never have to worry about this blanket carrying sand into the house because it is made of materials that don't grab onto the sand. And if the material ever stops working for you it comes with a 1-year warranty for peace of mind.

Cost/Value
This blanket is very inexpensive. With all the additional features and the fact that it will not, under any circumstances, blow away this blanket is worth the buy!


It comes with extra ground steaks for especially windy days
Packs into a very small pouch (6 by 8") 
It is made of ultra-light Oxford Fabric nylon 
Quick drying 
Does not create much of a barrier between you and the hot beach
If sand is really damp it will still carry some dirt
6. Lug Blanket and Pillow
This little pillow blanket combo is perfect for cuddling up with. Ideal of children, this pillow folds up into a cute little pillow with an animal face on the front making it fun and appealing to little ones. It comes in 4 different colors (yellow, black, purple and red) and it 100% machine washable.
Expand to see more
Dual-purpose
This little blanket doubles as both a pillow and a blanket. It is perfect as an additional little blanket for camping just in case the night gets a little too chilly.

Adorable packaging
This pillow and blanket combo is adorable and soft. It has little ears on the top to triple as a stuffed animal. Kids will love their little blanket, pillow and toy combo.

Cost/Value
This pillow is mid-range in price. The price is justified by the fact that it is so cute and cuddly. Also because it comes with a convienent carrying case and is made of ultra-plush fabric.

It is machine washable 
Light-weight
Ultra-soft 
Fun for children
It has a blanket pocket to store accessories 
Pretty small, so not ideal for adults 
The material on the edges isn't as soft as the body
7. BEARZ Outdoor Beach Blanket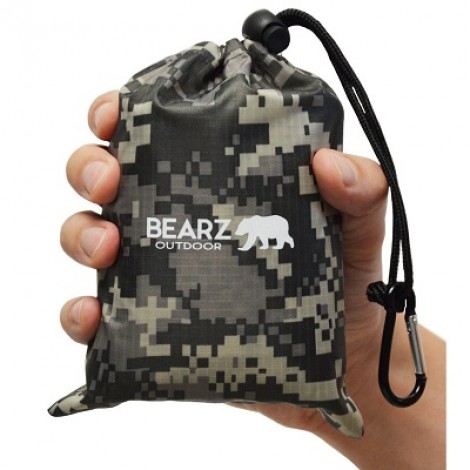 This is an incredibly compact travel blanket. It is waterproof and sandproof, and it can be used for travel, camping and hiking. It also comes with a convenient carrying case. The best part is how small it folds up. It can fold up enough to hold it in the palm of your hand. This little guy is small but tough, perfect for your next hike. It also comes in four different colors (green, red, camo and blue).
Expand to see more
It folds up super small and is super lightweight
When folded up this blanket can literally fit in the palm of your hand and is super lightweight. It comes with a draw string that has a clip on it so that you can clip it on your backpack and go.

Element-proof
This blanket is waterproof, sand-proof and puncture-proof. In addition to the durability despite the potentially damaging elements it is also machine washable.

Cost/Value
This travel blanket is on the higher end in price. The justification for the price is definitely the quality of the materials used to make this blanket. It may be the last travel blanket you ever have to buy. There is more of a risk of you losing it due to its tiny size when folded up than there is of environmental damage. The cost is worth it due to its value.

The waterproofing also keeps you dry when laid on damp surfaces 
Can comfortably fit 2-3 people
Comes with a convenient carrying case
Folds up easily 
Not made of breathable materials 
Not as soft and cozy as the micro-fiber alternatives in this article
8. Hisea Outdoor Picnic Blanket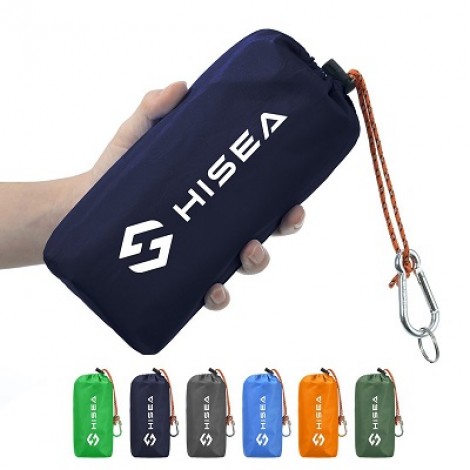 This travel blanket is extra large, measuring 71" by 59". It comes in 6 different colours (light green, blue, black, orange, grey and dark green). It is ideal for camping and picnics.
Expand to see more
This blanket is oversized
This is one of the biggest blankets in this article. It is oversized, ideal for holding up to 6 people and is waterproof making it perfect for camping.

This blanket is designed to stay put
This blanket has pockets that can either hold accessories or can hold rocks to keep the blanket down. It also comes with 4 long anti-corrosive steaks to anchor the blanket down.

Cost/Value
This travel blanket is on the higher end in price. The justification for the price is due to its functionality, its durability and convenience of it. If living in or traveling to windy climates this blanket is an ideal choice.

It has a clip on the bag, making it ideal for mountain climbing and hiking 
It is waterproof and sandproof
It is made of quality materials 
It comes with its own carrying bag
Not great for people on a budget
Due to waterproofing, it may not be ideal as a lap blanket 
9. TUFFO Waterproof Blanket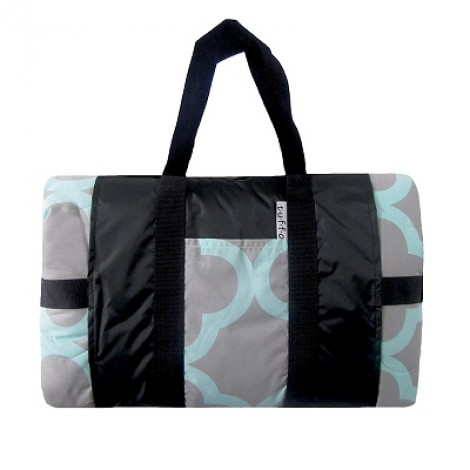 This is a cute 54 by 84 inch bag. It comes with a carrying case and has a nylon siding making it waterproof. The inside layer is a cozy fleece material. It also comes in 7 different colours.
Expand to see more
It is nice and large
Because of the size and waterproofing qualities this blanket is great for picnics.

It is thick and comfortable
This travel blanket is on the thicker side, so it is ideal for babies. It has a soft fleece lining making it comfortable to sit on as well.

Cost/Value
This blanket is mid range in price. The justification for the price is the level of comfort it provides. Because of its waterproof qualities, that it is thicker side and has a fleece lining this is ideal for those looking for something comfortable.

Lightweight 
Cute in design 
Made of quality materials 
Machine washable
It doesn't include anything that weighs it down and could be taken away in the wind
It takes some practice to get it into the carrying holder
10. Lug Blanket and Pillow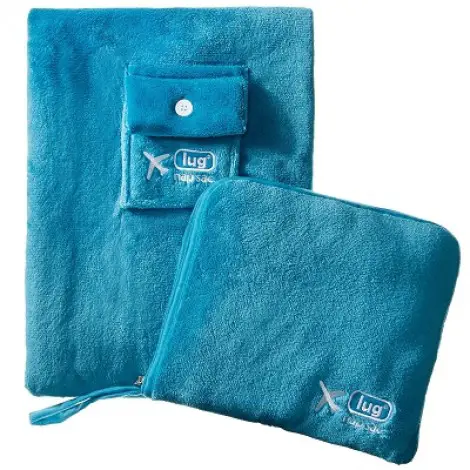 This blanket comes in fun colours and is made of very soft, plush materials. It also doubles as a pillow and has a front pocket for accessories. It unfolds to 35 by 46 inches. It also comes in 6 colours (blue, purple, green, yellow, brown and grey) and doubles as a pillow.
Expand to see more
Cute and fun design
These travel blankets come in bright and fun colours. It is ideal for expressive styles and children.

Ultra soft and plush
This blanket is made with ultra soft fleece. This blanket is ideal for long flights.

Cost/Value
This blanket is mid range in price. The price is justified by how comfortable it is. This blanket is ideal for those who want to cozy up on flights and road trips.

Warm and cozy 
Doubles as a blanket and a pillow 
Everything packs away nice and easily 
Perfect for air travel 
It is a little small
It is missing a clip to clip it to your bag
In conclusion, when purchasing a travel blanket, you want to make sure that the blanket you are choosing suits the activity that you will be using the blanket for. You want to take a travel blanket that does well when on the water but won't collect sand. And you don't want to take something meant for taking to the beach if it doesn't do well wet. Additionally, consider the materials the blanket is made out of. If something warm and cozy is needed for an activity like a plane ride or a road trip, something plush and soft would likely be desired. In these situations, you are looking for something made of cotton, jersey, micro-fiber, or fleece. If you are doing something that requires more warmth and weight for activities like camping or boat rides you want something made of flannel or wool. If you are doing something that requires protection from moisture and won't collect sand, then you want to find something made with at least a nylon bottom as this will not only stop the moisture from seeping through but will also stop the collection of sand. We hope that this list was helpful in your decision in purchasing the best travel blanket for you.
Criteria Used in Evaluation of the Best Travel Blankets
Materials
This is one of the most important items to consider when purchasing your travel blanket. The reason for this is if it is not made of quality materials, the blanket will not do what you need it to. Additionally, the material will break down much easier, and you will find yourself buying more blankets. Spending the money and buying a blanket that is made of quality materials will end up saving you money in the long-term. This will also save you time. If you are buying a product that is not meant for the activity you are performing you will also find yourself not using the product that you purchase due to its ineffectiveness, so it's important the material being used is for the activity being performed. Qualities in materials are things like drying time, whether sand/dirt stick to it, the weight of the material, washability of material, strength of the material, comfort level, and reflective qualities.  Considering all these characteristics as well as the quality of the material will save the buyer time, energy, and patience when buying a travel blanket.
Manufacturer
The manufacturer is  also something to consider when buying a blanket. The reputation, the location, and the experience all come into play here. The reputation of the company will let the buyer know whether the manufacturer has past issues with their product. This will come in especially important when buying online as most of us do. We want to know that the product we are waiting for is a good product. There is nothing worse than waiting a week for a product, just to get it and find out that the product is defective or not quite what we were looking for. Additionally, if the company has a poor reputation returns and customer may be a real issue. When looking for a good quality product we want to ensure that we are at least able to return it with relative ease before purchasing it. The location of where the manufacturer is also important because this will dictate travel time. Though many companies put the research in to make a better product make sure that the company is familiar with the climate you will be traveling in to ensure that they are covering the problem that you are attempting to solve. Again, with buying and then returning, shipping may cost more if the manufacturer is really far away. Experience is important because new companies don't have the opportunity to fix any design flaws that were brought up via consumer reviews. Additionally, the newer the company the more likely the company won't survive cyclical buying cycles. Experience is something everyone should consider when choosing the manufacturer they are buying from.
Additional Features
Even though these products are just blankets something to consider is if the blanket has more than one function or additional features. Some of these blankets double as pillows and others have little pockets for additional storage. Some also have a waterproof material on the bottom side to protect the purchaser from getting wet. The additional features of the blanket help the consumer see what is available to them and where these products can be used. The pillow function is very helpful when flying on a plane or traveling in a car. It can also be handy when camping, offering the buyer additional warmth if required or neck support if not. Some of the blankets offer a line with a hook on the storage bag to make it easier for hikers to hook onto their backpacks or belts. The additional items included will help as well. Do the blankets have attached straps so that it can easily fold up and stay folded up when not in use? Does it come with a carrying or storage case? Does it have a waterproof shell to keep it dry if stored outside? The additional features of the blankets will make a huge difference when traveling with these products.
Washability
Can the blanket easily be cleaned? When traveling with blankets the one thing that is guaranteed is that the blanket will definitely be exposed to different environments than your basic couch or bed blanket. Because of this, the blanket will more than likely end up dirty. We use these blankets to cover our bodies so we want something that is clean and comfortable. The washability of travel blankets is important for that reason. Can it also be washed with all soaps or are special soaps required? Can it be machine washed or does it have to be done by hand? Does it need to be hang-dried? Will the materials breakdown quicker or will it lose its function if washed frequently? Knowing the washability of travel blankets will go a long way in the general maintenance of the blanket. It will be especially handy when considering your space. If your home doesn't have an area that a blanket could easily hang dry then you don't want to invest in a blanket that requires it. Additionally, if the washability is poor then it's going to make the material less comfortable to use and will more than likely be hard on the skin. If the material doesn't do well with certain types of soaps or bleaches and buying a new special cleaner may be a pain. Considering the washability of the product and its materials is very important when considering buying a travel blanket.
Size/Shape
We briefly went over this earlier, but the size of the blanket is going to make a difference, especially when flying on an airplane. With our coats, shoes, and blankets, our suitcases can get full, really quickly. Considering how you travel will help when purchasing a travel blanket. If you usually travel quite heavy, looking for a smaller blanket may help with both the room in your carry-on or the weight of your check-in bag. It will also help when having to store your blanket. Lighter blankets can also be less warm, and a heavier blanket may be required when camping or hiking.
Additionally, the overall size of the blanket when spread out will be important. If this blanket is only used for one person on an airplane, then a lighter smaller one would be fine. But if using a blanket for a picnic with multiple people sitting on it will not work if the blanket is small. Also, the size of the person using the blanket will change the requirement for the size. If the blanket is being used for a child, then it will be a very different requirement than it would if used on a full-grown adult. Finally, the size will also affect the comfort level of the individual using it. If the blanket is too small, it will defeat its purpose which at the end of the day is keeping the individual warm. Something too small will allow too much airflow and the individual using it will not be comfortable and thus, again, completely defeating its purpose.
Warmth/Condition
The final item we considered and want you to consider is the warmth of the blanket being used. When flying the need for warmth is less important because the plane is kept warm with heaters, but when using a blanket when out by a fire or when camping will require a heavier material. Considering how heavy and warm the blanket is very important. Additionally, having a barrier between the individual and the object the blanket is being used for will make a difference. Whether it's the cold air or wet ground, the barrier needs to do its job to do the job that it's being purchased to do. A heavier material may be needed to keep the buyer warm, but a stiffer material may be needed to keep the buyer dry. Considering warmth and the environment going into the activity will help the buyer find the blanket that is right for them and the activity they are performing.
Frequently Asked Questions
Q: Are travel blankets easy to clean?
All the travel blankets in this article are machine washable. Typically they are easy to clean. Make sure to read the packaging to make sure you can throw it in the wash. Otherwise, you may need to wash it by hand. Anything with waterproofing should be washing in low heat and laid out to dry to keep the waterproofing in the best condition.
Q: Should I be putting my travel blanket in the dryer?
As mentioned above, anything with waterproof material should be hang-dried. Anything made of fleece or micro-fiber can be thrown in the dryer. Anything will last longer if it is hang-dried.
Q: Are travel blankets made of toxic materials?
None of the blankets in this article are toxic to the touch. Everything is safe for everyone, including babies and animals.
Q: Are all travel blankets waterproof?
No. The waterproof blankets have a nylon backing. The travel blankets in this article are all quick-drying, though.
Q: Are travel blankets, breathable?
A: They can be if they are made of more plush materials. When they are fleecing, they are less so, and anything waterproof wouldn't be.
Q: Will the travel blankets that can be used on the ground protect you against heat/coldness of the ground?
Typically no. On particularly cold or hot days dressing appropriately for the weather is wise.
Q: How big of a travel blanket do I need?
It depends on what they are being used for. Blankets that are used for travel should typically be smaller to fit in luggage better. They are also usually used for one person to lay under. The larger, water-resistant ones typically are bigger and are used for laying on the ground for the purpose of sitting on.
Q: What materials should I look for when purchasing a travel blanket?
Again, it depends on what you are looking for if you are looking for something to stay warm you want to look for blankets made of micro-fiber or more plush materials. If you are looking for something waterproof, consider nylon. Nylon is more durable and will typically last longer. Micro-fibre, due to its softness, tends to be less durable. A nice middle ground is a fleece. Fleece is both durable and soft. Fleece will also keep you warmer and will dry quickly. It is not waterproof, though.
Sources
Psychology Today- Buyers Remorse
Wikipedia- Blankets
YouTube – Travel Blankets: 5 Fast Facts
Subscribe to our Newsletter