Best Motorcycle Panniers Reviewed & Rated for Quality
last updated:
Aug 16, 2019
Motorcycles have a lot of one-ups on cars, just as a basic concept. Maneuverability, sleek design, and a whole bunch else. But one thing cars almost invariably have over motorcycles is storage space. You aren't going to be delivering Christmas turkey on a motorcycle. Which is why you need a motorcycle pannier to even that playing field a bit. But you don't just want any old motorcycle panniers, which is why we've put together this list of the ten best of them currently on the market. So, get ready to ride, because we're counting down the:
Featured Recommendations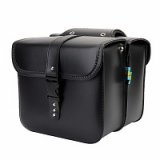 Issyzone Softails Touring

Our rating
Heat Resistant
Price:

See Here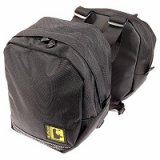 Wolfman Luggage E-12

Our rating
Heavy duty materials
Price:

See Here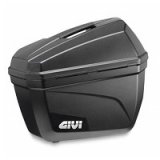 Givi E22N

Our rating
Perfect for smaller bikes
Price:

See Here

10 Best Motorcycle Panniers
1. Wolfman Luggage E-12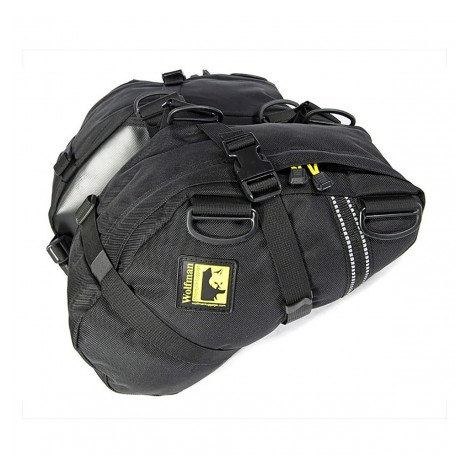 Kicking off our list right, we have the Wolfman Luggage E-12 Saddle Bags. If you're looking for the ultimate in heavy duty Motorcycle Panniers, then you've definitely come to the right place with this entry, as it's everything you're looking for in that regard. So, what got this entry to the top billing of our list? Let's find out.

Expand to see more
Heavy duty materials

We don't use the term heavy duty to describe these bags lightly. To be honest, a motorcycle pannier, by its very nature, has to be of higher durability, considering that you're not really meant to take them off and put them on regularly. So, they need to be out in the elements constantly. And with this pannier being made of a ballistic vinyl construction, this pannier is more than enough to handle any harsh environmental conditions.

Tight compression strap

But it doesn't matter how strong the bag itself is if it isn't held down to the motorcycle itself strongly. Luckily, this pannier fixes that little problem by building itself with a captured V compression strap on each bag. What this does is keep the contents nice and tight, as well as incredibly stable.

Cost and Value

Here's the problem. If you want the really good stuff when it comes to a motorcycle pannier, then you're going to have to pay up, a lot. While this is by no means the most expensive entry on the list, it's definitely going to cost you.



Heavy duty materials
Tight compression strap
Extra sleek profile
2. Issyzone Softails Touring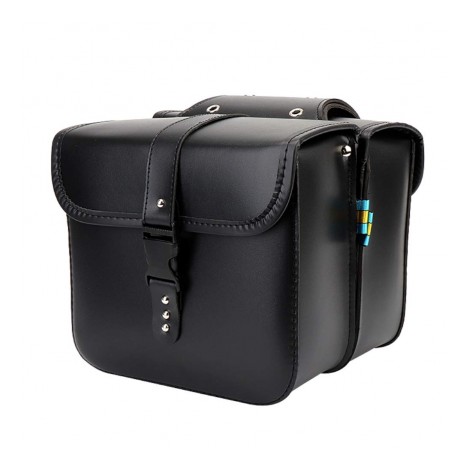 Coming in second place, we have the Issyzone Motorcycle Saddle Bag. This design is more of what you would typically expect of a motorcycle pannier, a leather saddlebag on both sides of the vehicle. However, once you start looking closer, you begin to see what puts this pannier above the others on this list.


Expand to see more
Waterproof

If there is one magic word that you're going to be happy to find with any motorcycle pannier, it's waterproof. Because rainwater is going to be the biggest pain in your rear with a pannier otherwise, as it's the main elemental problem you will come across most often. Fortunately, this pannier is made from a highly waterproof material and designed with transferring water in mind.

Universal fitment

This bag doesn't just fit most motorcycles; most scooters can don this stylish looking pannier as well. From an H-D Softail Sportster 883 to a Honda Suzuki, this saddle bag can fit onto anyone without any trouble. Making it the ideal saddle bag for those who don't care about aesthetics, and just want a pannier for their bike that is guaranteed to fit and that they won't have to fight with about it.

Cost and Value

The best part about this entry is the price. This universally fitting, waterproof motorcycle pannier can be yours for less than half of what the previous entry was asking of you in terms of price.


Waterproof
Universal fitment
Affordable
Certain modifications must be made for certain motorcycles
3. Givi E22N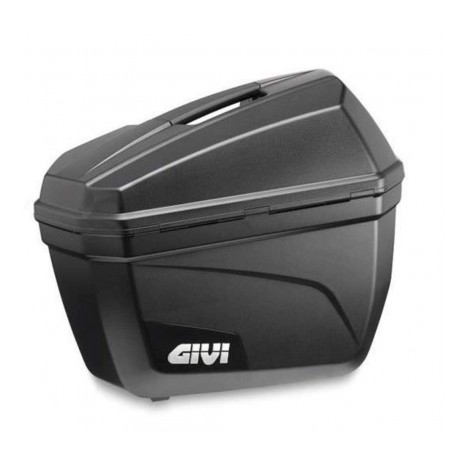 Finishing up out top three segment, we have the Givi E22N Monokey Sidecases. This is also a design that you've more than likely seen plenty of times before, a hard plastic side case, rather than a leather or vinyl bag on the side of your motorcycle. So, let's see what this entry does to stand out from the crowd.

Expand to see more
Durable

While definitely not nearly as big as the other entries we will be covering on this list; this side case's hard plastic construction makes it ideal for driving in harsher weather like hail or other weather conditions like it. Waterproof by its very nature, this pannier will serve you well when you use it.

Perfect for smaller bikes

One main problem with a lot of these panniers is that they don't really accommodate the smaller variety of motorcycles. Fortunately, this pannier gets around that problem by having a special strap that can adapt to both a large and small motorcycle without any trouble at all. So, if you find that your motorcycle is just too small for the usual kinds of panniers on this list and elsewhere, just pop this one in and you'll be just fine.

Cost and Value

The biggest problem with this entry is its price. Just our third entry, and already we have one of the most expensive panniers out there on the market right now. Regardless, you are definitely getting what you pay for when you grab this one.


Durable
Perfect for smaller bikes
Good capacity despite their size
4. Viking Bag Survival Series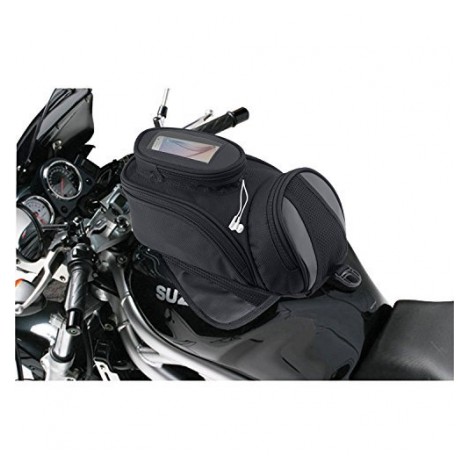 Coming in at #4, we have the Viking Survival Series Tank Bag. In terms of design, this is easily one of the more interesting entries on this list, given its compatibility with multiple points on the motorcycle, and several other design flourishes that help to give it its own identity. So, what do all of those flourishes add up to? Let's find out.

Expand to see more
Cell phone pouch

When you're riding a motorcycle, keeping your phone in a safe and convenient place is at the top of your priority list. You're definitely not about to put your trust in your pockets, considering the high speeds you'll be going at. Which is why this pannier comes with a special cell phone pouch that can hold everything from iPhone 6's to Note 4's. Even the biggest phones on the market right now will slot into this pouch with ease. And don't worry about your phone's touchscreen, as this pouch is made with a special touch screen friendly material.

Tough fabric

It's always a gamble to make your motorcycle pannier out of fabric, due to the rain and fabric being notoriously hard to get along with each other. Which is why this pannier is made out of 1600 denier fabric, which is naturally resistant to water.

Cost and Value

Despite its multitude of uses and features, this is actually one of the more affordable entries that we've covered thus far. While not the cheapest thing in the world, it's far from the previous one we covered.


Cell phone pouch
Tough fabric
Affordable
Can leave scratches depending on your tank
5. Stansport Saddle Bag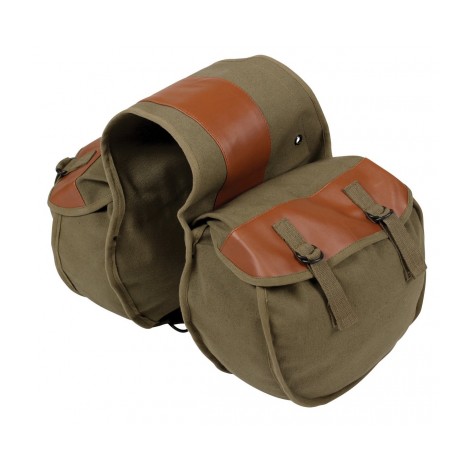 For our #5 spot, we chose the Stansport Saddle Bag. While we maintain that the first entry on this list is our personal pick for the best in heavy duty pannier design, that doesn't mean that we can't appreciate when it's also done really well elsewhere. And it's done very well here.

Expand to see more
Reinforced stress points

This pannier is made from heavy duty duck cotton with a vinyl backing for added strength. But what's most interesting is how this saddle bag approaches its stress points. Everything has stress points to some degree, little points of weakness that need to be accounted for in order to avoid breakage. Which is why this pannier goes the extra mile by reinforcing them even more than the rest of the bag. Making this saddle bag much harder to break or tear than it already was.

Large pockets

But if you're going to have an incredibly large saddle bag like this, then you may as well make the pockets as large as possible, since doing so with a cotton and vinyl bag is a lot easier to do practically than with a hard plastic box. Which is why this bag takes advantage of that, giving this bag a pair of two large pockets with double strapped flap covers to make it harder for the flaps to fly open when you're driving. These pockets are big, spacious, providing you with more than enough room for whatever you want to take with you, and are durable to boot.

Cost and Value

The best part about this entry is its price. Due to the inexpensive materials, it's made out of, this bag is of excellent quality, while also being one of the cheapest entries on the entire list.



Reinforced stress points
Large pockets
Cheap
Closures are a bit hard to manipulate
6. Nomad USA Leather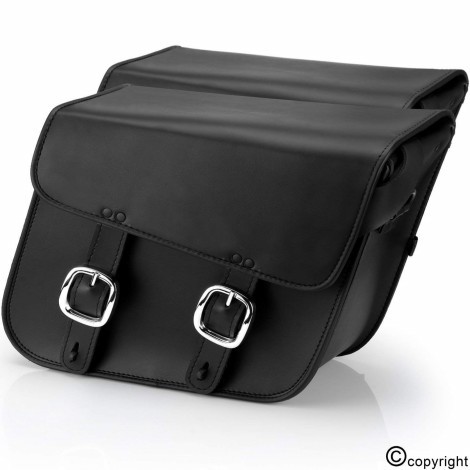 Coming in at #6 on our list, we have the Nomad USA Leather Slanted Motorcycle Saddlebags. These saddlebags do a lot of what the previous entry did, but with much more of a sleek flair to it than the baggy cotton design of the last entry. So what else does the Nomad bring to the table besides that? Let's find out.

Expand to see more
Reinforced leather

Leather will only get you so far in this business, as the material, while strong and sturdy, has a number of weaknesses that need to be addressed. Fortunately, this saddlebag addresses all of them, by reinforcing the leather used for the saddlebag and then adding in a metal frame and a hardy body for good measure. Making extra sure that this motorcycle pannier won't be going anywhere once you put it on your bike.

Waterproof and long lasting

If there is another magic word that goes along with waterproof as something you should always look for in a motorcycle pannier, it's "longevity." These things can get pricey, look to this one for proof of that, so you want to get your hands on a saddlebag that's going to last you a long time. Fortunately, this saddlebag is both waterproof and incredibly long lasting, thanks to its specially made synthetic leather construction.

Cost and Value

While it isn't the most expensive thing on this list by a long shot, it's still pretty pricey. But if you want the best in leather panniers for your motorcycle, then you need not to look further.


Reinforced leather
Waterproof
Long lasting
Metal frame enhances durability
7. XMT-MOTO Vivid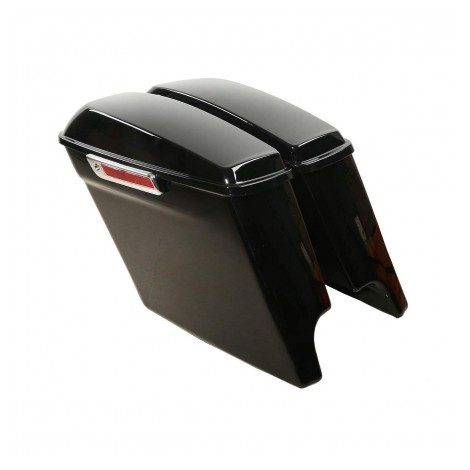 For our 7th place spot, we have the XMT-MOTO Vivid Black Extended Hard Saddlebags. While these may not be the most spacious on the list (and definitely not the cheapest), they are still some of the best saddlebags you're guaranteed to find out there right now. But then, nothing less should be expected of XMT-MOTO, who has made a name for themselves as the best of the best in this niche.

Expand to see more
High quality construction

While you should always look for features like waterproofing and longevity in your motorcycle panniers, there are certain materials that "cheat" in a manner of speaking, by being made of materials that are waterproof and long lasting by nature. The high quality ABS plastic used to make this saddlebag is one such material.

Stretched appearance

This saddlebag is designed from top to bottom to appear longer and more stretched out than it actually is, in order to, once you've attached it to the bike, make the back of the motorcycle seem sleeker. A brilliant visual trick on the eye that adds to the style that this saddlebag is going for.

Cost and Value

And here is where we get to the main problem with this motorcycle pannier. The price of this pannier is the sole reason it's all the way down here at #7 instead of higher up. This is, without a doubt, the most expensive entry on this list.


High quality construction
Stretched appearance
Fits pretty much every type of Harler from 1993-2013
8. Ogio Stealth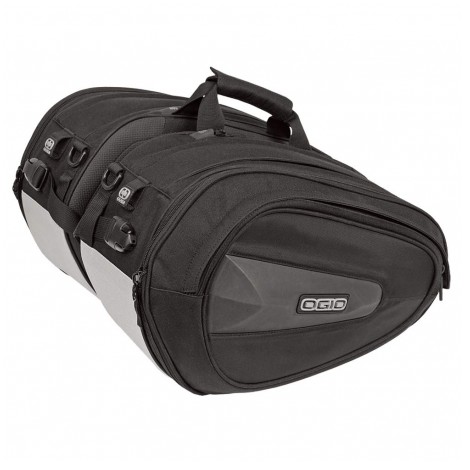 Kicking off our final three entries, we have the Ogio Stealth Saddlebag. The title of this saddlebag may seem a bit odd considering that these are saddlebags are anything but stealthy. But with their sleek appearance, black color palette, and generally smooth design, it makes a lot more sense as a result. So, let's dig into this bag and see what else it has to offer.

Expand to see more
Heat resistant

It isn't just the water you have to watch out for. If you are driving through incredibly hot climates, then you need to have some kind of resistance against it for your cloth items, particularly your saddlebags, which have to be out there all the time. Which is why this bag is made extra heat resistant. This way, you can keep your saddlebag on your motorcycle, and not have to keep taking it off and putting it back on when the weather gets extra toasty.

Web mounting system

We have spent this entire list talking about the bags themselves, but very little about the means by which you attach the things to the motorcycle, to begin with, which, as you can imagine, is equally as important. That changes with this entry, which uses a unique web mounting system to make mounting it to the motorcycle easy and fast.

Cost and Value

While not quite as pricey as the previous entry, in fact, it's about half the price, it's still pretty pricey, especially compared to the one before the previous entry.



Heat resistant
Web mounting system
Integrated rain hood
9. League&Co Sportster Softail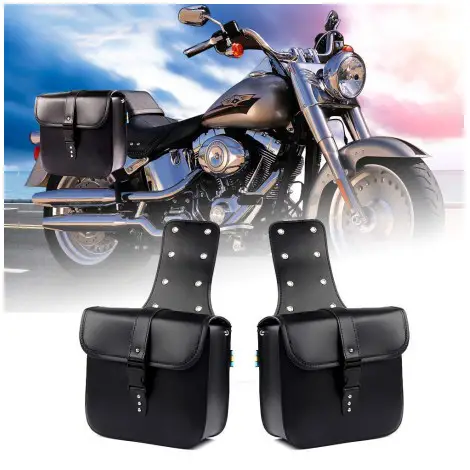 For our second to final entry, we have the League&Co Waterproof Insulated Saddlebags. Now, these are definitely the kind of motorcycle pannier that you've seen out in the world before. A pair of square shaped leather bags that hang off the sides of the motorcycle. So, what do these saddlebags add to this idea? Let's find out.
Expand to see more
Bigger on the inside

Don't mistake these bags' small size for lack of storage capacity, because these saddlebags can hold a lot more than their first appearance would have you believe. For one, they can hold everything from raincoats to large cameras. So, if you have something that you need to take with you on your motorcycle, you'll have a much better chance of storing them in these bags than some of the others on this list.

Beautiful aesthetic

Yes, things like design and functionality will always take ultimate precedence over everything else at the end of the day, but it cannot be denied how important it is to be aesthetically pleasing as well. Otherwise, it would just stand out on your otherwise visually pleasing motorcycle. Which is why this motorcycle pannier goes so far out of its way to appear as sleek and stylish as it possibly can.

Cost and Value

The best part about this entry is the price. After two entries featuring the most expensive entries this list had to offer, it's refreshing to be back on a saddlebag that can have excellent design quality without breaking your wallet like a walnut.


Bigger on the inside
Beautiful aesthetic
Affordable
Can carry one raincoat per bag, but anything more would be too much
10. Coleman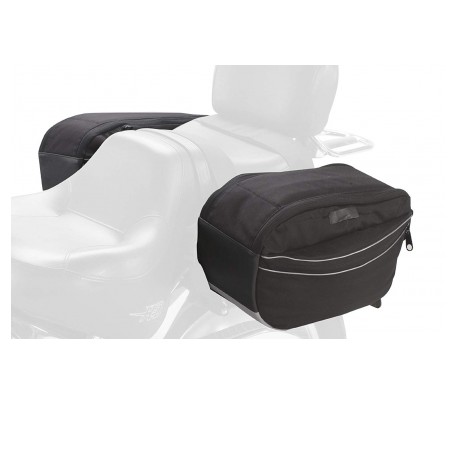 For the final entry on this list, we have the Coleman Motorcycle Saddlebag. The ten spot on lists like these is what we use to determine what the baseline is for this list, what you basically need to do and/or have as a feature in order to even be considered for and then get on this list. And we could think of no better entry to showcase that than this saddlebag from Coleman.

Expand to see more
Great carry capacity

The best part about this pannier is not only the carry capacity it has, which is pretty decent for its size, but also its stability. Despite being made out of cotton and nylon, this pannier is as stable as a pannier made of ABS plastic.

Easy mounting

With other motorcycle panniers, especially those we left off of this list, there's the problem of needing special tools in order to detach and reattach the pannier to the motorcycle. None of which is necessary for this pannier, thankfully. This saddlebag can be tied and untied at will, so if you need to bring it inside, it just takes you a few minutes.

Cost and Value

For the size and build quality of this pannier, the price turned out fairly average, all things considered. So, if you need a fairly basic, but overall still high quality pannier for your motorcycle, you've come to the right place.


Great carry capacity
Easy mounting
Affordable
A motorcycle pannier isn't the most necessary thing in the world, as far as overall performance goes, but it can make life easier. Your motorcycle will run just fine without one being attached to it, it isn't needed for any vital functions of the vehicle, and so on and so forth. However, that isn't the point of a motorcycle pannier. The point of the things is to add to the look of your motorcycle and, of course, to give you a convenient place to put your things when you're riding on one. The problem with motorcycles is, ironically, the thing that people tend to like most about them: their open-air nature. This leaves any personal belongings you might have on you, like glasses, wallets, and especially your phone, free to fly out of your pocket and shatter on the road and get run over by a trucker or two for good measure. A motorcycle pannier gives you a place to put your things when you need to ride on your motorcycle but would prefer that they not fly off into the road. And we personally consider these ten entries to be the absolute best of the bunch. Every single one of them gives you everything you need from a good motorcycle pannier and more. So, if you need a good saddlebag for your motorcycle, look through this list, find one that you like, and enjoy the ride.
Criteria Used in Evaluation of the Best Motorcycle Panniers
Coming up with a good list of criteria for this article was both tricky, and yet not, and both for the same reason: these are simple devices that are easy to figure out. It doesn't take a genius to figure out how to install and use a good pair of motorcycle panniers. However, that makes it a bit hard to put together a long list of criteria. But by asking ourselves what we would want to see from a motorcycle pannier, we were able to put together a coherent list. So, with that said, here are the most vital criteria we used to determine who got on the list and where.
Durability
Durability is one of the most important aspects of any motorcycle accessory, and it isn't hard to see why. These things are going to be hanging off of your motorcycle as you go at top speed down the road. There will be wind, rain, and plenty of kicked up debris, which your panniers will be expected to handle with ease. So, it's imperative that they be durable, not just for themselves, but also for whatever happens to be inside. Which is why it isn't enough to be made well, it also has to be reinforced properly.
There are several ways to reinforce a motorcycle pannier, but they all come from the same strategy; adding in metal or some other kind of material into the pannier to make it harder for heavy winds to move it. The most commonly fallen back on method is to add a metal frame to the interior of the pannier. This makes the pannier more solid and unable to be moved, without actually getting in the way.
Longevity
But it's one thing to be durable, but true durability is ensuring that the product will last you a really long time. This is where longevity comes into play. Longevity, of course, refers to how long the product in question lasts under its own power with regular usage before needing to be replaced. With a motorcycle pannier, barring any outside physical damage that may befall it in the interim without warning, this can be anywhere from a few months to a few years depending on the quality of the product. We, of course, tried to look for as many panniers as we could that fell into the latter of those two categories. After all, these things can get pretty pricey, as we'll go more into later on, so you want to make sure that you're getting as much out of each entry as you possibly can before having to replace it.  But there's one factor that determines both this and the durability of a motorcycle pannier in a big way.
Materials used
If you want to make something strong, and something that will last you a long time, then you'd best get some really good materials to make it out of. The most common materials used to make a motorcycle pannier is either cotton and nylon or a type of plastic, usually ABS. The reason for this is simple: they're strong materials that, on their own, can take a lot of punishment, are still soft to the touch (comparatively speaking) and can last a long time if made properly. But that is the sticking point, isn't it? It doesn't matter what the thing is made out of. If the design doesn't work, then the thing is bound to fall apart anyway. Which is why the stress points need to be reinforced, the material needs to be grafted onto each other properly, etc. If you're looking for the more inherently durable of the two, ABS plastic will suit you fine.
Price
The last criteria we judged for this list was the price of each entry, and how it reflected back on the overall quality of the product. You may have noticed throughout this list that these things can get pretty pricey, and you would be right. So pricey, in fact, that you may be wondering what the point even is of buying these things in the first place? Well hang on, we'll get to that part. For now, let's focus on the price. The price of a motorcycle pannier can differ based on the features it has, what it's made out of, the size, and plenty of other, smaller factors. And these things can get pricey. So, we decided to judge each entry based on how well they could justify the prices they were asking for, rather than the prices themselves. If you pay a lot of money for something that you felt was completely worth it, then you're bound to not be nearly as cross about it all.
Waterproofing
If there is any magic word you want to look for when shopping for a motorcycle pannier, then it's easily waterproofing. Because rainwater is going to be the thing your motorcycle pannier will be encountering most often when you use it. If you are not the type to remember to take off and put the pannier back on every time you use the motorcycle, then you are going to have to buy a pair of saddlebags that can handle being rained on over and over again. You should absolutely consider this factor mandatory with your saddlebags.
Accessory features
Less mandatory, but still nice to have, are accessory features. This can be anything from web mounting, so you can put the bag anywhere, to a cell phone pouch so you can keep up with what's going on with your phone safely while driving. Most that you'll find aren't required for your enjoyment of a saddlebag, but a lot of them will help decide which ones you get. So, make sure to take a look at what the pannier is actually offering you when you buy it, and explore your options more.
FAQ
For the final segment of this article, we'll be taking a look at some frequently asked questions surrounding motorcycle panniers. Like we said at the top of the previous segment, these are very simple machines, and thus, not a lot of unanswered questions surround them. But those that do are important and deserved to be on this list. So, with that said, here are the most frequently asked questions surrounding motorcycle panniers, and the answers thereof.
Q: What are some good accessories for my motorcycle pannier to look out for?
A: There are plenty of add ons and peripherals that you can add onto a motorcycle pannier, whether functional or cosmetic, to make the experience of using it just a bit more enjoyable. The first of these is a cell phone pocket. You can throw your cell phone into a normal pannier, true, but it will rattle around in there as you drive, and that can introduce a lot of problems in and of itself. A cell phone pouch, on the other hand, will let you keep an eye on your phone by just looking down and seeing it, and it will also keep them safe and sound at the same time.
An example of a cosmetic accessory would be rhinestones or metal rivets on the straps and bag flap for the bag. They do not add a ton, other than that extra bit of style to the design that can really tie the whole thing together.
Q: How can I keep the contents of my saddlebag safer? Are there any precautions I can take?
A: If you see yourself delivering fragile items in your pannier in the near future, then you can game the system to better your odds by the kind of pannier you buy. First and foremost, waterproofing and a metal frame are paramount to making it work, that will divert any impacts that occur away from what's inside the bag. Waterproofing's benefit is obvious, as it will keep any unexpected rainstorms from ruining your cargo before you get to your destinations.
You can also get a smaller pannier if you can. You should make sure to get one that's just big enough for what you expect to carry so that you don't have it rattling around when you're trying to drive.  
Q: What should I most expect to be able to carry in a motorcycle pannier? And what should I most definitely not try to carry in one?
Starting with the don'ts, you should most definitely not try to any large amounts of food. A packed lunch is fine, as long as it's packed securely. You also should not carry anything too large like any form of furniture. At all.
Now for the dos. First off, you can carry clothes, like a raincoat. You won't be able to latch on a suitcase, as that will throw off your balance. But things like phones, wallets, coats, smaller items that you can throw on and off, can all be used with a motorcycle pannier.
Subscribe to our Newsletter