Best Road Flares Reviewed & Rated for Quality
last updated:
May 22, 2019
You know that terrifying moment when your car stops in the middle of the night, and you have to just stay there on the roadside and wait for family support or emergency service to respond? As you probably know, things get even worse when you realize that you're an invisible hazard in the night! How should you even let the other drivers know that you are there on the road, in the middle of nowhere? Well, there is one simple solution to this safety problem, and it's called a road flare! These days, almost every emergency kit includes good old road flares, but they all come to their expiration date at some point, and you'll eventually have to search for a new reliable pair of these little gadgets. Luckily for you, the market is full of all kinds of road flares to meet a variety of preferences and requirements, and we are here to help you!
Featured Recommendations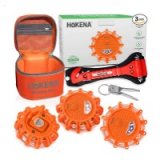 Hokena

Our rating
Heavy-Duty
Price:

See Here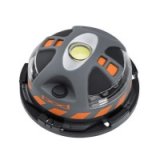 Reese Towpower

Our rating
Versatile
Price:

See Here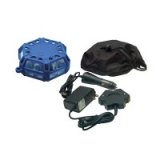 Aervoe

Our rating
Budget-Friendly
Price:

See Here

With the technology improvements LED road flares became very popular, replacing the old lay-flat styled ones. However, there are not only big differences between regular and LED types of road flares, but also among each one of them. Now, how should we pick the perfect one from all of them, you may ask? In order to save you some time and a lot of effort, we made a list of 10 best road flares you could find on the market right now. Hopefully, this list will make the purchase easier for you and help you find the perfect product for your needs! In case you still find yourself unable to decide for one of these great products, we also provided some additional tips and recommendations that should resolve your doubts! For now, here are
10 Best Road Flares
Hokena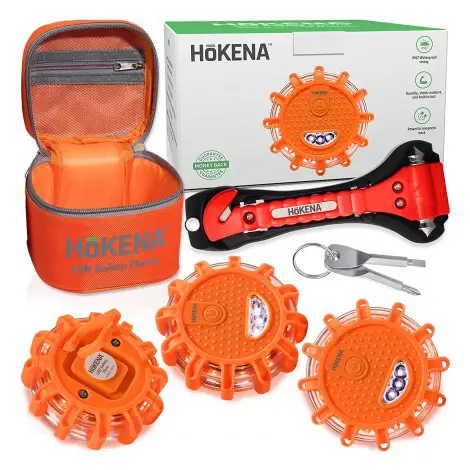 If you want a reliable brand that guarantees exceptional performance, durability, and safety, there's no better option than Hokena! These road flares allow for superior visibility and easy mounting, and they come with a wide range of super useful features. Actually, Hokena offers an entire emergency kit for superior safety on the road, no matter if you're driving a car, an RV, a motorcycle or even a bicycle. You can keep the kit at hand's reach all the time and drive with complete peace of mind!
Expand to see more
Bright Light
As we mentioned above, Hokena offers an entire emergency kit. The package includes 3 LED road flares, 9 batteries, a manual
and all necessary tools
for simple battery replacement. You'll also get a very convenient bag for simple storage and an emergency escape tool to help you break the window or cut the seat-belt in order to get out of the car in case of an accident.
These little gadgets come with pre-installed batteries and provided tools let you change them with great ease. We are talking about 15 LEDs and 9 adjustable light modes that never fail to provide exceptional visibility! Along with red LEDs, each flare features 3 white flashlight LEDs. They are quite useful if you don't have a flashlight and you need to light up the parts under the hood.
Heavy-Duty
We were quite impressed by the overall design and durability of these road flares. These little gadgets feature magnets on the back so they easily attach to the side of your vehicle! We really liked that magnets fit closely to the car yet they are not too stiff to damage the paint. The screws are recessed for the same reason, to prevent possible scratches.
Also, the material of the cases is somewhat soft and rubberized which not only protects your vehicle but also makes flares more resistant to impacts in case you accidentally drop them. They are water and crushproof which means that they are designed to withstand almost every harsh threat. No matter if you leave them under the pouring rain or run them over with your vehicle, these are made to withstand every impact and provide flawless performance!
Cost and Value
We haven't had any issue with these at all! They perform pretty well and come with a variety of features to ensure durability. The only drawback is a high price, but you can't put a price tag on safety! Therefore, we strongly recommend trying out this amazing product.
An entire emergency kit
15 LEDs and 9 light modes
Red and white flashing LEDs for improved visibility
Feature magnets for easy attachment
Safe for your vehicle's paint
Sturdy and durable
Reese Towpower
Wouldn't you want to have a versatile little device at hand's reach to light up the road when needed? Forget about the hassle with bulky flares, we have a perfect option for you! This little device turns to be incredibly useful for all kinds of unexpected situations, and it offers impressive bright light to keep you safe on the road.
Expand to see more
Versatile
This is a versatile device that you can use as a flare or as a flashlight. It's incredibly easy to mount it by using the magnetic or permanent base as well as the provided hook. What is even more important – it offers 9 lighting modes that you get to choose according to your preferences! This little beacon has 350 lumens which are more than enough to light up the road and make you visible for other drivers. Not to mention that you get to use it as a convenient flashlight thanks to the high level of brightness.
Super Durable
We really liked the fact that this flare supports AAA batteries for more durability, although you'll have to purchase them separately. Also, it comes in a durable housing that is weather-resistant and therefore suitable for every situation. You get to easily store this device anywhere in your car thanks to its compact design – it could fit even the smallest areas and tool boxes. We only have one complaint about its design. It's more kind of nitpicking, but we were quite annoyed by the fact that you have to cycle through all 9 modes using only one button! As if that wasn't enough if you accidentally skip the one that you like the most you'll have to go through the process all over again.
Cost and Value
Although it's not quite the cheapest option out there, this is a reasonably priced device that you can easily
make a part of your safety equipment
. There were some users that complained about this little gadget being overpriced for its size, but considering its overall quality, performance and durability, it's well worth it!
Versatile and powerful
9 lighting modes
350 lumens
Weather-resistant and durable
Compactly designed
Worth every penny
Only one button for 9 lighting modes
A little pricey
Aervoe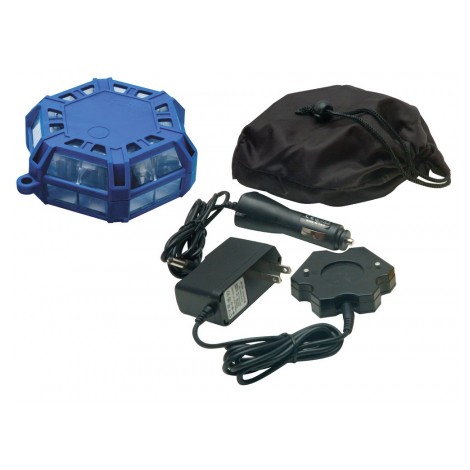 If you're searching for a budget-friendly road flare kit, may we present you impressive one from Aervoe? This company offers a great LED flare that will successfully light up any dark area and last for quite some time. You get to use it in your car, on the road, in your garage or anywhere else thanks to the sturdy construction and great durability!
Expand to see more
7 Operation Modes
This little flare contains super bright LED lights and 7 operation modes to meet your needs. You can either attach it to your vehicle (or other metal surfaces) by using the magnetic base or you can place it in front or behind your vehicle for more safety when you're at the roadside. It plugs into a car cigarette lighter or into the 120V wall outlet which is quite convenient and relieves you from the frequent battery changing.

Weather Proof
This flare doesn't only offer great performance but also proves to be incredibly durable! It comes in a sturdy housing that can withstand pretty much everything. There is a rubber covering that reduces the impacts of the accidental falls, and the waterproof design should keep the device intact at any weather conditions. Of course, it comes in a sturdy case for simple transportation and storage so you can keep it safely stored in your vehicle, garage, or anywhere else.

Cost and Value
As we already mentioned, this is one of the cheapest road flares on the market yet it offers great performance. However, don't expect too much from it! This is a budget-friendly option and if you want something incredibly powerful and bright, you should search for another device.

An emergency kit with 6 flares
7 operation modes
Easy to use and mount
No batteries required
Incredibly durable
Cheap
Some might not be satisfied with the brightness
Stonepoint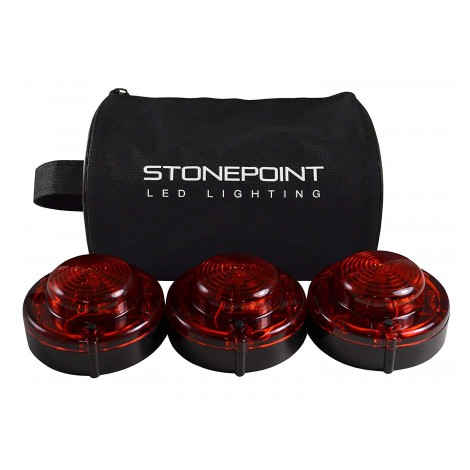 This is definitely one of the most popular road flare kits! The included 3 LED beacons offer a very bright light to improve visibility in case of an emergency, and they are super sturdy and durable. They are a perfect option for all those who worry about not having lights that are sturdy enough to withstand harsh conditions. If you're one of them, you'll definitely enjoy using these – they prove to be one of the toughest sets of load flares on the entire market!
Expand to see more
Incredibly Bright Light
Stonepoint's kit includes 3 LED beacons that produce incredibly bright light. They significantly improve visibility and allow for simple installation. Using their magnetic base you can attach them to your vehicle or any other metal surface, and they'll stay there firmly as long as you need them to. They offer flash and steady modes, which is not so impressive but it will suffice in case of an emergency.
Crush Resistant
These are very lightweight and suitable for all kinds of situations and vehicle types. As we mentioned earlier on, they are very versatile, easy to mount and allow for simple storage. There's also a convenient storage bag that will keep them in one place,
making your trunk well organized
. Also, we should mention that they come with the incredibly durable exterior – they are crush and water resistant which means that you can use them at any weather. Although we don't recommend testing this out, they can withstand a lot of pressure so they won't break even if you run them over with your vehicle.
Cost and Value
Although this is one of our favorite sets, we have to admit that it's a little pricey, especially considering the fact that you'll have to purchase the batteries separately. Don't get us on the wrong way, we are very satisfied with this product's overall performance, but those who are on a limited budget might have to search for a cheaper option.
3 LED lights and 2 flashing modes
Easy to use
Lightweight and portable
Very sturdy and durable
Crush and waterproof
Only 2 flashing modes
A little pricey and don't even include batteries
Collinear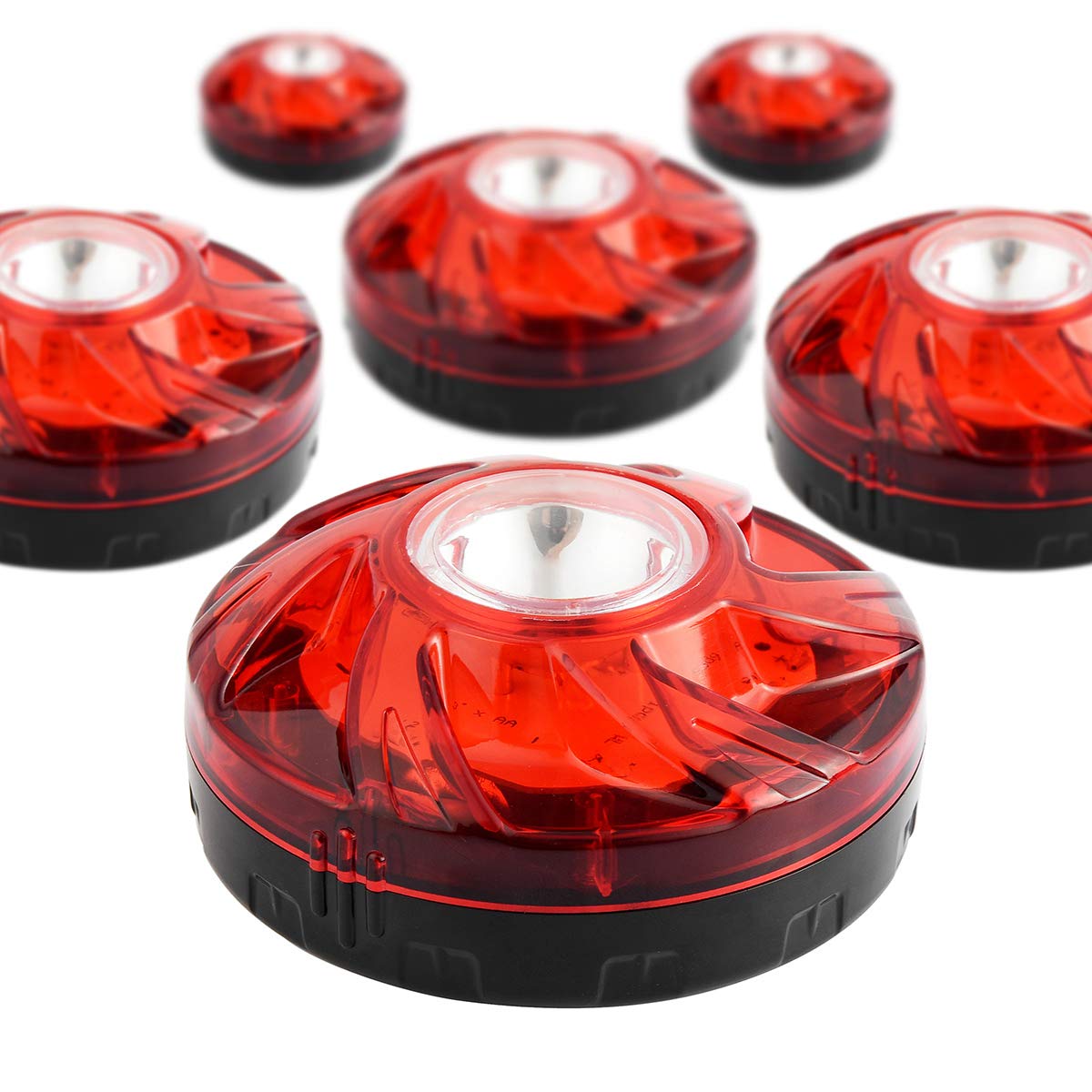 This great option from Collinear comes with six LED beacons as well as a convenient storage bag for
organizational purposes
. You'll never have to hunt for your flares in case of emergency when you're equipped with a storage bag that will house them for you.
Expand to see more
Unique Features
These handy beacons have six different modes you can access in the event of an emergency. We loved that they are able to provide light up to two miles away, even in inclement weather like heavy snowfalls or rain.

Long Lifespan
If you find yourself stuck on the side of an abandoned road or lost in the middle of the wilderness, you want to make sure that the emergency beacon you have on hand is going to be able to last until you're rescued. The Collinear lights have a 20-hour runtime when they're used in steady light mode. If you choose to have them on blink mode, they will last closer to 60-hours.

Cost and Value
These are priced very affordable for what you are going to receive when you invest in them. You're receiving a lot of value on your investment, especially considering their long runtime and how bright the lights are.
4 LED lights and 9 different flashing modes
Universal code for SOS signal
Very bright for improved visibility
Weatherproof
Well-priced
Come with a storage bag
Magnatek Smart Accessories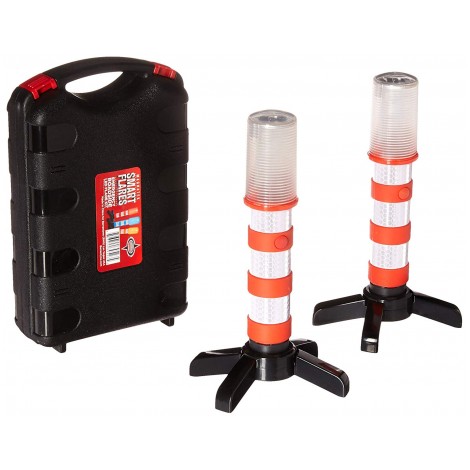 If you need a solid pair that will work at any time, providing excellent performance regardless of the weather conditions, these 2 lights from Magnatek Smart Accessories are an excellent choice. They come from a reliable company that guarantees safety on the road and durability of the product, and you're going to love them! If you want to find more details about this pair, keep reading our in-depth review.
Expand to see more
Pack of 2
Magnatek Smart Accessories offers 2 great LED flares that will keep you safe in emergency situations. They are bright enough to be visible from a big distance, although keep in mind that they are not too bright. They do the job quite well, but some people just opt to have more powerful lights. Additionally, you'll have an option to switch between three modes according to the situation and your preferences.
User-Friendly
These are not only constructed from durable materials but the case is also weatherproof to ensure undisturbed performance at any time! They allow for simple mounting thanks to the magnetic base, and you can easily position them on the road using provided stands.
Our only gripe was the lack of instructions. Instead of the manual of any kind, you'll get a piece of paper directing you to the youtube link that we didn't find useful at all. The manufacturer should definitely improve this in the future!
Cost and Value
Magnatek Smart Accessories offers these road flares at an attractive price, and you'll get them in a great little bag which you can use later on for
transportation and storage.
Also, the batteries are included in the package and they are quite durable so you won't have to purchase them separately!
2 LED road flares
Improved visibility
3 different flashing modes
Weatherproof
Easy to use
An attractive price
Might not be bright enough for some users
Instructions are not included
Wislight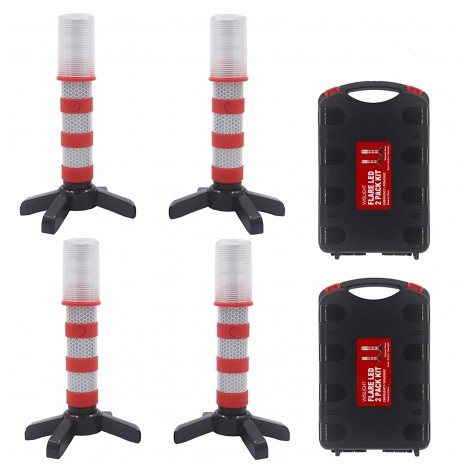 If you're a fan of upright road flares rather than flat ones, we have a perfect product for you! Wislight offers 4 LED flares that prove to be incredibly bright and an excellent choice for improving visibility on the road. We really liked their unique design and overall flawless performance that will keep you safe in many situations and not only in case of road accidents. If you want to find out more about these great 4 LED lights you can look below for the more detailed review!
Expand to see more
Impressive Brightness
As we mentioned above, you'll get two separate boxes with two lights which are to say you'll get 4 road flares and two bags. They work perfectly, offering impressive brightness and 3 operation modes (Solid, SOS, Flashlight). You can attach them to your vehicle thanks to the magnetic base that every flare has on its bottom or place them on the road in an upright position. This upright design is sometimes even better than magnetic mounting because it significantly improves visibility.
Sturdy Construction
These are made of sturdy and durable plastic, and the exterior coating is quite resistant to impacts and weather threats. Our only complaint comes from the fact that these LED lights tend to drain batteries rather quickly. They still perform excellently and you have an option to switch to the power saving mode that will significantly prolong the battery life, but we would like to see them with less-power-consuming design.
Cost and Value
These road flares from Wislight are a real steal! Although you'll have to purchase
batteries
separately, it's not such a big deal considering the fact that you'll get 4 road flares at an attractive price. They will also come in sturdy bags for simple transportation and storage.
Set of 4 lights
Magnetic base and upright position
Impressive brightness and 3 operation modes
Made of sturdy and durable plastic
Weatherproof
An attractive price
Drain battery power rather quickly
Batteries are not included
Always Prepared
This option from Always Prepared is a great choice for several different reasons. It comes as a two pack and each light have different features you can tap into depending upon your needs. Let's take a bit of a closer look.
Expand to see more
Options
Each of the two magnetic LED lights can give you three different light settings. Your first choice is a constant white light. The second option is a blinking white light. The third setting is a blinking red light. You can pick and choose which setting you need depending on where you find yourself stuck.

Versatile
We have to admit that we loved how versatile this product is. While this buying guide is specifically focused on roadside flares, it doesn't hurt to invest in something that can be used in other ways as well. This particular option is so lightweight that it can easily be packed into your hiking bag to take with you in case of emergency while you're adventuring outdoors.

Cost and Value
This set comes in at an incredibly affordable price tag. We think that when you consider how much use you'll be able to get out of this product, you'll be comfortable spending the money to own it.
3 different operational modes
Compact design
Great customer service
Affordable price tag
May be smaller than expected
Twinkle Star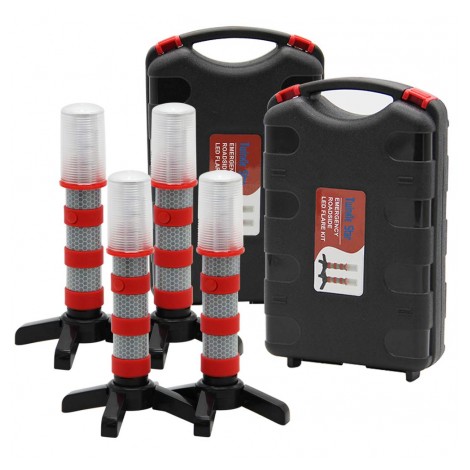 We were quite impressed by the overall performance of this budget-friendly LED option! Twinkle Star ensures great visibility regardless of the situation and weather condition. These are super bright and will light up the entire area if necessary. They come with a seriously good set of features to ensure flawless performance, so make sure to check them out. You may find they are just the thing you need!
Expand to see more
Easy to Use
These offer excellent visibility and allow for switching between 3 flash modes (Strobe, Flashlight, Solid). They come with all the necessary features including batteries so you won't have to purchase anything separately. They mount on the vehicle thanks to the magnetic casing but you can also put them on the road in an upright position if the situation requires more visibility.
Overall, they are bright enough to be seen for the large distance and you'll be quite satisfied with their performance!
Durable
Twinkle Star Road Flares have very sturdy cases that prove to be resistant to weather threats and other impacts. They are made of high-quality plastic and therefore quite durable. The only issue we had with them is the lack of instructions!
You have to open the battery compartment and remove the small insulating disk for the road flare to work properly. While this is not such a big issue, most people will get confused and worried about the malfunction of the lights because there's no explanation about the insulating disk anywhere in the box!
Cost and Value
These come at an attractive price so you can easily make them a part of
your safety equipment.
You'll also get 2 portable bags that you can use for transportation and storage.
4 lights with 3 operational modes
Magnetic base and upright position
Very bright light
Sturdy and weatherproof design
An attractive price
Lack of instruction
Won't work unless you remove the small insulating disk from the battery compartment
Orion Safety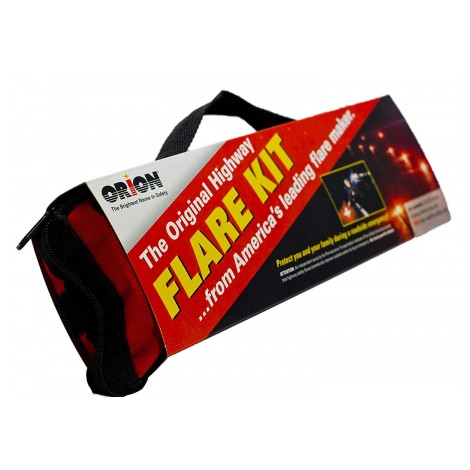 If you don't want all that hassle with batteries and LED lights, then these are a perfect option for you! Nothing can beat the warning signal produced by these flares and you'll definitely be seen regardless of the distance and weather conditions. They are easy to use, versatile, don't take too much storage place, and designed to last! What else could we ask?
Expand to see more
Super Bright
As we already mentioned, these type of lay down flares never fail to provide great visibility. They offer pretty much straightforward design and they are incredibly easy to use. Just keep in mind that you shouldn't hold them in your hands – leave them on the road and carefully mark the area.
We have only one thing to address – these are one-term flares that work around 20 minutes. While they are very bright and incredibly useful, you might want to get something with long-lasting batteries when you go for longer trips or if you need versatile beacons!
Eco-Friendly
These feature an eco-friendly formula and they are free from perchlorate toxin that is harmful to our health. They are designed to keep you safe in case of an accident or other unexpected and dangerous situations, and they are at the same time safe for use.
Although it might seem that only
carefully protected LED lights
can withstand harsh weather threats, these perform just fine even when exposed to strong winds and pouring rain.
Cost and Value
Lastly, you can get this amazing and durable option at an attractive price. We hope you never get the chance to use them, but if you do, they won't fail you. Just keep in mind that they have an expiration date and try to replace them as soon as they expire.
Versatile
Easy to use
Very bright
Eco-friendly formula
Weatherproof
An attractive price
Only for one time use
Working time around 20 minutes
Criteria Used in Evaluation of the Road Flares
In order to rank our 10 best picks according to their quality and performance, we had to apply strict criteria. Here are some of the things that were crucial in the evaluation:
Brightness
Truth to be told, all of our picks are super bright and never fail to provide great visibility and keep everyone safe on the road. However, even if this doesn't influence their performance, some of them are less brighter then the others. Therefore, the ones that offer incredibly bright light are on the top of the list while the ones with the less power are at the bottom.
Mounting Options
This was very important for the proper evaluation because all road flares should give you the option to mount them according to the requirements of the current situation. We had to take this into account and we assigned some extra points to all those beacons that come with different mounting options.
Emergency Kit
Most of these products come in an emergency kit that includes all kinds of stuff such as batteries, storage bags, vests, window breakers, and more. For some reason, most of them lack batteries as well as replacement ones – we take this as a big drawback because it makes the purchase more difficult! To cut long story short, we thought about all provided stuff, additional features, and overall quality of the entire kit. If the company sells all those things together, it's important that you get only the best out of them!
Other Factors to Consider When Looking for Road Flares
There are some additional things you might want to consider before the very purchase! Don't worry, checking out these things will last only for a few moments yet it could save you from purchasing the wrong emergency kit! Here's what we have in mind:
Type
Are you a fan of traditional road flares or you want to have newly designed LED ones? They are equally useful and durable, the main difference is in the type of appliance. While you can have a pack or regular ones for years, you can only use them once and then you have to purchase the new ones. LED lights will work for many years regardless of how frequent you use them. Actually, both types have their pros and cons, so you should decide for yourself which one to get!
Additional Features
Think about these features that come with road flares such as brightness, different light modes, battery life, and more. When you choose a particular product you choose a certain set of feature. You might end up with the product that isn't fulfilling your needs only because you find it hard to replace batteries or you have to change them too often. Just like with every other product, all features are important – even the smallest details could influence their overall performance!
Mounting
Another important thing to consider before the purchase is mounting options. You should determine whether you want to attach them to your vehicle or you want to place them on the road. Even then you can choose between flat lay style and upright design of a particular road flare.
Budget
While you most certainly don't have to spend a fortune on your new road flares, it's always good to add a few more bucks to get top-notch safety equipment. However, those who are on a limited budget will also find some amazing products for themselves! It's only important that you determine your budget limitations before you start searching for a particular product in order to know what to look for and what to pass.
FAQ
Frequently Asked Questions
Q: How long do they last for?
A: Most work up to 15-20 minutes. However, these days most drivers opt to purchase LED road flares that can work for hours! It seems that these newly designed gadgets are quickly replacing the old ones.
Q: Do they have an expiration date?
A: Yes, most have an expiration date that depends on their quality and the company itself. They usually last for several years. If you don't use them in that time period you should replace them altogether. They might seem "just fine" to you, but there's a reason why they have an expiration date, and you don't want them to malfunction in the crucial moment!
Q: How many should I get?
A: Three is probably sufficient for almost every car. However, if you're driving a bigger vehicle or towing a load, you might want to get 4 of them. Some people opt to buy a pack of 6 so they can split them among their various vehicles such as bicycles, motorcycles, RVs, and more. These are multipurpose lights after all.
Q: Are they waterproof?
A: This is a common concern among drivers. Almost every type is waterproof – they are designed to improve visibility on the road after all, and they have to withstand harsh weather conditions to do so. While you can go for LED type and have a complete piece of mind knowing that the lights are protected with sturdy cases, you should also know that traditional ones are just as waterproof as LED ones!
Q: Where should I place them?
A: You should place the first one at around 15 feet behind your vehicle. Where will you place the next one depends on the number of flares you have. You should put the second one at around 30 feet behind the first one. Some recommend placing the third one at around 300 ft to warn other drivers on time. Also, if you're on a two-lane road or highway and you have another flare, you should place it 15 feet ahead of your car to be visible from the other direction as well.
Subscribe to our Newsletter