Best LED Headlights Reviewed & Rated for Quality
last updated:
Sep 10, 2019
The importance of having bright and clear headlights should never be underestimated. Someone's life may depend on it. Your vision on the road can be altered by the elements such as rain. Night vision is also impacting and your headlights can be the only thing that could save you from a potential accident.
Switching to more energy-efficient lights in the home is most common. But that same benefit can be received for your car. Primarily used in the inside of the vehicle, LED lights for the headlights are becoming more popular. We've reviewed several but only the 10 best LED headlights are listed below to help you make an educated decision.
Featured Recommendations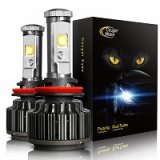 Cougar Motor 9006

Our rating
Powerful TurboCool Fan
Price:

See Here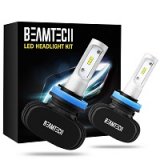 Beamtech H11

Our rating
Low Heat
Price:

See Here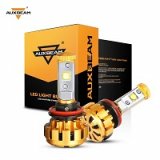 Auxbeam F - 16

Our rating
Direct Plugins
Price:

See Here

10 Best LED Headlights
1. Cougar Motor 9006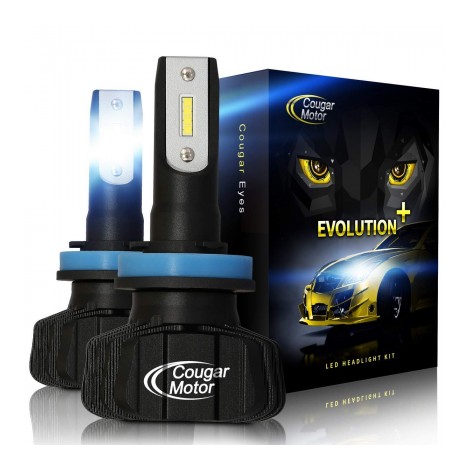 The Cougar Motor LED Headlight Bulb is known for excellent quality and a personal favorite of ours when it comes to providing strong visibility at half of the normal energy consumption.

Expand to see more
Easy installation

The main hurdle of installing an LED headlight is trying to get it to work with your car, since not every car is built with the idea of using an LED bulb pre-built into their system. But this light does the legwork for you, usually managing to be installed within 20 minutes--thanks to it being able to interface with most vehicle computer systems with fewer errors immediately.

Completely waterproof

In the event the lens of the headlight gets shattered, leaving the bulb exposed, these headlights will remain working even under the most extreme weather conditions. It's completely waterproof.

Cost and Value

The Cougar Motor 9006 headlights are incredibly affordable.
Easy installation
Completely waterproof
More than 50,000 life hours
Depending on the housing of the headlight, beam pattern may be off.
2. Beamtech H11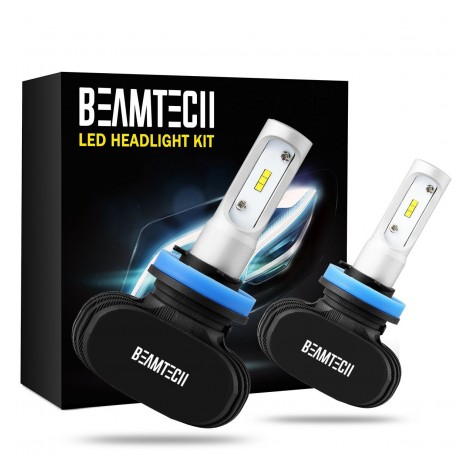 The Beamtech H11 LED Headlight is the light you go after when you want the most authentic light possible. Unlike halogen lights and their single beam of discolored, hazy light, this bulb fills the street with the kind of light you'd find in the daytime.


Expand to see more
Low heat

The best thing about this lamp is just how little heat it emits. Usually, you have to worry about your headlight leaving a lens surface extremely hot, which can be a problem if it goes out on you and you have to remove it. But this bulb gives off barely any heat at all, and so when it does come time for you to replace it, you'll be amazed at how cool it feels.

Safer option

This is one of the safest LED headlights you can install, by far. Unlike other brands, there's no high voltage or large current in the startup process. There's no circuit interference or electromagnetic radiation. In short, you'd be hard pressed to find a safer pair of headlights on the LED market.

Cost and Value

This LED headlight is one of the most affordable entries on the entire list.

Low heat
Safer option
Affordable
Luminosity rating could be better
3. Auxbeam F - 16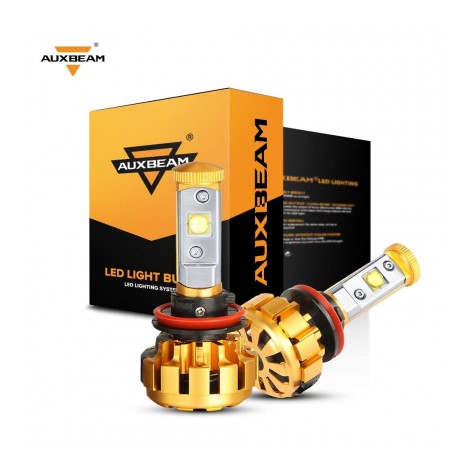 The Auxbeam F - 16 LED Headlight Bulb has been one of the biggest investors in making LED technology a part of everyday life, a gamble that has more than fallen in their favor. And nowhere is this more evident than with this set of high-quality headlight bulbs.

Expand to see more
Extremely bright

The most significant selling point about these headlights is just how bright they are. At around 6000 lumens of brightness, these headlights bathe the street in front of your vehicle that almost perfectly mimics sunlight. You never have to worry about not seeing that piece of debris in the street until it's too late ever again. But at the same time, the light is modified so that other drivers on the road are not blinded by your headlights either, so you can drive both safe and secure.

Direct plugins

This product is another entry that sells itself on just how easy it is to install. This set of headlights comes with a direct plugin system that requires no modifications to either it or the stock housing, for the headlight to fit in properly, which means that all you need to do to install it is to remove the light that's already in there and replace it.

Cost and Value

These headlights come at a very average price for a pair of LED headlights. While not the cheapest on the list, the benefits they offer make this a great deal for those who want higher quality headlights for their car.


Extremely bright
Direct plugins
Affordable
Decoding function may not work for all vehicles
4. LASFIT H7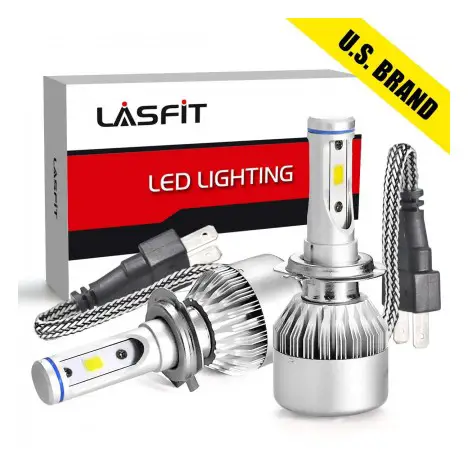 Being that it is an entire kit this is the main thing that separates the Lasfit H7 and other entries like it. Installing new headlights is a lot harder than it seems, especially if you don't have all the right tools.

Expand to see more
Helpful installation kit

Installing an LED headlight is an exciting process. On the one hand, you don't need that many tools, just a screwdriver for most cases. But on the other hand, there's a lot of technicalities that go into it. Fortunately, this headlight provides detailed instructions on how to install the lights but also a comprehensive guide of the makes and models the lights that will not work with it.

Small bulb size

The small size of these bulbs may seem like a problem to some, but rest assured, this is one set of bulbs that need to be small mostly because this makes installation easier. And the built-in ballast is great for saving space.

Cost and Value

The small size and a light load of this installation kit mean that this is another very affordable set of LED headlights.


Helpful installation kit
Small bulb size
Very affordable
Can have side effects when interfacing with your vehicle's computer
5. Hikari Ultra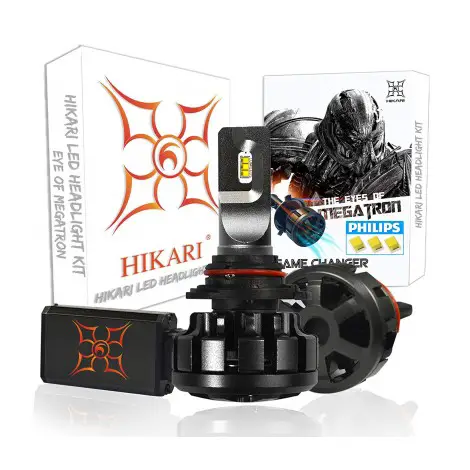 The Hikari Ultra LED Headlight Bulbs have been touted by many to be some of the highest LED lights on the entire LED market, and one of the best LED headlights, being used in both cars as well as props for sci-fi blockbuster movies.


Expand to see more
Improved light utilization

Astigmatism is a common side effect of driving with most LED headlights, especially for the other drivers. Fortunately, plenty of work has been done to correct this, and the Hikari lights have done their part in that. Through the use of an ultra-thin heat sink, this headlight improves its light utilization. Thus, making it more focused, and solving astigmatism for both you and the other drivers on the road.

Great beam pattern

Unlike other entries on this list, and other LED lights, which opt for a solid white for their light beam, this one goes a bit different. Instead, it throws in just the slightest tint of yellow to break up the solid whiteness in the stream of light. Thus, keeping the same visibility, even in the midst of intense rain.

Cost and Value

For the high-quality service and features received, it's not the most unreasonable price. However, it's essential to make note that this product is a great deal pricier than other entries.


Improved light utilization
Great beam pattern
Keeps cool even after using it for hours
6. Glowteck CREE XHP50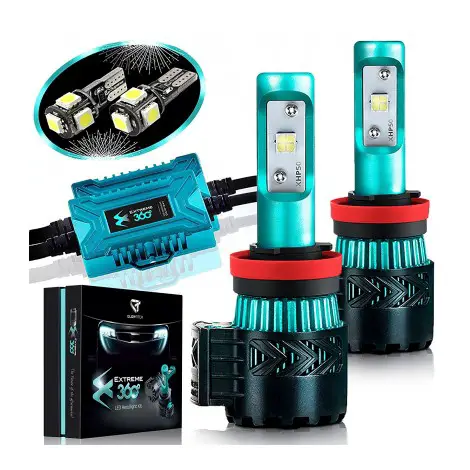 The Glowteck LED Headlight Bulbs Conversion Kit is versatile enough to be used as both headlights and as interior lights for your car.

Expand to see more
Adjustable beam pattern

Not only can you fit this light into both reflector and projector housings, but you can also adjust it whenever you please. And whether you go for hi or low settings, the beam always remains as clear and bright as ever, giving you complete control, and top-notch performance all at the same time.

Superior consistency

It's one thing to have an intense light beam at the center, but what about when the beam spreads outward? Often, you'll find the light not as bright on the outer edges, the areas that pass over the sidewalk where you need to see if a pedestrian is coming across the road. This headlight set comes with 12,000 lumens a pair, with a well-spread pattern and anti-glare body that contains no dark spots and remains consistent from top to bottom.

Cost and Value

Some may consider these headlights pricey but the price, in this case, is far more justified because these headlights are offering so much more with their services.


Adjustable beam pattern
Superior consistency
Maximum light output
7. Hikari H11(H8,H9)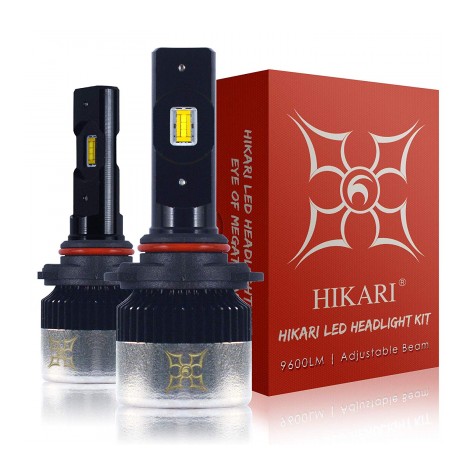 The Hikari LED Headlight Bulbs Conversion Kit is a bit more essential than the previous Hikari entry, but we still deserved a place on the list, for always managing to give high-quality service expected of such a deluxe lighting company.

Expand to see more
Great beam distance

We always talk about the density and width of the beam, but we've been sadly overlooking the most crucial feature of any headlight beam--the distance. After all, you're in a moving vehicle, speeding down the road, so you need to make sure that you have clear visibility as far down the road as possible, so you can better react to danger. Fortunately, these headlights go farther out down the road than most of the entries even on this list.

Easy installation

The installation process is as simple as installing any other halogen headlight bulb. Just remove the old bulb, insert the new one, then connect the two harnesses. And you're done, no need for any adapters or relay harnesses of any kind to make this bulb work for you.

Cost and Value
This set of headlights are reasonably priced, offering much of the same service as the other Hikari lights on the list.

Great beam distance
Easy installation
Affordable
Not to be used with the reflector housing
8. OPT7 Fluxbeam X H13
The OPT7 Fluxbeam Headlight Bulbs are some of the most intense. And while it has a steep price to match, we consider this entry to be more than worth the price.
Expand to see more
Error elimination

The thing about aftermarket lights is that, occasionally, even the best of these lights will experience errors of various kinds whether it be the occasional flicker or just not turning on at all. However, these lights have specially built-in ECM Capacitors which are designed to prevent such errors from occurring.

Arc-beam advantage

This headlight comes equipped with an arc-beam precision-cut projector lens that slices through anything in its way — giving you an unprecedented level of clearness and vision.

Cost and Value
These headlights are easily the most expensive showcased on the list. This has to do mostly with the advanced systems implemented within it.


Error elimination
Arc-beam advantage
Simple installation
9. YUMSEEN H1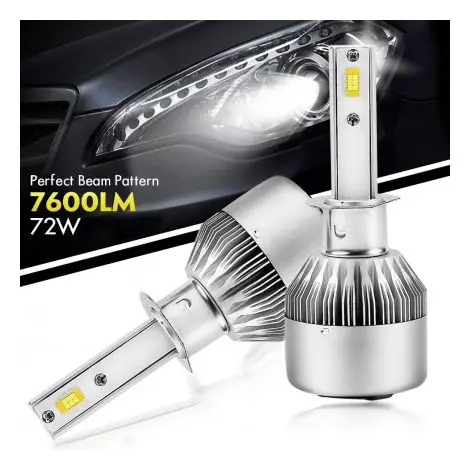 The YUMSEEN Super Bright LED Headlight offers great visibility at a great price. While not the most advanced headlights on this list, make no mistake, these lights are worth considering.
Expand to see more
Supercharge air cooling system

The most popular method of keeping high powered LED headlights like these from overheating when being used for long drives is to install fans or other cooling systems to keep them at a manageable temperature. This method uses a combination of a high-speed mute fan, and an orientation supercharge air cooling system, which forces the light to evenly disperse heat and not let it gather in one place and overheat the system.

True focused light pattern

Other light beams gradually becomes weaker or scatter too far off once they get to the distance that you need to see for optimal reaction time, the Yumseen beam stays focused and has one of the most focused light patterns on this entire list.

Cost and Value

Very affordable.


Supercharge air cooling system
True focused light pattern
Affordable
Has been reported to occasionally cause radio interference
10. Simdevanma H11/H8/H9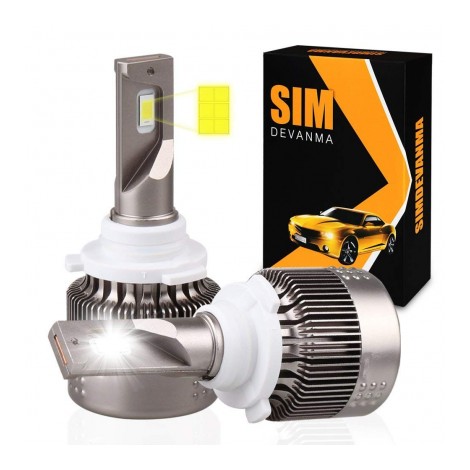 Despite their lack of mainstream popularity, this brand is very good at producing excellent LED headlights and nowhere is this better shown than with the Simdevanma Headlight Bulb Kit.
Expand to see more
Perfect beam pattern

The beam pattern put out by this bulb is excellent, and about as perfect as one in this price range can achieve. Through the use of an advanced flip-chip, this headlight makes a beam pattern that is entirely unbroken by otherwise dark spots.

Practicability

The cooling fan of this headlight is very advanced because of the double ball bearing design, which lets this fan rotate at up to 10,000 rpm, resulting in twice the airflow than the industry standard. You won't have to worry about this headlight overheating.

Cost and Value

The best part about this entry is the price. While not the cheapest listing, for the value, it's easily one of the best offers.


Perfect beam pattern
Practicability
Great deal
Questionable build quality
Criteria Used in Evaluation of the Best LED Headlights
LED lights have a great reputation for producing more light and pulling less power. Although brightness is important, staying consistently bright without dark spots for longer periods of time is equally as important. This and other criteria are recommended when looking for LED headlights for your vehicle.
Brightness
It makes sense that we would judge a list about headlights by how bright they actually are in practice, but for headlights, it works a bit differently. LED lights are, by default, brighter and more solid beams of light than the usual halogen variety. However, when choosing LED headlights based on brightness how the other drivers on the road are impacted is a factor to consider. Although you want the best and brightest experience you also don't want to intrude upon the eyesight of other drivers.
Beam pattern
Beam pattern is another important distinction when deciding which LED headlight to purchase. It's more about how the beam is being sent rather than just a beam of light coming from the headlight. The pattern in terms of width, distance and consistency are three concepts that make up the beam pattern. The width of the beam is very important while driving because it determines how much road one can see. A great headlight will allow you to see the entire road in front of you, including the edges of the road from left to right.
How far one can see in front of the road has to do with distance. An ideal headlight will make seeing several feet ahead at all times effortless. Consistency is about how well the headlight is made and how long it will produce a consistent beam of brightness without dark spots.
Versatility
How many makes and models the LED headlight can interact with is what it meant by versatility. If it can actually fit into the headlight and interface properly with the onboard computer is the optimal result. Through this perfect connection, fewer glitches can be expected.
Lifespan
Lifespan is another important criterion to consider when choosing LED headlights for your vehicle. The average lifespan is between 30,000-50,000 hours. The entries on our list far exceed that.
Price
The price of each entry on this list tended to vary based on the components used to make up the light. These components may do the same thing, but one may do so more efficiently, and thus demand a higher price in return. As such, we judged each entry by how well they justified the prices they asked for. 
FAQ
Frequently Asked Questions
For the final segment of this article, we're looking at the most frequently asked questions surrounding LED headlights. Headlights are simple things at first glance, but the closer you look at them, the more complexities, and thus the more questions, you will find. As such, the following are the most frequently asked questions and commonly voiced concerns surrounding LED headlights.
Q: What is the difference between an LED bulb and a HID one?
A: The biggest difference between these two bulb types is the method by which they emit light. An HID light, or high-intensity discharge, replaces the filament of your average light bulb with a capsule of gas. The light comes from two closely spaced electrodes, which then have an arc discharge set off between them. The discharge is safely stored within a small quartz glass tubular capsule.
Meanwhile LED, or light-emitting diode, lights are bulbs that utilize diodes that emit light by being connected in a circuit. The light is a result of this circuit causing the LEDs to release a blast of photons outward. The LED itself is contained within a plastic bulb, which is shaped in a way that concentrates the light source.
Q: What are the main advantages of using LED lights? And what makes them so ideal for headlights?
A: Several, actually, but there are some more important than others. LEDs are not bound by a thin flimsy filament like halogen lights are. Thus, they last significantly longer. In fact, the power source for LED lights, whether light bulbs or headlights, is an incredibly small semiconductor. This makes them very durable, and capable of lasting thousands of hours more than other types of light bulbs.
Q: Should I get a folding LED headlight? What are the advantages and disadvantages?
A: This one is honestly completely up to you. A folding LED headlight is basically the same as a normal one, except they can be "folded" to provide a more focused, brighter light. If you really do need that more focused light, and if you need it to be extra bright, then this is the headlight for you.
The drawback, however, also need to be addressed. While these are powerful headlights, they are typically far more difficult to install, especially for beginners. 
Subscribe to our Newsletter