Best LED Light Bars Reviewed & Rated for Quality
last updated:
Aug 13, 2019
When it comes to driving trucks, SUVs and other such large vehicles, their vulnerability is they're very large. They may also be very high up off the ground, and often drivers may need to take extended steps just to get in the vehicle. Getting into these trucks when it's dark out is a bit of a chore, and potentially dangerous. A led light bar can provide a solution for this.
Lightbars have been around for a while and have only surged in popularity after the advent of LED light bulbs. They give you a nice clear look at the steps you're taking to get into your vehicle, or if you don't need help with that, they can act as a third headlight for your truck. Giving you a clear view of the road late at night. Here are the top ten lightbars for your review. 
Featured Recommendations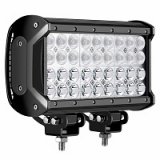 Kohree Cree

Our rating
Long Service Life
Price:

See Here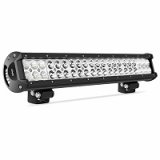 Nilight

Our rating
Bright Ray
Price:

See Here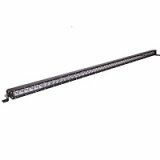 Northpole Combo

Our rating
Easy Setup
Price:

See Here

10 Best LED Light Bars
1. Kohree Cree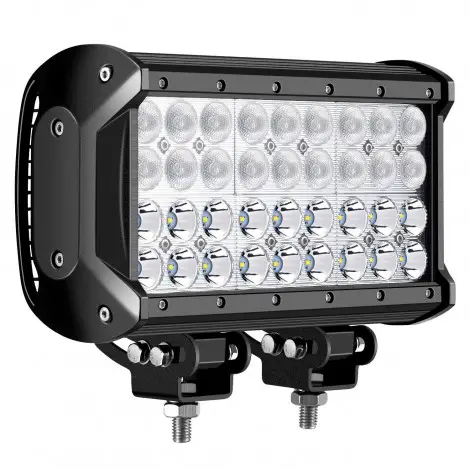 Kicking off our list, we have the Kohree Cree LED Work Light Bar. If you have a boat, jeep, SUV, or truck, these light bars are exactly what you've been looking for. So, what is it exactly that makes them so great? Well, let's take a look and find out.

Expand to see more
Tough against any environment

When you're using this light bar, you never again have to worry about the harsh elements outside affecting the light source. This LED light is kept inside a black die-cast aluminum housing, which gives it added strength and durability, unmatched by any other on the market.

Long service life

The average lifespan of an LED light bar is around 30,000 hours. Thanks to the clever implementation of a quick cooling heat sink, this light bar can go thousands of more hours. That means that you can keep driving even longer with fewer worries.

Cost and Value

The price for this light bar is competitive for a light bar of its quality.


Tough against any environment
Long service life
Wide applicability
Threads on the sides aren't cut as deeply as some would like
2. Nilight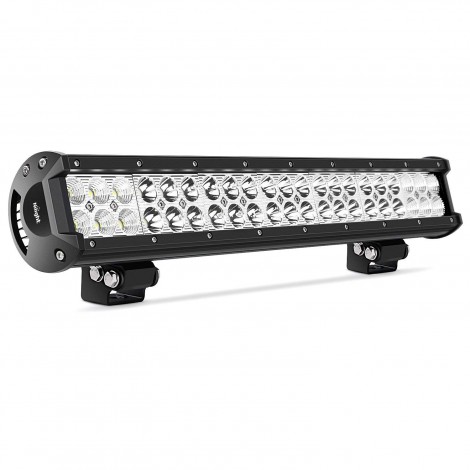 Nilight is one of the leading manufacturers of LED lights, and it's certainly easy to see why that is. They make high-quality products at an affordable price.
Expand to see more
Bright ray

The trick to a good solid light beam is a good combination of spot and flood beams. These two beam types are good on their own, but when paired together they produce a long irradiation distance and a broad view of the road. This is definitely important when you've been driving down the same road for hours, and you're starting to form tunnel vision.

Better heat dissipation

It isn't the elements or potential malfunctions that you have to worry about when it comes to your light bar, it's the damage that can be caused by overheating. Overheating is mainly caused by long hours of continuous use, and considering that these are marketed to truckers, that is a real risk. Luckily, this light bar utilizes high-quality heat conduction silicone gel and aluminum alloy housing, which cools the machinery inside.

Cost and Value

Reasonably priced for a light bar of this type.


Bright ray
Better heat dissipation
Affordable
Not as watertight as some feel it could have been
3. Northpole Combo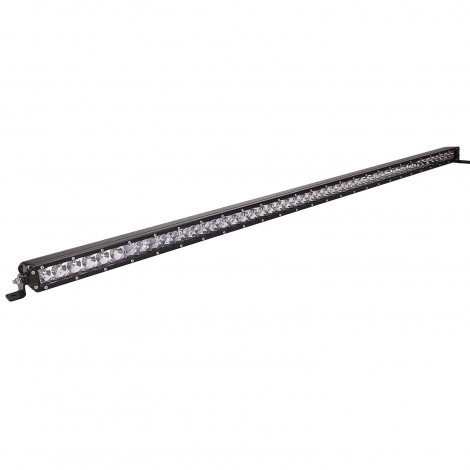 Northpole Lights aren't as well known as other light companies, which is a shame because they make some fine lights. And nowhere is that better exemplified than with the Northpole Combo LED Work Bar.
Expand to see more
Easy setup

Setting up this light bar is a breeze. For some, installing a light bar is a few hours of wiring and finding the right place to mount and trying to get the screws to fit correctly. However, while you do have to do all of that with this installation, it takes about half the time it usually does and is a lot easier to manage. The portion that will take you the longest is just finding a place to put it.

Weather proof

This light bar is completely weatherproofed. Protection from strong winds or cold snow is insanely easy with this device also. All of which comes from its strong, airtight aluminum housing, which protects it from everything from high winds to freezing rain.

Cost and Value

While a fair bit higher in price, you are more than getting what you pay for with this light bar.
Easy setup
Weatherproof
Included bracket and screw set
Bracket screws could be longer
4. Auxbeam 50"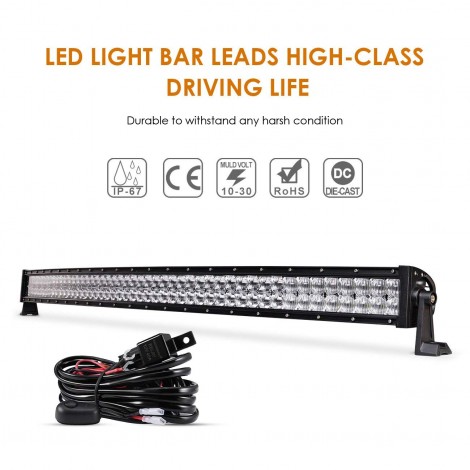 Auxbeam has been making lights and other light products for a long time. In fact, they were one of the first to bring LED lights into the mainstream market.
Expand to see more
Excellent beam angle

We've gone over how light bars utilize two different types of LED light types, those being spot and floodlights, to make their big, clearing light beams. But they only work if you place and angle them a certain way, as shown with this light beam, which puts the spot beams at 30 degrees, and the flood beams at around 60 degrees.

Versatile mounting

Many lights require them to be installed in a particular way--straight, right side up. This isn't the case with the Auxbeam, as this lightbar can be mounted sideways, longways, right side up, upside down, whichever way you choose, as long as you can wire it correctly.

Cost and Value

The price tag might be the only issue with this light bar. Pricing reaching upwards in the triple digits but this is the classic case where you get what you pay for.

Excellent beam angle
Versatile mounting
Great housing
5. Glotech Cree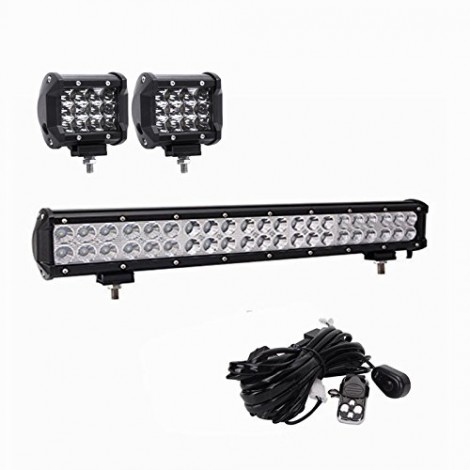 Glotech prides themselves on the brightness of their work, as much as the general craftsmanship.
Expand to see more
Wide operating voltage

What this means is that there is a wide variety of different vehicles, both on and off-road, that this lightbar can wire itself into without any problem. This light will easily work with cars and trucks to ATV's and boats.

Tough as nails

It's waterproof, rustproof, dustproof, and pretty much any other kind of proof that you can name. Do not underestimate this light bar's power and strength, because it will wow you every time.

Cost and Value

Reasonable pricing and considered a high-quality off-road LED light even for a tight budget.

Wide operating voltage
Tough as nails
Affordable
Might need a few washers before it can bolt up
6. WoneNice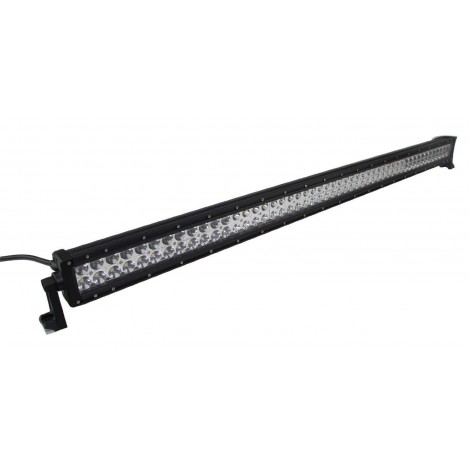 At a whopping 52" long, this is easily one of the longest off-road LED light you will see on this list. This light is meant only to be mounted on the underside of the truck and nowhere else.
Expand to see more
Superior width

Because of its width, It cannot be overstated just how much space you can light up with this lightbar. You never have to worry about missing that rabbit running along the road again. It's also one of the most focused beams, cutting through both dark as well as intense fog.

Quakeproof

A big concern with underside mounting is the bar can become loose and possibly come unattached. Thankfully, this isn't a concern with this light bar, whose brackets and screws make it impossible to shake loose by even the toughest terrain.

Cost and Value

A safe wide view of the road along with the reassurance of a well-mounted light warrants the price.


Superior width
Quakeproof
Can be used with multiple types of vehicles
Very long, can only be mounted on the underside of a truck or equally long surface
7. Shanran Curved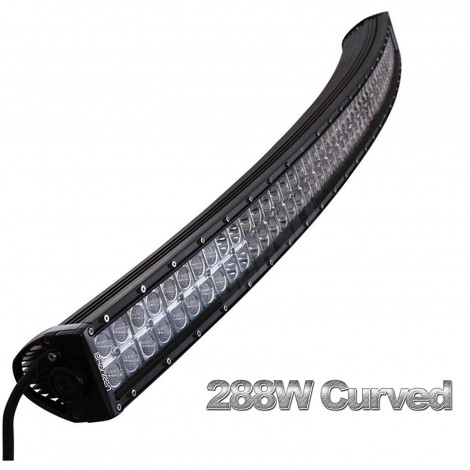 The Shanran Curved LED Light Bar does quite a lot that makes it stand out from the others on the list.
Expand to see more
Gentle arc design

That straight bar design works great for finding a good place to mount the bar since a straight line is the easiest to work with. However, it also hinders the width of your beam, and how much surface area you can actually cover. This is where the design of this light bar becomes ingenious, as it covers the entire road and a lot of the area adjacent to the road.

Two LED rows

The LED sets in this light bar consist of two perpendicular rows of LED bulbs, the top half consisting entirely of flood beams, and the bottom being spot beams. This placement makes it easy to slice through the darkness, while also giving you a clear view of the road beneath.

Cost and Value

This light bar has a very middle of the road price. Some will find it affordable while others say it is pricey. You get to decide for yourself.

Gentle arc design
Two LED rows
Each chip sits in their individual reflector
Thin back cooling fins make a lot of noise
8. SOLCO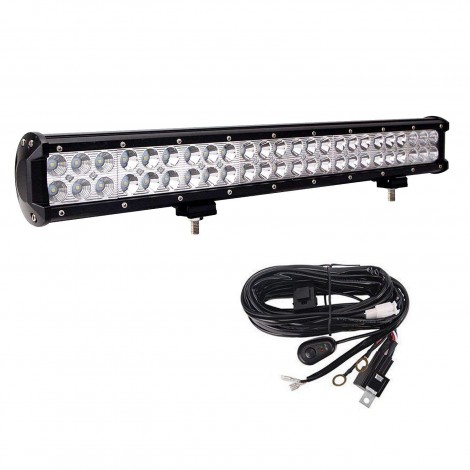 The SOLCO LED Light Bar is made from durable die-cast aluminum and will get your truck/car/boat through whatever you put it up against.
Expand to see more
Combo beam design

This light bar comes with a combination of two 60-degree flood beams on the sides and one 30-degree spot beam in the center, which makes the beam lighter and wider in order to give you clearer visibility on the road, no matter the terrain.

Solid construction

SOLCO provides, with every purchase, a thorough handbook catered to customers who are new to having a light bar. In addition, they provide the brackets and wiring kit you need to actually install it. Mounting is easy and the construction itself incredibly durable. Moreover, the anticipated lifespan is a minimum of 50,000 hours. If you only use this light bar on certain vehicles for certain situations (i.e., yearly hunting trips on an ATV), it's a good chance it will last much longer.

Cost and Value

Another great thing about the SOLCO lightbar is its price. This is easily one of the most affordable choices on this list.


Combo beam design
Solid construction
Cheap
Lights could be more consistent
9. Side Shooter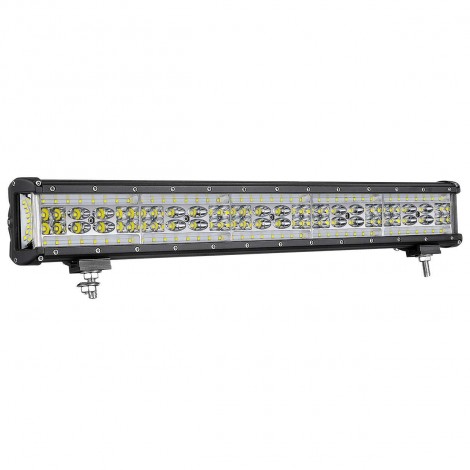 The Side Shooter is not a hobbyist lightbar. It's for someone who is intending for his or her vehicle to be the only light source for miles.
Expand to see more
Triple combo beam

Unlike most other LED light bars that have two rows or sets of LED lights, this one has three. Combining 120-degree broad, horizontal flood beam reflectors in the center section with 15-degree concentrated spot beam in both the upper and lower ends, topped off with outer side LED's that double the coverage area, culminates in one of the best combo beams you can find on the entire market.

Durable construction

Since it's expected for this light to be mounted on the front of an off-roading jeep, it makes sense that it would be equipped to handle such intensity. Constructed with 6063 aviation aluminum extruded housing that's treated with corrosion prevention ensures its durability.

Cost and Value

The price is valid for the value this light provides.

Triple combo beam
Durable construction
Tough, unbreakable brackets
10. Eyourlife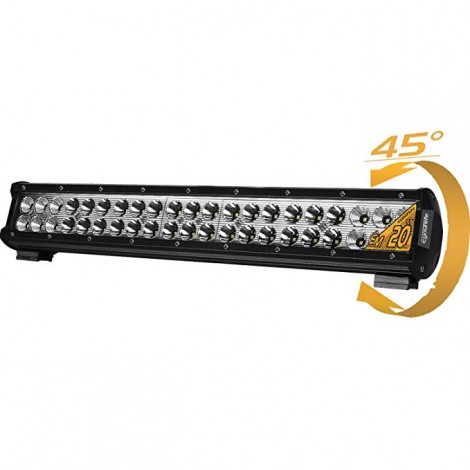 The Eyourlife brand isn't nearly as well known as the others on this list. However, they do make a high-quality off-road LED light.
Expand to see more
Excellent heat dissipation

Eyourlife protects against overheating through the use of 1070 aluminum, which is an excellent metal for heat dissipation. This makes this light bar almost impossible to overheat.

Brighter and longer light ray

This light beam utilizes deep cone reflector technology to help give out better luminous flux. What this means is that this light beam manages to send out a longer and brighter beam.

Cost and Value

Reasonably priced for a good light source.

Excellent heat dissipation
Brighter and longer light ray
Very affordable
Takes a lot of work to get the shipping plastic off of the lens
LED light bars are some of the best devices that have ever happened to long-distance trucking and off-roading.  LED technology really did change the game. Not only making it brighter but also making it safer and more energy-efficient. Light-bars are one of the few products out there that utilize LED in a way that helps them reach their full potential. LED lights' main draw is their ability to put out twice as much light at half the energy consumption. And off the road LED lights definitely do that, acting as a third headlight of sorts, and thus having to share the battery power equally with every other light on the car. Simply put, in order to be effective in a way that doesn't drain the battery faster, they need to be made of a light type that can do what everyone else does at half the power. 
Criteria Used in Choosing the Best LED Light Bars
The type of lighting can make driving in dark areas either exciting or dangerous. That's why knowing what to look for when choosing a light bar is critical. Below is a list of criteria that will assist you in choosing the best one for your needs.
Beam combo
A good off road LED light needs to have a good beam combo. A really good light beam doesn't just have one single type of LED light, it uses a combination of spot and flood LED lights and reflectors in order to achieve the bright, wide light that it needs to function properly. The most common combination is a mix of spotlights and flood reflectors since flood reflectors are generally agreed upon to be the best kind of reflectors on the LED market, giving you this massive splash reflection.
But it isn't just about the kinds of lights and reflectors you use, it's also about how you use them. The placement is also important, needing to be angled and placed just right for maximum effect. If they aren't placed in the correct spot from each other, then the light won't be as strong or possibly too strong.
Heat dissipation
Overheating is a big threat to having a light bar. The problem with putting this many high-powered lights in one place and having them all on at the same time can cause things to get really hot really fast. The best way to dissipate the heat is by having a heat sink. Lightbars are almost exclusively made from aluminum, and certain types of aluminum reflect heat rather than absorb it, so that's the kind of aluminum you should look for when making your purchase. Cooling fins is another plus as they on can help speed things along when it comes to cooling the lightbar down.
Lifespan
The typical lifespan for a lightbar is about 30-50,000 hours. Overheating can cut that number down significantly. If you anticipate using your off-road LED light for longer purposes, then you're going to need to consider its lifespan before deciding on the best one for you.
Bracket strength
The brackets are what's keeping the lightbar fastened to your truck or boat or car or whatever else you're putting it on. Above all else, you need to make sure that the brackets are of top-notch quality. This includes ensuring that the screws meant to hold down the brackets are also of superior quality and durability.
Design
The design is also important because it not only decides how much area your lightbar covers when turned on, but it also decides simply how easy it is to mount it where you need it to be. For instance, the gentle curve design is nice but it's curved designed could make the light bar really difficult to place to mount it. Whether it's the size, width, or curvature, of each design was a big player in the criteria for this list.
Price
The last criteria used for this list were the price and value of each of these entries. Rather than judge each entry by how much they cost, we decided instead to judge each entry by how well they justified the price they were asking for. Thankfully, most of the prices on this list weren't as bad as one might think.
FAQ
Frequently Asked Questions
For the final segment of this article, here are the most frequently asked questions and commonly voiced concerns about LED light bars.
Q: Why is it so important that the angle for a light bar be adjustable? If it's meant to be mounted on the front of a car, isn't the best angle "straight forward"?
A: As long as you're mounting your light bar on the front of your vehicle, on top of the hood, you're correct. But what if you need to alter the angle by just a little bit because you want to put it on the underside of your vehicle? Or what if you need to alter it by a lot because you want to put it on the side? What if you don't want to use it for your car at all and feel your yard could use a new spotlight? Adjustable angles are always appreciated in a light fixture, even if not everyone needs it.
Q: Can an LED light bar falling under my truck really burst my tires?
A: Depends on the tires, honestly, but in a lot of cases, yes. If you don't have the big tires that they put on 18 wheelers or really good ATV tires, then a hunk of dented, jagged metal and shattered glass is going to do quite a bit of damage. Just make sure that the brackets for your light bar are really strong and that you screwed them in really well.
Q: Why is overheating such a big problem with light bars? It seems like it's a much bigger deal than with other LED light devices.
A: It is, actually. And the reason is very simple: other LED light devices don't have anywhere near as many LED light bulbs in their fixtures. Lightbars have dozens of light bulbs, and light reflects in their housings, all shining at the same time, and all of them a minimum of 30-60 degrees Fahrenheit. Add all of that up, and what you get is a very hot piece of hardware that, if not for the many countermeasure's manufacturers have in place to keep things nice and cool, would be quick to overheat.
Overheating is nowhere near as big a problem nowadays as it was when LED lights were first being implemented into light bars. But even so, for the sake of maintaining the lifespan of your light bar if nothing else, it's best to keep the usage of your light bar to a minimum. Only use it when you need to and turn it off once you park the vehicle.
Sources
Subscribe to our Newsletter