Best Motorcycle Lifts Reviewed & Rated for Quality
last updated:
Jun 25, 2019
We can all agree upon one thing – we would like for our precious motorcycles to last forever! If you're anything like other bikers, you know how hard maintaining a motorcycle can be. You have to keep it clean, change the oil, check the chain and cables, and so much more. Sure, we all like to do it, it's part of the fun and we get to be proud of our work. But that doesn't change the fact that this process can sometimes be quite demanding. Especially when it comes to real repairs that you want to do on your own. So the question is, how can we make this process easier? What can hold our bike during the repair and keep it (and us) safe? The answer is simple – motorcycle lifts!
Featured Recommendations for Motorcycle Lifts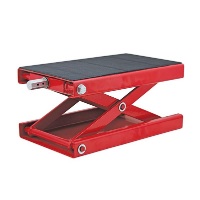 Extreme Max

Our rating
Versatile
Price:

See Here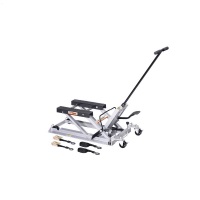 OTC 1545

Our rating
Heavy-Duty
Price:

See Here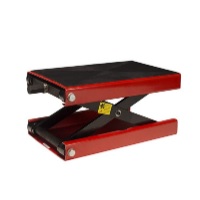 Dragway Tools

Our rating
Compact
Price:

See Here

Don't get all skeptical now! This tool is so amazing that you're going to love it once you try it out for the first time. Believe it or not, a motorcycle lift improves safety when working on your vehicle. It also allows for doing more things on it. Not to mention how it eases the process, so you get to be a real pro without putting a lot of effort!
However, you want to avoid getting the first product that catches your eye. Why's that? Because it can fail to provide enough stability and durability. It can also turn out to be completely unsuitable for your type of bike and your personal needs. Don't despair, we got you back! To save you some time and ease the painful searching process, we provided a list of 10 best motorcycle lifts. Yes, you read that right, we picked the best products out there and put them on the one place. This will make the entire purchase a real breeze! Let's start right away with:
10 Best Motorcycle Lifts
Extreme Max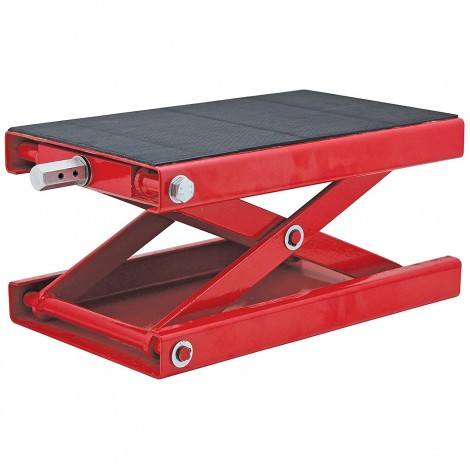 Are you looking for a compact motorcycle lift? Search no more! Extreme Max is one of the best compact products of this kind, and it proves to be very durable. It's actually so popular that you might have heard about it by now. If not, make sure to follow the provided review. It will tell you everything you need to know about this amazing little device!
Expand to see more
Versatile
This is a compact scissor jack that lifts the vehicle up to 14 inches from the ground. It can actually withstand the weight of 1100 lbs. This makes it suitable for different types of motorcycles. You can use it for lifting ATVs as well.

It allows for easy vehicle repairs, making your life way simpler! As long as your vehicle is under the weight limit, this one proves to be an excellent option.

Also, if you need it for center lifting you can buy a 7/8 inches big socket. It fits the lift perfectly and it's not pricey at all. The only drawback is that you have to be extra careful when positioning the bike. The lift tends to wobble a little if you don't set it in a proper way. This is a common problem with compact lifts, so we don't take it as a deal breaker.

Compact Design
The device is made from heavy-duty steel that can withstand quite a lot. The steel construction is very important because it gives more stability and durability. Knowing that the lift won't bend or break under pressure gives you more confidence when lifting your bike. This way, you can keep it in the air without worrying about its safety.

You can use the jack both indoors and outdoors at your personal convenience. The tool folds down and then it measures around 3 inches in height. This makes it super easy to move around, transport, and store. Let's not forget that it features a rubber padding on the platform. This way, it prevents scratches and other possible damages.

Cost and Value
Extreme Max is definitely not the cheapest product out there. Still, it won't cost you a fortune and you'll get great value for the money. If you have a few more bucks to spend, we say go for it. You won't be disappointed!
Versatile
Extends up to 14 inches
The capacity of 1100 lbs
Compact
Steel construction
Rubber padding for more protection
Can wobble a little when not positioned in a proper way
A little pricey
OTC 1545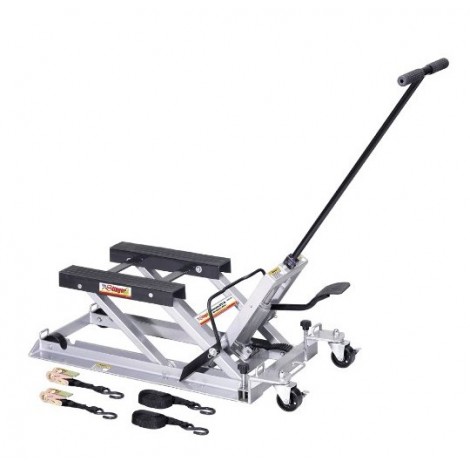 This is one of the toughest motorcycle lifts on the entire market! It features a rock-solid construction for unquestionable safety and a long lifespan. Not to mention several extra features that will make using it a real breeze. Your bike will be safe up there and you'll get the job done in no time. Who could possibly ask for more?
Expand to see more
First-Class Features
Now, let's clarify the statement that this is one of the toughest product of its kind. The first part regards its performance. The lift has a 1,500 lbs capacity and goes up to 17 inches in height. You can use it to lift all kinds of motorcycles, there's no type that won't fit on the OTC. The large platform will make sure that every load stays well-positioned and secured!
There's an automatic lock feature that ensures security during every use. The included safety straps also help, only this time when putting down the load. OTC features a removable handle as well. This allows for simple and full access to the lifted load. All in all, you'll get all the bells and whistles that come with first-class products. OTC has everything you need for safe and easy load lifting and you're going to love it!
Caster Wheels
The first-class construction is the second reason why
this a super tough lift.
OTC is made of durable aluminum. This material makes it lightweight yet super tough. It can withstand heavy loads and harsh conditions with great ease. You'll only have to assemble the product as it comes in 4 parts, but this shouldn't take more than a couple of minutes. We can't expect from such a rock-solid product to come in one part, after all!
We also liked the fact that OTC comes with four caster wheels. They allow for easier handling of the tool yet don't jeopardize its security. You just need to wrap up the wheels when you position the lift on a convenient location and that's about it!
Cost and Value
The major drawback with this product is its price. OTC will cost you an arm and a leg! Without a doubt, those who can afford it will find it irreplaceable. They'll also get a 2-year warranty for some extra peace of mind. But most DIYers will have to search for a cheaper option!
The capacity of 1,500 lbs
Suitable for different bike types
Full and easy access
Rock-solid construction
Super safe and durable
Features 4 wheels for easier handling
Dragway Tools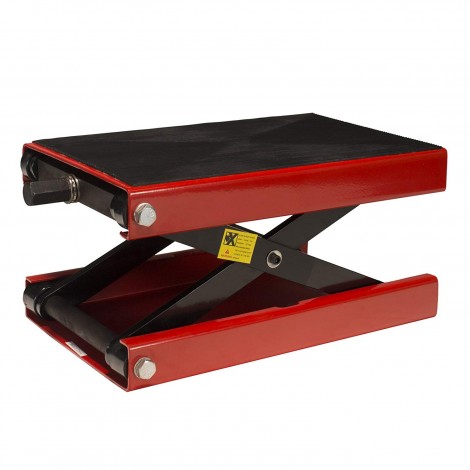 Here we have another compact motorcycle lift only this time it comes from Dragway Tools. This is a budget-friendly product meant to be used for
light repairs
and smaller bikes. Every DIYer will find it incredibly useful!
Expand to see more
Super Compact
You can use this little device everywhere! It's so compact and lightweight that you get to
transport and store
it wherever you want. It should fit most bike types, only we don't recommend lifting them completely from the ground. While it's super sturdy and secure, it might not be suitable for full lifts and bulky motorcycles. The lift has the capacity of 1,100 lbs and goes up to around 13 inches in height. This should be enough for most light to medium-demanding repairs!
Simple Design
As we mentioned, this is a sturdy and reliable stand. It has a unique mat on the platform that provides more stability of the load. What also adds to the entire stability of the device is a durable construction. The materials are super sturdy and durable and they ensure a long lifespan of the entire tool.
The best part is actually the ease of use. Although this is a heavy lift it doesn't require assembly so you get to use it straight for the box. The design is very straightforward as well, and you won't have any issues with getting a handle on it.
Cost and Value
Now, let us say how amazed we were by the fact that this little lift comes at an attractive price. The low price makes it suitable for all handypersons and professionals. If you need a compact and portable lift for your garage, this is an excellent option. We guarantee you won't be disappointed!
Compact
Easy to transport and store
1,100 lbs capacity
Sturdy and reliable
Durable construction
An attractive price
Not the best option for full lift
Black Widow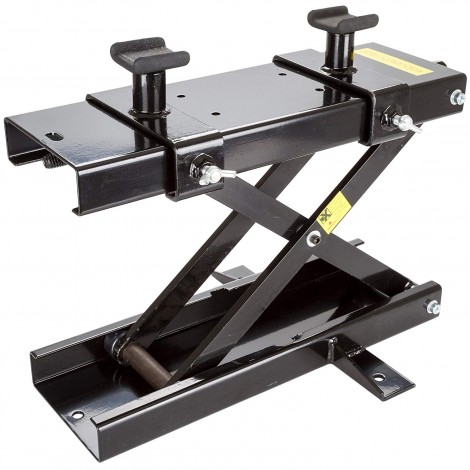 People all over the market love and praise this jack from Black Widow. They say it's stable, safe, and durable, and we totally agree! This is a quality-made lift that works with most motorcycle types and makes every repair a lot easier. For more details about it, keep reading the provided review!
Expand to see more
Efficient
This jack has the capacity of 1,100 lbs. Its lift range goes up to 16 inches although you can add up to 3 inches with a removable adapter that's included in the box. The package also includes a hex socket handle to help you raise and lower the jack. Also, the jack should be compatible with most bike types. Just keep in mind that this one is meant to be used for lifting front and rear tires and not for full lifts.

Our only gripe regards the provided socket handle for lifting. We recommend using a 7/8 inches big socket wrench to raise and lower the jack. It's way easier and seems safer!

Quality Steel
Your bike will be completely safe on this one. There's a rubber padding on the top of the lift that prevents accidental slips and ensures stability. It also prevents possible scratches that could occur because of the metal contact. The device is fairly lightweight yet very durable. You get to move it around at your convenience and it won't even take a lot of the storage space. The jack is made of quality steel and features a black powder-coat finish. All in all, you get to use this one for a long time!

Cost and Value
We have to notice that this one is a little pricey. You'll have to add some extra cash if you want to make it a part of your garage equipment. We say go for it! Black Widow does offer enough value for the money so you'll find it perfect for every bike repair.
The capacity of 1,100 lbs
A removable adapter for some extra height
Compatible with most bike types
Safe and secure
Rubber padding on the top
Portable and durable
Poorly designed hex socket handle
Pricey
Powerbuilt 620422E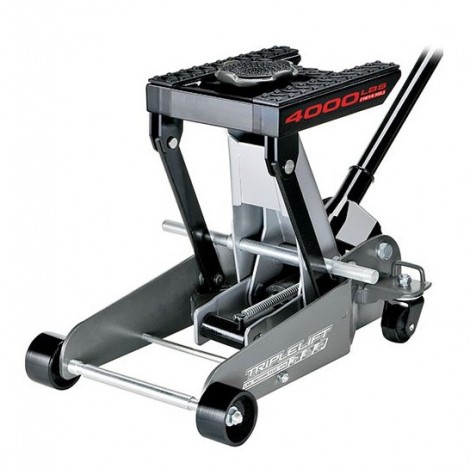 This is a heavy-duty one! Due to impressive load capacity and durable construction, Powerbuilt jack is an excellent choice for every biker. It's very simple and easy to use yet it offers outstanding performance. No wonder why so many users praise and buy it all over again!
Expand to see more
4,000 lbs
The jack has the capacity of 4,000 pounds. Yes, you read it right! This makes it
suitable for every motorcycle out there.
The platform is quite wide as well, so it should accommodate a variety of vehicles. You can use it for lifting cars, trucks or ATVs. No matter what you choose to lift, you'll find this jack super safe and stable. There's a locking safety bar that also adds to the entire stability of the device. It keeps the jack in place while it's raised up for repair.
Sturdy and Durable
Powerbuilt comes with a removable saddle and padded rails. It's very sturdy and durable, ensuring excellent performance for many upcoming years. All provided features are simple and easy to adjust. We also liked that it doesn't require assembly. It features a straightforward design and you'll find it's very easy to use.
Cost and Value
The issue we have with Powerbuilt is a common problem with every
heavy-duty jack
. It's very expensive! We know, such a versatile and durable product had to be on the expensive side because of the quality materials and many included features. Still, we have to take it as a drawback because some people won't be able to afford it.
The capacity of 4,000 lbs
Suitable for all kinds of vehicles
Super safe and stable
A locking safety bar
Removable saddle and padded rails
Durable
Orion Motor Tech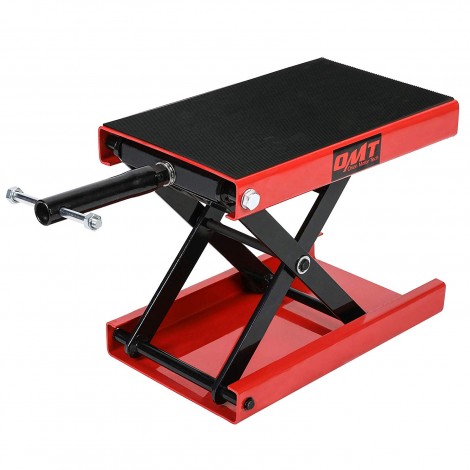 If you're looking for a simple and affordable bike lift, you have just found the perfect one! Orion features this amazing product that complements every garage and workshop. It's compact, reliable and easy to use, so you'll find it has everything you need! Make sure to check it out, you won't be disappointed.
Expand to see more
Easy to Use
This is a scissor jack that offers the capacity of 1,000 lbs. It goes up to 13 inches and it's suitable for bikes with a flat bottom. The jack is incredibly easy to use. You don't even have to
use an impact wrench
! The instructions are included in the package and they should help you out if you run any issues. We find them well written and quite useful.
Tough Steel
The jack is made from tough steel and proves to be super durable. The coating is easy to clean and resistant to oil, grease, and dirt. This makes it suitable for both indoor and outdoor use. Also, the platform features a rubber coat for more protection against scratches.
Just keep in mind that it can get a little wobbly if you raise it all over to the top. Although you don't need to lift the bike so high for most of the repairs, it's worth mentioning this issue. Some people like to have this option.
Cost and Value
This one comes at a reasonable price and features a 1-year warranty. We think it's real steel! These days, it's quite hard to find a budget-friendly product that's also very well priced. Orion is a rare find and you're going to love it!
The capacity of 1,000 lbs
Easy to use
Comes with detailed instruction
Made of tough steel
Very durable
Well priced
Gets wobbly when fully extended
Stkusa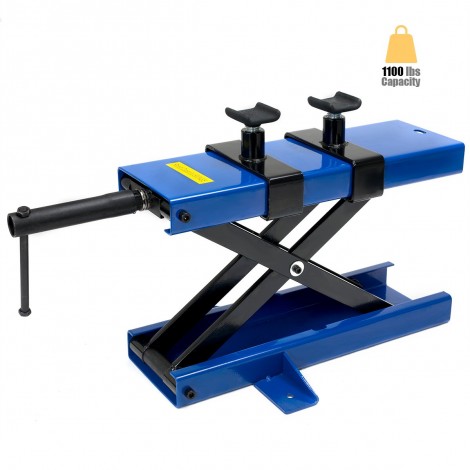 This is a small yet very sturdy lift. It works on different types of motorcycles but you can use it to lift ATVs as well. We recommend it to all handypersons who prefer compact tools and want to save some storage space. With this one, you'll do all the necessary repairs without any worries about the safety of your vehicle. Oh, and you get to do it with a breeze!
Expand to see more
Adjustable Height
The jack has the load capacity of 1,100 lbs. It's quite decent and fits most bike types. The extension goes up to around 15 inches. It features 2 screw adapters that allow for height adjustments. This should make using it a lot easier. Overall, you shouldn't have any major issues with this one. It's designed for most light repairs and different vehicle types and it does with is supposed to quite well!

We only had an issue with the socket tool that's included in the package. It should help you out lifting the load, but we find it poorly designed. You'll do it easier with a wrench or some other tool you have in your garage.

Foldable Design
This is a reliable jack that will hold your bike firmly on its place. The platform is quite wide which adds to the overall stability. We forgot to mention that you can fold down the entire thing when not in use and store it at your convenience. This design is also very useful for transportation. You get to carry it around and use it both indoors and outdoors. Lastly, you'll be pleased with its rock-solid construction that's meant to last!

Although it doesn't influence its performance, we really liked the coating of this jack. It comes in a bright blue color to complement every garage! We would only like to see it with a rubberized top to prevent slips and possible scratches.

Cost and Value
This is probably the cheapest option we could find on the entire market. It's perfect for those on a limited budget who want a compact and reliable jack. Don't hesitate to try it out because we are sure you're going to love it!
The capacity of 1,100 lbs
Compatible with most bikes and ATVs
Adjustable height
Reliable and safe
Foldable for more storing options
Cheap
Issues with the included socket tool
Lacks rubberized coating on top
Goplus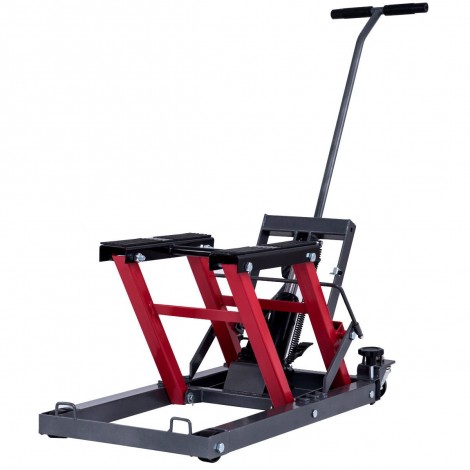 Goplus is one of the heavy-duty motorcycle lifts. We recommend it for all those who have big bikes and bulky ATVs. It gives more reliability when lifting the load and there's no wobble of any kind with it! Not to mention how stable and safe it looks, which is very important. We like to have that sense of safety when repairing our vehicles! All in all, Goplus is one of our favorites and you should definitely check it out!
Expand to see more
Hydraulic Scissor Jack
This is actually a hydraulic scissor lift which is to say the one designed for larger bikes. It offers the capacity of 1,500 lbs and goes up to 17 inches. You can easily adjust the height according to your needs and the load will not move for an inch. It stays firmly on the place because of the convenient safety lock.

The major issue with this one is the fact that it doesn't go as low as the manufacturer claims. There are many buyers complaining about this, so you should definitely keep it in mind. It could make lifting the bike a little difficult.

User-Friendly
The jack is made of first-class steel that can withstand quite a lot. It features a black powder coat finish which makes it super durable. It's rust and corrosion resistant as well, so it's suitable for outdoor use. Now, can you suppose what we liked the most? That's right, the wheels! Goplus features 4 wheels. This improves the portability of the tool and helps you handle both the tool and the vehicle with ease. The extra large handles are also there to make raising and lowering the load a real breeze.

Cost and Value
We are not going to lie, this one is on the expensive side. Although it's not overpriced, you'll have to add some cash to get it. Actually, most buyers say it's worth every penny.
Versatile
The capacity of 1,500 lbs
Adjustable height and a safety lock
Made of quality steel
Super sturdy and durable
Rust and corrosion resistant
Doesn't go as low as the manufacturer claims
Pricey
APlusLift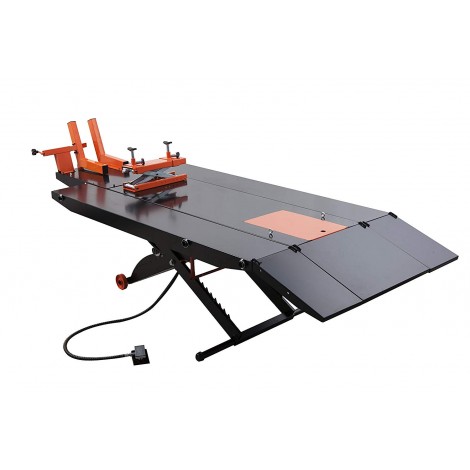 If you need more reliability when lifting your bike or ATV, this is a perfect option for you! This is a lift table that gives you a wider platform for easy repairs. It can accommodate a wide range of vehicles and give you better clearance during the process. On top of all of that, it comes with some super cool features and it will last for many years of continuous use!
Expand to see more
Impressive Stability
This one is huge! The platform is super wide in order to give more room for every type of bike or ATV. Also, it gives better access to the vehicle during the repair. What we liked the most is the stability of the lift. It doesn't move or wobble at all, and it lifts even the biggest vehicles with great ease.

Sturdy Construction
What makes this one so stable and safe is a sturdy construction. The lift is made of thick gauge steel and features a super durable frame and shafts. Even the paint is very durable and doesn't go off so quickly. Of course, this makes the lift heavier than most of the competition but we don't expect to move around a lift table, right? It is, after all, designed for large vehicles!

Cost and Value
This one will cost you an arm and a leg! Yes, it's a high-quality lift table with all the necessary stuff but it's still too expensive for most bikers. Those who do decide on it will get a 2-year warranty for additional peace of mind. There's also an amazing customer service to help you out if you run into some issues.
A wide platform
Suitable for all motorcycle and ATV types
Impressive stability
Easy to lift loads
Sturdy construction
Impressive durability
Some might find it too bulky
Very expensive
Pit Posse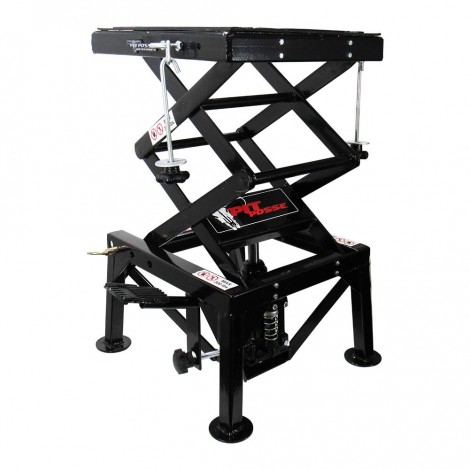 Another professional motorcycle lift comes from Pit Posse and you're going to love it! It's versatile and durable, proving to be one of the top products of its kind. People all over the market love it because of the compact design and reliability. Once you try it out, you're going to love it too!
Expand to see more
Quite Versatile
This one is incredibly versatile! You can use it anywhere and for almost any motorcycle and ATV type. It's fairly compact so it's suitable for every garage and workshop. Pit Posse is actually a hydraulic scissor lifter with a capacity of 300 pounds. It goes up to 13 inches in height but you can adjust it anywhere in between according to your preferences.

Just make sure to compare the height of your bike to the minimum height of this jack. Some users reported difficulties with positioning the lift under the bike.

Simple and Durable
Pit Posse is made of sturdy metal and proves to be quite durable. The steel frame and the rubber coating also add to the entire stability and durability of the jack. This will also prevent scratches and damages that could occur during the process. All in all, this one is simply designed and rather easy to use. The wide platform gives you full access to the load and the lifting part is a breeze.

Cost and Value
Along with the high-quality components and impressive durability comes a high price tag. We almost got used to it. However, this one won't cost you a fortune and it's well worth the money. It also offers a 2-year warranty. All in all, you should be quite satisfied with it and get to use it for many years!
Quite versatile
Compact
Adjustable height
Sturdy
Durable
Steel frame and rubber coating on top
Could be too high for some bikes
A little pricey
Criteria Used in Evaluation of the Best Motorcycle Lifts
We wanted to give you the most accurate list of the best motorcycle lifts on the market. This included ranking them according to their performance from 1 to 10. It was a challenging task, but we made it though! Here's the slight insight into the evaluation process:
Overall Performance of Motorcycle Lifts
What we mean by performance is the ability of a motorcycle lift to withstand heavy loads and extend to a proper height. We compared the load capacity of each product on our list as well as the extension ability. The ones that gave the best results are at the top of the list.
Durability
Evaluating the materials used for the construction of every product is crucial. Sturdy materials allow for better stability and also provide a long lifespan. We assigned some extra points to rust resistant materials as well. This makes them suitable for outdoor use and makes them even more durable.
When we purchase a motorcycle lift we expect from it to last for many years which is why durability was such an important factor in the evaluation.
Ease of Use
Motorcycle maintenance is sometimes a tricky process. Not to mention how challenging can be repairing malfunctions. That's why we need an easy-to-use lift. We don't want to go through the additional hassle when lifting the vehicle. For that reason, we assigned some points to all motorcycle lifts that offer a simple design for the most convenient handling.
Design
Another important thing is definitely a compact design. We favored the products that are portable and easy to transport and store. Most bikers need compact tools that won't take the entire working area in their garage or workshop. However, things are different with heavy-duty motorcycle lifts designed for professional use. We had to make an exception here because they do offer wide platforms and ensure easier repairs.
Price
This is a difficult one! We couldn't exactly compare the products that are designed for different purposes. Professional motorcycle lifts are rather expensive but that's because of the wide platforms and the ability to lift a variety of vehicles. We just couldn't take this as a drawback. However, we took into account all the factors stated above and then compared them to the price of every lift. This way, we were able to make the comparison of cost and value for every product on the list.
Other Factors to Consider when Buying Motorcycle Lifts
If you're about to pick the product from the list, take a pause! We have a short list of the things you might want to consider before the purchase. It will take only a few moments but it could significantly influence your decision. Here's what this is about:
The capacity of Motorcycle Lifts
You should first consider which load capacity a motorcycle lift has to have to meet your needs. This is not an easy call, we get it, but it's the first and most important step. If you need it for your one and only precious bike, it's going to be simple. The load capacity should correspond to the weight of your bike. However, if you plan to use it for other vehicles as well, you should take into account all of their sizes as well.
Size of Motorcycle Lifts
This one is also very important. Deciding on a particular size means choosing a compact or bulky product. If you need a portable and easy-to-store lift, you should aim for compactly designed ones. They won't take too much space in your working area and you'll be able to move them around at your convenience. However, if you need a professional tool for large vehicles and more demanding jobs, you'll have to make some compromise with the size. Think carefully about your working area and the storage space you have for this tool. Only when you consider this you'll be able to decide upon a particular product.
Also, it's important for you to compare the lowest height of the lift with your motorcycle height. If they don't match you'll have a hard time positioning the tool under the bike.
Budget
Most DIYers opt for compact and budget-friendly motorcycle lifts. They use them only occasionally which is why this is an ideal option. If you're one of them, consider making some kind of compromise with provided features. If you're going to use the lift from time to time, you don't need all the bells and whistles that come with the first-class motorcycle lifts. You also don't need to spend a fortune on a tool you won't be using so often. On the other hand, those who need a lift for daily use might want to add some extra cash to get the best product they can!
FAQ
about Motorcycle Lifts
Q: Are motorcycle lifts safe for use?
A: Absolutely! They are made to withstand heavy loads and keep your vehicle firmly on its place. That being said, you should keep in mind that you can get hurt while using it. This is the case with many other types of tools – it's important to use them in a proper way! You can follow a few simple steps to improve safety while working on your bike that's on the lift. Firstly, you want to make sure that your bike stays in its place and that it doesn't wobble. Secondly, never rush up the lifting process! You want to lift the load slowly. Before you even start, make sure that your working area is clean and dry, and that the lift lays on the flat ground. Also, you shouldn't move the bike when it's on the lift! Always lower the jack first.
Q: Do I really need a motorcycle lift?
A: Well, you don't necessarily need one. You can perform some light repairs without the help of the lifter. However, this tool is so useful that you'll want to use it once you try it out! The lift improves safety when performing more demanding repairs and maintenance task. You get to free both hands for working which ensures easier handling of the bike. Not to mention that the bike is more stable on the lift than it can possibly be when you set it against the wall, for example.
Q: Which motorcycle lift should I get?
A: This depends on the load you plan to lift and many other factors that differ among buyers. For example, you should consider how compact and portable tool you need. Then there are storing options, transportation, and a variety of features to choose from. The first and the most important thing to consider is the load capacity. You want to make sure that a particular lifter can withstand the size and weight of your bike. If you want a more detailed list of things to consider when buying this product, we provided one above. Just scroll back up and you'll find everything you need to know for a quick and easy purchase!
Sources
Subscribe to our Newsletter