Best Car Ashtrays Reviewed & Rated for Quality
last updated:
Jul 09, 2019
Smoking in the car can sometimes get really inconvenient. Most people just roll down the window and ash the cigarette outside. It's the most practical way to keep your car clean, they say. But is it, really? Maybe on a perfect day when you're taking everything slowly and the sun is shining. But what to do on a  windy day when the rain is pouring straight from your window on your new seat covers? You don't want to end up with the ash all over your new shirt, or to ruin your perfectly maintained seats! The simple solution is to get a car ashtray, specially designed for vehicle use. They fit most cup holders and have those convenient caps that prevent smell to linger and ash to shatter all over the car. Forget about those badly designed fabric ashtrays! You need the one that will make smoking less tiresome and more enjoyable. If you don't know where to find such a great product, fear no more, we are here to help you!
Featured Recommendations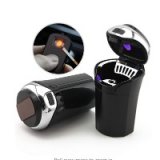 Takavu

Our rating
Compact
Price:

See Here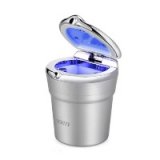 Vim Vip

Our rating
Portable
Price:

See Here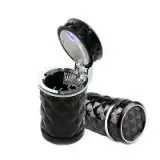 Big Ant

Our rating
Stylish
Price:

See Here

We made a list of the best car ashtrays you could find on the market. They are not only very useful but also super cool! You get the choose from many different types and designs, and all that from the best ones out there! We prepared detailed reviews and break down all their pros and cons for you. This should help you make up your mind and get one (or two) for your vehicle. It will definitely make every ride more enjoyable!
10 Best Car Ashtrays
Takavu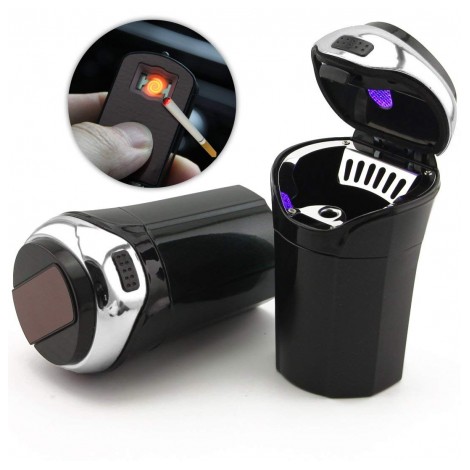 This is one of the coolest car ashtrays we have seen so far! It has that blue LED light that not only improves visibility but also makes your vehicle very classy. All in all, Takavu is one of the most popular ashtrays on the market. People praise it for many things, but we personally like how useful and durable this product turns to be. It's the real mix of quality and good-looking features. Without a doubt, you're going to love it too!
Expand to see more
Less Smell
Takavu offers a tight seal and what is even more important – less smell! The cover closes snugly so that no smell could linger around. We especially liked the blue light that allows for better visibility in the dark. You don't have to guess where your ashtray is no more! Nor clean the ash shattered all around it for that matter. Another super useful and cool feature is a removable lighter located on the cover. There you can light up the cigarette during the ride without turning your eyes from the road!
Also, let's not forget to mention how classy this product is! It features that sleek design with blue LED light that will complement any type of vehicle.
Compact
This ashtray is very compact and fits most types of
cup holders
. It's also very portable, so you don't have to use it only in your car. People find it convenient when smoking in their bedrooms. The cup seals super tight so there's no awful smell in your bedroom in the morning.
The ashtray has two parts that you can detach with a simple push of the button. This allows for simple cleanups. Additionally, it's worth mentioning that Takavu offers excellent durability. It's made of high-density fireproof material which makes it super safe for use. The top of the cup is also made of iron and pretty large for you to crush the cigarette before you drop it inside. It's quite convenient for the matter of fact!
Cost and Value
We have to admit that this little gadget isn't exactly cheap. It won't cost you a fortune, that's for sure. You'll just have to add a few more bucks to get it. And let us say, this is going to be a very smart investment!
Tight seal for less smell
LED blue light for improved visibility
Removable lighter on the cover
Classy
Easy to clean
Durable
Vim Vip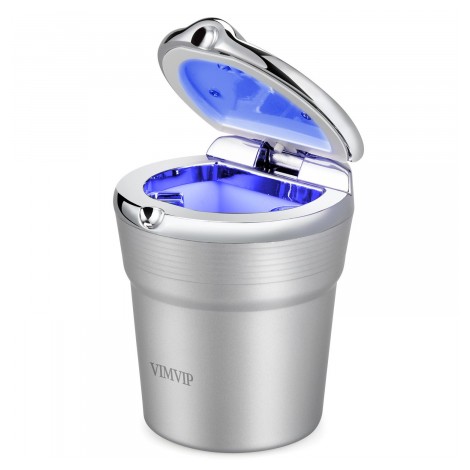 This one is quite stylish, isn't it? It has a subtle silver design to complement any vehicle! Of course, this is not all that comes with one of the VimVip products. You'll get a quality and durable ashtray to make your rides more enjoyable. Not to mention all those satisfied passengers that won't even get to smell the cigarette. You are all going to love this product!
Expand to see more
Portable
This little cup-style ashtray is rather compact and very portable. You don't only get to use it in your vehicle but also to carry it around at your convenience! We really like its sleek design and the blue LED light. Not only that it improves visibility and comfort during the night, but it also looks super cool. The stylish ashtray like this will complement every car interior!

The description says it should fit most car cup holders, but you should still double check just in case. Some buyers complained about the ashtray being too short to fit the cup holders in their cars. Make sure to compare the measures with your car's ones before the purchase!

Quality Materials
As we mentioned above, this is a high-quality product that is useful in so many ways! The best thing is that it collects all the smelly residues after smoking. The lid that covers the cup seals all the smoke inside.

It also opens very wide which is very convenient during the ride. You don't have to bother with the cover that would damage your cigarette or scatter the ash all over the seats. This could seriously distract you from driving. Also, the material used in the construction of the ashtray is fireproof so you'll be completely safe using it!

Cost and Value
Wherever you choose to use this ashtray, the comfort will follow! People use it from their cars to their offices and workshops. But they also take it on fishing and other outdoor activities! You pretty much get to use it anywhere thanks to its amazing design. Also, you don't get to deal with smelly residues and dirty ashtrays that would ruin the experience! This one won't even be hard on your pocketbook, so we definitely recommend trying it out!
Compactly designed
Very portable
Blue LED light
Stylish
The quality lid reduces smell
Well priced
Some issues with the size
Big Ant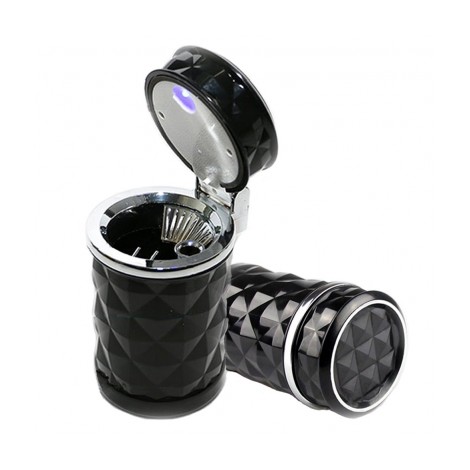 Big Ant is just as efficient as the name says it, only a bit more glossy! It has all those tiny pieces that flicker nicely and make your car look super classy. If you want something luxury yet very well-made and durable, search no more. Big Ant doesn't disappoint!
Expand to see more
High-Quality Materials
Big Ant is made from high-quality materials that guarantee durability. It proves to be resistant to many outside threats so you can use it outdoors as well. It's sturdy and safe for use because of the fireproof design. Thanks to the convenient cap at the top it also traps the smoke inside. This way, your vehicle will remain fresh and clean without too much hassle.

LED Light
This one offers a simple design that allows for more comfort during driving. You'll be also satisfied with the bright LED light that improves visibility in the dark. There will be no more groping in the dark and ruining the perfect new car seats!

We should only warn you that some users had problems with the lid. It's a little difficult to lift it up which makes one-hand operation harder than usual. It will loosen a little bit after several uses, but be careful not to apply too much pressure. It could break it!

Cost and Value
You can use this versatile little gadget wherever you please. It's ideal for your car but also for the office, home, and various activities such as camping and fishing. The compact design allows for endless possibilities when it comes to using this one. You'll also be pleased to know that Big Ant is inexpensive and therefore a must in every driver's equipment!
Stylish
High-quality materials
Sturdy and durable
Bright LED light
Versatile
Inexpensive
The lid is hard to open at first
Stinky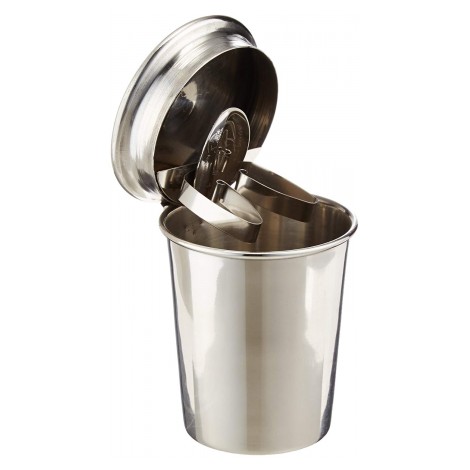 This is one of our favorites! As you can see, it features a simple design, but it offers such a great value. It's not only great for cars and other vehicle types, but also for camping, fishing, and other activities. Fishermen say it's perfect if you want to save your cigarette from rolling off the kayak and keeping it dry. We say it's perfect for any occasion when you want to just sit down, relax and enjoy a cigarette!
Expand to see more
Very Durable
Stinky is made of stainless steel that is safe for use and also very durable. It resists corrosion and other impacts so it guarantees excellent performance and durability. The ashtray features two holders under the cover where you can put your cigar. It fits all cigarette sizes.
This holder is very useful
for driving and fishing when you suddenly need both hands to manage the task. It's not like you want to keep the cigarette between your teeth all the time, right?
Stable Holder
This is a perfect option for cigar smokers that are always on the road! It's super secure and doesn't bounce through the ride so the cigar stays on its place. It also prevents ash from scattering all over the vehicle. Not to mention that it traps all the smoke inside, so you won't smell a thing in your car.
Our only gripe comes from the too heavy lid! If you don't put the ashtray into the cup holder or any other tight area, it might lose the balance due to the heavy lid. Some users even put the magnet on the bottom to prevent unbalance! It's very smart and useful, but we would like to see this problem resolved completely in the future.
Cost and Value
You'll have to add a few more bucks to get this ashtray, but Stinky is not overpriced at all! We can't really complain about its price considering its versatility and portability. All in all, it's the product worth every penny, so don't hesitate to try it out!
Simple design
Versatile and portable
Made of stainless steel
Safe and durable
Convenient cigar holder
The cap is heavy
A little pricey
Newness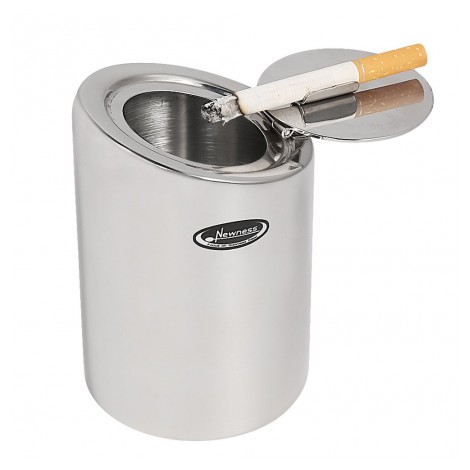 If you want an elegant ashtray to make your car look even more stylish, this is a perfect choice for you! This model is quite versatile and suitable for all kinds of situations. It proves to be a real friend in demanding moments of your life! You don't have to give up smoking when driving, going on a fishing trip, or other occasions. With this stainless steel ashtray, you can fully enjoy a cigarette no matter where you are!
Expand to see more
Polished Stainless Steel
Newness features this compact ashtray made of polished stainless steel. It's very modern-looking and half of the market is in love with it! It's suitable for every occasion, especially because it's not too bulky. You get to carry it around at your convenience and install it wherever you want. The classy one-color design makes it ideal not only for
every modern vehicle
but also for every working area!
Stable
This compactly designed product fits most cup holders. We really liked how heavy it turns to be. This allows for more stability even if it's not installed in the holder. The lid is also very convenient because it prevents smoke to linger in your car. It also has a cigarette holder, but it doesn't detach from the body. This makes it a little harder to clean, but you shouldn't have too many issues with it!
Cost and Value
Although we would like to see this product with a lower price tag, nobody can argue with stainless steel! Truth to be told, we were amazed by the quality and durability of this product. We would even settle for a much higher price!
Modern design
Versatile
Made of stainless steel
Portable
Compact
Well-designed lid
A little expensive
The lid doesn't detach from the cup
VIP Home Essentials
Do you want something simple to hold your cigarette when driving? How about getting the ashtray that glows in the dark? Yes, you read it right, this one glows in the dark which is pretty cool and useful. It's convenient because it allows for better visibility in the dark, but we mostly love how it looks! Sure, there's a lot more in this product from great aesthetic, so make sure to check it out. You won't be disappointed!
Expand to see more
Easy to Use
This fits almost every cup holder and stays firmly on its place. The top of the little container has three cigarette holders and the hole for ash to slip inside. It also detaches from the bottom part for simple cleanup. However, we didn't like the part when the plastic on the top gets dirty. It's hard to clean it properly, especially after several uses. This is also more noticeable on pink and blue colors, so be warned!

High-Quality Plastic
So this one is made of high-quality plastic that can withstand quite a lot. Contrary to common misbelief, this plastic won't melt under the cigarette! Actually, this ashtray proves to be very stable and durable. Don't be fooled by a compact design and soft looks, this is one of the toughest ashtrays on the market! It's also quite versatile so you get to use it in all kinds of situations.

This fits almost all cup holders, but it's also very small so you can install it almost anywhere. The lid and the body are detachable so you can easily separate them for simple cleaning. You also don't have to bother with heavy lids that often fall over the cigarette during the ride. This one is sturdy enough not to break or bump around yet not too heavy to cause imbalance.

Cost and Value
This is probably the cheapest option out there! You won't find the better-priced product that offers the same value as VIP Home Essentials. We recommend trying it out, you might end up quite surprised and satisfied!
Glows in the dark
Comes in several colors
Convenient detachable top
High-quality plastic
Sturdy and durable
Inexpensive
The plastic top is hard to clean
Eing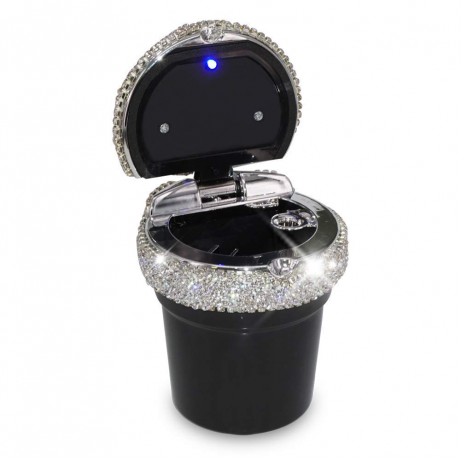 If you are a fan of sparkly gadgets and accessories, you're going to love this one! It sparkles like a Christmas tree and it will illuminate the entire car's interior. Of course, we didn't include it only for its great design but also because of its exceptional quality. Don't worry, you'll be satisfied with every aspect of it!
Expand to see more
Super Shiny
This ashtray has sparkling rhinestones across the entire lid, which makes it super stylish and shiny! It's very portable thanks to the compact design so you'll find it useful in different situations. Although you might want to save it from harsh conditions because of the rhinestones! It seems that they tend to fall off easily, although you'll also get a little case with replacement ones. Let's not forget to mention the blue LED light that improves visibility.
Durable Steel
You'll be pleased to know that the cup is made of sturdy stainless steel. This makes it quite stable and durable, so you can use it both indoor and outdoor. The interior part is easy to clean and the lid goes up and down smoothly. We only have to notice that some odor still manages to slip through the lid. The manufacturer should try to resolve this issue in the future!
Cost and Value
Truth to be told, most people would pay a lot to get this shiny ashtray! Luckily, this is not necessary because it comes at a reasonable price. We highly recommend it if you want to
complement your car interior
or office surrounding!
Very sparkling ashtray
Versatile
Blue LED light for improved visibility
Made of stainless steel
Stable and durable
Reasonable price
Stones tend to fall off
Could let some odor out through the lid
East Fly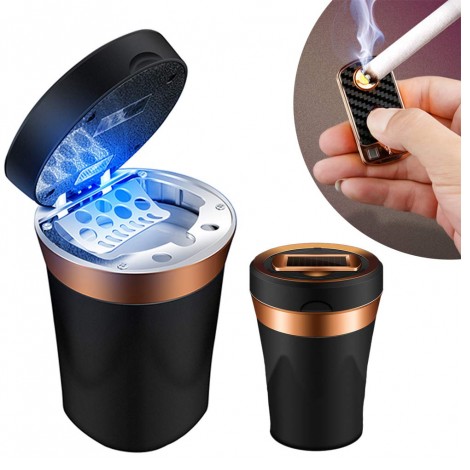 Here we have one rather unique car ashtray that looks very nice! Along with useful features and heavy-duty construction, this one is very cool and fun to use. You can finally say goodbye to the awful smell in your car and demanding old ashtrays. East Fly really stands out from the competition and offers full joy with every cigarette!
Expand to see more
Convenient Lighter
This one also features a cigarette lighter on the inner side of the lid. When you turn the lighter on you have around 14 seconds before it automatically turns off. This is a safety and energy saving mode, and we find it very useful! You can charge the lighter and the built-in LED light by USB or by solar charging. Both options work quite well and they are very easy.

Heavy
East Fly is made from sturdy materials and it's meant to last! It has a heavy ceramic interior for more stability and safety. This design also allows for easier cleaning. Actually, the heavy material proves to be useful in preventing smoke leaks. The lid offers a tight fit so no odor could possible go through!

Cost and Value
We have to admit that this one is a little pricey. It's still one of our favorites, and we recommend trying it out. You won't be disappointed, especially because of its outstanding performance and durability.
Features a cigarette lighter
Automatic shut off
LED light
USB and solar charging
Sturdy and durable
Easy to clean
Utsauto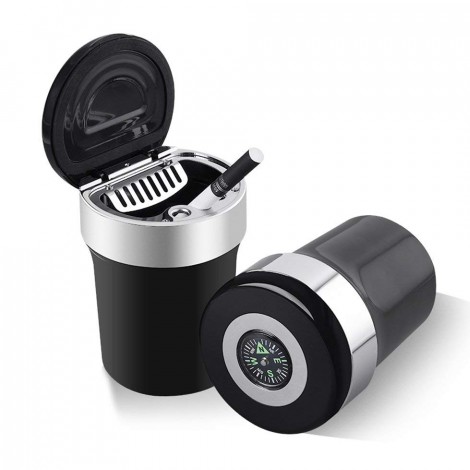 If you're a fan of sleek and subtle design, we have a perfect car ashtray for you! The elegant design will illuminate every car interior, while the sturdy construction will make this product useful for many years. What else could you ask for? You get to enjoy your every cigarette and still keep your car tidy and clean. As if that wasn't enough, we think it's a perfect present solution for your loved ones!
Expand to see more
Easy to Use
This ashtray is made of stainless steel which is very durable. It also eases the cleaning process and reduces the smell of a cigarette. It's designed to fit most cup holders but you can also find other convenient places to store it. The ashtray is compact enough to allow easy installation wherever you are. It also preserves the smell quite good thanks to the high-quality lid.
The only drawback is a somewhat loose spring that makes the lid easy to open. In case your ashtray falls on the ground there are 99% chances that it will spill everything around! Therefore, be extra careful with the lid and try not to tip it over.
Quality Construction
When it comes to the construction of this product, we are also very satisfied. It's made of high-density material that is fireproof and thus safe for use. Other useful features such as a blue
LED light
and a rotating cover is also there to improve the experience.
We also liked the detachable lid that allows for easy cleaning. There's also a compass installed on the top of the ashtray, but it seems that it doesn't work well at all. Being as it is, the company could easily exclude it from the construction!
Cost and Value
We expected this product to come with a higher price, but the company surprised us once again! This elegant ashtray comes at an attractive price, so we highly recommend it!
Elegant and compact
Made of stainless steel
Durable
High-quality lid
LED light and compass at the top
An attractive price
The lid is too easy to open
Compass doesn't work
WOFO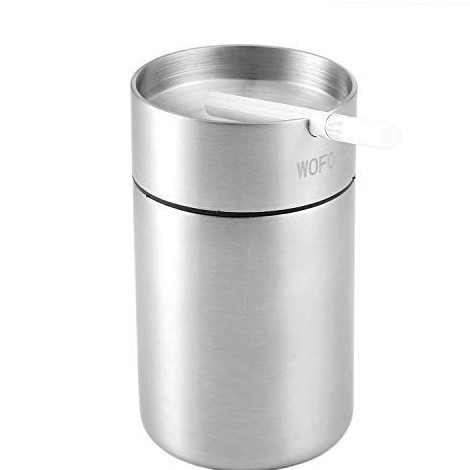 Have you ever heard about WOFO ashtrays? If not, now is the right time to find all about them! This company is well-known for producing all kinds of ashtrays and they do it really good. We were amazed by the quality, durability and impressive design of their products. Make sure to check their offer, because you're going to love it!
Expand to see more
Outstanding Design
This elegant ashtray comes with everything you need! It has a funnel that allows for ash to drop at the bottom. It's very convenient especially when you have the
air conditioner on
or when you roll the windows down. It also traps all the smell inside, and your car stays fresh and clean! The top of the lid also has one deep cut to hold a cigarette. We can't really complain, but it would be nice to have at least two of them.
Durability
This one is made of stainless steel that can withstand quite a lot. This makes it suitable for indoor and outdoor use. This material is easy to clean, but you'll also get a cleaning brush in the box. They thought about everything, didn't they? The material doesn't slip, which is very important for a stable position during driving. We would only like to see a narrower bottom. This one is a little wide and it may not fit every cup holder.
Cost and Value
This is the only big drawback with this product. Although you won't regret it for a second, you'll have to add a few more bucks to get this ashtray.
Elegant design
Unique design
Durable
Made of stainless steel
Anti-slip
The bottom could be too wide for some cup holders
Pricey
Criteria Used in Evaluation of the Best Car Ashtrays
Ranking the best picks wasn't an easy task at all! We couldn't see clearly through all those features such as LED lights, lids, materials, and more. That's why we took things seriously and sat down with a strict list! It included everything we need from a good-quality ashtray – we applied it on every car ashtray and then assigned some points. If you want to get a peek on the list, we provided a short summary for you:
Material
First thing first, the material of every ashtray should be completely safe for use. It shouldn't be flammable, of course, nor prone to damages. It's important that, once you seal the lid with a cigarette inside, it stays on its place! We don't want for a simple turn in an alley to cause the ashtray to tip over and spill the ash all over the car. Also, it's important that it doesn't get too hot to be unsafe for a firm grip. We thought about all these things! The overall quality and durability were the most important factors in the evaluation.
Design
Another important factor is the design of every car ashtray. It should be quality from the inside as well as from the outside. An ashtray doesn't only has to be very stylish and to complement every modern vehicle. It also has to be easy to use! People who smoke in their cars want to have a practical ashtray that they can open and close with a breeze. The ashtray also has to be very stable and to provide an adequate holder for the cigarette. It's just not practical when you have to hold the cigarette in your hand or between your teeth while driving!
We also thought about one more thing regarding the design. The lid has to be well-made. When this little thing is well-designed everything else goes smoothly. There's no smell in the car, no ash all around, and you get to smoke with joy. The lid should be also well designed because it allows for simple cleaning of the entire ashtray. The proper maintenance is crucial for the good looking car interior!
Price
Last but not least, price. How pricey they can get, you may ask? Well, pretty much for such little devices! We had to consider this factor too, and give our opinion on the balance of the cost and value. Hopefully, they will be useful to you. The best performing products are on the top of our list, but you should also check the ones below. You might find them more suitable for your personal preferences!
Other Factors to Consider
Before you make up your mind and buy an ashtray, there are some things you might want to consider! We know, you probably have your favorite, and you're impatient to get it. However, this will take only a few moments and you get to be sure about your decision. What can you lose? Here's what we have in mind:
Type
You should first decide on a proper type. Do you want to get the one with a removable lid? The one that you get to completely open when you smoke? Or you want the one that has a funnel on top and doesn't require removing the lid? How about the size? Consider what type suits you the most and then pick the particular one!
Portability
Do you need an ashtray only for your car or you intend to use it elsewhere? If you're planning to keep it in your car, you should only check the measures of your cup holder. That's about it. However, if you want a versatile ashtray things get a little bit tricky. You should think about other things it should fulfill to suit the particular purpose.
Design
This one is very important! You have to look for an ashtray to suit your aesthetic preferences. Don't go for the cheapest one you don't even like. Get the one that you really like! It's important to have all those little things to meet your needs in order to fully enjoy every cigarette. Consider matching an ashtray to your car's interior but also pick the one that you personally like the most! Don't listen to what other people have to say, if you want a shiny ashtray, you should definitely get one!
Price
We know, spending a lot on this tiny item isn't rational. However, they are not expensive things, we are talking about slight differences of a few bucks. You can spend some more cash on your new ashtray yet it will change the driving experience.
FAQ
Frequently Asked Questions
Q: Is it legal to smoke in the car?
A: It depends on the law regulations of your particular country. Most countries banned smoking in vehicles when children are present. Some of them even forbid smoking in front of people under the age of 18. However, the rules are not the same when you're with adults or alone in your vehicle. Most countries still don't forbid smoking in a car as long as you are not distracted from the road.
Q: Are ashtrays designed to fit all cup holders?
A: Well, no. As you know, not all vehicles have the same cup holders. The same applies to ashtrays. They are made to suit a variety of needs and different cup holders. Some are bulkier and wider while others are compactly designed and pretty narrow. If you want to fit the ashtray in the cup holder of your vehicle, you should compare the measures before the purchase. That's how you'll be completely sure that it will fit your vehicle's holder!
Q: Are those LED lights too bright?
A: No, not at all! They are bright enough to make sure you don't miss the cup when you ash your cigarette. But they are not too bright to look into by no means! Once you get used to having them, you're going to love them. They really make a car look more modern and elegant!
Q: Will a plastic ashtray melt from a cigarette?
A: No, they are made of heavy-duty plastic that is not as flammable as you think. We get that you probably feel safer when they use steel for the construction of the ashtray. However, there are many plastic car ashtrays that are equally durable. They won't catch fire or deteriorate no matter how long you use them!
Q: Can an ashtray really trap the smoke?
A: Yes, it is that efficient! Well, at least quality ones are. They have sturdy lids that fit tightly to the cup and prevent smoke from getting out. Cool, right? It actually works like a thermal cup that preserves hot liquid inside. You can even drop the cigarette inside and let it burn, you won't sense the smoke in your vehicle!
Q: Are they only suitable for cars?
A: Of course not! These ashtrays are quite versatile. They have that cup-like design that allows for high portability. You get to bring them with you and use them in different places. For example, many users use them when fishing! The cup-like ashtray holds the cigarette better than anything else and keeps it dry. It's also convenient to keep all cigarette stubs there until you get to the trash can. To cut long story short, you'll find these products useful in many situations!
Sources
Subscribe to our Newsletter