Best Car Floor Mats Reviewed & Rated for Quality
last updated:
Jul 09, 2019
So, you get into your car, ready to head out to work, when something doesn't feel quite right. There's a crunch, or maybe it's a squish? Well, whatever it is, you know it wasn't there before, and it definitely shouldn't be the sound your car floor mat makes. Then you notice the smell. Despite knowing in your bones that you'll regret this decision, you choose to look down. Sure enough, you've seen landfills of baby diapers that were cleaner than your current car floor mat. Time for a new one.
Featured Recommendations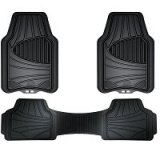 Custom Accessories Armor

Our rating
Designed To Be Trimmed
Price:

See Here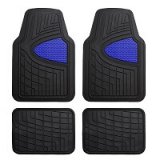 FH Group Heavy Duty

Our rating
Tall Outer Ridges
Price:

See Here

BDK Metallic

Our rating
Heavy Duty Construction
Price:

See Here

This may seem pointless to some of you out there, especially those who don't obsess over every solitary little detail of their car. However, a really good car floor mat can make the experience of driving a lot easier, not to mention a lot more relaxing. A good car floor mat solves problems you didn't even think were problems that needed to be solved. Which is why we're looking at the top ten best of them, here today. So, get ready to drive, because we're counting down the:
10 Best Car Floor Mats
1. Custom Accessories Armor
Starting off our list, we have the aptly named Custom Accessories Armor All Floor Mat. The company is so aptly named because, unlike most other car floor mat manufacturers, they take into account that very few cars have the same conditions for their floors, and customization must be an option for the consumer. Let's look more closely.

Expand to see more
Designed to be trimmed

Customizing a car floor mat really just boils down to trimming back the plastic until it fits better. As such, these floor mats are designed with that idea in mind. Within reason (obviously, you shouldn't trim half of the mat off of these things, that would defeat the purpose) you can trim back these mats until they fit snugly within the frame of the floor.

Hardy in sub-zero temperatures

Take a wild guess as to what material does not usually mix well with sub-zero temperatures. That's right; rubber, which a lot of car floor mats are made out of. And when plastic meets extreme cold, it can harden, crack, curl, and generally mess itself up pretty bad. Luckily these car floor mats are specially designed and made to withstand even the coldest temperatures and still retain their flexibility.

Cost and Value

The price of a car floor mat can vary based on a lot of different factors, but thankfully this one isn't too pricey. It's a very average price for a high quality car floor mat, so you should be fine in this regard.


Designed to be trimmed
Hardy in sub-zero temperatures
Carpet claw anti-slip backing
Claws on the front mat may not contact the carpet beneath the first time
2. FH Group Heavy Duty
Coming in second place, we have the FH Group Heavy Duty Tall Channel Floor Mat. You've likely seen an FH Group floor mat before, especially in work or sports vehicles. They have a knack for high quality car floor mats, and nowhere is this better exemplified than with this mat here.

Expand to see more
Tall outer ridges

Getting a soda or alcoholic beverage on your car floor mat is not a problem, it comes out with a quick spray of water. However, getting those same drinks on the carpet underneath is another matter entirely. Anyone who has ever had to get their kid's juice out of their living room carpet knows to avoid this, which is why this car floor mat comes with high built ridges along the edges. This keeps any spilled drinks safely on the mat, which can then be cleaned without needing to scrub anything out of the carpet underneath.

Heavy nibbed backing

The backing is the side of the mat that you put down on the carpet. This is one of the mat's most vital areas since the construction of the backing dictates how much or how little the mat will move around on the carpet. This mat firmly exists in the latter half of that, however, being heavily nibbed on the backing, making it incredibly hard to slide around, yet easy to actually pick up and remove.

Cost and Value

The best part about this item is the price. You'll rarely end up paying all that much for this item, which is definitely a great deal when you consider just how many professional cars use FH Group car floor mats in their cars.


Tall outer edges
Heavy nibbed backing
Affordable
Rear mats may be too small
3. BDK Metallic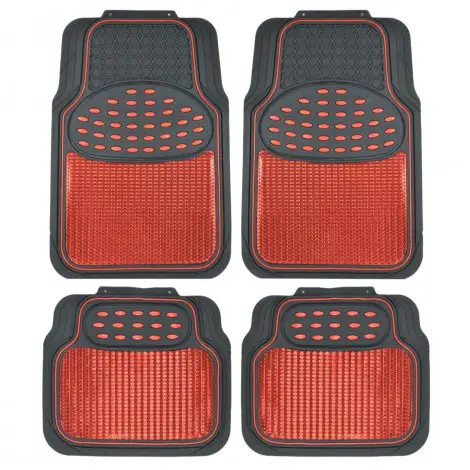 Finishing up our top 3 segment, we have the BDK Metallic Floor Mat. BDK is the real deal if you want true heavy duty construction for your floor mats, and money is no object, these are the guys you seek out. And in our opinion, their metallic floor mat line is their best work. Let's find out why shall we?

Expand to see more
Heavy duty construction

A car floor mat is only as good as the materials used to make it. And this floor mat understands that thoroughly, being constructed from high grade rubber with a metallic top finish just to sweeten the pot. This makes this mat one of the most durable on this entire list, and definitely up there as one of the most durable on the car floor mat market.

Traps mud, dirt, and spills

It's one thing to trap a spilled drink, but what about dusty, grainy dirt that gets everywhere, or sloshy, sticky mud? Well, fortunately, this mat has you covered there as well. Using a series of broad channels and raised edges situated just right throughout the mat, this mat easily captures any dirt, mud, or other contaminants that may come off your shoes, trapping it there and away from the carpet.

Cost and Value

In stark contrast to the previous entry, this car floor mat costs quite the pretty penny. While not obscenely expensive, it's still a fair bit pricier than the previous entries. However, you will definitely get what you pay for.


Heavy duty construction
Traps mud, dirt, and spills
Anti-slip nib backing
4. Husky Liners Front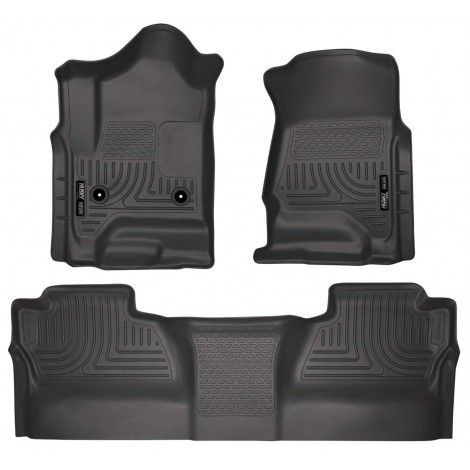 Coming in at #4, we have the Husky Liners Front and 2nd Seat Floor Liners. Like before, we have another heavy hitter when it comes to both price and quality. And while the former part of that statement is what kept it off of the top 3, we simply could not ignore the invaluable quality that this car floor mat has to offer.

Expand to see more
Formfit Edge

One part of your truck or SUV (the types of cars this mat is best suited for) that almost always guarantees a mess when a mess is possible is the door jam. Which is why Husky Liners made a countermeasure for this, outfitting its mat with Formfit Edge, a raised ridge that runs along the door jame. This small change prevents an untold amount of future messes.

StayPut Cleats

Most car floor mats get along just fine via the use of heavy nibbed backing, but Husky Liners takes it a step further. Instead of tiny nibs, this mat has straight up cleats, like the kind you would find underneath a soccer player's shoes. When you put these mats down on your car floor, you can be assured that they aren't going anywhere you don't want them to.

Cost and Value

The biggest issue with this mat is the price. This is easily one of the priciest entries on this entire list, more than dwarfing the previous three entries in terms of price. And while you will get what you pay for, as you would with the last entry, it's safe to assume that this might be more than most are willing to pay for a car floor mat.


Formfit Edge
StayPut Cleats
Covers the entire footwell
5. 3D Maxpider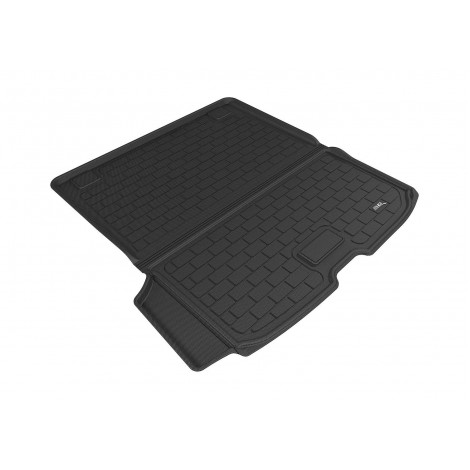 Four our 5th place entry, we have the 3D Maxpider All Weather Floor Mat. 3D maxpider is particularly popular among the
hybrid
community and other such compact cars, for being equally compact without reneging a single bit on quality. And while you will also have to pay quite the hefty sum for this one, you'll find that this mat can more than measure up.
Expand to see more
Three-layer structure

This mat provides the most protection to your car floor on this entire list. And it all comes from its innovative three-layer structure. It's exactly what it says on the box, this mat has been made using three different layers of high grade rubber to make sure that your car floor is getting the maximum amount of protection that this mat can give.

Patented MAXpider bottom layer

The drawback with these other mats' methods of staying put on the carpet floor, is that those methods can end up actually damaging the carpet over time. A problem that this mat effortlessly circumvents, via its own patented bottom layer. Through the clever implementation of anti-skid soft fibers, this mat stays put as effectively as any cleated or nibbed mat, without any danger of damaging the carpet beneath.

Cost and Value

Like before, we have another car floor mat that trades affordability for quality. If you have a car that's compatible with this mat, well, you can probably afford it, since it's most compatible with cars like the Santa Fe Sport.


Three layer structure
Patented MAXpider Bottom Layer
Exact measurements fits the floor of your car like a glove
6. Motor Trend FlexTough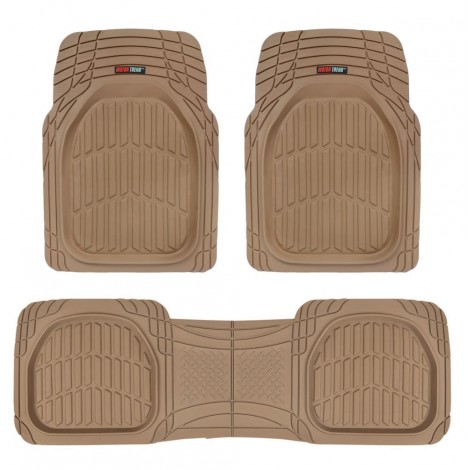 Coming in at #6, we have the Motor Trend FlexTough Contour Liners. Thankfully, we've broken the chain on the third go, as this car floor mat is of excellent quality without feeling the need to vaporize your wallet. So, what makes this mat so special? Let's take a look and find out.

Expand to see more
Built to last

While not the toughest on this list, that isn't for lack of trying, and for the average person, this is definitely durable enough. Made with a thick, heavy duty rubber material, that remains flexible despite its density, this mat can take anything that is likely to befall it while in your possession.

Inverted shell design

As we've seen throughout this list, there are many different ways to go about designing a car floor mat. This mat goes for a unique, inverted shell design. This design allows it to more efficiently trap mud, dirt, debris, and all kinds of other materials that would otherwise stain or even damage the floor beneath.

Cost and Value

As we said earlier, we are thankfully back to more reasonable prices for our car floor mats. While not quite as excellent in quality as the previous two entries, this one's more merciful price tag will make it much more appealing.


Built to last
Inverted shell design
Affordable
Mat edges aren't as durable as the main body
7. OxGord Universal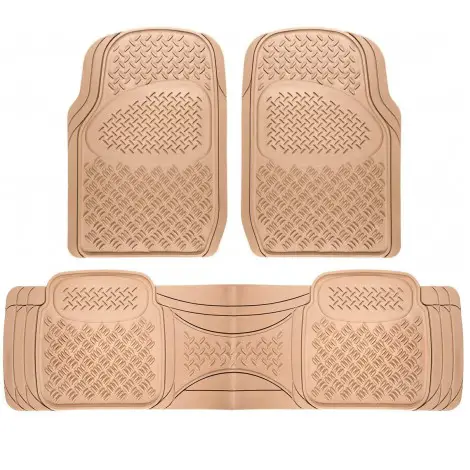 Coming in at #7, it's the Oxgord Universal Fit Floor Mat. This premium quality set of four car floor mats will keep your vehicle
safe
from all manner of onslaughts from the elements, and all at a very reasonable price, to boot. So what else does this mat have going for it? Let's find out.
Expand to see more
Customizable

The title doesn't say universal fit for anything, after all. Not only are these mats, by default, incredibly easy to fit into almost any car floor, if by chance you find a car floor it won't fit into, don't worry. These car floor mats are just as customizable and trimmable as our #1 entry, meaning you can customize these mats to suit your needs.

Incredibly weatherproof

Rubber isn't exactly famous for being able to stand up to extreme weather, but that's because most people are only aware of the more commercial brands of rubber. The rubber that makes up this mat is made of much sturdier stuff. This mat can take anything the elements have to throw at it and more, so if that's what you're looking for out of a car floor mat, this is the one for you.

Cost and Value

This is not only one of the toughest, most durable, and most customizable mats out there, but it's also one of the cheapest on this entire list. So, if what you need is weather resistance at a good price, this is what you need.


Customizable
Incredibly weatherproof
Cheap
Not much grip on the carpet
8. AmazonBasics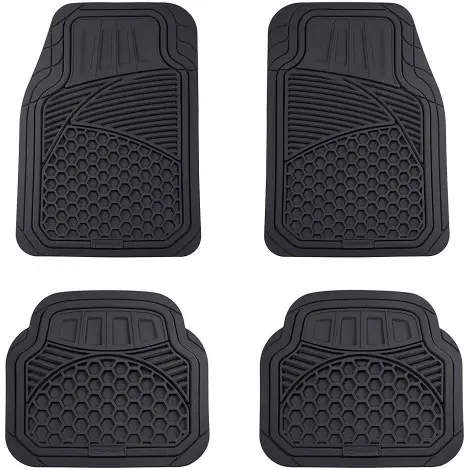 Kicking off our final three entries, we have the AmazonBasics 4 Piece Basic Floor Mat. In their neverending bid for world domination, Amazon has dipped its fingers into many different pies. One might wonder why they decided to make car floor mats of all things, but to be fair, it is a very nice car floor mat.

Expand to see more
Flexible rubber

Some people may think that the key to a good car floor mat is stiff and unmoving, but in fact, the complete opposite is the real truth. The more flexible a car floor mat is, the better it can adapt to new situations and the easier it will be to fit the mat into the car in the first place. That's why this mat, despite the rubber used to make it being of very high quality, is still incredibly flexible.

Easy to clean

Seems a simple perk, but car floor mats can get filthy over time, so the easier they are to clean, the better. And this car floor mat requires even less effort to clean than most. Even though it catches just as much dirt and spills as effectively as other entries on this list, once met with even a semi-stiff spray from a hose, all of it will be gone, and the mat will be spotless within seconds.

Cost and Value

Like before, this is a very affordable car floor mat. While not quite as cheap as the last entry, the margin of difference is so slight as to not make much of a difference.


Flexible rubber
Easy to clean
Customizable
Driver and passenger mats may be too small for some SUV's
9. AmazonBasics 3 piece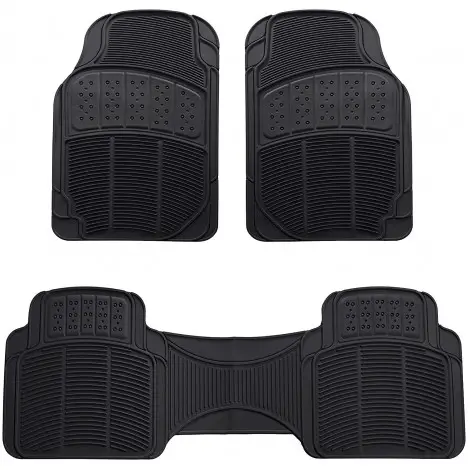 For our second to final entry, we have the AmazonBasics 3 Piece Car Floor Mat. If you're going to conquer the global market through the influential and sinister world of car floor mat manufacturing, then it would be wise not to have just one entry to your name. Indeed, this car floor mat is similar in several ways to the previous entry but different in many others.

Expand to see more
Customizable

One thing all AmazonBasics car floor mats have in common is that they are completely customizable. While these mats are flexible enough to fit into just about any footwell you need them to, they are still trimmable, so you can get them down to the perfect fit in case you come across a particularly stubborn case.

Non-skid design

Like other entries on this list, this mat has a design flourish that keeps it from moving around too much on the soft, smooth carpet beneath. This is mostly done through a heavily nibbed bottom half that keeps it in place.

Cost and Value

The margin of difference between this and the #7 pick in terms of price is practically non existent. The two have almost the exact same price, thus making this one of the cheapest entries on the entire list.


Customizable
Non skid design
Cheap
10. BDK Classic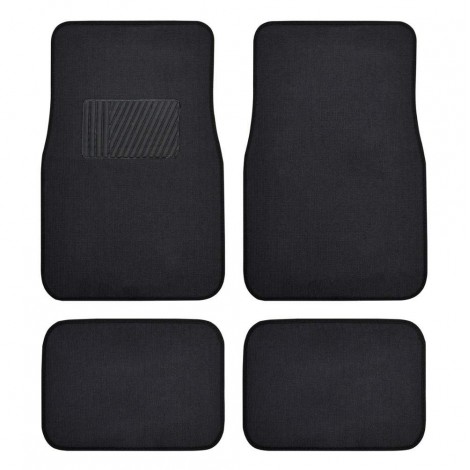 For the final entry of this list, we go back to basics with the BDK Classic Carpet Floor Mat. Everyone loves a good carpet car floor mat, he or she're comfy, cheap, a pain in the butt to clean, but the benefits usually outweigh that. So, what are these benefits that this final entry has to offer? Well, let's see.

Expand to see more
Needle punch carpet and heel pad

The most common death knell of carpet floor mats is the fact that you need to have your heel digging into it whenever you're driving, which can wear it down over time. But this needle punch carpet is perfectly durable on its own, and for good measure, it has its own heel pad that will keep your heel from hurting the actual carpet.

Universal shape

This is a big plus in the favor of any car floor mat that has it. Finding a car floor mat for your specific car can be daunting, and often expensive. Which is why it's such a boon to find a car floor mat like this, which is so universally shaped (which is a herculean task in itself) to be able to fit into pretty much any footwell your car has.

Cost and Value

This is easily the cheapest entry on this list. Carpet car floor mats tend to be, but luckily we managed to find the best of that kind. BDK does nothing halfway, after all, so it makes sense that even their carpet car mats would be of higher grade.


Needle punch carpet and heel pad
Universal shape
Cheap
Car floor mats are not generally something we think about when it comes to our cars. They're one of those things that, when they work properly, are not meant to be given so much as a second thought, let alone a first. They work in the background, like the simple tools they are. But even simple tools have their place because you will definitely notice when something is wrong with your car floor mat. Mostly because it'll probably start to smell.
In all seriousness, though, we really do underestimate just how much a good car floor mat does for us. It isn't just that they keep the hard to clean carpet floor free of any spills by providing a convenient barrier. It's that they also make it easier to drive the car and use the pedals, by providing your heel with the necessary traction to really dig in so you can focus on the gas or brake pedal, that the soft, smooth carpet underneath it just can't. And if that's what you need from your car floor mat, then every single entry on this list will provide just that and then some. So, if you need a really high-quality car floor mat, then these ten entries will give you exactly what you're looking for.
Criteria Used in Choosing the Best Car Floor Mats
Assembling a list of criteria for this guide was not as hard as you might think it would be. Car floor mats are rather simple tools, and we expect a firmly established, widely accepted range of criteria out of a really good car floor mat. If one does not meet our standards, it's easy to notice. So, with that said, here are the main criteria we used to judge and evaluate what got onto this list and how far up the list it then got.
Traction
The part of your body that most interacts with your car floor mat is, of course, your feet. They actually rely on your car floor mat to give them the traction they need to comfortably angle against the pedals so that you don't have to worry about constantly putting your foot back against the brake pedal when you need to stop abruptly. That's one of the many reasons that car floor mats have those intricate designs and ridges all over them. So, it's no surprise that one of the biggest criteria for this list was how much traction each entry provided you.
This is the reason you only got one carpet car floor mat for this list. In fact, the heel pad is what got the #10 entry on this list, as it solved the biggest problem of carpet car floor mats: barely any traction, as well as your heel risking doing damage to the mat in an attempt to gain more.
Sanitation
There is, of course, another, more popular reason for getting a car floor mat: keeping your car floor clean. Car floors are often some kind of fabric, with older models having floors resembling carpet. As anyone who has had to clean juice out of the living room carpet before can tell you; cleaning spilled drinks out of a carpet is not an easy task. If you can't fit a carpet cleaner in there (which you won't), then you'll have to painstakingly scrub it out completely by hand, and really, who has that kind of time these days? This is where a car floor mat comes in, providing a solid rubber barrier between the carpet beneath and the spilled milk above. And don't worry about cleanup, even the hardest car floor mat to clean should only take you a half hour at absolute most, due to their small size. However, food and drink stains aren't the only things they protect against.
Weather resistance
The biggest thing that car floor mats protect against is harsh weather conditions you bring into the car with you when you open the door. Whether it's snow or mud, you track in with you, dirt that falls off your shoes and pants, or heavy rain that drips off of you and often comes gushing into the car. This is where the bulk of the car floor mat's capabilities will be put to the test. Particularly, the ridges. The ridges are there to prevent any dirt, grime, mud, or anything else you tracked into the car with you from getting off of the mat prematurely and getting all over the carpet beneath.
The ridges do this by, put simply, trapping all of that stuff in its crevices. Once caked in, it won't want to go anywhere else, and then you can just wash it clean with a hose, as opposed to the several minutes of scrubbing and deep cleaning that you otherwise would be doing.
Grip
The traction that a mat gives your feet is only made possible because of the traction that it has on the carpet below. After all, it doesn't matter if the mat keeps your feet firmly in place if it keeps sliding about every which way but the direction you want/ needs it to go in. As we've seen, there is a multitude of ways in which car floor mats can increase their grip on the floor of your car. Some prefer Velcro, which can potentially damage the fabric of the floor but is still Velcro and thus very effective. Others prefer nibs, which are like cleats except not nearly as sharp, but perfect for keeping hold of a carpeted car floor. More expensive brands prefer tiny fibers that line the underside, providing excellent traction without the risk of harm to the floor or the mat.
Price
And finally, we come to a price, one of the most varied entries on this list by far. Mostly because, as you've probably noticed, a few of the entries on this list are pretty dang expensive. Like most products out there, the price is decided by the features it comes with and what is used to make it. The most commonly used material is rubber, since it's flexible, can be very soft, but still tough to tear and break, while also being very easy to modify on a chemical basis. So, the higher the quality of the rubber, the higher the price will be. Also, more niche solutions to certain problems (or solutions patented by the company) will ratchet up the price, such as with the triple-digit dwelling entry with the traction adding fibers on the underside in place of nibs or cleats. Little details like that can have a huge impact on the price of a car floor mat.
FAQ
Frequently Asked Questions
For our final entry, we're looking at some frequently asked questions about car floor mats. Now you're probably wondering what kind of questions there could be about car floor mats since they're about as simple as tools like them can get. And in some parts you are correct, but despite this, we still managed to find a pattern of frequently asked questions about these tools. So, with that said, here they are and the answers thereof.
Q: Why are the ridges on a car floor mat so intricately designed? Why aren't they just horizontal, so as to ensure I scrape off the mud easier?
A: Is the underside of your shoe comprised of a bunch of horizontal lines? No? Then just a bunch of horizontal lines won't cut it. The ridges on a car floor mat need to zig and zag every which way in order to ensure that, regardless of what direction you're coming at it from, you will be able to scrape off whatever is on your shoe. The ridges are also shaped as they are so as to prevent the stuff you scrape off from escaping. By forcing them into corners, the mud or snow or whatever you've brought into your car will be more effectively trapped.
Q: I left my car floor mat out overnight in the middle of winter, is the mat in any danger?
A: That depends on where you live. If you live in, say, new york city, then if the cold was going to pose a danger to your mat anyway, then it was already done for. That city is freezing cold in winter, so you need to make sure that the car floor mat that you get is one that can effectively resist the elements. Otherwise, you'll soon be in the market for a new one anyway.
Q: Why are car floor mats made out of rubber? Wouldn't another material be better suited?
A: In all honesty, probably not, no. For the purposes that car floor mats call for, rubber is just the best option. For one, it's moldable at the subatomic level, with manufacturers able to decide from the very start how tough it is and how flexible it is to match. Rubber is flexible, resistant to the elements when the correct materials are applied, and is, overall, the best material for this job. There are other materials used, of course, before rubber there were carpet mats, and they've since started mixing in some metal into the recipe. But at its base, rubber is the best material for the job.
Q: If car floor mats are meant to cover up the carpet beneath, and no one really takes them out if they can help it, why should I care if they tear up that carpet?
A: Oh, where to begin with this one? Well, first off, a torn up floor can lower the resale value tremendously. Also, the lack of carpet to grab onto will negatively impact the grip the mat has on the floor later down the line. And finally, it just looks ugly.
Subscribe to our Newsletter