Best Loading Ramps Reviewed & Rated for Quality
last updated:
Aug 14, 2019
The loading ramp is an essential part of every truck owner's equipment. Whether you need to load an ATV, bike, motorcycle, or heavy cargo, you can't do it without this useful tool – or at least you can't do it without damaging the vehicle, the load, or your back (or all three at once)! Loading ramps are a great invention that saves you from the hassle of calling your friends and neighbors to help with loading every time you need to transport your vehicles. When you use a ramp, you can load your cargo all by yourself, and the whole process is painless and easy.
Featured Recommendations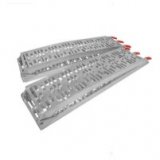 Titan Ramps ATV001

Our rating
Easy Loading
Price:

See Here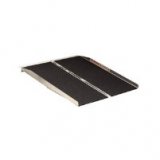 Prairie View Industries SFW330

Our rating
Compact Design
Price:

See Here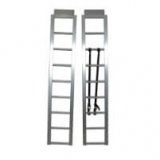 Highland

Our rating
Sturdy Materials
Price:

See Here

If you're searching for the best loading ramp that'll help you to transfer your load easily and safely, you came to the right place, because we have a list of 10 best ramps you can find on the market. We know how hard it is to make a decision and pick the perfect ramp. Searching for this kind of product is a bothersome process because there are too many things that you have to think about: height, width, sturdiness, quality of the materials, straps, and many others. That's why we have provided a thorough list that should help you to easily find a perfect product for your needs.
10 Best Loading Ramps
Titan Ramps ATV001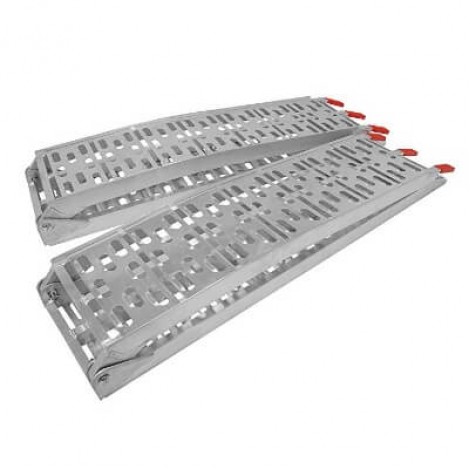 If you need a pickup loading ramp that will help you with transportation of your ATV, 4-wheeler, lawn mower, bike or motorcycle, Titan ATV001 is a perfect choice! These ramps are designed to provide maximum protection and security, so you'll be able to take your vehicles wherever you want. You also get the ramps that are portable and lightweight, so you'll be able to move them around easily and store them without any difficulties. Things are very simple with Titan ATV001!
Expand to see more
Easy Loading
Titan has the loading capacity of 1500 lbs which is enough for any small vehicle that you want upon your flatbed. The arched ramp design ensures smooth and easy loading. The ramps are 90 inches long and 11 inches wide and when they are folded they measure 45.5 x 11 x 6 inches. They are long enough to fit safely at almost any truck bed size and provide secure and stable loading, especially when you're loading a 4-wheeler. Additionally, Titan provides safety straps that keep the ramp securely attached to the tailgate. Therefore, you don't need to worry about ramp collapsing or causing any damage. Straps will keep it on its place.
Safety
Made from strong yet lightweight aluminum, Titan ramps are easy to handle and transport. As we have already mentioned, they are designed to provide safe and easy loading, but they are also compactly designed for simple use and provide a high level of portability. They fold down and weigh only 33 lbs. Also, the protection of your vehicle is very important, and that's why Titan features rubber tipped fingers to prevent any damage to the tailgate. The only issue seems to be the finishing – the edges are too sharp so you'll probably need a good pair of gloves if you don't want to cut yourself.
Cost and Value
Titan ramps can hold almost any type of
small vehicles
and they provide easy and smooth loading. Not to mention that they are very portable and secure. Lastly, Titan ATV001 has an attractive price which makes it popular among users. Therefore, when we take into account all of Titan's features and its great price, we have to notice that this is one of the best ramps that one can find on the market.
The capacity of 1500 lbs
Long enough to provide easy loading
Safety straps
Fold down for easy transport
Rubber tipped fingers
An attractive price
Prairie View Industries SFW330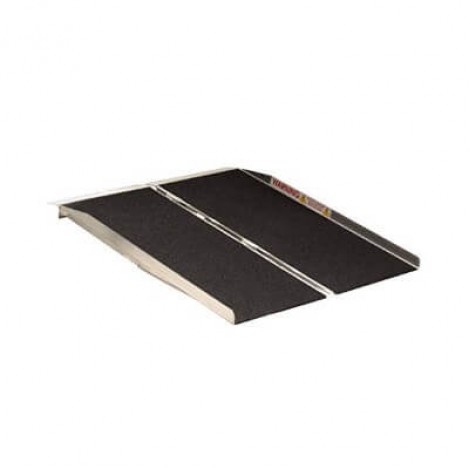 Prairie View Industries feature a single-fold ramp in various dimensions that is ideal for the house and van doorsteps. This ramp is perfect for wheelchairs but it can be also used for loading lawn and other equipment into the garage or house. You can finally say goodbye to the back problems and painful lifting of heavy objects. Prairie ramp will provide the support you need to just roll your load over the doorstep. Overall, this ramp is compactly designed and can fulfill various purposes, so if you are searching for a threshold loading ramp, Prairie SFW330 is an excellent choice.
Expand to see more
Various Dimensions
Prairie ramp comes in various dimensions: 2 ft x 30 inches, 3 ft x 30 inches, 4 ft x 30 inches, 5 ft x 30 inches, and 72 x 30 x 4.9 inches. This way Prairie View Industries provided enough dimensions for most users requirements and needs. All ramp sizes support around 800 pounds which is quite impressive for a threshold ramp.
Portability
The ramp is made from sturdy and durable material and it has an anti-slip traction tape across
the entire walking surface
. Therefore, there won't be any slips and falls even if the rain is pouring outside. Additional useful feature are the lips located on both sides. They ensure additional protection from slips.
The best thing about this ramp is its compact and ergonomic design. Although the ramp is sturdy, it's made from lightweight aluminum that allows great portability. You can fold the ramp in half for easier storage, and because it's lightweight and it comes with a handle you can also carry it without any issues.
The only downside are the hinges in the middle of the ramp. It seems that some users have problems because they are often sticking out. This is not happening with all ramps, but enough to say that the hinges are not as sturdy as they should be.
Cost and Value
Prairie ramp is incredibly sturdy and durable. It's on the expensive side, but you'll get a long lasting product that doesn't require often replacements. Overall, Prairie provides great value and multipurpose product that you'll be able to use in many different situations.
Can be used for many purposes
Various dimensions
Compact design
Hold up to 800 pounds
Anti-slip traction tape across the ramp
Easy to carry and store
The hinges tend to stick out
On the expensive side
Highland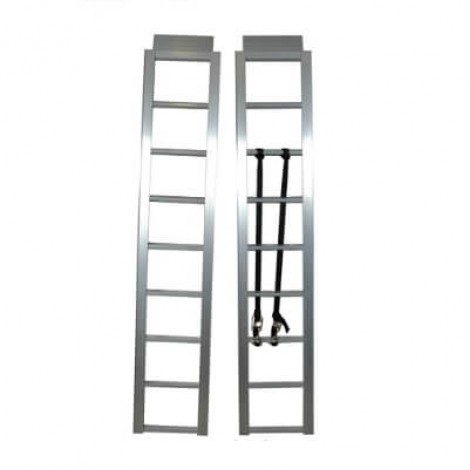 Highland aluminum loading ramps are a perfect choice if you need something affordable yet incredibly valuable. These ramps are designed to provide a high level of security while you're loading up to 1250 lbs! You can load 4-wheelers, lawn equipment, motorcycles, and other vehicles and cargos on your truck with incredible ease. The ramps won't even feel the load's weight!
Expand to see more
Heavy Loads
Highland ramps are made from durable aluminum, designed to endure heavy loads without any difficulties. They measure 69 x 13 inches, and they can hold the weight of 1250 lbs. Many users praise Highland for its sturdiness and durability. It seems that the aluminum material eliminates any bumps that can occur during the loading of vehicles on
the truck
. However, it's important to note that the ramps that are 5.75 ft long and 1.08 ft wide are not suitable for all types of vehicles. This can be a problem for lifted trucks – users reported that they're a bit short to fit securely on the flatbed.
Easy to Use
The ramps are rust and corrosion resistant, which makes them safe and durable. You also get the adjustable attachment straps to secure the ramps to the vehicle. The whole assembling part is quite easy because Highland ramps are lightweight and easy to maneuver. You also won't have any problems with carrying and storing them.
Cost and Value
Truth to be told, Highland is not the best loading ramp on the market, but it does the trick and it's definitely the best bang for the buck! If you're on a limited budget yet want to find a good quality loading ramp, you can't go wrong with Highland.
The capacity of 1250 lbs
Made from durable aluminum
Sturdy and durable
Rust and corrosion resistant
Come with safety straps
Inexpensive
Too short for lifted trucks
Black Widow AFL-9012-2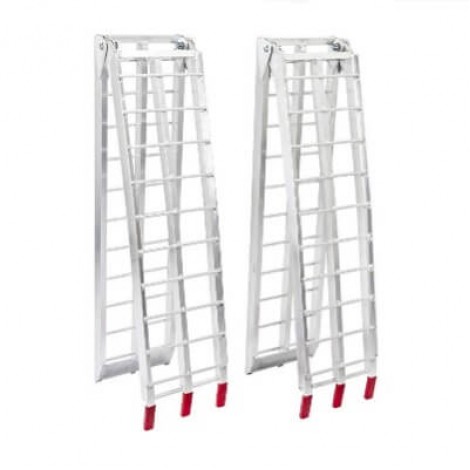 If you're searching for ramps that can provide easy and safe loading of your ATVs, UTVs and other types of vehicles and cargos, look no further! Black Widow AFL-9012 offers some great features that will ease all the hassle about vehicle transportation. If you are eager to find out more characteristics of this great loading ramp, keep up reading our in-depth review!
Expand to see more
High-Quality
The ramps are made from high-quality lightweight aluminum. This makes it easy to handle yet strong enough to endure loads up to 750 lbs per ramp. You won't have any worries using the Black Widow ramps considering its capacity to hold up 1500 lbs. You also get the safety straps for more stability and protection. The ramps are 89 inches long and 11 inches wide. When they're folded they are 45 inches long and 6 inches tall. They weight around 29 lbs which means that they can be easily carried and stored.
Safety
Black Widow ramps are designed
to provide protection to your vehicle
and to your load, as well as to provide simple and easy handling for yourself. The specially designed arch ensures a safe angle so your cargo or vehicle won't touch the ground and get damaged while loading. The ramps also have three rubber-coated mounting fingers to prevent any scratches or bigger damages to your vehicle. On the other hand, they fold down in half for easy storage and they're lightweight so you can easily carry them around.
The only issue with the design of these ramps includes wide space between rungs. Since they are too far apart, they make loading small-sized vehicles a bit harder and loading the ones with small wheels almost impossible.
Cost and Value
Black Widow ramps provide great value for the money. If you're searching for heavy-duty ramps, Black Widow AFL-9012 is among the cheapest ones on the market, and it still has first-class features.
Can hold up to 1500 lbs
Fold down for easier storage
Lightweight
Specially designed arch
Rubber-coated mounting fingers
Great value for money
The rungs are too far apart
MotoAlliance VD-4289AT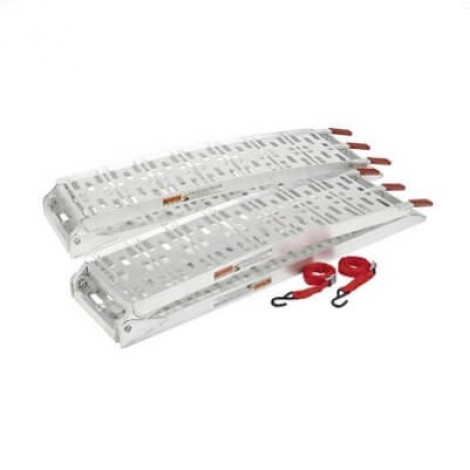 Moto Alliance VD-4289AT is an ideal choice for people who want heavy-duty ramps that can endure loading ATV, UTV, motorcycle, and other 4-wheeled vehicles. They are extremely sturdy and safe, providing easy loading and transportation.
Expand to see more
Arched Design
These Moto Alliance ramps have a 1500 lbs load capacity which is more than enough for all heavy cargos and vehicles. They are 89 inches long and 11 inches wide when they're open, and measure 45.25 inches when folded. The ramps have an arched design which means that they prevent any load accidental bottoming. With 31 lbs the straps are lightweight and they can be easily carried and stored. They also fold in half for easy storage and portability.
Lightweight Aluminum
The ramps are made from lightweight aluminum to provide stable loading and easy carrying and storing. The material is also rust resistant. Along with that, the ramps have rubber-tipped fingers that make them safe for your vehicle, preventing any accidental scratches. They also come with two straps for secure attachment.
The only issue is an overall construction of the ramps. They have too sharp edges so you can easily cut yourself. Therefore,
you should wear gloves
and make sure to warn other people before they get in contact with the ramps. You should be extra careful with children.
Cost and Value
Moto Alliance ramps offer great value even if they're a bit pricey. They don't have a sky-high price but it's higher than previously reviewed models of loading ramps. The thing is, these ramps are designed for heavy and big loads, so the price rises accordingly. Other than that, you'll be fully satisfied with the purchase.
1500 lbs load capacity
Arched design
Lightweight
Fold in half for easy storage
Rust resistant
Rubber-tipped fingers
Come with two straps
Yutrax TX104
If you're searching for a heavy-duty ramp that can endure heavy loads and provide easy transportation of ATVs, motorcycles, bikes, and other small vehicles, we have a perfect one in mind! Yutrax offers a wide ramp that can fit larger trucks and vehicles, so if you were struggling with smaller ramps that don't provide enough width for your vehicle, here's the answer to your problems!
Expand to see more
Heavy-Duty
Yutrax TX104 is made from high-quality and lightweight aluminum. It has 32 lbs, enough to provide security yet easy to handle. The ramp can hold up to 1750 lbs, which is pretty impressive. It is 78 inches long and contains 3 sections that can be folded in one when not in use. The ramp measures 78 x 17.5 inches when folded. This allows for easy carrying and takes less storage place. The best thing about this ramp is the width of 50 inches. It is designed to fit wider vehicles and trucks.
Sturdy
The ramp is made from sturdy and durable materials that resist bending. There are also rubber-coated tabs that attach to the flatbed without scratches, and two safety straps that come as a bonus for more protection and stability.
However, there are two issues with this ramp. The first is that it has large gaps that make loading of
vehicles with small wheels
very hard. The second issue are fragile straps that come with the ramp. You'll probably want to replace them with sturdier ones.
Cost and Value
Yutrax is a big (and extra wide) ramp that ensures loading of heavy objects and vehicles. With larger ramp comes a bit higher price, but there's no doubt that this ramp provides an excellent value. If you have a few extra bucks, it'll be wise to spend it on Yutrax!
Holds up to 1750 lbs
3 sections fold in 1
50 inches wide
Lightweight
Rubber-coated fingers
Two safety straps
Large gaps and fragile straps
Pricey
Titan Ramps (94 -S)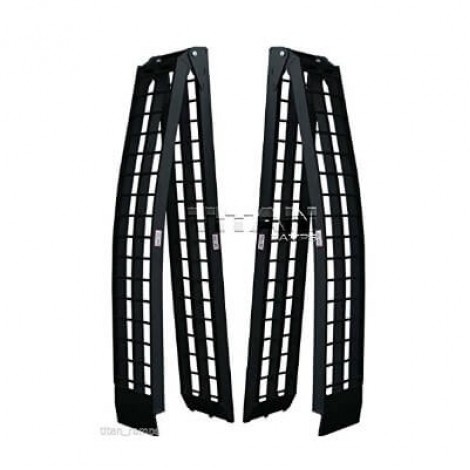 Here we have another Titan's product that provides great value. These truck 94-S ramps are designed to provide high-level of protection and easy loading of small vehicles such as motorcycles, scooters and small ATV's.
Expand to see more
Serrated Crossbars
The ramps can hold 1200 lbs, and they are 94 inches long and 11 inches wide. They also fold down for easier storage, measuring 48.5 x 11 x 6 inches. The ramps have an arched design to provide safe loading and they feature serrated crossbars for greater traction. They weight around 38 lbs – they're not too light but enough to be easily carried and transported.

Safe and Durable
Titan 94-S ramps are made of lightweight, corrosion-resistant aluminum. Therefore, they provide safe and stable loading and great durability. You'll probably have them for many years before you even think about replacing them. Additionally, they feature a slip-resistant surface which makes them safe even in wet conditions, and they come with two straps if you need to secure them more firmly to your vehicle. The straps are a very useful feature, but it seems that they are not as sturdy as they should be. Many users had problems with them, so they just purchased the new ones separately.
While the overall design of the Titan ramps is flawless, it still has one aesthetic flaw – the paint is flaking off after just a few uses. This should be improved especially when we consider the Titan's price.

Cost and Value
People from Titan are producing durable and high-quality products, and 94-S ramps are one of them too. They are a bit pricey but the truth is, they'll last for years!


The capacity to hold 1200 lbs
Ramps fold down for easy storage
Lightweight and corrosion-resistant aluminum
A slip-resistant surface
Two straps for more stability
The straps are fragile
The paint is flaking off
Yaheetech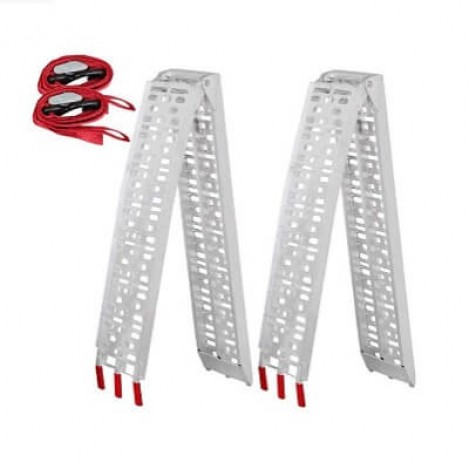 Yaheetech features sturdy and durable ramps that are suitable for various types of loads. These ramps are ideal for people that have medium-sized vehicles and those who need compact ramps that can be easily stored and carried around.
Expand to see more
Sturdy Ramps
The ramps measure around 89 x 11.6 x 4 inches when they're in full size and 45.6 x 11.6 x 5.6 inches when folded. They are made from durable aluminum with a loading capacity of 1500 lbs. Overall, we are speaking about sturdy and durable ramps that can endure quite a lot. However, many users reported that ramps were holding great with around 900 lbs, but that they aren't heavy-duty ones. If you need ramps
for larger vehicles
and loads you should look into some of the earlier reviewed products.
Anti-Slip Design
The ramps have rubber-coated tabs to protect the paint on your vehicle, but they also feature 3 caps at the bottom to prevent any accidental slips, and to ensure secure and safe loading. The entire surface is anti-slip designed so you'll have a safe loading ramp regardless of the weather conditions. Now you can easily load your favorite vehicles straight from the muddy road! There are also safety straps in the box if you want full stability and protection for complete peace of mind.
Gentle warning: Keep in mind that the edges of these ramps are very sharp. Make sure to wear gloves when you use them.
Cost and Value
Yaheetech ramps provide great value and reasonable price. If you need lightweight ramps that will be portable and easy to use, you can't go wrong with Yaheetech. An attractive price makes choosing even easier!
1500 lbs load capacity
Durable aluminum
Rubber-coated fingers
3 caps at the bottom for more stability
Anti-slip design
Well-priced
Not sturdy enough for all kinds of vehicles
Edges are very sharp
Pit Posse PP2755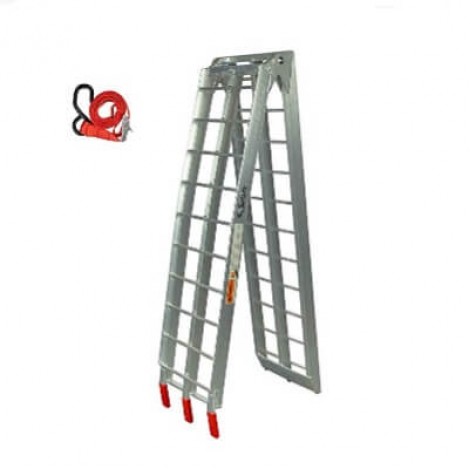 If you're searching for the best compactly designed ramps that will provide easy and safe loading of your 2-wheel vehicles and other small cargos, Pit Posse is an excellent choice!
Expand to see more
Compact Design
These ramps can hold up to 750 pounds. They measure 89 x 11.6 x 2 inches when they're in use, and they are 46 inches long when folded. Pit Posse ramps have a compact and lightweight design with only 16 pounds of weight. With water resistant and durable aluminum, these ramps can be used and folded down countless times yet work as new!
Easy to Use
Pit Posse ramps are easy to use and transport. They are compatible with most vans and
trucks
, featuring rubber-coated fingers against scratches and damages. You also get two straps that will ensure a stable position of the ramps. You should only watch over the sharp edges, especially with holes that can also damage the wheels of smaller vehicles.
Cost and Value
Pit Posse offers high-quality ramps that are also inexpensive. They are among the cheapest loading ramps on the market yet they can endure a lot. Therefore, if you need compact and efficient ramps, you can't go wrong with Pit Posse, especially considering the fact that you'll get a 5-year warranty!
Compact design
Ramps fold down for easy storage
Water resistant and durable aluminum
Rubber-coated fingers
Two straps
Inexpensive
Yutrax TX107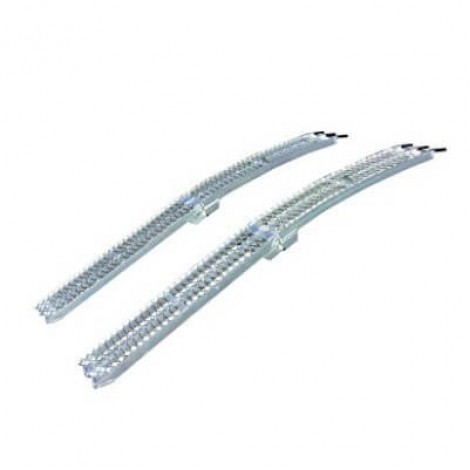 Yutrax TX107 is a sturdy and durable loading ramp that helps with the loading of small vehicles. The ramp is made from high-quality materials, providing excellent support and high-level of stability. If you're interested in one small yet effective ramp, keep reading to find out Yutrax's other great features!
Expand to see more
Sturdy Construction
Yutrax ramp is 89 inches long and 12 inches wide, which is ideal for loading items with low clearance. It folds down in 45.5 inches for easy storage. Fully-welded aluminum construction can endure 1500 lbs. The ramp is made from lightweight yet sturdy aluminum, and it has only 38 lb. However, you should keep in mind that only one ramp comes in the box, and if you want to have two ramps you'll have to purchase them separately.
Easy Loading
The ramp feature tread-gripping mesh surface for protection and easy loading. The extruded rectangular side rails are designed to prevent bending of the ramp, and the rectangular cross section is made to support more weight. The arch ramp design is there to prevent your load from bottoming or scraping on the edge of the tailgate. The ramp also has rubber-coated tabs
to prevent any accidental scratches of your vehicle
. You'll get two straps for more security and safer loading. However, keep in mind that the edges are very sharp and you could cut yourself easily.
Cost and Value
Yutrax ramp is made from sturdy and durable materials, providing excellent support during every cargo loading. It ensures great value for a reasonable price, so you'll be overall satisfied with the purchase. You also get a 1-year warranty.
Holds up to 1500 lbs
Sturdy aluminum
Arch ramp design
Rubber-coated tabs
Two straps
Well-priced
Only one ramp in the box
Sharp edges
Criteria Used in Evaluation of the Best Loading Ramps
Loading your vehicles on a van or a truck is a bothersome process. The very thought of getting them damaged during loading process gives you a horrible headache. That's why it's important to choose a secure and stable loading ramp. We provided a list of 10 best loading ramps that you can find on the market, but we also rated them according to their overall quality and performance. Here are the criteria we used in the evaluation of the best loading ramps:
Size and Loading Capacity
The first thing we have considered when evaluating the best loading ramps was their size. It's very important that ramps are long enough to fit standard trucks and vans.
Additionally, it was important to stress their width because people are loading vehicles with different wheel sizes, and they need different loading ramps to suit their requirements. Speaking of requirements, the other essential thing during ramp evaluation was the loading capacity of every ramp. While the ramps that have bigger loading capacity are on the top of our list, we couldn't exclude ones that are compactly designed and don't support heavy loads but have other good features. Additionally, some of the ramps that are on the bottom of our list have great loading capacity, but they didn't show overall great quality like other ramps. We had to think about every aspect and feature to rate them properly.
Materials
Every loading ramp on our list is made from sturdy and durable aluminum. Therefore, we assigned points to every one of them according to additional features such as sturdy straps, rubber-coated tabs, soft finishing, and others. It was also important to determine are these ramps lightweight, easy to handle, and store. Ramps are bulky products, so features that provide compact design are very important.
Overall Quality
We have taken into account the overall quality of every ramp on our list. Naturally, the most important things are the safety and stability of the ramps. Along with their size, loading capacity, and quality of materials, we had to make sure that every one of them has features that offer high-level of safety. Things such as anti-slip surfaces, accessories (straps, hooks, and others), and rungs design were taken into account when evaluating the best loading ramps. It was important to compare all their features and then to rate the ramps by their quality.
Cost and Value
Lastly, we thought about the cost and value that every ramp provides. It's important to know that we'll get what we have paid for, regardless of the high or low price of the product. Some heavy-duty ramps are a bit expensive, but they provide the ability to load bigger vehicles. The compactly designed ones are less expensive, but we wanted to know that they provide stability and durability. It's important that ramps will last for a long time, so we don't have to go through the bothersome searching process all over again.
Other Factors to Consider
If you're searching for a loading ramp and don't have any idea where to start, we are here to help you. You can follow both our criteria used in the evaluation of the best loading ramps and the following steps we provided to help you choose the right product for your specific needs. On the other hand, even if you know what to look for and what you need, you should follow the next steps just to be sure that you covered all the important aspects.
Capacity
The first thing you should check before you choose a loading ramp is the capacity of your car, truck, motorcycle, or ATV. You want to purchase a ramp that can endure the weight of your load, but you also want one that can hold more weight than that of your vehicle. Choosing the capacity of a ramp will eventually come down to your budget abilities. Heavy-duty ramps are usually more expensive than smaller ones.
Size
The size of the ramp is very important. You'll notice that the tailgates of many pickup trucks are higher than that of trailers. That's why the angler steeper height is less than the loading height. You'll need longer ramps for steeper anglers – the ramp should be long enough to provide safe loading and to minimize the loading angle. The other important thing that you should consider while choosing the loading ramp is its width. If you're aiming to buy a single loading ramp, it should be as wide as your vehicle. If you want a dual setup, then both ramps should be equal to the widest part of your vehicle's tire.
Design
Do you want a single ramp or dual ones? That's the question you should answer. A single ramp is a heavy-duty tool that can accommodate the entire vehicle. It can also be folded down in half.
On the other hand, two ramps are easier to handle, carry, and store. They also fold down, but they are lightweight and very portable. You can also place them on a desirable distance to load vehicles of different size and weight.
Accessories
Lastly, you should look for ramps that provide additional features for a high level of safety and durability. For example, straps are essential because they hold a ramp firmly attached to the vehicle. Rubber-coated tabs are very important because nobody wants scratches on their car! Think about these features when choosing the perfect ramp for yourself, or think about purchasing an additional kit that will provide all necessary features regardless of the ramp that you're buying.
FAQ
Frequently Asked Questions
Q: How do I choose the right loading ramp?
A: First thing first – choosing the right kind of product! There are many different types of ramps, and you want to go for the one that is specially designed for your type of load. You also want to make sure that the chosen ramp is specially designed for the very purpose you need it. Secondly, you need to know the load height of your vehicle and the width of the ramp. It's very important that the ramp is used at the proper height and angle for full protection and safety. Also, you won't be able to load your cargo or vehicle if the ramp doesn't have a proper width. Lastly, the loading capacity, storage, and transport of the ramp are important things that will influence your decision, and make you choose the proper product for yourself.
Q: What is an ATV Ramp?
A: To put things simply, it's a type of loading ramp that helps you with the loading of small vehicles on your flatbed. It's specially designed for ATV and other small types of vehicles and loads.
Q: How to secure a loading ramp to the vehicle?
A: These days, the assembling part of loading ramps is quite easy. They all have tabs that you have to place firmly on your vehicle's flatbed. The tabs usually feature rubber-coated design to prevent scratches or bigger damages to the vehicle. Then you should use safety straps and connect the vehicle and the ramp by them. Safety straps are very useful, providing a higher level of security both to your vehicle and your load. If there are additional hooks that you can also attach to the vehicle, use them! You should use every additional accessory that can provide more security and stability.
Q: Are loading ramps safe?
A: The benefits of loading ramps are obvious. It's way easier to roll or carry heavy loads up the ramp than to lift them. Some things you can't even lift by yourself! For example, lifting a heavy lawnmower on the truck bed requires your neighbor's help every time. On the other hand, heavy motorcycles can be tricky even with some help, and lifting 4-wheelers is impossible. Why would you deprive yourself of transporting your favorite vehicles and using them in distant roads and tracks? Considering these things, loading ramps are great inventions. Yes, they could be a bit dangerous but only in situations when you haven't paid too much attention in placing them securely. Just make sure that you have placed them in the right position, that you have used all provided straps and hooks for maximum stability and safety, and you'll be just fine!
Q: Can I make a loading ramp on my own?
A: Well, you could be a DIY enthusiast and make your loading ramp. You'll need one or two beams, depending on whether you want to make a single ramp or two ramps. Then you'll have to choose whether you want wooden beams or aluminum ones. Think carefully about the pros and cons of every material type. Then you'll need rods, nails, a drill, and other tools. As you already know, you'll have to place rods on the proper distance to provide easy and smooth loading of the vehicle's wheels. Think about the things that you'll be loading, and only then you can determine what type of loading ramp you want to make. Don't forget to drill holes for straps and hooks – you'll need them if you want to safely load your cargo. Additionally, you shouldn't leave ramp's edges too sharp because they can cause some serious injuries. Grind the edges when you finish all the work! Lastly, if you are not sure that you'll be able to make safe and secure ramps, it would be better for you to purchase ones. Ramps are not too dangerous tools, but they can cause some injuries and damage your vehicles and loads. To prevent those things to happen, it's better to go with reliable manufacturers and sturdy ramps.
Subscribe to our Newsletter