Best Tailgate Speakers Reviewed & Rated for Quality
last updated:
Jul 11, 2019
There's nothing like a good old tailgate speakers party! Whether it's a big-game event or a casual gathering, you finally get to relax from your everyday duties. All your best friends will be there as well as tons of snacks and drinks. Add some grilled meat and salads and it's going to be an unforgettable party! Oh, let's not forget one key ingredient – music. You do have perfect tailgate speakers for the event, right? If not, you're in real trouble! There's no party without loud and quality music, that's for sure. You need a powerful portable speaker for the cause. Then you might expect to turn a regular tailgate party in an entire-parking-lot one! Play some quality music, serve drinks and food, and everybody will talk about your party for weeks!
Featured Recommendations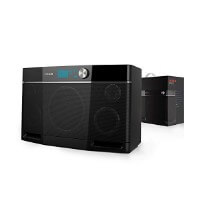 Aiwa Exos-9

Our rating
Powerful Sound
Price:

See Here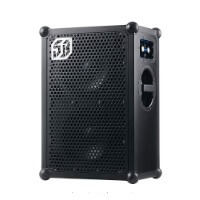 The Soundboks 2

Our rating
Sturdy Construction
Price:

See Here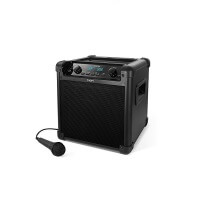 Ion iPA77

Our rating
Outstanding Bass
Price:

See Here

Choosing the proper device is not an easy task. There are many things to consider if you want to get the best one for the job. Not to mention all these different types available on the market. How are you supposed to know which one is the best? Fear not, we got your back! In order to save you some time and effort, we did thorough market research. We looked for the best-quality products and came out with 10 of them. They are supposed to meet a variety of needs so you should be able to find the perfect one for yourself! You just need to scroll down the list and that's about it. We provided all the necessary information to help you decide and get the perfect tailgate speaker in a breeze! Now, let us present to you:
10 Best Tailgate Speakers
Aiwa Exos-9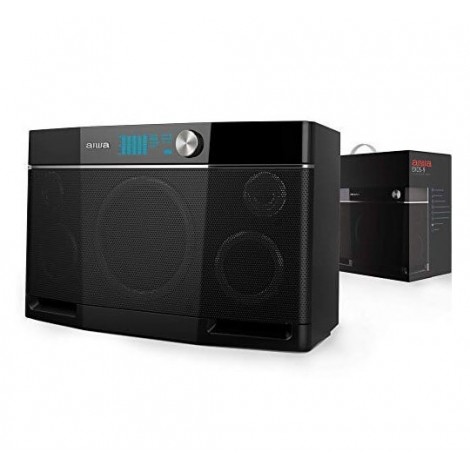 Aiwa is one of the best tailgate Bluetooth speakers you can find on the market. What makes it so special? Powerful and clear sound! The device is made from quality and durable materials to deliver exceptional performance. Power it up, serve some food and drinks, and your party is going to be the best one ever made!
Expand to see more
Powerful Sound
Aiwa offers a clear and powerful sound to meet the needs of every demanding audiophile. It can deliver 200 watts of continuous power and outstanding bass. Thanks to the coil subwoofer, you're going to rock out your favorite songs! The sound is clear and crisp, without any distortions. Still, if you want even more power, you can link two of these devices together. Although this will probably cause you some issues with the neighbors!

Many Connection Options
You are probably wondering how you can power up this one. Fear not! Aiwa connects to all kinds of devices. You can connect it to your phone, tablet, PC, and more. Still, if you don't want to use a wireless connection, you can plug it directly to the audio jack. The device has a 57 Wh lithium-ion battery that withstands for around 9 hours of continuous use. The possibilities are endless with Aiwa!

Also, it's worth mentioning the amazing design of this device. It looks very classy so you can use it anywhere, and not only for outdoor parties. Aiwa will definitely complement any interior! The only thing that we didn't like so much is the design of the controls. The buttons are on the top of the unit and the screen is on the front panel. This demands a little maneuvering to see if you're pressing the right button.

Cost and Value
Although Aiwa is not the cheapest option out there, it does come at a reasonable price. Considering the sound quality and the design of the unit, we wouldn't mind spending even more cash to get it!

200 watts of continuous power
Outstanding bass
Clear and crisp sound
Connects to different devices
Classy design
Reasonable price
The buttons are awkwardly positioned
The Soundboks 2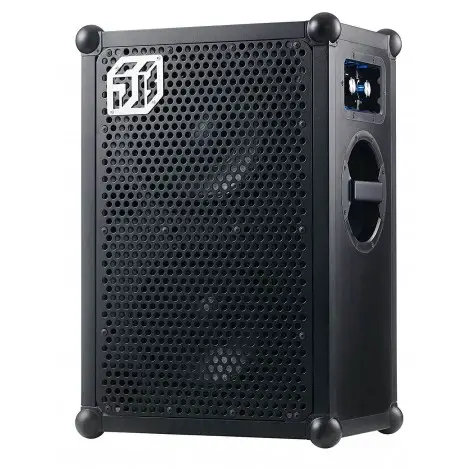 Soundboks 2 is perfect for those who are looking for a heavy-duty speaker. If you want to rock the party and make it unforgettable, this is the right way to do it! What can we say, this is one of the loudest tailgate speakers you'll find on the market. It offers a quality sound and durable construction, so it's perfect for outside use. If you do decide to get it, it'll probably be the best buy you'll make this year!
Expand to see more
Very Loud
This one is impressive in many ways. It delivers 122 dB which is super loud! The sound is crisp and clear, without any distortions. Also, thanks to the big-sized box the device produces a high-quality bass. Overall, you'll enjoy an outstanding sound quality with this one!

Another impressive thing is definitely battery life. If you keep it on the highest volume it lasts around 8 hours while it goes up to 40 hours on medium volume. Which is more than enough even if your tailgate party gets out of control and turns out into an afterparty!

Durable Construction
We were also stunned by the durable construction of the box. The device has a metallic grille on the front that protects the cones. This is very important because the speaker gets exposed to many threats when used outside. The box is also very heavy. It's hard to move it around but take into account that this adds to its durability. Also, this one allows for Bluetooth connection but you can plug it to the auxiliary port as well.

Cost and Value
We are not going to lie, you'll have to pay a pretty penny to get this one! However, there's no chance that you'll ever regret buying it. You'll enjoy the power and durability of this device wherever you go. No matter if it's a tailgate or house party, Soundboks will make everybody dance the night away!

Very loud
Clear sound and amazing bass
No distortions
Up to 40 hours of battery life
Durable construction
Bluetooth and direct connection
Ion iPA77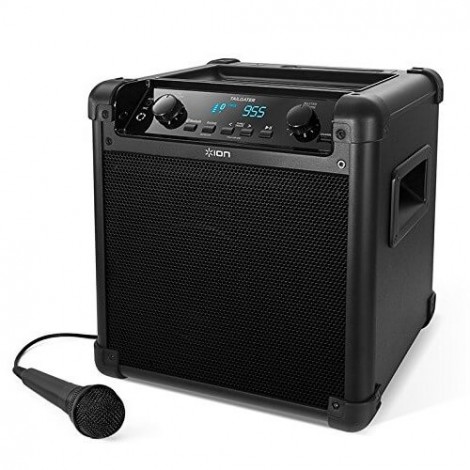 This is probably the most popular tailgate speaker on the market! Actually, people use it for various purposes and not only for parties. It's rather versatile and allows for many fun options. Not to mention the clear sound and deep bass it delivers. You'll definitely enjoy using it! To find more details about it, keep reading our in-depth review.
Expand to see more
Mic and Radio
This is a portable speaker that comes with a 6.5-inch subwoofer. With the power of 50 watts, it's not quite impressive, but it proves to be great for smaller to medium parties. If you're planning to throw a big party, you should stick with one of the previously reviewed models. That being said, we really like the options that come with this speaker. It comes with a microphone and has an antenna on the top
for FM/AM radio frequency
. You get to use it for karaoke for your parties or to play some radio songs. It's definitely nice to have it for all kinds of gatherings!
Easy to Use
We shouldn't forget to mention the impressive battery life. It can withstand around 50 hours of continuous use! You can charge it by plugging the USB in almost any electric device. The controls are very intuitive and easy to use. There's a convenient LED display on the front and the buttons are located right above it. You get to control the sound volume, tracks, Bluetooth connection, and more.
Additionally, you should know that this device is easy to power up. You can connect it to other devices by using Bluetooth or you can plug it in the auxiliary port. The choice is all yours!
Cost and Value
Although we can't say that Ion is cheap, we definitely find it's hard to beat the value it provides. The countless satisfied buyers are there to agree with us. It offers decent power, excellent sound quality, and some additional features. You'll get everything you need for a successful party and you won't even have to pay a fortune for it!
Clear sound and exceptional bass
Comes with a microphone
Has an antenna for FM/AM radio frequency
Intuitive controls and a durable battery
Connects to all kinds of devices
Reasonable price
Not powerful enough for big parties
JBL Charge 3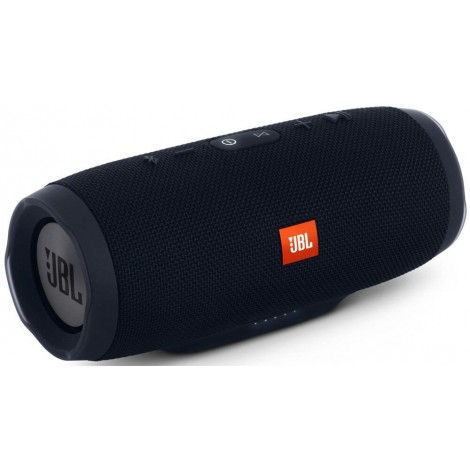 If you're searching for cheap tailgate speakers, you have just found one of the best out there! We all know about JBL and their outstanding products. They are one of the leading companies when it comes to audio equipment. People all over the world use their products. This time, they offer a compact speaker to meet the need of every demanding audiophile!
Expand to see more
Quality Sound
Make no mistake, JBL is compact but quite powerful! It offers great sound quality for its size. The bass is also very decent. Overall, it really exceeded our expectations considering the size. Just keep in mind that it's not a high-end device. Don't expect too much from it because it can't deliver the power like some bulky tailgate speakers. It's designed for casual tailgate parties where you actually want for people to talk to each other. It's perfect for family reunions, for example!

Compact and Lightweight
We love this device because it's very compact and lightweight. The best part of it is definitely a durable construction. JBL offers a waterproof design. It's fully protected against spills and outside threats (IPX7). Although we don't recommend soaking it into the water intentionally.

The JBL has a durable battery as well. It can withstand around 20 hours of continuous use. Pretty impressive for a tiny device, right? Another great feature is a power bank. This JBL device gives you an option to charge your phone! It's actually very useful when you're partying outside, far away from the power outlet.

Cost and Value
This is a perfect option for those who need compact and portable speakers. JBL is a real steal! You get a great device to move it around for unexpected parties and personal use. Not to mention that it's available in 6 different colors to complement every interior!

Quality sound
Compact and lightweight
Portable
Waterproof design
Great battery life
An attractive price
Pyle Pro PSUFM1035A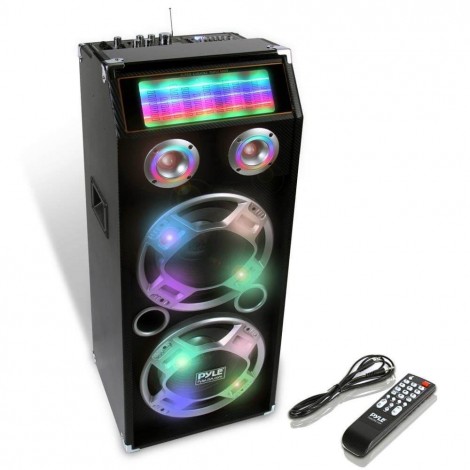 Pyle Pro is one of the best party speakers! You can play karaoke on it or turn on the radio. Not to mention that you get to play the music from any device, including iPads and phones. The intuitive design makes it easy to use while adjustable features make it perfect for every occasion. All in all, it's an impressive speaker that meets your every need!
Expand to see more
LED Flashing Lights
This is a powerful speaker that offers 1000 watts of peak power. It comes with a subwoofer that delivers clear and deep sound without any distortions. We were quite impressed with its power! Also, the control panel is very intuitive and easy to use. You'll be able to switch between various modes with great ease. However, keep in mind that some buyers complained about the bass. It seems that it fails to deliver enough power for big parties.

Now, let us mention one amazing feature that makes this device stand out from the competition. The speaker has LED flashing lights! By a simple turn of a switch, you can turn on multi-color lights to enlighten the entire party area. How cool is that?

Many Power Options
You can use the Bluetooth connection to power this one. It's compatible with all kinds of devices, including phones, iPads, and tablets. This makes it rather versatile and you can use it both indoors and outdoors. The stylish design definitely complements any interior!

We also liked the fact that it comes with a USB flash drive and SD card reader. Not to mention the microphone and an FM radio. It's just designed to make every party more enjoyable!

Cost and Value
Believe it or not, we are not done with praises! Pyle Pro is not only powerful and versatile but also well priced. Yes, we know, it's hard to believe it, but it's completely true. Even if you're on a tight budget you can get this one and throw unforgettable parties!

100 watts of peak power
Clear sound
Intuitive control panel
LED flashing lights
Compatible with almost all electric devices
Well priced
Not enough bass for bigger parties
QFX PBX-61081BT/RD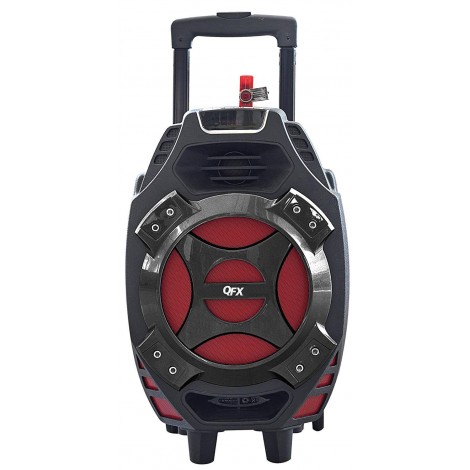 If you're searching for a compact speaker to use for tailgate parties and other events, we have a great product for you! This is a highly portable device that proves to be very powerful. It's just hard to believe that a small speaker like this can produce such a loud sound. Yet it's all true and you're going to love it!
Expand to see more
Loud and Clear Sound
This one offers a loud and clear sound. It comes with an 8-inch woofer and amplifier. QFX is a Bluetooth speaker which means that it's compatible with all devices that support this connection. You can connect it to your phone, tablet, and PC and play your favorite songs whenever you want! The package includes remote control as well, which can be very useful in some situations.

You should only keep in mind that some distortion could occur on the highest volume. It's nothing too much and you mostly won't hear it when partying outside. However, don't forget that this one is made to be portable and not to be the most powerful out there!

Portable
People all over the market praise this little speaker! It's very easy to use and transport it. There's a convenient handle on the top of the unit if you want to carry it around as well as caster wheels at the bottom if you prefer rolling it. Not that you need all of this considering how lightweight this device is. However, it's still a nice addition and it improves the entire user-friendly design.

Cost and Value
This is one of the best budget-friendly options on the entire market! Sure, it's not perfect, but it still offers an amazing sound for such a compactly designed box. Who can forget those wheels? You get to roll it around like a suitcase, making it a part of every party!

The clear and loud sound
8-inch subwoofer and an amplifier
Bluetooth
Comes with remote control
Compact and portable
Inexpensive
Slight distortion on the highest volume
Sylvania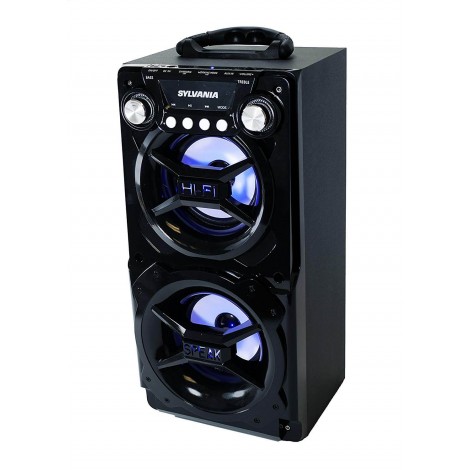 We have a perfect product for those who are tight on time and budget yet they want to make a memorable party! Sylvania is actually one of the cheapest tailgate speakers you can find. Still, it offers decent quality and some great features to meet your needs. Make sure to check it out, this might be just the thing you need for an upcoming weekend!
Expand to see more
Versatile
Firstly, we should remind you that this is a compact and cheap product. It's not one of those bulky first-class speakers that offer bells and whistles. If you want rich vibrant sounds this is not for you. That being said, Sylvania offers a decent sound output and proves to be perfect for small parties and events. It's also very convenient for personal use inside the truck or car. Either way, you'll find it very useful and get to love it over time!
Compact Design
This one connects to all devices that support Bluetooth connection, including phones, iPads, tablets, and more. You can also connect it directly if that works better for you. All in all, it's super easy to connect and use it thanks to the intuitive design. You'll also get a USB cable for quick recharges and aux audio cable, which is a nice addition.
People mostly opt for this speaker because it's more portable than most of the competition. You get to move it around and use it at your convenience. Additionally, this device features blue LED lights. It's just perfect for late night tailgate parties!
Cost and Value
You just can't go wrong with Sylvania! Even if you do decide that you need a more powerful speaker, you'll use one of these in your household. From home and garage use to tailgate parties, this is
a perfect option for every music lover
! Not to mention that it cost next to nothing, so you don't need to think twice about it.
Decent sound output
Bluetooth connection
Easy to use
Portable
Blue LED lights
Inexpensive
Not the clearest and loudest sound
Ion Party Rocker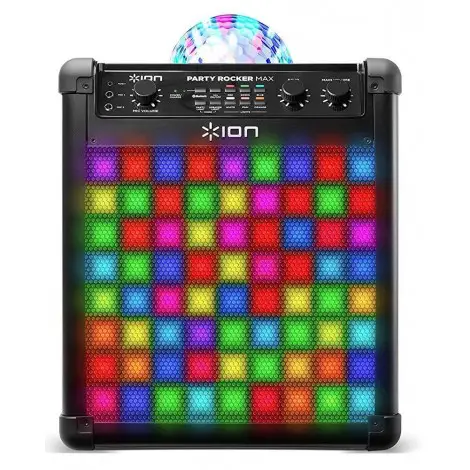 The name says it all, this is a party rocker! This ION device comes with sparkling lights to make every party more fun. There's a mic too, of course, so you can use it to play some karaoke. All in all, this is a fun-to-use device that is perfect for the tailgate and outside use!
Expand to see more
Quality Sound
The Party Rocker offers around 100 watts of peak power. This is more than enough for areas that measure around 300-400 square feet. It delivers quite loud and very clear sound. You should be fully satisfied with its performance, we were certainly stunned! However, keep in mind that some users had issues with the bass. It seems that this feature could be improved.
The device connects to any device that supports Bluetooth. However, if you don't have one, you can also use a cable to connect the speaker directly to the device.
6-Color LED light
The feature most praised among the buyers is definitely multi-color LED panel. There are six vibrant colors that should illuminate every party and make it more fun! Let's not forget a mic that allows you to throw a real karaoke competition on the open!
What we also liked about this device is its
impressive battery life
. It can withstand up to 75 hours of continuous use. Of course, this applies to medium volume, not to the highest levels. If you run it on the highest volume all the time, it can run for around 5 hours. Although this could be better, you have an option to charge the device while it's running.
Cost and Value
The Party Rocker is not the cheapest option out there, but it's reasonably priced. Most buyers say that it's worth every penny. We highly recommend it to all those who are looking for something to bring fun in their parties!
100 watts
The clear and loud sound
Bluetooth connection
LED light panel
Impressive battery life
Ion Explorer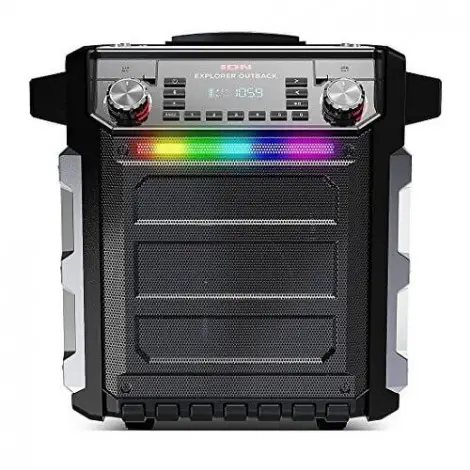 We know what you're going to say, another product from Ion! What can we do when they offer great tailgate speakers. Explorer is another amazing device that deserves your attention. Don't let it lay in the shadow of its big brothers! Explorer is equally well made. It offers some great features to meet the needs of every audiophile out there.
Expand to see more
Impressive Battery Life
Explorer offers 100 watts of peak power. This is more than enough for most of the outside purposes. It comes with decent bass, an FM/AM radio, and karaoke option. However, it could happen that you hear some distortion at the highest volume. Nothing too much, but it's still there to bother us!

The best thing about this device is definitely its top-notch battery. It lasts for around 100 hours! Amazing, right? You get to party all night long with this one, that's for sure. Connect the speaker to any other Bluetooth-compatible device, and you're all set to go!

Waterproof Design
What we liked the most about it is definitely a tough construction! Explorer can really withstand a lot, including spills, dirt, dust, rain, and more. It features IPX4 waterproof design so it's perfect for outdoor use. Just make sure not to test it in the deep water!

This device is also very compact and portable. It features a telescopic handle and four wheels for easier use. You get to roll it around like a little suitcase! Oh, and this one offers LED flashing lights as well. Although they are more subtle than the ones with the previously reviewed model.

Cost and Value
Explorer comes at an attractive price, so we highly recommend it to all those who plan to throw long tailgate parties. The battery life definitely allows you to use it as long as you want!

100 watts of peak power
FM/AM radio and karaoke option
Up to 100 hours of battery life
Bluetooth connection
Compact and portable
An attractive price
Slight distortion at high volume
Sony GTKXB90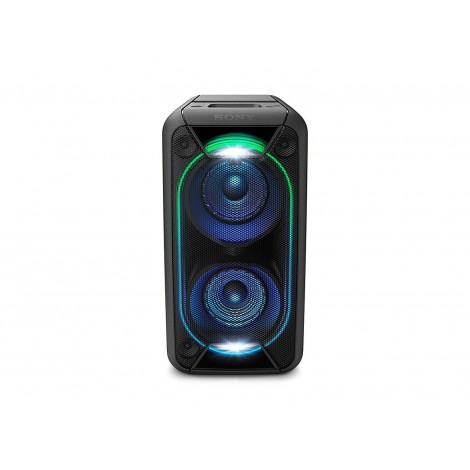 Last but not least, we have one great product coming from Sony. We all know that Sony offers
top-notch audio systems
, and this device is no exception!
Expand to see more
Clear and Crisp Sound
We really like this speaker because it delivers outstanding sound. It's clear and crisp, without any distortion. We also liked the deep punchy bass that is the soul of every party! You just need to connect this one to a Bluetooth compatible device, and you're ready to rock out!
Durable Construction
Sony offers durable construction and proves to be quite portable. Of course, it's not lightweight and easy to use as some of those devices with wheels, but we find it quite practical. Also, the battery is pretty decent, it runs for around 16 hours of continuous use. The only drawback is that the LED flashing light could be a little annoying. It's hard to figure out how to adjust it properly.
Cost and Value
Our biggest complaint regards the price of this speaker. It's quite expensive, so you'll have to add some cash to get it. Still, we
highly recommend it due to quality sound
and other additional features. You'll really enjoy music with it!
Clear and crisp sound
Deep bass without distortions
Bluetooth connection
Durable construction
Quite portable
LED flashing light
It's hard to figure out how to adjust the LED light
Expensive
Criteria Used in Evaluation of the Best Tailgate Speakers
Ranking our 10 best picks was a challenging task. Truth to be told, we were nitpicking all the time! Each one of them offers an incredible value so it was rather hard to compare them. They are, after all, the best available tailgate speakers on the market. Still, we were able to make some distinctions between them. Here are the criteria we used for the evaluation:
Power
When it comes to all audio equipment, power means everything! It's not just about having an extremely loud speaker but having a clear sound. More watts mean more power which consequently brings us to loud and crisp sound. The most powerful devices deliver the best sound quality! Therefore, ranking all the picks according to their power range was very important!
Bass
When it comes to tailgate speakers, the bass is very important. This is because they are meant to be used for outside gatherings and parties. Nobody enjoys party music without bass! Therefore, quality bass was another important thing we took into consideration.
Portability
This is a tricky one because these devices are meant to be very powerful. With more power and more features comes a bulky design as well. Considering their main purpose, we couldn't take the lack of portability as a big drawback. Still, we did consider it during the evaluation. Even the most powerful devices could be more portable if designed properly. So we assigned some extra points to all products that allow for more portability.
Design
We want an intuitive design for a party speaker. Nobody wants all that hassle with complicated controls when at the party! We all want a tailgate speaker to be easy to use and look stylish. Classy design makes it more versatile and perfect for house parties as well! We also looked for some extra features such as microphones and LED lights. These can really improve every event!
Cost and Value
Lastly, we had to compare the cost and value of each product on the list. These devices are not cheap at all, as you already know. So we at least wanted to know that you'll get what you paid for! We provided some short reviews regarding the price of every pick. This should help you decide on the one that meets your budget limitations!
Other Factors to Consider
We know that you're in a hurry to get the perfect tailgate speaker for your upcoming party. Yet, don't rush into the purchase! There are many things you should consider if you want to make sure that you'll get a perfect product. You don't want to get the wrong device, right? It can completely ruin the planned party and you won't have the time to switch it for another tailgate speaker. Therefore, take a few minutes to review your decision. We prepared some tips to help you out in the process.
How much power do I need?
This is the first and most important question you should ask yourself. Consider where and when you'll be using the device. For example, if you plan to throw several big parties this summer, you should definitely aim for more watts! On the other hand, if you want to have slow background music while barbequing with your family, you can settle for less power. Also, consider the number of people you'll be inviting to the party. Take into account the place you'll be using it. This will determine whether you need more power or not because you want all people to hear the music!
Do I need a portable device?
This one depends on your personal preference, but the previous step could influence as well. Powerful tailgate speakers can sometimes turn out to be very heavy and bulky. If you plan to use the speaker only for the tailgate and other parties, you'll be fine with every unit. However, if you want more versatility, you'll need a less heavy device. In order to move it around and use it more than occasionally, a device has to be compact and lightweight. You can find both extreme power and compact design in one device, but it will probably cost you an arm and a leg!
Which additionals to choose?
These days, good tailgate speakers offer all kinds of features. They come with multi-color LED lights, microphones, antennas, and more. This is a matter of personal preference. If you enjoy karaoke and want to play with your friends and family, a mic is a must! On the other hand, LED lights are perfect for all-night-long parties. If you want to make an unforgettable party that will last until the morning, you should seriously consider getting the LED lights! This goes on and on, but you get the point. Pick the ones that meet your needs!
What about my budget?
Well, these devices are not exactly cheap, as you know. You might have to make some compromise if you're on limited resources. You can't get power, quality sound, portability, durability, and additional features in one cheap product. It's just how it is! Therefore, we recommend taking a step back once you consider your budget limitations. This will allow you to pick the most important things according to your resources. On the other hand, those who can add some cash to get a better tailgate speaker should definitely do it! It's one of those devices that never causes any regrets, that's for sure.
FAQ
Frequently Asked Questions
Q: Why not use regular speakers outside?
A: There are many reasons why you shouldn't use regular speakers for outside events. The first is the sound quality. Regular ones are designed for indoor use, where there are walls and other obstacles that reflect sound. If you take them outside, the sound just goes everywhere! The outside tailgate speakers are specially designed to enhance sound quality when used outside. Now, the second important difference is durability. Regular types are not designed for harsh outside threats. You don't really need to protect the tailgate speaker in your living room from rain or wind, right? Tailgate ones are often waterproof. Almost every one of them comes in a super sturdy box that is made to withstand harsh threats. Not only that they will last but they'll give you some extra peace of mind. This way, you get to enjoy the party and don't obsess over the safety of your tailgate speaker!
Q: Are tailgate speakers hard to install?
A: Not at all! Of course, there are always a few exceptions, but you can install most of them all on your own. You just need to do the wiring on the proper way. Make sure that the wire has a safe path so nobody can tip over it. This could cause some damages to your tailgate speakers and injuries to your friends! Also, you can always opt for Bluetooth and battery-powered speakers. They relieve you from the need to perform a full mounting process!
Q: How much power do you recommend?
A: It really depends on the purpose and area you'll be using the speaker for. Most of the outdoor speakers range from 60 to 300 watts. If you can afford more power, we say go for it. The powerful tailgate speaker is not only loud but it delivers better sound! Even if you don't need 300 watts you'll benefit from it. Just lower the volume and enjoy the clear and crisp sound! Now, if you still want to get approximate numbers for use, we have them too. For example, a pair of 60 watts tailgate speakers can cover up to 300 square feet. If you need the one for the area measuring between 300 and 500 sq ft, go for around 100 watts. You get the math, more power means a more covered area!
Q: Are all outside speakers waterproof?
A: They should all feature protection against harsh weather conditions, including rain, wind, snow, dirt, dust, and more. However, this is not always the case. You should definitely check this out for each one of the products you're interested in. Also, keep in mind that waterproof design doesn't necessarily mean you can soak the speaker in the water! We have heard about some unfortunate events regarding ''waterproof tests". So don't make that mistake if you want for your device to last.
Subscribe to our Newsletter