Best Motorcycle Sunglasses Reviewed & Rated for Quality
last updated:
Jan 04, 2021
So you have finally bought everything else that you need to take your bike on the road. Lo and behold, the sun reflecting off the road has blinded you and made it impossible to see where you are going while you are driving. Luckily for you, there is a wide variety of motorcycle sunglasses that you can wear to make the whole process much more comfortable. Sunglasses are convenient and easy to fit under that full face and will make it a breeze to tackle any sunnier conditions that you might find yourself out in.
Featured Recommendations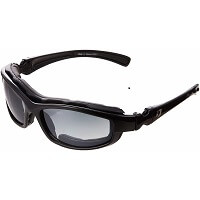 Bobster Road Hog II

Our rating
Reliable
Price:

See Here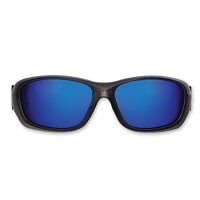 Wiley X Gravity

Our rating
Protects Eyes
Price:

See Here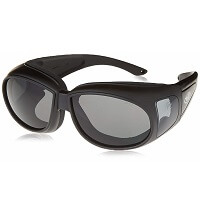 Global Vision Outfitter

Our rating
Budget-Friendly
Price:

See Here

Listed below are ten of the best sunglasses that you can find for those long rides on the road. They all have something unique to offer you. There are options from all the major brands that are currently offering lenses that are specialized for those on two wheels. There are also a few options from a little further afield. This gives you the option to get yourself something a little more off the wall. Have a look and decide for yourself.
10 Best Motorcycle Sunglasses
Bobster Road Hog II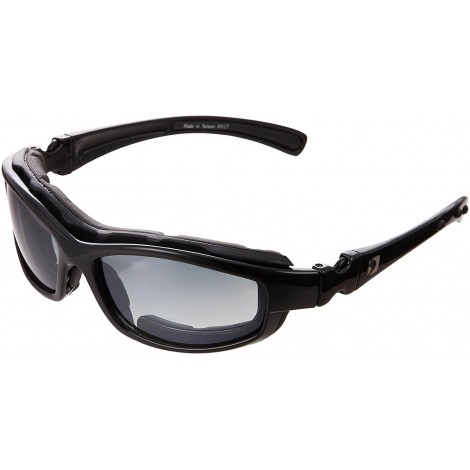 Bobster has bested their silly name and come out on top of the sunglass game for a little while now. The Road Hog II is the best of their expansive options, and that is due to the high level of variability that you will find when you are using their lenses. They can be easily changed out for whatever type that you want, and can also be switched from sunglasses to goggles quickly and effectively.
Expand to see more
Easy to Change
The Road Hog II is great for its interesting ability to change its coat whenever it needs to. This is a good option if you are looking for something that can adapt to any weather that you need it for.

It comes with four sets of lenses that are effective in all types of weather, including rain, fog, and sun. They can also come with a strap that can be added on when you want to switch the glasses for something a little more tight to the head.

Built to Last
Don't worry, all those extra pieces that come along with this set of glasses aren't designed to be replacements. All the pieces that come with the Road Hog II are built to last and survive throughout your many road adventures. This is proven through the strong polycarbonate design of the frames and the scratch-proof lenses. All the pieces here are the topmost quality.

Cost and Value
The Road Hog II has earned its spot at the top of the list. This is a set of sunglasses that you can rely on into the distant future. The many ways that you can modify it to the situation that you wake up to is an important thing to look for with your glasses, and the Road Hog does a great job here.

A little bit of delicious icing on this cake is that it all comes at a really reasonable price, too.
Easy to change the pieces
Great value for what you get
Durable and well-designed
Can be tiresome to change the pieces
Wiley X Gravity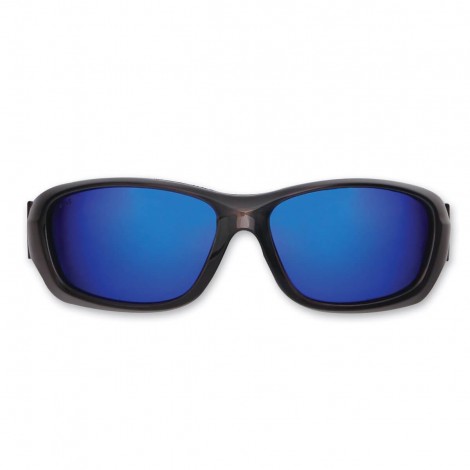 Gravity is a sleek set of sunglasses that you can use for all kinds of outdoor activity. What sets these apart as motorcycle riding sunglasses is the wide level of coverage that they offer for your eyes. They do a great job of keeping you protected when you are on the road.
Expand to see more
Strong Eye Protection
The Gravity has an intriguing shape to it that makes it great for offering the most coverage for your sensitive eyes. They fit tight to the head and will stay right on top of your eyes where they should be. This is good for being able to feel protected from the wide variety of annoying attackers that you will find while you are riding. There are dust, dirt, other particulates, and the hot sun to worry about. The use of Gravity will greatly reduce all of those things.

Light Reduction
Like any good pair of sunnies, the Gravity is also great at keeping the sun out of your eyes. This is done through the use of polarized lenses, which will help to reduce any damage from the sun's rays.

They have another weapon in their arsenal, though. The harmful rays of the sun might be damaging in the long term, but the sun can also be harmful in the short term. This is because of the dangers that come from the glare of the sun off signposts and the road. This is diminished through the use of green-tinted lenses that diminish the effects of glare.

Cost and Value
If you are looking for some lenses that you can rely on to keep you safe when you are riding on a sunny day, then this is the option that you should be looking at. These glasses are all about keeping your visibility up when you are riding. The price is reasonable for such effective lenses, too.
Great seal over eyes
Keeps eyes protected from glare
Comes with nice accessories
Uncluttered visibility
Features are designed for sunny day driving
Global Vision Outfitters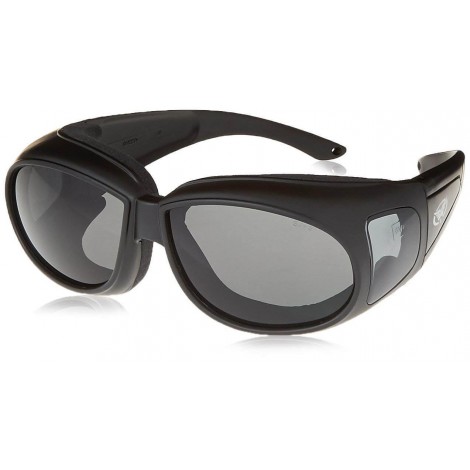 If the first thing that you look at when you are shopping is the price tag, then this is where your eyes should be drawn to first. This is a remarkably cheap pair that will do everything that you require from a set of hardy sunglasses. They do a fine job of keeping your eyes protected from the rigors of the road, and they are good at keeping all their pieces where they need to be.
Expand to see more
Protective Lenses
The lenses in these frames do everything that you need from a set of sunglasses. They are perfect for taking out on the road with their many
layers of protection
. They are made of shatterproof polycarbonate that does a good job of holding together no matter what may happen. They are also covered with a scratch-proof covering. Finally, it has been layered in an anti-fog shield, too.
Strong Frames
This durable construction moves outward to the frames, as well. The frames are made out of a durable polycarbonate that is both light and durable. They won't feel out of place on your face at all. They might not be the best lenses for visibility, but they are designed to overcome this with the added ability of the extra room they have for prescription glasses to be left on underneath.
Cost and Value
The Global Outfitters might not be the best motorcycle sunglasses, but the price that they can be had at makes them more than worthy of being in the top three. They take great value to a whole new level. They will provide the right amount of protection for your eyes that you'll need on long trips. Think of this as a set of protective lenses that are chiefly designed to keep you safe when you are driving.
Anti-fog layer for wet days
Polycarbonate design is strong and light
Lenses won't scratch
Has room for prescription lenses
Not quite as comfortable or cool as other styles
Wiley X Saint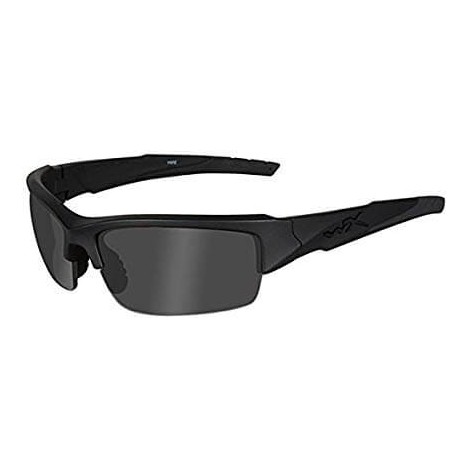 The Saint is another set of sunglasses from Wiley that are designed to give you the best fit when you are riding your bike out on the road. This is especially important when you think about all that speed coming straight at your face. The Saint uses a unique technology to keep those shades attached to your head.
Expand to see more
Strong Fit
Although the Saint follows the style of something more akin to a more standard pair of shades, they still allow for a much more impressive grip on the head when compared to many similar options. This is due to the rubber-tipped ends on the handles of the glasses. It makes for a much stronger fit that won't slide around when they are worn on the head. This is impressive when you consider the more standard style of its design.

High Quality Lenses
Unlike some other sunglasses that you could find on the market, the Saint gives you two high-quality sets of lenses that are both great. They are both made of strong polycarbonate that is resistant to shattering, which makes them more safe for your eyes. The clear lenses are specialized for overcast days where you need better visibility, and the shaded lenses are perfect for reducing glare on very sunny days.

Cost and Value
The Saint is a good all-around option if you want something that will work in all kinds of environments. This is due to the great lenses that you get that makes it easy to ride in all kinds of weather. It is also due to the much more standard design of the glasses. They look like something that you can wear on and off the bike. They come at a great price for that sort of utility.

Great fit on head
Both lenses are high quality
Utilitarian style
High levels of safety
Lets wind in on the sides
Oakley Gascan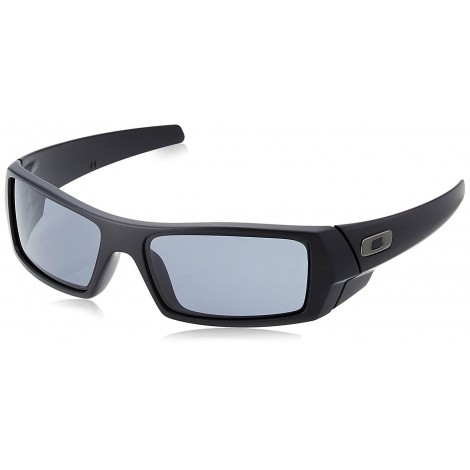 Although they only have one spot on this list, Oakley motorcycle sunglasses are some of the most respected that you are going to find on the market. This is for good reason, as they have some of the highest production value of all the available options. The Gascan is their best option. It offers a very cool looking style and some lenses that offer unrivaled clarity.
Expand to see more
Unrivaled Clarity
Gascans are a great choice for the very wide and clear field of view that they offer the rider. It is often assumed that the amount of blurring that comes with wearing shades is just part of the territory. Oakley makes lenses that offer some of the clearest images that you can see through a set of shades.

You won't notice any dip in image quality from the naked eye at all. All this, and it reduces the glare of the road.

Stylish Brand
Oakley is one of those brands that just ooze style. There is a reason that they have become so popular. The rectangular frames offer a unique style that is very eye-catching. This option is great for taking your shades out on the town, and the road.

The brand recognition alone is a good reason for considering picking up a pair of Gascans.

Cost and Value
As is often the case when you are considering buying something with such an esteemed brand, the Gascans are the pricier option that you are going to find on the list. They really shine when it comes to the features that they exemplify, though. If you want something that will give you a clear picture of the road, then this is the option to consider.
Designed with a unique style
Esteemed brand
Great clarity of vision
Wide field of view
More expensive option on list
Bobster Charger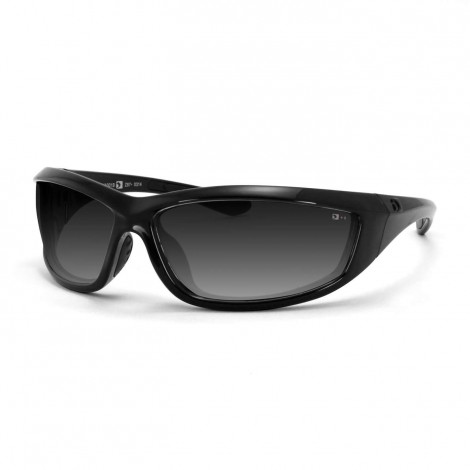 Bobster has earned another spot on the list with the Charger. This is a budget option that has a lot of Bobster's more distinct features. It performs exceptionally well at protecting your eyes from the debris of the road. It also offers a great fit for your head. There won't be any irritation from the wind here.
Expand to see more
Great Fit
It sports a sleek style, but the Charger is most notable for all the protection it will offer your eyes. It has a good profile that covers the eyes extremely well. It fits tight to the face, which means it will be more difficult for debris to get into your face.

The arms of the frame also fit nice and snug on your head, which is also great for knowing you won't have to do any annoying adjustments when you are riding.

Protective Design
The Charger is also notable for the great lenses that it comes with. They allow you to get a good image of the road while you are wearing them. This can be seen with the scratch-proof layering design of the glasses themselves. It can also be seen with anti-fog layering that comes on both of the lenses.

Cost and Value
Something great about the Charger is that it can be had for a very low price. It isn't the cheapest option on this list, but it is much closer than you would imagine. Bobster is a well-respected brand in the game, and these polarized motorcycle sunglasses are a great option to consider.
Very budget friendly
Quality protective lenses
Fits well on head
Quite stylish for price
Bobster Rukus
Bobster keeps the hits coming with the Rukus. This is another option that aims to please both on the road and
on vacation
. The difference here is that the commitment to these two extremes makes it a great choice for both. You might have to move some pieces around, but the effort is more than worth it.
Expand to see more
Truly Adjustable
The Rukus is great for allowing you to wear your shades the way that you need them to be. They come with cell foam that is detachable from the frames. This foam creates a strong seal around the eyes when you are riding.
This makes the Rukus wonderful for keeping your eyes free from all kinds of debris. Even more importantly, it will do a great job of removing all that air whipping in your eyes.
Durable Design
This option is a strong set of shades that you will be able to rely on in the far future. It is made of strong polycarbonate that does a great job of keeping the shades from getting damaged if they fall off your face. The shading is also a bit lighter, which makes the lenses great for all kinds of weather. It will work well in
both the sun and rain
.
Cost and Value
The Rukus is a great choice for those who want some all-purpose shades. The amount of effort to get them up to snuff, but that is more than worth it for the great ride it will provide when you are driving at high speeds. The great sense of style only improves its quality.
These are a little pricier than some of the other Bobster options, but they have so much utility and will last for so long that it isn't a deal-breaker.
Two styles that both work
Light shading is great
Works on road and off
Durable construction
Takes effort to switch styles
WYND Blocker Vert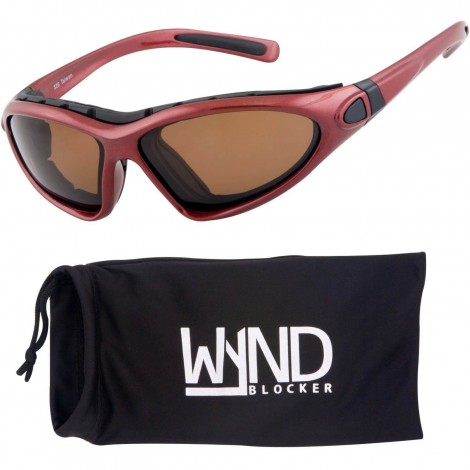 The WYND Blocker is an option that gives you lots of different features that turn it into a reliable option for taking out on the road. It does a lot to make sure that your sunglasses stay stuck to your head, no matter how fast you are going.
Expand to see more
Great Fit
These will prove reliable in all kinds of settings because they're so great at staying where you want them to - on your hand. You won't find yourself speeding down the highway with glasses running halfway down your nose. It has rubberized grips on the arms of the frame that make it hold tight to your head no matter what.
It also comes with a cool strap that will help to ensure they won't fall off your head mid-ride.
Protective of the Eyes
There is also a good deal of protection to look forward to with the WYND Blocker. That is because it keeps your eyes under a tight and secure seal. It comes with a liner that covers the eyes that can be removed when you are not on your bike.
It also has polarized lenses that make it perfect for taking out in the bright, hot sun. They keep a low profile to your face, which makes it perfect for wearing under a modular or
full-face helmet
.
Cost and Value
The Vert will do a lot for you on the road at a reasonable price. It comes with lots of add-ons that make it a really nifty choice to protect yourself on the road, but it does it a reasonable price. It even includes things like the strap for the goggle attachment and a bag for keeping the whole assembly together.
Comes with bag and strap
Polarized lenses for protection
Fits well to head
Easy to convert to normal shades
Not as durable as others on list
Bobster Gunner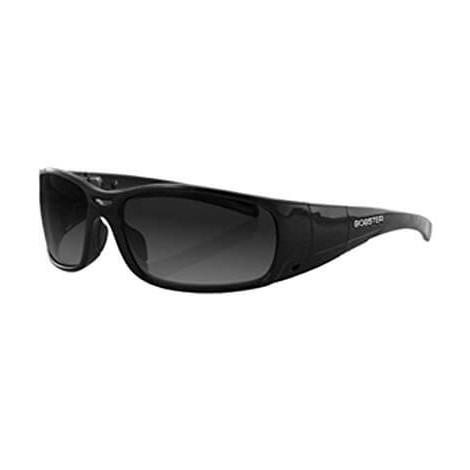 The reign of Bobster continues. Their Gunners are a great choice for those looking for a set of shades that is smooth and easy to use. They have a lot of the features that you should look for in a set of motorcycle sunglasses, but they are packaged in something a little simpler, and that requires less assembly than the other multi-function options on this list.
Expand to see more
Best of Both Worlds
The Gunners are designed so that you will have an easy time wearing them in all kinds of settings. This is true of many options on this list, but the Gunner is the easiest option when it comes to switching between options.
This is done through the formed and wide fit of the frame. It wraps around the head without the bulky foam of other options on the list. If you are worried about it falling off your head then there is a strap that will make sure this doesn't happen.
Great Design
There are lots of other great touches that make the Gunner a good option for those who want to keep it simple. It only comes with one set of lenses, but they are designed with photochromic technology that allows the shades to change their level of
protection against the sun
as the light of the day changes. No more unwieldy changing of lenses when you use this one.
Cost and Value
The Gunner is a little pricier than many of the other options on this list, but it makes up for it with the convenience that comes with owning a pair of these. They are great for keeping you comfortable but still safe. They have all the features you should look for in a pair of motorcycle sunglasses to keep safe, but the package is something a lot more pleasing to the eye.
Doesn't need changing around
Great fit to head
Comes with a strap
Comfortable fit
Not as secure as some others
Dmeixs
This is something a little different than the rest of the options on the list. Here is a set that comes in at a pretty cheap price. There are other places on this site that you can
find some other goggles
, but this option is a nice choice if you are starting to think that you might be looking for something different to go with your bike.
Expand to see more
Reliability
These are a good choice if you want something a little more reliable when you are riding. The seal that you will get here is a little more reliable than you will find with the shades. It might be something to consider if you use an open face helmet of some kind when you are riding.

Other Features
The Dmeixs is a good choice if you are looking for goggles due to a few different factors. They use a tough resin that will prevent them from being damaged in any falls they might sustain. They also rock a reflective lens that is great for keeping out any kind of sun you might want to avoid.

Cost and Value
These might not be what you had in mind when you came to this list, but it is important to stay open-minded to what you need for when you are riding with your motorcycle. If these other options have left you with a little trepidation when it comes to fit, then these might be the thing that you were looking for. It might be a good idea to leave them in your bag when visiting friends, though.

Good fit to the head
Reflective lenses
Great value
Strong and durable
Criteria Used in Evaluation of the Best Motorcycle Sunglasses
There is a lot that goes into making up a pair of great motorcycle sunglasses. There are things like the durability of the shades to consider. This is because sunglasses made for bikes need to be just a little bit more than your average pair of sunglasses in a lot of ways. That is why these pieces of criteria are so important. They need to have that little bit of extra to be worth the purchase.
Fit
The most important thing to look for in a pair of motorcycle sunglasses is how well they fit the head. This is because motorcycle sunglasses big difference to other shades is how they can be worn while going at fast speeds on the highway. The tighter the fit, the less you are going to need to worry about the shades. This is also true when considering how they protect your eyes, too.
Protection
The next important thing to consider is how well the shades protect your eyes. This is important because the shades will often be the only thing keeping you from getting dust in your eyes. A full-face helmet will help with this, but it is still essential to have some protection from the glasses. They can keep the fast-flowing air from getting into your eyes. They are also useful for keeping things like dust and debris out of your eyes.
Another essential thing to consider is finding a pair of shades that have shatterproof lenses. This ensures your eyes are protected if anything as terrible as a crash were to occur.
Durability
This is another vital element of any pair of shades. There are too many times when a pair of shades can fall off your head. When you take off your helmet, they could fall off your head. When you take a steep turn, they could fall off your head. The best defense is to find something that will do an excellent job of protecting themselves from all those falls.
Motorcycle sunglasses are often designed with durable polycarbonate. This material is known for being light and strong. It makes it much easier for you to have some shades that will last for a long time. The shades on this list will last you into the foreseeable future, which only increases the value.
Visibility
Wearing shades when riding a motorcycle is very important when it comes to reducing the glare that comes from the sun. Often people will have clear face shields, or they might have an open face helmet. The glare that comes off the road can be hazardous when you are trying to ride at high speeds on the highway.
Look for options that come with the ability to reduce that glare. It can be through polarized lenses that effectively block the light, but it might also be found with some chromatic lenses that change with the changing light. Another cool feature to look out for is lenses that block other bad weather, like fog and rain.
Other Factors to Consider
The criteria that were used to rank these sunglasses is the most important thing to keep in mind, but it is also essential to keep other things in mind. Here are some helpful things to consider before you buy your new set of shades.
Size
This is something to consider before you buy your sunglasses. There will often be multiple sizes that you can choose from when you are looking around. This is important for many reasons. It will change how effective the glasses are at keeping your eyes safe. The liners that often come with the sunglasses can be affected if you buy a size that doesn't suit you. Luckily, there are usually lots of options to consider when on the store page.
Style
If you are looking at sunglasses, then you probably care at least a little bit about how good they look on you. This is something that was considered when putting things on the list. The ability to wear sunglasses when off the bike is a great way to keep your life simple. It will often be the case that you might have to take some pieces off of the shades, but this will be especially easy most of the time.
Value
This is another critical thing to keep in mind. There are a lot of prices that these options can be bought at. It is a useful rule of thumb to consider the cost. Some options do a lot more with less. The higher the price, the more complex the materials being used. Lenses that change colors and extra accessories will usually only come with the more expensive options on the list.
FAQ
Frequently Asked Questions
Q: How can you find your sunglasses size?
A: It can be difficult finding the right size of glasses for your face. There are a few different sizes available. They are often grouped into a generally small, regular, and large size. There are a few measurements that you need to find the right size for your face. You should use a ruler to measure from your hairline to your chin, the prominence of one cheekbone to another, and then the length of your forehead.
That may seem difficult. If that sounds like too much, then use a credit card and measure it from your chin. If it reaches your eyes, then you should get a small-sized pair of sunglasses. Another useful trick is to look at the inside of your frames for any other glasses that you have. They will often say the measurements of your current pair on the arm of the sunglasses.
Q: How are the lenses replaced?
A: It will often be the case that there will be some instructions for this if you are buying a set of sunglasses that come with another set of lenses. If this is not the case, then there are some general things that you can do that will often work. There are two kinds of major lenses that are used in shades. These are pop in shades, and screw in lenses. They work just the way they sound.
The pop-in lenses need to be pushed in and out gently with a thumb. The screw-in ones need you to use a screwdriver. The screwdriver is tiny, and you might need to go to a glasses store to get one if you can't find one. Make sure to clean the lenses after you place them in the glasses.
Subscribe to our Newsletter