10 Car Batteries Every Motorhead Needs in 2023
last updated:
Nov 18, 2019
Everyone's been car battery shopping once and made the mistake of grabbing the cheapest battery off the shelf that would fit their car, rather than taking the time to find the best car batteries for their respective situations.
The result? A sub-par battery that lulls you into a false sense of security before giving out on you at the worst possible time. Sure, you spent under $50 and saved time by making a split-second buying decision, but was it worth it?
Instead of trying to save a buck by skipping out on research, spend a few minutes learning about what makes a car battery great (and why it matters in the first place.) Making an informed purchasing decision means you're saving money overall because you'll get more value out of this battery instead of replacing it a couple of times every year.
Featured Recommendations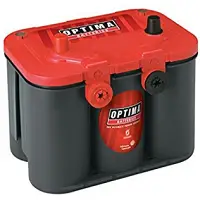 Optima RedTop

Our rating
Optimal starting power
Price:

See Here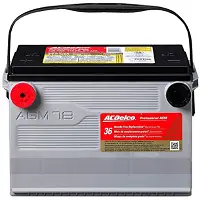 ACDelco Professional

Our rating
Alloy/Silver Calcium stamped alloy
Price:

See Here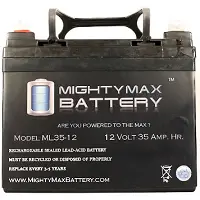 Mighty Max Deep Cycle AGM

Our rating
Can be mounted in any position
Price:

See Here

What makes the best car batteries worth buying?
The most important factors include:
Cost and Value:

Are you getting the most for your money?

Battery Tech:

Is it a flooded cell that trucks along and provides basic performance, or an Absorbed Glass Mat battery that holds its own as an extreme weather powerhouse?

Pros and Cons:

Every battery has its weaknesses and strengths, so we consider niche uses and broad uses alike. Whether it's for camping with your electrically-demanding RV or a spare for your everyday driver, we find the ideal uses for every battery we review.

User Reviews:

Most importantly, what do real customers think about this battery? Would they buy it again?
The bottom line is, when you skimp on a battery purchase, you put yourself at risk of being stranded or inconvenienced when the battery decides to die overnight. Whether you need a budget battery or a performance powerhouse, there's one on this list for you. Check it out now:
10 Best Car Batteries
1. Optima RedTop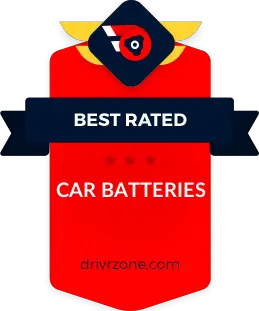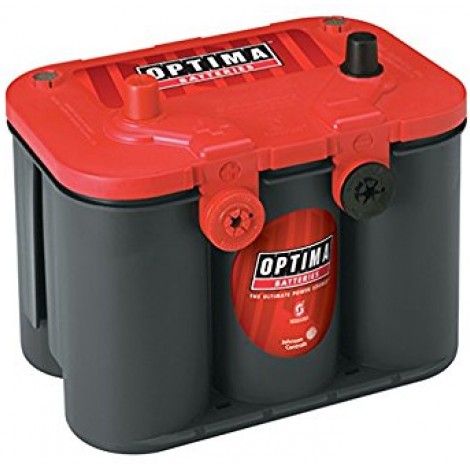 If you've ever asked a hardcore car nerd about the "best" car battery, you've probably had your ear talked off about Optima RedTops. And for good reason: the quality is fantastic. RedTops are widely known for holding a charge forever (even when you leave your lights on overnight), and for providing super consistent power: no flickering lights or dimming radio volume.
Expand to see more
The car battery of the gods
Are you into cars? Do you care what your garage buddies think about your battery choice? Then the RedTop is the battery for you. Seriously, auto hobbyists talk about Optima for a reason.

Holds charge like you wouldn't believe
One Amazon reviewer brags that he left his fully-charged Optima RedTop sitting dry for well over six months while he procrastinated a garage cleanup, and when he finally got around to installing it, it still had full charge. Six months later. Can you believe it?

Cost and Value
For being a premium-quality car battery with a stellar reputation, the Optima RedTop is surprisingly pretty affordable. It carries a solidly middle-of-the-road price tag, and plenty of value in terms of features and quality.


RedTops have a fantastic reputation among car enthusiasts.
A 100-minute reserve capacity keeps power flowing despite interruptions.
15X vibration resistance makes this perfect for use in heavy machinery or for off-roading.
This battery starts with ease in any weather, even when it's cold or damp.
SpiralCell design provides clean, eco-friendly power. 
High-power cranking capability makes this great for fueling outdoor adventures (the crazier, the better).
Some reviewers complain that the RedTop isn't enough performance for everyday use, and prefer the YellowTop from the same brand.
A few Amazon buyers complained of premature failure, which could be a problem with storage. However, this seems exceedingly rare.
2. ACDelco Professional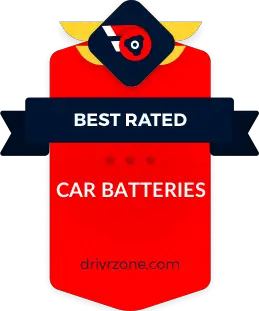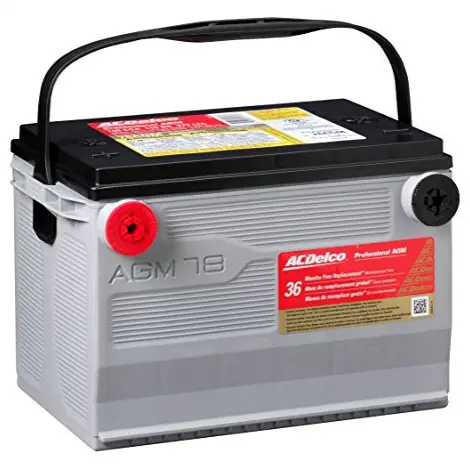 The ACDelco Professional gets a high list placement because it appears consistently on lists all over the internet when you search for great car batteries for cold climates. The secret is the absorbed glass mat design, which allows thermal regulation in any temperature extreme, no matter how hot or cold. For everyday drivers in severe climates, this battery is a must-have!
Expand to see more
Longevity in any temperature extreme
Have you ever gone outside at 5am to start your car after a blizzard, only to find that the cold sapped away all your (relatively new) battery's energy? Prevent that by choosing the ACDelco Professional.

Maximized conductivity for connections that don't quit
Cheap batteries use cheap connections. The ACDelco doesn't skimp on this key area, using high quality alloys to ensure connections that are strong. No more flickering headlights!

Cost and Value
The ACDelco Professional is the perfect example of a budget car battery. It's as cheap as they come, and comes packed with premium-level features that you wouldn't expect from a battery at such a low price point.


Acid leakage-resistant design for safe operation.
High quality metal alloys help maximize life (and value).
Strong conductivity means strong electrical connections that won't fail you.
High circulation design supports thermal regulation, which also helps maximize charge. 
Some reviewers complain that the battery has a short operating life.
3. Odyssey PC680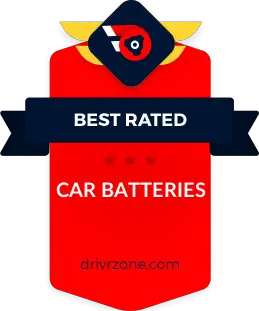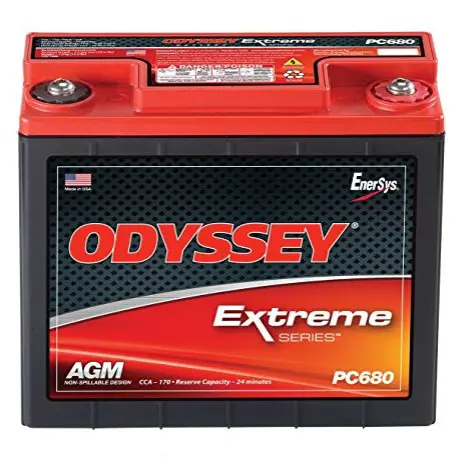 The Odyssey PC680 holds the distinction of being the Best Selling car battery on all of Amazon. After investigating, we think it's a well-earned honor. It also has the honor of being the Motorful Best Value car battery choice, great for budget shoppers who want a go-to battery for their everyday driver. When you consider the fact that it recharges completely within just six hours or less, the Odyssey is a no-brainer efficient energy source.

Expand to see more
Stable, high-voltage performance
High voltage operation means that even when natural power fluctuations occur, performance doesn't suffer. If you've been subject to flickering headlights or fluctuating radio volume, you know how frustrating low-voltage batteries can be. That's not a problem with the Odyssey PC680, or really any battery from Odyssey.

Fast recharge when speed matters most
Rechargeability matters. Luckily, this Odyssey car battery features speedy recharging. Going from 0 to 100 in under six hours is our threshold for admirable speed, and the PC680 hits the mark.

Cost and Value
The price is already more than reasonable, but the value increases even further when you realize that this battery comes with a three-year manufacturer's warranty to make sure you get your full money's worth.


Cycle life can be up to 70% longer compared to competitors.

Non-spillable design means safety from caustic chemicals, even when the roads are rough.
Vibration resistance means this battery can withstand rough-and-tumble use, including off-roading.

High-voltage performance means greater stability, so you can count on this battery to be your backup.
Reviewers report inconsistent service life, but the manufacturer's warranty helps to mitigate that risk.
4. Mighty Max Deep Cycle AGM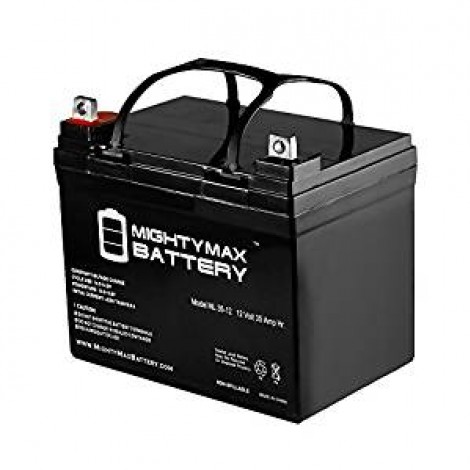 Who knew you could still get a high quality car battery for under $75? The value alone secures this one's spot on the list, and the rechargeability makes it a good eco-friendly (and budget-friendly) addition to your emergency kit. We love this battery for nearly any type of auto owner: whether you're a daily commuter, an emergency prepper, or an ATV adventurer, it's got your back.

Expand to see more
Infinite recharge cycles
If you're a battery nerd, you know that there's not really any such thing as infinite recharge cycles. Every battery has its expiration date. But we'll say this: Mighty Max car batteries come awfully close to infinity.

Maintenance-free for easy long-term use
Some batteries require periodic drain-and-discharge cycles to ensure their continued longevity. This one keeps trucking on, with no need for periodic maintenance. That's a valuable time savings that makes this battery an appealing choice.

Cost and Value
This is super affordable, and highly recommended as a dependable daily-use car battery that doesn't break the bank. We can't complain about the cost or the value of this one.


Long service life paired with a manufacturer's warning means you never have to worry about being stranded by this dependable battery.
Designed to pair easily with solar panels to collect eco-friendly renewable power.
Maintenance-free design means uninterrupted functionality.
Long-term rechargeability means you get your money's worth with plenty of power cycles!
Fast discharge times and slow recharge times can put a damper on things if you don't plan and keep an eye on its capacity.
5. Universal Power Group 85980/D5722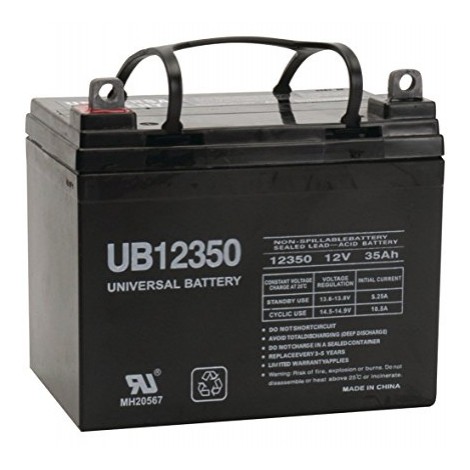 The UPG 85980/D5722 pairs easily with most standard solar panels to generate charge. Outdoorsmen and auto hobbyists alike rely on this rugged car battery for backup and primary usage alike. Its compact design fits smaller compact vehicles, and it also fits a wide range of hunting and sporting equipment, and even some RVs. Combined with its compact design, this makes the UPG 85980/D5722 a go-to car battery for traveling and adventuring.

Expand to see more
Ideal for traveling
The battery's compact design makes it a great choice for compact vehicles and adventuring alike. Throw it in the trunk compartment and instantly have backup power available for your every need!

Harvest and store solar energy
This battery pairs well with most standard solar panels, so you can use it to generate an eco-friendly backup power source. It's a favorite among green-minded car enthusiasts.

Cost and Value
This battery falls in the high end of the "budget" range, making it pretty affordable as far as this type of premium function goes. It's designed to perform a specific function at a premium level, and we think it definitely accomplishes that, delivering plenty of value.


Compact enough for traveling and outdoorsman activities
Fits sporting equipment (e.g. kayaks, four-wheelers) in addition to compact vehicles
Ideal for socking away spare charge for a rainy day; its passive discharge is fairly slow for a budget battery
Great niche battery for adventuring, camping, traveling, etc.
It's a compact battery, so its capacity is compact, too. This discharges pretty quickly; not because it isn't high quality, but because its designers prioritized portable design.
6. Optima BlueTop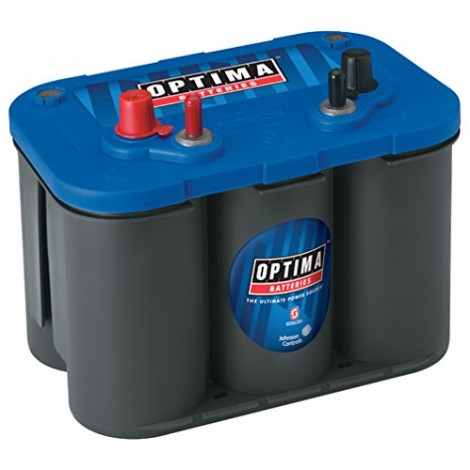 We love the Optima BlueTop for several niche purposes, including:



Amphibious vehicles



ATVs that spend a lot of time in wet conditions



Multi-featured RVs that need a high-discharge battery for daily use


In short, it's a great heavy-duty battery for recreational uses. While a bit costly compared to some of the budget choices featured on this list, Optima batteries are designed to perform, using high-quality alloys for better longevity. Despite the price tag, it's worth it to spring for a BlueTop if you're planning to go RVing in Florida, or go mudding.


Expand to see more

A must-have for outdoorsman activities
If you take your vehicles out mudding or expose them to standing water at all, then the BlueTop is absolutely worth your while. Batteries that aren't designed to handle moisture are severely damaged by these activities, but the BlueTop handles it all with grace.

High discharge design can handle nearly anything
Need to power tons of features in your car or RV? The BlueTop has your back. Its high-discharge design means it keeps trucking, no matter how demanding your power use is.

Cost and Value
You get what you pay for, in this case. Like other Optima batteries, the BlueTop is costly, but it's also fantastic. If it's in your budget, it's worth springing for this.



Features a 100-minute reserve time to minimize interruptions


Vibration resistance adds durability in applications that are rough on your battery


An ideal primary RV battery


High discharge design allows the BlueTop to handle power-needy situations, such as an RV that's powering four TVs and a refrigerator

This can be a bit costly and is really best for niche recreation applications
7. Kinetik BLU Series HC600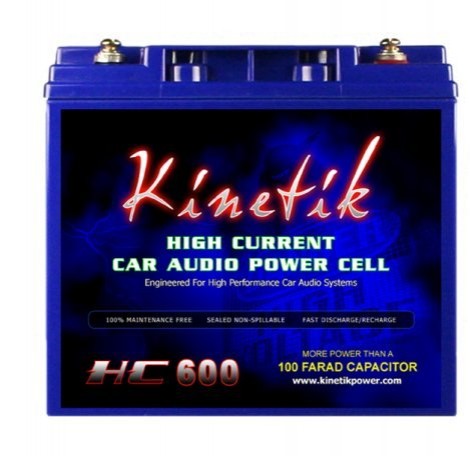 There aren't many sealed lead acid batteries with solar capability on the market, so the Kinetik BLU Series HC600 is a must-have niche inclusion for the green-minded buyer. Why spring for sealed lead acid? It's simple: they're safer and they operate more efficiently. And despite using top-of-the-line SLA technology, Kinetik manages to keep the price on this one relatively low, making it a rare battery that's both budget and premium!
Expand to see more
Efficient and safe technology
Sealed lead acid batteries are both safer and more efficient than flooded cell batteries (the inexpensive ones flooding the shelves at your local department store). You can't put a price on safety, and efficiency pays for itself with longer battery life.

Charge and keep solar power
Have a solar panel at home? Hook up this battery to it, and it'll hold a solar charge. More consumers are choosing to invest in solar power, and this battery is a great tool for that purpose.

Cost and Value
Kinetik knows how to make an affordable battery. Despite premium functionality, we can confidently call this one a budget battery.


Limited manufacturer's warranty promises that you'll be satisfied, and if you're not, Kinetik has you covered
Great tested performance in every weather extreme
Long tested service life means that you'll get your money's worth from this long-lived battery
High discharge rate keeps this battery performing consistently, even under a heavy power load
Unfortunately, the high discharge rate means it loses charge quickly, too. Plan to recharge often.
8. Optima YellowTop
It's no secret that motorheads love Optima, and for good reason. Even their super niche car batteries maintain the same quality that Optima buyers have grown to expect and appreciate. The YellowTop is great for users that are really demanding on their car batteries: for instance, people who drive cars with a lot of battery-intensive accessories. If you aren't extremely hard on your car batteries (routinely running them out within a year or less), then opt for the more efficient RedTop. If you are a power user, though, you won't go wrong with the YellowTop.
Expand to see more
SpiralCell design provides clean power
The Optima-exclusive SpiralCell is built around two key premises: less waste, more efficiency. That makes it a delight for penny pinchers and green-minded motorheads alike.

Slow discharge design for multifunctional use
This battery's slow discharge design has two major benefits: first, it means your car holds a charge longer in the winter, when cold temperatures are most likely to cause sudden failure overnight. Second, it means that this battery is seriously great at multitasking without interruptions.

Cost and Value
The YellowTop is a solid value, featuring premium functionality at a moderate- to high price. The higher price point is part of why it landed a lower spot on the list, but even so, it's definitely worth the cost.


SpiralCell technology provides

clean power

Slow discharge design

resists sudden discharge in low temperatures

and under duress

Deep cycling capability

handles heavy electrical loads

gracefully

Precision-controlled manufacturing technique assures

durability, performance, and quality

… and so does the Optima name.
This is a bit more niche than most, and most car owners can be better served by the more affordable RedTop.
9. ACDelco Advantage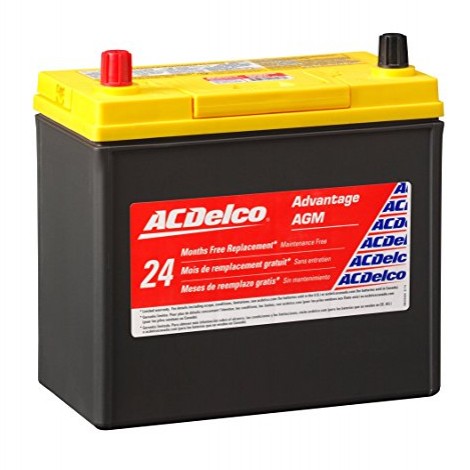 ACDelco has been making great quality car batteries for years, and usually at a budget price. This model features a compact and modular design that fits a wide range of compact models, including any compact car that uses a Smart Key system. It's not easy to find a good budget battery for a compact car, but ACDelco hits the ball out of the park with this one. It's feature-rich, efficient, and holds its own against premium car batteries.

Expand to see more
Absorbed glass mat design for great longevity
How many budget car batteries have you bought over the years that lasted only a year or two? That won't happen with an absorbed glass mat design. This super sturdy design type maximizes battery life simply by being more resistant to damage and wear.

Ideal for storing off-season or for emergencies
Rely on the ACDelco Advantage for an emergency power source. It features high cranking amps, so it starts right up no matter how long it's been sitting. Additionally, slow self-discharge rates mean that the charge doesn't weaken so quickly over time.

Cost and Value
This is a true budget battery! And unlike most of the budget car batteries you can find on department store shelves, this one doesn't skimp on features. It's just pure value.


Modular design can fit more compact models using simple mounting brackets
Inexpensive compared to alternative compact batteries
Ideal for storing for emergencies, thanks to slow self-discharge rates
Starts up consistently and quickly with high cranking amps
Absorbed glass mat design offers added sturdiness and durability
3X the longevity of comparable wet cell batteries!
If you're buying this product on Amazon, it's Prime-exclusive as of 2018. Still, it's so good, it might be worth buying a subscription for.
It's an exclusive battery for compact cars that use Smart Key systems
10. XS Power D3100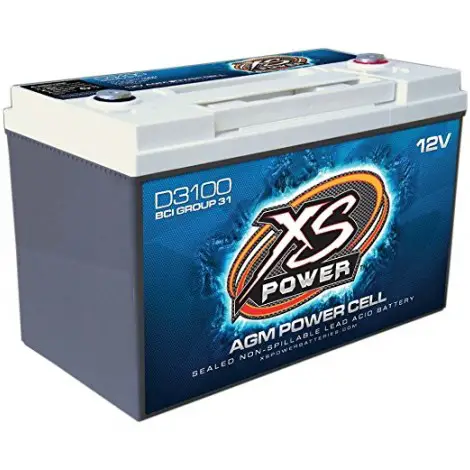 Looking for premium functionality at a premium price? The XS Power D3100 has your back. This battery has consistently outstanding reviews online, despite its high price tag. The tech used to design it is outstanding, and includes both absorbed glass mat construction and high energy density chemistry to achieve a light operating weight. (As an aside, that light operating weight makes the XS Power D3100 awesome for racing!)

Expand to see more
Tech-focused design
Cutting-edge design is a big part of XS Power's product development, and it's evident in this model. In addition to its absorbed glass mat structure, the D3100 features an exceedingly light operating weight, which is achieved through high energy density chemistry in the design phase.

Withstands frequent discharging cycles with ease
Need a powerhouse battery that you can rely on for heavy use, every single day? The XS Power D3100 is your go-to. This battery can fully discharge every single day without degrading prematurely.

Cost and Value
Don't get us wrong, this is a premium battery with a premium price tag. But sometimes good things come in pricey packages, and the D3100 is certainly one of those.


Absorbed glass mat construction withstands frequent discharge cycling
Spill-proof, fully-sealed design for the safest operation possible
Vibration resistance for use with heavy machinery or off-roading
Modular design fits any standard battery mount
Uses cutting-edge technology to achieve a super light operating weight
This is a pretty costly battery, and might be outside of many motorheads' budgets.
While these are 10 of the best car batteries online, remember that "best" is always subjective. The right car battery for you depends on your needs as a motorist, and your car's power needs. Hopefully, reading this car battery buying guide has given you the perspective and understanding you need to judge tech specifications and features and choose the car battery that offers you the right mix of value and features.
Most importantly, remember that shopping for something as crucial as a car battery demands a little extra attention to detail. It's not enough to pick the cheapest battery that fits your vehicle. Instead, consider factors such as:
How long will a car battery last?

Do I need a "heavy-duty" car battery?

What kind of car battery do I need (e.g., absorbed glass mat over the flooded cell)?
Ultimately, it's your answers to these questions that determine what car battery you should buy. Take your time and be an informed consumer. Happy buying!
Criteria Used in Evaluation
Of The Best Car Batteries in 2018
Before evaluating the best car batteries online, we took the time to put together some criteria that we used to judge each product. Buying a car battery is an involved process, but we were able to boil it down to four important feature types that can help you make your next buying decision. Primarily, those include:
#1: What niche features do they offer?
Are you an everyday commuter or looking to power your next off-roading expedition? Different vehicle types demand their car battery features. Some common niche features include:
Vibration resistance

for use around heavy machinery
Solar charge capability

for the eco-minded consumer
Easy-start design

for use in cold temperature extremes
High conductivity for strong connections that need to handle huge electrical loads
More features don't always make a car battery automatically the best. Instead of going for the most feature-laden battery, choose a battery that has the niche features that fit your lifestyle. If you live in Arizona, then that easy-start design feature isn't so useful. Pick features wisely to get the most out of your car battery purchase.
#2: What technology do they use?
Car batteries come in a wide variety of designs, relying on techs such as absorbed glass mat (AGM), lithium-ion, or wet flooded cells to produce energy. Wet flooded cells are the most inexpensive of the lot, but they're also the most likely to run out of a charge prematurely, or even fail. Durable alternatives include lithium-ion, AGM, valve-regulated lead-acid, and more.
Nearly all of the premium batteries on this list feature absorbed glass mat designs. That's simply because this design type is sturdy and puts longevity first, so you get the most out of your car battery purchase. AGM is also cheaper than other premium techs, meaning you pay less.
#3: Does it fit the budget?
Premium batteries come with a premium price tag, but there are plenty of feature-rich alternatives at moderate and even budget prices. We've taken the time to feature a wide variety of batteries from different price points, so whether you need a budget car battery or a super performance powerhouse, you're covered with this guide.
Are cheap car batteries good?
You might be tempted to go full budget and save some money. A $50 car battery looks appealing compared to a $250 car battery, but there are big differences that are more important than the price tag. With car batteries, it's quite true that you get what you pay for, although we've featured a few brands here that offer good budget choices.
Why stay away from most cheap car batteries? The vast majority of them use old technology and don't last for as many cycles or discharges as pricey batteries can. The difference in price is normally chalked up to differences in technology, and today's premium-priced batteries are very much worth it.
Is it worth paying more for expensive car batteries?
Probably. But it all depends on your car and your needs.
For an everyday commuter car, a basic (but high quality) battery like the Optima RedTop is a solid choice that won't break the bank.
On the other hand, if you're into hobbies that are plain hard on your vehicle, then you might need something heavier like the ACDelco Professional.
Check out your situation and decide what's a priority for you. You might find that you would appreciate a premium car battery more than you thought!
#4: What are the cycle and discharge times?
To understand a bit about cycle and discharge times, you need to have a basic idea of how batteries work. Here's what you need to know, starting with battery cycles:
What's a battery cycle?
Batteries hold energy and facilitate their discharge when needed. Generally, a battery "cycle" is the process of the battery charging with energy, then discharging the power to empty while it's in use.
The phrase "cycle times" can be a bit inconsistent. Some use it to mean the amount of time it takes for a battery to fully charge from zero to 100.
Others use it to mean the battery's total lifespan: the number of times you can fully cycle it from empty to full to empty again before it fails. This is the most common meaning of the phrase and the one you'll encounter most often when shopping for car batteries.
What's a battery discharge?
For a battery to discharge means to expend energy while it's in use. "Fully discharging" a battery is a phrase that car owners come across often in reading about car battery tech and maintenance. To discharge a battery means to drain it until it's fully devoid of energy. There are typically troubleshooting or repair reasons for doing this procedure.
In car batteries, the battery's discharge rate might be listed. This discharge rate refers to how long it can last with continuous use before needing to recharge.
What do cycle and discharge times mean?
Longer cycle and discharge times are always better. They indicate that batteries will last longer between charges and that they'll hold a charge better when not in use. It also means that they'll have a longer overall lifespan. In general, you'll get the most for your money.
We've selected batteries with long cycle and discharge times wherever possible, in favor of efficiency.
Terminology
Need help understanding your car battery purchase, but aren't quite sure what you just read? Car terminology can be challenging if you don't have a mechanical background, but no need to worry. This list of car battery terminology can help you understand so you can make the most informed purchase, whether you're a total novice or an expert under the hood. Check out our expert definitions:
What is an absorbed glass mat battery?
Absorbed glass mat batteries are built using technology that maximizes the electrolyte surface area. Thin glass fibers are contained inside the battery, providing massive amounts of surface area for the electrolyte to hold on. Because the electrolyte is what allows the battery to attract and hold a charge, this significantly increases performance.
What's a battery clamp?
Battery clamps are adjustable, lightweight aluminum connectors that are used to attach connections, either when installing a battery or when jump-starting it. Every car owner should have a set of clamps on hand when buying a new battery.
What is battery cycling?
Battery cycling is the process of a battery filling with energy, and then discharging it fully; or the process of a battery going from empty, to full, to empty again. Batteries typically have a limited number of cycles before they fail.
What is the battery discharging?
Discharging is when the battery redirects stored energy into the device that it's powering. The battery loses charge. Batteries can also discharge unexpectedly without actively powering a device, such as when a car is powered down in the cold.
What's a car battery terminal?
A car battery terminal is the point of connection between the battery and the device or vehicle that it's powering. These are attached using cables and clamps. The standard build for car batteries is to have the negative terminal on the red side, and the positive cable on the black side. This color-coding makes it foolproof to install a new battery.

What is a lithium-ion battery?
Often abbreviated as LIB or Li-ion, this type of battery uses lithium ions to move energy during use and when it's charging. This type of battery is widely beloved for its rechargeability and efficiency, but it's not available for most cars on the market as of 2018. Hopefully, shortly!
What is a flooded cell battery?
A flooded cell battery uses water and electrolytes to conduct electricity. Water attracts and moves energy from the positive terminal during charge, to the negative terminal during discharge. The benefit of this type of battery is that it's cheap. The downside is that it invites corrosion early on, and these batteries don't tend to last longer than a year or two.
Frequently Asked Questions
About Car Batteries
What kinds of car batteries last longest?
Deep cycle car batteries tend to be the longest-lasting in terms of holding a charge. This type of battery is lead-acid, and it's designed specifically to discharge with heavy use regularly. Their connective plates are packed less densely and are made of sturdier metal, which means stronger electrical signal. If you buy a deep cycle battery, you can get the most out of it by regularly measuring the depth of discharge and keeping it around 45 percent.
Lithium-ion car batteries are the longest-lasting on the market in terms of lifespan, but they're only available for compact cars as of 2018. In addition to being highly selective about which models they can work on, lithium-ion batteries also tend to be too expensive, so we haven't included any on this list because they aren't a good value.
AGM batteries are a good alternative for non-compact cars.  Also, keep in mind that deep cycle car batteries are competitively long-lived, making them a good choice if you don't have a compact car.
Are car batteries universal?
The short answer: no, car batteries aren't universal. Car batteries come in 12V as a standard, but other details such as amperage matter, and can render a battery completely unusable if you didn't double-check the compatibility. Two outwardly similar vehicles can have completely different electrical operating requirements, and ignoring those can lead to sudden failure.
Additionally, size can be a problem. Pickup trucks, for example, have a really large battery tray, which would never fit a battery intended for a compact car. Sometimes you can get around size problems by using external mounting brackets to modify the tray or bypass it altogether, but that doesn't work for all batteries, nor all cars.
Always choose a battery that's compatible with your car model. Most of the time, the manufacturer's description of the product includes a list of compatible models, which you should be able to access and search before making a purchase. Double-check with a trusted mechanic if you're not sure.   
How do you pick a good car battery for cold weather?
Live somewhere, frigid? You need a solid car battery that can handle icy temps without failing you. Look for a car battery with deep cycling, which helps elongate the time between charges, and helps minimize passive discharge in the cold.
We've already talked a bit about deep cycling and what makes it a great choice for car battery tech. Some of the benefits of this particular use include:
It resists sudden discharge, which can often be triggered by cold.

If it does discharge due to extreme cold, it's already built to handle that, and won't fail prematurely because of it.
Our Editor's Choice pick, the Optima RedTop, is a fabulous choice for the cold. In general, any deep cycle battery does a fantastic job at this application, and there are several represented on this list.
What's the best way to take care of a car battery?
Most auto batteries these days are self-maintaining, so there's no need to go through periodic discharge cycles to ensure its health, with the exception of deep cycle batteries that are built to do that. Discharging a non-deep cycle car battery too far in an attempt to increase its lifespan can kill it prematurely.
For the most part, your car battery should be left alone when it's not in operation.  Exceptions include long-term storage (remove the battery from the operation and store it in a cool, but not cold, dry place).
Even though you shouldn't be taking your car battery out or doing anything to it regularly, a yearly checkup is a good idea and can help keep your battery in fantastic shape for longer. The steps include:
Inspect the battery for corrosion and remove it using a battery cleaning agent, or a mix of lemon juice and baking soda.

Check electrolyte levels, if it's a flooded cell battery. If needed, you can add distilled water to raise the levels.

Use a hydrometer to test each cell, which gives you an idea of the battery's current efficacy.

Reinstall clamps and cables. You're done until next year!
Subscribe to our Newsletter