Best Travel High Chairs Reviewed & Rated for Quality
last updated:
Aug 16, 2019
With the modern family, the traditional dining at home, for many, is a thing of the past! There are places to go and restaurants to explore. Having a little one can make this kind of difficult, so the invention of the portable high chair came just in time. Having a high chair that can travel with you anywhere eliminates the worry of dining accommodations for your baby. There is no perfect time to teach your baby to eat appropriately at the big table, like what's the worst that can happen besides spilled milk and spaghetti sauce on the bib? And even then, a wet washcloth or a nice damp baby wipe can handle the mess. Whether at a restaurant, a family or friends' house or just the general outing, having a secure portable high chair for our very hungry little one is today's necessity.
Featured Recommendations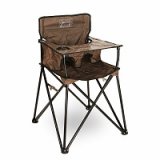 Ciao! Baby

Our rating
Built In Cup Holder
Price:

See Here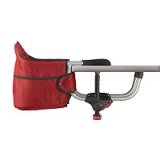 Chicco Caddy Hook

Our rating
Compact and Easy to Use
Price:

See Here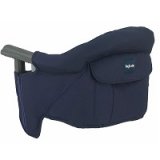 Inglesina Fast

Our rating
Three-point Harness
Price:

See Here

With many different styles, brands and designs to explore, having a travel high chair is all about convenience. Some are wraps, then there are hook-ons and the traditional travel style high chairs. Having somewhere to feed your little one regardless of the setting is a relief to any parent. The travel high chair must be lightweight, compact, and easy to transport. Some parents may prefer booster seats over high chairs, but there really isn't that much of a difference. Booster seats usually connect to a chair or table where the toddler will be close to the parent. Usually, they are for children 3 years and up. A high chair is for those who are not ready for the "big kid" chair just yet. I have reviewed the Top 10 Travel high chairs, let's take a look.
10 Best Travel High Chairs
1. Ciao! Baby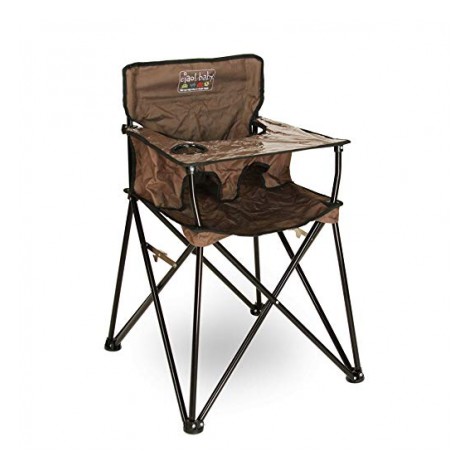 The Ciao! Portable High Chair Is a fold-out style, lightweight high chair perfect for you to use outdoors. It is designed to lock in place once folded out and is durably made with a vinyl material easy for cleaning. Transporting this model would be a breeze as it is said to fold up and clean up in no time. Although the high chair is long, it is still convenient enough to keep in your trunk for on the go or emergencies.

Expand to see more
Harness Style
This chair features a five-point harness best for children under 3 years of age. It gives that additional security a little one needs without adding bulkiness to the chair.

Easy to Clean Material
This high chair is made of a durable vinyl material that simply needs to be wiped down. No dish or machine washing necessary.

Cost and Value
The Ciao! Baby Portable High Chair comes in 11 different colors and has its own carrying case. This chair best suits someone who enjoys camping, picnics, tailgating and plenty of outdoors trips. Even with all these diverse features, it is still reasonably priced.
Lightweight Vinyl fold out
Easy to Clean
Five-point harness
Vinyl Table top is non-removable
2. Chicco Caddy Hook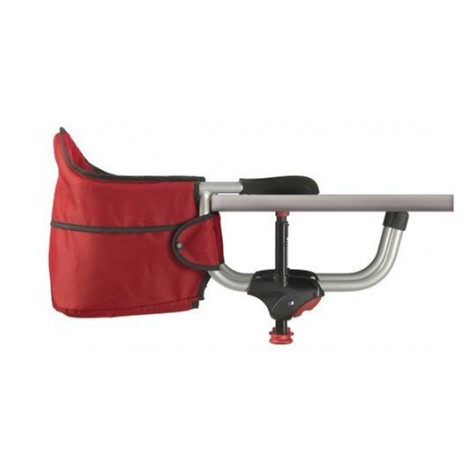 The Chicco Caddy is a non-traditional style high chair. It Hooks onto the side of the dining chair with a locking mechanism. This chair weighs in at 7 lbs. which is a little heavier due to the double locking mechanism, but it still works on most tables. It consists of rubberized grips which are safe for the baby. The grips make it hard for the little ones to pinch their little fingers or scratch the table tops.
Expand to see more
Hook Style
Hook Style High Chairs are equipped with a double locking attachment that generally fits onto the end of a dining table.

Cleaning
Because the chair is made of a light nylon fabric, it can be easily spot cleaned with a damp washcloth. The nylon seating can be removed if necessary for cleaning.

Cost and Value
The Caddy Hook Style High Chair is on the lower end of the price spectrum. Although it is cheaper than most, it is one of the most durable.
No additional table top required
Compact and Easy to Use
Rubber Grips that prevent pinching
This high chair must be assembled before use
3. Inglesina Fast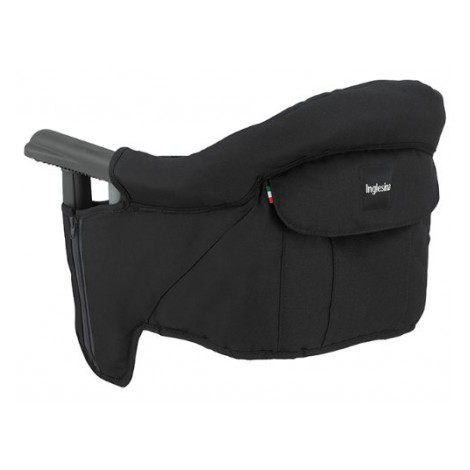 The Inglesina Fast table chair is another hook style high chair. It is super fun and very unique in design. This chair is collapsible, has an easy to clean canvas-like material, very lightweight and has a storage pocket on the back for all of your little one's knick-knacks! It is recommended for tots ages 6-36 months or up to 37 pounds. This high chair is compatible for tables up to 3.5" thick (solid tables only) and comes in a variety of shades and colors. A dining tray can be purchased separately for dining convenience of your little one if he or she is known to make many spills.

Expand to see more
Convenience
This Hook style chair sets up very easily using clamps that will not hurt tiny fingers. It folds down flat when it is not in use. Because it weighs in at a measly 4 pounds, it transports very easily with its own carrying bag.

Storage Pocket
This high chair has the handiness of extra pocket storage for items your baby may need at feeding time like bottles, extra wipes, pacifiers or even toys. There can never be too much storage.

Cost and Value
This neat little hook on high chair adapts to most tabletops. The only one that is not recommended is the glass tops for very obvious reasons. It leaves no scratches, marks or dents. It attaches to the table so of course your floors will not be harmed at all! The value of this chair is very reasonable, and parents have been known to buy them over and over again.
Three-point harness style seating
Easy to use attachable clamps
Canvas style material for mess-free clean up
Not safe for glass table tops
4. Fisher Price Space Saver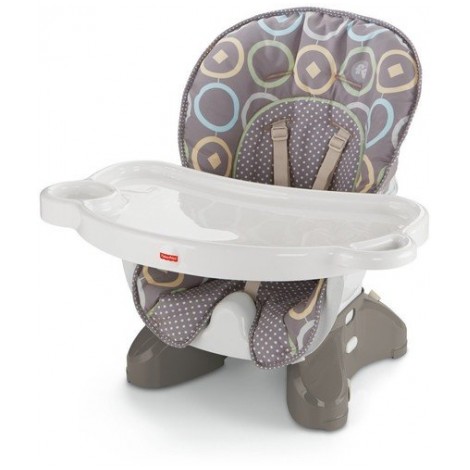 We've all heard that "Fisher-Price Knows" right? Well of course they do! They have created the Space Saving high chair that is quite the handy dandy contraption. It is still a modified rendition of the traditional high chair, but very compact and convenient. It is not only easy to use, but it also grows with your baby. It has been made to fit onto any dining chair. It has been accessorized with cushioned seats, removable backing and eating tray. Its 5-point harness ensures that it is completely safe. It also has multiple adjustments for the comfortability of your little one, which is always nice.

Expand to see more
Adjustability
This seat grows with your child. It has 3 stages that range from newborn, to toddler, to big kid. It reclines into a newborn sitting station, sit it up into a booster for toddlers, and when you remove the feeding tray and the backin. It is a big kid booster with two height adjustments! Now that's a high chair!

Detachable Attachments
Usually, with high chairs you only find that the dishwasher safe feeding tray is removable, here- so is the backing. This feature is made specifically so that your toddler easily converts from needing that extra help from Mommy and Daddy, to eating on their own at the big table.

Cost and Value
This high chair is a steal for its price and convenience. It Grows with your baby, its comfortable and has one of the safest harnesses on the market.


Ideal for Newborns and grows with them
Space Saving
Easy to put together and take apart when needed
Detachable plastic tray stains with some foods
5. Cozy Cover Easy Seat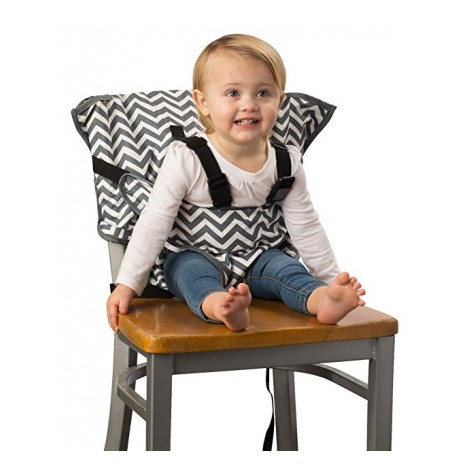 The Easy Seat high chair is more for the relaxed parent. It is made of a wrap-type cloth and slides easily over the back of the dining chair for security and is affixed with a five-point harness for safety. This high chair struck my attention because it fits snuggly inside of both diaper bags and purses! It is the quickest setup I have seen thus far. The Easy Seat is made for babies 6-36 months old, and under 35 pounds, who are self-supported sitters of course. It comes in a variety of colors and designs for your choosing.

Expand to see more
Foldability
This high chair folds so compact that it fits into purses and diaper bags with ease. It is so light that you can throw the whole thing in the washer for easy clean up.

Click Tight Straps
The easy to use harness is equipped with a 3-point cloth strap that goes across the chest and between the legs. It also has the 2 shoulder straps for extra security.

Cost and Value
The Cozy Cover Easy Seat is on the cheaper side of the price scale. It has made a break through with its rare design and traveling capacity. The make of this high chair is for parents who are constantly on the go and do not want to worry about bacteria and infectious diseases that may be on restaurant high chairs. It fits in any type of dining chair, normal or bar height, and keeps your little one completely safe. That's saying a lot about its value.
5-point harness seating
Click tight shoulder straps
Made of machine washable cloth
No feeding tray attachment available
6. Mountain Buggy Pod Clip On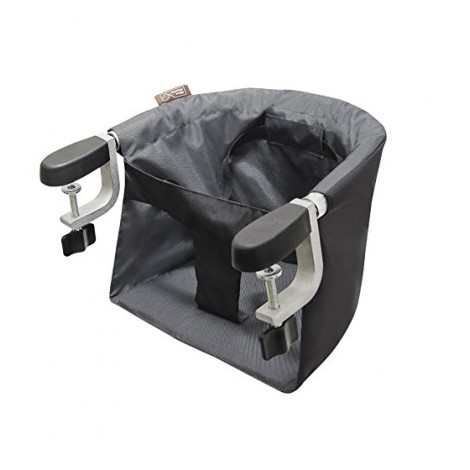 The Mountain Buggy POD clip on high chair is yet another hook-on style high chair although it is made with an aluminum framing. This seat, unlike others, is built bucket style with deeper seating for the little ones to prevent wiggling and standing. Its clamps are also aluminum built and fit onto tables up to 2 inches thick. This high chair is not only compact enough to fit underneath strollers but also in diaper bags.

Expand to see more
Bucket Seating
The deeper seating makes this high chair worth the buy. Unlike other high chairs, it is very hard for a toddler to wiggle their way out of this seat. The aluminum build and soft support backing make the chair comfortable for the child. Who doesn't want that?

Aluminum Frame
The POD high chair is built out of an aluminum frame which means it is sturdy and will not collapse while in use. This high chair is best for small ones who like to move around, but you want them to stay put.

Cost and Value
Although this highchair cost a little more than the others it is well worth the money you spend. Having a safe, portable high chair for your smaller one that puts them as close to you as possible at dinner time is considered a luxury. This high chair gives you the flexibility of dining at any restaurant without having to consider if they offer booster seats or if you will have to request an extra chair for dining with a little one. Now that's more bang for your buck!
Does not require a dining chair for use
Fabric can be zipped off for cleaning
Sturdy frame with padding for best support
POD does not work with tables over 2 inches thick
7. Baby Delight Go with Me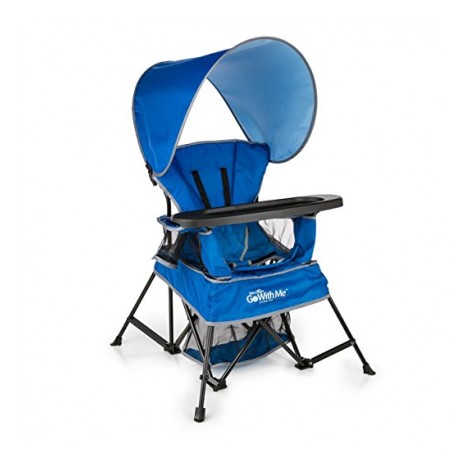 The Baby Delight Go with Me high chair is for outdoor families. Whether it is on the beach, on a camping trip or out by the pool, this high chair is it! It is made to fold out like a camping lounger and has all the best outside features a parent could ask for! A sun canopy, removable harness and feeding tray, fading and stain resistance, resistance to mold, and holds up to 75 lbs. It is equipped with a 5-point harness that can be removed as the child ages. Not to mention it comes in a variety of very bright colors!

Expand to see more
Outdoor Friendly
Because this high chair is made of a polyester fabric, rain, sleet or snow couldn't damage this beauty. It is resistant to mold which is a plus for outdoor fun in the sun near water.

Multiple Stages
This chair is made to grow with your baby through three different stages. The harness can be detached as the toddler grows and will form into a big kid lounger until the child meets the weight requirement.

Cost and Value
The Baby Delight Go with Me high chair is well worth the purchase for a high chair that can be used up until early elementary aged children. You pay one price for a chair that may last for years just by detaching certain features as the child grows. This would definitely be the catch for an outdoors family.
Rain and Stain Resistant
Sun Canopy for hotter days
Holds up to 75 pounds
Does not collapse in beach sand
8. Ingenuity Trio 3-in-1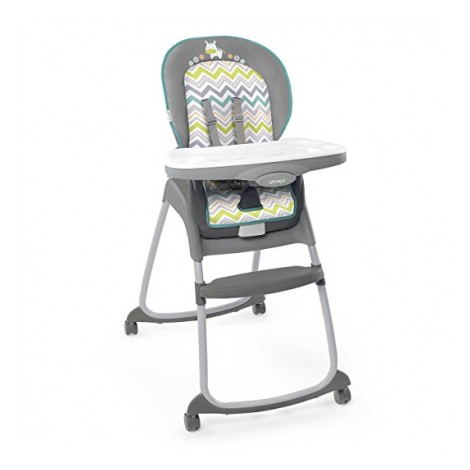 The Ingenuity Trio 3 in 1 High chair is perfect for the traveling parents who need that extra sitting space during family visits or hotel stays. This 3 in 1 high chair has three stages of adjustments, a 5-point harness and can be used for kids up to 5 years old. The chair is a little bulkier than the others, but the quality is key. This high chair folds up for transporting and locks when it folds out so that you do not get that slip and slide gliding from the wheels. Overall this chair is perfect for stabilization and convertibility.

Expand to see more
No Gliding
This high chair has locking mechanisms behind the tires so that the wheels do not move and scratch up your floors. Perfect for wood, tile and linoleum flooring.

Growing Feature
This chair converts from a traditional high chair into a basic booster without the wheels and can be attached to a dining chair, or you can take the booster out and use the frame a big kid high chair. The feeding tray is removable so that older kids have more leg room, but the harness is still intact.

Cost and Value
This is the most expensive of all of the high chairs, but it maneuvers and converts so well that other baby products may not be necessary for purchase. You get a booster and a high chair that any child 5 and under can use. Purchasing one chair with 3 purposes is a great value!


Machine Washable fabric
The booster can be used without the wheeled base
The base can be used individually as a high chair
Foot rest is very slim for use
9. Summer Infant Pop and Sit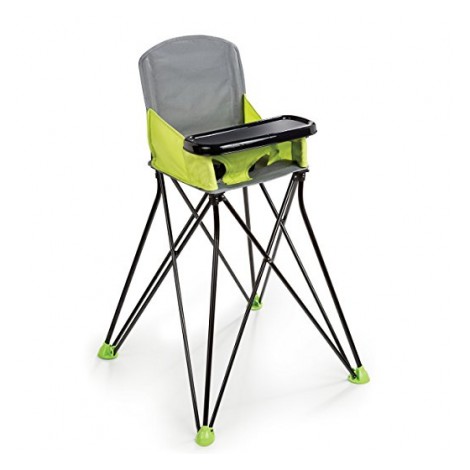 The Summer Infant collection has a variety of different pop up baby furnishings. The High Chair, of course, is a pod style pop up a chair. This chair would be perfect for trips to the lake or trips to the park. It has a very simple structure the instantly pops out, has a 3-point harness and holds up to 45 pounds. This chair is recommended for children 6 months to 3 years if they are supported, sitters. The stain-proof fabric covering is easy to remove and is machine washable. The feeding tray is made of a hard plastic that can be wiped clean in no time.

Expand to see more
Storage Pocket
This portable beauty has an extra pocket pouch on the back. This can be used to hold bottles, wipes, toys or anything necessary to help entertain your baby.

Easy to Transport
This highchair is lightweight and comes with its own carrying bag. The bag itself is a zipped style shoulder bag so that it can easily be carried back and forth.

Cost and Value
The Summer Infant Pop and Sit is the best bargain of them all. Its lightweight, durable, easy to carry anywhere you go and doesn't get in the way because it folds into a narrow storage/carrying bag. If you are looking for a high chair that can slip into small spots in the trunk, this is it!


Machine washable fabric
Rear pocket pouch for storage
Simple portability
Small leg holes for chunkier babies
10. Phil & Teds Lobster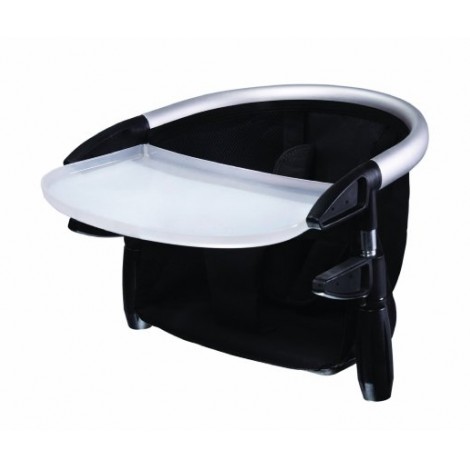 Phil and Ted's Lobster high chair lives up to its name. The Lobster gets its name from the unique lobster claw like clamps attached to the pod for the best gripping system of all the pod chairs. This clip-on bucket high chair has an aluminum frame, 4-point shoulder harness, no slip grip lobster clamps and padded fabric for ultra-comfort. Perfect for bigger tables up to 3.75" thick. This bucket style high chair can latch onto picnic, dining, or even bar top tables. Not recommended for unstable surfaces like glass or pedestal tops that can crack or fall over.


Expand to see more
Folding Feature
This high chair is known for its speedy setup and break down. With this high chair, once you untighten the clamps, they fold inward, and the seat collapses into itself for maximum space-saving.

Lobster Claws
The "Lobster Claws" or clamps are super strong and can attach to any surface between 0.8" and 3.75" thick. Not recommended for glass table tops, flimsy unstable tops or pedestal tabletops.

Cost and Value
The Lobster bucket seat is the best POD for its value. It collapses into itself, is lightweight and easy to transport. Once collapsed it can fit into a baby bag or underneath a stroller. It wipes down very nicely after meals and grips almost any surface. With a little squirmy one, this chair is the best fit!
Stronger no-slip grip clamps
Fast setup and break down
Shoulder harness for little ones
Only holds up to 37 pounds
When choosing a Travel High Chair for your child, you may ask yourself, what is the difference between a high chair and a portable booster seat? Well, honestly there isn't much of a difference. Travel High chairs come with the luxury of attaching to tabletops, extended chair legs, and they do not have to have a dining chair in place to accommodate the child. Most restaurants do not offer child seating, and if they do, general boosters may be offered which are usually hard and uncomfortable for small children. Having a portable booster eliminates the need to request additional table seating for your little one and guarantees the safety and comfort chosen by you for your child.
Criteria Used in Evaluation of the Best Travel High Chairs
The key to finding the perfect travel high chair is knowing your child's needs and capabilities. High chairs are generally for children under 35 pounds and at least old enough to sit up on their own. Although many new parents typically pick the prettiest or cheapest chair available, the quality will always supersede when it comes to the safety of our children. You must make sure that the high chair is durable and easy to maintain. If you are the type of parent that likes to take your little with you when you got the beach, park, camping or even boating- want to be sure that the chair you choose is easy to transport and easy to put away when it is not being used. That it is easy to set up and will not fall apart while it is in use. All these things are very important when looking for the perfect high chair for your child.
Durability: The high chair must be able to withstand the weight of the child. You want to make sure that the chair is sturdy and will not collapse or give out on your toddler. Durable high chairs are made of quality material, include harnesses, and if they are in the Pod category, you want to make sure that your tabletops will withstand the clamps. Some tables are thicker than average and require pod high chairs with larger clamps.
Longevity: With the high chair of your choosing, you want to make sure that you will get long term use out of the chair because you will most likely use it every day. It must be sturdy, easy to clean and the material must be durable. High chairs with cloth padding may have fabric with stitching. You want to be sure that the stitching doesn't unravel because it may cause harm to your little one. Caring for your high chair is also a factor in longevity. Some may allow for machine washing and others by hand. Throwing some fabrics in the washer will cause the fabric to wear thin and therefore cause your high chair to malfunction depending on the type of frame it has. Some of the different brands allow for replacement fabrics, and others do not. As a parent, you have to be sure to check the fine print for allowances in replacement parts.
Safety: Traditional high chairs are known to be bulky and hard to move around. These high chairs that have been reviewed are lightweight. The safety features you want to make sure of is the weight requirement, harness structure and if it is a bucket or POD style seating, the frame. Aluminum frames are the most stable. Although the aluminum pod clamps may pinch your little one if attached improperly.
FAQ
Q: What is a POD high chair?
A: A Pod high chair is one that is considered bucket seating and clamps onto table top surfaces using clamps. Most of the clamps screw onto the table from the bottom, and the seating hangs off the side of the table. Legs are not necessary because the clamps and non-slip and grip properly to hard, stable surfaces like dining tables, picnic tables, and bar tops.
Q: How can you tell if a high chair will hold the weight of your child and fit properly?
A: All high chairs will give the dimensions of the chair, height and weight requirements. You must take into consideration not only the weight of your child but if the leg slots will be too tight. If you have a lighter child with long legs, their legs might hang down too far down. Just because your child meets the weight requirement doesn't necessarily mean that the chair will be comfortable for them. Some babies are heavier and may meet the weight requirement, but the chair may not be comfortable enough for them to have leg and elbow room. All these factors are important when choosing a high chair your child specifically.
Q: What are the best travel high chairs for outdoors?
A: The best travel High chairs for outdoors depends on the type of activities you will be participating in. If you are going somewhere that you will want the high chair to withstand beach or soft sand, grassy or wooded areas, I would suggest one with sturdy but foldable legs. They generally resemble adult lounge chairs and are rain, mold and stain resistant. These will allow for you to transport and use them even in moist atmospheres without worrying about future damage.
Q: Are feeding trays required for all high chairs?
A: No. Feeding trays are only suggested if you will be using a traditional style high chair where no table top is available. Most travel high chairs attach to table tops and do not come with a feeding tray. Some of them do have the option to purchase them separately if that is something you want to do. However, having a feeding tray will take up some of the space that your child would otherwise have without it.
Q: Do the POD travel high chairs work on rounded table tops?
A: Yes. The POD high chairs are designed to fit any shaped surface. Just make sure that the clamps are tightened properly so that the pod doesn't slip off with any movement your child may make. I suggest tightening the clamps a little more after your child has been seated. This will eliminate your worries of the child falling out or hurting themselves.
Q: How do you know if the high chair is under warranty or if you can be refunded if you have any complications with it?
A: Depending on where you purchase the high chair, new or used, the warranty may be offered. If so, you want to make sure prior to purchase what consist of reasons to return the product or if you can request another one in place of the malfunctioning unit. You may more than likely have a warranty if your purchase the high chair directly from the manufacturer or form a store. Online shopping may or may not offer warranty's or replacements.
Q: Will a pod high chair work with table cloths?
A: Yes. The clamps on the pod will lock onto table cloths if they are completely tightened. Table cloths are known to slide around and create a slippery surface to the table top. You will have to evaluate your pod high chair's clamps prior to latching it on to be absolutely sure. You would have to take into consideration the type of pod chair and the type of clamps that it is equipped with. The clamps will have width requirements, and the instructions will tell you exactly how to tighten them. Table surfaces along with a thicker table cloth may not work if they exceed the requirements for smaller clamps because they will not latch on properly.
Q: What is a grow with me travel high chair?
A: A grow with me travel high chair is one that is multifunctional as your child grows. As a baby, there may be a booster assembly seat that can be reclined with a safety harness for babies that need extra support with sitting. The booster can be removed when it is no longer needed. The next stage is typically for toddlers who can sit up and eat on their own but may still need harnessing so that they do not stand up in the high chair and hurt themselves. The last stage is for what they refer to as big kids (ages 3-5) who are big enough to sit at the table and eat on their own but may be a little too short in stature for an adult dining chair. These are very helpful for children who are physically disabled. This gives them the ability to be included in dinner time with the rest of the family without having to be singled out. These chars usually have removable feeding trays for maximum movement and space for the older children.
Q: Can travel high chairs be carried onto planes?
A: Some of the travel high chairs can be boarded onto planes as a carry on as long as they can fit into tight spaces and aren't in anyone's way. The high chairs that are recommended are the ones that can easily fold up and be put away into diaper bags or purses. The pods are perfect for traveling on planes while some of the others with legs are better to transport in cars unless you have one that can be broken down. The key would be to research the high chair and see if it is a chair that would be easily taken apart and put together. Some of them even come with their own carrier bags.
Sources
Subscribe to our Newsletter