Best Jeep Soft Tops Reviewed & Rated for Quality
last updated:
Apr 06, 2021
One of the most attractive features of a Jeep is the convenience of being able to remove its top and doors. Jeep enthusiasts out there know exactly what warm weather means. Whether you live by the beach, mountains or even in the city, sunny weather will give you the urge to drive "topless". Nothing can beat driving around with the top down and music blasting, right? If you currently have a soft top and are looking to replace it, or own a hardtop and thinking about investing in a soft top, you will discover that these tops come in different sizes, styles, colors, materials and the like.
Featured Recommendations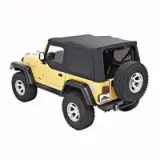 Pavement Ends Replay

Our rating
Excellent Quality
Price:

See Here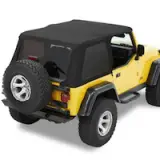 Trektop NX

Our rating
Most Functional
Price:

See Here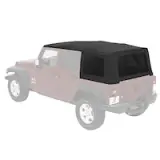 Supertop NX

Our rating
Great Protection
Price:

See Here

With so many manufacturers stating that their product is "the best", you may feel overwhelmed with all the options. Where do you even start? We have done extensive research and composed this guide which goes through 10 of the best on the market right now. We guarantee that this guide will help you find a top for your Jeep that will check off all your boxes or at least steer you in the right direction!
10 Best Jeep Soft Tops
Pavement Ends Replay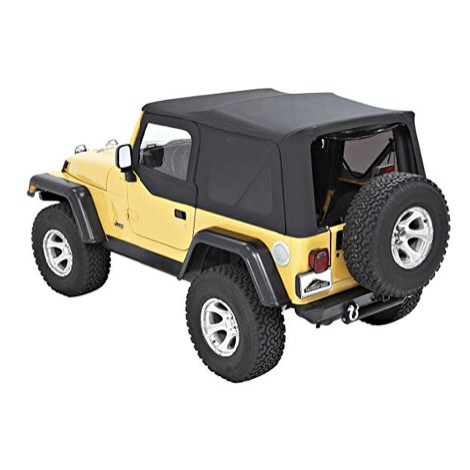 Does your top need to be replaced? Is it faded or sagging in certain areas? From our research, we believe that this option from Bestops is great for Jeep owners who are searching for an affordable yet durable replacement. Pavement Ends is known to be one of the most affordable lines from Bestop. This product is rated number one because of its incredibly durable material and its user-friendly design.
Expand to see more
Top Quality Materials
The Pavement Ends 51197-35 is the best option for 1997-2006 Jeep Wranglers on the market today. This Department of Transportation approved tinted top is made of very strong automotive grade polymer cloth. With this top, you will not have to worry about leaks because of the heat-sealed vinyl windows that provide maximum protection. This option is also fade resistant.

Easy to Install
Even though this replacement top kit requires that your factory bows, tailgate bars, and frames are in good condition, we believe that the best feature about this top is how easy it is to install and remove. Others have stated that this top is best to install during warmer weather because the heat will help the fabric stretch.

Cost and Value
Despite this top not being able to fit any of the Unlimited models, this option is the best top for 1997-2006 Jeep Wrangler models. It also comes with a 1-year limited warranty. If you are planning on going for a topless drive anytime soon, we highly recommend bringing this top along!
Marine grade fabric
UV resistant
Easy to install
DOT approved tinted vinyl windows
1 year limited warranty
The kit does not include hardware, must be purchased separately
Will not fit will Jeep Unlimited options
Trektop NX 56820-35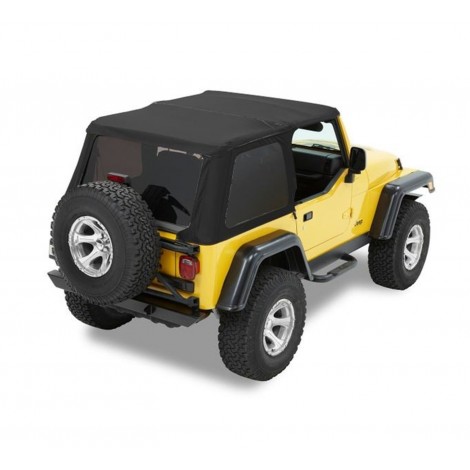 Do you prefer a frameless soft top replacement for your Jeep? This product by Bestop is very quick to install, especially since it does not require you to have traditional bows or frames. One of our favorite features of this top is sunroof that folds back. We believe this is a great option for you if you want to let some light and breeze in without removing the entire top.
Expand to see more
Frameless
As we stated above, this option by Bestop can be installed onto your Jeep even if you do not have factory bows or frames. You may be concerned with how this top will attach to your Jeep if there are no frames - don't worry this top attaches to a series of rails that are connected to the cage which supports the fabric.

Versatility
The Trektop NX will make a perfect addition for all Jeep Wrangler models from 1997 to 2006 (except Unlimited models). This top is compatible with all factory seal doors and door kits designed by Bestop. Not only can you just fold back the sunroof but you also have the option to use a full top or remove the sides and rear windows to achieve that Safari Bikini look.

Cost and Value
Even though this is not the cheapest on our list we still believe it's a great investment. This product from Bestop comes with a 2-year limited warranty and includes more features than you think. We suggest you keep this in mind as you continue down our list.
User-friendly
Does NOT require traditional bows or frames
Fade resistant
Fold back sunroof
Windows are tinted, DOT approved and can be removed
2 year limited warranty
Will not fit will Jeep Unlimited options
Easy to remove windows but a bit difficult to put back on
Supertop NX 54823-17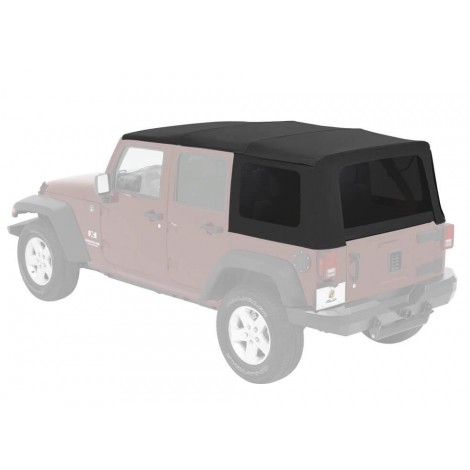 Another Bestop product lands itself on our top ten list for Jeep soft tops. You must be thinking what I'm thinking, Bestops must know what they're doing! If you are searching for a product that can be easily installed and removed, made of premium materials and more, this complete replacement top kit is the best one for you. Continue reading to see why this product from Bestop is one of the best.
Expand to see more
Excellent Protection
This option will protect against mildew and toxic UV rays. When it rains, you will not have to worry about the rain soaking into your top. With this option, you will see that it will withstand any type of moisture and keep you and the inside of your vehicle dry. Not only will this product keep you dry, but it will also keep you and your passengers safe from harmful UV rays.

Quality Material
This is made with high-quality premium fabric that will retain its shape no matter what temperature. Not only is the fabric top quality but the hardware that is included is made with higher strength steel that is made to last. This product also includes quality YKK scoop-counted zippers which protect the operation of the zipper and will ultimately make this product last.

Cost and Value
The Supertop NX is one of the most expensive heavy duty options that you can find on the market now. This option is made of triple layer twill fabric and includes 40mm thick tinted vinyl windows for ultimate protection. This complete kit is pricey but offers a lot of value and more.
UV resistant
Quick release bow for easy removal
Includes the Sunrider-style fold back sunroof
Includes Bestops improved door surrounds
Windows are tinted, DOT approved and can be removed
Limited lifetime warranty
Multiple color options available
Some customers state that the handling of their shipment was not up to par
Trektop Pro Hybrid 54853-17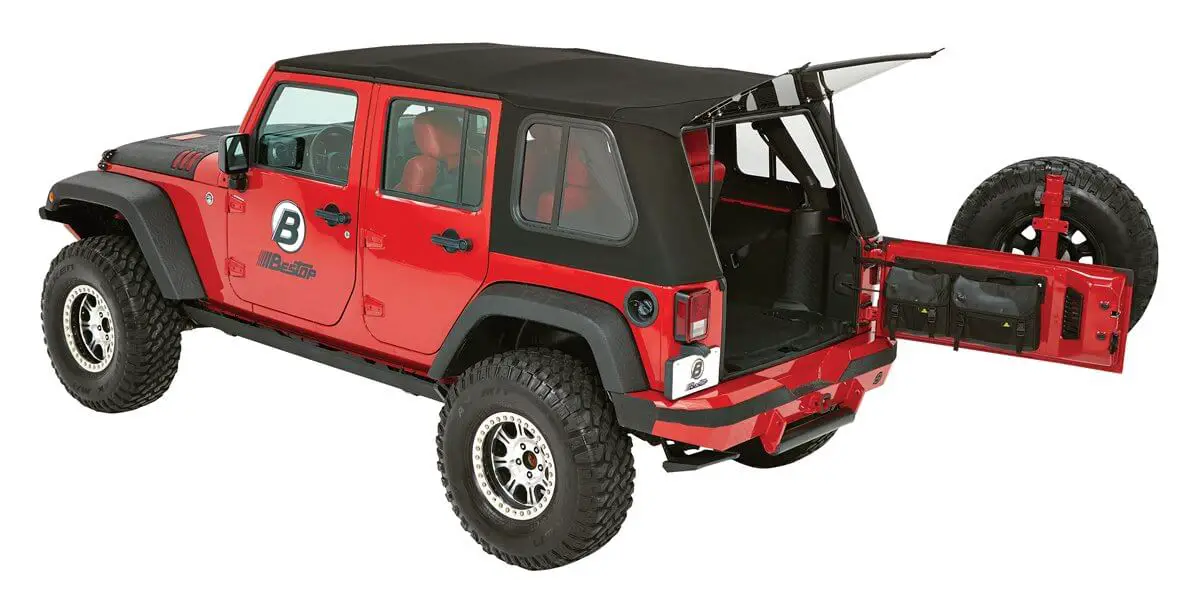 Do you own a 4-door Jeep Wrangler that was made between 2007 to 2018? Are you looking for an addition or replacement top? After extensive research, we believe that this product by Bestop is the best option for you. This is the first option on our list and in the industry that includes a real glass hatch that also has struts which assist you with the gas operation. In addition, the side windows also have glass siding panels. Having this convenience is nice and makes this product very useful.
Expand to see more
No Zippers
Yes, that's right. This top does not have any zippers. It is then easier to access your rear cargo through the rear glass window. This increases functionality and is one of our favorite features about this product.

User-Friendly
This hybrid option is an all-around product. From it being easy to install and remove, to it being easy to clean and maintain, we guarantee that you will have no problems using this product.

Cost and Value
This option comes with a steep price tag. Although the price is high, what makes this top extremely functional and valuable is the fact that you can use this through all the winter months as well. Keep in mind, hard tops are priced even higher - with this option you get the best of both worlds and no zippers.
No zippers - all mounting
Limited lifetime warranty
Rear glass hatch and side window sliding glass panels
Rear glass defroster
Includes the Sunrider-style fold back sunroof
Very easy to clean
All season capability
May not be as secure as it should be when in Sunrider mode
Pavement Ends 51148-35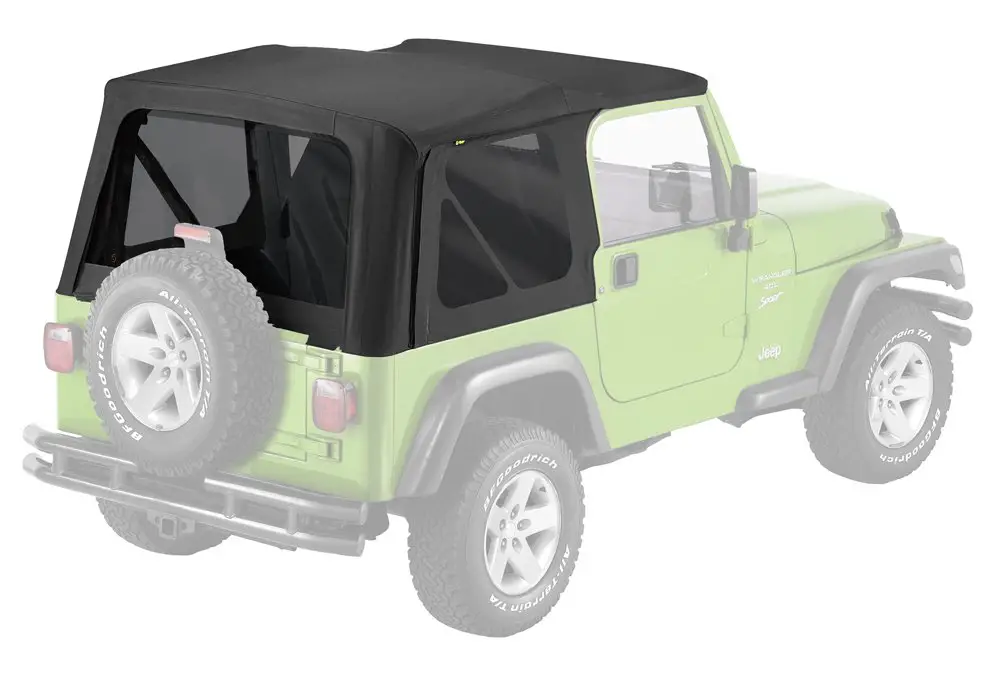 This option is on the more affordable side for your 1997 to 2006 Jeep Wrangler. If your Jeep is your daily driver, this top is the right one for you. You may find that the materials used for this are not as thick as Bestops superior line but it is still strong and will get the job done. We believe this will give you the best bang for your buck!
Expand to see more
Durable Fabric
Even though you may think a soft top is not as durable as a hard top, Bestops top designs are made to last. Their fabric is durable, mildew and UV resistant and looks great!
Ease of Use
This product can be easily installed by fitting the replacement over the existing bows and frames. It is recommended that you let the top
sit out in sunny weather
so the fabric will stretch, this will make installation even easier.
Cost and Value
We understand that investing in a new top may be painful, but not with this option by Bestop. As we already stated, it is cheaper than their other products but the quality and design is still exceptional. We believe this top will give you the best bang for your buck!
Jam resistant zippers
1 year limited warranty
DOT approved tinted windows
Simple installation
Premium materials
Will not fit will Jeep Unlimited options
The kit does not include hardware, must be purchased separately
Smittybilt 9970235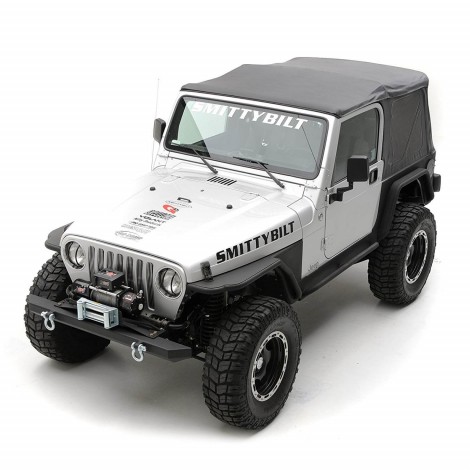 Coming in at number 6 on our list is a soft top designed to fit over your existing hardware and framework. Not only is this top made from marine grade vinyl coated fabric, Smittybilt used a premium quality thread and its seams were heat sealed to prevent any leaks. This top is quite unique, continue reading to learn more about its features.
Expand to see more
Simple Installation
This product by Smittybilt was designed to slip right over your existing framework and hardware. With that being said, installing this top is very easy and should not take more than 2 hours (if installing alone).

Top Quality Zippers
As many of you may know, dealing with zippers can be a nuisance. No need to fret with this product as they are made with top quality plastic and are self-correcting which allows it to run smoothly. When your zippers operate as they should, you'll have more time driving and enjoying your top.

Cost and Value
This product by Smittybilt is an exceptional product at an affordable price. If budget is your main concern while looking for a new top for your Jeep, this option is the one for you. In addition, you'll receive two front replacement upper door skins with your purchase.
Top quality zipper design
Durable Marine grade vinyl
Fits factory framework
Fabric is made to not stretch or fade
Easy to install
No need to purchase additional hardware
Other color options available
Easy to remove windows but a bit difficult to put back on
Sierra Offroad TJ 2003-2006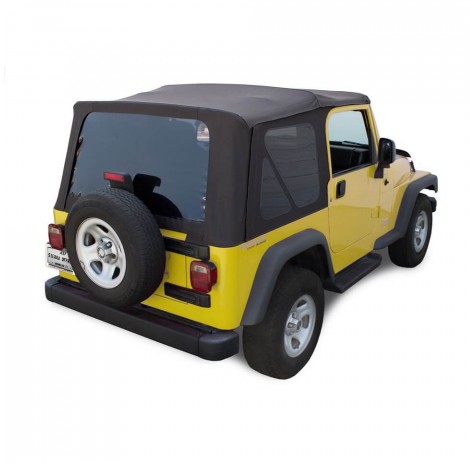 If you are in search of a reasonably priced top replacement for your 2003 to 2006 Jeep, Sierra Offroad's product is a great option. Our favorite feature about this top is how it is designed to fit your factory frame like a glove. While browsing the internet, you may have seen other manufacturers offering products that say "one size fits all" but not with this one. Sierra Offroad designs each top based upon the original factory frame by model year. We have a few other features that make this product one of the best, so continue reading.
Expand to see more
Simple Installation
Like many options on the market, it is recommended to let the top sit out in the sun for a good period of time before installing it. With this product, you will not need to. Sierra Offroad designed this product to fit your Jeep like a glove, right out of the box.

Quality Materials
This option by Sierra Offroad is designed to last because this top was made with quality materials. From our research, we found that the seams of this top are heat sealed - this will prevent leaks. Also, the material used is marine grade which is extremely durable.

Cost and Value
Looking for an option that won't break the bank? This product by Sierra Offroad should be highly considered because it offers quality materials, guarantee factory framework fit and protection. This is a steal in our books!
Heavy duty self-correcting zippers
Premium marine grade materials
UV resistant
Simple installation
All seams are heat sealed
DOT approved tinted windows
Does not include hardware
Will not fit will Jeep Unlimited options
Pavement Ends Sprint Top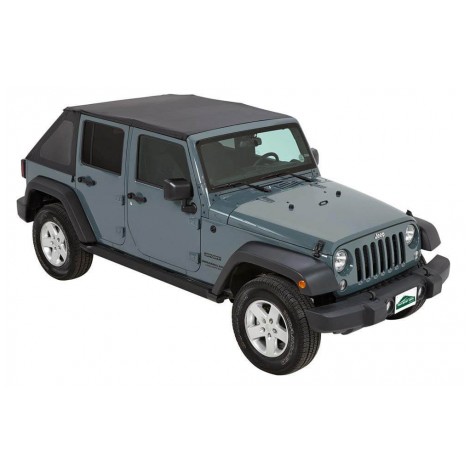 Here we have another exceptional product designed by Bestop. For this top, all you need is your factory door surrounds, tailgate bar and windshield header for your 2007 to 2009 Jeep Wrangler Unlimited. We highly recommend this product because it is made with top quality diamond-point fabric and is made to fit right onto your Jeep.
Expand to see more
Easy Removable Windows
One of our favorite features that this option by Bestop offers is its removable vinyl. Not only are these 28-mil windows DOT approved but they can be easily removed to keep you cool on a sunny day. Additionally, these windows are 100% heat sealed which will help with preventing moisture from entering the vehicle.

Top Quality
If you are searching for a top quality top for your 2007 to 2009 Jeep Wrangler Unlimited, this product by Bestop highly recommended. It offers 23-ounce diamond-point fabric which features a flip back sunroof panel. This top will help prevent harmful UV rays and resists mildew, especially in more humid climates.

Cost and Value
From Bestop, you will find that their most affordable options fall under their Pavement Ends line. This option will offer high quality and top performance. We believe that you will enjoy this product.
Simple installation
Mildew and UV resistant
DOT approved vinyl tinted windows
3 year limited warranty
Best choice for your Jeep Wrangler Unlimited
Additional hardware must be purchased separately
Sierra Offroad TJ 1997-2002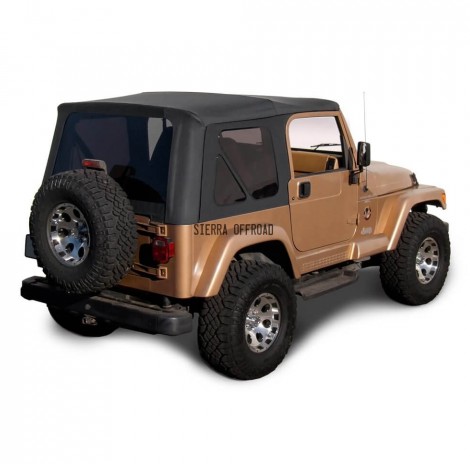 Is your 1997 to 2002 Jeep Wrangler in need of a makeover? Adding this exceptional replacement top by Sierra Offroad will assist in that. You'll find that this is designed to factory original quality specifications, that means it will fit exactly like your old factory model. From our research, we found that Sierra Offroad made extraordinary efforts to provide its customers with quality products. Continue reading to see additional features about this soft top.
Expand to see more
Durable Zippers
When purchasing a replacement top that has zipper attachments, it is extremely important that they are made to last. With this option by Sierra Offroad, you will not have to worry about them breaking. This product offers self-correcting, heavy duty zippers that function extremely smooth.

Additional Features
Sierra Offroad not only offers one of the most durable zippers on the market but their tops with quality marine grade vinyl which is known to be mildew and UV resistant. This option also offers stylish color matched wick stop threads which seal the tops stitching holes. This is a great option because it provides protection to your Jeep and is stylish.

Cost and Value
Sierra Offroad offers a quality product without breaking your bank. For less than $200 you will receive a stylish perfect fitting top that will add tremendous value to your Jeep. For this value, we believe this top is a no brainer!
Premium marine grade materials
Heavy duty self-correcting zippers
Designed to factory original quality specifications
Stylish color matched wick stop thread
Supertop NX 54722-35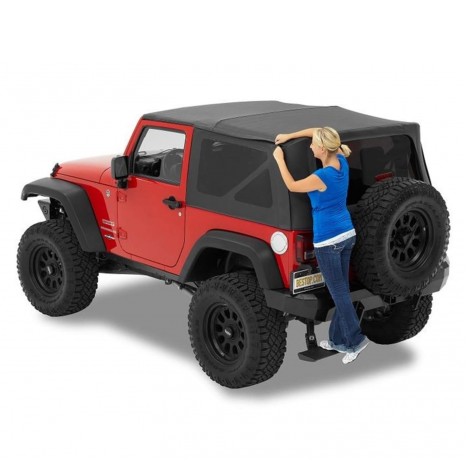 Bestop is one of the most popular brands for replacement soft tops on the market today. The Supertop NX is an excellent choice for individuals who want a complete kit for their Jeep. It offers features like the Sunrider sunroof and a handful of additional useful features. Continue reading to learn more about this exceptional product.
Expand to see more
Sunrider Sunroof
We believe that this is the best feature this product comes with. This sunroof was designed for those who like to drive around in the open air. If that is you, we highly suggest you take this product into consideration!

Includes Unique Upgrades
You may be wondering what else this Bestop offers with option, well, this top includes some pretty cool upgrades. These features include, the Top Arch Bar, helps reduce water puddling when raining, a quality adjustable base plate tension system and quick release bow knuckles for "no tools needed" top removal. It would be hard to pass this top up with all these features.

Cost and Value
A little on the higher end, as expected with Bestop products, this option offers exceptional value. With a limited 5 year warranty and all the features that are included we highly recommend this product.
High-quality fabrics
All hardware included
Mildew and UV resistant
Limited 5-year warranty
Will not fit 2007 to 2018 Jeep Wrangler 4 door models
Whether you are looking for a new top or replacing your existing top, there are endless amounts of options on the market today. Investing in a quality product for your Jeep is essential for not only preserving the life of the interior of your vehicle but also making sure that you are kept safe from the elements. For instance, all the tops we extensively reviewed for this buying guide are made of top quality materials and are mildew and UV ray resistant. In addition to all the benefits, a new Jeep soft top will look good and keep you safe on your next adventure!
Criteria Used in Evaluation of the Best Jeep Soft Tops
Durability
You may think that soft tops are less durable than hardtops, yes, you are correct – but only to an extent. Many of the options on the market today are built to withstand the elements of mother nature. You will find that these options are designed with marine grade fabric, waterproof, mildew, sag, and UV ray resistant. Purchasing a quality product will definitely come with quality materials. With that being said, it's a no brainer that purchasing a durable product will mean having a longer life span.
Weather Conditions
Many of the soft tops on the market are not designed for extreme or winter blizzard weather. If you live somewhere where it rains and snows more than it is warm and sunny, this option would not be the best choice for you – especially if your Jeep is driven daily. These can be driven in the rain and snow but it is not recommended to use on a daily basis. Even though the options on the market are all made with top quality, exposing your top to harsh elements will shorten its lifespan. On the other hand, if you only travel in your Jeep on warm sunny days, this replacement top will be an excellent addition to our off-road machine.
Installation
Are you ready for your next adventure? Are you driving through the mountains, to the beach or just around town? We believe that being able to easily install and remove your soft top is very important. This option is lighter and easier to replace on your own. Choosing the right option for your Jeep will give you the peace of mind you are looking for and will save you time wherever you want to install or remove it.
Other Factors to Consider
Framed or Frameless
What type of attachment/ supporting system does your Jeep currently have? This is a key factor when determining if you need to purchase a framed or frameless top. Just like its name, a framed top has an aluminum frame that is attached to the vehicles roll bar which provides support to the fabric material. On the other hand, a frameless top attaches by rails that connect to the roll cage.
You may be wondering which top is better, so first, you must determine what system will work best for you. As all the options on our list, there are pros and cons. Framed tops provide more support and are sturdier. But having that aluminum frame, loading and unloading may be a hassle. As for frameless tops, there is no frame so the top is a little more loose fitting and will not have that sturdy support you may be looking for. In addition, a frameless top will give you more space and will be easier to load and unload.
Color and Features
Based on the color and model of your Jeep, you will want to make sure the color of the top you do choose goes well with what you have. For this guide, we took into consideration a lot of tops that come in black. But if you are looking to spruce things up, some manufacturers on our list offer additional color options as well.
We also took into consideration other features that these tops offer. For instance, you have options to remove the windows, flip back the top half for the sunroof, additional storage pockets, glass versus vinyl windows, and the likes. It is suggested that you choose the features that you will use the most.
Budget
Everyone's budget is different and there are a lot of things to consider when purchasing a new Jeep soft top. If your main concern is protecting the interior of your vehicle you will want to choose a top that is made from premium quality. If you drive this vehicle daily, we suggest that you take into consideration a product that will a longer lifespan than the cheaper options available. You don't need to break your bank purchasing a quality top, but you do want to make sure that it will meet all your needs.
FAQ
Frequently Asked Questions
Q: How do you clean these?
A: In order to extend its overall lifespan, it is recommended that you purchase cleaners that are specifically designed to clean your top. From our research, we found that using ammonia or alcohol-based products will damage your top and its windows. It is best to use cleaners that are gentle and will leave little to no residue.
Q: Are they waterproof?
A: Yes, Jeep soft tops are waterproof…to an extent. If you live in an area where it rains a lot and you daily drive your Jeep, your top will wear quicker. Also, if you like to remove your top often, others have said that your top will start to leak over time. Installing and removing your top often causes the seals to weaken and this will ultimately cause leaking. Therefore, we recommend that you keep the top as clean as possible and if you don't need to drive it in the rain all the time, don't.
Q: What is the average lifespan?
A: Based on our research, we found that the lifespan of your Jeeps top solely depends on how you take care of it. On average, they can last up to 5 years. You must take into consideration weather conditions of the area you live in or frequently travel to and if your Jeep is stored in the garage or covered space. If the area you live in constantly rains and you experience extreme conditions, you can expect the lifespan of your top to be about 3 years. On the other hand, if your Jeep is garage kept or placed under a covered space – your cover will tend to last longer than you think.
Q: Are they difficult to install and how long does it normally take to install?
A: We believe that the options on our list are very easy to install. They are straightforward and some don't even require you to purchase additional hardware. On the other hand, everyone's skill set is different so even if it takes one person an hour, it may take another person 2-3 and asking an additional person to assist.
When installing a Jeep soft top it is recommended to do so in hot and sunny weather. Upon receiving your top others have stated that before installing it you should let it sit out in the sun for a few hours. The temperature outside plays a major role in the installation. The warmer it is, the easier it will be to install because the fabric of the top will become stretchier.
Q: Can I take it through a car wash?
A: Yes you can, but it is not recommended. Going through a car wash may be risky. Your top may be damaged by the machines used and vice versa. The last thing you will want is for the fabric to rip or get caught on something. If there are manual car washes around your area, it is best to hand wash your top with gentle soap and warm water. By hand washing your top, it will prolong its lifespan. As for the windows, we recommend that you use the right cleaner for them as well. Using harsh chemicals will damage them.
Q: I am tired of my soft top, can I purchase and install a hardtop on my Jeep?
A: Yes! We found that a handful of people go this route. A soft top is convenient but if you daily drive your Jeep, cold weather, road noise, and possible leaks can be challenging. Converting to a hardtop may be the best option for you. We recommend that you measure your Jeep and make sure there is a hardtop available for your year and model. Removing your current top and hardware should not be an issue.
Q: How do I know which top will fit my Jeep?
A: To ensure the best fit, we recommend that you purchase the top that is made for your specific make, model and year. There are many different variations of Jeeps on the market today so it's critical that you measure before making any purchases. If you are concerned about aftermarket options, purchasing your replacement top directly from the factory may be your best bet.
Q: If needed, can I purchase replacement parts for my top?
A: 9 times out of 10, yes. Replacement parts are available and vary from brand to brand. From our research, we found that these parts may be pricey so we suggest that it may save you more time by purchasing a whole new kit. If you need more than one part replaced this option would make the most sense.
Subscribe to our Newsletter