Best Car Air Fresheners Reviewed & Rated for Quality
last updated:
May 15, 2019
Does your car smell good or does it smell a little funny? Many of us drive our cars every day, whether it's to work, to the gym, or to the park. With that being said, it is very easy for smells to get trapped in your vehicle's cabin. On the other hand, it is not that easy to get rid of these smells. If you think rolling down your windows will get rid of the smell, guess again!
Having a combination of different smells in your car may be frustrating, but investing in a quality air freshener will help you tackle those smells. First things first, you want to make sure the air freshener you to do choose does not cause you or your vehicle any harm. You may be wondering how this may cause any harm to your vehicle but if you think about it, your cabin is made with premium materials – this could be leather, cloth, multiple adhesives, and hard plastics. The last thing you want to happen is the chemicals of the air fresheners breaking down these materials and ultimately damaging them.
Featured Recommendations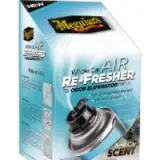 Meguiar's Air Re-Fresher

Our rating
New Car Smell
Price:

See Here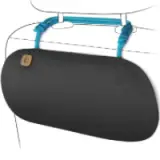 Purggo

Our rating
Quality Material
Price:

See Here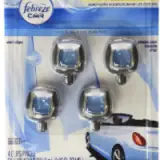 Febreze Vent Clips

Our rating
Convenient to Use
Price:

See Here

As you've already seen, there are many different brands and types of car air fresheners on the market. You'll even find these in grocery stores and gas stations. We have done the footwork for you and composed this guide to that goes over the 10 best car air fresheners on the market today. We guarantee that this guide will help you decide which air freshener will work best for you and your vehicle. We at least hope this guide will narrow down some options for you and lead you in the right direction – to smelling good!
10 Best Car Air Fresheners
Meguiar's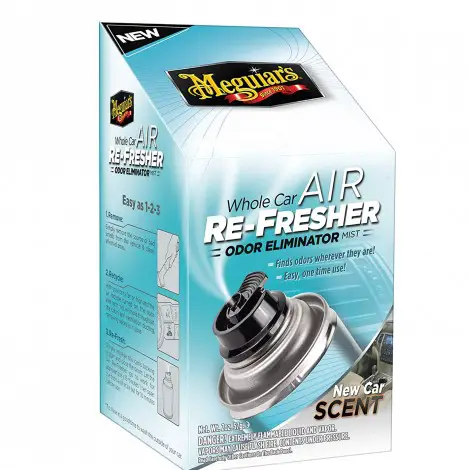 Taking our number one spot is this canned spray that will make your car smell brand new! This option by Meguiar comes in a small can and is easy to use. Does your car smell of smoke? Wet dog hair? Or workout gear? This product was designed to target your annoying odors and permanently eliminates them. How can a small can do that? Continue reading to find out how.
Expand to see more
Small but Powerful
This option by Meguiar may be small but don't underestimate it. When we mentioned above that this product permanently eliminates odors, we weren't lying. This product will target your bad odors on a molecular level. In other words, this spray specifically targets mold and bacteria spores that are in the air and eliminates them. This product is extremely powerful for its size and is highly recommended.

Ease of Use
In addition to permanently eliminating your bad car odors, this spray can is very easy to use. Meguiar recommends that before using it, you turn on your AC to its highest setting and make sure your recirculate button is also on. Once you activate the spray close your doors for 10-15 minutes. Leaving your doors closed will ensure that the spray will make its way through your vent system and in all the hard to reach places. Once the time is done, open your doors and air your car out for an additional 10-15 minutes. Now how easy was that?

Cost and Value
Even though this product can only be used one time, it does come in a 6 pack. Based on other options on the market, this is a little pricier. We believe it is still a great deal because it will save you time and additional money having to go get some after your first use.

Permanently eliminates odors
Simple to use
Will give your vehicle the "new car" smell
Small and compact
Goes through your ventilation system
Purggo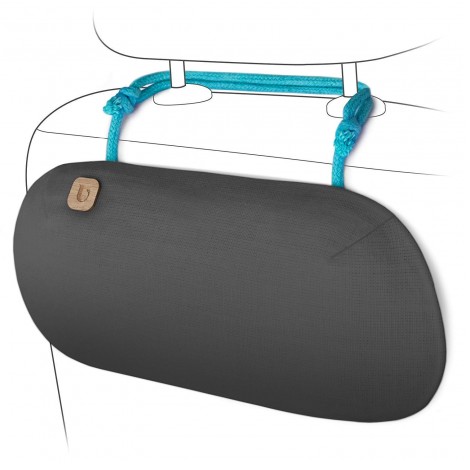 If you are looking for an air freshener that is not a spray or contains no gels, oils, fragrances or chemicals, Purggo is perfect for you. Purggo is one of the best bamboo charcoal air fresheners on the market today. Making it onto our top ten list, this product has a lot to offer. It is working when you don't even think it is. It's the simple and sustainable design will keep your car's cabin smelling fresh and clean.
Expand to see more
Clean Air
Purggo is a natural deodorizer that will keep the air in your car clean. Once the air passes through the bamboo, it acts as a trap and traps the bad odors. This air freshener will keep your car clean for more than 365 days. This is a very attractive feature because most products only last up to 45 days.

Safety
Not only will this keep the air in your vehicle clean, but it will also remove moisture that can cause mold and bacteria to grow. The Bamboo Charcoal acts like a big sponge and traps odors and those harmful particles that may be in the air. It is also safe to use around your family and pets that travel with you in the car.

Cost and Value
Compared to other options on the market this product is very pricey, especially since there is only 1 that comes in a pack. We do have to say though, based on other reviews, this product ensures quality results. When the bamboo charcoal has reached its 365-day mark, you can recycle this filter as a fertilizer and purchase a new one.
100% Bamboo Charcoal
All natural and non-toxic
Passively works 24/7
Free of fragrances and allergens
Best for those who suffer from asthma and allergies
Safe to use
Can be recycled as fertilizer
Rope attachment is not the strongest
Some customers have complained about the charcoal taking a while to activate
Febreze Car Vent Clip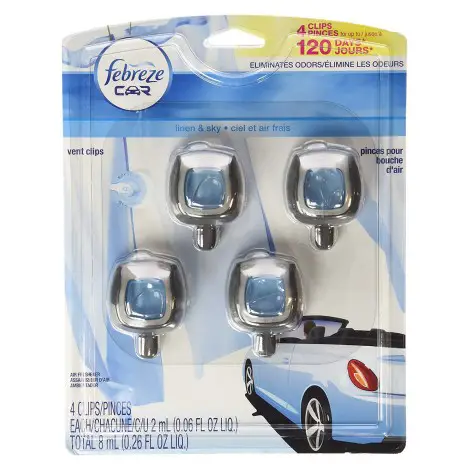 Are you looking for an option that offers a variety of scents and that is easy to install? This product by Febreze is the perfect match. It is small and compact but also very convenient to use. The vent clips
attach easily to any of your vents in the car
and will eliminate any bad odors you are trying to tackle. Continue reading to get a little bit more information on these bad boys!
Expand to see more
Ease of Use
We believe that this product changed the game for car air fresheners. With it's simple and easy to use design, all you have to do it attach these to your vents. As the air blows through your vents, it will also blow through these liquid packed vent clips. With this product, you will also be able to control the intensity of the scent with the small dial on the edge. Say good-bye to bad annoying odors and hello to a nice clean scent

Versatility
This product comes as a four pack, you have the option to use all four at the same time for maximum odor elimination or just a few at a time. No matter how many you use your car will smell great. Another great feature about this product is the fact that you can place that on several vents throughout your car and you are not confined to one area.

Cost and Value
With this product, we believe you will get the most bang for your buck. Since it is a four pack you will not have to purchase them as regularly. But keep in mind these are filled with liquid and the liquid will dissolve over time and will need replacing then.
Comes as a 4 pack
Easily attaches to your car vents
Simple to use
Variety of scents to choose from
Non-corrosive and non-toxic
Able to adjust scent intensity
When the liquid has evaporated, must purchase replacements
Air Spencer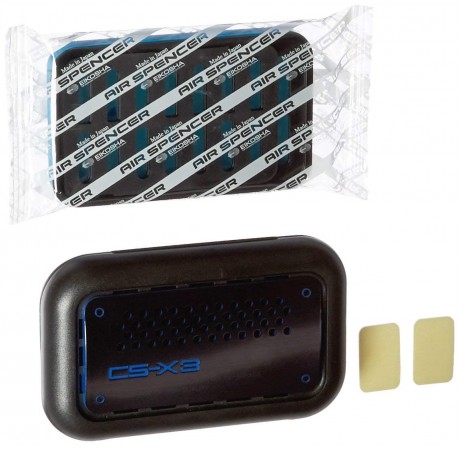 Landing in our number four spot is a more traditional type of air freshener. This product from Air Spencer may bring back all your
childhood memories of riding in a car
. This product is so simple you literally just place it on your dash or on the side of your door and it will freshen up the air for you. It's so simple that it does not contain any enzymes or ions that trap mold and bacteria - its job is to make your vehicle smell good.
Expand to see more
Safe
This option by Air Spencer is safe to use. Research shows that there are no side effects or harsh chemicals that were used in the making of this product. The fresh squash scent will overpower any bad odors you may have and keep you and your family happy and safe.

Portable
Some people have said that they love this product so much they ended up buying it to use in their rooms, office, and even bathroom. This lightweight yet powerful option is easy to move around and can basically be placed anywhere. We guarantee that you will enjoy this!

Cost and Value
The Air Spencer is one of the most affordable options on our list. This product will have no problem getting your car smelling great but you will need to purchase new filters, every 2-4 weeks. The refills are inexpensive, making this product an affordable long term investment.
Simple to use
Can attach to your door or dashboard
Original squash scent
Safe to use
Scent can be replaced
Gives off strong scent
Must purchase refills/ replacements
Only lasts up to 4 weeks
MOSO Natural Charcoal
Here we have another option that is bamboo charcoal based. Moso is very favorable on the market right now because not only can it be installed in your car, but it can also be used in your closet, pet areas, and bathrooms. We found that the MOSO Natural Charcoal can eliminate and cover up to 90 square feet.
Expand to see more
Long Lasting
This option by Moso is small, convenient, and can be reused for up to two years. The manufacturers suggest that you place the bag outside in the sun at least once a month for about an hour. By doing this you will rejuvenate the bamboo charcoal and it will last even longer.

Easy to Use
The best part of bamboo charcoal products, they are very easy to use and require no maintenance at all! This natural product is ready to use right out of the bag. As we stated above, it is best to let it sit out in the sun for at least an hour, but other than that you are on your way to fresh, dry, clean air.

Cost and Value
This option is very affordable, especially for a natural product. For this small investment, you receive great value for everyday use. You will not have to replace this as often as other options on our list!
100% Bamboo Charcoal
All natural and non-toxic
Passively works 24/7
Free of fragrances and allergens
Best for those who suffer from asthma and allergies
Safe to use
Prevents mold, mildew, and bacteria
Hard to circulate the air through the bag if it is placed far from the vents - making it difficult to find a specific area
Little Trees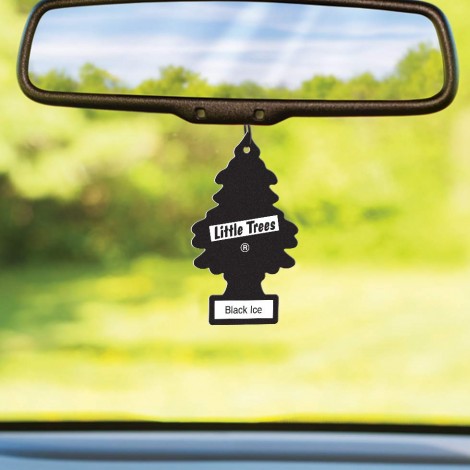 Little Trees, another classic option that made it onto our list. This product is a good choice if you are on a budget. Little Trees has been around for over 50 years and now offers more than 40 different scents.
Expand to see more
Safe to Use
Safety is one of our main concerns when choosing the right air freshener. Like other options on our list, we made sure that they were all manufactured with safe materials and products. On the other hand, it is important that the fragrances that are put out by these products are also safe for you to inhale. Little Trees is known to make safe quality products so you will not have to worry with these.

Portable
Not only can this be used in your car but we've seen them used in small rooms too. The manufacturer guarantees that wherever you decide to place this product, you will get the same results. Many customers place this onto their rear view mirror but like we just stated, this product is flexible enough to be placed where you want it.

Cost and Value
This 24 pack by Little Trees is another option that will give you your most bang for your buck. The only concern we found with this product is that the fragrance on the cardboard doesn't last as long as other options. With each tree lasting about 30 days, you will be set for the next 2 years.
Comes in a 24 pack
Easy to use
Simple to install
Non-toxic fragrance
Over 40 scents to choose from
Traditional air freshener concept
Ozium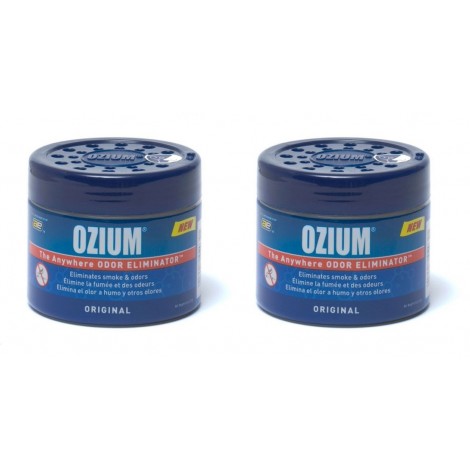 Does your car have a lingering odor from smoking? This product by Ozium is the best on the market right now and it specifically targets smoke and other odors. It is very simple to use and you'll have control over the vents for odor control. It is also very affordable!
Expand to see more
Simple Design
This product from Ozium is great because it is small, compact, and can be placed in any small spaced area. Its simple design is easy to use as well. All you have to do it twist the top to reveal the vents. Here's a tip we found, if you want better odor control, twist the top all the way, allowing more air into the vents. This will decrease the lifespan of this product but it will eliminate any bad odors. On the other hand, if you want to extend the lifespan, only crack the lid.

Quality Gel
From our research, we found that gel-based products melt in high temperatures. With this option by Ozium, you will be surprised to see that it will not melt in high temperatures. The scent is also very pleasing so you will not have to worry about an overpowering smell. Overall, we are positive that you will enjoy this long lasting product.

Cost and Value
Ozium is another great option that comes in a two pack. This product is highly recommended if you are trying to eliminate odors, especially smoke, and stay under your $10 budget. With this product, you cannot go wrong. The only downfall is, when the gel is gone you have to buy more.

Passively releases fragrance
The gel will not melt in high temperatures
Easy to use
Can be placed in any small area
Can control the vent size for odor control
Cannot be reused
Must be replaced when the gel is fully evaporated
Chemical Guys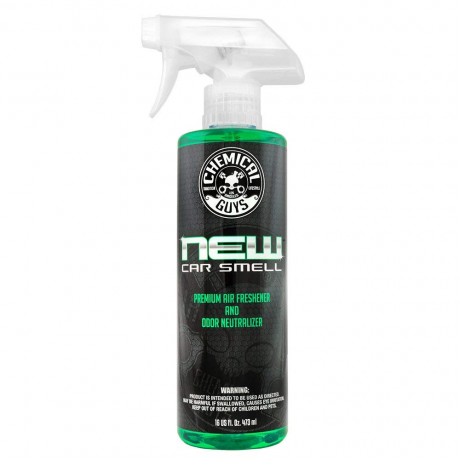 Chemical Guys is another very well known brand. They focus primarily on
detailing products for your vehicle
but it doesn't surprise us that they also have their own air fresheners - they are in that same industry right? This premium product contains natural enzymes that work to fight away those bad odors in your car. The creators behind this product at Chemical Guys aimed to re-create the "new car" smell with the uniques fragrances they have available.
Expand to see more
Superior Quality
We would compare the quality of this option to other higher priced air fresheners on our list. It is proven that this premium option by Chemical Guys is very favorable in the car community. Its quality concentrate comes in a 16 fluid ounce bottle and they suggest that you dilute this product before use.

Long Lasting
As we just mentioned above, this concentrate must be diluted in water before use. This will not only extend the lifespan of this but it will also cause this product to perform exceptionally well. Others have stated that this premium perfume provides long-lasting deodorizing capabilities and will last for weeks.

Cost and Value
From our research, we found that this 16 fluid ounce concentrate can be diluted with up to two gallons of distilled water. The manufactures noted that one spray is more than enough - a little bit goes a long way. This will extend the lifespan of this product. We have no doubt that you will enjoy this option from the Chemical Guys!
A concentrated formula so a little bit goes a long way
Exceptionally priced
Trusted brand
Should last up to a year or more
Not as simple as other options to use since this option must be diluted
Yankee Candle Car Jar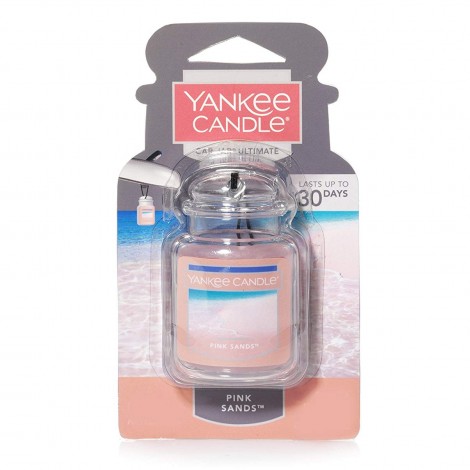 You may be wondering, a candle in my car? No, this is not the standard product you usually get from Yankee Candle. This option is a gel-based product that you can easily hang in your car, home or small space. From a reputable brand like Yankee Candle, you know this will be made with quality materials.
Expand to see more
Great Smell
Like anything made by Yankee Candle, it smells good! You will not be disappointed with any of their Car Jar options. With this particular one, you will be surprised by how such a small item can tackle bad odors and still leave your car
smelling fresh and clean
.
Top Performance
Yankee Candle sure does live up to its expectations. Even though this item measures 1"L x 3.2"W x 5.4"H, its performance is incredible. This product's design is infused to its paperboard, which provides long-lasting fragrance for up to 30 days.
Cost and Value
For the cost, this premium option is one of the best on the market today. You really can't go wrong with any products made by Yankee Candle. Even though this only comes as one pack, it will provide great value.
Hangs easily in the car, home or small space
The fragrance will last up to 4 weeks
Small and compact
Easy to use
Well known brand
Cannot be reused
Must dispose and replace
Citrus Magic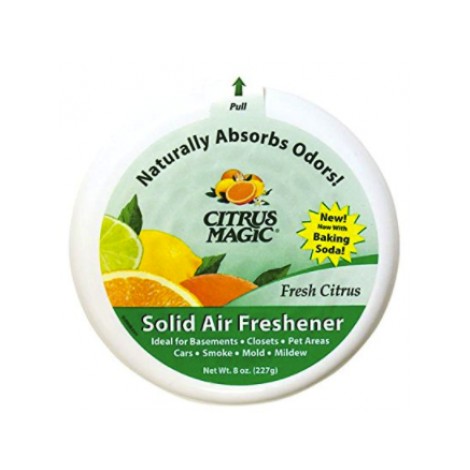 Here is another brand that's been around for a while, Citrus Magic. They primarily focus on
household cleaners
and deodorizers but this option by Citrus Magic is great because it naturally absorbs odors and will keep your car smelling great.
Expand to see more
Natural Cleaner
From our research, we found that Citrus Magic uses a unique dual-action formula that consists of vegetable-based odor eliminators and baking soda, which is used to absorb the annoying odors. This product is free from harmful chemicals and is safe for you and your family to use.

Easy to Use
The Citrus Magic is extremely easy to use, just peel back the stickered cover and you are ready to use it. This item can be placed basically anywhere you want in your car and it will literally work its magic.

Cost and Value
This product is exceptionally affordable, especially since it will last you up to 6 weeks. It will provide a lot of value and will your car smelling citrus fresh!
Can be used for closets, pet areas, basements, etc
Continuous odor control for up to 6 weeks
Easy to install
Helps prevent mold, mildew, and bacteria
Citrus aroma
Small size
Will have to frequently replace
Criteria Used in Evaluation for the 10 Best Car Air Fresheners
Type
In today's era, there are much more options than aerosol car air fresheners. With that being said, this type was one of the very first options that were placed on the market. This option is easy to find and use. The only disadvantage of this type is the fact that once you spray it, it evaporates into the air and that all.
Another type of air freshener is the gel option. From what we found during our research, this is the most popular type. These are very easy to use and will give off a strong scent if opened all the way. Using this type will give you the option to move this air freshener from one place to the next but keep in mind, the farther away you place this, the less you will be able to smell it.
The next type we considered was vent clips. These are very convenient because like its name states, you simply attach these to the air vents of your vehicle. This option has liquid enclosed at the top of the clip and is activated when air is pushed through it (when you are running your air conditioning or heat). Even though this type is extremely convenient, if you run your air or heat a lot, your air freshener will be used very quickly. This option can turn into a very expensive investment if you need to change your air freshener often.
Lastly, we found that charcoal air fresheners are a thing. Many manufacturers are leaning towards this option because it is not only safer for the environment but it is much more natural than all the other types. With this option, your annoying odors are absorbed by the charcoal and your air is fresh again. The only thing about this option is that it does not put out any scents.
Ease of Use
Based on the type of air freshener you decide to purchase you will definitely want to consider how easily or hard it will be to use. From our research, we found that the easiest option is an aerosol can air freshener. With this option, you only use it when you want too and you can easily store this product in your glove box or your back seat. This product lasts longer than the other types because it is not in constant use. On the other hand, vent clips and gel air fresheners are very convenient and easy to use but they do not last as long as the canned air.
Vehicle Size
We considered the size of your vehicle when choosing an air freshener that will work best for you. If you drive a compact car or sedan, you will not have to purchase multiple products, as you may have to with an SUV or truck. The space in your small car may only require you to purchase a vent clip or two without making the air unbearable to breathe. On the other hand, if you have an SUV or truck, you may have to purchase multiple products. Keep in mind, it is best to buy the right amount to avoid overpowering your senses.
Other Factors to Consider
Placement
We believe that where you place this product is very important. There are many options on the market now and they vary in size and scent. With these products, you may have the option to attach them to your vents, hang them on your rearview mirror and even place them under your seats. It is important that whichever option you choose, you make sure it is not in the way while you drive. We found that there are some options that are so large that it blocks some of your view of the road. This will put you and other drivers on the road at risk. Also, you may have not considered this, but some cans that are placed under your seat can roll forward when you stop. This situation can put you in danger from accessing your break and gas pedal.
Budget
Like any item you are planning to purchase, it is always best to determine your budget and stick to it. You are in luck with this product because they are very affordable and will not break your bank. You will be able to purchase one of these items for around $20 or less. $20 may seem like a lot but many of these products come in large packs. In the long run, this will save you from having to purchase more every time you run out. Also, you will want to consider how long your product will last versus its cost. For instance, canned air will not last as long as gels and liquids but they are your cheapest option.
FAQ
Frequently Asked Questions
Q: When did air fresheners become popular?
A: Based on our research, we found that air fresheners have been around for a long long time. It was in 1948 that the first time air fresheners were sold. They were aerosol based air fresheners that were designed from the military, who used is to dispense insecticide. They were very popular until they realized this was affecting our earth, the ozone layer. We saw a come back around the 1980s and still till this day, companies are working on ways to dispense air fresheners in a "greener" way.
Q: Can I make my car air freshener last longer? If so, how?
A: From our research, we found that there are a few ways you can make your car air freshener last a little longer than you think. First, it will all depend on the type you have. If you have the cardboard type, like little trees above, you are out of luck on extending its freshness. What others have done in this predicament is to reuse the cardboard and soak the fragrant less board in your own scent – this could be an essential oil or perfume scent. Boom! You have an air freshener again. This is a quick and simple option that will not cost you anything.
If you have the gel or liquid type, we suggest that you do not open the product 100%. Opening the air freshener completely will cause the gel or liquid to absorb more air and disintegrate quicker. But by all means, if there is an odor that you want to get rid of, you can always open it fully.
Q: How often should I change out my air freshener?
A: We found that every manufacturer is different and there are a handful of other factors that you must take into consideration. For instance, if you live in an area that is hot and humid, the temperature of the cabin of your vehicle will also be hot and humid. This will cause the lifespan of your air freshener to decrease quickly, therefore you will have to change this more often. If you have a gel or liquid type of air freshener, it will likely last longer than a cardboard option. To ensure unwanted odors and freshness, you want to make sure your air freshener is working the way it should be.
Q: What car air freshener is recommended if I am sensitive to smells and have allergies?
A: Many options on the market can be strong and this will trigger any allergies you may have. If you have allergies, it may be best to shy away from the scents that are strong and make you feel like you can't breathe. There are a handful of manufacturers today that have taken this into consideration and are working on making car air fresheners that are more sensitive for those with allergies. The last thing you want is asthma or allergy attack on the road. But keep in mind, not all car air fresheners are safe for those who have allergies if you can live without having one in your car that would be the safest option.
Q: What is the difference between a car air purifier and a car air freshener?
A: To simplify things, a car air purifier is used to remove any particles in the air like allergens, dust, pollutants, and even bacteria. With today's advanced technology, many air purifiers are designed to get rid of annoying odors you may have. On the other hand, a car air freshener covers up the smells. This option will make the cabin smell good for a certain period of time, masking smells instead of eliminating them. For those who have sensitive noses and allergies, purchasing an air purifier would be your best option.
Subscribe to our Newsletter