Best Heated Seat Covers Reviewed & Rated for Effectiveness
last updated:
Oct 23, 2019
Winter has come at last, and with it, extreme cold. This basically means that the inside of your car is about to turn into a refrigerator capable of moving at several miles per hour. One need only spend a second inside a car during the dead of winter to realize that a simple heater just isn't going to cut it this time. Which is why you need something better. An extra step in making sure that the car gets warm and stays warm, even during the coldest of climates. But what could be the solution to this little conundrum? Simple; heated seat covers.
Featured Recommendations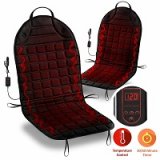 Zone Tech

Our rating
Secured Straps
Price:

See Here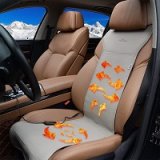 Kingleting

Our rating
Electric Protection Device
Price:

See Here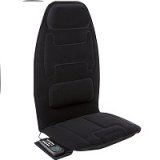 Relaxzen 10-Motor

Our rating
Added Cushioning
Price:

See Here

If you have the right heated seat cover in your car, you won't need a fancy luxury car to keep yourself warm during those cold early morning winter drives. They keep both you, the seat, and even the surrounding area inside the car nice and toasty. And couple that with a good heater, and your car will never feel like the icebox the cold was trying to turn it into. So, with that said, let's celebrate this marvel of engineering, by counting down the:
10 Best Heated Car Seat Covers
1. Zone Tech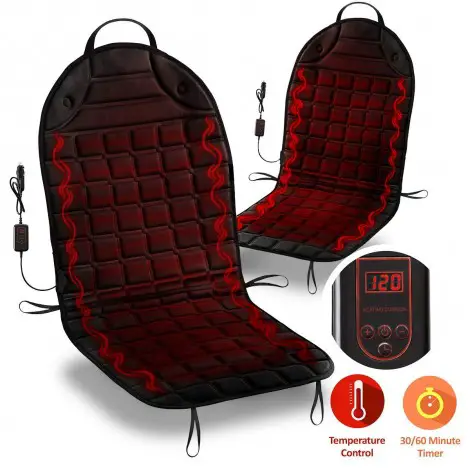 Kicking off our list, we have our first entry, the Zone Tech Heated Seat Cover Cushion. This sleek, comfortable, and (thankfully) fireproof heated seat cover is the first and last word in comfort during a long winter drive. So, what makes us say that? Let's find out.

Expand to see more
Secured straps

It doesn't matter how effective the heated seat itself actually is if the thing won't stay secured to a single spot for too long. This is where the straps come into play, and in that regard, this seat has everyone else beat. This seat is equipped with elastic straps that will slide over pretty much any seat in order to secure the seat in place. On top of that, the cushion warmer also has additional straps located on its underside.

Soothness and warmth

Most heated seat covers will either heat up your lower area or your back but leaving the other unattended. This one gets to both, covering your entire body area in the soothing warmth that spreads throughout your entire system. Perfect for someone with metabolism and blood circulation issues, especially in winter.

Cost and Value

Heated seat covers, like all products, have an average price that most retailers agree upon being the best possible average margin for the price. Which this seat more than qualifies for.


Secured straps
Soothness and warmth
Plugs right into the DC outlet
Doesn't come with instructions
2. Kingleting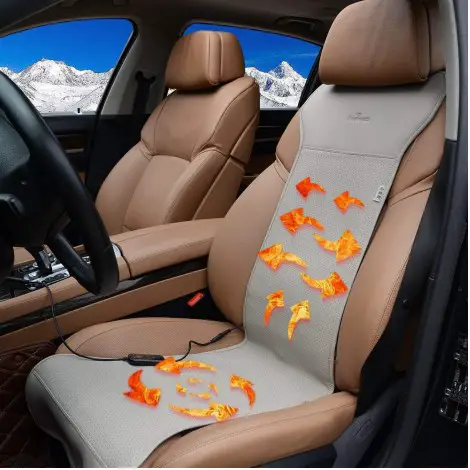 Coming in second place, we have the effective, if comedically named, Kingleting 12-Volt Heated Seat Cushion. In terms of size and design, this is one of the most minimalist heated seat covers we've covered on this list. However, don't take that to mean that this heated seat cover can't measure up, because judging by the placement on this list, it can more than manage that.

Expand to see more
Timing power off protection

Heated seat covers are nice, to a point. But there, of course, comes the point when you don't really need it going at full blast anymore. Your body heat is more than capable of keeping it at a good temperature, so you don't need its help. Fortunately, this seat will agree with you on that front, as after a preset time, determined by you, the seat will automatically shut off to conserve power. As well as keep things at a good temperature, without making it too hot.

Electric protection device

But this heated seat cover is a lot smarter than even that would suggest, as this cover has something else up its sleeve. This electric protection device will automatically switch off the seat cover when it reaches the temperature you're asking for, allowing your body heat to maintain it. And if it does drop down, then the cover will automatically turn back on.

Cost and Value

This seat cover is a little bit higher than the previous entry, but considering everything it actually has to offer, we consider it to be completely worth the money.


Timing power off protection
Electric protection device
Heats up within 2 minutes
Not as durable as it could be
3. Relaxzen 10-Motor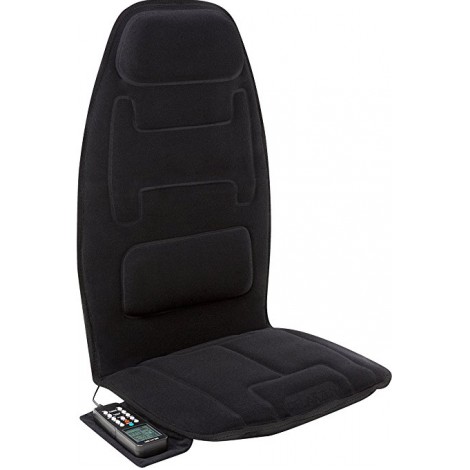 Finishing up our top 3 segment, we have the Relaxzen 10-Motor Massage Seat Cushion. This is the kind of seat cushion you go for when you're looking for something a bit different from your heated seat cover. Namely, the option to get a nice relaxing massage out of the bargain. So what else does this cover have going for it? Let's find out.

Expand to see more
Excellent massage system

Everyone needs a nice relaxing massage on those long business trips. They help ease out all of the tension you've been building up by being stuck in that car for so long. So not only does this seat heat you up, but with 10 massage motors, specifically targeted to the upper, mid, and lower back as well as the thighs, and with 8 intensity levels to choose from at various speed settings, this massage seat will have you feeling great in no time, whether by heat or by a relaxing massage.

Added cushioning

Massage motors are nice, but without proper cushioning, all you're going to be feeling is a set of thick metal plates pressing into your back, which people tend not to find very relaxing at all. Which is why this seat adds in more foam than the previous two entries. This gives you more cushioning, makes the seat more relaxing as a result, and makes the massage motors a little less murder on your back.

Cost and Value

The price of this seat is somewhere between the first and second entries. Which is good, seeing as how it isn't quite as excellent as either of them, but is still more than worth the price tag it sits at.



Excellent massage system
Added cushioning
Thicker padded neck rest
Vibration option needs a bit of work
4. Sojoy Universal 12V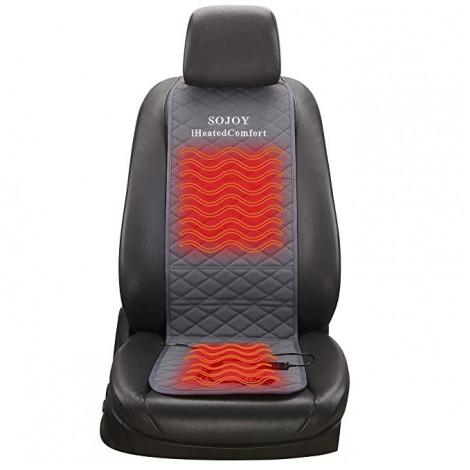 In our #4 spot, we have the Sojoy Universal 12V Heated Car Seat Cushion. Another small-ish model this time, though not as minimalist as the previous entry, this heated seat cover is great for both kids and adults because of its size, as well as the features we'll go over now.

Expand to see more
Non slip attachment

Even when you strap the thing down as tight as it'll let you, there will always be that slipperiness to a lot of heated seat covers, because you are, essentially, sitting on a seat, that is on top of another seat. Things are going to be a bit awkward. Fortunately, this seat has non slip coating all over its backside, which, when you strap it down completely, keeps it nice and stable on the seat.

Breathable fabric

But like any seat cover, it needs to be made out of the best fabric available, otherwise what would even be the point of it? This is where this seat cover comes in, with its breathable polyester fabric construction. Soft, comfortable, and keeping fresh air circulating between the seat and your back so that you don't get too sweaty.

Cost and Value

The best part about this seat cover is the price. This is the most affordable seat cover we've had thus far. And while a few definitely outclass it, both on this list and off, this is still a very affordable, overall excellent seat cover.


Non slip attachment
Breathable fabric
Affordable
Takes a bit for the heat to really get going
5. Five S 10-Motor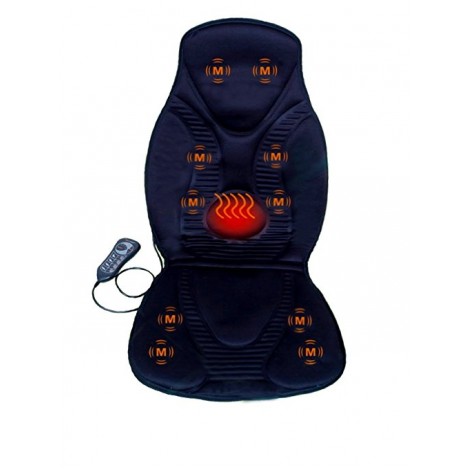 For our #5 spot, we chose the Five S 10 Motor Vibration Massage Seat Cushion with Heat. Quite the mouthful, isn't it? What that was all basically trying to say was that this is another excellent heated seat cover that also acts as a massage chair for those whose back gets irritated the longer they have to sit on a long car ride.

Expand to see more
Invigorating massage

We've seen other entries thus far offer massages for your upper and lower back, and even maybe your thighs. All well and good, important areas that need to be maintained like any other, but there are a few that they miss, such as the neck and shoulders. Fortunately, in comes this massage chair to offer an invigorating vibrating massage for the shoulders, neck, thighs, and back, all at the same time.

Convenient hand control

Like many heated seat covers of its type, it, of course, comes equipped with a hand controller that you can use to adjust settings and turn features on and off. And the controller for this seat has been specially modified to be as convenient as possible. From 3 massage speeds, 4 massage programs, the option to have the massage or the heat, independent of each other, and so much more, this seat is guaranteed to give you what you need, when you need it.

Cost and Value

This chair is a bit pricier than previous entries on this list, but it more than earns it through innovative design and comfortability. So if those two things are what you're looking for, then you've come to the right place.


Invigorating massage
Convenient hand control
Independent heat function
3 phase intensity function has been known to break
6. Wagan Soft Velour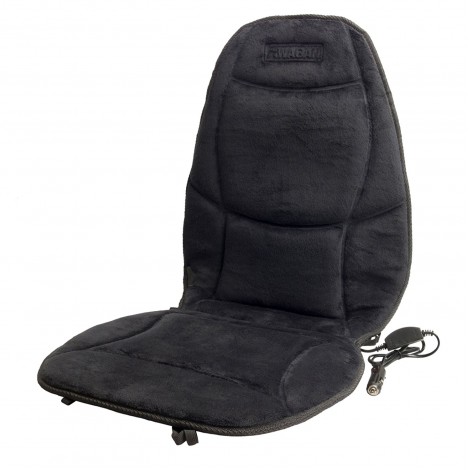 Coming in at #6 on our list, we gave the Wagan Soft Velour 12V Heated Seat Cushion. This foam and polyurethane car seat cover provides you with excellent warmth and comfort, even if we have departed from the massage chairs of previous entries. So, what got this heated seat cover on this list? Let's find out.

Expand to see more
Universal fit

The best thing about this heated seat cover is the amount of space it actually covers while in use. You'll find that this cover, well, covers just enough area to fit on pretty much any kind of vehicle seat you can put it up against. From trucks to normal cars, RV's, even boat seats will give you maximum warmth and comfort when paired up with this seat cover.

Unmovable

Most heated seat covers will be content to have a few straps in to at least keep it there, but not enough to truly secure it down. Meanwhile, this heated seat cover features four clips, two rear elastic straps, and 4 cinch wraps. Put them all together, and what you get is a heated seat cover that will almost always stay right where you strapped it down and never move.

Cost and Value

The best part about this cover though is the price. The price for this heated seat cover is incredibly affordable, especially by the standards set thus far.


Universal fit
Unmovable
Very affordable
Can drain the car battery if you leave it plugged in
7. Wagan 12V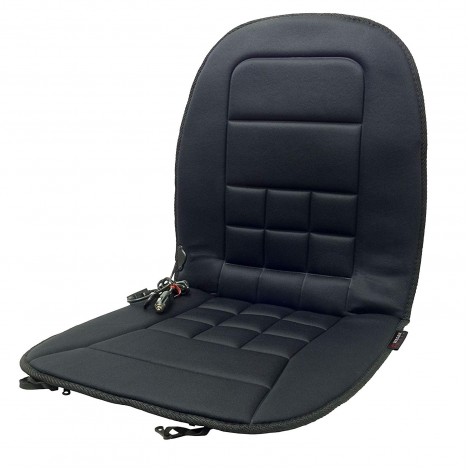 For the #7 spot, we stay with Wagan for a bit longer with the Wagan IN9738 12V Heated Seat Cushion. This is what you go for when the speed of heating is the name of the game as far as you're concerned. If you're looking for heat and speed, then this is the chair you want.

Expand to see more
Greater durability

Like with all things, there is a near constant race to make sure you can mess about with this seat without having to worry about the thing collapsing in on you. Which is why the folks at Wagan worked tirelessly to improve the heating wire technology inside this cover, in order to drastically improve the durability and overall safety of using the device.

Can be used at home

Working long hours at your personal home office? Need a means of keeping up the blood circulation? Then what you need is a heated seat cover, which makes it all the more fortunate that this one comes with an interchangeable power cord, with both a version you plug into the cigarette lighter in your car and a version you can plug into your home's power outlet.

Cost and Value

On average, this is probably the cheapest entry on this list so far. So, if what you need is efficient performance, versatility, and an affordable price tag, then have we got the heated seat cover for you.


Greater durability
Can be used at home
Cheap
Once more, don't leave it plugged into your vehicle
8. Zento Deals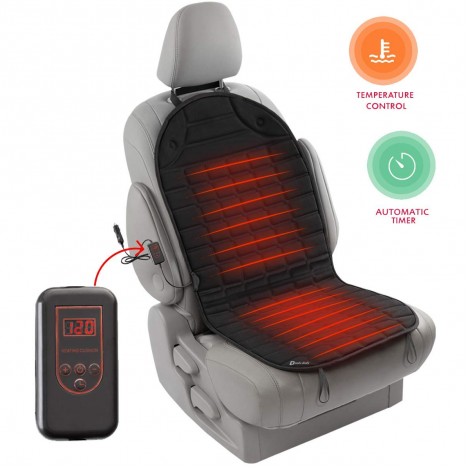 Starting off our final three entries, we have the Zento Deals Heated Car Seat Cushion. This is a bit more of an advanced level of the heated seat cushion, giving you new innovations on this old idea that you may never have considered before, while also refining the old ideas that were just fine to leave in.

Expand to see more
Comfortable to sit in

Of course, it doesn't matter what else this seat cushion does if it isn't at least comfortable to sit in. These seat covers are incredibly stylish and comfortable to sit in, owing a lot to a layer of thick foam padding, which is then wrapped in supple, soft satin. And the base construction of the covers is polyester, soft and durable, which all adds up into one of the most durable car seat cushions on the market, as well as one of the most comfortable and stylish to use.

Complete heat control

With other heated seat covers, the remotes used to operate them will have a series of preset temperatures set to low medium or high, and those are the three temperatures you're stuck with. But with these seats, the temperature is completely at your command and control. So, if other preset temperatures just aren't doing it for you, no problem. Just use this seat cover and have complete control at your fingertips.

Cost and Value

We're back to the higher, more average price for a heated seat cover, but thankfully, this entry more than earns its high price tag.


Comfortable to sit in
Complete heat control
Easy to use
Straps can sometimes break
9. Snailax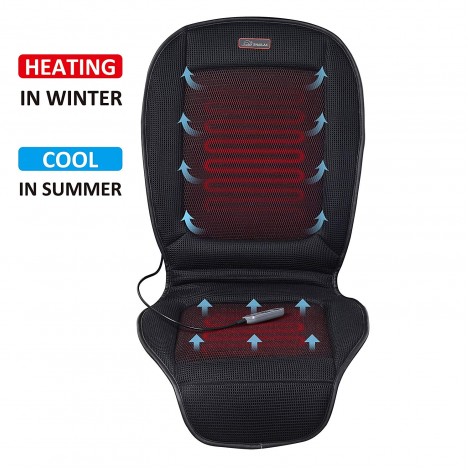 For our second to final entry, we have the Snailax Seat Cushion. Don't let the name fool you into thinking this one to be slow, as you won't find a more efficient heated seat out there right now. What is it that makes us say this? Read on, and maybe you'll find out.

Expand to see more
Soothing heat

Sure, this heated seat cover only really applies heat to one specific area, the lower back, but with very good reason. This is meant for heat therapy since your lower back is the source of much of the exhaustion you feel when driving. The heat applied by this heated seat cover provides you with heat therapy that keeps your blood circulating and eases your muscles in that area.

Can be used anywhere

We all need a little soothing heat every now and then. Whether it's working overtime at the office, long writing sessions at home, or yes, on those car rides that seem to go on forever, we all need a little bit of heat therapy to keep us going, especially if you have chronic back problems. Which is why this heated seat cover can be used anywhere you need to use it.

Cost and Value

This is probably the most expensive entry yet, and still, it isn't enough to be considered pricey. And it does exactly enough to justify the price tag it's asking for.


Soothing heat
Can be used anywhere
Vibration type massage
10. Audew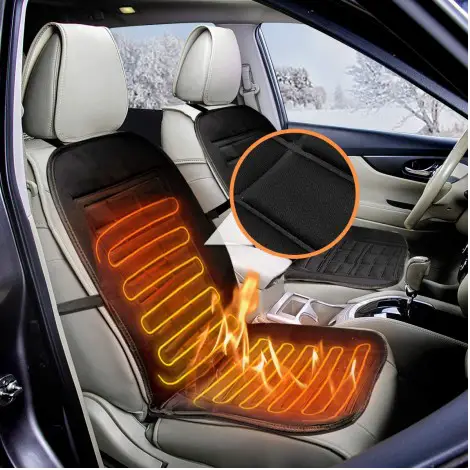 For the final entry on our list, we're going to be looking at the Audew Heated Seat Cushion. We could think of no better product with which to end this list on than with this excellent heated seat cushion from Audew. It isn't the best one out there, but if you're on a tight budget, then this is definitely the one you want.

Expand to see more
Multi-functional

Need to take a long drive on a cold winter morning? Got sore back or thigh muscles that you need some heat therapy to help relieve? Got a long night of work ahead of you, and need a means of staying awake through the whole ordeal? Then what you need is a heated seat cushion. Fortunately, this one goes far beyond just being used in the car, so it can help with all of those troubles and more.

Constant temp control

One of the main things you usually have to worry about as it pertains to heated devices of any kind is the idea of the heat getting to be too much, overheating the device, and causing a fire in the middle of your car. Which is why this heated seat cover doesn't even let the seat cover get above 60 degrees Celsius. Keeping things cool enough to stay below "spontaneous combustion" levels of heat, while still giving you the warmth you need.

Cost and Value

This is one of the cheapest entries on the entire list, which, of course, makes the relative lack of features compared to its contemporaries much more painless since you're not paying as much for it.


Multi-functional
Constant temp control
Cheap
At first glance, a heated seat cover just seems like a novelty, a commodity that you just get when you want to feel a bit warmer on cold days. But when you really dig into how heat can aid the human body, it becomes a lot more important as a result. The lower back, in particular, takes on a lot of weight when sitting down, which is why it's so important to always sit up as straight as you can.
Unfortunately, for a lot of people, that simply isn't good enough. Especially after a two-day long crunch period, after which you feel like you are literally about to snap in half like a Kit-Kat bar. And it isn't just your back, your thighs, neck, and shoulders all occasionally need a bit of heat to loosen up their tense muscles. And if that's what you need, each of these ten entries will be exactly what you're looking for. Whether you just need a nice warm car ride or soothing warmth for your lower back, there's nothing quite like a heated seat cover.
Criteria Used in Choosing the Best Heated Seat Covers
Coming up with a good list of criteria for this article was an interesting experience, since these are equally very simple but also very complex devices to figure out, and all in different, and sometimes very similar ways. However, all in all, we like to think we did a good job coming up with a good criteria segment for this list, and then implementing it to evaluate each entry. So, with that said, here are the most vital criteria we used to judge who got on the list, and how high.
Heat up speed
When you turn on a heated seat cover, you understandably expect it to start working immediately or at least get up to full speed within the following minutes. Like we said, winter is only getting colder and colder by the year, so leaving your car out in the open overnight before work in the morning is basically the equivalent of leaving it in a big freezer. Which, in turn, makes it into a smaller freezer. Which you then have to get into and drive around in. Families often have to leave their cars running for half an hour before they leave, just so it isn't freezing when they get in. And of course, the heater is going to take forever under those circumstances, because, ironically, they aren't very hot.
So, it stands to reason that you would want a heated seat cover that didn't take its sweet time getting to making with the heat. On average, we tried to look for any heated seat covers we could with startup times around 1-3 minutes, give or take a minute or two if it picks up the slack in other departments. When you're freezing your butt off in a frozen solid sedan, you probably aren't much in the mood for your seat cover's excuses for taking so long.
Temperature control
When it comes to heat, it's all very subjective, and everyone has a different preference for what he or she wants out of the heat being put into his or her bodies. This all has to do with the fact that everyone has a different endurance level when it comes to extremely cold climates.
As such, when something is offering soothing heat to help deal with the cold, it stands to reason that different people would have their different preferences for how much or how little they wanted out of the bargain. This is partly why we preferred heated seat covers that offered free customization o the heat level, over the kind that just have three preset settings for heat. Because with the former, you can set the heat to be as high, or as low, as you need it to be. With the latter, while there isn't zero chance that you'll be satisfied with one of the three options, it does limit you to what you can have from your heated seat cover.
Either is fine depending on your preference, but for our money, we enjoy the freedom of getting to choose our own temperature. Within reason, of course, as another big part of temperature control is knowing where to put the cap. No one is going to want a heated seat cover that extends up to 100 degrees Fahrenheit, for instance. So, there's no reason for a heated seat cover to go up that high. Instead, the cover will have a set temperature where it refuses to go up any higher after that point.
Comfort
At the end of the day, we're still talking about a seat cover meant for your car seats. As such, one of the most important things that it should cover is comfortability for the user. Because it doesn't matter how warm it is, how fast it gets that warm, or how much control you have over the various settings, if it isn't comfortable to sit in, that tends to be the end of the discussion.
A lack of comfort with a heated seat cover can be caused by a wide variety of factors. It could be the material the thing is made out of just isn't doing it for you, or it could be because of the wires and massage wheels that are sticking out of it and causing discomfort. Whatever the reason may be, this heated seat cover has lost its luster (or it never had any, to begin with) and is thus not as comfortable as it should be.
Price
For the final criteria of this list, we looked at the price of each item. The price of a heated seat cover can depend on a wide variety of factors, from the material it's made out of, to its durability, and to the number of features it offers the user. All of these things come together to affect the price of an item, and heated seat covers are no different. As a result of this, we judged each item by their ability to justify the prices they were asking for with the features being offered.
If the heated seat cover was rather expensive but offered a really good product, then we saw no problem a person may have with buying it. However, if the price being offered doesn't reflect the kind of features and service that you're getting out of the bargain, then that would cost it a few spots on the list. Not that this was a problem, of course, as heated seat cover prices are very uniform.
FAQ
Frequently Asked Questions
For the final segment of this article, we're going to be looking at the most frequently asked questions surrounding heated seat covers. While there aren't many on this list, what we did find held vital information that we felt needed to be shared with you. So, with that said, here are the most frequently asked questions and commonly voiced concerns surrounding heated seat covers.
Q: Can a heated seat cover pose any danger to me at all?
A: Being a product capable of reaching over 100 degrees Fahrenheit, depending on the product you get, there is, of course, a risk of burning while using one. Using a seat cover for too long, in general, can cause rashes to form on your back and thighs, especially if you're allergic to the material being used.
The worst part is that it may take you a while to actually notice these rashes are forming on your person, since, due to their very nature, they form on the back of certain body parts, particularly the back and thighs, which are notoriously hard to see the back of. So always be careful not to overuse the heated seat cover that you're using. Otherwise, you may just deeply regret it.
Q: Will leaving a heated seat cover plugged into the car actually drain the battery?
A: It depends on the seat cover in question. For the most part, if you make sure to get your hands on a high-quality seat cover, then you shouldn't have any problem with this. The seat cover will take however much energy it needs, and will then just stop draining the battery, capping itself off. However, a lot of heated seat covers, usually very cheaply made ones, will keep on draining the battery of your car, even after it has a full charge.
This poses two big problems. The first is obvious; the car battery is constantly draining, meaning you run a higher risk of your car stopping dead in its tracks in the middle of the road. The second is a bit less likely, but still a risk: if the heated seat cover is constantly taking in more and more electricity, then it stands a risk of overcharging, overheating, and then bursting into that fireball we were telling you about previously.
Q: Do I need the massage feature to help with the pain in my back, neck, and shoulders?
A: Not necessarily. In fact, for the most part, heat is all you need to work out the pain you're feeling. Unless you're actually injured and just don't know it, muscle and joint pain of any sort can be handled by a continuous application of heat. It eases the muscles and relieves the joints, giving you back your comfort in those areas. Sure, a good massage always helps in that regard as well, but there's no need for it if the heated part of the product's name is working just fine.
Subscribe to our Newsletter