Best Kids Carry On Luggage Reviewed & Rated for Quality
last updated:
Aug 09, 2019
Choosing carry-on luggage can be an exhausting process, but it gets even more complicated when you need to choose one for your kid. It's good to give your child a feeling of responsibility and independence, but you still have to think about providing the best luggage that will suit its needs and age. These days there are hundreds of carry-ons that have many different features, and in case you feel a bit overwhelmed by all of their characteristics, we are here to help you!
Featured Recommendations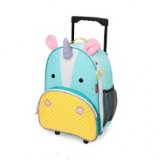 Skip Hop

Our rating
Zoo Design
Price:

See Here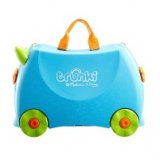 Trunki

Our rating
Ride-On Luggage
Price:

See Here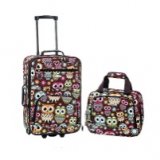 Rockland

Our rating
The Perfect Set
Price:

See Here

We made a list of 10 best carry-on pieces of luggage that should help you choose the perfect one for your child and add excitement and fun to the whole traveling experience. Whether you're traveling by car, train, plane or bus, your kid wants to bring all its essentials and it wants it at a hand's reach. On the other hand, you want to provide an enjoyable trip for your child yet to have some peace of mind for yourself. Well, check out our 10 Best Kids Carry-on Luggage list and you will certainly find a perfect piece of luggage that will meet all of your kid's needs!
10 Best Kids Carry On Luggage
Rockland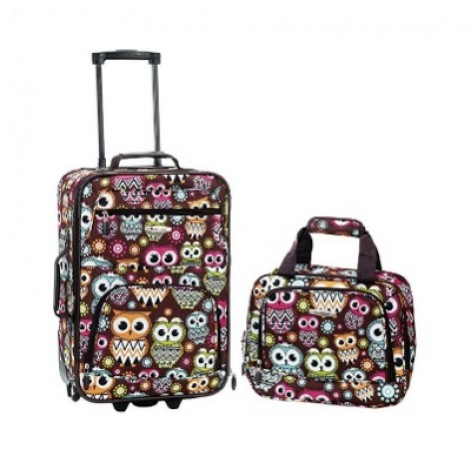 Here we have a great luggage set that's perfect for little travelers. The set includes an upright suitcase and a small bag for all kid's essentials. It offers some high-quality features and around 20 differently printed bags! Your kid will love having the option of choosing the perfect one for itself!
Expand to see more
High Quality
The best thing about this set is that you get a big-roll-type suitcase and a small bag. The larger upright bag comes in 19 x 13 x 7 inches while the smaller one measures 14 x 12 x 5 inches. The big one is also expandable, providing more free space when you need it. Featuring these sizes, Rockland can fit in the carry-on category even with the most strict airplane regulations.
The luggage is made from 600 denier fabric which means that it's extremely sturdy and durable. This material also dries fast so you won't have any issues with the cleaning process. Additionally, the wheels are well-made and sturdy, even if they're not spinners. Your kid will be able to drag the luggage around without any difficulties especially because the bag itself is lightweight.
Additional Features
When it comes to additional features, we shouldn't forget various pockets! It has 2 front zipper-secured pockets and 3 inner pockets for an utterly organized packing. The suitcase also provides strong and comfortable padded handles for simple carrying. Your kid will feel independent and all grown up because it can easily maneuver its Rockland's bag.
The only noted issue is with the bag's zippers. They're a real hassle, those little things! It looks as though they are not as sturdy as they seem, and they often break or get stuck by the inner cloth. You can always use a warranty and get a new bag, but it can be a bit annoying going through the replacement process.
Lastly, this luggage is not
suitable for long-distance traveling
, but it's an ideal option for kids! They don't need too much stuff for traveling, and even in some cases when they do you don't want to load them with heavy luggage after all.
Cost and Value
This luggage set is a real steal! There are many customers that praise the competitive price of this set, especially taking into account that many suitcases cost twice as much and they don't even go with a small additional bag. You just can't go wrong with Rockland!
Set of an upright big suitcase and a small bag
20 differently designed sets
Quality materials
User-friendly handles
Several pockets
Inexpensive
Zippers tend to get stuck
Trunki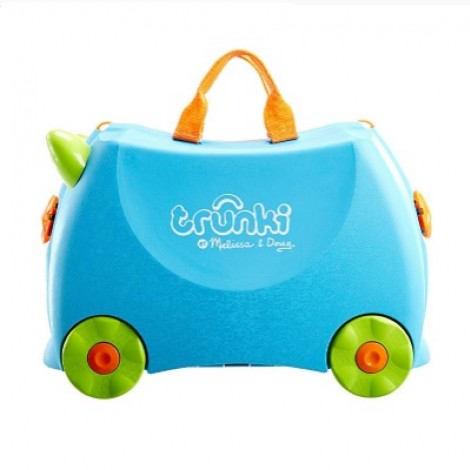 Trunki is a unique kids' carry-on luggage that will collect everyone's compliments at the airport and provide a lot of fun for your kid! It's designed to provide spacious storage for your kid's stuff, while also being a little vehicle. With wheels and a long strap, Trunki is ride-on luggage that brings enjoyment in traveling!
Expand to see more
Protection
Trunki has plenty of storage space where you can pack all kid's essentials such as clothes, toys, books, art supplies, and many other things. The bag has rigid walls and interior straps that keep everything you've packed securely in its place. It also has an outside locking clasp for more protection and smooth zippers that allow easy access to the luggage. Your kid will be able to pack its stuff by itself and feel all responsible and independent.
Durability
Trunki provides
a seat for your kid
, where it can rest when all the chairs are taken or ride it through the airport or train station like a little vehicle. These various options come from high-quality materials. The luggage is made from ABS plastic which makes it lightweight and durable, but also spill-proof, so you'll be able to clean it in no time. It can support up to 75 lbs which means that is suitable mostly for children up to 5 or 7 years old.
The only issue that we have found is Trunki's tendency to tip over. Yes, that can happen when you pull a kid on the suitcase, but it should be fixed for a more stable ride! It seems that this happens because of the wheels. They're not made as durable as they should be. Nevertheless, kids love to drag Trunki around, especially because it's user-friendly and comfortable.
Cost and Value
Trunki's popularity has risen over the last couple of months, so prices can vary. Overall, the luggage has a reasonable price, but this also depends on the chosen design. Your kid can choose its favorite design from monster to animal prints, or it can go for ones that feature many vivid color patterns.
Luggage and a seat
Spacious
Straps and lock clasps for more protection
Durable
Quality materials
Comfortable
It tends to tip over
Wheels could be better
Skip Hop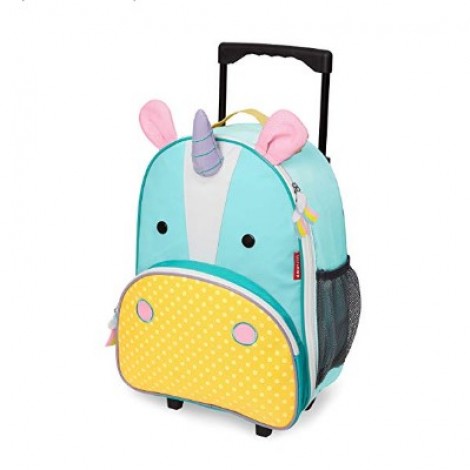 Your toddler will love Skip Hop's zoo luggage! This is a compactly designed tote bag that can fit every carry-on-size requirements. It has all of the user-friendly features to provide easy access for little restless fingers!
Expand to see more
Quality Material
Skip Hop is a compact bag but it has enough storage space to hold up a week's of clothing. Considering that a toddler can't carry around too much stuff, it doesn't need heavier luggage than this. Skip Hop's luggage is primarily designed for toddlers after all.
The bag is made from a sturdy canvas material that can endure frequent washes and bumps on the road. Your kid gets to choose a favorite animal design: a giraffe, bird, monkey, dog or a butterfly. The bags have ears, nozzles, wings and cute prints that your kid will adore! The only downside is the fact that zippers tend to get stuck, caught by the ears. It's not a big issue at all, but it can be quite annoying.
User-Friendly Design
Skip Hop has a front zippered pocket for easy access to little essentials. Your kid will be able to pull out
headphones
, coloring pencils or other little stuff that it may need during traveling. The bag also has a mesh pocket for a water bottle which your child will certainly need during long hours in a plane or a train.
Speaking of additional features, the handle (13 inches) is very useful because it allows easy pulling rather than carrying a fully-loaded bag. It can also be retracted to fit under the plane's seat or any other storage place. The wheels also add to the whole user-friendly experience because they easily go forward and backward.
Cost and Value
With Skip Hop you can make your kid happy and be easy on your pocketbook! Your kid will be fully satisfied with the luggage that is almost a real big toy, and you'll be contented with its great features.
Cute design
Spacious
Many pockets
Easy to handle and maneuver
Well-priced
Ears get stuck in the zipper
Bago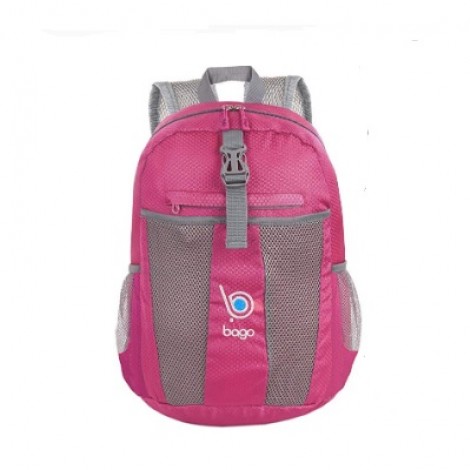 Has your kid already outgrown its little toddlers' luggage, and you need something bigger yet compact? You should consider getting a Bago's backpack that's perfect for storing a lot of clothes and essentials yet compact and lightweight. It's also an excellent choice if you have a little athlete in your family!
Expand to see more
Organizer
Bago comes in 17 x 10.5 x 6 inches. It has a big main compartment, a large mesh front pocket, 2 side mesh pockets for bottles and other little things, and a medium pocket both inside and on the outside. It's like this backpack is made to fulfill every parent's need! With so many pockets, your kid will be well-organized and it will still be able to have all its things at a hand's reach.
The backpack also folds down in the inner zip pocket and transforms into a pouch. This makes it an ideal airline-approved carry-on bag!
Water-proof
Made from nylon diamond ripstop material, Bago is durable and lightweight. The best thing about it is a water-proof fabric that protects it from any spills. You can now carry your backpack on the beach, pool or go fishing and camping without any worries that it might be ruined by water.
Little travelers will be thrilled
to have a durable backpack and you'll be satisfied with the ease of its maintenance.
However, this backpack lacks straps and back padding. It only has mesh straps that are not even close to the comfortable feeling of padded ones, and because it has foldable backing it can't be reinforced with stiffer materials.
Cost and Value
Bago has an incredible price! If your kid needs something bigger than toddlers' luggage and still compatible enough to have a carry-on size, Bago is an excellent choice. It can even fit in the various style requirements, from sporty to chic, so your child will be very happy about it.
Compact design
6 pockets
Foldable
Durable and lightweight
Water-proof
Straps and backing are not padded
J World New York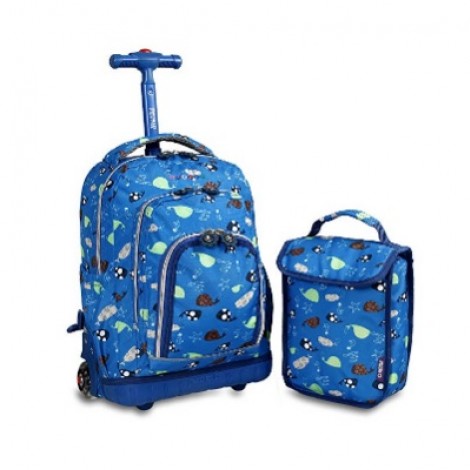 J World New York offers a set of luggage and a lunch bag that is a perfect choice for toddlers, but many parents also get them for their older kids (up to 10 years old). It has three patterns, two colored in pink and a blue one that look very stylish and modern, so your kid will absolutely love them!
Expand to see more
It's All About Pockets
The luggage has a size of 16 x 12.5 x 6 inches and the lunch bag is 10 x 7 x 4 inches big. It has three pockets in a range of small, medium-sized and large dimensions. Along with a big compartment for clothes and other bulky stuff, there is a smaller pocket that offers easy access to
little essentials that your kid could need during the long traveling hours
. Even better, a small front pocket has different pockets itself: three pencil holders and two zippered small compartments. Your kid will definitely keep all its things well-organized.
When it comes to stylish looks, J World Luggage has sparkling wheels and reflective tape on the front. This looks very fashionable, but the truth is that these features provide more visibility and therefore more protection during the night time.
First-Class Features
The luggage is made from 600D polyester that's water-proof. You are protected from all accidental spills that can damage other bags and backpacks. The handle is also made from aluminum rust-free material, and it's padded for a more comfortable pulling. Adjustable padded straps and padded mesh back panel add to the overall comfortable wear when your kid wants to use this luggage like a backpack. Additionally, with the capacity of 20L (bag) and 4.6L (lunch bag), this set can hold a lot of necessary travel stuff. It will be as heavy as the packed things because the luggage itself has only 4.5 lbs.
The only issue comes from fragile Velcro straps. They are very comfortable but also prone to tears. It seems that this problem is the main issue for many users.
Cost and Value
J World New York luggage is a great carry-on option that provides high value for its price. It demands some extra cash compared to the other previously reviewed products, but it offers some excellent features to meet that price tag. Overall, you'll be fully satisfied with the purchase, and your kid will be too!
Comes with a lunch bag
Modern and stylish design
Padded straps and backing
Many pockets
Quality water-proof materials
Sparkling wheels and reflective tape for better visibility
Stephen Joseph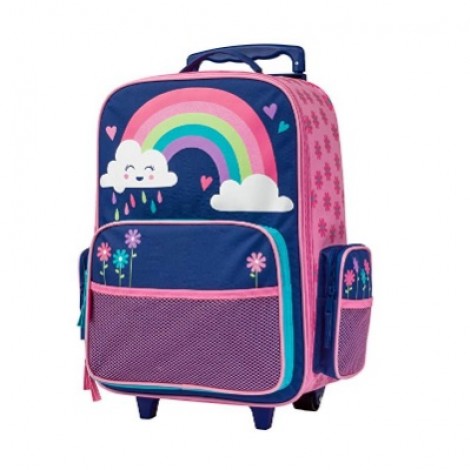 Everybody loves colorful patterns and characters on Stephen Joseph Luggage. Your kid will enjoy choosing a perfectly designed bag for itself! Additionally, this carry-on luggage has some great features that will provide an easy and joyful traveling experience.
Expand to see more
Spacious
Stephen Joseph Luggage comes in 14.5 x 18 x 6.5 inches which is a great size for a carry-on bag. It's made from 100% polyester and it offers a serious number of pockets. It has a pocket on both sides and additional little mesh pockets on them. They're ideal for things like toothbrushes, tissues, headphones and other stuff. There's also a big pocket (with one additional small mesh pocket) on the front where your kid can store art materials or even accessories like hats and scarfs.
High Durability
The outer side of the bag is coated with polyester that makes the bag sturdy and durable.
It should be resistant to all the bumps and tears that occur during travels.
Wheels are also firm and wider than ordinary ones, so they add to the whole durability but also provide easy carrying. An extendable handle with plastic coating also makes luggage rolling easy and comfortable. The only problematic thing is the plastic on the bottom of the luggage which should provide more stability when the bag is in an upright position. It seems that this material isn't as sturdy as it should be, and it breaks easily. This can be tricky because without this plastic the luggage can get off-balanced and it could tip over all the time.
Cost and Value
You can get this cute and valuable luggage at a reasonable price. It doesn't have the first-class features that would lunch it among the best and least expensive pieces of luggage, but it's durable and functional. Additionally, many parents reported that their kids got so fond of their Stephen Joseph bags that they wouldn't change them for anything in the world!
Quality materials
Many pockets
Durable
Comfortable to carry around
Cute design
Plastic bottom isn't sturdy enough
Yodo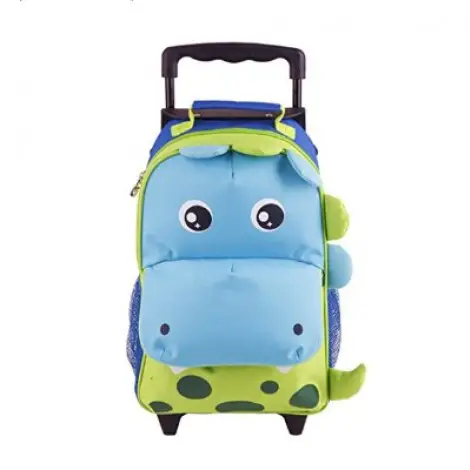 Here comes the Yodo Zoo Luggage that's melting down hearts! This cute little piece of luggage has an owl, a shark, and a dinosaur form. It's designed to provide storage space for toddlers' stuff as well as to add fun and joy to every traveling adventure!
Expand to see more
3-Way Luggage
Yodo Zoo Luggage is a 3 in 1 product – it's a handbag, luggage, and a backpack. It has padded straps for comfortable wear and a handle for easy rolling. When your kid decides to carry Yodo Zoo as a backpack, it can cover the wheels with the material that is stitched to the back of the bag. In case of rolling the luggage, the straps can be tucked in the special compartment in the back of the luggage. It's as simple as that!
Packing Options
This piece of luggage measures 9.5 x 4.5 x 14.5 inches. It's large enough for short trips and rides, but keep in mind that you can't store too much stuff in it. Yes, we know, it's a toddlers' bag after all, but many parents are unsatisfied with the capacity of this luggage.
Yodo features one big compartment (with a write-on name tag in the inside and one small pocket), a pouch on the front for easy access to little essentials and a side mesh pocket for water bottle. Your kid should be able to pack and organize its things without any difficulties.
Cost and Value
Yodo can be used
for traveling, school, short trips, and many other purposes
. Your kid will enjoy rolling around its fashionable and adorable piece of luggage, as well as be proud for all the looks and compliments it will surely get! This pleasure will cost you a few more bucks, but you won't have to spend a fortune to get it.
Adorable design
Transforms also in a backpack and a handbag
Easy to carry
Comfy
Many pockets for easy access
Not quite enough storage space
American Tourister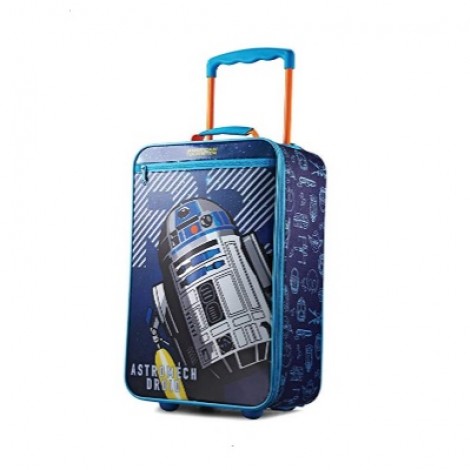 If your kid wants stylish luggage that features some of its favorite characters like R2-D2, Frozen, Mickey, Minnie, Queen Elsa, Anna, and many others, American Tourister is the best choice because it also provides great storage space and user-friendly design. Both you and your kid will absolutely love it!
Expand to see more
Roomy
American Tourister is a classic piece of luggage, providing a lot of free space for all your kid's clothes and essentials. Almost everything can fit in this suitcase! Your kid can pack clothes, shoes, art supplies, toys, and other stuff. It features crisscross tie-down straps that hold all the packed things in their place, so even fragile things can survive all the traveling bumps and thumps. The best thing is that you get spacious luggage that's still lightweight enough for easy carrying.

Sturdy and Durable
American Tourister Luggage is made from polyester and vinyl which make the whole piece sturdy and durable. These materials are also resistant to many harmful chemicals so you should be able to clean it and wash it without any issues. The luggage comes in 7 x 12 x 18 inches. It features skate wheels for easy rolling and a simple pull handle that can be completely withdrawn into the luggage and zippered like it folds down in a pocket. Speaking of pockets, that's the main thing that this luggage doesn't have. It has this big compartment and one side mesh pocket inside it, but there are no pockets on the outside that would provide easy access to all those little necessary things.

Cost and Value
This luggage has an attractive price and a great value. We already mentioned that it's sturdy and durable so it should last a very long time, but if you run into some issues with it you have a 10-year warranty. Hence, American Tourister offers good quality and great customer support, so you should be satisfied with this cute and useful luggage!


Cute characters
A lot of free space
Sturdy and durable materials
Easy and comfortable to roll
Attractive price
Doesn't have any additional pockets
Goplus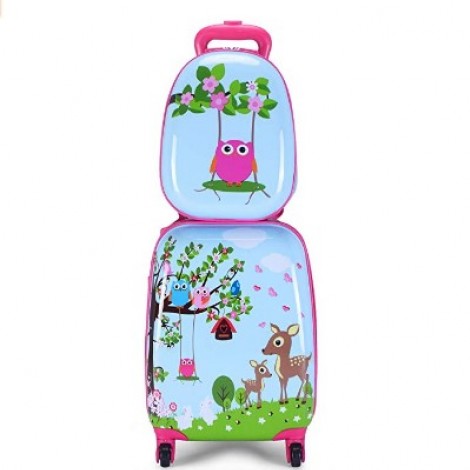 Goplus offers a carry-on luggage set that contains a suitcase and a small backpack. The suitcase is 16 inches tall and the backpack has 12 inches. Overall, this set should provide enough space for all your kid's traveling stuff and both of you will find it super cute and stylish.
Expand to see more
Durable Materials
Goplus luggage set is made from polycarbonate, ABS and nylon materials that provide durability and a long lifespan. Luggage should endure any hard attacks from staircases and trunks, but it seems that the outer thin layer is prone to scratches. The whole suitcase is sturdy and durable, the scratches are more of an aesthetical problem.
Additionally, the luggage features 4 wheels that support 360 degrees of rolling, which makes it super easy to maneuver, and an adjustable pull handle for more comfortable carrying. However, there's a small issue with the wheels, because it seems that they are not as smooth as they should be.
User-Friendly Design
The suitcase has crisscross straps to secure kid's stuff and a big side zippered pocket. The backpack has a big compartment with another small pocket. This should provide enough space for all of your kid's essentials. It can pack clothing, shoes, blankets and other bulky stuff in the suitcase, and little things such as a toothbrush, headphones, and art supplies in the backpack. It will have all things well-organized and secured.
Lastly, both the luggage and backpack are lightweight, so they're suitable for toddlers as well as for pre-schoolers.
Parents will have a peace of mind
knowing that the children don't roll heavy luggage, and kids will enjoy feeling grown-up!
Cost and Value
Goplus luggage set is a real steal! You'll provide both a suitcase and a backpack for your kid for a great price. Regardless of the length of a trip, your child will have all its stuff at a hand reach yet it won't be bothered with overweighted luggage.
Spacious
Durable materials
4 wheels support 360 degrees of rolling
Easy to pack and roll
Well-priced
Prone to scratches
Wheels don't go too smoothly
Cabin Max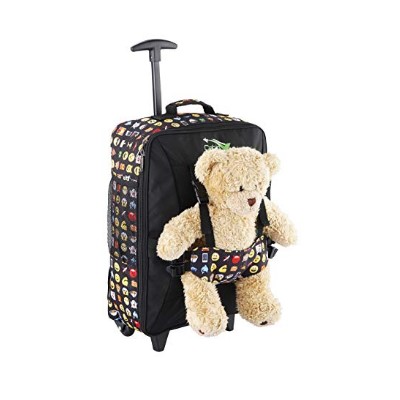 Cabin Max Luggage is an excellent option for children that are old enough to carry all their things by themselves. The luggage provides a lot of storage space and it comes in various vivid colors and cute patterns. Your kid will enjoy it, especially because the luggage provides a special place for carrying its favorite stuffed toy!
Expand to see more
A Big Compartment
Cabin Max Luggage measures at 20 x 13 x 8 inches, and it can hold up to 34 L. It has only 2.2 lbs which makes it lightweight and therefore easy to carry around. The dimensions fit into all major airlines carry-on size requirements, and they meet all traveling needs. Your kid won't have to leave some of its stuff at home like it has to do with small backpacks and suitcases. Cabin Max has enough space for all its essentials! The only drawback is that the luggage has soft sides that are prone to damage.
Useful Straps
The luggage features both a grab handle and a long pull handle for easier maneuvering. Additionally, the suitcase has two straps that make it possible to carry it on the back like a backpack. The straps are padded so your kid won't feel any discomfort while carrying it. What every customer finds both useful and adorable are these little straps on the back of the luggage that are designed to carry kids' stuffed toys.
Cabin Max features a big compartment with crisscross straps to keep all things in their place, and additional side pocket on the inside. On the outside, it has a small pocket for
stuff that your kid may need during the trip
, but keep in mind that it can hold only a few little things. On the other hand, it has a big mesh pocket that's very useful for carrying water or juice bottles.
Cost and Value
Both children and parents love this Cabin Max luggage because of its great value. However, they also feel that it's a bit overpriced, well at least the parents do. The luggage provides some great features, but you'll have to add some extra money to get it.
Spacious
Lightweight
Can be carried like a backpack
Additional straps for stuffed toys
Two pockets on the outside
Comfortable carrying and rolling
Soft sides prone to damage
Pricey
Criteria Used in Evaluation of the Best Kids Carry On Luggage
Our list is thoroughly made from 10 best carry-on pieces of luggage that you can find on the market. We have ranked them according to their features and quality. There's a difference even among the best products, and we tried to evaluate them in accordance with all customers' needs. Here is our criteria used in evaluation:
Quality Materials
First things first, quality materials provide high-quality products. A piece of luggage can be made from various different materials resistant to damage that can easily occur during traveling. For example, luggage that has soft sides is more prone to damage than the one that has sturdy and durable plastic sides. Sturdy luggage materials also provide the best protection for stuff that's inside it – you can store even fragile little things and transport them safely. Another thing that quality materials provide is easy maintenance and cleaning. Luggage gets quite dirty during traveling, and we know how often kids tend to spill drinks and other sticky things over it. Every parent wants to know that spills and stains can be easily removed so the luggage remains intact and as good as a new one. We took this into account and we have evaluated our 10 picks according to the quality of their materials.
User-Friendly Design
There are several things that provide easy carrying and luggage rolling. It's important to know that kids won't get tired or overloaded with their bags. Not only that they can have some back pain but they can get unsatisfied and grumpy, so the whole trip becomes exhausting. You can prevent all that hassle with purchasing easy-to-carry luggage that your kid will feel comfortable with. Things like coated handles, padded straps (if the luggage can be a backpack too), lightweight materials, smooth wheels, and stable bottoms are very important for a simple and easy maneuver. We have thought about all these features while we were evaluating kids' luggage.
Additional Features
We haven't forgotten additional features that influence the whole traveling experience. Things such as pockets are very important. Kids need various stuff during the trip, much more than adults, and it's important to keep them at their hand's reach. When carry-on luggage doesn't have small pockets where kids can store their little essentials, parents have to go through all the hassle to pull out their things from the well-organized luggage compartment. Other important things are zippers e.g. zippers that aren't well-made are harder to pull and your kid can have many difficulties to do the packing all by itself. Lastly, getting a cute and well-designed suitcase for your child means bringing more joy to every travel experience. All additional features provide easier packing and more fun for your kid, so it's important to have them.
Cost and Value
Last but not least, the overall value and cost of every piece of luggage on our list are an important factor when it comes to choosing the right product for your child. It's important to know that you won't be paying a fortune for some small bag that won't even fulfill both your and your child's requirements. There are some high-priced products on our list that offer great features for those who have some extra money to spend on their child's new luggage, and there are some cheaper options for those who want budget luggage that also performs well. We tried to keep in mind all the features and the overall value of every piece of luggage, compare them by price, and then to rank our best picks from 1 to 10.
Other Factors to Consider
Don't let your kid win the battle and choose the first cute luggage it sees! You should take a moment and take into account some features and aspects that may save you from the wrong decision. Here are some factors to think of first:
Purpose
Does your kid need a small sleep-over at grandma's luggage? Or does it need big luggage for long trips and travel? Some parents often buy small pieces of luggage that kids can carry to school because they're easier to pull then backpacks and bulky bags. Of course, you're thinking about the child's age and height first, but the purpose of the luggage is also important. Kids above the age of 4 can already carry more stuff by themselves, and they often ask to do it. Additionally, the purpose of the luggage can also determine the features that you might want to have. You can choose luggage that offers big storage space but doesn't have many pockets, or you can choose a smaller carry-on bag for your toddler that has many pockets for easy access to snacks, gadgets, and drinks. You can even find a suitcase that has all these features if you have some extra cash to spend on it. Options are endless, but you should first think about places and situations where your kid might need its luggage.
Size
Many people make a mistake while purchasing kids' luggage because they don't think about the size of the luggage. They tend to imagine the dimensions in their head and arbitrarily decide that they're perfect for their kids. Don't make that mistake, because you'll be devastated if your order comes to your doorstep only for it to turn out to be in wrong dimensions. You'll have to go through all the hassle of returning the product, and searching for a new one all over again. Too much effort, right? Our advice is to think about your kid's age and to write down the dimension so you can measure and compare them with the height of your child. According to that, you should be able to pick the right sized luggage for your little one.
Durability
Let's face it – kids have an impressive destructive power that we shouldn't underestimate! If you don't want to spend hours on frequent kids' luggage purchases, which can also seriously harm your wallet, consider purchasing a sturdy suitcase. Ordinary bags can be easily damaged on airports and train stations, so if your kid needs carry-on luggage it's best to find a resistant one. On the other hand, if your kid needs luggage for short car trips or school, you can easily go with soft-sided ones.
FAQ
Frequently Asked Questions
Q: Does my child really need its own luggage?
A: Well, you can always carry your kid's stuff if you want, but there are a few things that it can learn from carrying its own things. Firstly, it will have a sense of responsibility and independence. Secondly, your kid will learn to be organized while packing its things by compartments and pockets. It will one day get the sense of what it needs and wants to bring, without having to ask for your help. Lastly, colorful and interesting patterns will make it excited for the upcoming trip!
Q: Should each child have their own carry-on bag?
A: If you feel that they're old enough to carry their stuff separately – why not? On the other hand, if you have children of different age, you can always pack their things in one bag and let the older one feel all responsible and important for carrying both of their travel essentials.
Q: How heavy should a carry-on be?
A: It shouldn't be heavier than 15 % of the child's weight. A carry on will weight as much as the things packed inside it, so be sure that it doesn't go over your child's weight. A bag, backpack or a carry-on that's too heavy can cause back problems to their sensitive backs.
Subscribe to our Newsletter