10 Best Booster Seats Reviewed & Rated for Quality
last updated:
Apr 06, 2021
As parents, many of us have experienced the chaos of having to find a comfortable place to sit our toddlers down in a cinch. Whether it's dinner time, at a family outing or simply when we need to have our hands free to tend to something quickly. No one wants to tote around extremely heavy and inconvenient Boosters, right? We want something that's portable, safe and easy to clean. The right booster has to be age as well as weight appropriate. Choosing the wrong booster can be menacing as well as hazardous. A booster car seat that is too big is not the best option for the best portability. A seat too small may have straps that are too tight and uncomfortable for your child. Anytime you are researching the best booster seat you want to make sure that you are checking for the height, weight and age recommendations.
Featured Recommendations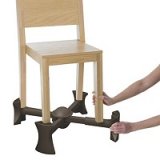 KABOOST "Portable Chair"

Our rating
Adjustability
Price:

See Here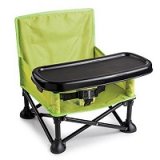 Summer Infant "Pop and Sit"

Our rating
Multi-purpose Use
Price:

See Here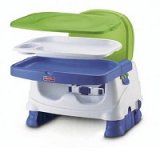 Fisher-Price "Healthy Care"

Our rating
Baby Friendly
Price:

See Here

The most important factors in choosing the right on-the-go booster are its safety, portability options, adjustability and age appropriation. Having the right booster for a child makes a difference between the calm and the storm if you know what I mean. There is nothing worse than choosing a booster that is hard to clean has loose straps and hurts your baby's bottom. I have reviewed 10 of the best booster seats for on the go parents like you and me. Let's take a look.
Top Rated Booster Car Seats & Travel Seats
1. KABOOST "Portable Chair"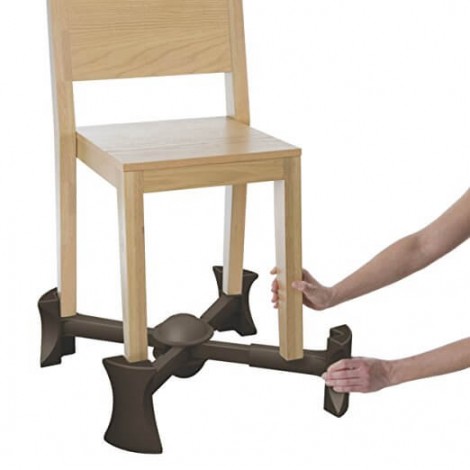 This Booster ranks number one in kid booster seats. Suggested for children ages 3 and up. It has a durable non-slip design that fits onto the bottom of four-legged chairs whether they are straight or curvy. It can be used on any dining chair at
home
or in a restaurant. Now it may be a little bulky, but there is no assembly required, and it's portable. This booster can hold up to 300 lbs. and can also be used by adults who are height challenged.
Expand to see more
Adjustability
This booster has two adjustable heights, 3.75" and 4.5". The good thing about this is that you do not have to buy another one when your toddler grows a few inches. This is perfect for kids who just want to fit in at the grown-up table!

No-Slip Grip
The design of this booster works for all floors whether they are carpeted, wooden or tiled. Because the bottom of the booster is rubber, it makes no markups keeping your floors scratch-free.

Cost and Value
The KABOOST portable chair booster isn't priced as high as you would think. This booster is bulky but comes fully assembled and is easy to attach to any dining room chair. The price is reasonable, and the booster is worth the purchase for its adjustability and longevity- practically what you are looking for.


The booster can hold up to 300 lbs.
Made with a rubberized no-slip feature
Absolutely no assembly required
This booster is larger in size than most carry-ons
2. Summer Infant "Pop and Sit"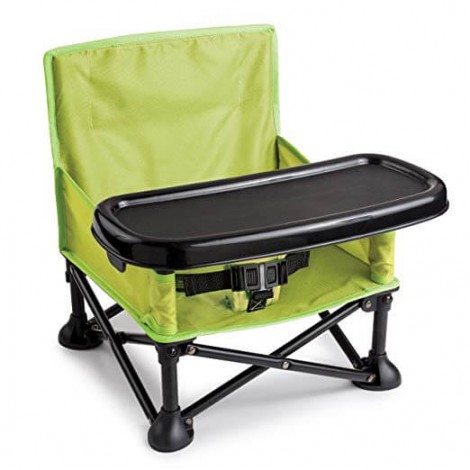 The Summer Infant Pop and Sit booster is one of a kind. It mimics an adult polyester folding lawn chair with a detachable table top. The Pop and sit fits snuggly with a 3-point harness for the child's safety. This booster seat is safe for toddlers up to 37 pounds. It comes with a carrying case and can be used both indoors and outdoors. Perfect for parents who want to take their little ones out to the ball game!

Expand to see more
Multi-Purpose Use
The Pop and Sit can be used both indoors or outdoors. Its design makes it easy to use for dining, playtime or outdoor fun where the tot is sure to be included.

Portability
This booster comes with a convenient but light weight carrying case. It can be used in a dining chair or on the ground. So, you can basically use this anywhere.

Cost and Value
This Folding, Portable booster is priced for on the go budgeting. It comes in a variety of colors of your liking. Because of its weight and design, this booster is perfect for outdoor activities such as sports events, campouts or picnicking.


Can be used indoors or outdoors
Includes carrying case for parental convenience
Features safety straps for use in adult sized chairs
No locking mechanism for a chair once folded out
3. Fisher-Price "Healthy Care"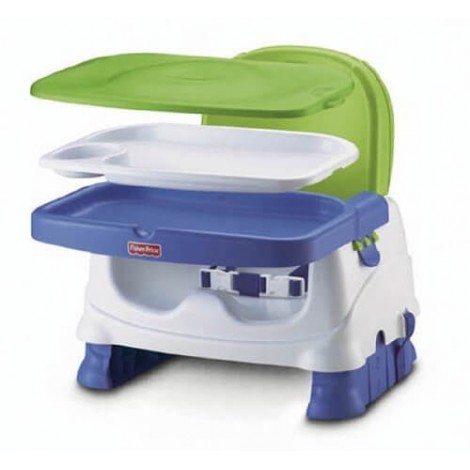 The Healthy Care booster is a little different from most. It is just what a playful baby needs. It's fun and colorful design is made with babies in mind. The Healthy Care booster is fun for dining at home and playtime on the floor. It is sure to keep your little one both busy and safe. This booster is durable and comes with a different kind of eating tray for little one. It is easy to carry as it is equipped with straps and a lap harness for safety.
Expand to see more
Baby Friendly
This booster comes with a 3-stage snap on a table top for playtime, feeding time and resting support. The feeding time table top includes a handy dandy cup holder perfect for a sippy cup!

Size Matters
The Healthy Care booster, although sturdy is small enough to put away easily. It takes up little or no space and can fit on the average size shelf if needed.

Cost and Value
This seat is well worth the value. It comes easy to clean, adjustable and portable. It can be used indoors or outdoors and can either be used on the floor or in a chair. Support straps for locking the booster to the adult sized chair are included.


Easy to Clean and Store
Compact for easy storing
Baby friendly colorful design
No crevices for food spills
Recommended handwashing only
4. GRACO "Affix Backless"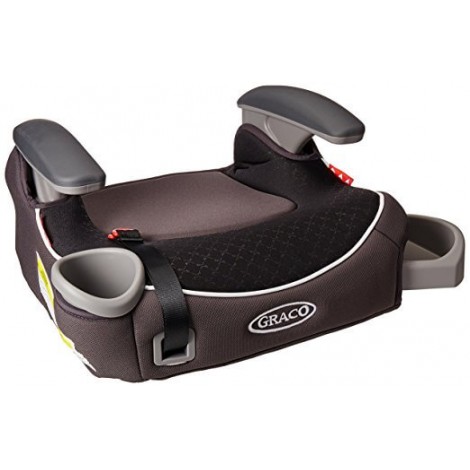 The GRACO Affix Backless booster is recommended for our toddler aged kids 3 and up, 40 to 100 pounds. It can be used as both a car seat or dining booster. Its unique backless design incorporates armrests, a cup holder, storage unit and a cushioned seat for toddler comfort. This booster is wider than most as it is created for the comfort of a "big kid." It includes adjustable lap straps and a storage compartment. When used in the vehicle, an extra lap strap is available.

Expand to see more
Transportation Friendly
The backless booster features seat restraints that attach safely to vehicle seats. The child must be at no more than 57 inches for the vehicle seatbelt to be comfy.

Big Kid Booster
This booster was made with our height challenged kids in mind, ages 3 and up. It gives additional height for children up to 57 inches (4.75 feet tall). It is wider than most other boosters to give the child extra moving room. Perfect for travel or dining.

Cost and Value
The GRACO affix backless booster is a steal for all it includes. Its multipurpose use for the kids stuck between being a toddler, and a big kid will get the most use out of it. If this booster is used for transportation use, it can be securely strapped down and will not slide or glide while occupied.


Easy to clean, washing machine friendly material
Backless design for "big kids"
Storage compartment for on the go play things
Non-Cramped seating
Wide design may make on the go a little troubling
5. Ingenuity "Smart Clean"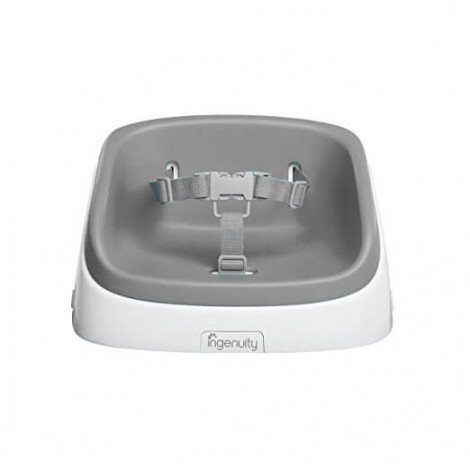 The Smart Clean booster is not only gender neutral, but it is light weight for children ages 16 months to 5 years old. Its curve appeal design fits busy bottoms and secures them with a 3-point harness strap across the belly and the lap. The seat itself without the padding can accommodate a child up to 110 pounds. This booster is best for little wigglers.

Expand to see more
Dining Design
This particular booster is relatable to the restaurant offered boosters. It puts the toddlers at table height and secures them safely to the dining chair as not to move around.

Removable Cushioned Insert
The Smart Clean Booster comes with a grey cushion that can be put in to give little ones a lift and taken out when they don't need the extra height anymore. How cool is that?

Cost and Value
The Smart Clean Toddler Booster is on the low end of the price spectrum. For the price, it is very accommodating. This booster seat is easy to clean, easy to transport and easy to assemble!


Removable Foam Padding for baby bottoms
Padding is easy to clean and machine washable
Toddlers can get into the booster easily without it falling off the chair after being secured
Adjustable straps can be tight on children older than 20 months
6. Ingenuity "Baby Base 2-in-1"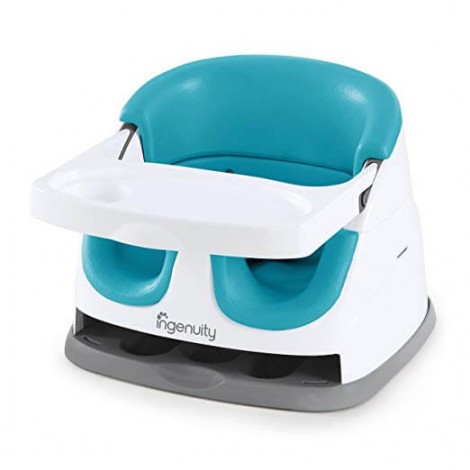 The Baby Base Booster is another 2 in one style seating for the tiny ones. Its complex design is for babies learning to sit up securely. It too can be used at home for feeding and playtime or on the go for restaurant dining. This booster has the ability to convert from a baby booster to a toddler seat with ease just by removing the padding and the feeding tray. Once the Toddler can sit up on their own, the 3-point harness use is optional because it also has a safety pillar that sits between the legs of the child to prevent them from slipping out of the seat. A great choice if you want a seat your baby can grow with.

Expand to see more
Easy to Clean
The Baby Base booster consists of a removable easy to clean base that merely has to be wiped down. The detachable tray itself is made of a durable plastic that is dish washer safe.

Storage Unit
This booster is equipped with a storage unit directly underneath the seating area. This gives the ability for the feeding tray to be neatly tucked away when it is not needed.

Cost and Value
The Baby Base Booster is a little more expensive than some of the others, but you can't beat the price for a seat you will only have to buy once to last a few years. It is portable and one of the safest boosters you can ask for.


Easily accessible storage for feeding tray
Can be used for playtime on the floor
Securely attaches to all dining chair styles
Comes in 4 different colors
Booster harness can be difficult to buckle for bigger tots
7. Munchkin BRICA "Go Boost"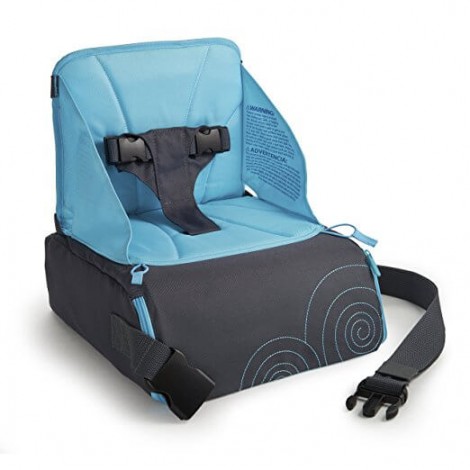 The Munchkin BRICA Go Boost Booster is a traveler's dream. Its design mimics a diaper bag and easily folds out into a booster seat. It has been equipped with the 3-point harness, traction pads for that extra no slip grip you need and a strong built in frame for stability. It includes extra storage and shoulder straps. This booster can hold a child up to 50 pounds and is suitable for the traveling baby.

Expand to see more
Pack All You Need
The storage unit on this booster is just like a diaper bag. It has a front flap with a zipper so that nothing you carry falls out. There is room for diapers, bottles and more!

Multi Use Straps
The Straps on this booster double from a shoulder strap to security straps that attach to dining chairs. How convenient is that?

Cost and Value
Bang for your buck at its finest! This booster seat is the best value for on the go parents. The bag doubles as a booster and a diaper bag. It easily folds into suitcases and boards as a carryon for airplanes.


Diaper Bag and Booster Seat all in one
Convenient as an airplane carry on
Fits inside of a Suitcase for traveling
Not comfortable for toddlers with bigger legs
8. OXO "Tot Perch"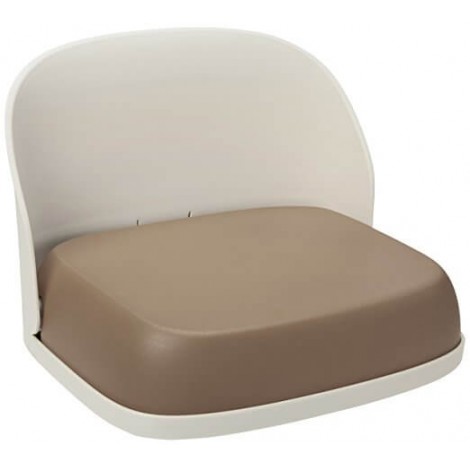 The Tot Perch is a 3-point harness simply designed booster for children ages 15 months to 70 pounds. The booster is an easy to use carry all that folds at the push of a button. The straps on this booster are easy to use, adjustable, and can be removed when the child is big enough. The removable cushion seats come in 5 different colors that are stain resistant. This booster is recommended for dining and playtime.

Expand to see more
Portability
This booster can collapse down at the push of a button and easily stores with convenience. The seat cushion can be removed when it is not needed.

Non-Skid Base
This booster has a Non- Slip grip that stops the booster base from sliding around in the dining chairs. Best used with older toddlers.

Cost and Value
The OXO Tot Perch was made for toddlers who are ready to sit at the dinner table without a feeding tray. The cost of the booster is on the higher end of the market but is well worth the stability and ability to station wherever necessary.


Security belt can be adjusted as the child grows
Foldable and easy to transport
Perfect for Wiggle Worm Tots
Not for recommended for children who make big messes
9. Mifold "Grab-and-Go"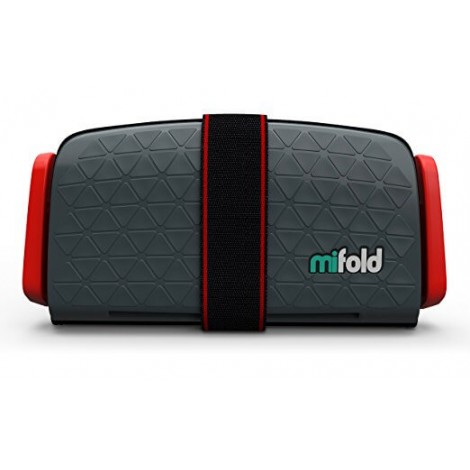 The mifold Grab and Go Booster is made for the modern parent. There are two versions available, one foldable and the other inflatable and collapsible. This booster is specifically for children 4 years and up as long as the weight is between 40 and 100 pounds. This booster is made to be strapped in with vehicles lap belt and can be used in emergency situations. It is flat and does not require a backing, arm rests or storage space. It is recommended for children needing only 1-3" of extra height on the go.

Expand to see more
Emergency Booster
The mifold Booster is practical for a back up when a regular booster is unavailable. It can fit in your car's glove compartment should something happen to your regular booster or in a purse or backpack if you have to take an Uber or taxi cab.

Convenience
Because this booster is for emergencies, it doesn't take up all the room a traditional booster does. It doesn't require a back, arm rests or storage compartments which make it light and easy to carry around.

Cost and Value
Although it is small, this booster is on the higher end cost wise. It is efficient and worth the money to have a back up booster in emergency situations or if you would normally have to move your toddler's booster from one vehicle to another more frequently than other parents.


Small and Convenient to maneuver
Inflatable version available
Practical for short trips in Ubers or Cabs
Does not feature no-slip grip for booster's base
10. The First Years "On-The-Go"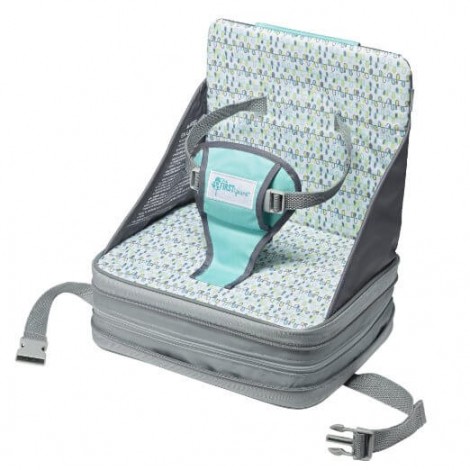 The First Years on the Go Booster is one of the most convenient 3 point harness self-carrying boosters on the market. It is not only self-inflatable but durable. Its unique design features a storage pouch underneath, T strap restraints and security straps for dining chairs. This booster holds up to 50 pounds and recommended for ages 9 months and up. This particular booster folds into the shape of a briefcase.

Expand to see more
Easy to Clean
This booster is made of plastic, so all you have to do to clean it is wipe it down. Perfect for little On the Go mess makers.

Self-Inflatable
This booster is easy to use as it self inflates. When you are ready to put it away all you have to do is push the air back out.

Cost and Value
This booster is definitely cost efficient. It is the cheapest of them all but still of great quality. It doesn't take up much space as it will flatten once deflated. The booster has a self-carrying handle, and the t strap harness make it safe for the little one. This one is definitely the way to go for little ones who can sit up on their own without tipping over.



Easy to clean plastic material
Self-Inflatable feature
Lightweight and Convenient
Not for on the ground use
All of the above booster seats have a few things in common like the harness, the safety buckles, portability, and convenience. When out to dinner, at playtime or at the ball field you want to make sure that the child seat you choose will be easy to set up and breakdown, easy to transport and that you will have enough room for it in the vehicle. No one wants to haul around bulky boosters… Do they? As a parent, you want what is best for your child so selecting the right booster should be a breeze. You want to consider the age of your child, the weight and his or her ability to balance on adjustable seats. Having a booster that your child enjoys and doesn't mind sitting in for an extended period of time makes the difference. As parents, we know our children and their needs. If one booster doesn't work well for you, simply try another.
Criteria Used in Choosing the Best Booster Seats
Dimensions: When searching for a booster seat you want to make sure that the dimensions of the child seat are appropriate to the age, weight, and height of the child. You want to make sure the booster is able to hold not only the weight but that it will not tip over if the child moves around. The booster must be comfortable for the child. A booster that is too big may not give the child the stability they need. If the buckles are too loose, the child may slide around in the seat and cause injury. The parent must be sure to know which booster is best appropriate for their children before purchase.
Safety: The safety of the booster you choose is one of the most important elements. During the sitting session, the booster must offer support to the child it holds. There are different restraint systems for children under 3 years old than from those who just need a few extra inches to be able to appropriately sit at the dining table. Most of the dining boosters have straps that you can buckle behind the back of the chair and again under the bottom to secure the booster in place before placing the child in it. One of the restraints the booster may feature is the crotch or T- strap. The crotch strap is also known as a 3-point harness. What it does is safely strap the child in around the waist and through the crotch area so that the smaller children can't move around as to hurt themselves or flip the child seat out of the dining chair. Other seats may not have a harness but will include a crotch pillar that sits between the child's legs to prevent them from slipping down. The age of your child and the ability for them to sit up straight without leaning will determine which option is best.
Portability: The portability of the booster is another important factor when it comes to choosing the right one. If you will be using the booster for activities such as dining, outdoors or simply as an activity assistant- you want to make sure that the booster you choose can be transported and easily stored without problems. Parents that are extremely active would want a lightweight, easy to carry booster that can be used indoors and outdoors, on planes or maybe even as a vehicle transport booster in emergency situations. You want to make sure that the booster will be weather resistant, easy to clean and small enough not to be a problem when commuting.
Age Appropriation: The determining factor of which booster works for your child will be age and the ability to properly function in the booster. Some boosters have t-straps that will secure smaller children who are unable to maintain their own balance or are fairly new at sitting up on their own. Those are the children who may need extra support. Backless boosters are recommended for children 3 and up who have the ability to sit up on their own without falling and need a few extra inches to be able to dine at the adult-sized dinner table or take a ride and be able to use the adult seatbelts without causing themselves injury. A backless booster seat can be harmful to a child who is not ready, and the vehicular seat belts may be too tight around the abdomen and neck areas.
Adjustability: The purpose of a booster seat's adjustability is to adjust to your child's growth and needs. As your child grows, a smaller booster may become uncomfortable. The restraints may be too tight around the legs, the material may not hold the weight, and the seat itself may not be wide enough any longer. At that point, you will need to seek another booster. Some boosters are built to grow with your child. These boosters may contain adjustable straps, removable padding or the ability to add features for extra support.
Multi-Purpose Use: Parents who are active with their children will want to choose a child seat that can be used both indoor and outdoor. They may choose one made of a lightweight plastic that is stain resistant, easy to clean and that can be carried around with ease. The boosters will be able to function at the dinner table, on the floor during playtime, in the car or on the ground at the park. Having a multi-purpose booster sometimes may cost a little more, but the child will get the most use out of the purchase.
FAQ
Q: What is the difference between a crotch strap and a waist strap on the booster seat?
A: The difference between a crotch strap (or 3 point harness) and a waist strap is that the crotch strap is made to secure smaller children from slipping out of the booster seat. The crotch strap supports the child from between the legs for extra support, especially for toddlers under three years of age who move a lot.
Q: Are removable straps necessary for all booster seats?
A: Removable straps are not necessary for boosters that are for children ages 3 and up if they meet the weight and height requirements. Straps are used to secure the child in place and to prevent injury. A child seat with no straps may be used in vehicles where the seat belts will be used to restrain the child. They also may be appropriate for children who need a few extra inches to be able to dine without difficulty.
Q: What is the best booster for dining out at restaurants?
A: The best booster for dining out will be determined by your child's needs. If your child is able to sit up without needing the extra assistance, a backless booster seat with a non-slip grip feature may be appropriate. If your child is under 15 months, you may want to consider a booster with a harness to prevent the child from twisting around.  
Q: How can you tell which booster is the safest for small children?
A: You will be able to determine which booster is best for your smaller children based on the weight and abilities of your child. It is not recommended that a child who cannot sit up on his or her own to be placed in the booster. When a child is able to sit upright without tilting, he or she may be ready for a booster. Most boosters are recommended for children at a minimum of 9-15 months old.
Q: How can I determine which booster is the safest for both indoor and outdoor use?
A: Weather-resistant boosters are best for outdoors as well as indoors. It is up to the parent if the booster needs to have carrying straps for portability, storage areas, or restraints. It is recommended that boosters with harder bases and no need for booster security straps be used outdoors for safety concerns.
Q: What is the purpose of non-skid booster seats?
A: The non-skid, also known as the no-slip grip boosters, is to prevent the child from scooting around and falling off of flat area seating. These boosters are also safe for all floor types and will not leave marks or scratches on delicate surfaces.
Q: What are some of the different materials to consider when choosing a booster seat?
A: Some boosters are made of special plastics that are child safe, easy to clean and comfortable for the child. A booster seat that is made to transport the child may be made of a sturdier hard plastic and equipped with a cushion that can be removed. These boosters are made for comfort during long rides or sitting periods. Others may be made of a lightweight plastic that is easy to clean but not meant to be used for outdoor activities. These boosters are best for indoor dining and maybe on the floor playtime. Then you have booster seats made of a denser material that is stain and weather resistant. These usually feature a harder base that can sit on the ground without collapsing or sinking into softer dirt or grassy areas.
Q: What do you mean when you say a booster is multi-purpose?
A: A multi-purpose child seat is simply one that can be used anywhere freely. These tend to have backs, crotch straps and harder bases for safety purposes. These boosters are generally for children under three years of age who will need constant sitting support and restraint so that parent can maneuver freely, leaving the child unattended, and without having to worry about the child's safety.
Q: When is a child old enough to use a backless booster seat?
A: Usually, a child who is 9-15 months old is capable of using a backless booster seat only if they are able to sit up by themselves. A child within that specific age range must be able to hold themselves up without tipping and meet the weight requirement of the child seat you are considering. Each individual booster seat comes with requirements and dimensions of their boosters. You want to make sure that you thoroughly research boosters before purchase. You can check the manufacturer's websites to see their suggestions or simply use a search engine for recommended booster seats for your child's age, height and weight.
Subscribe to our Newsletter