Best Tape Measures Reviewed & Rated for Quality
last updated:
May 14, 2019
What is the one tool you think you should always have in your toolbox? A tape measure. Tape measures have come a long way from when they were first introduced in the late 1800s, with the spring-click tape measurer. Today, this tool is essential not only for professionals in the construction industry but for anyone who owns their own house/ apartment and likes to do do it yourself projects.
Featured Recommendations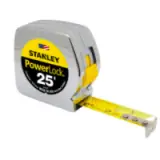 Stanley PowerLock

Our rating
Top Quality
Price:

See Here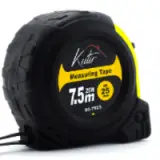 Kutir

Our rating
Top Performance
Price:

See Here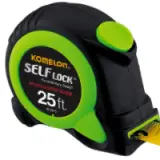 Komelon Self Lock

Our rating
Easy to Use
Price:

See Here

As we just mentioned, tape measures have evolved throughout the years and choosing the best one is not as easy as you think. It is important to understand the different functions this product offers before making your purchase. This tool will be your go to, whether you are on a job site or getting ready to build something at home – so you want to make sure it is durable and accurate at all times. A quality made product will ensure that all your measurements are exact, will cut back re-measuring time, and will sustain any bumps or drops. In this buying guide, we have done the research for you and have put together a list of the 10 best tape measures on the market today. All you have to do is sit back, grab your notepad and start reading!
10 Best Tape Measures
Stanley PowerLock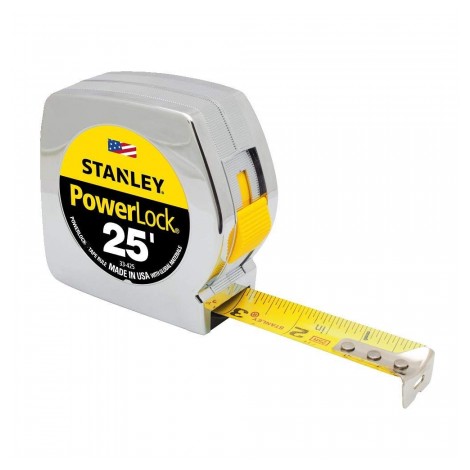 Stanley is a brand that everyone is familiar with
. They are known for their top quality and long last products by those who are in the construction industry and even for at home project doers. Their 25-foot option is an industry standard and is extremely popular. This product is made of a quality high impact chrome ABS case made to withstand drops and extreme abuse from rugged job sites.
Expand to see more
Ease of Use
This option by Stanley is a great choice because it is user-friendly. One of the best features we found in this item is its precise measurements, you will be able to measure all the way down to 1/16 inch. From its, easy to read markings to its strong lockable blade, this is the perfect choice for someone looking for a simple, quality made product.

Durability
PowerLock by Stanley is one of the most popular options on the market today. This option features a mylar polyester-coated lockable blade which assists with heavy wear and tears associated with everyday use. It is known to be one of the strongest and lightest options on the market.

Another thing that stood out to us was its Tru-Zero corrosion resistant end hook feature. If you didn't already know, the end hook is one of the most important features of your tape measure - this allows for exact measurements. This option also includes heat-treated springs which will extend the lifespan of your device.

Cost and Value
This quality option by Stanley is very affordable and will not break your bank. As we mentioned above, this brand has been around for a very long time and has committed to making top quality products. If you are looking for a simple design for everyday use, this would be an excellent choice!
25 feet length x 1 ¼ inch width
User-friendly
Traditional model
Heavy duty
7 foot stand out
Lightweight
Limited Lifetime warranty
No additional features - very standard
Kutir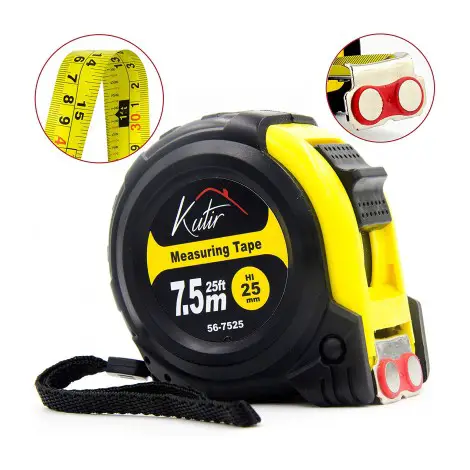 Landing in second place on our list is this high-quality product from Kutir. Many have said that it looks very simple on the outside, yes it does, but don't underestimate it. It is made with strong and durable rubber on the outside and also includes a powerful magnetic hook. This option is highly recommended for everyone, from professional handymen and
carpenters to homeowners
and interior designers.
Expand to see more
Shock Absorbent Case
One of our favorite features of this product is its shock absorbent case. Its shock absorbent case will also protect its inner workings if dropped from a rooftop, top of the stairs, or even a three-story building. Some have said that the rubberized material coating is pretty comfortable to hold and it will withstand heavy abuse from everyday use on a job site.

Useful Features
This option by Kutir has other features we would like to point out. Many have ranted about its 7 foot stand out. Also at the end of the blade, you will find a metal hook that is designed with magnets. This feature makes this product stand out because it is important if you are using it every day and don't have someone on the other end holding the blade on the other end.

Cost and Value
If your budget is to stay under $20, this option by Kutir will make a perfect choice. For the value, you are getting an all in one product that is ready to use out of the box and will allow you to take measurements on your own.
Maximum of 25 feet
Measures in inches and metric
Dual-magnet end hook attachment
Double sided tape blade
Easy to read markings
The rubberized case that is impact resistant
7 foot stand out
Some customers have complained about the strong smell of rubber from the casing
Komelon Self Lock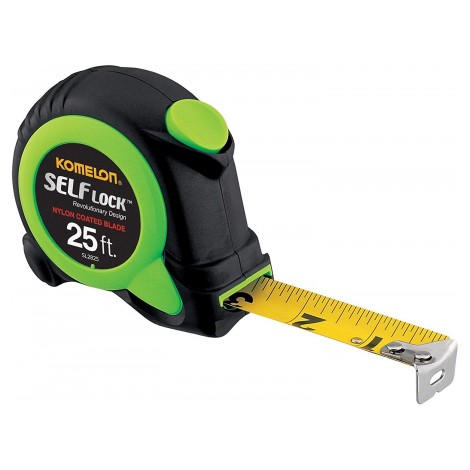 Landing itself in our #3 spot is this option by Komelon. This option is another very simple and user-friendly product. It is suggested to be used inside and for small projects for best use. Even though it may take a little more time adjusting to their unique retractable design, you can't beat their affordable price!
Expand to see more
Retractable Design
While other options on the market offer blades that retract automatically, this one was designed oppositely. If you want to retract the blade once you pulled it out, you will have to press the button. As you pull the blade out, it will automatically lock.

Easy to Use
Once you learn and get used to the opposite retracting mechanism, we believe this option by Komelon will be a no brainer to use. Its push button will allow you to easily retract the blade smoothly. Yes, it is different from other products on the market but we can assure you that you will enjoy it once you get used to it.

Cost and Value
This option is one of the most affordable ones on our list. Some customers have stated that the blade in the product is a bit small and thin. But for its value, it's a great steal! This little tool will make a great addition to your toolbox or over your kitchen drawer.
Nylon coats blade
Impact resistant rubberized case
Self-locking mechanism
Easy to use
Very affordable
Some users said it takes a little while to adjust to the button. The button will not lock the blade, it will retract it
Markings on the blade are smaller than other options
Komelon Gripper Speed Mark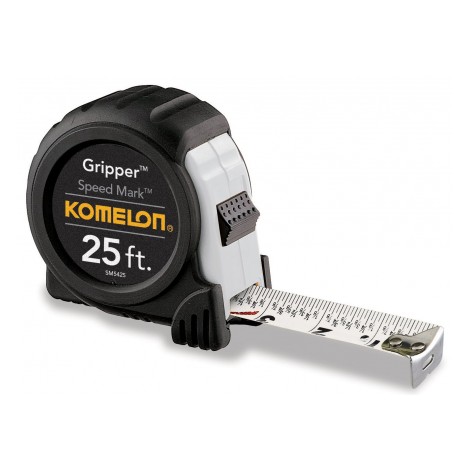 Here is another Komelon product that made it on our top ten list. From our research, we discovered that this option was a game changer back in 1999. With its new innovative design, the Gripper Speed Mark was made. This option by Komelon is very favorable for those who have a budget of $15 or less and is in search of a quality product. If you are also looking for top ergonomics, this is the right fit for you.
Expand to see more
Easy to Read Markings
What makes this stand out from its competitors is its white blade versus the yellow you usually see. Komelon has researched and discovered that having a white blade reduces glare and makes it more efficient when in use. Also, the markings are printed with fractional graduations that make it easy and quick to read.

Quality Material
This option by Komelon is made with top performing materials. Most importantly, it's cased in easy-to-grip thick rubber. We found that the casing is just as important as the inner workings and with this option, you will be surprised how durable it is. Also, on the white blade, you will notice both inch and metric markings.

Cost and Value
Another affordable option from Komelon that is worth considering. This option is great if you are looking for a quality product that is priced under $10. We guarantee that you will enjoy this product and also have the piece of mind that it won't break your bank.
Non-glare acrylic coated white blade
Simple to use
Comfortable to hold
25 feet long
Affordable price
Compact size
Metric markings are marked too small
Magnelex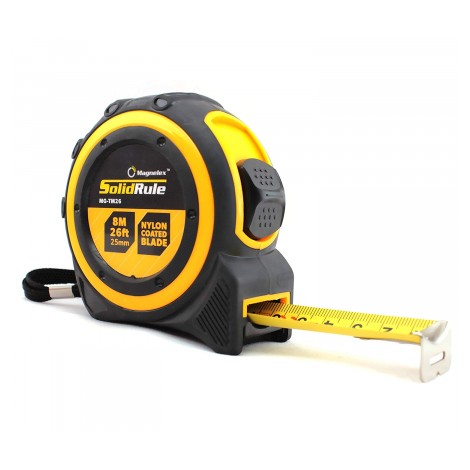 This option from Magnelex is the first product on our list that measures over 25 feet. Coming in at 33 feet, it gives you an additional 8 more feet of measuring tape just in case you need it. With 25 feet being the standard, we have found that 33 feet options will be more than enough. It is also another product that has dual markings of inches and metric measurements. If you are looking for a product that is longer than 25 feet, we highly consider this quality option from Magnelex.
Expand to see more
Durability
Magnelex knew exactly what they were doing when they designed this. It is made with top quality ABS rubber materials which were designed to protect your inner workings, the blade, and overall product. If your job requires you to work at great heights and you're worried about damaging your equipment if it is dropped, this option by Magnelex would be a great choice.
Easy to Use
This is made with great ergonomics. It is easy to use for beginners, novices and even professionals. This option made it to our list because of how easy it is to use. You will not have any issues extending and retracting it because of its smooth design. This compact product has a non-slip feature during wet conditions and will fit nicely in your hands.
Cost and Value
The Magnelex is a little pricier than other options on our list. But what makes it stand out is its 100% money back guarantee. This will make the perfect addition to your
toolbox
or as a gift.
Wrist strap included
Easy to use
Impact resistant to dropping
Easy and effortless recoil mechanism
100% money back guarantee
Blade end hook is not as sturdy as other options
Milwaukee Magnetic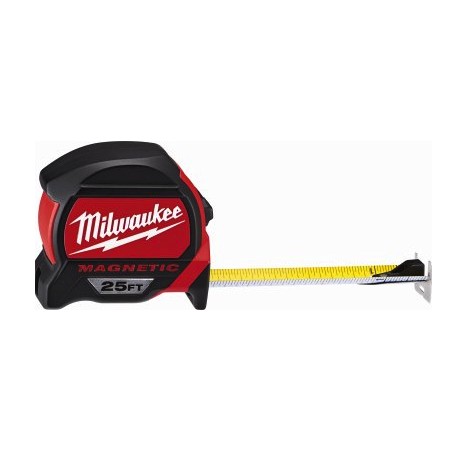 Milwaukee is an extremely
reputable brand that makes top quality tools
. You may be wondering why they would be making tape measurers too - well, if you have a set of tools from them, wouldn't you want to have a complete set, no matter how small the tool may be? Continue reading to see some of our favorite features of this product.
Expand to see more
Solid Construction
As we stated above, Milwaukee is a well-known brand and must live up to their standards. They have committed to constructing top quality products and this option by them meets the cut. Its five-point reinforced frame makes this tool extremely durable and solid. Also like other options in the market, this one is a magnetic model, therefore the inner workings do not consist of springs. This feature alone will extend the lifespan of your device. We have no doubt that this will last through any job you use it for.

Wider Blade
Another feature that makes this option by Milwaukee stand out is its 1.83-inch blade. This is the first blade on our list that is this wide. The standard blades are usually measured at 1 - 1 ¼ inch. This feature may seem minimal but it will help you read the measurements on your blade much easier.

Cost and Value
Even though this option by Milwaukee is pricier than other options on the market, it offers a lot of value. It is quite attractive and will no doubt, get the job done. If you are looking for a durable, wideband, magnetic tape measure, this would be the perfect fit for you.
The blade is protected by a durable nylon bond
Includes a finger stop which keeps your finger safe during retraction
Magnetic tape measure = no springs
Wide measuring blade, 1.83 inches
Sturdy belt clip and wrist strap
User-friendly
Stanley FatMax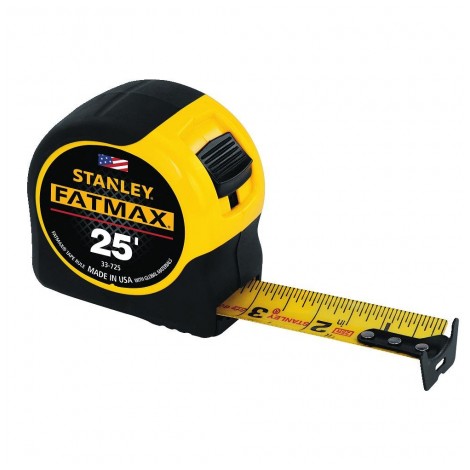 Here we have another Stanley product that lands on our top ten list. The FatMax is another one of their best sellers - no wonder it's on our list for a second time. In comparison to its older brother, PowerLock, this option is much larger and solid. It is not chrome coated but is made of very durable ABS plastic.
Expand to see more
BladeArmor
Our favorite feature about is the BladeArmor coating that is found on the first 3 feet of this tape measure. This feature is very unique because it is the same coating material that is used on Black Hawk helicopter blades. This industrial grade material will provide maximum protection and extend its lifespan. You can expect this measurer to last longer than you think!

Safety
As you just read above, FatMax is a solid choice. With this option, you will not have to worry about the blade cracking and tearing because of its durable mylar polyester film. Speaking of safety, have you ever pressed the button on a tape measure to retract the blade and it retracted so fast that it almost cut you? Well with this option by Stanley, you don't have to worry about that, your fingers are safe. Another feature that makes this product so safe is its top forward blade lock, this allows you to lock and unlock your blade with no hassle. Overall, this is a quality designed product and should be one of your top choices too!

Cost and Value
We would consider this product moderately priced. It's not as expensive as our Milwaukee option and not as cheap as the Komelon but it does offer a lot of value. You cannot go wrong with this product by Stanley, actually, you can't go wrong with any of the product they make.
Mylar polyester film extends the life of the blade
25 feet length x 1 ¼ inch width
11 foot stand out
Heat-treated springs
Bold markings on the blade
Simple to use
Limited Lifetime warranty
Others have stated that this product is durable but not as durable as its older brother, PowerLock
Lufkin Black Widow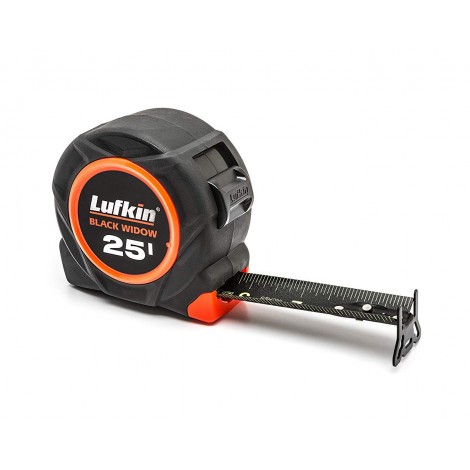 Whoa! A tape measure with a matte black blade? This is the first time we have ever come across such a unique design. The Black Widow is designed with a reversed color blade for
better visibility in low light conditions
. The highly visibly green cannot be missed when making your mark. This feature makes this product worth every penny!
Expand to see more
Durable Material
This product by Lufkin is made with quality materials. Not only did they put thought into the color of the blade and markings but the materials used are exceptional. The blade is made of Nylon and the end hook grips were designed to grip on all sides, which makes your measuring and marking more efficient. Lastly, this contains a sturdy rubber which is molded over the housing. This feature makes this tape impact resistant and extends the overall lifespan of this product.
Easy to Read Markings
As we mentioned above, the markings can be easily read. The bright green markings on the blade provide exceptional contrast on the matte black backing. No matter
how much light you have
, with this product, you will be able to read the measurements. Another reason why this product is so attractive is the fact that it has minimal glare. This will assist in being able to read the markings a well.
Cost and Value
The Black Widow is exceptionally priced. For its unique features, this is a steal. If you're looking for something different than the standard colored options on the market, we highly recommend adding this unique product to your toolbox.
10 foot stand out
1 3/16'' dual-sided blade
Easy to read
Simple to use
Works exceptionally well in dark areas
eTape16 Digital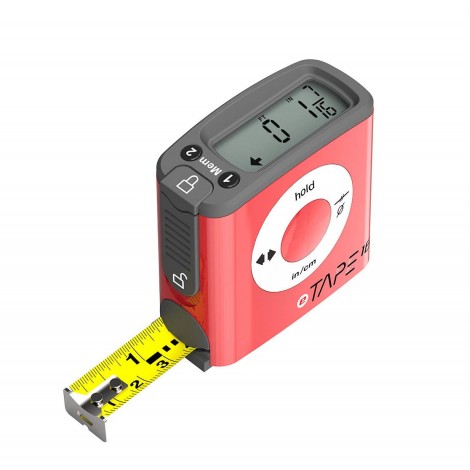 This product by eTape is the first digital option on our top ten list. As you may know, digital options are considered to provide the most accurate measurements. With this product, they took the standard tape measure and turned it into a digital one by adding a screen. Overall, this tool is worth reading more about below.
Expand to see more
Easy to Use
Isn't technology supposed to make things easier? Yes. With this option, measuring and marking are much easier than before. It has a large built-in digital screen that will show your markings clear. Also, if you need to add multiple marking, this will do that for you. One of our favorite features is its re-zero measurements, which allow you to re-measure at any time without having to retract the blade. How convenient is that?

Useful Features
eTapes offers a handful of other features. Not only can you re-zero your measurements as we stated above, but you can store up to 3 measurements in your memory settings. Another feature we found useful is the option to switch back and forth between Imperial and Metric measurements. With this device, it can automatically calculate the centerline of your measurement. Pretty cool features right?

Cost and Value
eTapes Digital tape measure is the most expensive option on our list but if you weigh the pros and cons of this product you will see why the price is that high. It is also water resistant and made of durable polycarbonate plastic. This was not only made to assist you while making measurements but it was also made to last. We believe you will enjoy this product!
Large digital screen
3 memory functions
Centerline calculation
Easy to use
Made of polycarbonate plastic
Must replace batteries
Pricey
Quickdraw Pro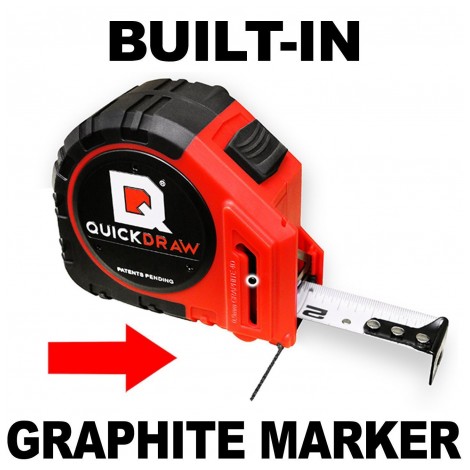 Quickdraws products are considered to be a game changer in the market for tape measures today. The Pro option is an excellent choice for someone who is looking for an all in one tool. It offers features like the graphite pencil and a handful of other useful features. Continue reading to see why we think this
contractor grade tool
is definitely worth the investment.
Expand to see more
Heavy Duty
The Pro design by Quickdraws is built to last. Its rugged construction is ideal for those who are on rough job sites and is made to withstand heavy abuse. Its case is secured by industrial star-drive screws that provide ultimate protection to its inner workings. Also, the rubber on the rubber blade locks will guarantee that you make more accurate marks, lines, and even radiuses. Heavy duty build for a heavy duty job!

Useful Features
We found that the built-in graphite pencil is one of the most useful features of this tool. This feature will ensure that all your markings are correct and accurate for 2000+ marks. Even when your graphite pencil runs out, they made it very simple for you to refill. Lastly, its patent-pending feature, TruView Wedge is used to helping you make the most precise mark with your graphite pencil. From our research, we learned that this indicator acts as a gun site, which eliminated the parallax effect. Overall, these features make this a great option!

Cost and Value
Definitely on the pricier side, this option by Quickdraw is well designed and exceptionally functional. With all the great features it offers, it is worth every penny!

Built-in graphite pencil for marking
Graphite pencil can be replaced
Easy to mark your measurements
9 to 12 foot stand out
Durable design
Option to make perfect radium or curve
30-day money back guarantee
Pricey
Must purchase graphite pencil refills
Criteria Used in Evaluation of the Best Tape Measures
In this section we go through the different criteria we considered when choosing the best tape measures for our list. We suggest you take notes, this will help you determine what option will work best for you.
Durability
You may think that all tape measures are designed the same, yes, you are correct but only to an extent. The rule of thumb is, the more durable your device is, the longer it will last. There are many options in the market today and if you are a professional you surely want to invest in one that will not only give you precise and correct measurements but one that will last you a while. From our research in the market, we found that a product that is built with a premium quality case and spring are very important and play a major role in the lifespan of your device.
A sturdy and durable case is key to preserving the tool itself. If you are on a job site and you drop your device, you want to make sure it will not crack or bust open. You also want to make sure the device fits comfortably in your hand, especially if you are using it every day. We found that devices made of durable rubber or ABS plastics last the longest. Also, like many options on the market, your device is most likely loaded with a spring. When searching for a quality device, we recommend you looking for one that has a heat-treated spring. This is a great feature because heat-treated springs are built to last longer than your traditional non-heat treated springs.
Length and Width
A 25-foot tape is the most popular length on the market right now. These tapes have a minimum width of 1 inch but you could find some that are 2 inches wide. We considered this feature in our research because we found that 25 feet is the new average. This option is not too short and not too long, giving you enough length to measure just about anything. In order for manufacturers to keep this tool small, compact, and easy to move around, they had to keep it around this length. You want to make sure the ergonomics of your tool suits your needs. The longer the tape, the more materials are used – making this handheld device heavier and uncomfortable to carry. If you are in search of a longer device, they are definitely out there.
Readability
This is another very important factor you must consider when purchasing a quality tape measure. Being able to clearly ready the markings will make your life easier when taking measurements. Many options today allow for you to read numbers upside down and are marked very large and bold. These options are the best because you can see the measurements the clearest. A device that has too many marking looks too busy and might not be suitable for a beginner or even a novice.
Other Factors to Consider
Ergonomics and Design
We considered this an important feature when searching for the best products on the market today. Ergonomics is defined as the study of people's efficiency in their working environment. With that being said, manufacturers believe that ergonomics plays a crucial role in your workplace. They have worked on designing products that fit your workplace and needs to increase your work productivity and efficiency. These are some of the factors that are taken into consideration: hook, belt clip, weight, lock, grip, magnetic or not, recoil system, and its overall construction. We found that products with fewer ergonomics are less favorable.
Price
As you already know, everyone's budget is different and will vary based on his or her needs. There are a handful of things you must consider when purchasing a quality product, and your budget is one of them. We suggest that you determine what your top needs are for the device and go from there. If your main concern is readability because you have a hard time reading small letterings, go with a tape measure that has a width of 2 inches. We found that the wider tapes have clearer markings because the manufacturers were able to print them much larger than on a 1-inch width space. If you plan to use this device every day and are on a rugged job site, you want to make sure you choose one that is durable and can withstand drops and even the outside elements like dirt, dust, wind, and rain. Don't worry, if you plan to stay within a certain budget, that is very doable because these products are affordable and will not break your bank. We guarantee that you will find an option that will work best for you on our list.
FAQ
Frequently Asked Questions
Q: How do I read a traditional metal tape measure?
A: We believe that this is the most important part of using this device. Having the skills to read your tape measure will ensure your measurements are correct. With that being said, it is also not rocket science to read. Wherever you hook your device is always 0, from that point on you will notice the measurements increasing. Your standard tape measure will have inches and feet marked for you to easily read.
Q: How accurate is a digital tape measure versus your traditional metal one?
A: We found that the digital option is actually pretty accurate, within an eighth of an inch. Many people have started using this option as an alternative to the traditional metal ones because you can measure up to 650 feet, verses on average 25 feet.
Q: How do you use a digital tape measure?
A: It is quite simple, all you have to do it put the device on the edge of what your planning to measure and then allow the laser beam to point in the direction you want it to until it hits the other end. Once you are content, al you have to do is press a button and the device does all the calculating for you. It will only take a few moments to calculate and then the measurement will show up on the screen. One of our favorite features about this option is that some manufacturers have designed for you to measure multiple distances and then giving you a grand total at the end. Overall, the process of using a digital device is similar to using the traditional tape measure – it is just your preference.
Q: The hook on the end of my tape measure is loose, is this normal?
A: Yes, the loose hook is a very important aspect of using your tape measure. We found that this is a key role in taking inside and outside measurements. With that being said, the hook affects your overall measurement because it has its own thickness. When you are measuring something on the outside, the hook is designed to slightly pull out and measure from the outermost part. On the contrary, when you are taking inside measurements, this will sit flush/ aligned with your inside edge. Investing in a quality product will ensure that your measurements are accurate every time.
Q: I keep noticing this small black diamond on my tape measure, what does this indicate?
A: Professionals know exactly what this black diamond signifies, but if you are a beginner or even a novice, you may not know. This black diamond is a very important marker for professionals. You will find that there is a diamond at every 19.2 inches and a total of five diamonds per every eight feet. These black diamonds are used as a marker for traditional stud and chimney measurements. Some may beg to differ and say that these measurements are not used as much today.
Subscribe to our Newsletter