Best Heat Guns Reviewed & Rated for Quality
last updated:
Nov 15, 2019
Although they find themselves on the outside of the "most popular power tools" club, our selection of best heat guns have more than enough uses for them to be worth your consideration. There is their most obvious use of shrink-wrapping plastic on windows and other items. However, they are also great for tons of different things, including drying and stripping paint, melting frozen pipes, and even removing adhesives. If any of these seem like things that you might be interested in, then you should read on.
Featured Recommendations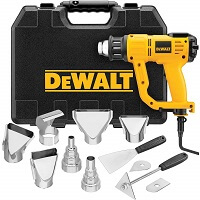 DeWalt D26960K

Our rating
Accurate
Price:

See Here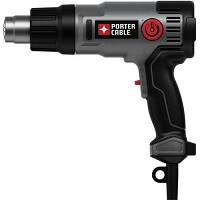 Porter-Cable PC1500HG

Our rating
Convenient
Price:

See Here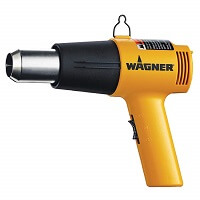 Wagner HT1000

Our rating
Great Value
Price:

See Here

But what should you look for in the best heat guns? This guide has done all the heavy lifting for you. It has searched the corners of the market to find the most powerful, most mobile, and most feature-packed heat guns on the market. So read on and discover some of the best there are on offer.
10 Best Heat Guns
DeWalt D26960K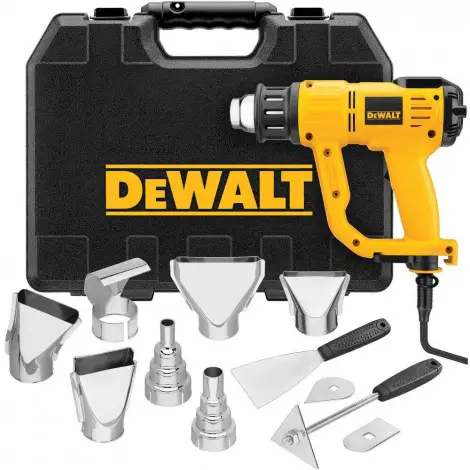 DeWalt has a few different options that you could choose from, but this option is the one that will cover the most ground, in terms of what it can do. It has lots of convenient features that back up the quick and powerful heat that you can get out of this thing. This option from DeWalt comes with lots of protective and durability features, as well.
Expand to see more
Fast and Effective
This is great when you want something that can very quickly heat up. It can get up to a solid heat that is suitable for any task that you need it to do around the house. It also gets there incredibly quickly.
It comes with an LCD display that you can use to quickly change the temperature of the gun in increments of fifty degrees. It will turn itself off once the interior has become too hot, which makes it easier for you to use it without worry.
Lots of Features
The DeWalt has an incredibly long cord that makes it less of a hassle that this isn't a cordless heat gun. It has a strong protector around the end of the cord that stops it from tearing if you pull on it.
There is even a hanging loop that you can leave the tools on when you aren't using them.
Cost and Value
The DeWalt is a little more expensive than some of the options you are about to see on this list. But it makes up for it with solid construction and tons of extras - features we have come to love from all
Dewalt hand tools
.
Besides the convenience of digital heat guns, this also comes with lots of other tools. It has attachments that you can use to focus the heat just the way that you want it, and it comes with tools that make soldering and tiling easier.
LCD Display
Convenient to use
Lasts for a long time
Powerful and effective
Porter-Cable PC1500HG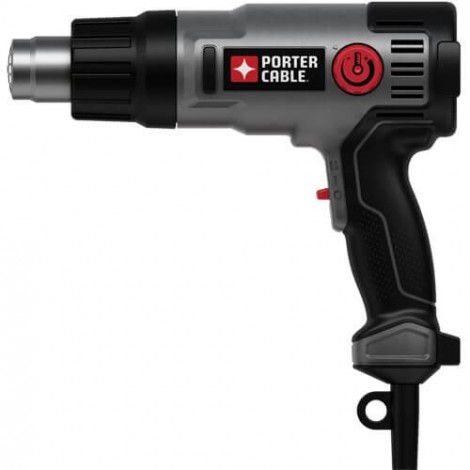 This is a simpler option that does a good job in all the ways that you could be looking for when shopping for a heat gun. It is 1500W, which makes it an incredibly powerful tool for all the applications that these tools are good for. The simpler design makes it a good choice for those who aren't looking for something overly complicated.
Expand to see more
Simple Design
The Porter-Cable is great for how simple the design of it is. It has two different fan speeds. The two settings mean you can choose what level of power you are going to need for a job. The lower temperature goes to 900°, while the higher speed works at a whopping 1150°.

There is a twisting temperature gauge that lets you change the temperature of the gun within an 800° range. This means you will have an easy time, whether you are trying to melt or trying to stick.

Sturdy Construction
The Porter-Cable has lots of little touches that make it easier for you to get any work done that you need. It comes with a stand that you can leave the gun on while it warms up. It can take a little time, so the stand is great for heating up and cooling down.

It also has a six-foot-long cord that lets you take your work with you.

An underrated feature is the light weight of the Porter-Cable. It packs a lot of power for how light it is.

Cost and Value
The big selling point of this option is that it costs a whole lot less than the DeWalt. It doesn't have the features or the power, but it costs about a third of the price. That makes it a great choice for those who want something cheaper that doesn't sacrifice much in the way of power.

This is a great option for a homeowner who wants a more powerful tool.
Loop for storage
Protected cord
Great value
Effective
Wagner HT1000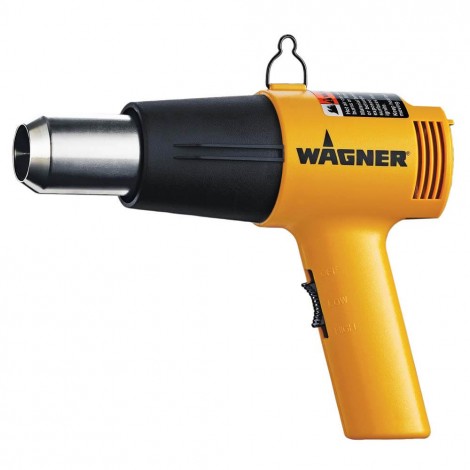 The HT1000 is perfect for those who want something simple and budget-friendly. It only has a few settings, but they cover all the uses that you might have for your heat shrink guns. This option has some features that make it convenient and for storage, and durable enough for long periods of use.
Expand to see more
Simple Design
Wagner comes with two different heats, which makes it easy to use for all kinds of projects. It has a 750° and a 1000° setting. On top of that, it has two different fan speeds. It makes for a simple piece of equipment that is still useful for a wide variety of tasks.

It is perfect for all kinds of uses, including shrink wrapping, the removal of adhesives, and caulking.

Durable Build
The gun itself is also made up of good quality materials. It features a very durable interior that can last for a long time. This makes it easy to leave it on and do work while you are doing something else. It has a stand that will help you achieve just that. It also has a small loop in the wire that makes it easy to hang anywhere in your home.

Cost and Value
The Wagner is a cheap option that is perfect for anyone who needs a heat gun but doesn't plan on relying on it for every project in the home. It performs well given its limited features.

The high level of durability and the thoughtful bonus features make it a good option for just about anybody. It is also the cheapest option in the top three, which gives it more than a few bonus points.
Simple design
Best value
Back frame for standing
Cools quickly
Black + Decker HG1300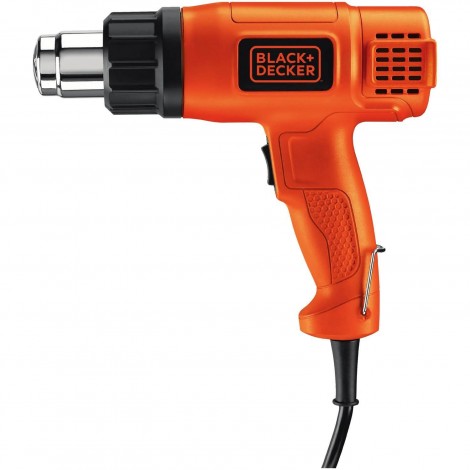 The HG1300 from Black + Decker is a great heat gun for home use. It has multiple settings for heat, which makes it very easy for you to get all kinds of different work done around the house. It also comes with a few features that will make it much more convenient to do some of the more extended tasks that a heat gun is used for.
Expand to see more
Strong Design
The HG1300's big advantage is how easy it is to use and handle. It is very lightweight, which makes it a breeze to use it for any kind of task that you need your tools for.

The functionality is also very simple. This is great for making sure that you can do whatever you need to do in the simplest way possible.

Other Features
The HG1300 has lots of extra features that make it worth a purchase. It comes with a stand on the back of the handle. This makes it easy to lay it down when it needs to cool off. It also has two different temperature settings - 750° and 1000°. This means that you have one tool that can do many different jobs.

Cost and Value
One of the great things about the Black + Decker is that it comes in at such a cheap price. For such a powerful little tool, it really is a surprise. It is quite a simple option, it doesn't have options for the fan speed, but it is a really great choice for anyone who needs something that they don't need to worry about.
Simple design
Powerful heat
Good options
Protected cord
Cartman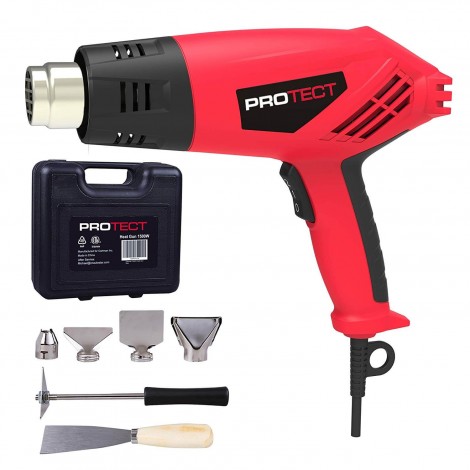 The Cartman is another simple option for those who want a general-purpose heat gun. The cool thing here is that it comes with tons of extras that will greatly improve the application. It is also lightweight and powerful, which makes it a good choice for those who want something that is as convenient as it is useful.
Expand to see more
Lots of Applications
The Cartman comes with tons of different options for those who want a tool that can do anything that they need. It has two heat settings, which are 750° and 1000°.

It also comes with lots of different accessories that will enable you to take full advantage of your new tool. This includes multiple vents that will allow you to concentrate the stream of heat, as well as tools for picking up tiles and scraping paint.

Design Features
Cartman is also a good choice if you want lots of convenient features that will make your life easier. The two different heats can be chosen with a simple press of the trigger. It makes it easy to change what you are doing on the fly.

It also has a protective wire base that makes the heat gun survive strong tugs and falls.

Finally, there is a loop that lets you hang it from a wall with ease.

Cost and Value
This is another very inexpensive option that you can look at if you want something that is effective but won't break the bank. It comes with lots of convenient little features that will make your life much simpler.

It even has a carrying case to hold all those extra tools and pieces that come with it. This is a hard one to beat in terms of value.
Comes with attachments
Great value
Comfortable grip
Long cord
Stalwart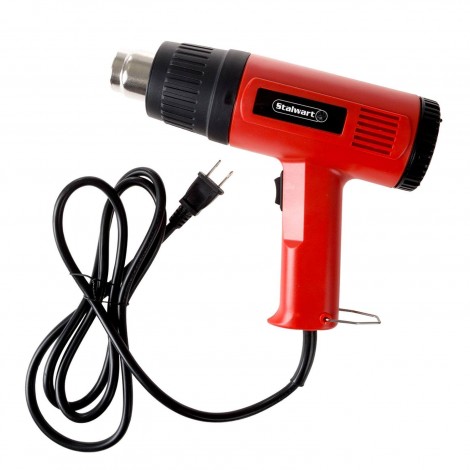 The Stalwart is a very well-constructed product that does a good job of keeping it together for the long haul. It has all the basic options that you've come to expect from this type of tool, but it does it all with a clean and secure package. It has multiple options for the kind of heat that you can expect, and it comes with a stand for cooldown.
Expand to see more
Durable Construction
Stalwart is a company that is well known for how they construct their products. They make them out of strong materials that you know will last. Here it can be seen in the well-attached cord, and in the housing of the gun. It means you don't need to worry about the heat damaging the inside or outside of it, and that it will be safe if you drop it from a height.

Other Features
There are some other features about the Stalwart that make it worth some extra mention. It comes with two heat settings. Interestingly, there is more of a range here between the temperatures. The low setting comes in at 575° and 932°. It means that you can expect a gun that works very well in all kinds of situations. This range gives you a bit more options in how you can use the gun, but at the sacrifice of power.

Cost and Value
The Stalwart is another very cheap option. It's perfect for people looking for something durable enough for the long haul, yet powerful enough for any task that you might have for it. This means you will be able to handle any task imaginable.
Durable design
Long cord
Good value
Won't get too hot
Milwaukee M18 Kit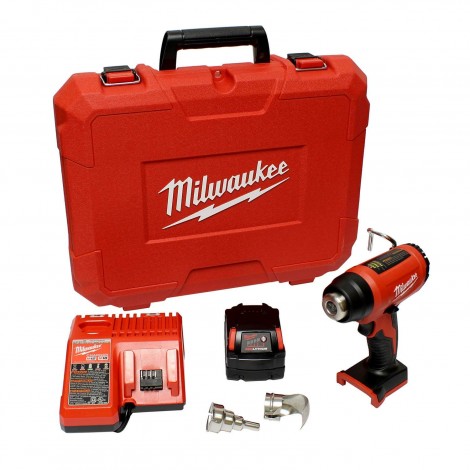 This kit from Milwaukee has more of a serious bent to it. It is also a battery operated heat gun, which makes it a great choice for those who have tasks that they need to work on all around the house. It comes with tons of different attachments and tools that you can use to properly handle any task that you need to tackle.
Expand to see more
Battery Heat Gun
Milwaukee is a heat gun that runs on a battery. That means a bunch when it comes to convenience for you. The cords of other guns usually run at around six feet. It isn't as much space as it seems. If you are working on a whole house, then you would have to unplug your gun and lose the heat. Not so with the Milwaukee gun. If you use a heat gun for larger projects, this is a must-own.
Powerful Design
The Milwaukee is also great for all the extra design features that are on display. It is designed so you don't have to wait for your heat gun to heat up. It will only take six seconds to get to the heat that you need. It operates at the same heat as the corded heat guns on this list, at a whopping 1000°. That means you don't have to sacrifice anything for the extra performance on display here.
Cost and Value
The Milwaukee has one thing that makes it a bit more of a risk than the other options on this list - its price. This is a good heat gun for those who use it on a regular basis. If you are a professional, then this will save you tons of time and headaches as you wait for your gun to charge, unplugging it and then plugging it in as you go. It comes with all the extras that you might need, too, including a carrying case and a battery charger.
Plus, it comes from Milwaukee - a highly-respected brand name that also offers a
variety of hand tools.
Battery-operated design
Comes with attachments
Powerful and long-lasting
Battery charges quickly
Firing Mini Hot Air Gun
This option from Firing is great for those who aren't about to take on any over the top tasks. This option is more for people who need something for crafts and precision DIY. It even gets rid of the large handle that you see on most heat guns. It isn't as powerful, but it makes up for it with convenience and precision.
Expand to see more
Mini Gun
The Firing is a small wand that you can use for all kinds of smaller crafts. It is perfect for shrink wrapping plastic without worrying about it melting, or removing adhesive from stamps and tape without damaging what was underneath.

It has a smaller vent for firing its heat, which allows for much more precision than some of the more heavy-duty tools that you might see on this list.

Convenient and Portable
Firing is also great because of how convenient it is to use. It only goes up to 200°, which makes it perfect for more gentle work. The gun will reach that temperature in seconds, which makes it much easier for you to get right to work.

It comes with a stand so that it can properly cool down when you are done. It is also designed with a long cord that gives you tons of room to move your work around.

Cost and Value
Firing is one of the cheaper options on this list. This isn't a tool that you will want to use for more serious tasks like removing tiles, but it does have its place when it comes to having a simple tool for smaller DIY and crafts. Firing is very convenient in this way. Its small size means that you have something that you can easily handle in more precise situations.
Unique design
Perfect for small projects
Comfortable grip
Cools quickly
Mowis Heavy Duty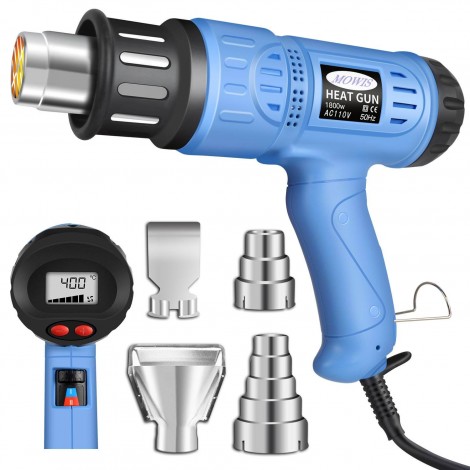 This option from Mowis is one of the few heavy-duty digital heat guns that you can use reliably at home, or at the office. It is designed with a very powerful motor than allows for it to get up to incredibly hot temperatures. Despite that, it also can be used for all kinds of other uses, even tasks that need a light touch, like shrink wrapping.
Expand to see more
Digital Design
The Mowis provides a lot of different options for how it can be used. This is all thanks to the LCD display that it has. It makes it very simple for you to see exactly what is happening under the hood. It has two temperature settings, and two fan speed settings, which offers even more in terms of how to approach a problem.

Other Features
Another cool thing about the Mowis is that it has been designed to do all the heavy lifting when it comes to keeping the gun safe. It has a built-in overheating mode that will turn off the gun when it has reached too high a temperature.

It also has a cooling mode that you can use to quickly cool down any materials that you have been heating.

On top of that, it can detect if the interior has become too hot, which means that it will last for a long time.

Cost and Value
The Mowis is a great digital heat gun that you can rely on for many tasks. It has enough options that you will always be able to choose what you are doing. It is also designed with safety in mind, which takes that load off your mind.

The LCD display means that you always know what you are doing, and it even comes with lots of attachments so you can specialize in your work.
Powerful design
Lots of equipment
Versatile uses
LCD display
Wagner HT400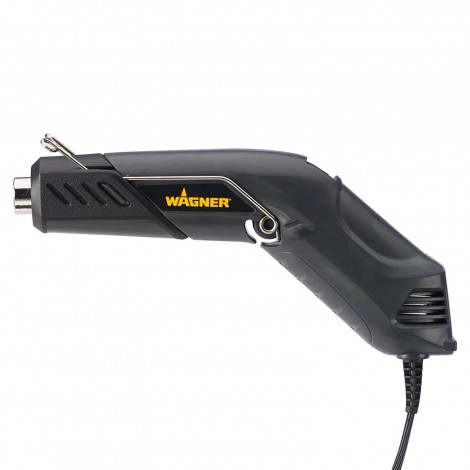 Wagner has made another appearance on the list. This is because they created a new style of a heat gun that has many advantages over some other options that appear here. Their redesigned heat gun comes with a more compact frame that is perfect for those who want something that is easier to handle than the larger options that you might see here.
Expand to see more
Compact Design
The HT400 is perfect for those who want something that is easy to handle. Many heat guns have a larger profile that makes it more difficult to use it for precision operation. The bulky tops of the other options here have been replaced by the streamlined and sleek appearance of the new Wagner. You'll feel more comfortable using it and it can be used in more hard to reach areas.

Multiple Ways to Use
Wagner is also a good option because it gives you multiple ways to use the tool. The gentle curve of the handle makes it much easier for you to hold it both in your palm and as a pen, like with the Firing. That makes it perfect for more precise uses that need you to have more precise aim, like soldering.

The frame attached to the back also makes it very easy to use it in a hands-free mode. This opens up your hands for holding your materials above the heat gun.

Cost and Value
The Wagner redesign is a great choice for anyone who wants something versatile and comfortable. It can be held in three different ways, which lets you choose how to handle today's task. It has two temperatures it can be operated at. These are 680° and 450°.

It is a little less powerful than other options but is perfect for those who want something for more minor tasks.
Can be held multiple ways
Powerful for size
Versatile uses
Frame works like a stand
Not as powerful as others
Criteria Used in Evaluation of the Best Heat Guns
Heat guns are an essential tool in any handyperson's arsenal, which is what makes it so vital that you have the right one for you. It is especially important to consider things like their power, adjustability, and other things that have to do with how well the heat gun can handle itself in tasks. The following criteria are what were considered when ranking these tools.
Power
A heat gun that isn't hot is not much of anything, really. It is a warm fan. Luckily, the options on this list are all hot enough that you should be able to do basic tasks with them. There are different levels of heat that you might want to consider when you make your purchase. If you're going to do the more serious tasks, such as the removal of paint or tiles, then you should look into getting the most powerful options.
The top three are all excellent options for this, but a few options here are more about crafts and smaller tasks. The wattage of the heat gun is a good place to check for this.
Adjustability
Having options is always a good thing. This is especially true of heat guns. It can change how you are going to use your tool. The top power tool option from DeWalt allows you to adjust your temperature at increments of 50 degrees, but most options only allow you to change the gun to two different settings. The seriousness of your task is going to be what determines what option you should choose.
Another cool feature is that you can change the speed of the fan in the heat gun. It makes it much easier for you to choose the strength of the fan. Some things don't need hard air blown at them.
Portability
Something crucial for a heat gun is how easy it is to carry around. Many guns come with cords as it is a more reliable way to get constant heat aimed at a project. There are also battery-operated heat guns, but they cost more for that extra strength. If you can afford that extra bit of money, it is more than worth it.
For all the other options on this list, it is essential to look at that power cord. It needs to be long enough that you can get all over the place without turning off the gun. It takes a little time for the heat gun to warm up, which means that unplugging it and moving it to an outlet is going to be quite the hassle.
Protection
Blasting 1000° of hot air can be a dangerous prospect. Many of these guns have been designed to keep you and the gun protected. One thing to think about is that leaving the heat gun on for too long can damage the interior.
Many companies have opted to have an automatic turn-off once the interior gets too hot. This kind of feature is great for those who want to be able to keep working without worry.
Value
There are lots of different prices that you can see among the options here. Heat guns come in all kinds of flavors. Many options are designed more for the amateur home builder than the professional. The significant jump in price is usually the biggest indicator of who the tool has been designed for.
Battery packs and digital displays are expensive additions to heat guns, but they do make the experience of using them much more enjoyable. This is something to consider when you make your final purchase.
Other Factors to Consider
These next factors do not factor into the ranking of the heat guns listed above, but they are just as essential to make sure that you can find the right gun for you.
Digital Settings
A digital display is a quick way to have a more accurate idea of what is happening in your gun. Without this, there is often a feeling of hoping that the heat gun is doing what it says on the box. A digital display will make you feel much more in control of your tool.
The bad side of this is that it jumps the price up by quite a bit. If you are using it for duties around the house, or for a one time DIY project, then you might be able to live without it. On the other hand, if it is going to be a constant weapon in your arsenal, then give it a thought.
Attachments
Having a heat gun is not quite enough in many situations. There are many attachments and extras that will make your life easier. Something that might lean you more towards one option over another is these extras.
There are lots of attachments that can be placed on the head of the heat gun that will make the heat more focused on a specific area. This makes them more useful for precision jobs. Some attachments will widen the range of the heat, which is helpful for the same reason.
Features
There are also lots of other design decisions that will make your heat gun much more useful. This includes things like the ability to use it without your hands. This can be seen in the small metal frame that is often attached to the back of the gun. This can be used to heat something while you are handling it with gloves. It is perfect for precise jobs that need both of your hands.
Another useful feature is the ability to loop the heat gun on a hook. It makes it much easier to store a tool that is as awkward and bulky as a heat gun.
FAQ
Frequently Asked Questions
Q: What can you use these tools for?
A: Heat guns are funny because many tool aficionados can go their whole lives without having one in their shed. On the other hand, these tools are great for a wide variety of uses. They can melt adhesives without damaging the parts that they are attached to. They can thaw frozen pipes. They are great for removing tiles off of floors. They are often used for shrink wrapping plastic onto windows in the winter, too.
Beyond that, people have found many uses outside of the norm for them, too. Perhaps they are not as suitable for hair drying, though.
Q: Are they safe?
A: There is a wide variety of new things that you need to consider when using a heat gun. It is a good idea to wear safety goggles and a mask when using a heat gun. This is because of the fumes that can be released by whatever it is that you are melting. This is especially true for paint, as old lead paint is incredibly toxic to humans.
Another thing to consider is to make sure there isn't anything that could be lit on fire easily, such as hair or paper, in the way of the heat gun. When using the heat gun, it is a good idea to move the heat gun as you are using it. Leaving it aimed at one spot can easily damage whatever you are pointing the gun at. Try to keep the gun moving in small circles as you work.
Subscribe to our Newsletter