Best Spare Tire Covers Reviewed & Rated for Quality
Owning a vehicle is an expensive endeavor once you factor in insurance, the price of gas and your yearly upkeep costs. You need to make sure you're protecting your investment by equipping yourself with the best equipment that can preserve the lifespan of your vehicle components. One of the necessary items to keep in mind when preserving outside vehicle components are spare tire covers.
Tires are a very integral part of the operation of your vehicle. To avoid having to replace your tires year after year and season after season, you will need to find a way to protect them. Whether you are planning to extend the lifespan of the tires on your RV, personal vehicle or trailer, investing in an exceptional cover will aid you in this endeavor.
Featured Recommendations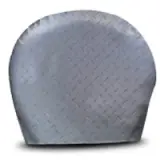 ADCO 3753

Our rating
Heavy-duty Quality
Price:

See Here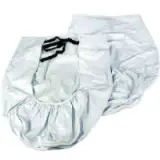 Camco

Our rating
Top Performance
Price:

See Here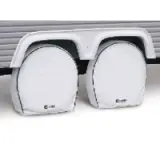 Classic Accessories Deluxe

Our rating
Exceptional Value
Price:

See Here


This minimal investment can save you hundreds of dollars if you need to purchase new tires due to damage. Don't worry, with so many options on the market, we have already gone through and reviewed the 10 best tire covers you could buy. Continue reading to find out which options work best for you and will help you save money!
10 Best Spare Tire Covers
ADCO 3753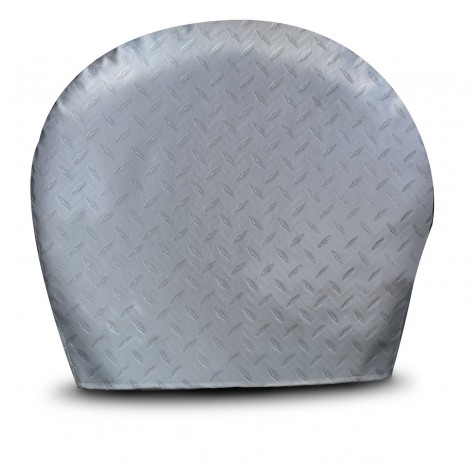 Coming in our number one spot is this two-pack option by ADCO. Its diamond plated vinyl fabric will keep your equipment safe from harmful UV rays, rain snow, dirt, and scratches. This product is very favorable to those who are currently searching for an option that offers durability, curb appeal and is affordable. Whether you are storing your vehicle in your garage or parking outside, we believe that this option by ADCO is a great investment.
Expand to see more
Durable Material
This product by ADCO is made from durable diamond plated vinyl fabric. It will fit tires that measure between 27'' and 29'' in diameter. When your vehicle is parked outside, you not only want to make sure it is safe, but you should make sure the tires are safe too.
With this option, you will not have to worry about the outside elements damaging your equipment. Whether you live in an area that gets a good amount of rain or snow, this cover will withstand those conditions.
Easy to Install
Once you receive this product, you can install it immediately. The best part is, it will only take a few moments to install - given that you ordered the correct size. Many customers have noted that this product is
true to size
, if anything, purchase the next size up.
Therefore, if you are unsure of the size, measure it first. Once you install this product, there are rear straps which assist in holding your cover in place. Yes, it is as simple as that!
Cost and Value
This option by ADCO is exceptionally priced for what it offers. If you are planning on storing your vehicle and worried about your wheels being exposed to the elements - you will not have to worry with this cover! We believe you will enjoy using this product. Additionally, this product comes with a 3-year manufacturers warranty.
Made with heavy-duty vinyl materials
User-friendly
Simple to install
UV ray resistant
Comes as a 2 pack
3-year warranty
True to tire size - measure correctly or purchase the next size up
Camco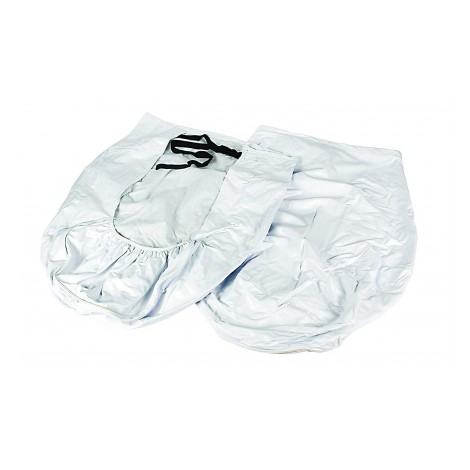 Are you looking for a quality product that is reasonably priced? This option by Camco is designed to install onto your tires quickly and provide
exceptional protection
. Our favorite feature about this product is how easy it is to install and remove. Additionally, this item is extremely durable and you'll be amazed at how long it will last. We believe this product should be highly considered, especially for its price!
Expand to see more
Buckle and Strap Design
This option by Camco offers six different sizes that you can choose from to ensure an exact fit. The product has a buckle and strap design which makes it easy to install and remove. The straps are made of canvas fabric and the buckle is made of strong plastic. This feature will keep it securely attached, withstanding heavy storms, winds, and even dirt.

Quality Material
This product is made of quality vinyl material. This type of material will provide protection from harmful UV rays, rain, dirt, corrosion and the like. The vinyl material makes this product extremely durable against any weather condition your vehicle may encounter. Many people who have bought this have expressed the joy they've had from purchasing and using this product. We guarantee that you will enjoy it just as much as well.

Cost and Value
Camco offers an excellent product at an extremely affordable price. This option comes as a two-pack and is recommended for indoor and outdoor use. It is easy to install, remove, and clean. This option offers great quality and highly recommended. Plus, with this item, you have a limited 1-year manufacturers warranty.

Weatherproof for long-lasting use
Offers multiple size options
Strong materials and compact
Buckle and strap design
Comes as a 2 pack
Limited 1-year warranty
Must purchase the correct size or larger to ensure fit
Normal wear and tear from use and extended sun exposure
Classic Accessories OverDrive Deluxe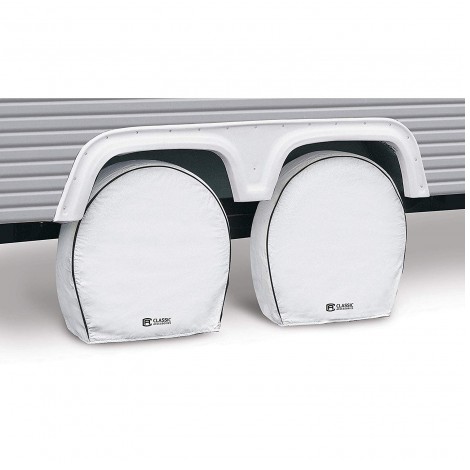 Landing in third place on our list is this great option from Classic Accessories. Their OverDrive Deluxe will keep your wheels protected from harmful UV rays, rain, dirt, and
other weather conditions
. This option comes in a 4 pack and also offers multiple sizes to choose from that will closely align with your needs. Overall, OverDrive Deluxe is one of the best options on the market today.
Expand to see more
User-Friendly
This option by Classic Accessories is very easy to install. Basically, once you receive it, all you have to do is place it over top. It is designed with an elasticized back panel which will ensure a perfect fit. There are also two rear eyelets that assist in securing its bottom flap with its included rope.

This product is made with durable vinyl fabric that is easy to wipe clean. Another one of our favorite features is its non-scratch backing. This feature will protect your wheels, not only from scratches but the accumulation of dust and dirt.

Exceptional Customer Service
From our research, we discovered that many buyers choose this product over others on the market because of the amazing customer service they receive from Classic Accessories. This is a very favorable feature because the last thing you want to happen is for your equipment to get damaged.

They are known to have the industries best hassle free warranty program. If your product fails and falls within your warranty period, you will not have to worry - Classic Accessories will provide you with the customer service you are looking for.

Cost and Value
Looking at Classic Accessories price tag for this set might make you shy away, but take a step closer and see exactly what is included. Many other options on the market usually only come in a 2 set pack, while this one is a 4 pack.

This is very durable and will last you for many years to come. We believe that this product is well worth the investment alone because of its warranty program.
Easy to clean
Simple to install
Can fit a variety of sizes
Made with durable vinyl fabric
Scratch proof
Includes bag for storage
3-year warranty + hassle free warranty program
Some customers have indicated that they received the wrong size
Susceptible to discoloration
AmFor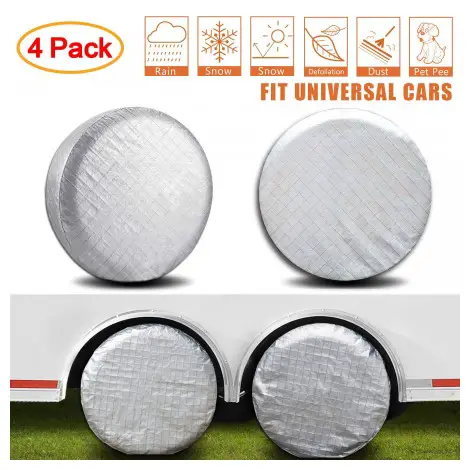 If you are in search of a product that will keep your tires safe whether you are parked in your garage or outside, AmFor is the perfect option for you. This 4 pack option by AmFor fits 33'' to 35'' diameters and offers a list of features that you will not want to pass up. From the materials this product is made of to its premium design, this option will extend the lifespan of your equipment. Additionally, this was made to be used year round and in any type of weather condition. Its performance is one for the books!
Expand to see more
Durability
This product by AmFor is made of heavy-duty aluminum film material on the outside and a thick cotton wool lining on the inside. It is 100% waterproof and with its unique hook design, it will withstand strong winds and storms. This design makes sure your cover will fit securely. Overall, this is a great option that will provide protection to your wheels from harmful UV rays, rain, corrosion, and rust.

No Tools Required
This option by AmFor is exceptionally easy to install and remove. The best part about it is that this product does not require you to use any tools. Others have stated that this product functions excellently on hot sunny days and will withstand winds that are over 40mph. We highly suggest this product no matter if your vehicle is parked indoors or outside.

Cost and Value
The AmFor offers a very attractive price and it comes as a 4 pack. As we mentioned above, this product will protect from sun damage, storms, corrosion, and rust. We know how important it is to protect your tires and if you don't you are at risk for possibly on-road blowouts and pricey replacements. In conclusion, this product offers great value and is affordably priced.
Durable aluminum film material
Simple Installation
100% waterproof
Wind resistant
Thick cotton wool lining to prevent scratches
No tools required to install
Materials can breakdown over time based on usage
Leader Accessories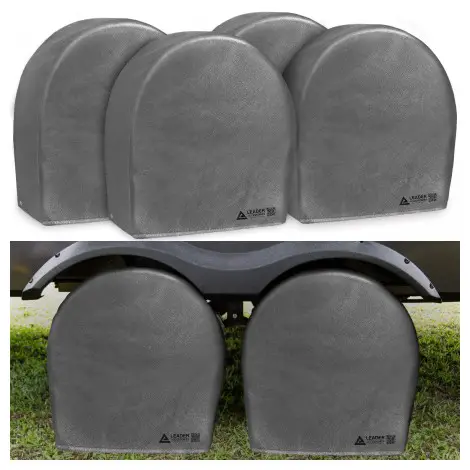 Leader Accessories offers a top quality product that is made to provide maximum protection. You'll find that this product is made from premium materials and performs exceptionally well under any type of weather condition. This 4 piece set also comes in 5 other sizes so you can choose the one that works best for your needs.
Expand to see more
Heavy Duty
Leader Accessories is known to have designed the toughest option on the market. Their products are made with the most durable waterproof vinyl there is. A very unique feature about their products is the UV stabilizing treatment used for their covers. This feature will ensure that your equipment is
protected from the sun
, therefore expanding its lifespan. This option by Leader Accessories is also designed with a non-scratch, soft cotton backing to protect your wheels.
Secure Fit
Leader Accessories offers several sizes to make sure that you find the right fit for you. This product is made with quality material that will fit snug.
Cost and Value
This option offers great features at an affordable cost. It will make a great addition to your vehicle while keeping your tires safe.
Heavy-duty waterproof vinyl
Exceptional customer service
3-year warranty
The manufacturer may ship the wrong size
Classic Accessories Standard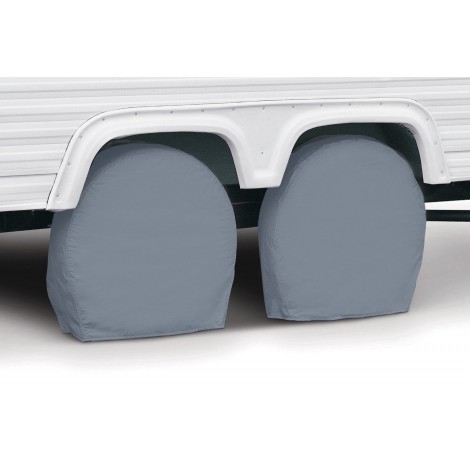 Another Classic Accessories product makes our top ten list and it doesn't surprise us one bit. Classic Accessories has been around for a long time and many people trust their name and products. This option offers
top quality protection
against all the outside elements. This product comes in three different colors and nine sizes to choose from to ensure your equipment is fully protected.
Expand to see more
Secure Fit
This option by Classic Accessories comes in several different sizes and you should not have any issues finding one that will suit your needs. This product attaches with an elasticized back panel that is a secure fit to protect them against exposure to different weather conditions, dust, and dry rotting.
Easy to Clean
Like many products made by Classic Accessories, it is very easy to clean - all you need is some warm water, gentle soap, and a soft cloth. It is recommended that you use a soft cloth so it doesn't scratch the vinyl material on its face. You will not have to clean the inside as often as the outside since it's not exposed to the elements. But if you do end up
having to clean it
we suggest that you be cautious because it is soft and made of cotton.
Cost and Value
As we mentioned above, Classic Accessories is a trusted brand that designed top quality products. We highly recommend this product because it offers great value for the cost, comes as a 2 pack and has a 3-year warranty. What can get better than that?
Easy to slip on and off
UV resistant
Durable vinyl material
Simple to clean
Comes as a 2 pack
Exceptional customer service
3-year warranty
Recommended to purchase the next size up
Explore Land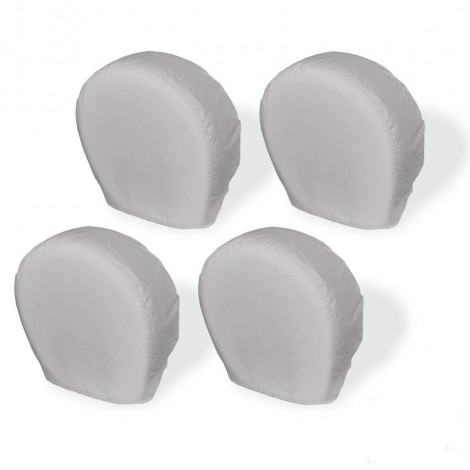 Here we have a great product by Explore Land that comes in a 4 piece set, has 4 sizes to choose from and comes in 3 different colors. This option from Explore Land is great because of its exceptional value and features. If you're searching for all season cover, Explore Land's products are an excellent choice. Whether you are installing these to your car, trailer, or RV, you will have the peace of mind knowing your equipment is protected.

Expand to see more
Durability
Explore Land is made of heavy duty water resistant vinyl that includes UV stabilized treatment. This product will keep your tires safe from rain, snow, storms, dirt, heavy winds and the like. With its unique UV stabilized treatment, they are protected against heat and harmful UV rays that can cause serious damage down the road.

Quality Protection
This option has an elastic cord with an auto-lock design that makes it fit securely. This cord also allows for easy installation and removal. Overall, this all season cover will check off all your boxes during your search. We guarantee that if you choose this product you will not regret it.

Cost and Value
Explore Land comes as a 4 piece set and offers a 3-year warranty. It is not as cheap and not as expensive as other options on our list but this option will not break your bank. We guarantee that you will benefit from this item and it will be worth every penny!
Simple installation
Includes an elastic cord w/ auto lock design
All season
Durable materials
Comes as a 4 pack
3-year warranty
If not properly cared for, the vinyl may start to wear and tear
ELUTO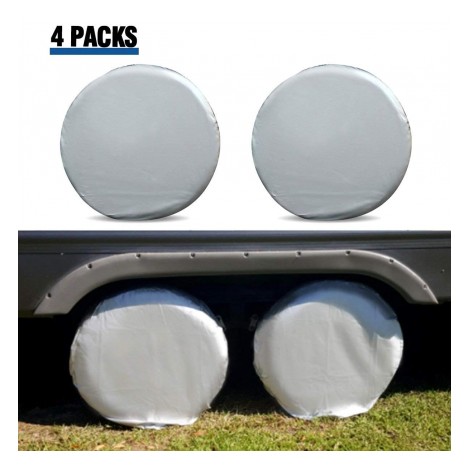 If you live in an area where it is cold and snows a lot, you should highly consider this waterproof option by ELUTO. Its lining is made of Oxford and cotton wool which is known to provide maximum protection. This option is safe to use on your tires and is exceptionally durable to withstand mother nature's elements. If you want to have the peace of mind knowing that your equipment is safe and protected, continue reading to find out more about other features we considered.
Expand to see more
Easy Installation
Here we have another product that has the hook design. This design makes it extremely convenient to install and remove. You may not think this design is durable but ELUTO has tested it and it has withstood strong winds and cold weather. This is one of the most popular designs for this product. It will prevent the cover from blowing away into the wind and it ensures that it fits snug.

Additional Protection
Not only is this option by ELUTO easy to install but it also provides excellent protection. The materials used for this product will protect your tires from damage, dust, dirt, and corrosion. Meanwhile, the cotton wool lining on the inside will protect them from damage resulting from frost and other bad weather. You get the best of both worlds with this product.

Cost and Value
During our research, we were quite surprised to see that this option provided protection against frost. Many products on the market only protect against heat, dirt, rain, etc. ELUTO offers high-end quality items that will protect your tires. This product is affordably priced and even includes a 1-year warranty.
Offers protection against frost
Hook design for installation and removal
Oxford and cotton wool lining for maximum protection
Offers two size options
1-year warranty
Leader Accessories Spare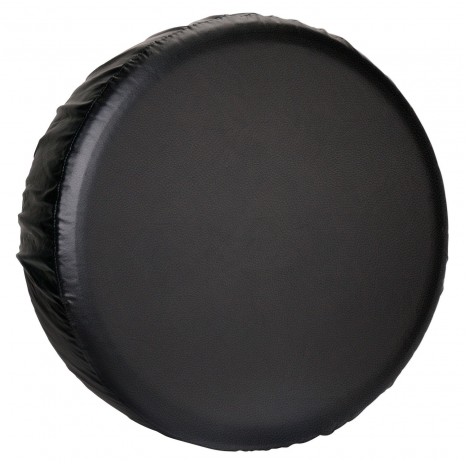 If you are searching for an option that will protect your spare, this product from Leader Accessories is the perfect match. It offers top quality, excellent features, and multiple sizes and colors to suit your needs. It is made with durable materials and is expected to be used on a daily basis. Protecting your spare is extremely important and we believe that investing in a quality cover will not only extend the lifespan of your tires but will be ready to use in case of an emergency.
Expand to see more
Heavy Duty
The last thing you want to happen while you're on the road is you go to use your spare and its damaged. Using a heavy duty product will ensure that it is kept safe and usable. No matter where you keep your safe, we recommend that you purchase a cover.

This option from Leader Accessories is great because it is made with the thickest materials on the market and uses heavy duty premium quality vinyl. It has been tested and it will perform exceptionally well under any weather condition.

Ease of Use
This product from Leader Accessories was designed with reliability in mind. Its buckle and hook design are easy as you think it is. Installing this product onto your spare will take a few seconds - if you purchased the right size of course. This feature is favorable to those who are seeking a quality product that is easy to install and use when needed. With this new design, you will have the peace of mind knowing that your spare is covered and locked.

Cost and Value
Even though this comes as only one item, it is reasonably priced for the quality it provides. We believe this is definitely worth the investment for top protection and everyday use.
Heavy-duty waterproof vinyl
Soft cotton backing to prevent scratches
UV and mildew resistant
Double-needle stitching and overlapping seams
Made to be used during all four seasons
Elastic band can only tighten so much
Fasmov Spare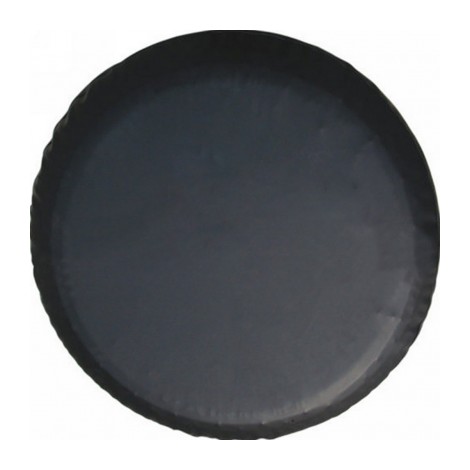 Fasmov is a lightweight, easy to install, waterproof option that offers optimum protection against harmful UV rays, rain, dirt, corrosion and any type of weather conditions. Whether you are using this to cover your spare on the vehicle you drive daily or using this to protect a tire that is parked, this product will keep your tire safe.
Expand to see more
Easy Access
This option makes it easy to access your spare tire when you need too. The elasticized hem located in the back of the cover makes it convenient to fit and adjust to tires that measure 27'' to 30'' wheel diameter.

High Quality
Fasmov is made of quality waterproof and weatherproof materials. This option is great at repelling the sun, rain, dirt, and dust. You will extend the lifespan of your tire with this quality cover. With this product, your tire will be protected from the elements on the road.

Cost and Value
This option from Fasmov is very affordable and is a great option for someone who is looking for a durable spare tire cover that is under $15. It offers great protection and will not break your bank. We believe you will enjoy this product.
No tools required to install
Waterproof
Non-scratch backing
Adjustable fit
Curb appeal
Will only fit a wheel diameter of 27'' to 30''
Whether you are looking for a cover for your spare tire, personal vehicle tires, or trailer tires, there are so many options on the market now. As you know, choosing a product with so many options may be overwhelming. With that being said, we suggest that you determine what is your absolute need for the cover and go from there. Investing in a quality product is important for protecting your wheels and tires from the outside elements. Neglecting your tires can cause serious problems and can possibly put you and others in danger. Tires that are not protected can dry rot, crack, and even cause a blowout on the roads. This buying guide extensively went through the ten best tire covers on the market today. We guarantee that one of these will work for you and keep your tires safe for your next road trip!
Criteria Used in Evaluation for the Spare Tire Covers
Protection
You may be wondering why you might need a tire cover, especially if you are planning on parking your vehicle inside a garage. Well, investing in one of these products has many perks. If you are parked outside and live in a place where you experience hot and sunny summers, your tires may be exposed to the sun more than you think. Too much sun exposure causes harmful UV rays to damage your vehicle. Investing in a cover can save your tires from these harmful UV rays.
Another perk of purchasing this product is the fact that it is water resistant and weatherproof. For instance, when it rains or snows, it will cover your tires and you won't have to worry about them breaking down so quickly.
When your tires are not protected and are exposed to the elements, they may also develop corrosion, rust, dry rotting and cracking. All these issues can be avoided by investing in a quality cover. The last thing you want to happen is for a blow out to occur while you are on the road. The price cost for this investment is minimal compared to the hundreds you may pay for new tires.
Size
It is suggested that you measure your tires before purchasing its covers. You want to make sure that the product fits correctly around your wheels and tires. If you buy one too big or too small, you risk exposing them to the elements and decreasing its overall lifespan.
Durability
One of the most important things you need to consider when purchasing a cover is its durability. What type of materials is it made of? Is it heavy duty? Is it waterproof?
You will have the option to choose between a hard and soft cover. Just like the name says, a hardcover is hard and is your most durable option. Most of these products are made of heavy-duty materials like molded plastic and even stainless steel. They are usually made of two parts – a faceplate which covers the front of the tire and a ring which wraps around the tire. This locks into place with a latch or clamp to ensure it is secure. Most people invest in this style if they are only planning to cover one tire.
On the other hand, soft styles are much more flexible, especially since they are made from durable vinyl materials. They go around the tires from the front and is tightened in the back with an elastic band. With this style, you have more variety of colors and designs to choose from. Also, we found that higher quality options include an interior pad for additional protection. Even though this option is more versatile, it is not as durable and will not last as long as a hard one.
We highly recommend choosing an option that is made with heavy-duty components, weatherproof, and waterproof. This will ensure that your tire is kept safe from any weather conditions. Choosing a good product will extend the lifespan of your tires.
Curb Appeal
Investing in a quality made product will also look good when in use. While you are parked or in storage, this will keep them looking newer. When you protect your tires from any type of weather condition, they last longer. Therefore, also saving you money to not have to buy new tires every season.
Other Factors to Consider
Budget and Warranty
As you can see with our list, we researched a wide range of options that you'll be able to choose from. If your main concern is staying within a certain budget, we guarantee that there is a product on our list that will check off all your boxes. As a rule of thumb, you always want to make sure that there is an even balance between the quality of the product and how much you paid for it. As many of you would agree, "you get what you pay for". But just because a product is expensive, doesn't mean that it is made to last. Therefore, you want to make sure that whichever option you purchase, you get your money's worth. There are a handful of options on our list that come with manufacturer warranties. It wouldn't hurt to consider those that come with it. Having a warranty will ease your mind if something unexpected does happen to your cover.
FAQ
Frequently Asked Questions
Lastly, you will find a handful of questions that are frequently asked about tire covers. Keep in mind, everyone's circumstance and uses for this product are different, but we believe that these questions were the most important and should be shared.
Q: What is the best type of material for a soft cover?
A: We believe that the best soft covers are made from vinyl material. We found that this option is the most durable, waterproof and is UV ray resistant. If you are still on the fence about the durability of a soft cover, we suggest giving a hardcover option a shot.
Q: Are canvas options waterproof?
A: Even though the canvas is extremely durable, it is not waterproof. Although this option will still provide protection to your tires, it is unknown how long they can last during rainy and snowy seasons. If you are concerned about this, we suggest choosing an option that is made with vinyl material.
Q: Why do I need to invest in these if I will be parking my vehicle in the garage?
A: Even though your vehicle will not be exposed to the weather conditions outside, your tires may still collect dust and dirt. As small as this may seem, it can still cause your tires to deteriorate. Covering them will keep them looking newer and safe.
Q: How can you clean it?
A: From our research, we found that these products are very easy to clean. You do not have to invest in expensive cleaning products, all you have to do is use some warm water, gentle soap, and a cloth. It is best to not use abrasive cloths when wiping its surface, this can break down your cover, especially if it is a soft one.
Q: Why should you invest in one of these anyway?
A: Whether you are looking for a cover to use on all your tires or just your spare, it is important to have them shielded from the different weather conditions. Even if you live in an area where it doesn't rain much, your tire(s) can be damaged by the heat and harmful UV rays. Without spare tire covers, this can break down and shorten the lifespan of the tire. Covering your spare will give you peace of mind when you need to actually use it since it will be ready to go.
Q: How do I know what size my tire is?
A: This is quite simple, on the tire's sidewall, there are numbers printed there. These numbers are the measured diameter of your tires. If you want to double check the size, you can take a tape measure and measure from the bottom of the tire to the top.
Q: When I am not using my cover, how should I store it?
A: It is recommended that when you are not using the cover, you store it in the box that it came in. If you no longer have that box, you can place it in a different box or an area of your garage that is dry and out of the sun. Storing your cover is essential to add to its lifespan.