Best Work Gloves Reviewed & Rated for Quality
From construction jobs to simple household tasks, your hands get exposed to many treats. How many times did you end up with a nasty cut on your palm or with annoying calluses that don't let you hold anything for weeks? Whether you're fixing your car, gardening, welding, or doing small repairs around the house, you can get seriously injured during the process. We all tend to disregard the need for hand protection when we work, but we shouldn't take our own safety for granted. There are simple things that we could do to prevent cuts, abrasions, and bruises, and wearing work gloves is definitely one of the easiest ways to protect your hands!
Featured Recommendations

CLC Custom Leathercraft

Our rating
Superior Protection
Price:

See Here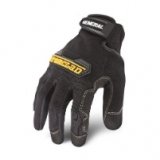 Ironclad General Utility

Our rating
Heavy-Duty
Price:

See Here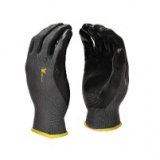 G & F Products

Our rating
Flexible
Price:

See Here


This great accessory offers protection, dexterity, and comfortable feeling whether you're working on a construction site and lifting heavy objects, or you're dealing with regular stuff around your house. Not only that your hands will be safe from harm, but you will perform any action with more accuracy and confidence. However, choosing the perfect piece of clothing isn't as simple as we think! Wearing a bad product could cause even more damage than not wearing them at all, so you'll want to purchase the best pair you can find. They should suit all your task requirements, providing protection and comfort every step of the way. Searching for this kind of stuff is quite tiresome and exhausting, especially when we are not certain what we are looking for and how to do find it. Luckily, we are here to help and guide you through the entire searching process! After hours and hours of research, we came up with the list of:
10 Best Work Gloves
CLC Custom Leathercraft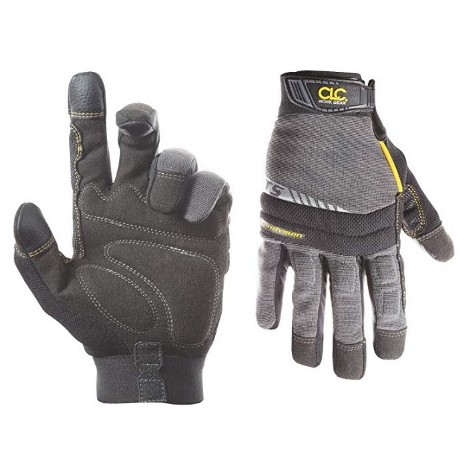 Custom Leathercraft offers style and protection in just one piece of clothing! These are perfect for both professionals and DIY enthusiast who like to do stuff all on their own. Not only that they will make all your tasks safer, but they'll help you achieve better results. If you want a first-class product that provides superior quality and stands out from the competition, this would be the best choice!
Expand to see more
Superior Protection
Made of synthetic leather, Custom Leathercraft prove to be shrink resistant and tough enough to protect your hands during every outdoor task. They are also well insulated to keep you warm at low temperatures, and extra padded for more comfort and superior protection. Not to mention that this product works as a protection from sharp-edged materials such as aluminum and stainless steel thanks to the concealed inner stitching. You don't have to deal with heavy jobs to get in touch with knives, nails, screw splinters, and other sharp stuff, and all of them are potentially dangerous. That's why Custom Leathercraft made these to protect you from nasty cuts!
Comfort
Custom Leathercraft should fit your hands perfectly and stay there thanks to the high-quality Velcro straps. This is especially useful when the material gets wet and tends to slip from our hands. The straps will prevent any accidental slips that can cause discomfort or injuries when you're working. Additionally, Custom Leathercraft features stretchable spandex and Lycra side panels that provide more dexterity. You'll deal with all your tasks with great efficiency and easier than you ever did. We shouldn't forget to mention that Custom Leathercraft has reinforced fingertips, and 3 of them are touch screen compatible so you can use your phone while working. The only thing that could go wrong is carrying the stuff with smooth surfaces when using them. The material doesn't provide the best grip
for glass-like surfaces
, and they could slip through your hands.
Cost and Value
For the overall quality and excellent protection they provide, Custom Leathercraft are worth every penny! Which such a high-quality product you can safely deal with all kinds of jobs and tasks, knowing that your hands are completely protected from harm. Along with that, they are also well-priced so you should definitely try them out!
Shrink resistant
Well insulated
Extra padded for more comfort
Velcro straps for a tight fit
Reinforced and touch screen fingertips
Well-priced
Not suitable for handling things with smooth surfaces
Ironclad General Utility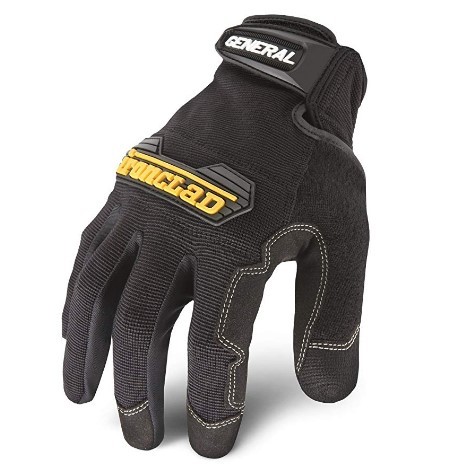 If you want an accessory that will give you the needed protection during harsh situations and demanding jobs, Ironclad is a perfect choice for you! Of course, these are great for all of your daily tasks as well, providing a comfortable feeling and great mobility no matter what you do. You just can't go wrong with Ironclad!
Expand to see more
Heavy-Duty
Ironclad proves to be an excellent choice for heavy jobs and professionals who need a high level of protection from sharp edges, heavy objects, and more. They are made of first-class materials synonymous with comfort and durability. The area around the palm and knuckles is reinforced for better protection from impact and abrasion. This will also prevent possible tears and cuts from sharp edges. The PVC palm patches also contribute to overall abrasion resistance and allow for a firm grip.
Machine-Washable
Considering that these are meant to provide protection from risky situations, we expected to see a bulky design that prevents mobility. That wasn't the case with Ironclad! They are well padded and very comfortable. You'll especially like the fact that Ironclad features machine-washable material. It relieves you from the time-consuming process of spot cleaning that is not even 100% effective. Ironclad will stay clean and well preserved no matter how many times you wash them (just let them air dry). The only thing that could cause you some trouble is an inadequate sizing. Some users had problems with them being a bit tight or large, despite the provided size chart and use of straps to tighten them.
Cost and Value
Ironclad offers exceptional value for the money, which makes them very popular among users. They provide great protection, comfort, and they prove to be very durable. If you want an accessory that can withstand harsh conditions and
challenging jobs
, this is just what you need!
Great for harsh working conditions
Quality materials
The reinforced area around the palm and the knuckles
Extra padded and very comfortable
Machine-washable material
Great value for the money
G & F Products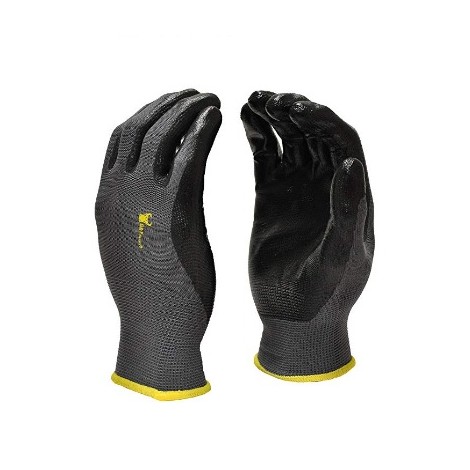 Whether you have a small yard (with a flower bed or two) or an entire garden to maintain, there will be always some thorns, spines, and prickles to ruin its aesthetic and your hands. If you are tired of scratches and cuts from yard maintenance and gardening, these are just the perfect product for you!
Expand to see more
Flexible yet Sturdy
These are 100% Nylon and are specially designed for
yard work and gardening
. They are very flexible, allowing your fingers to move freely despite the materials, and yet sturdy enough to protect you from scratches and cuts. You can easily work around the bushes while wearing them, and handle all annoying prickles on your way. There is also a nitrile palm coating that provides even more comfort and protection. However, we noticed one little flaw in their design – while the nitrile coating on the palm and under fingers keeps you safe from thorns, the fabric on the top isn't so sturdy and you can easily get hurt. Keep this in mind while working in your garden!
Light and Waterproof
Made of flexible materials that promote free movement, these are also very easy to put on. The material is light and gentle to the skin, and it's waterproof, keeping your fingers dry and clean. They are also very easy to maintain because dirt mostly just falls off this kind of material, but you can also wash them with ease. However, because they are completely waterproof the material is not breathable enough. This could cause some discomfort after prolonged use, making your fingers sweaty.
Cost and Value
G&F are probably the best option that you can find at this budget-friendly price! We were quite surprised that this pair comes at such an attractive price, considering the overall quality and a comfortable feeling that they provide.
Flexible yet sturdy
Nitrile palm coating
Light and gentle to the skin
Waterproof
Easy to wash
Inexpensive
The breathable top is sensitive to sharp stuff
Could cause your fingers to sweat
NoCry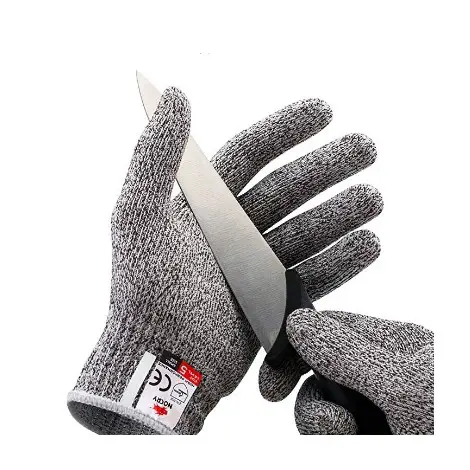 If you're searching for something to protect you against sharp knives and dangerous kitchen mandolines, look no further! This option from NoCry will work as your protector in the kitchen, garage, or wherever you have to get in touch with sharp stuff. Hundreds of users are praising this product for its performance and quality, and we are convinced that you're going to love it too!
Expand to see more
Cut-Resistant
The name says it all, this useful accessory should protect you from all possible cuts and dangerous scratches that you can get from working with sharp edges. NoCry are made of the quality cut-resistant material that can withstand a lot. They offer great durability and a high-level of protection. There is probably no better protection than NoCry when it comes to working with slicers, knives, mandarines, carpentry, and more. However, don't forget that no material could ever be completely cut-resistant, and remain careful when using sharp objects.
Lightweight
NoCry offer a firm grip and a snug fit thanks to the flexible material. They are very comfortable and allow your fingers to move freely for more precision during the use. With such a lightweight material, you won't even know that you wear them! They are also machine-washable so you won't have any issues with keeping them clean. Besides, there are those useful little loops for hanging that we especially liked, and you can use them to store these at your hand's reach. The only thing that could cause some discomfort during the use are awkwardly knitted fingertips – they have all those seams sticking out at the top, which is quite annoying.
Cost and Value
Lastly, we were quite amazed by the great value that NoCry offer for such a low price. No, these are not the regular style, but we figure that you'd rather have a pair of cut-resistant ones if you're frequently dealing with sharp stuff. After all,
safety comes first
, and having a separate accessory for better protection isn't as bad as it seems.
Cut-resistant material
Durable
Firm grip and snug fit
Comfortable
Machine-washable
An attractive price
The seam sticks out at the top of the fingers
Don't have all top-notch features like regular styles
Ironclad Ranchworx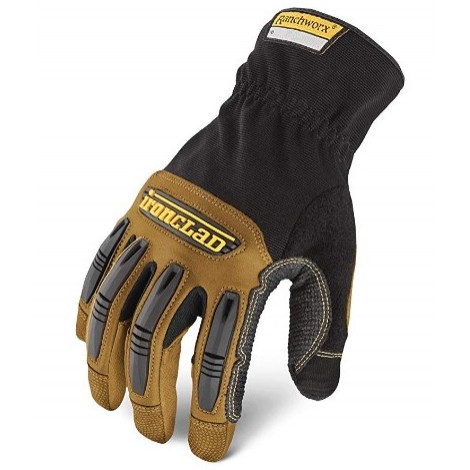 Here we have another great product from Ironclad that will make lives of all handypersons and construction workers a lot easier! Ironclad RWG2 are designed for ultimate protection and great efficiency whether you're doing light repairs around the house or dealing with demanding construction jobs. Keep reading if you want to find more about this great accessory!
Expand to see more
Double-Layer Protection
These really stand out from the competition with their high-quality materials and high protection they provide. With the double layer protection that Ironclad Ranchworx offers, you'll be super covered whatever you have to deal with. There's also a thermoplastic rubber across the outer side that guards the knuckles and the tumb from impacts and abrasion. You should only be careful not to soak them in water because they'll wear out faster.
Supplest Leather
Ironclad Ranchworx are made of supplest leather that follows the contour of your hands, providing a snug fit and superior comfort. They are very sturdy yet not so rigid to make you feel uncomfortable when wearing them. The reinforced areas also add to the overall strong design and the product's durability. As if that wasn't enough, they also provide excellent dexterity. All in all, you'll be very satisfied with their quality and performance as well as you'll absolutely adore a comfortable feeling they provide! Not to mention that you can easily toss these ones into the washer, they won't shrink or dry out, just don't use irons on them.
Cost and Value
We can doubtlessly say that this option from Ironclad will make a great part of your
house and work equipment
, but you'll have to add a few more bucks to get them! Those who are on a limited budget might want to consider another option.
High-quality materials
Double-layer protection
Knuckles and thumb area protected from abrasion
Snug fit and a comfortable feeling
Excellent dexterity
Machine-washable
Wear out faster if frequently used in water
Pricey
Mechanix Wear

If you're searching for a stylish yet strong and durable product, you just found the perfect candidate! This pair from Mechanix proves to be very comfortable and useful when it comes to protecting your hands in harsh working and weather conditions.
Expand to see more
Breathable Material
These are made of fiber and polyester. They are resistant to tears and abrasions, keeping your hands safe from harm whether you're repairing things around your house or working on a construction site. You can use them in a hot environment thanks to the breathable material, and although they are pretty thin, they will also keep your hands protected during winter. However, don't expect them to be warm as regular winter styles because too much padding would obstruct their main purpose. The only thing that we didn't like about the thin material is the lack of protection when it comes to working with sharp or jagged material. Keep this in mind so you don't get hurt when handling the sharp-edged objects.
Snug Fit
With Mechanix, a comfortable feeling is guaranteed! You'll have the ability to fully move your fingers while wearing them, and the seamless material will follow the contour of your hands for a snug fit. There's also a thermoplastic rubber closure under the wrist that will keep them secured on your hands. However, this design also has a flaw – you can easily loosen up the closures that are located so low on the wrist. A simple movement of hands brushing up against other stuff could open them up, which is pretty annoying for most users. Lastly, we shouldn't forget to mention that Mechanix is machine-washable and waterproof as well as resistant to oil and solvents.
Cost and Value
Although Mechanix products offer excellent performance and overall quality, they are quite pricey. For those who are on a limited budget, this could be a big drawback, but those who have some extra cash to spend on
new parts and equipment
should definitely try them out. They don't disappoint!
Resistant to tear and abrasions
Breathable material
Comfortable
Flexible
Thermoplastic rubber closure
Machine-washable and waterproof
Not enough protection from sharp materials
Pricey
Wells Lamont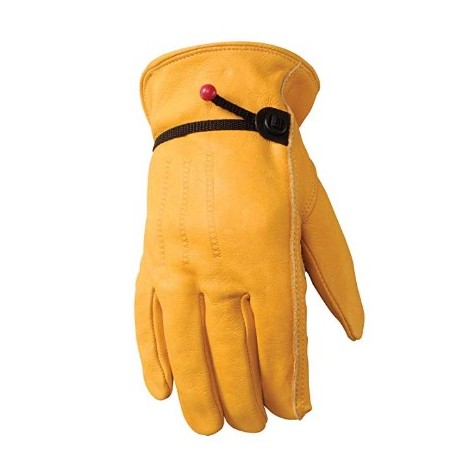 Wells Lamont offers an excellent pair for all those DIY enthusiasts who like to keep the entire household perfectly maintained all by themselves. They are sturdy, durable, and what's even more important – incredibly soft! We definitely recommend these ones as a new part of your garage equipment.
Expand to see more
Abrasion and Puncture Resistant
These are made of 100% grain cowhide that offers abrasion and puncture resistance. They also feature a reinforced leather palm patch to ensure durability and better grip. While they are exceptional when it comes to landscaping, yard work, gardening or doing light repairs, keep in mind that you can't exactly use them for heavy construction jobs. They will protect your hands, but not good enough for you to feel completely safe when using them, and they'll wear out faster. That's why these are primarily designed for handypersons and hobbyists rather than construction workers and other professionals.
Incredibly Soft
What people praise about this pair is the incredibly soft inner part. They really stand out from the competition with the provided coziness. As if this wasn't enough, using what is called a "Gunn cut" they are designed to follow the natural lines of your hand for a comfortable fit. You can also fully adjust the strap located on the wrist so that they stay snugly on your hands.
Cost and Value
Wells Lamont offers a useful and inexpensive accessory. All those handypersons who are in a tight budget and looking for a
decent pair
should definitely try out these ones because they are a great bang for the buck!
Abrasion and puncture resistant
Reinforced leather palm patch
The incredibly soft inner part
Gunn cut
Adjustable strap
Inexpensive
Not suitable for tough situations and construction jobs
Dex Fit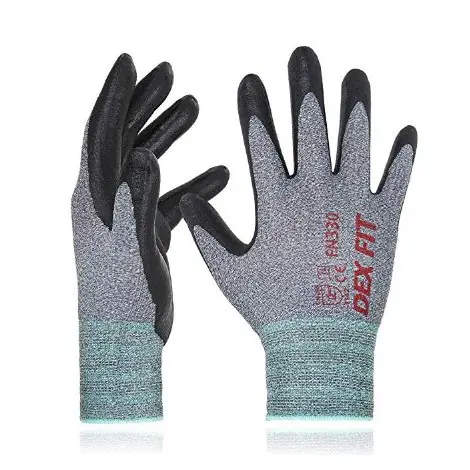 This option from Dex Fit offers exceptional performance for all kinds of jobs and situations. People used them for yard work, gardening, construction, auto repairs, box handling, and many other situations, and they provide great protection and dexterity every step of the way.
Expand to see more
Anti-Slip
Featuring durable nitrile coating on palms and fingertips, they prove to be durable and safe for use on sharp edges. Not to mention the anti-slip material that enables strong grip on slippery surfaces and touchscreen sensitive fingertips. You won't be only dealing with harsh working conditions with ease, but you also get to manage your phone without having to take them off.
Versatile
Not only that Dex Fit product provides a high level of protection, but they ensure a comfortable feeling. The elastic material is also gentle on the skin, and it follows the form of your hand for a proper fit. Dex Fit won't slip even if you soak your hands in a bucket full of water and leave them there for a while. However, keep in mind that your hands will get wet because water can go through the material as well as
oil and solvents
. On the other hand, this type of material is breathable and it will keep your hands comfortably cool in hot surroundings and at prolonged use. Also, the great thing about Dex Fit is flexibility – 15-gauge nylon proves to be very elastic and therefore enables full mobility.
Cost and Value
As if having so many great features isn't enough, Dex Fit comes at an attractive price. You won't even get one pair, but 3 pairs of these! We were very impressed, are you?
Durable nitrile coating on palms and fingertips
Anti-slip
Touchscreen sensitive fingertips
Comfortable and breathable
Elastic material
An attractive price for 3 pairs
Not completely water resistant
Lincoln Electric

If you're searching for a good pair in a welding style to protect your hands during this demanding process, Lincoln Electric offers just the perfect ones for your needs! Regular work styles can't provide enough protection against high temperatures, so people often have a problem finding the perfect ones for the job. That's why we picked this heavy-duty pair from Lincoln Electric!
Expand to see more
Heat Resistance
As we already mentioned, these are made of quality leather and soft cotton liner specially designed to protect your hands against high temperatures. This is not their only purpose, and you can use them for other commercial and demanding jobs. They are primarily designed to endure flames and sparks though, so you might find them unsuitable for other actions such as lifting heavy objects or gardening.
Soft Cotton
These have a soft inner part made of cotton that is very comfortable and absorbs moisture – this is very useful because your hands will probably get sweaty from high temperatures. However, while they are doubtlessly very useful and cozy or the
welding process
, they might turn out too bulky for other tasks (for example, picking up tiny screws in your workshop is impossible action with them on). Keep this in mind if you're searching for an all-in-one product!
Cost and Value
Lincoln Electric provides excellent value and you don't have to spend a fortune to get them! They are reasonably priced, especially considering their sturdiness and durability. You won't be searching for a new pair anytime soon, that's for sure!
Made of quality leather and soft cotton
Excellent protection against high temperatures
Soft inner part for superior comfort
The inner material absorbs moisture
Reasonably priced
Bulky
Not a great solution for all kinds of jobs and tasks
Carhartt Spandex

If you're searching for a thin option that will allow you full mobility and protection during light repairs and other tasks around your house, Spandex are an excellent choice! You can use them to protect your hands from cuts and abrasions and to do all demanding repairs with great accuracy. Keep reading if you want to find more about this light version!
Expand to see more
Sturdy yet Flexible
Made from durable yet soft materials, these are an excellent choice for all kinds of situations. They have a reinforced area around the thumb and finger saddle yet they are not bulky at all! They are actually very flexible, giving your fingers full mobility and allowing you to perform every complicated task much easier. They provide better grip on slippery surfaces as well, so you'll be fully covered with Spandex!
Soft Material
When it comes to a comfortable feeling, you can already guess that the used flexible material is soft on the skin. There are also Velcro wrist straps that should keep them tight on your hands. The only issue comes from prolonged use because this material is not breathable enough. Also, keep in mind that Spandex is not even close to warm when it comes to dealing with cold temperatures, but that's the case with most similar styles. If you want to keep your fingers from freezing, you'll have to search for regular ones.
Cost and Value
Considering the flexibility and durability of these, we were surprised that they are not expensive. Instead, you get to easily make this budget-friendly accessory a
part of your garage equipment
!
Durable materials
Reinforced thumb area and finger saddle
Very flexible
Firm grip
Comfortable
Budget-friendly
Not breathable enough
Not the best option for cold temperatures
Criteria Used in the Evaluation of the Best Work Gloves
In order to rank our 10 best picks according to their value, we had to examine all their features and compare them. That was a challenging task that required a lot of research and testing, but we came up with a great list! Here are the criteria used in the evaluation of the best options:
Protection
Safety always comes first, and having a pair of these on hand means protecting your hands from possible injuries and harmful situations. This piece of clothing should always fulfill its main purpose and keep your hand safe all the time, so protection was our number one concern during the evaluation. The more they can protect you, the higher are they on our list.
Comfort
The comfortable feeling is crucial when it comes to any piece of clothing. Working with stuff that could hurt your hands is exhausting and a comfortable pair can make things a lot easier. Also, we need a flexible material that will allow for our fingers to move freely and tackle every task with great efficiency. We know that this is a lot to ask from one piece of clothing, but the first-class product should deliver outstanding quality. That's why the first products on our list offer coziness, flexibility, dexterity, and incredible protection from all kinds of dangerous situations.
Durability
These products are designed to withstand harsh conditions, and they have to be durable enough to last for a long time! Having a par that will easily wear out after a couple of days is just not practical, especially because damaged ones don't protect your hands like they are meant to, and you can get hurt. Besides, frequent purchases are really annoying and time-consuming, not to mention the money you need to spend on every new pair. They have to be durable and they have to last, so the ones that performed the best are on the top of our list.
Additional Features
Every feature that adds extra protection and more comfort to one pair earned some extra points. There are extra padded thumb areas and reinforced knuckles, security straps on the wrists, touchscreen sensitive fingertips, and other useful things that allow more comfort, durability, and better performance. Having these additional features is sometimes crucial for a certain type of work, so we had to take them into account during the evaluation.
Cost and Value
These products are an important accessory that everybody needs in their tool equipment. However, while professional construction workers might be satisfied with a higher price, not all handypersons and DIY enthusiast are ready to spend a fortune to get them. That's why we included differently designed products available at a wide range of prices. Being expensive or not, they have to provide enough value for the money. They are designed to keep your hands safe after all, and failing in such an important task is just not acceptable. That's why the provided value for the price was such an important factor in the evaluation.
Other Factors to Consider
Before you make up your mind and jump to the very purchase, take a few moments to think about the things you need. There are some additional factors you might want to consider when buying a new pair for your arsenal.
Type
First and foremost, if you want to pick a certain type you need to determine the type of task you'll be dealing with. Is it a construction job, or light repairs around your house? Maybe you have to work with strong chemicals? There are so many situations that demand caution and extra protection, but not all products could give us what we need. That's why it's important for you to determine the main risks that come from a certain action or object and protect your hands from them.
Materials
What is going to be, soft cotton, durable leather or strong PVC rubber? It mainly depends on the things that you expect from your handwear. Maybe you need a completely waterproof material, superior comfort, flexibility, dexterity, or even anti-slip material that will allow you to work with glass-like surfaces. There are great chances that you'll find the product with several features you need all brought together, but the first pick should be the type of material because it influences the overall product's performance.
Additional Features
Think wisely about the things you need and features that you just don't like. Many users ended up unsatisfied with the purchased product because they didn't fulfill some of their requirements. There are many additional features that could really get on your nerve while working such as misplaced straps, bulky design, too much or not enough padding, and more. Pay attention to every little detail about the wanted product, and only then make your final decision!
Budget
We know, these can be really expensive, especially if you need them for a specific task or situation. However, if you're searching for a no-nonsense piece of clothing that will protect you during yard work, gardening, or car repairs, you don't need all the top-notch and expensive features. When you determine which type you need, what do you require from it, and other things stated above, you'll be able to search for specially designed options, and they might turn out reasonably priced.
FAQ
Frequently Asked Questions
Q: Are these really keeping your hands safe from cuts?
A: Yes, those who are specially designed to protect your fingers from cuts are really able to do so. However, don't take this too literally! There's no material that could save you from harsh and direct contact with blades, so don't test this even if you get protected. All in all, they are able to prevent dangerous situations and save your fingertips from nasty cuts.
Q: Are there options especially designed for low temperatures?
A: Well, you can use regular styles during winter, but they are just not such good protection. Our advice is to keep at least two different pairs that you can change later on according to the situation. The ones specially designed to keep your hands safe from cuts and abrasions are usually not padded enough to keep you warm at the same time. However, they do protect you from things that regular ones can't, so giving up on them isn't the best idea. Changing the pair depending on the current situation isn't so hard after all.
Q: Are these machine-washable?
A: Most of the heavy-duty ones are machine-washable and you can wash them as many times as you like. However, not all of them have the ability to withstand this. Read the product's description for detailed information because every pair is made of different materials. Also, don't use iron, fan, or other stuff to dry out your product. The best thing that you can do is to let them air dry.
Q: Can I use these for gardening?
A: Absolutely! Some of them are specially designed to protect your hands from thorns, spines, and prickles, saving you from nasty stings. As you already know, having a perfectly maintained yard and beautiful garden requires a lot of free time and effort. In this exhausting process our hands get hurt in many ways, so using a pair will make it easier and safer. Your hands can finally heal and you can maintain your yard with great ease.