Best Kids Backpacks Reviewed & Rated for Quality
Choosing the right backpack for a kid might seem easy to the casual eye, but parents know better! It's not only a matter of finding the quality materials that are safe for your child but also finding a backpack that has all the necessary features to carry your kid's essentials, and all while looking stylish. Just think about all those different stuff: books, crayons, toys, and food. Where could that possibly fit? Have no worries! These days the market is full of many differently designed backpacks so you'll definitely find the right one for your kid!
Featured Recommendations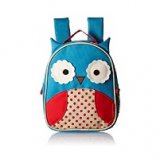 Skip Hop

Our rating
Can Be Used With a Leash
Price:

See Here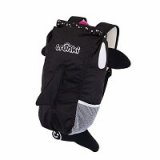 Trunki

Our rating
Waterproof
Price:

See Here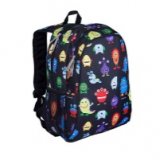 Wildkin

Our rating
Durable
Price:

See Here


Choosing the best backpack for school is somewhat easier than choosing the one for traveling. When you're on the way your kid needs more stuff and you want to be sure that it doesn't miss anything during the trip. That requires a well-designed backpack and we have just the perfect ones in mind! Keep reading if you want to find:
10 Best Kids Backpacks
Skip Hop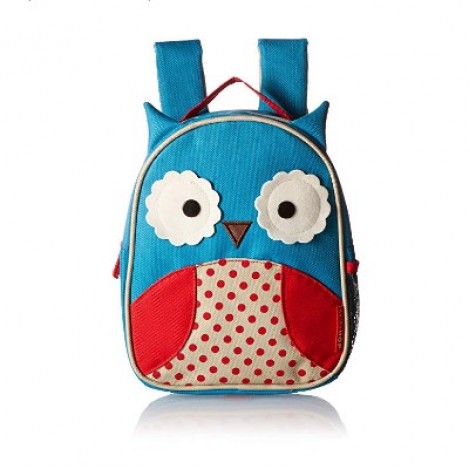 Skip Hop is one of the most popular backpacks on the market. Everybody loves its zoo, child-friendly design, and great packing features. It's specially made for little travelers that wander around without any worries because it comes with a leash that provides protection and security.
Expand to see more
Safety
Skip Hop has a leash that you can attach to the bottom of the backpack for safety reasons. Many parents experience stressful situations with their little runners, especially with toddlers who can't recognize the potential danger. Using a harness backpack means knowing that your child is safe. However, many customers have reported that the included leash is very short. You'll probably need to search for a longer one separately.
Spacious
Skip Hop comes in 9 x 3.25 x 7.5 inches which mean that it's most suitable for children between 12 months to 4 years of age. There's a lot of room inside the backpack, but it also has a mesh pocket on the outside which can hold a bottle or a cup. Even if Skip Hop backpack might seem a bit small, the truth is that your toddler can't carry on heavier backpacks. It can still easily store all its essentials, and you can simply clean up the inner materials if some accident occurs. Additionally, it has a write-on name tag on the back, adjustable straps and a top grab handle for simpler carrying.
Cost and Value
Skip Hop is a real steal! It provides
extra protection for your child
but it also gives an all-grown-up feeling. Even the additional purchase of a longer leash won't be a big issue, especially considering Skip Hop's overall features and colorful design.
Harness backpack for more protection
Cute zoo design
Write-on name tag
Adjustable straps and a top grab handle
Mesh pocket on the outer side
Inner materials are easy to clean
Trunki PaddlePak

We couldn't find a better word to describe the Trunki backpack than – unique! This backpack can be used for school, traveling, and many other activities. It has waterproofing capabilities making it a great choice to take with you to the pool or beach. We were pretty amazed by its features, and most likely so will you!
Expand to see more
Great For Youngins
This backpack was designed with toddlers in mind but is still cool enough for even older kids to use it as well. It has a cute orca whale design that your little one will love. It's very lightweight, making it a great option for all day use.

Adventure Backpack
If you're in the market for a product you can take with you on all of your outdoor adventures, look no further than this product from Trunki. It's not only waterproof, but it has a padded mesh back and comfortable straps that make it a breeze for kids to wear all day.

Cost and Value
We can't deny that Trunki is more expensive than ordinary backpacks. However, its price can be justified by various features that other products don't have. If you consider Trunki's multifunctionality, you'll find that it's worth every penny!


Waterproof
Comfortable for all-day wear
A lot of storage space
Great for aqua adventures
Wildkin Preschool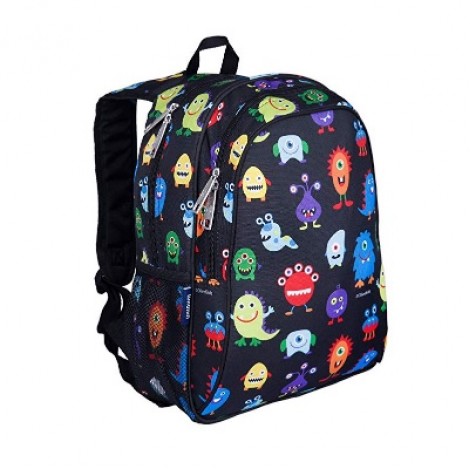 If you are searching for the best backpack for your preschooler you came to the right place! Wildkin offers 23 differently designed backpacks that are perfect for school and traveling.
Expand to see more
Quality Materials
Boring is a word your kid is never going to use for this backpack. We know how children can be demanding when it comes to their luggage and backpacks, due to the fact that they want to feel grown up. With Wildkin you can make them feel responsible and they are still going to love its fun look!
Wildkin is made from durable materials such as a 600-denier polyester fabric and moisture-resistant nylon lining. It can endure quite a lot, so you can calmly let your kid drag it around or fill it with sharp-cornered notebooks. Additionally, these materials offer a simple cleanup.
Cozy
The backpack has two padded shoulder straps and a padded back for more comfortable wear. The straps are adjustable, and there's also a top handle for easier carrying and storage. Wildkin is perfect for school and traveling because it's just big enough (15 x 11 x 7) to carry all the books, pens, coloring materials, and food! Now you don't have to reorganize or throw stuff out from your kid's backpack because there's no room for all of it. The only thing that Wildkin lacks is a separate bottle pocket. Besides that, you can fill it up to the top and still have all the stuff organized.
Cost and Value
Wildkin is a well-priced backpack that allows traveling in style! Your kid will love this colorful backpack that can store everything and still be
extremely comfortable
.
23 differently designed backpacks
Made from durable materials
Easy to clean
Padded straps and back for comfortable use
A lot of space
Doesn't have a bottle pocket
Wildkin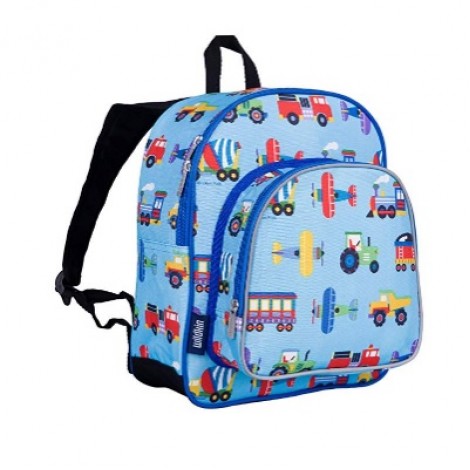 Here we have another Wildkin backpack but this time in a smaller version. Measuring 12 x 10 x 4.5 inches this backpack is an excellent choice for every toddler. You can fill it up with clothes, food, and toys, and start a journey with your little one! Keep up reading to find out Wildkin's great features.
Expand to see more
Organizer
Wildkin backpack is a perfect choice for storing food! Its front zippered pocket is insulated so you can store all kinds of food in it. This material is easy to clean so you don't need to worry about accidental spills. You also have a side pocket for easy access to bottles and cups, and the pocket on the front even has reflective tape for better visibility in the dark.
The only drawback is its size. You can actually store toys, diapers, snacks, and other stuff but a folder can't fit. It gets rounded on the corners what is quite annoying for some parents.
Pick the Perfect One
Wildkin offers 18 different backpacks in the 12 inches size. Even when all models have vibrant and playful patterns, it's good to have so many options to choose from. On second thought, why would you stop on just one backpack? Don't forget that Wildkin also makes nap mats, lunch bags and other useful and fun stuff that you can all match in your kid's favorite pattern.
Even though Wildkin made an effort to design fashionable backpacks, that wasn't done at the expense of comfortable wear. It still features padded shoulder straps and a top handle for easier carrying.
Cost and Value
This model comes with a great value and attractive price, just like its bigger brother on the top of our list. The only difference is the size, and this backpack is primarily
made for toddlers
from 1 to 3 years of age.
Insulated front pocket
Easy to clean
Side pocket for a bottle
Reflective tape for better visibility in the dark
18 different designs
Comfortable
Trendymax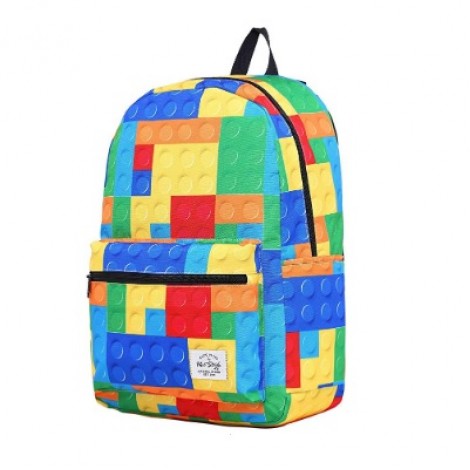 Trendymax backpack comes in various vibrant colors and patterns. This backpack is a bit larger (16 x 12 x 6) than previously reviewed backpacks, so it's suitable for older children or parents that still carry on their kids' essentials.
Expand to see more
Roomy
The main feature of this backpack is actually its size because it can store almost anything. It's especially useful for long adventurous trips when your kid needs all kinds of different stuff such as books, pens, crayons, snacks, or diapers. It has several pockets, a bottle holder on the outside and a laptop compartment on the inside. There is also a secret pocket in the back that every kid finds adorable!
Vibrant Colors
What most users find attractive on this backpack are its vibrant colors! There is a range of 22 different designs, from a life-like galaxy print to various animals and plants prints – all yours for the taking. Trendymax also features high-quality materials for comfortable use and durability. It's made from water-resistant polyester, so you don't need to worry about spills causing its deterioration. Additionally, it's really lightweight, so it will only be as heavy as the things packed inside.
The only thing that bothers some users is a feeling of flimsy material. It seems that this is a matter of personal preference, but some complaints remain.
Cost and Value
Overall Trendymax features a durable and spacious backpack that's also well-priced. If you need a backpack that will provide more free space even with all
the packed clothes and snacks
, Trendymax is a wise pick!
Spacious
Features several pockets
Vibrant colors
Water-resistant
Lightweight
ArcEnCiel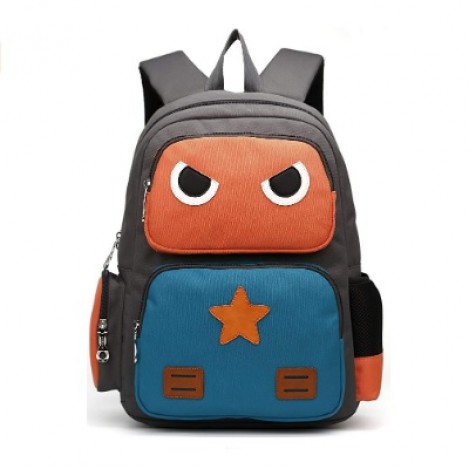 People from ArcEnCiel are dedicated to producing high-quality bags for different life situations. They strive for innovation and excellence, and that's even symbolized in the name derived from French words for a rainbow! Parents find it adorable and children find it cool. More than that, ArcEnCiel has some great features to offer.
Expand to see more
Pockets
ArcEnCiel backpack is somewhat bigger than an ordinary toddler's backpack (15.7 x 11.8 x 3.9 inches) and the manufacturer recommends it for kids aged between 5 and 10. It's perfect for school and traveling because it has a large interior space with a small insulated pocket. You can finally pack your kid's things with ease, and it can bring all its school books, coloring pencils, snacks, and drinks. However, keep in mind that some users noted that the insulation is not as great as it seems! On the outside, the backpack has two front pockets and two side pockets. There's no doubt that your kid will have room for all its stuff and it will keep them well organized!
Comfy
ArcEnCiel is made from polyester which you can easily maintain and clean. The front pocket that stores food can be simply wiped in case of any spills. Even more important is that ArcEnCiel features a padded back panel and shoulder straps for comfortable wear. Straps are adjustable as well as the side pocket that can hold bottles or umbrellas. This is a big backpack so it would be a real hassle not to have these adjustable and comfy features.
Cost and Value
Kids just love ArcEnCiel's robot design. It attracts
all of the playground's attention
and many compliments. Your kid will be unique and stylish, but what is even more important it will have all the essential stuff packed at hand's reach. You'll have to pay some extra cash for it, but ArcEnCiel is not overpriced at all!
Large interior space
Many pockets
Insulated pocket for food
Easy to clean
Comfortable back and straps
Unique design
Insulation is not so great
Obersee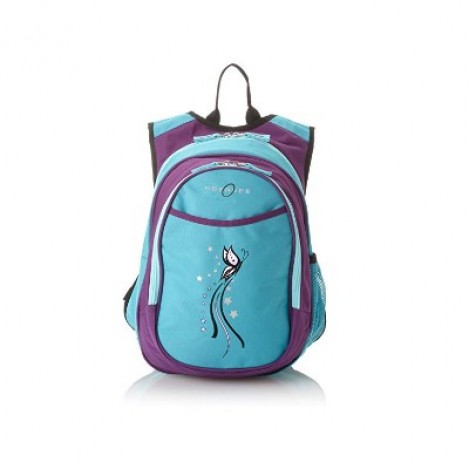 Obersee backpack has many excellent features that make it very popular. Your kid can choose its favorite backpack from 19 differently designed models. They all come in fun designs and vibrant colors, from space to bird patterns. Your little one will definitely command all of the playground's attention with this backpack!
Expand to see more
Traveling
If you want to find a perfect school or traveling backpack for your kid you came to the right place. Obersee backpack has some great features to provide the best storage for your kid's essentials. It works as a great organizer for all different stuff your kid may need on a long trip or vacation. It's a bit small (14.5 x 10 x 5.5 inches) so it's mainly suitable for toddlers and pre-schoolers. If you want something where your kid can pack folders and books, it's maybe better to search for other options to prevent folded book corners.
Cozy
Obersee backpack is ideal for storing food because it has a front zippered pocket that features cooler insulation. This material is easy to clean, so accidental spills or stains aren't a problem. The side mesh pocket also comes in handy because your kid will have easy access to water bottles or umbrellas. Shoulder straps and lumbar section are padded to provide comfort and durability. The backpack features additional chest straps for
more security and stability
. These features make Obersee backpack great for traveling in situations when your kid has to carry its backpack for a longer time than usual.
Cost and Value
This backpack has a reasonable price for all the high-quality features that it provides. You won't feel like you just paid too much to have some extra stylish backpack, especially when it shows great durability and a long lifespan.
19 differently designed models
Features insulated front pocket
Easy to clean
Padded straps and back support
Has a side mesh pocket
Can't store books and folders
Vaschy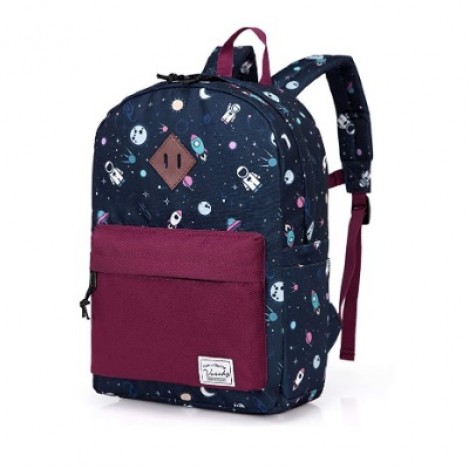 Vaschy features 9 differently designed backpacks and all of them have inspirational and colorful patterns. If you have a young artist in your family, it will be thrilled to have this subtle yet fashionable backpack.
Expand to see more
Large Capacity
Vaschy has a large capacity (11 x 4 x 14) which makes it
ideal for storing books, tablets, crayons, and many other things
. It doesn't have insulated pocket for food, but you can store a lunch bag and still have a lot of free space. Vaschy uses water-resistant polyester that makes this backpack durable and easy to clean. It's also lightweight and comfortable to carry.
Great Organizer
Vaschy backpack is a real organizer! The spacious inner compartment has a pocket to provide separate storage for books, pencils, toys or other stuff. It also has a medium-sized pocket on the front (A4 tablets can easily fit) and adjustable side pocket for bottles and other little knick-knacks. Additionally, there's a name tag in the inner part that comes useful if your kid loses the backpack. We shouldn't forget to mention that the pockets have sturdy zippers with extra long pullers for an easier slide over. However, many customers reported that they tend to get caught by cloth.
Cost and Value
Vaschy is a bit pricey but you get a 1-year warranty if you run into any kind of issues. It has many great features that provide durability so most likely you'll be using it for a long time. If you have some extra cash for your kid's new fashionable backpack, you can't go wrong choosing Vaschy!
Large capacity
Ideal for storing books and other big stuff
Water-resistant
Many pockets
Zippers have extra long pullers
Some issues with zippers
Pricey
Yodo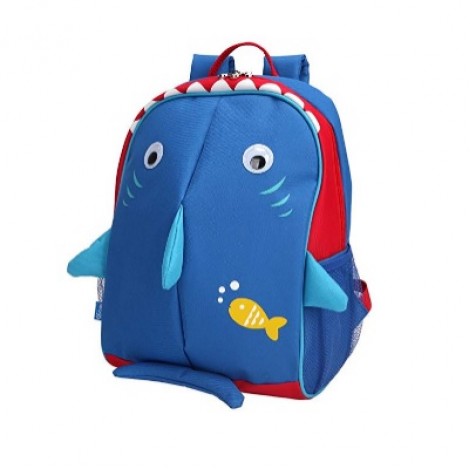 Be aware: cuteness overload! Yodo backpack has an animal design that wins hearts on first sight. Your kid can use it as a school backpack, a travel bag and as a cute toy.
Expand to see more
Store Everything
Yodo backpack is a great choice for kids between the ages of 3 and 6. The best thing about it is a lot of storage space! It comes in size of 11 x 5.5 x 14.2 inches and provides enough room for all essentials such as books, clothes, toys, diapers, snacks, and many other things. With Yodo you don't have to worry about folded book corners or wrinkled paper. It all stays in its place and remains well organized!
Safety
Along with one big pocket and two side mesh pockets, Yodo has many features that provide safe wear. Firstly, it has padded shoulder straps and chest straps for more stability. Secondly, it features reflective tape on the outside to provide visibility during night time. When it comes to the durability of the backpack we should say that it has extra sturdy buckles and zippers that ensure a long lifespan. The only drawback is a bit of a flimsy material used for shoulder straps. It seems that they get teared up easily.
Cost and Value
If you want
something stylish yet useful and comfortable
Yodo backpack is the right choice! This great backpack practically costs next to nothing, and your kid gets to choose its favorite friend: an elephant, bird, dinosaur, or a shark.
Great animal design
A lot of space and many pockets
Padded shoulder straps and chest straps
Sturdy buckles and zippers
Features reflective tape
Inexpensive
JiePai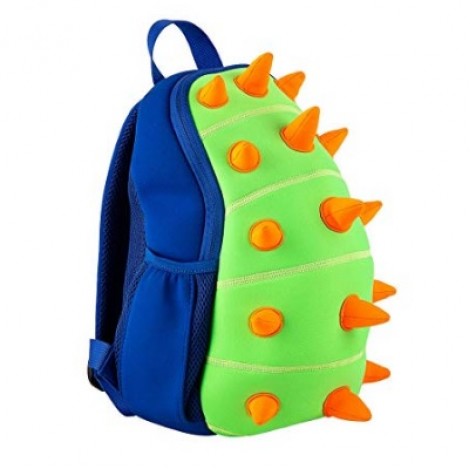 If you are searching for a compact backpack that your kid can carry by itself and be stylish while doing it, JiePai is the right choice for you! This is another incredibly cute backpack that offers some great storage features.
Expand to see more
Compact Design
JiePai has 9x 12.6 x 7.5 inches, it's really lightweight and easy to carry around. It's perfect for toddlers and preschoolers that want to feel all grown up and responsible. JiePai is big enough to store all essentials yet compactly designed so kids can carry them without the parents' help.
However, the backpack lacks some additional pockets. It has this big pocket and two mesh pockets but it's not enough to keep everything organized. Although it's a smaller backpack so you can't store too many things, it should have pockets for easier access.
Soft and Durable
JiePai is made from a non-toxic neoprene material that guarantees a kid's safety. The backpack is soft yet durable. It features adjustable shoulder straps, sturdy zippers, and a top handle. All these features add to the overall comfortable feeling. Lastly, the material is water-proof so even if the backpack gets wet everything inside it stays dry. This makes cleaning almost effortless.
Cost and Value
JiePai is a perfect choice for every toddler and preschooler. Not only will this backpack catch everyone's eye and praises but
your kid will enjoy carrying it everywhere
! Additionally, you won't have to pay a fortune to get it, because JiePai has an economical price.
Lightweight
Non-toxic materials
Water-proof
Adjustable straps, sturdy zippers, and a top handle
Cute design
Small size
It could have more pockets
Criteria Used in Evaluation of the Best Kids Backpacks
We have done thorough research to find the best backpacks that kids can have nowadays, but we have also compared them by their features. Every backpack made its position on our list according to the features it provides, and here is our criteria used in evaluation:
Quality
Overall quality was the first thing that we were considering during the evaluation. Every parent wants a backpack that is made from quality materials that are safe and healthy for their children. They also want to know that a backpack can endure spills and stains so they can clean it easily. Kids are also known for dragging their backpacks all around and playing with them like little warriors, so it's important to know that a backpack won't tear apart after the first attack of this kind.
Capacity
Our line of thought was simple: the more storage capacity the better the backpack! It turns out that not only parents need many things for traveling or other activities, but so do kids, especially for school. They need to store all their books, crayons, clothes, tissues, snacks, bottles and other stuff. However, not every backpack has a big storage capacity – some of them are made for toddlers and specific situations, so we couldn't always rate this as a flaw.
Comfort
Comfort is a crucial thing that every backpack should provide. These days almost every kid's backpack features padded shoulder straps and backing, but different manufacturers use different materials that prove to be more or less durable over time. One of the most important things for our criteria was to know that your kid will easily carry its backpack and feel no pressure or discomfort. We also thought about chest straps for more stability and top handles for easier carrying when their little shoulders get tired.
Organization
Another important thing for a backpack to have are many pockets that will keep kids' stuff well-organized. It's great to have some exterior pockets for easy access to small essentials. The bottle pocket is nice but sometimes it can burden a small backpack and make it unbalanced. That's why it's not a must, but it's great to have it with bigger backpacks. Other useful additional features are things like top handles and leashes. We took all of them into account and we assigned points to our top 10 kids' backpacks according to the overall balance between crucial and additional features.
Price
Let's face it – kids' backpacks are usually overpriced. Of course, parents want what is best for their kids, but it seems that a high price doesn't have to mean a quality product. There are always some excellent products that demand some extra cash, but you can also find a decent and well-designed product that has a reasonable price. Therefore we tried to evaluate products on our list according to their price but we didn't exclude overall quality and additional features. It was important to include only the best products on the list, and that demanded evaluating the balance between price and overall quality of every backpack.
Other Factors to Consider
There are many cute backpacks on the market, but cuteness is not everything and many crucial features that provide quality and comfort are in the game. However, even if you know what to look for in every backpack, there are some other factors you might want to consider before making the final decision. It's the matter of making your kid happy after all.
Kid's Age
You may want to consider your kid's age before you purchase a backpack for it. As you already know, toddlers can't carry big and heavy backpacks, but even if you imagine the size of a backpack it can turn out bigger or smaller when it comes to your doorstep. The same applies to backpacks suitable for kids older than 3 years. The best thing you could do is to take dimensions from the backpack you want to purchase and draw them on a paper or any other surface. That way, you'll have an accurate size of the backpack in front of you, and you can determine whether it would fit your kid perfectly.
Purpose
Do you need to purchase a school backpack or one that is suitable for short or long trips? Maybe you even need the big ones where you can pack your kid's essentials and carry it by yourself during a vacation or other activities. There are many purposes that backpacks can fill out, and not every one of them is designed to be multifunctional. For example, some backpacks are made to carry books or folders but they don't have insulated pockets for food storage. Others are smaller but convenient for any kind of food, snacks, and drinks your kid may need during trips and vacations. You can even search for big backpacks that have all desired features but they can turn out heavy for your kid, so you may end up purchasing it for yourself. We advise you to determine where your kid will carry its backpack, and then you'll know what type of backpack you need to buy.
Additional Features
Lastly, you shouldn't forget to think about all the stuff your kid needs to store in its backpack. Every parent knows how important is to have a lot of pockets in kid's bags, backpacks, and luggage. There are so many little things that your kid wants to have by its side and pockets are essential because they can keep all that important stuff safe. Additionally, mesh pockets for things like bottles and umbrellas are great because they keep them in your kid's hand's reach. Other features that are not essential may turn out important for some parents. For example, a name tag or reflective tape are very useful. Some parents also want to have a leash for smaller kids, but some don't use that kind of stuff. That's why it's maybe better to examine various different backpacks and compare their features rather than buy the first one that seems great and cute. After all, there are so many different types of backpacks these days that you'll surely find the one that is just perfect for your kid!
FAQ
Frequently Asked Questions
Q: How heavy should a child's backpack be?
A: A child's backpack shouldn't be heavier than 10 to 20 percent of the child's weight according to recommendations of the American Academy of Pediatrics. You should keep it closer to 10 percent just to be completely on the safe side. Things get a bit complicated when your kid gets in higher grades because books are really heavy! According to many types of research kids' school books are too heavy to be healthy so many parents buy additional sets of books. That way, your kid doesn't have to drag all the books from school to home and another way around, since they can keep one set at school, and the other at home. In any case, pay special attention to the weight of your kid's backpack because it influences your kid's posture and it can cause some serious back pain.
Q: What's the difference between a kids and toddlers backpack?
A: Well, the main difference is in weight and size. A kids' backpack is often bigger than a toddlers', especially because they need to carry on school books and other additional stuff. Toddlers just can't carry a large-sized backpack because it can be harmful to their backs, and after all, they are still too young to have to do it by themselves. On the other hand, kids can mostly carry all their essentials by themselves, just make sure to check the weight they're carrying (it shouldn't be more than 20 percent of their weight).
Q: How can I safely clean a backpack?
A: You can use water and some mild soap to clean almost any backpack. This process won't rinse the vivid colors from your backpack and it won't damage its materials if it's not water-proof. Some backpacks are made from water-resistant materials and they're easiest to clean. They are really durable and simple to maintain. If you're searching for a new backpack, you can look for special materials that are stain resistant.
Q: Should I use a harness backpack?
A: This question hasn't yet reached consensus among parents. Some parents don't think that a harness backpack is a good thing for their children while others think that they provide security every step of the way. If you worry about your kid's safety, and it's completely normal that you do, and you think that harness backpack would provide more safety, you could use it just in particular situations. For example, you don't have to use it when your kid's in a park with you or in any other places where you can keep an eye on it without much effort. However, if you're walking down the crowded street full of vehicles, you could put it on to prevent your toddler from accidentally stepping in a dangerous situation.
Q: What to pack for the first day of pre-school?
A: Oh, it's that day already! They grow up so fast! We know, you are a bit nervous and you want to provide all the necessary things for your kid. The most important things are tissues, a change of clothes (socks, underwear, and diapers if it still needs them), snacks and a water bottle. It will need other things according to school's policy – if a school doesn't provide lunch you'll pack both snacks and a lunch, and the same applies for drinks (milk or juice), art supplies, and nap time essentials. Don't forget to pack your child's favorite toy or another comfort item as well as necessary or emergency medications.
Q: What to pack for the road trip?
A: What your kid will need during the road trip depends on its age and your destination. If you're packing for a toddler, you want to be sure that it has a change of clothes (diapers, socks, underwear), tissues, lunch (the amount depends on trip length), snacks, water, drinks, and of course, some art supplies and favorite toys (you can even get a lap tray where your kid can draw and play with toys). Almost the same applies to kids older than 3 years, although you can think about more fun stuff because they can carry around a heavier backpack. Don't forget to pack them a tablet or headphones because they can get easily bored during the trip.