Best Gas Cans Reviewed & Rated for Quality
One of the essential things that every motorhead has to have at hand's reach is a gas can. Whether you own a motorcycle or a car (or both), you need a power supply while working on your vehicle which is why it's always good to have a full gas can in your garage. Just think about all those gas-powered devices such as a lawn mower, a leaf blower, a pressure washer or an air sprayer that you keep in your household. Every house owner has at least one device that runs on gas, and it needs a power supply to keep them running. If you're to avoid those annoying situations when you have to postpone chores due to your tool missing fuel, you should definitely get one or two high-quality gas cans to keep in your garage. You never know when you're going to need them!
Featured Recommendations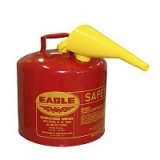 Eagle Type I

Our rating
Galvanized Steel
Price:

See Here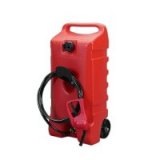 Scepter DuraMax

Our rating
High Protection
Price:

See Here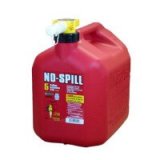 No-Spill 1450

Our rating
User-Friendly
Price:

See Here


Now, the big question is: how to choose the best one? Even if most gas cans look incredibly similar to one another, they do differ in many little yet essential things. To help you make a difference between them and choose the proper gas can for your needs, we prepared a list of the 10 best garage gas cans we could find on the market. This list should make your searching process a lot easier by giving you all the first-class products in one place. You get to chose the perfect one for your needs, knowing that it's one of the best products of its kind. Additionally, our list contains detailed reviews of every gas can as well as some tips and recommendations to help you make the best decision!
10 Best Garage Gas Cans
Eagle Type I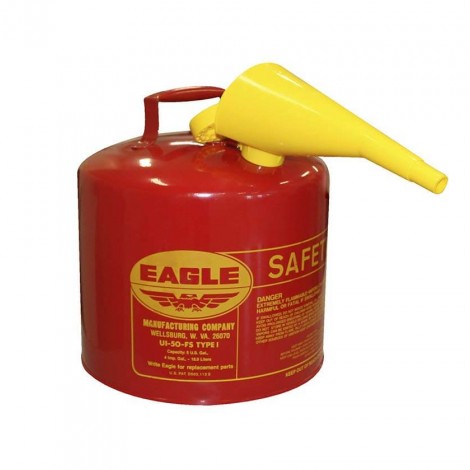 If you're tired of cheap plastic gas cans, Eagle has to offer one made of durable galvanized steel. This is a tough container that is meant to last! It meets OSHA and NFPA requirements which means that it's perfectly safe for transportation and storage of gas and other flammable liquids. The sturdy steel makes it not only very safe for gas storing but also durable enough to last for years. All in all, it's a high-quality container perfect for garage storage and incredibly easy to use!
Expand to see more
Galvanized Steel
Eagle is made of sturdy and durable galvanized steel that prevents spills and leaks and allows for storing all kinds of flammable liquids. While the container itself is made of steel, the funnel and the spout are made of plastic (the handle is metal but the one that you pull to open the spout is plastic). When it's time for a refill you only need to open the sprout and remove the funnel, it's simple as that!
The only drawback we found is the fact that it can be hard to pour the gas into a car since you can't turn it upside down to empty the entire can. While you can get a better angle when filling smaller devices such as mowers and leaf blowers, you can't do the same with your car. The best thing you can do is put the funnel in the car and pour the gas right into it.
5 Gallons
This container has a capacity of 5 gallons, and it weighs 7 pounds when it's empty. It measures around 13.5 x 12.5 x 12.5 inches which means that it's not exactly the smallest can on the market, but
it's perfect for every garage.
It's quite heavy when filled, but it's 5-gallon can and you can't expect it to be lightweight. With a comfort grip trigger release, this is easy-to-use can that pours the liquid out with incredible ease and without any spills. Additionally, there is a yellow write-on box on the back of the can where you can write what kind of gas you're keeping in it.
Cost and Value
Not only that Eagle stands out from the competition with its high-quality parts and amazing durability, but it also comes at an attractive price! You probably won't find such an excellent value for the price, so we definitely recommend purchasing one (or more) of these from Eagle.
Made of galvanized steel
No leaks
Easy to fill and pour out the liquid
5-gallon capacity
A comfort grip trigger release
An attractive price
It's hard to pour the gas into the car
Scepter DuraMax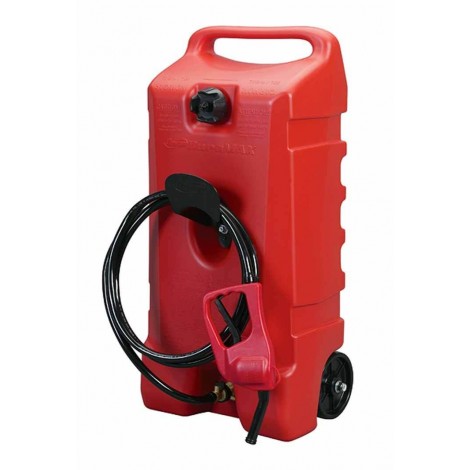 This Scepter's gas can is an excellent choice for all those who need a large container to fill lawn mowers, pressure washers, leaf blowers, and other gas-powered tools and devices. When we say big we mean it has a capacity of 14 gallons, which is more than enough for all your vehicles and commercial equipment. It comes with wheels for improved portability and some extra safety features for preventing leaks and pollution. Overall, Scepter has to offer a lot in terms of quality and durability!
Expand to see more
Safety Shut-Off Valve
Made of 80% resin and 20% rubber, this is a tough plastic container specially designed for transportation and storage of the flammable liquids. You can use a gas pump handle to stop and restart the gas flow, preventing accidental spills and leaks. Also, Scepter uses what is called Safety Shut-Off Valve to reduce pollution. Basically, it means that you have double protection against unnecessary leaks.
The only drawback comes from the fact that it's rather hard to empty this container. It has to be on the higher place than the thing you're filling up, which often requires lifting the container up for smooth flow. Keep in mind that lifting a container with 14 gallons of liquid isn't an easy task at all, and you might need some help. Also, consider buying a smaller plastic version for quick and simple refills.
High-Density Polyethylene
This gas can is made from high-density polyethylene that is resistant to corrosion
and makes gas storing completely safe.
As we already mentioned, it has a capacity of 14 gallons and measures 16 x 13 x 34 inches. It's rather heavy (9 pounds), but this is its main purpose and advantage, not a drawback at all! It has two wheels for better portability, so you don't have to carry around such a heavy can. All in all, it's incredibly sturdy and durable, and you'll find it useful for many years!
Cost and Value
This bulky gas container is a little pricey, we give you that, but it stores up to 14 gallons of liquid! Truth to be told, you probably won't find such a high-quality product for the same price, which is probably the main reason for its popularity. Most users praise it for its performance and durability, and we say it's worth every penny!
Made of high-density polyethylene
Resistant to corrosion
No spills or leaks
Big yet portable
Sturdy and durable
No-Spill 1450

This No-Spill 5-gallon container is one of the most popular gas cans on the market! We are thrilled by its high-quality and user-friendly design, and you'll definitely going to love it too! The name says it all – it's designed to prevent possible leaks and spills and keep the flammable liquid safe inside the plastic walls. If you're interested in this high-quality product, we recommend looking below for more details!
Expand to see more
Easy to Use
This is a convenient gas can that is incredibly easy to use. It features a thumb button control that allows for the easiest handling we have ever seen. The button gives you complete control over the running liquid, giving you more accuracy when pouring the gas into your tools and vehicles.
You only need to push the button when you want to pour the gas and release it when you want to stop. The action occurs immediately, there are no unnecessary spills or leaks, and due to 7/8 inches big funnel, you can fill almost every tank regardless of the size of the opening. Additionally, the funnel spout has a convenient cover for more protection against dirt and dust. The only issue worth mentioning is that the button is sometimes hard to push and it could make the process more difficult. However, it should loosen up after several uses.
Long-Lasting Product
No-Spill can withstand quite a lot, so you don't have to worry about every possible threat. It can even endure harsh weather conditions for years, although we don't recommend exposing it if you do have some free space in your garage. It measures only 13.8 x 11 x 14.3 inches so it shouldn't be too difficult to store it. The compact design also allows for convenient handling, just don't forget that it has a handle on the back – it can save you from some serious pain in your wrists!
Cost and Value
We expected for this gas can to be very expensive considering all praises and compliments it collects as well as for its amazing performance and high quality, but we were wrong! Although No-Spill compares to the first-class gas containers, it comes at an attractive price.
This makes it a perfect choice for every homeowner!
Features a thumb button control
Easy to use
No spills or leaks
Dust cover for more protection
Sturdy and durable
Inexpensive
A button is sometimes hard to push
Justrite AccuFlow

If you're not a fan of plastic gas cans and you prefer a good old steel container, Justrite has to offer a perfect one to suit your every need! This vintage-looking gas can has a lot of useful features including a safety trigger, a flexible metal hose, and a self-closing lid for safe and reliable use. Not to mention how sturdy and durable it is compared to plastic ones!
Expand to see more
Completely Safe
The Justrite gas container is made from stainless steel that proves to be corrosive resistant and overall very durable. There's probably no safer way to store flammable liquids than into the housing made from steel. Featuring a trigger that you have to squeeze when you want to pour the liquid out, it gives you the perfect accuracy when filling tools and vehicles. Also, a self-closing lid prevents possible spills and leaks, making this gas can even more reliable and completely safe!
User-Friendly
Along with other useful features, the design of the can itself adds to the entire user-friendly experience. The container measures 2.5 gallons and allows for easy handling, carrying and safe storage for many years. It features a flexible metal hose that can fit almost every opening which makes it incredibly versatile because it can efficiently fill every tool and vehicle.
When it comes to storage, you'll be pleased to know that this container measures 11.75 x 17.5 inches. You can store it almost anywhere, including your trunk if you need it at hand's reach just in case. However, it does have one flaw – steel makes it rather heavy so you'll have a little trouble with carrying it around.
Cost and Value
While Justrite is not exactly a budget-friendly product, it won't cost you a fortune to get it either! Considering the fact that it's an incredibly durable gas can
that prevents leaks and holds gas safely for many years
, it's worth every penny. We strongly recommend it for all those who have a few more bucks to spend on their new gas container!
Made from stainless steel
Durable and corrosive resistant
Features a trigger for more accurate use
A self-closing lid prevents spills and leaks
User-friendly
Worth every penny
The steel construction makes it heavy
A little pricey
RotopaX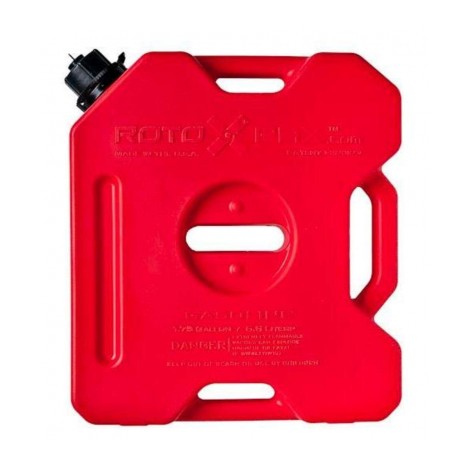 If you're searching for a no-nonsense gas can, look no further! We have an excellent plastic one to offer, and it comes from RotopaX. It's reliable, safe and very portable, so you don't have to keep it only in your garage. Although the plastic is lightweight you don't have to worry about its quality because it proves to be very sturdy and durable. All in all, we have one high-quality product here from RotopaX!
Expand to see more
Sturdy Construction
The container is made from sturdy plastic that is thick enough to be safe for gas storage yet not too heavy to be carried around. It's made of three-layer plastic to prevent leakage and keep the liquid well sealed in the inside. You'll only have to vent it once a day at high temperatures.
Portable
This gas can measures around 13.5 x 15 x 3.5 inches and it's not too heavy for carrying even when it's full of liquid. You can fill it with 1.75 gallons and store it in your garage or in the trunk of your vehicle for unexpected situations when you run out of gas.
Either way, it proves to be very sturdy and durable, and obviously very portable and easy to use. The only issue with its design comes from the tricky spout. The manufacturer doesn't provide a comprehensive manual, and it's hard to figure out how to use it without spilling the gas everywhere!
Cost and Value
If you want to make this portable gas can
a part of your garage equipment
, you'll have to spend some extra cash to get it. Truth to be told, it does provide great value for money, offering durable construction and several safety features, but some people still consider it too pricey.
Made from sturdy and durable plastic
Safe yet not too heavy
Spill and leak-proof
Very portable
Easy to use
Compact design
The spout could cause some issues
Pricey
Reda Innovations RGC1001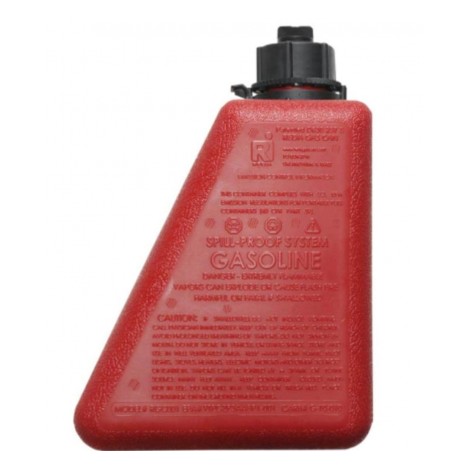 This gas can is primarily designed to fit saddlebags which is to say it's designed for bikers and car enthusiast. However, while it's incredibly useful to have it stored in a saddlebag or a trunk, it's also good to have one stored in your garage. You never know when you might need it for your other tools such as lawn mowers, leaf blowers, ATVs, and more. A compact gas can like this is always useful at hand's reach, especially the one that allows for simple use and quick refills!
Expand to see more
Portability
As we mentioned above, this is a portable gas can that comes very useful in the case of an emergency. You can easily store it in your saddlebag or in your trunk and keep it at hand's reach during every ride. What makes it even better is the sturdy construction that allows for keeping the gas stored in your garage until you need to refill your other vehicles and tools.
Whether you choose to keep it in your garage or take you on a road with you, Reda doesn't disappoint in terms of quality and safety! However, keep in mind that it holds only 1 gallon of gas which is not enough for most medium or big households.
Easy to Use
We already said that this is a high-quality gas can, but we didn't mention that it features overall sturdy construction that prevents possible spills and leaks. Measuring around 10 x 7 x 6 inches, it takes such a little space that you won't even know that is there!
Its compact design also allows for super easy handling, and you'll be able to pour the gas confidently and with great accuracy. Actually, this is probably one of the best gas cans when it comes to user-friendly experience it gives during every use, but that design was provided at the expense of its capacity.
Cost and Value
Reda offers this product at a reasonable price so you can easily
make it the part of your driving and garage equipment
. An attractive price also gives you the opportunity to buy several Reda cans to carry around and store in different vehicles without having to struggle with only one.
Portable and suitable for saddlebags and trunks
Sturdy constructions
No spills or leaks
Takes less space than other gas cans
Easy to use
Inexpensive
It can hold only 1 gallon of gas
SureCan SUR50G1

Here we have a unique gas can that features a rotating nozzle! This is an incredibly user-friendly container that allows for simple and safe gas storage. Along with several safety features, it offers excellent accuracy and great portability, even if it's rather a big container that can hold up to 5 gallons of liquid. Check it out, you'll probably find it worth trying!
Expand to see more
Double Leak Protection
First and foremost, this is a sturdy gas container made of thick and durable plastic. The sturdy construction ensures super safe gas transportation and
prevents dangerous and annoying leaks
.
Along with a flexible rotating nozzle, it has a thumb-release trigger that allows for emptying the entire can. You can finally say goodbye to gas residues and use the entire amount of stored liquid. These features also add to the entire leakproof design, making the container incredibly safe and long-lasting.
Comfortable Grip
Overall, this gas container offers a comfortable grip and it allows for great accuracy when filling tanks. The rotating nozzle is small enough to fit any tank opening which makes it suitable for all kinds of tools and vehicles. This gas can measures around 15.3 x 10.2 x 15.6 inches and stores up to 5 gallons of liquid. It doesn't take too much space yet it can hold a big amount of gas.
We only found one issue with its design. The cap is designed to be child-proof, but it gets in the way all the time, making it hard to remove from the pour spout. The manufacturer should think of a way to resolve this issue because our only option is to remove the cap altogether, which is not such a smart thing to do.
Cost and Value
While SureCan isn't the cheapest option on the market, it isn't overpriced at all! We really liked its unique design and a wide range of provided safety features, so we strongly recommend it. Once you try it out, you probably won't change it for any other gas container!
Flexible rotating nozzle
Features a thumb-release trigger
Double protection from gas leaks
Offers a compact design and a comfortable grip
Holds up to 5 gallons of liquid
Issues with removing the cap from the spout
Pricey
Wavian USA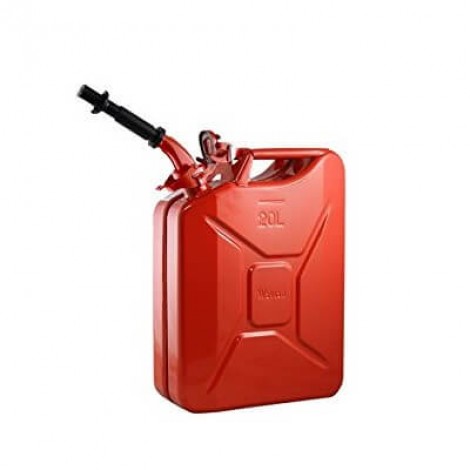 We have another product for all those who are fans of steel gas cans! This is a heavy-duty one, highly popular and carefully designed to withstand all kinds of harsh conditions. If you want a sturdy and durable gas can, you probably won't find a better one! For more information about this great product, keep reading our in-depth review.
Expand to see more
Sturdy
This gas can is made from heavy-duty steel and therefore, it's very sturdy and durable. The main advantage of a steel can is its resistance to rust, which is very important for gas storing. There is no thick plastic that could compare to the sturdiness of steel construction.
Wavian can withstand quite a lot, bumps, rocks, falls, and harsh weather conditions which means that you don't have to worry too much about where will you store the can. Featuring a quick release nozzle this can allows for great accuracy and simple use. You can easily control the process when filling the tank and pour just as much as you want, without any spills or leaks.
5 gallons
This one is perfect for your garage because it can store more than 5 gallons of gas, which is
more than enough for all your gas-powered tools
and vehicles. It measures around 19 x 14 x 6.5 inches and the steel makes it a bit heavy, but this is not such a big issue when it comes to big gas cans. It's designed to hold a big amount of liquid after all.
Cost and Value
The only and big drawback is the price of this Wavian gas container. It's one of the most expensive gas can's that we have seen, even if it does offer exceptional value. While we definitely recommend it because of its excellent performance and durability, those who are on a limited budget will have to search for another option.
Made from sturdy and durable steel
Rust resistant
Features a quick release nozzle
No spills or leaks
Holds more than 5 gallons of gas
Midwest Model 5600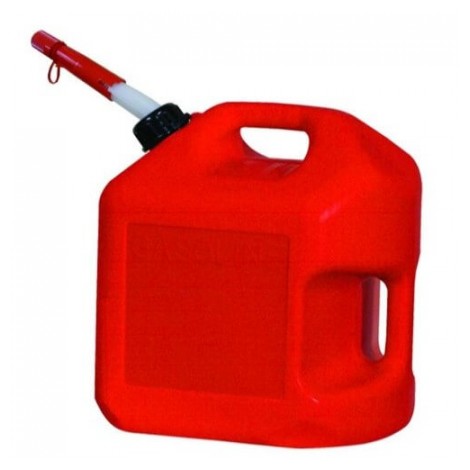 This is a basic gas can with a straightforward design. If you want a big gas container that can hold a lot of liquid and last for years, this is an excellent choice! It offers all necessary features to withstand harsh conditions and prevents possible leaks, which is the main concern of every user. Additionally, you'll find that it's very easy to use it thanks to the comfortable handles located on both sides of the container. All in all, Midwest Model offers no-nonsense design and does the job perfectly!
Expand to see more
Durable Plastic
Midwest Model offers a gas can made from thick and durable plastic that can withstand quite a lot. It's rust and dent proof as well as corrosion resistant. There are two handles on the container that allows for simple use – one is on the top of the container while the other is at the back. You can comfortably hold both handles and effortlessly pour the liquid in a tank. Additionally, you don't have to worry about spills and leaks because everything is sealed properly!
Perfect for Garage
This is a 5-gallon gas can that is
perfect for every garage!
It can hold enough liquid to power up all your tools and vehicles. However, this makes it a little bulky and it will require some extra space because it measures 24 x 21 x 10 inches. This won't be a problem for garage storage, but you don't get to carry it around at your preferences.
Being as it is, we didn't take this as a flaw because every garage needs a big gas can. What we did take as a drawback is a poorly designed spout. It's rather hard to keep it open while holding the can and pouring the liquid.
Cost and Value
You'll be pleased to know that this durable and well-performing gas comes at a budget-friendly price! Sure, it's not a first-class gas container and it has its flaws, but it is a high-quality product that will last for years and do the job quite well!
Made from thick and durable plastic
Rust, dent, and corrosion resistant
Two handles for a more comfortable grip
Leakproof
Holds up to 5 gallons
Budget-friendly
Bulky
Poorly designed spout
Briggs & Stratton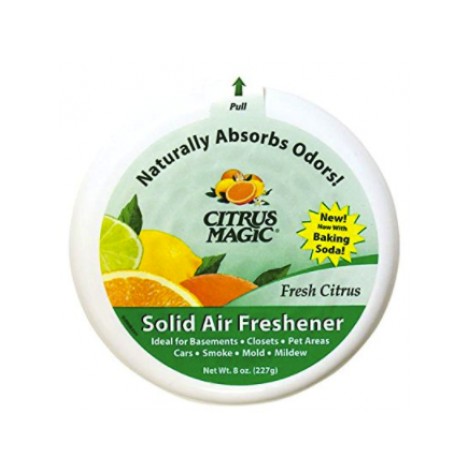 Last but not least, Briggs & Stratton offers a quite unique gas can! We are talking about one container that has two compartments – one for gas and one for oil. This makes it quite versatile and super useful for all kinds of situations, not to mention how portable and durable this product is. For more details about it, look below for our in-depth review!
Expand to see more
Two Compartments
To cut long story short, this is an incredibly useful gas can because it comes with two compartments. Now you can carry around both gas and oil in one can! The nozzles are long and small enough to fit every tank, but there are many people that aren't satisfied with their design. They don't leak, they are just poorly designed and hard to use. If you like this product and want it as part of your household equipment, consider ordering replacement nozzles.
Durable
This two-compartment gas can measures 12 x 5.8 x 12 inches which makes it very portable. It won't take too much free space in your garage and it can also fit in every trunk. It features a sturdy plastic construction that ensures durability for many years of use. Additionally, the parts are well assembled and prevent all possible spills and leaks.
Cost and Value
You can get this versatile and durable gas can at a reasonable price, and make your household chores a lot easier! Whether you need to power up your tools and vehicles or replace oil, Briggs & Stratton is there to make it happen. You also get to
maintain an organized garage
without all those different cans that require too much space!
Two-compartment can for gas and oil
Sturdy plastic construction
Durable and leakproof
Fit almost every tank opening
Very portable
Reasonably priced
Criteria Used in Evaluation of the Best Garage Gas Cans
In order to rank these 10 exceptional gas cans, we had to take into account all the features and materials that influence their overall quality, performance, and durability. It was a challenging task that required strict criteria for achieving the best results! Here are some of the most important factors for the evaluation:
Safety
As we have chosen only the best cans on the market, they all have to offer a wide range of safety features. Not to mention that they are all leak and spill proof, meeting the CARB regulations from 2009. However, they do differ in some other features that could cause malfunction after several years of use. For example, a poorly designed nozzle could lead to some leaks or fumes. We had to take all additional features into account and then rank the products according to their quality. The best are on the top of our list, of course, providing flawless performance.
Capacity
While it's up to every buyer to decide how big container he/she wants, we had to compare the overall design and the capacity of every product. We mainly picked bigger containers suitable for garages and households in general, and we had to make sure that they are still easy to use and store. Even the bulky ones should be user-friendly!
Durability
Every gas can has to be sturdy enough to withstand harsh conditions and possible damages, keeping the gas safely inside without leaks or spills. A high-quality container should last for years, never failing to provide exceptional performance. It should be made of thick and sturdy materials that won't change their substance or form due to different threats like high temperatures. Therefore, the most durable and well-performing products are at the top of our list while the ones that are more prone to damages are at the bottom.
Cost and Value
You can't put a price tag on safety, that is true, but some people can't afford expensive top-notch gas cans. There are still excellent options on the market, which is why we picked the best products from both cheap and expensive groups. This way, everyone can find at least one product that meets their budget requirements, and we ranked all products according to provided value for money!
Other Factors to Consider
Before you make your final decision and purchase one of our best picks, there are some things you might want to consider before the very act. Here is what we have in mind:
Plastic or Metal
One of your first steps should be deciding for a particular type. Do you want plastic or metal gas can? Plastic ones are lighter and more portable, allowing for carrying around and simple storage in your trunk or saddlebag. However, the ones made of steel are more durable, and they can sometimes last for decades! Metal gas cans can withstand harsh weather, especially high temperatures that could damage the ones made of plastic. You should ask yourself which one meets your particular requirements because it always comes down to your needs and preferences.
Capacity
We always recommend purchasing a bigger gas container because it doesn't require quick refills and it can power up many devices and tools before it runs out. It's always good to have a big one to store in your garage for when you need it. However, if you don't have the means to purchase both the big and the smaller one, you should decide on the one you need more. We can't deny the benefits of the small portable container either!
Budget
While it's always smart to add a few extra bucks to make sure that you'll get a safe and durable gas can don't think that only the most expensive ones are valuable. There are many budget-friendly products that provide great value for money, and they are also very safe and sturdy. Consider your budget limitations – you should always aim for the best gas can, regardless of the price, but if you have to go for budget-friendly products you should know that they do provide equally good performance.
FAQ
Frequently Asked Questions
Q: Is it safe to drive with a gas can in your vehicle?
A: No, it's not safe. Even the first-class gas containers could leak or emit some fumes, and sometimes even a little spark can cause an explosion! We strongly recommend avoiding these dangerous situations and rely on gas stations. However, if you want to feel more secure, you can store an empty gas can and fill it up only when needed. It's not an ideal solution, but it's safe and it could turn out quite useful in some situations!
Q: Do they always leak?
A: Absolutely not! While they are more prone to malfunction or damage after several years of use, they certainly don't leak straight from the box. Well, at least not well-designed ones. Back from 2009, all gas cans had to meet CARB regulations which is to say they had to be leakproof and to feature child-proof caps. It doesn't mean that all companies followed these regulations because of the high production price, but the best ones did change the overall design of the cans. These days, there are many gas containers that offer double leak protection and other safety features to prevent possible spills and leaks. If you choose carefully, you'll get a safe and leakproof gas can.
Q: Will they explode when exposed to high temperatures?
A: Yes, it could happen with some poorly designed and cheap gas cans. However, even if you leave them under the burning sun they won't just blast in the sky (although we don't recommend trying this out). They'll explode if constantly exposed to the sun or high temperatures, and we repeat, some of them have all necessary features to prevent this from happening so it's not a general case. Either way, keep this in mind and store your gas cans on dry and cold spots.
Sources