Best Garage Shelves Reviewed & Rated for Quality
Spring is in the air and you know what that calls for… Spring cleaning. Whether you are doing a purge or simply organizing things around the house, your garage is usually left to do at the very end. Do you have a garage that you fill with junk that you don't want in your house and are dreading to do a deep clean? Maybe its time for you to invest in a storage unit – it will be a life saver! Decluttering your garage space with best garage shelves will not only make it easier to find things but it will help you stay organized for years to come.
This buying guide is very diverse, you will find that these products come in all different sizes, shapes, and colors with varying numbers of shelves. You also have the option to choose from products that are stationary or rolling, and options that can mount to the wall or even hang from the ceiling. Are you looking for something to store tools? Are you looking for something that is off of the ground or has many shelves? With all that being said, we believe the first step for you is to determine exactly what you will use these organization systems for. The possibilities can be endless – but don't worry, there is a product for everyone.
Featured Recommendations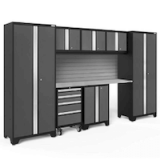 NewAge Products Bold 3.0

Our rating
Excellent Quality
Price:

See Here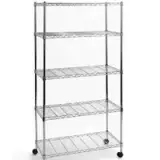 Seville Classics

Our rating
Top Performance
Price:

See Here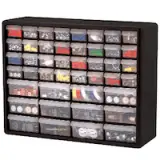 Akro-Mils 10144

Our rating
Best Organizer
Price:

See Here


After doing extensive research, we found that there are endless options to choose from when looking for garage shelves. You may feel overwhelmed by all the options, but there is no need to worry- we did the footwork for you and made a list of the 10 best options on the market today. You will even find that some of the most reputable brands have made the cut onto our top ten list. We suggest that you take your time reading through our buying guide and make sure you choose the one(s) that best suit your needs. We guarantee that you will find something that will work for you!
10 Best Garage Shelves
NewAge Products, Inc Bold 3.0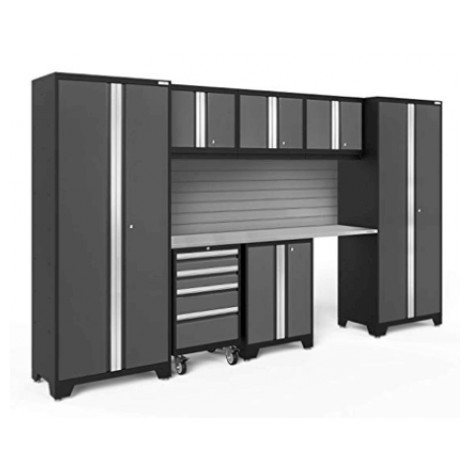 This 8 piece set from NewAge Products, Inc lands itself in our number one spot for this buyers guide. One of the reasons why this system is rated number one on our list is because it includes multiple shelves, multiple cabinets (stationary and rolling) and a full workshop bench. We guarantee that this product will exceed all your expectations.
Expand to see more
Durability
You will be astonished by the durability of this set because it is made with top of the line materials. Whether you are using this set as a garage nook or a workstation, it is evident that this stain resistant product is made to last. The Bold Series 3.0's frames and doors are made of 24-gauge steel frames - built to last. Also, the worktops and height adjustable shelves are made from high-end steel. No wonder this product is number one on our list!

Best Organization
To be exact, this garage shelving system, once fully assembled is 132in. W x 18in. Dx 77.25in H. It comes complete with three wall cabinets, two oversized lockers, one-floor cabinet, and a rolling tool chest. You can expect to get your whole garage organized with this 8 piece set because it offers you an excessive amount of storage space that will accommodate different sized items.

Cost and Value
Even though NewAge's Bold Series 3.0 - 8 Piece Garage Set comes with a steep price tag, once you give it some thought, you are really getting more than you think you are. We believe that this set is more than feasible because, not only does this set come complete with all the storage you need, but the lights and backsplash are included with that price as well. Many customers who have purchased this set have stated that this set is "worth every penny".
Exceptional packaging, shipping, and delivery
Easy to assemble
All in one set
Shelves are adjustable to your needs
Shelf light and backsplash included (optional)
Designed with premium quality and rust resistance materials
Must mount cabinets onto a stud for proper wall mounting and safety
Pricey
Seville Classics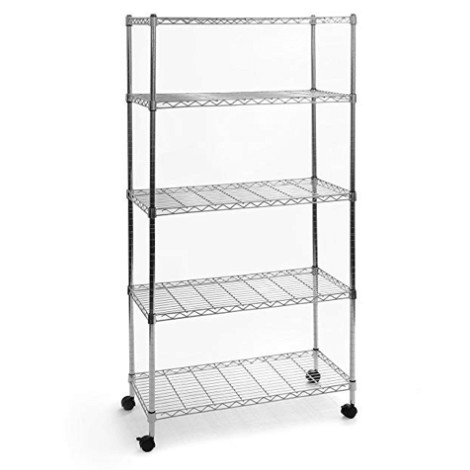 In second place, we have a 5 tier shelf by Seville Classics. It's not only a shelf that you can place in the garage- this shelf can be placed basically anywhere you have room for it. Continue reading to find out why this shelf is an absolute must have.
Expand to see more
Easy to Install
You will love this shelf because its simple design is extremely easy to install. Tools are not required to assemble this shelf either. With this shelf you have the option to customize the height of each self by adding slip sleeves at 1 inch intervals.

Made with Heavy Duty Materials
This shelving unit by Seville Classics is a great choice because it is made with industrial strength steel wire and is corrosion resistant. With this shelf you can put up to 1500lbs or 300lbs on each shelf, granted that you do not install the casters (that will lower the weight capacity).

Cost and Value
This product is exceptionally priced but that doesn't mean it is lacking quality. This shelfs versatility offers the best bang for your buck since you have the option to use this in other parts of your house, not just the garage. Its simple design may be deceiving but it does an impeccable job keeping your things clean and organized.
Made with industrial strength steel wire materials
1500lbs Capacity (300lbs each shelf; 130lbs if casters are used)
Simple installation - no tools required to set up
Multipurpose use
Customizable shelves
Limited 10 year warranty
Poor packaging from vendors
Customers state that casters do not fit and suggest purchasing heavy duty casters
Akro-Mils 10144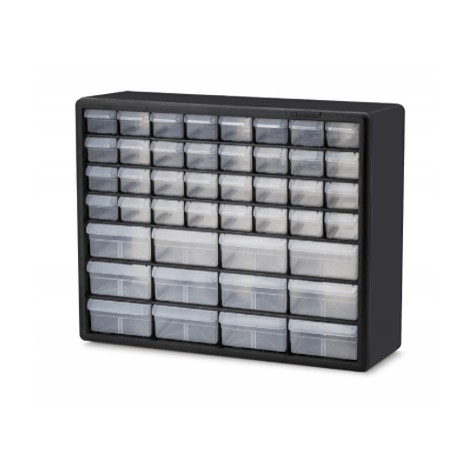 You must be wondering where you'll put your small items like screws, bolts, nuts, nails, washers, tape, and items alike in your garage once you get organized. This option from the leading manufacturer of plastic and metal storage, Akro-Mills, was created specifically for these small items. Priced the cheapest compared to our other options on the list, this cabinet is an organizers dream come true.
Expand to see more
Small Item Organization
With this option from Akro-Mills you will have no trouble locating those small items you usually have trouble finding in your garage. The drawer pulls fit your fingers perfectly and allow for easy access to your stored items.

Versatility
This cabinet offers versatile storage solutions not only for your garage but can also be used inside the house and/or your office. This is also a great option because it can be wall mounted or stacked. We believe that you will highly enjoy this product because of how versatile it is.

Cost and Value
As mentioned above, this cabinet by Akro-Mills is the cheapest on our list. Just because this product is this cheapest, do not let that fool you. This cabinet has received a plethora of reviews online from customers who purchased this for their garage. It is safe to say, no wonder this product made it onto the top three.

Easy to install
Option to stack or mount onto wall
Includes 12 large and 32 small drawers
Can hold more than 45lbs
Made with high quality rugged polystyrene frame
Not recommended to tip forward
Limited drawer dividers
FLEXIMOUNTS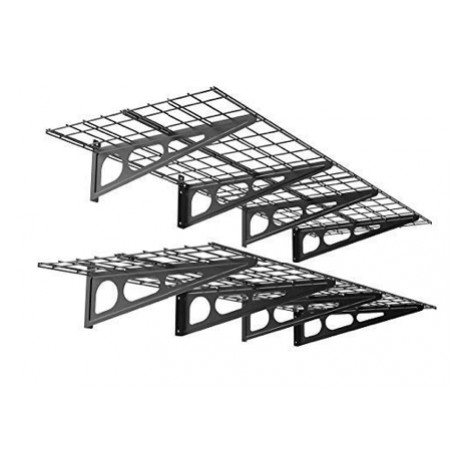 This two-pack wall mounted shelf is made with heavy gauge steel which can hold up to 400lbs, 200lb on each shelf. This shelf features a sleek design that requires no more than one person to install. It features a buckle design with velcro to prevent any damages.
Expand to see more
User-Friendly
As previously mentioned, this option designed by Fleximounts can be installed by one person. No need to fret - a template was created to guide you through the installation step by step to ensure an accurate level to the floor. You have the option to stack this shelf above one another or place them side by side.

Top Quality Material
Built from top quality heavy gauge steel construction this shelf is very popular amongst those who don't want a shelf that is touching the ground. Once these shelves are installed correctly you will be able to place large heavy items that do not exceed 200lbs on each shelf.

Cost and Value
If you are looking for a shelf that will help you free up floor place in your garage - you should highly recommend purchasing this shelf. For the cost, it is not the most expensive, nor cheapest shelf on our list but its versatility and convenience cannot be beaten.
The shelf comes as a 2 pack
One person installation
Designed w/ extremely durable steel
Can safely hold up to 400lbs
Quality tested hardware included
Protects from potential water damage
Corrosion resistant
It is critical that you mount this rack onto a stud or solid concrete wall
Customers say the shelf cannot be installed onto a drywall
Racor Overhead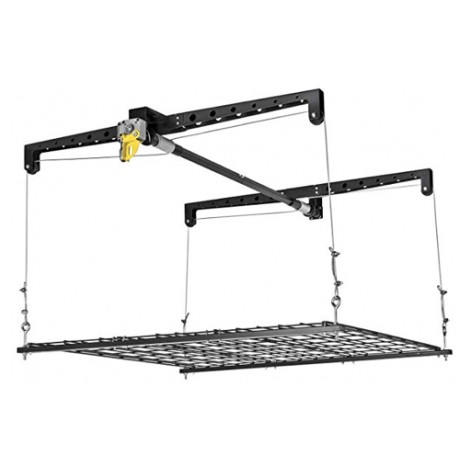 Coming in at number 5 is our first overhead shelf on our list. This option by Racor is a great choice because it is made of premium materials and is one of the safest overhead shelves on the market today. By choosing this shelf you will create 16 square feet of additional storage space within your garage.

Expand to see more
Safety
This one of a kind overhead shelf features built-in nylon rings that will allow you to safely mount this to any ceiling, no matter the angle. The safety locks on this shelf ensure that your items are safe and secure when fully raised to your ceiling. What makes this shelf so unique is the winding crank that once engaged will allow you to raise and lower the shelf to your preferred position.

Heavy Duty
This shelf is built from high-quality materials that is capable of holding up to 250lbs, not as much weight as others on the market right now. It features heavy duty support beams and a 4x4 platform that is built to lower up to eight feet from the ceiling. This shelf is the most favorable to those who have tall ceilings.

Cost and Value
In comparison to other options on our list, this shelf is priced in the middle in terms of the most expensive and least expensive. The unique pulley system along with its durable nylon cables allow you to use this self with no issues. In conclusion, this shelf offers a lot of value for the price and would make a great addition to your garage.
Can accommodate regular to tall ceilings
Designed with top quality materials
Includes 1-year limited warranty
Easy to assemble and use pulley system
Must secure to ceiling support beams for safety
FLEXIMOUNTS Overhead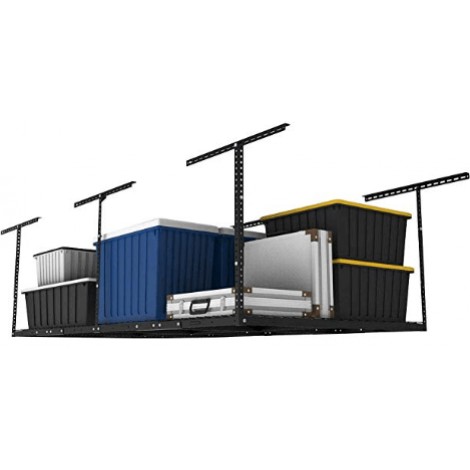 Another option by Fleximounts makes it onto our top ten list. This is a great affordable option for someone who is looking for an easy to use, safe overhead garage system to store your unused and seasonal items.
Expand to see more
Excellent Quality
This product and its included
hardware
have gone through rigorous testing. This shelf features heavy duty steel construction that will allow you to load up to 550 lbs safely. Its unique integrated grid design makes this shelf more stable and sturdy compared to other overhead shelves on the market.
Ensures Safety
In comparison to other overhead shelves, this product features not only four vertical posts but six. Yes, that's right you read that correctly...six posts. We suggest that you attach all six posts to a minimum of two studs to ensure safety.
Cost and Value
Compared to the previous overhead shelf, you will find yourself saving a few bucks on this gem. Even though this shelf does not feature a pulley system for you to access the items you are stowing away, it is still a great option at a reasonable price. We believe this shelf is perfect if you are
planning
to store your items off the floor to prevent any water damage.
Designed with heavy duty material
Integrated grid design
User-friendly
Option to add hooks and clamps to your shelf
Can safely hold up to 550 lbs
Increases your garage storage capacity
Will prevent your garage items from possible water damage
Some customers have indicated that the product arrives with missing pieces
Prepac Elite Cabinet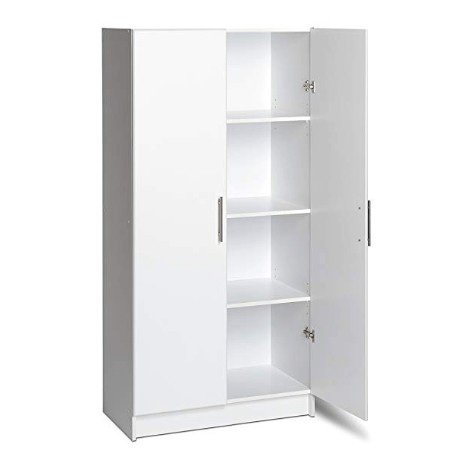 This product deserves a spot on our top ten list because this storage cabinet is 16 inches deep compared to the standard 12 inch deep cabinets. This option from Prepac is a great choice because this will give you 34% more storage space if you are in search of a quality garage cabinet or just needing more storage space in general. We suggest you keep this reading to learn more about this products key features.
Expand to see more
Versatile
Whether you are looking for a garage shelving cabinet or extra closet space, this product is made to suit all your needs. This cabinet includes two adjustable shelves and one stationary one. With this product, you can expect to keep your stowed away items dry, dust free, and secure.
Easy Installation
This product is ready to assemble right out of the box. It features user-friendly instructions and can be set up in no time. Customers who have purchased this cabinet have expressed how impressed they were with the finished product. This cabinet will be a great addition anywhere in your house.
Cost and Value
Although this cabinet may seem pricier than others on the market, we believe it will add tremendous value to your garage. If you are worried about your items
being exposed to the elements
, whether it is in the garage or in your house, you will not have to worry with this product.
Includes a 5-year limited warranty
Proves an additional 34% storage space
Simple installation
Made with quality materials
Excellent appearance
Not recommended to store any liquids in this cabinet
DIY Rhino

This shelf is the only do it yourself kit on our top ten list. Its aluminum powder coated heavy duty frame feature is considered one of the best on the market today. This shelf will make a great addition to your garage if you are looking to store heavy/ bulky items.
Expand to see more
Universal Kit
As the title of this product states, this shelf is DIY. The configurations for this shelf is endless. This helps make it easy for you to install anywhere in your garage or home. The most attractive feature of this universal kit is being able to mount this to your ceilings without adding additional weight to your ceiling joists.

Heavy Duty
This product is made with commercial grade materials. The shelf brackets are aluminum and are stated to be the strongest in the market. Once you add the lumber to your shelf you are essentially ready to go. This will help you store your items safely and securely.

Cost and Value
This do it yourself kit is perfect for the person who is hands-on and is looking for a fully customizable shelf. Although the price may seem steep since you have to purchase the lumber yourself, the quality of the aluminum brackets cannot be compared.
Industrial grade material
Universal and flexible installation
Maximum capacity 1,950 lbs for 12 ft kit
Designed to last for years
Simple installation
Lumber is not included in this DIY kit
Must purchase additional screws
EDSAL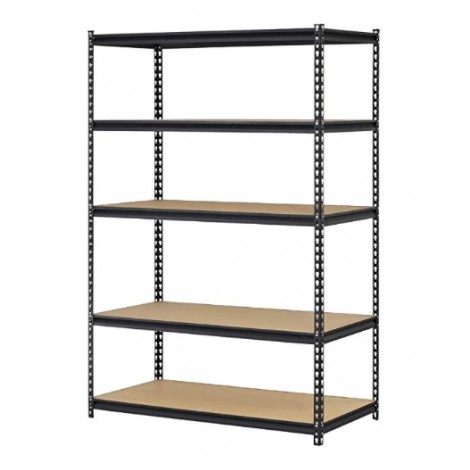 This shelf is designed to withstand up to 4000 lbs, making it the most durable 5 tier garage shelf on our list. It is not a cabinet, so the items you do place on this shelf are exposed to the elements of your garage. This shelf is a great option for someone who is looking for a shelf to place their heavy garage items on.
Expand to see more
Customization
This shelf features two customization options. You will get to choose to set it up standing upright or have it designed side by side. This shelf is a great heavy duty option that would make a great addition to your garage.

Easy to Install
Similarly to other shelves on our list, this product is extremely easy to set up by following 4 four simple steps. This option from Esdale is a great choice because it does not require any nuts and bolts to assemble, this gives you more time to get your work done.

Cost and Value
This shelf may seem cheap because it is priced under $100 compared to others on this list. But don't let that sway you away, this shelf is built with top of the line materials and is built to last the test of time. We would consider this shelf the best bang for your buck.
Multipurpose shelf
Top quality material
Maximum weight capacity of 4000 lbs
No tools or additional hardware needed
Easy to install Revit lock design
Gladiator Mobile Cabinet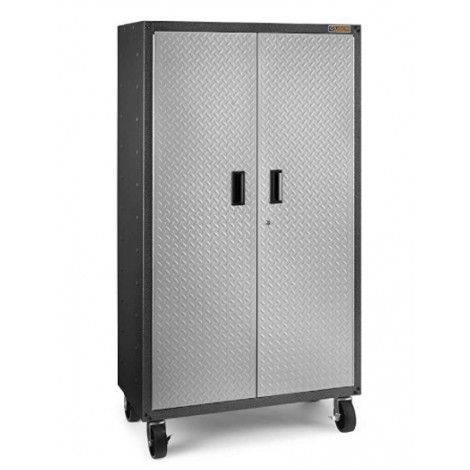 This versatile heavy duty cabinet is just a bit over five feet tall and is made to safely store your most valuable garage items. Even though this cabinet is by far the most expensive on our list, it is the only one that offers a built in lock and is mobile.
Expand to see more
Heavy Duty Protection
Gladiator is a well-known brand that is made to last through all the elements. This steel cabinet offer exceptional cabinet structure. This product is held together by heavy-duty Allen bolt screws and back plates. No wonder this cabinet is one of the best on the market today.
Mobility
Not many cabinets on the market are mobile. If you decide against mounting this to the wall you will have the option to
move this around
to better suit your needs. This cabinet has front wheel casters that you can lock to provide stability, at the same time leaving the back casters to swivel around. This product would make a great addition in your garage if you plan to move it around a lot.
Cost and Value
Compared to the other cabinets on our list, this product is on the pricier side of the spectrum. This cabinet is a very well known brand and it offers great value if you aren't worried about its price tag.
Includes a built in lock
Designed with heavy duty materials
Well known brand
Option to mount the cabinet on the wall
Easy to use
Includes a 10 year limited warranty
Pricey
Only holds up to 45 lbs on each shelf
As we mentioned above, the options are endless when searching for the best garage storage units. Keep in mind though, these products are extremely essential for providing additional storage space if your garage is lacking it. Investing in an exceptional shelf will benefit you in many ways. Whether you are storing your tools or seasonal items, a good shelf will keep them damage free and in tip-top condition. In addition to these benefits, a good garage shelf will keep your space clutter free and will cut down the time it takes for you to find what you're looking for.
In conclusion, after doing extensive research, there is a lot to consider before purchasing a garage shelf/ storage unit that will check off all your boxes. You may still feel overwhelmed with all the options to choose from so we suggest that you take your time weighing all the pros and cons. We guarantee that once you decide on which product will work best for you, you will be more organized and less stressed by clutter.
Criteria Used in Evaluation of the Best Garage Shelves
From our research, we found that shelves/ storage units come in all different sizes. First things first, you should start by determining how much things you have and what you will be using these garage shelves/ storage units for. With that being said, doesn't it make sense to purchase a shelf/ storage unit that will provide you will the most storage space possible? Hold your horses…before you choose the largest one, you want to make sure that it will fit in the space you intend to place it. When determining what will suit your needs, also take into consideration how many shelves come with your shelf/ storage unit, can these shelves be adjusted or removed, etc? Keep in mind, cabinets are one of the types of shelves that you cannot expand – you will have to purchase additional units as needed.
Type of Shelf
As you've seen above, there are a number of different types of garage shelves/ storage units. Like all of the products we've reviewed – there are pros and cons. We highly suggest that you take measurements of the space you are planning to place the shelf/ storage unit – from there you can then start your process of elimination and choose the product that will best suit you. Continue reading to learn about the three different types of shelves/ storage units we took into consideration for this buyers guide.
The most generally known type of shelf is the standard shelf. From our top ten list above you will see that this type of product has four stationary posts and a range of different shelves that are arranged to attach to them. The standard shelf may come as a cabinet or an open shelf on all sides so the items that you place on it will be exposed. We have seen that this type of shelf can hold the most weight capacity out of all the other types.
The next type of garage shelf/ storage unit we evaluated is the overhead shelves. For instance, FLEXIMOUNTS 4×8 Overhead Garage Storage Rack or the Racor Ceiling Rack that we have listed above are considered overhead shelves. These products must be mounted on the ceiling and secured by the roof's ceiling support beams. You want to make sure this is safely mounted to secure the items you plan to store on this type of rack.
Lastly, we have the last type of shelf, wall mounts. We found that these shelves a very popular pick because of how convenient they are. This type of shelf/ storage unit can be mounted just about anywhere – just make sure they are mounted onto a stud or some sort of brace support. The only downfall with this type of mount is how much you can store on them, they have the lowest weight capacity out of all the types.
Durability
Investing in a top of the line garage shelf/ storage unit will give you peace of mind when considering all the things you are storing in your garage. Whether you are planning to store small items such as screws, tape, wires, etc or large items like your vacuum, lawn mower, tool sets and others alike, a durable shelf will help you stay organized.
Other Factors to Consider
Installation
While doing a deep clean in your garage, the last thing you want to do is to have to sit there for hours assembling your new garage shelf/ storage unit. For this buyers guide, we took into consideration how well the instructions were laid out for the buyer – are the instructions straight forward, are the diagrams helpful? We found that many of the shelves on our list can be assembled with no tools and have very simple instructions. If you choose any of the shelves on our list you will be on your way to organizing in no time.
Materials
Not only do garage shelves/ storage units come in different types and sizes, but there are also made out of different types of materials. You will find these products can be made out of wood, plastic, metal, steel, etc. We believe that the best material for a garage shelf/ storage unit is steel. Steel is considerably strong and extremely durable which will increase your total weight capacity for each shelf. It is important to research the material that your future garage shelf/ storage unit is made out of because you want to purchase one that will not only keep your items safe and secure but also last you a long time.
FAQ
Frequently Asked Questions
Q: Why should I invest in a garage shelf/ storage unit?
A: The sole purpose of a garage is to store your vehicle. Like many of us, whatever we cannot find a place for in the house, we move to the garage. And then before you know it your garage is filled by not only your tools and car necessities, but now with your unused household items. We believe that anyone can benefit from having a convenient shelf/ storage unit because it will help keep your garage clutter free and clean.
Q: What is the best material for a garage shelf?
A: After doing research on the different type of materials, we believe steel is the best material for a garage shelf because it is meant to last for a year. Especially since this shelf will be placed in the garage, steel will withstand the outside elements and the loading and unloading of items. You will not have to worry about rust either because many of the products on our list is rust/corrosion resistant.
Q: How do I clean the shelves/ storage units?
A: Each shelf/ storage unit is made of different materials. A rule of a thumb is too usually just use a lightly damp cloth with mild soap and wipe it down. If you are cleaning a product that is made of wood you want to make sure you don't leave any water sitting for too long. The ultimate key is to make sure you do not cause damage to your shelves/storage unit.
Q: What is the maximum weight a wall mounted shelf can withstand?
A: We suggest that you follow the suggested weight dictated by the manufacturer. Wall mounted shelves come in all different designs and are made up of different materials so it is very important to stick to the suggested weight limit for safety reasons.
Q: Are open shelves better than cabinets?
A: This is honestly personal preference. If you are on a tight budget, open shelves are highly recommended. These shelves are less expensive and are easier to access since you can see exactly what is on the shelf. If you are worried about dust and having all your items exposed to different elements, we suggest that you go with a cabinet for an additional layer of protection.
Q: How do I install my garage shelf/ storage unit?
A: Each shelf is designed differently, therefore they are all installed differently as well. Some may come pre-assembled, some will require the use of tools, and some will be as simple as snap and go. It just all depends on the shelf that will best suit your needs.