Best Chicco Car Seats Reviewed & Rated for Quality
It's always important to look for the best when it comes to the safety of your children, especially those little ones. If you want something that prides itself on being top of the line, then a Chicco car seat is the place where you can never go wrong. They are a company that has made a name for themselves when it comes to making sure that you get the highest quality product possible. They also offer a wide range of seats that cover any niche that you can think of. Even better, the quality of the products is incredibly high across the board.
Featured Recommendations

KeyFit 30 Infant

Our rating
Easy to Use
Price:

See Here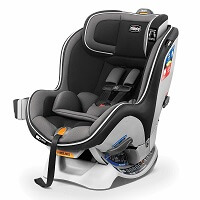 NextFit Zip Convertible

Our rating
Zip-Off Padding
Price:

See Here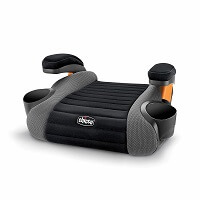 GoFit Backless

Our rating
Lightweight
Price:

See Here


Of course, there are many types of car seats for all kinds of kids. They have options for infants, toddlers, and even youth sizes. That means that you might need to do a little reading before you find the one that you like. Their products are also packed with exciting features that put them above the competition. They even have some great convertible car seats that are worth checking out if you're looking for something to last you and your child quite some time. Take a look and find the one that suits you best.
10 Best Chicco Car Seats
KeyFit 30 Infant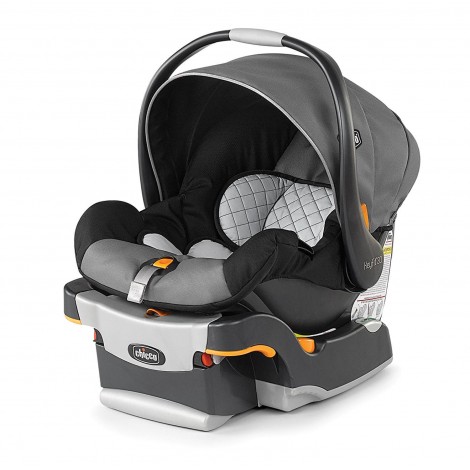 The KeyFit 30 is considered by many to be the best seat that money can buy. It has been rated number one in America. It earns the reputation through the high-quality design of its mechanisms, and its ability to grow with your child. There won't be nearly as much craning of the back when you use this one.
Expand to see more
Easy to Install
One of the greatest things about the KeyFit 30 is that it is so easy to use. It has a base that fits comfortably into the seat without any awkward tugging on your part. This makes it a dream for taking out of the car. It has a handle that makes it easy to carry with you to whatever play date or errand you need to go on.

Adjustable Design
Another thing that makes the Chicco worth looking at is that it will last you for a long time. This is partly because of the well-considered construction of the product itself, but it also has to do with the removable pads in the seat. This makes the KeyFit able to cater to newborn babies and when they grow up. The 30 in the title actually refers to the thirty pounds that it can hold, and the thirty inches of a baby that it can fit.

Cost and Value
Chicco is one of the more respected brands of products that you can get when it comes to pampering your child. The KeyFit 30 costs a little more than you might think, but it is worth it for the many improvements it has over the run-of-the-mill products. The comfort you will experience when you are moving it back and forth, as well as the longevity that it has for your child, make it the best option for any kind of parent.
Comfortable for adjustments and installation
Can grow with your child
Durable design
Easy to carry around
Might not work for taller children
NextFit Zip Convertible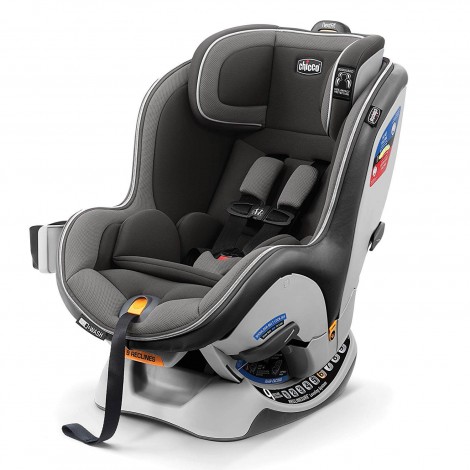 The NextFit Zip Convertible is perfect for those who want an option that will last through the many transitions that come with buying a child safety seat. The convertible nature of the NextFit means that you can install it facing backward or forwards. That means that your child will have somewhere to dangle their legs when they start getting too tall.
Expand to see more
Convertible Seat
The NextFit Zip Convertible is designed to make it easy for you when it comes to transitioning the chair. It makes it perfect between the ages of nine months and well past two years old. It has padding that is removable so you can accommodate the rapid growth that comes with a growing baby. The installation is very simple in both front and rear facing positions.

Safety and Protection
Something great about this option is just how good it is at keeping your baby safe. It has been designed with EPS foam, which is custom-built to absorb any kind of impact. It also comes with a reinforced steel frame, which means that it will easily keep its shape. These two pieces of technology combine to create a very comfortable and safe chair.

Cost and Value
This is another pretty expensive option, but it does a great job of giving you something that will last for a very long time for your child. It is designed to last for multiple years of your child's life. That gives the NextFit Zip Convertible a high level of value.
Very secure design
Can be installed forward and backward
Comfortable and adjustable cushions
Easy to clean
GoFit Backless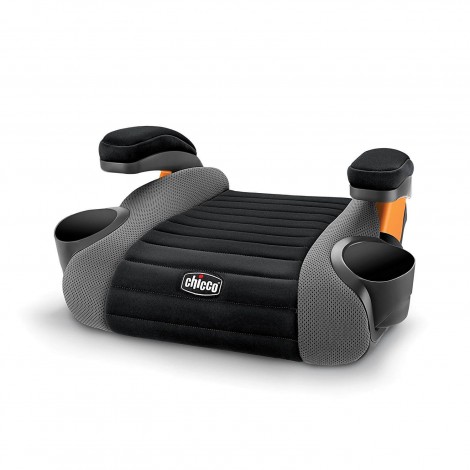 The GoFit Backless is a booster designed for children old enough to
play with toys
and have almost freedom within the car. It is a well-made design, mostly due to the comfort and stability that is built right into it. This is a beefy booster, which means your children will feel like kings when they sit in it.
Expand to see more
Comfort and Stability
The GoFit Backless is a very comfortable option for your children to sit in. It is much wider and larger than many other boosters on the market. The cushioning is thick and fluffy, so you don't need to worry about complaints of sore keisters on those longer drives.
Another great thing about it is the big armrests. They give your son or daughter somewhere to place those restless arms.
Convenience Features
The GoFit is also great for all the thoughtful extra features that it comes with. It has some handy guide clips for both the lap and the shoulder belt. This means that your child will have the ideal fit, no matter how big they keep getting.
There are some other features that are there just to make your life much simpler. This includes the foldable cup holders that come with the seat. There are two of them, so both you and your child get to have a sippy cup at the ready. Finally, there is also a convenient carry handle that will make it
easy to transfer
it from car to car.
Cost and Value
Compared to many of the other luxury items that you can buy from Chicco, the GoFit is a steal of a deal. It doesn't cost nearly as much, but it still has all the most useful features that you can find in the booster chair market.
Lightweight design
Comes with arm rests
Very comfortable
Good features
KidFit Zip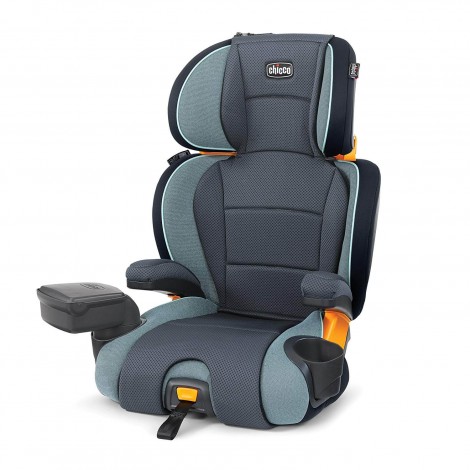 The KidFit Zip is a 2-in-1 style that is designed for children four years and up. It can be used as both a car seat and a booster. The back comes off when your child is big enough for the normal car seat. The KidFit is also designed with protection in all the most important zones. This is focused on its unrivaled side protection.

Expand to see more
2-in-1 Design
The KidFit Zip is perfect for parents who are sick of having to switch out chairs constantly for their ever-growing child. The Zip will last for the home stretch of car seats through the implementation of its 2-in-1 design. The back can be removed once your child gets a little older and more mature. The back itself is also highly adjustable. This means that you don't need to worry about any sudden growth spurts happening right after you buy it.

Highly Safe
One of the most important things that set this apart from the rest is the very impressive amount of protection that has been built into it. The claim to fame here is the unmatched side protection on the product. It is designed to keep your child comfortable and safe through the focus on protection in the shoulders and neck.

The adjustments to the back occur at the waist, which makes it easy to line up the padding properly for your child's head. There are ten different focus points for the side protection of the KidFit

Cost and Value
The KidFit is great for any children that are almost big enough for the booster but still need a little more help. The combination design makes it perfect for those who think longevity is the most important aspect of a car seat. The long-lasting design of the KidFit makes it a high-value item for any household.
Convertible design
Easy to install and cinch
Very comfortable for kids
Cup holders and arm rests
Back falls off too easily
MyFit Harness + Booster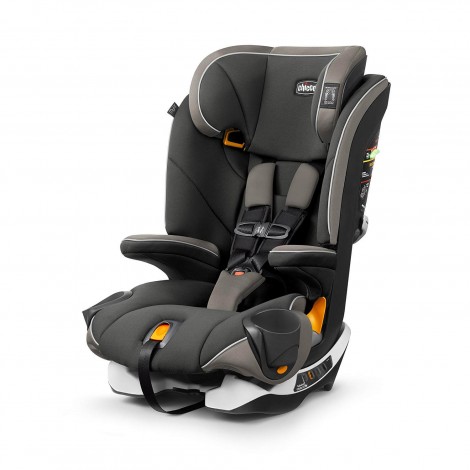 The MyFit Harness + Booster is another good option for the family who is worried about having to make so many transitions in seats as their child grows. This option is designed for a bit of a younger family, as it moves from a two-year-old's harness to a four-year-old's backed booster. The seat is incredibly comfortable in both iterations and comes with convenient features that should make it easy for you to keep your child secure, regardless of their age.
Expand to see more
Transitional Design
The MyFit Harness + Booster is designed to be a comfortable and secure experience for children of all ages. It comes with a very secure harness for when your child is too small for a seat belt, but it also has loops and clips to make a belt fit right as the years go by.

The harness has five points of connection to the rest of the car seat, which makes it perfect for keeping a bundle of joy snugly strapped in. The harness is easy to remove when the time is right to move on to another style of seat.

Security and Adjustability
Another great thing about the MyFit is how well-designed it is in terms of the protection it offers to children of all ages. This includes the steel-enforced design of the seat's frame. It offers a good deal of side protection through this, and the multiple layers of foam that do a great job of reducing any collisions, including the bumpiness of a back road.

Another great feature about the MyFit is the extra effort that has been put into the ability to adjust the seat as your child gets older. This includes the headrest, which can be adjusted to nine different heights. It also comes with a few different levels of padding, as the situation and age require. It also can be reclined, which makes it ideal for the unfurling back of your child.

Cost and Value
The MyFit is great when it comes to finding a comfortable and secure seat for a child from the ages of two to four. The ability to change the seat belts with ease is a welcome one. It is also wonderful at keeping your child incredibly comfortable during a wide range of ages. It is also quite affordable compared to many of the other seats on the market.
Last for a long time
Very secure harness
Easy to install
Comfortable for your child
Hard for child to get out
NextFit Sport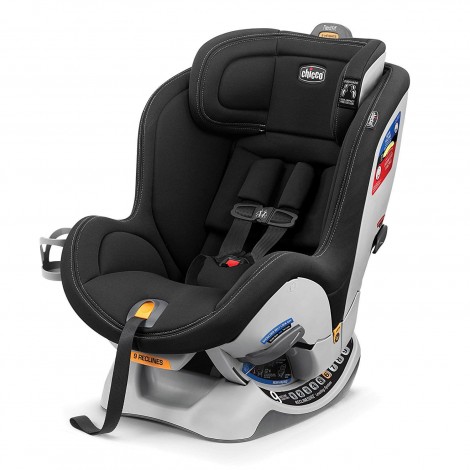 The NextFit doesn't come with a
booster seat
, but this convertible style option will take you all the way there. This is thanks to its rear and front-facing design that makes it easy to change it out as your child grows from an infant to a toddler. The best thing about it is how easy it is to adjust in these months of the most rapid growth for your baby.
Expand to see more
Convertible Car Seat
The NextFit is another convertible style that can easily adjust to match your baby's needs. It is incredibly simple to set up in both its rear and front-facing modes, which means you don't have any extreme learning curves ahead of you. It makes it much easier for you to get all the belts and clips in the right place, due to the clearly visible signage that tells you what to do right on the side of the seat.

The NextFit is also highly adjustable and can be switched to nine different headrest heights, providing the most adjustable and customizable fit for your child. Coupled with the nine different inclines it can be set at, and you have a chair as changeable as your child will be.

Easy to Use
The easy installation and adjustment that you get with the NextFit are impossible to ignore. The straps are designed so that you will be pushing a button instead of fiddling with outdated cinching technology. The seat belt is tightened through the use of a single button, which makes it easy to get it just right and to release it when you are switching cars.

It also uses a simple-to-use strap that can be pulled with one hand to adjust the tightness of the straps and seat. It makes it a simple task to ensure that your baby is tightly held by the seat.

Cost and Value
As another transitional style, the NextFit is perfect for any families who are going to be moving their children from car to car on a regular basis. It makes the act of installation as simple as it can be. The focus on simple tightening and releasing mechanisms means that your child will be secure at all times, and with little hassle on your part.
Easy to clean
Easy to install
Padded harness
Cup holders and other features
Latches are snap in tight
Fit2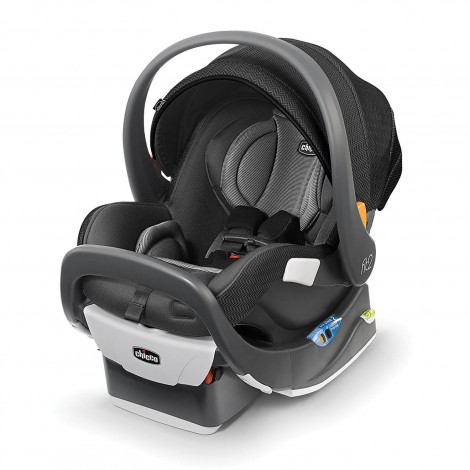 The Fit2 is a unique option for those who want to save themselves a bit of space and sanity during the installation process. This is a rear-facing option for infants, but it can also be very easily converted into a seat for toddlers, too. It makes the Fit2 quite the unique and convenient option for parents who might have multiple young children, or maybe who are just tired of having to adjust the seat so much.
Expand to see more
Unique Design
The Fit2's simple design for both infants and toddlers makes it incredibly simple and easy to use for all kinds of parents. The only difference you need to make when your child starts getting taller is adjusting the incline. This makes it very easy to leave it in one spot without the need for you to do anything excessive when it comes to time to adjust it.

Another big benefit of this is that it takes up much less room in the car. The incline makes your child's seat into a much more compact package. It will become easy to reach around it when you are looking for lost toys or a bag of groceries.

Easy to Use
The Fit2 is also a convenient and adjustable option that makes it easy for you to make adjustments, and to take your baby with you to the grocery store. The seat is easily adjusted into a carrier for those times you need to take baby along with you. It even leaves behind a base that you can easily clip the carrier back into after the errands are done.

Cost and Value
The convenience and compact profile of the Fit2 make it a good option for those who have gotten tired of all the adjusting and moving of their child's seat. The multiple positions are easy to adjust between, and there are lots of options for the months between your child being an infant and a toddler.
Very secure and comfortable
Easy to carry around
Saves space
Easy to clean
A little large for infants
KeyFit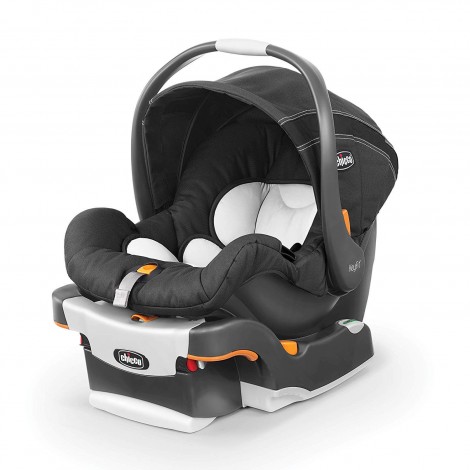 The KeyFit is designed to keep your youngest children comfortable and secure in an easy to install package. It comes with lots of safety features that will ensure that your infant is securely fastened into place. The KeyFit is
specifically designed for infants
, which makes its features more focused on that ever-important first year.
Expand to see more
Infant Specialized
Being specifically designed for infants makes the KeyFit a much more focused kind of seat. That can be seen in a few different ways. The cushioning and harness of this seat are both really great at keeping a secure fit on your child. It comes with a simple cinching latch that you can take advantage of when you are having trouble getting the fit just right on the very safe five-point harness that comes with it.

Easy Installation
The KeyFit is also great for the simplicity that it brings to the commonly nerve-wracking installation process. There are multiple clever inventions brought to the table to make sure that you have an easy time getting the seat properly lined up. This includes the bubble indicators that you can use to make sure that the seat is properly lined up and the spring-loaded level. It automatically lowers the foot so the car seat rests properly in the groove of your vehicle's seat.

Cost and Value
There is a little less long-lasting value when you look at the KeyFit. This is because it is one of the few options from Chicco that is not designed to a convertible. What you get instead is a specialized seat that helps in making your life easy for those first few months of your baby's life.

It has the quality of life features that will make it easier for you to get it properly installed. It also comes with some great ideas when it comes to making your life convenient, including a quick-locking base that makes using the seat as a carrier an absolute breeze.
Easy to get level
Easy to carry around
Comfortable and secure
Easy to remove padding
Not much coverage on the canopy
Viaro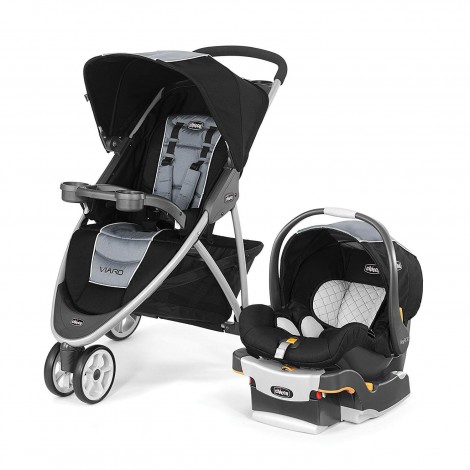 These last two options are here if you want something that covers the entire gamut of what it takes to bring your baby along with you. The Viaro comes with a stroller, a car seat, and a base that makes it easy to install and remove everything from your car at a moment's notice. It comes with the KeyFit 30, Chicco's most highly regarded car seat.
Expand to see more
All-In-One
A car seat is great when you just need something to keep your child safe when you take them somewhere, but there are often so many other pieces of equipment needed when it is time for transporting. Children are needy, and they need lots of help to go from place to place. This covers everything for you so you don't need to worry if you have everything before you get on the road.
Completely Convenient
The Viaro makes everything as simple as it can be. The
KeyFit 30
that comes with it can easily click into the stroller and the baser that is left in the car. It makes it easy to get going as quick as can be. The seat comes with other cool features, such as some drink holders, and a
tray for your child
to eat off of. It means they can stay strapped in for your entire trip.
Cost and Value
It costs a little more than just buying the seat, but this is the way to make trips with your kid into the ultimate convenience. You only need to fuss with them once when it comes to getting them strapped into their seat.
Both the stroller and the seat are designed with your ease of use in mind. The price is a little higher, but if you don't have a stroller to go with your seat yet, then this is definitely worth thinking about.
Easy to go places with baby
Comes with lots of storage
Useful canopy
Lightweight design
Unfolds on its own sometimes
Mini Bravo Plus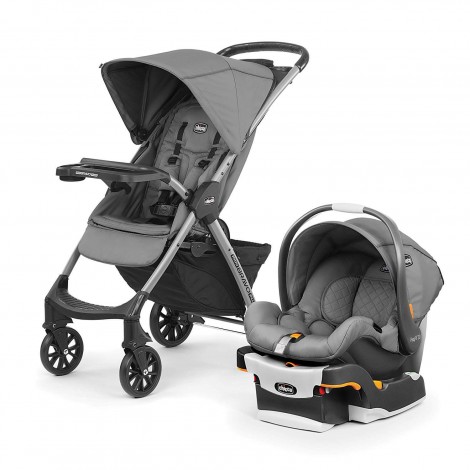 This is another all-in-one that you can look into if you want the entire set for
all your traveling needs
. The focus here is on giving you something lightweight that you can easily bring along with you. The best thing about this is that it makes it much easier to do all those things that you did before you had a child eating up all your time. They'll love the fresh air, too.
Expand to see more
High Quality Gear
The Mini Bravo comes with the best of the best when it comes to the car seat portion. This includes the high-quality design of the highly loved KeyFit 30. That is a good place to start, but the stroller does a good job of impressing you, too. This can be seen with its great maneuverability and durability.
Safe and Comfy
The Mini Bravo is comfortable for both you and your baby. The protection of the KeyFit 30 is ideal for anyone who wants something they can rely on for their child's safety and comfort. The 30 is a highly secure and comfortable seat that will last for your children from two to four years old. It can be easily installed in your car without too much hassle or rage on your part, too.
Cost and Value
The Mini Bravo Plus is another option that is going to cost a little more than the other options on this list. One of the nice things here is that the stroller is designed for the car seat to be clicked into it. That will make your life much easier when you are
taking your child for a walk
in the park. It costs a little less than the Viaro, and that is because it is a little more bare-bones in terms of the features that come with the stroller.
Lightweight and easy to carry around
Easy to clip into the stroller
No hassle design
Comes with a canopy
Not many extra features or storage
Criteria Used in Evaluation of the Best Chicco Car Seats
When looking for baby seats, specific criteria are the most important to consider. Things like protection and comfort are vital when making one of these purchases. There were a few different pieces of information that were considered to come up with the ranking above. Here is what we looked at.
Protection
Protection is why you are looking at a car seat for your child in the first place. It is all about what it can do to keep your child safe. Luckily, Chicco has done a lot of work to make sure that the seats do a great job of keeping you safe. This can be seen with the reinforced steel protection often seen in the wings, as well as the multiple layers of foam padding involved. They do all this while keeping some of the most lightweight car seats.
Comfort
This is the next most crucial thing to consider, of course. Sometimes your baby is going to be sitting for a long while. The luckiest thing that can happen for you is if they get so comfortable that they end up taking a nap. From boosters to newborn options, Chicco has some of the most comfortable that you are going to find. They often give lots of extra padding so that your kid is well cushioned for any drive.
Ease of Use
Those last two were so you would know that your child would be happy with their new Chicco seat, but this one is more for you. One of those things that always drive a parent mad is the time spent negotiating straps and latches when you are getting your child ready for the road. Chicco has more than a few features that will make this easier for you. From single strap tightening latches to clip-in seat bases, the company has thought of everything to make it easier for you to get ready for the road.
Longevity
If there's one thing that every parent can agree on, it's that children grow. And they grow fast. One of the things that you should look for is something that is going to last for the long haul. Chicco has many design options that will last you and your child a long time. They have padding that you can slowly remove as your baby turns into a child, and they have reclining levers that make it easier on them as they get taller, too. They have many seats that cover a wide range of children's ages.
Value
Chicco's products are some of the more expensive on the market. That is because they are all about giving you the best that you can find when it comes to a good car seat. They are highly respected for their safe and comfortable options. It is easy to see when you look at all the glowing reviews that they get. Another thing that adds to their value is the high level of durability and longevity that they are designed with.
Other Factors to Consider
There are a few other things to think about before you make that final decision. The market is a confusing one when it comes to what you should buy. It is essential to know that you are getting precisely what you want. These tips will help you.
Age
The age of your child plays a vital part in which you should buy. This is apparent in all the varying styles that you can get. The most common reason for the difference between these seats is the age. Although age is a good rule of thumb to consider before you make a final purchase, it is good to consider other things, too.
Height and Weight
This is another thing to consider. All car seats, including Chicco, are rated for differing heights and weight. Chicco will give lots of extra padding that you can take advantage of so that your child will always be as comfortable as possible. The products are also rated for max weights and heights. These are usually based on average sizes for children at certain ages, but if your child is getting tall very quickly, then it might be worth considering this. Getting the height and weight right is the easiest way to keep your kid happy in their chair.
FAQ
Frequently Asked Questions
Q: How do you clean these?
A: Chicco makes it incredibly easy to keep your kid's chair clean. They have many removable pieces that can be cleaned in the laundry. It will save you a lot of time. Getting into those hard to reach places can be difficult, too.
The solution to this is to get aggressive. These can handle a good deal of work on your part. Take it out of its base, and get to work on it. Use any cleaning material that you can think of to get all that gunk off.
Q: How are these installed?
A: It's all about anchoring. There are anchor points on the vehicle's seat and the seat belt that are designed to be latched onto the child's chair. Remove the seat and work with only the base to make it easier on yourself.
Another thing to do is to loop the belt through the bottom of the base. Then you need to lower the foot to make it flush with the indent in your vehicle's seat.