Best Car Seat Massagers Reviewed & Rated for Quality
These days, many people suffer from back problems or some kind of back pain in general. What's even more disturbing, the numbers are rising every day! We sit quite a lot, changing the position from our office chair to the couch at our home. This sedentary life is actually a big circle from which it is hard to escape. We sit at work, home, friend's home when we go out or drive. It's just hard to adjust to this tempo of life and find free time to do some exercises. Even those who are active enough experience the consequences of sedentary life. Your back is aching for some treatment and relaxing massage every day! Not to mention how important this is for drivers.
It might not seem that way at first, but driving is an exhausting activity. It causes stress, tension, and pain in our muscles, especially when driving for a long time. You can have the best car seat out there, you still have to sit in an awkward and painful position. Unfortunately, this activity is even more painful for those suffering from sciatica, slipped disc, spondylosis, and more. For those people, driving a vehicle could be a living hell! Well, you may ask, what choice do I have? You can get yourself a car seat massager! Yes, this device can relieve the back pain and lower the stress. No, it's not a myth, it's pretty real and it helps a lot!
Featured Recommendations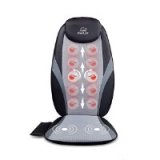 Snailax Heat

Our rating
Super Comfortable
Price:

See Here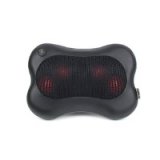 Zyllion Neck

Our rating
Compact
Price:

See Here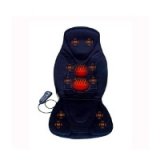 Five S

Our rating
User-Friendly
Price:

See Here


If you don't have a personal physiotherapist or you just want to make sedentary days more comfortable, you should definitely go for a  car seat massager. We recommend it for all drivers regardless of back problems and hours spent in the vehicle. This amazing device will help you go through every tiresome and painful day and make it bearable. It doesn't only reduce pain but it lowers the stress after a very long day in your office or on the road. Now, as we can finally agree upon the usefulness of this product, let us deliver some great news. We wanted to help you find a perfect car seat massager to meet your every need, so we made thorough market research! We left no stone unturned in our search for the best seat massagers and came out with 10 best picks. Hopefully, you'll be able to find the ideal one for you among these amazing car seat massagers!
10 Best Car Seat Massagers
Snailax Heat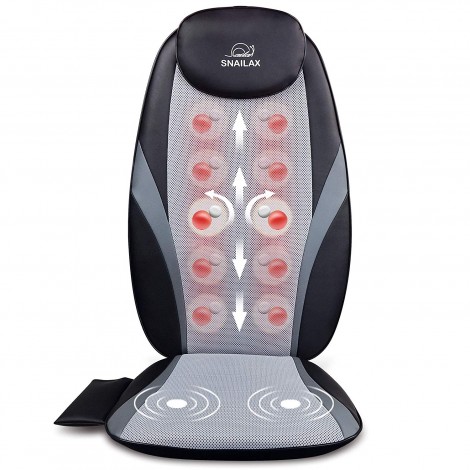 One of the most popular products on the market made it to the top of our list! What can we say? We were thrilled by its performance and quality, and we wanted to share this excitement with you. Snailax is a well-known company that produces all kinds of massagers, from mats to seat pads. This particular cushion is one of their most praised products and it well deserves all the compliments. Don't skip to check out all the details about it, because you're going to love it!
Expand to see more
Adjustable Features
This one offers 4 deep massaging nodes to relax your entire back. You can choose the massage of the upper or lower back or both at the same time. The device has a detachable cover that allows for controlling the massage intensity. If you feel that you need a higher intensity, just remove the cover and enjoy!

It's quite convenient and easy to adjust it for your personal needs. The nodes can be moved at a maximum height of 3mm which allows for a perfect fit. This way, the cushion follows the line of your back and ensures flawless performance. Also, you can use it to relieve pain in your hip and thighs. This is very useful, especially if you sit all day and suffer from sciatica!

This one is also super comfortable thanks to the combination of leather and mesh. It's very soft to the touch and gives you the necessary comfort that you can't get with regular car seats. We mentioned only a few adjustable features that you get to control, but this product has a lot more to offer. We leave it to you to explore all its possibilities!

Heat Therapy
This device also allows for heat therapy. It relieves the pain in muscles by warming the entire back. You can put it anywhere you find it convenient, not only in your car. Now you can enjoy a deep massage at work, in your home or while driving. The sturdy straps will ensure that it stays on its place no matter where you put it.

This pad is also very durable and it should last for quite a while. It has an overheat protection for more safety and improved durability as well. We shouldn't forget to mention that it comes with remote control and it's incredibly easy to use it! We only wish for it to go higher up our back. It doesn't allow for a massage of the upper shoulders, including lower neck areas. Keep this in mind if you're searching for the product that can work in this area!

Cost and Value
Although it's not exactly cheap, we can't really complain about the price of this product. It does offer an incredible value for the money. Not to mention that you get to use it for a long time and enjoy every ride!
4 kneading massage nods
Adjustable features for more comfort
Upper, lower and full back massage
Detachable cover for better intensity control
Heat therapy and overheat protection
Easy to use, stable, and durable
Doesn't go to the upper shoulders and lower neck area
Zyllion Neck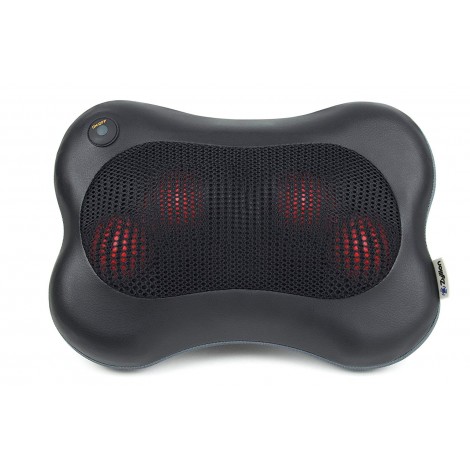 If you need a high-intensity neck massager you came to the right place! Zyllion has to offer a powerful cushion to relieve your neck pain and make every day more comfortable. You get to use this little device from your car to the office or any other chair in your house. Once you try it out, you won't change it for anything on the world! Thousands of satisfied customers are there to confirm how their life changed after using Zyllion.
Expand to see more
Compact yet Powerful
This is a compact cushion that allows for incredible massage of the neck area. It relieves the pain in the sore and overused muscles and makes you feel more relaxed. This is very important for people who sit all day and those drivers with neck problems. The cushion features an ergonomic design to fit your neck contours perfectly. It follows the lines of your body and feels super comfortable!

Easy to Use
Zyllion doesn't only come with 4 deep massaging nodes but it offers a heating option as well. Don't worry, it also has overheating protection so it's completely safe for use! Thanks to the well-designed straps you get to adjust the pillow to fit the chair at your convenience. Once you set it up, you only need to plug it in the power outlet. It comes with a car adapter so you shouldn't have any issues there.

We only have an issue with the fabric on the top of the unit. It seems that it is rather thin and prone to rips and tears.

Cost and Value
Not only that you'll get this device at an attractive price but you'll also get a 1-year warranty. The company stands behind their products and offer amazing customer service. Although it's not so likely to happen, they'll resolve any issue you run into!

Compact
Relaxes overused and sore muscles
Ergonomic design for more comfort
4 deep massaging nodes and a heating option
Well-designed straps for a better position
Well priced
Thin fabric prone to tears
Five S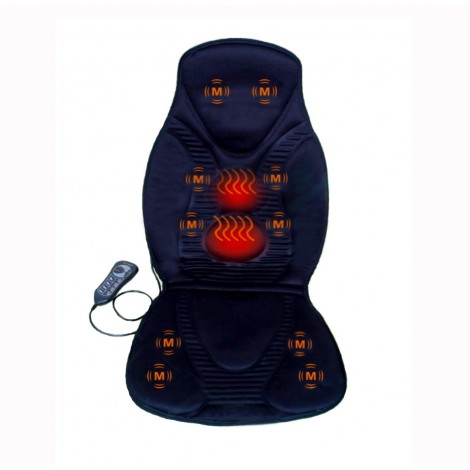 If you're searching for a regular vibration massager, this is probably the best you'll find on the entire market! Users praise it because of exceptional performance and durability. We love it for the wide range of features it has to offer for full enjoyment! All in all, it comes with so many options to make driving super comfortable. If you're a fan of soft and soothing vibration instead of high-intensity massage, you can't go wrong with this one!
Expand to see more
A Variety of Modes
So, as we mentioned above, this is not a Shiatsu kneading massager but the vibration type. It features 3 speeds and 4 programs to meet a variety of preferences. You can also set it on the heat-therapy option by a simple push of the button. Overall, it's very convenient and easy to use, so you won't have any issues there.

It's also worth mentioning that it completely covers the neck, shoulders, and lower back area. You'll get a nice massage over the entire back and finally drive in the comfortable pose!

More Control
You get to control the modes with simple remote control. The unit has an overheat protection and turns off automatically after 30 minutes. You'll also get a car adapter for easier handling. With all those available modes and controls you'll get a full body massage without any effort at all.

The only issue, already mentioned before, is that this unit is not so powerful. Those who are searching for a high-intensity massage won't be satisfied with it!

Cost and Value
Even if this unit is not so powerful, we have to admit that it offers incredible value for the money. It's well-priced, covers the entire back, and proves to be very durable. When it comes to power, we can't really take it as a drawback. There are many people out there who are searching for the unit like this and they don't want a kneading massager. If you're one of them, you'll fully enjoy this product!

3 speeds and 4 different programs
Easy to use
Comfortable
Remote control
Adjustable features
Well priced
It might not be powerful enough for some users
Zyllion Shiatsu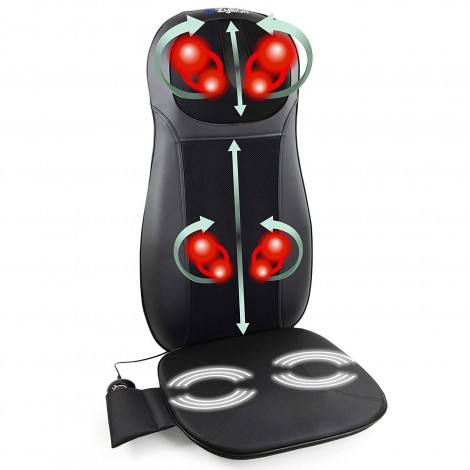 Here comes another amazing product from Zyllion! Just like its big brother, this one is quite powerful, versatile and durable. It allows for simple adjustments for ultimate comfort no matter where you end up using it. We couldn't possibly ask for more! Check it out, you might find it's the perfect massager for your sore muscles and back pain!
Expand to see more
Adjustable
You can adjust this massager
for ultimate comfort and pain relief
. You can either position it to focus on a particular area or to massage your entire back. It gives you an option to pick the rotating shiatsu mode or rolling massage mode. Either way, it proves to be very useful in reducing annoying back pain when driving. You can finally pack the bags and hit the road without any worries!
Along with all these options comes a heating feature that helps with sore muscles. You can adjust the intensity at your personal preference and let the device do its magic. The included remote control also helps! Just keep in mind that it could turn out unsuitable for shorter people. There were several customers complaining about this!
Ultimate Comfort
Not only that you'll feel the relief in your sore muscles but you'll also enjoy a comfortable ride every time you sit behind the wheel. You can even transfer the massager around at your convenience, from office to home chairs. The provided straps will keep it on its place regardless of the chair type. The seat features quality material that is very smooth and light to the skin.
Additionally, we shouldn't forget to mention the extra features that allow for safe use. Not only that this one has an overheat protection but it also has an automatic turn-off feature. It will turn off after 15 minutes of no action, so you don't have to think twice about it! Also, you get to power the seat with an included adaptor.
Cost and Value
The biggest drawback with this product is the fact that it comes with a higher price tag. It won't cost you a fortune, but you'll have to add some cash to get it. However, it does offer great value and comes with a 1-year warranty. If you have the money, we say go for it!
Adjustable modes
Efficiently reduces the pain in sore muscles
Heat therapy
Comfortable
Quality straps for more stability on any type of chair
Overheat protection and automatic shut-off feature
It might turn out unsuitable for shorter people
High price tag
Snailax Shiatsu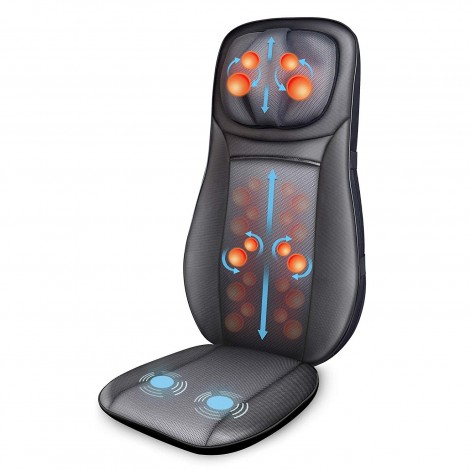 We really like this one! Snailax is a reliable company that never fails to produce amazing products. This particular item is one of their best seat massagers and proves to be very convenient. It's versatile so you get to use it in your car, office, home, and other places. Not to mention that you'll instantly feel the benefits of its amazing massaging modes!
Expand to see more
Three Modes
This is a shiatsu back massager that comes with 4 nodes. It allows for switching between three modes, including the full, the upper, and the lower back. Also, it's very convenient for neck massage and reduces shoulder and upper back pain. You can even set the kneading nodes to work on a specific painful area.
Versatile
Although we find it
perfect for car seats,
this massager is rather versatile. You can use it on almost any chair, and not only in your vehicle. The provided straps will keep it firmly attached no matter where you choose to place it.
It is very comfortable and offers a heat mode as well. There's a flap over the seat that you can detach if you need a higher-intensity massage. All in all, because you get to adjust it according to your particular needs, you'll be quite satisfied with it! We should only address that some users complain about the heat feature. It seems that it's not as strong as they would like it to be.
Cost and Value
With the exceptional performance comes at a high price as well. You'll have to add a few more bucks to get this incredible product from Snailax.
4 massaging nodes
3 modes
Perfect for neck pain
Versatile and stable
Comfortable
Removable cover
Some are not satisfied with the heat feature
Expensive
Gideon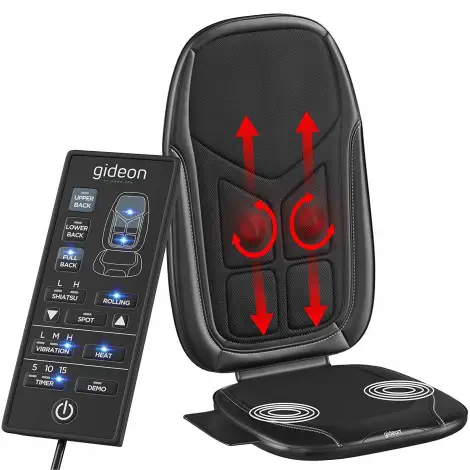 This is another high-quality product that offers amazing performance! We haven't seen such a powerful yet well-priced seat massager on the entire market. It offers a wide range of adjustable features to reduce pain but to give you more control over the process as well. Make sure to check it out, you won't be disappointed!
Expand to see more
Comfort
This is a shiatsu massager that comes with 4 massaging nodes. It goes over the entire back for more comfort and reduces pain in the entire area. There are three vibration modes that you get to adjust according to your preferences. You can even set it to focus on the specific painful area! This is very useful for people who have bad posture and frequent muscle spasms.

The item also features rotating balls which is to say a rolling massage for less pain in tissues and muscles. Just keep in mind that it could turn out more powerful than you expect. Some users even had to put a towel between the seat and the back to lower the intensity of the massager.

Versatility
We already mentioned how versatile is this massager. You can use it almost anywhere, from your office chair to the car seat. There are also many features that you can adjust to fully enjoy massage. It also features a heat-therapy option for more comfort after long working hours. However, some tall users noted that the massager doesn't reach up to the upper back and neck area. Keep this in mind if you're a taller person!

You should also know that this massager is completely safe for use. It comes with an automatic turn-off feature, and you get to choose whether you want it to shut down after 5, 10 or 15 minutes. The package includes a car adapter as well, so you won't have to buy anything separately. You can set it up in your vehicle in no time, and enjoy every ride!

Cost and Value
You'll be pleased to know that this seat massager comes at an attractive price! Sure, it has its flaws, but it still offers incredible value for the money. If you're on a limited budget but you need a powerful seat massager for your vehicle, then this one is a perfect option for you!
4 massaging nodes that go over the entire back
3 vibration levels
Focuses on the specific area if needed
Rolling massage
Comes with remote control and car adaptor
An attractive price
Some might find it too powerful
It doesn't go to the upper back of taller people
Relaxzen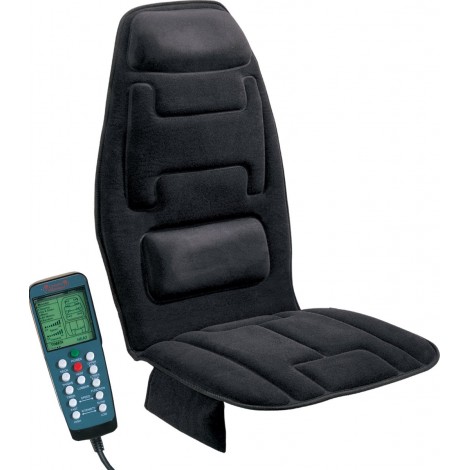 If you're a fan of standard vibration massagers, we have a perfect option for you! Relaxzen is a 10-motor massager with a variety of top-notch features. It's designed to meet the needs of every demanding driver. We like it a lot, especially because it comes from such a reliable company and at a reasonable price!
Expand to see more
Powerful
This is a 10-motor massager with a heat-therapy option. It's not a Shiatsu type but rather vibration one – keep this in mind before you rush into the purchase! Still, many people prefer a standard type of seat massagers. If you're one of them, you'll be thrilled with this particular item.

It's powerful enough to relieve stress in your back yet not too hard to cause sore back. It also comes with convenient remote control. You can use it to set the massager in one of 8 available intensity modes! There are also 5 program modes built-in the massager. All in all, you get everything you need for superior comfort and enjoyable rides!

Stable
The package includes a car adaptor, so you can use this one straight from the box. You also get to move this item around at your convenience. It comes with quality straps for improved stability, so it should fit any type of chair. However, it's maybe not quite versatile because of the bulky remote control. If you use it in your car things will be just fine. But if you transfer it to the movable chairs in your office, you could get wrapped around with all those cables!

Cost and Value
Did we mention the amazing price of this product? Well, if we didn't, now is a proper time to do it! Relaxzen is not only super useful and powerful but it also comes with a competitive price. You shouldn't doubt for a second when considering to buy this one!

10-motor massager with 8 intensity modes
Powerful and comfortable
5 programs
Car adaptor and remote control
Competitive price
Not a Shiatsu type
Bulky remote control
HoMedics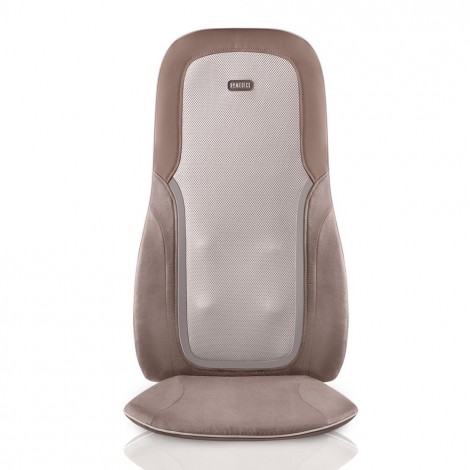 If you want a simple yet stylish massager, you can't go wrong with HoMedics! It features a unique design to complement every car interior and make your vehicle stand out from others. Yet, what it's more important, this cushion is super efficient when relieving your back pain. You can adjust its many features to meet your specific needs without any hassle at all, and get to enjoy every ride!
Expand to see more
Three Operation Modes
This amazing Shiatsu seat massager allows for three operation modes. You can choose a high intensity, deep or gentle massage. These three modes should deal with a variety of back problems such as muscle spasms, lower back, and neck pain, but they also reduce stress and tension. The entire massager is designed to ensure a comfortable feeling no matter where you place it. The included straps guarantee a stable position on every chair. We think it's a perfect option for every vehicle and makes driving way more comfortable!

Easy to Use
Along with all these features, the massager gives you an option to focus the power on the specific area. You can also turn on the heating feature when you need something to soothe your sore muscles or make cold days more comfortable. Lastly, this one is very easy to use! You'll get all the necessary stuff in the box: a power adapter, remote control, and a manual. It fits every type of chair and easily mounts on the car seat.

We should only warn you that it probably won't reach your upper shoulders and neck if you're on the taller side!

Cost and Value
This one is ideal for those who are searching for a unique seat massager to complement the car interior. It comes in beige which makes it stand out from all those black colored seat massagers. If you want something to make your car seat super stylish, this is perfect! However, you'll have to deal with a high price tag with this one.

Three operation modes
Reduce back pain and ensure more comfort
Focuses on the specific area
Versatile and stable
Includes a power adapter, remote control, and a manual
Unique design
Doesn't reach the upper back and neck with taller people
Expensive
Dr Scholl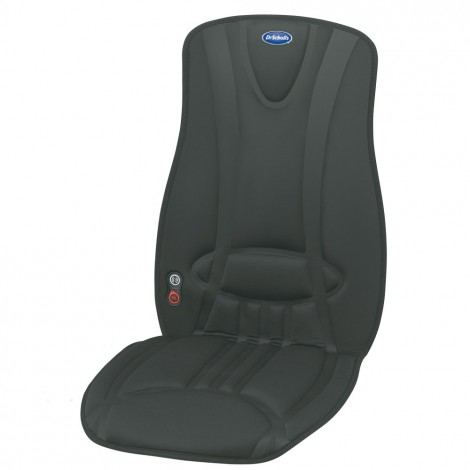 Dr. Scholl offers a simple no-nonsense car seat massager. If you're a fan of regular type over Shiatsu massager, this is definitely one of the best options out there. It offers high-quality features to meet your needs and provide soothing massage during every ride. Once you try it out, you'll instantly fall in love with it!
Expand to see more
Cozzy
This is a five-motor massager that offers three intensity modes. You get to adjust it according to your needs and activate a heat feature as well. People mostly love it because of the soothing massage and comfortable feeling it provides. Unlike powerful Shiatsu type, this one focuses on reducing stress and making every ride as cozy as it can be!
There's only one thing you should consider before buying this one. While it's perfect for lower back and thighs, it's not equally useful for the upper back. It doesn't even go up to the neck area!
Adjustable
Dr. Scholl is not only perfect for your vehicle but for your office and home as well. You can easily move it around according to your daily activities. It proves to be super efficient no matter where you place it. You can even fold it down when not in use and transport it in a bag. Additionally, the package includes a perfect little remote control and a car adapter for easy use. To sum thing up, you'll get a perfect massager for everyday use that you can adjust at your personal convenience!
Cost and Value
The reliable company like this doesn't ever fail to provide high-quality products! We can highly recommend this particular item that comes with such amazing features. It's also cost-effective, so you can easily make it a part of
your driving gear
and enjoy to the fullest!
Five motors and heat therapy
3 intensity modes
Adjustable features
A soothing massage and improved comfort
Portable and fits most chair types
Cost-effective
Not a perfect option for upper back
Doesn't provide Shiatsu massage
Gideon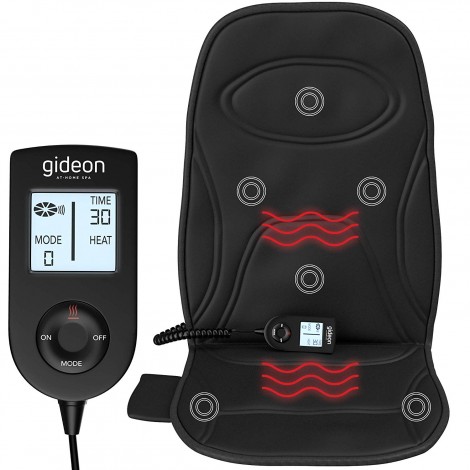 If you need something to relieve the tension you feel when sitting behind the wheel, we have a perfect product for you! Gideon offers a powerful car seat massager that is primarily designed to release stress and reduce pain in sore muscles. Actually, it has to offer quite a variety of features, so make sure to check it out. You might find it's ideal for your needs!
Expand to see more
Super Comfortable
This is a powerful seat massager that relieves stress and tension in your muscles. It's a perfect option not only for reducing pain but for more comfort while driving. Also, there's a heating feature that soothes your back at cold days. As you can see, this one is super comfortable, and you don't have to have back problems to find it useful! With 8 massaging patterns, you get to pick the perfect one for your needs and enjoy every ride to the fullest.
User-Friendly
You can attach this massager to any chair type thanks to the convenient straps located at the back of the item. Not to mention how compact it is, and that you get to carry it around with great ease! It plugs into a regular home or car power outlet, and that's about it. The simple remote control comes with an easy-to-read LCD screen and offers a one-hand operation. You don't even have to read the manual to figure out how it works!
We had two issues with it that we have to address. You can't adjust the heating feature so it might become too hot after some time. Not all people find this as an issue, but keep it in mind! What most people find as a drawback is a somewhat uncomfortable sitting pad. It could cause some pain in your tights if you sit on it for too long.
Cost and Value
This is not a perfect cushion, we give you that. However, you should also consider that it's one of the cheapest car seat massagers on the entire market!
For those who are on a limited budget, this is a real steal.
Powerful and efficient in relieving stress and back pain
Comfortable
Heating feature and 8 massaging patterns
Easy to mount and use
Compact and portable
Cheap
The heating feature is not adjustable
It becomes uncomfortable after a while
Criteria Used in Evaluation of the Best Car Seat Massagers
We wanted to give you the most accurate list by ranking the car seat massagers according to their quality and performance. In order to do so, we had to examine and compare a lot of features and specs. Here are some of the most important things that influenced the evaluation:
Comfort
First thing first, a car seat massager has to be comfortable no matter where and for how long you use it! Of course, it also has to be efficient in reducing back pain, muscle spasms, and more. All in all, it has to provide a comfortable feeling and help you with problems that occur due to bad posture, sedentary life, and injuries. The best-performing ones are at the top of our list!
Power
Different people opt for different massage intensity so this wasn't something that we could use for comparison. However, we did take into consideration the performance of each one of them. Any issues with available modes, intensity, and heating features resulted in a lower position on the list.
Adjustable Features
These products have to be easy to use as well! The massager has to provide enough adjustable features to meet a variety of needs. We all want different things from a massager, so versatile ones that can also be adjusted are a real steal! It's also very important that these adjustments don't require too much effort. We don't want all that hassle with complicated options, buttons, and remote controls. Therefore, every user-friendly car seat massager scored some extra points!
Cost and Value
Car seat massagers can turn out to be rather expensive! That's why you need to know you'll get the proper value for the money. Although we didn't pick the best product according to their price, which means you'll find both inexpensive and expensive ones on our list, we did make an effort to rank them considering the value they provide. Hopefully, this will help you make a decision with ease!
Other Factors to Consider
There are some things you might want to consider before the very purchase. They can drastically influence your decision, so we recommend checking them out. Here's what this is about:
Intensity
Some car seat massagers offer soothing and low-intensity massage. Others are designed with higher intensity modes to help you with serious back problems. Which one to choose is the matter of your personal preferences. Consider the back problem you have. Then pick the product specially designed for it. Listen to your body and think about what it needs!
Portability
Do you need a car seat massager that you'll use only in your car or you want it to be versatile? They are not all equally made! It might happen that you get the perfect product for your needs but that it can't fit chairs and seats you have. Think about where you're going to use it. Once you figure it out, you should read some reviews and guides. This should help you pick the product that will fit your seat or chair type.
Additionals
Think about the features you require from a particular seat massager. Do you need a wide range of massaging modes or you're a fan of straightforward design and vibration massage? How about massaging speed and intensity? You can't have it all, so you'll always have to make some compromise. There are not so many products that have all the needed features. Actually, even the best ones will lack something. Therefore, you should opt for the most important features and compromise with additionals.
FAQ
Frequently Asked Questions
Q: Is a car seat massager really as useful as we are told?
A: Yes, they are very useful. They are designed to reduce stress, pain, the tension in your muscles, and more. You'll get a real massage while driving, so you won't feel exhausted after every ride. Not to mention how useful it is for long road trips and traveling in general. You can finally say goodbye to spasms that come from long driving hours!
Q: Does my height matters when choosing this product?
A: Almost all types of car seat massagers are universal. However, "universal" doesn't always mean they'll suit every living person, right? Most people that are on the taller side have problems with massager not going all the way up to their back. They struggle with getting the one that can reach their upper back and neck as well. Although you can always aim for the one specially designed for this area, you'll probably lose the lower-back support. So yes, we say that your height matters when buying this type of product.
Q: Will a heating feature burn my skin?
A: Absolutely not! These days, all massagers are designed to be completely safe for use. They are by no means too hot for the skin to be burned. Actually, they are not as powerful as you imagine them to be! The warmth is there to provide more comfort and it's not too strong at all.
Q: Can they be harmful?
A: Yes, in some cases they could be harmful to your back. However, you'll enjoy its benefits as long as you use this item properly. That means you can use it every day or only occasionally, but you should take care not to sit on it for an extended period. If you sit there for too long you can cause some muscle inflammation and consequently sore back. The recommended time is around 15-20 minutes.