Best Airless Paint Sprayers Reviewed & Rated for Quality
Painting with old tools like rollers and brushes can be bothersome on so many levels. You have to tape and protect everything in the room from that annoying dripping paint and spend a lot of time on cleaning both your tools and surfaces. That's where the airless paint sprayers steps on the scene! Not only that it saves you precious time, but it also makes painting effortless and flawless. Now you can get rid of those time-consuming brushes and rollers and be a professional painter.
Featured Recommendations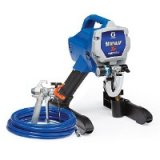 Graco Magnum 262800 X5

Our rating
High Efficiency
Price:

See Here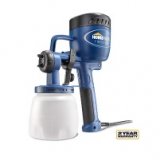 HomeRight Finish Max C800766

Our rating
Handy Tool
Price:

See Here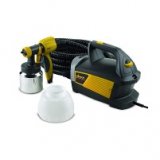 Wagner Spraytech 0518080

Our rating
Premium Quality
Price:

See Here


Whether you're planning a big painting project or you want a perfect tool for daily renewals, the airless paint spray is a must. All remodeling tasks are much easier with this tool, mostly because it gets the job done faster and more precise than any brush or roller. The airless paint spray pumps paint at very high pressure through a hose out a hole in the spray gun tip. The spray then spreads the paint evenly on the surfaces – it's easy as it can be, but also flawlessly done. If you're after one of these, we have made a list of 10 best airless paint sprays that one can find on the market.
10 Best Airless Paint Sprayers
Graco Magnum 262800 X5

Graco Magnum X5 is an excellent choice for both indoor and outdoor painting tasks such as renewal of furniture, refreshing the paint on walls or front decks. With 1/2 horsepower motor Magnum X5 produces about 3000 PSI of pressure which is enough for any home project, and both DIY and professional painters find it very useful and efficient.
Expand to see more
High Efficiency
Graco Magnum X5 is designed to paint large areas like fences, walls, and garages. It comes with a metal SG2 gun that has a durable full trigger and can work with tips up to 0.015 inches. With a 515 RAC IV tip, Magnum can pump out 0.27 gallons of paint per minute. It also has a flexible intake tube that lets you work with 1 to 5-gallon containers, saving you from the time-consuming frequent refill. Graco's annual recommended usage of 125 gallons is more than enough for any medium-sized project. However, keep in mind that this capacity still can't cover big painting projects.
We should mention that Magnum X5 has a 25 feet long hose that connects the spraying gun with the central unit, but if you want to move around more easily without making a mess, you can also attach the gun to the 75 feet long hose. Additionally, there's a knob located next to the intake tube which offers complete control over the paint output. You can choose the level of output that suits your painting requirements and achieve outstanding accuracy in every project.
Easy Maintenance
You can finally say goodbye to the tiresome cleaning process of your old painting equipment. Not only that Magnum X5 saves time during the painting process, but you'll also have a clean tool in just a few minutes. You can simply attach it to the garden hose and clean it with water. However, this sprayer is still prone to clogging and even RAC IV SwitchTip can't solve the issue completely.
You should note that the pump unit has a stainless steel piston that guarantees durability and great performance. You'll get a high-quality airless paint sprayer that's also lightweight so you can move it around effortlessly and store it almost everywhere.
Cost and Value
Graco Magnum X5 is a perfect tool when it comes to household painting tasks. If you are doing
a home renovation project
, you'll be thrilled to have Magnum X5. Not only that it offers great performance but it also saves you money!
High efficiency
Adjustable level of paint output
Simple to clean and maintain
The long hose increases the paint-reach
Great value for money
Not suitable for big painting projects
Prone to clogging
HomeRight Finish Max C800766

If you were searching for a compact sprayer that can help you paint furniture, cabinets, or perform any other light painting task around the house, HomeRight Finish Max is the right choice for you!
Expand to see more
Adjustable Features
HomeRight is an easy-to-use airless paint sprayer that has a motor in the upper part of the casing which works by moving the air and blowing the material on any surface. A great thing is that you can adjust the nozzle and therefore control the spray pattern. If you want to spray vertically or horizontally all you need to do is to rotate the nozzle in a vertical or horizontal position and if you want to activate the round pattern you can rotate the nozzle for 45 degrees. It's simple as that!
The sprayer also has a flow control knob located on the trigger. It's pretty simple to use it – the more you pull the trigger the motor produces more power and therefore more material comes out. This is a very useful feature that allows you to achieve more accuracy in painting. The loud noise this sprayer produces is an obvious drawback though – sometimes it can become quite annoying.
User-Friendly
This sprayer weighs only 3.4 pounds so you can easily hold it for a long time without feeling any discomfort. HomeRight Finish Max is also easy to maintain: you can just wash it with water, squeeze the trigger to clean the inner tubes, and that's it!
Because HomeRight features a user-friendly design, anyone can use this sprayer and achieve high-quality results. You don't need to be a professional to paint around the house. However, this sprayer's capacity isn't really big, so it's not suitable for large projects. If you are a professional painter that needs a reliable tool for large surfaces, this isn't the best pick.
Cost and Value
If you want an efficient and yet inexpensive
tool for your household
painting tasks, this would be the best choice! It doesn't have all the high-end features like bigger and more expensive sprayers, but it will get the work done, and you'll be satisfied with it.
Great for every around-the-house painting task
Adjustable nozzle
Has a flow control knob
Easy to maintain
Inexpensive
Noisy
Not so good with larger surfaces
Wagner Spraytech 0518080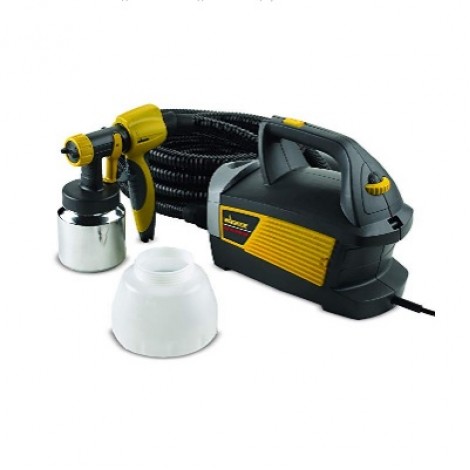 Here comes another great product for both, beginners and pros. Wagner Control Spray offers many high-quality features like air pressure control, two-stage turbines, and flexible air hose, which make the painting process as easy as it can be. You'll find it very useful no matter what kind of task you have, from painting interior walls to reviving paint on your front deck.
Expand to see more
Excellent Performance
Wagner has a powerful two-stage turbine which means that the sprayer can handle various different materials ranging from thick to thin. It also makes possible painting both large and small surfaces, but you should keep in mind that it can be a bit of a slow process!
Wagner gives you an option to change the spray pattern so you can use it for many different spraying tasks. Depending on the pattern type you want to achieve, you can align the nozzle and the air cap in three ways: horizontal and vertical air cap provides a high and broad oval pattern, and diagonal air cap gives a symmetric circular pattern. You can also adjust the air pressure from 1.50 PSI to 2.63 PSI depending on whether you want to go thick or thin with painting.
Easy to Use
Wagner is lightweight (10 lbs) and therefore very portable, but what makes it even better is its easy setup so every beginner can start to use it immediately. On the other hand, professional painters can utilize the sprayer to its fullest potential. Let's not forget that the air hose is 20 feet long so you should be able to reach any surface. However, it has a short power cord which is quite annoying when you have to paint areas that don't have power sockets in close proximity. In the end, Wagner Control Spray is made of only a few parts, so the
cleaning should be quite simple
.
Cost and Value
Almost every user of Wagner Control Spray praises its affordable price and a wide range of high-quality specs. The best thing about this sprayer is its versatility: you can use it to paint windows, doors, and furniture as well as walls, and other outdoor surfaces. Every painting enthusiast would be thrilled to have a tool like Wagner Control Spray!
Two-stage turbines
Air pressure control
Easy cleanup
Lightweight
Flexible air hose
Too slow for larger surfaces
The power cord is too short
Fuji 2804-T75G

Fuji is one of the compact paint sprayers that work great with light household tasks like painting furniture, cabinets, doors, and windows. Not only that Fuji gets the work done easy and accurate, but you'll have so much fun using it! It features an ergonomic design that eases the use of the sprayer and also makes it efficient.
Expand to see more
Ergonomic Design
What you'll absolutely love about this sprayer is the ergonomic design of the spray gun that reduces fatigue caused by prolonged usage. It also has a control knob on the spraying pistol which allows you to change patterns while you're working. Speaking of power control, Fuji features non-bleed pistol function which means that as soon as you release the trigger, the pistol stops operating. That option gives you the professional and smooth finish as well as better accuracy in every painting task. Some users reported having problems with control knob after a while, but it shouldn't be a major issue. Its compact design makes Fuji portable and easy-to-use sprayer, but it also has limitations when it comes to painting big surfaces.
Quality Features
Fuji is labeled a professional spray gun system that includes sprayer, paint cup, hose, tip, and 4 stage motor turbines. It stands out from competition with its
high-power motor
that ensures great efficiency. However, when a sprayer has more motor power it becomes louder, and Fuji is a pretty loud sprayer.
It has a 25 ft long hose protected by the flexible plastic material which reduces the risk of damage but also provides good reach to corners and unusual angles. The maintenance is quite easy, you just need to splash it with water, but you can also use some mild detergent without worrying that you may damage the metal casing. However, make sure that water doesn't come to the electric parts of the unit.
Cost and Value
While Fuji sprayer provides great value, people are still unsatisfied with its sky-high price. While many professional painters find it worth the money, DIY painters mostly don't want to spend the fortune on a tool which they intend to use only occasionally.
Ergonomic design
Pattern control knob
Non-bleed pistol function
High-power motor
A flexible hose
Graco Magnum 257025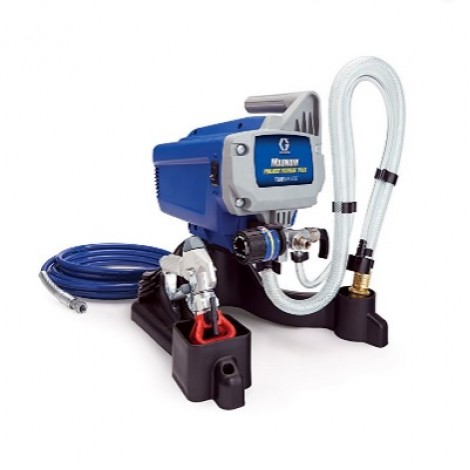 Here we have another valuable Graco sprayer that works well with both indoor and outdoor painting tasks. Magnum 257025 is an excellent choice if you want to paint walls, ceilings, doors as well as your front deck and fence. With this sprayer, you'll get all the work done in no time, so you won't feel any tiresome consequences of long-time painting with brushes or rollers.
Expand to see more
Good Performance
Graco 257025 is an electric sprayer that needs to be plugged into a 110v outlet. Recommended annual usage is 50 gallons which is enough for any smaller or medium-sized task, but not good enough for big painting projects. When it comes to the level of output, it has the capacity to produce 0.24 gallons per minute. It's not the best rating on the market, but it's sufficient for any house painting task. In the end, it can put out 2800 PSI through the SG2 gun, and that ensures good finish quality.
We shouldn't forget to mention that this model has variable adjustable features that make the painting more accurate. You can fully adjust the pressure which gives you full control over the paint flow. The nozzle is also fully adjustable which means that it can be set either in a horizontal or vertical position depending on what pattern you want to produce.
Simple to Maintain
This sprayer features a compact design which makes painting an effortless process. You just need to connect the hose to the unit, apply the gun and you're set to go! The sprayer is user-friendly e.g. it has a long hose that allows you to move around freely. Like its big brother that comes first on our list, this Graco sprayer is easy to clean due to the fact that it can be connected to a garden hose. The maintenance is as easy as it can be, but there were some complaints about the durability of the product. It seems that even if it features great quality specs, the Graco sprayer sometimes fails to produce excellent performance after a few times of use.
Cost and Value
Graco 257025 is a time-saving sprayer that provides great value for money. You'll be able
to paint almost anything
around the house with ease and great accuracy.
Good both with indoor and outdoor painting tasks
Great performance
Adjustable features
Easy to maintain
Reasonable price
Not suitable for big projects
Some quality problems after prolonged usage
Wagner Spraytech 0518050

Here we have another excellent Wagner model that you should consider due to its great features. Spraytech is a great option for homeowners that want to do all painting tasks by themselves, easily and effortlessly. Using Control Spray eliminates the need to call a professional painter for every simple task around the house. Now you can do-it-yourself with more fun!
Expand to see more
High Accuracy
Whether you're a professional or DIY painter, you'll need a good quality sprayer so you can achieve sufficient accuracy. Wagner has a two-stage turbine that allows spraying different viscosity liquid into both very thin and thick layers. It can work with various thin materials like varnishes, lacquers, and sealers. You can also adjust the pattern as well as the amount of sprayed material, which is very useful when it comes to painting different surfaces and dimensions.
Wagner comes with two material cups: 1.4 for interior painting and 1.5 for outdoor applications. It shows great results with painting fences, front decks, furniture, and many other surfaces, but some users complaint about its inconsistency in spraying. It seems that Wagner sometimes operates in bursts whether it's clogged or not.
Effortless Maintenance
The sprayer is designed in a way that every beginner can easily use it. The startup is straightforward as well as painting itself. Wagner has various adjustable settings that you'll figure out in a heartbeat. Additionally, every user wants to know that the sprayer isn't so hard to maintain. Maintenance of paint sprayers sometimes can be time-consuming, but this isn't a problem with Wagner. You can use soap and water without any worries, and you can also separate the unit from the nozzle in order to clean it thoroughly.
Pro tip: Wagner is prone to clogging, so make sure to clean it thoroughly after every usage.
Cost and Value
The best thing about this sprayer model is its price. Not only that it's not overpriced, but it will save you the money in the long run! You won't have
to call an expert
for outdoor painting jobs or to spend any additional money on new brushes and rollers.
A two-stage turbine
Adjustable spray patterns
User-friendly
Easy maintenance
Bargain-counter
Prone to clogging
Inconsistency in spraying
Graco Magnum 262805 X7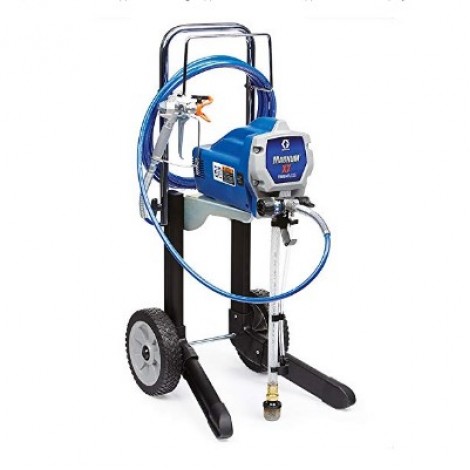 Here we have another Graco Magnum sprayer that we couldn't overlook because of its great features and excellent performance. This model differs a lot from other Graco's sprayers on our list. It's mainly designed to cover bigger surfaces although it can be used for interior painting as well. Therefore, if you need a sprayer that can help you with painting larger areas, look no further!
Expand to see more
Powerful Sprayer
Graco X7 has a powerful motor which can produce up to 3000 PSI. It also has an adjustable knob that keeps that pressure under control. With a RAC IV 515 tip, this model can spray paint up to 0.31 gallons per minute. You can use from 1 to 5-gallon paint buckets and recommended annual use goes up to 125 gallons which is more than enough for any medium-sized indoor or outdoor paint job. Another great feature is that Magnum X7 can work with many different materials no matter if they have heavy or light viscosity. However, keep in mind that extremely hot and thick materials can cause clogging.
The main drawback is that the sprayer produces some overspray. It's not such a big issue but beginners may struggle with it a bit. We advise you to cover and tape the whole area before you start to paint.
Essential Qualities
Magnum X7 features a wheeled chart system that makes it perfect for big-area painting. It allows you to push the sprayer around easily while you paint. The long hose also adds to this model's portability – it comes with 25 ft long hose, but it could be attached to 100 ft long one. Additionally, you can attach the unit to a garden hose for easy clean up after you finish with painting.
Cost and Value
If you want a sprayer for large areas that can provide great efficiency, Graco X7 is a real buy! Its price meets the valuable features of an efficient large-area painting sprayer. It will also save you from contracting professionals for your large painting
house tasks
.
Powerful motor
Suitable for both interior and exterior paint tasks
Works with many different materials
Portable chart
Easy to maintain
Prone to clogging
Produces some overspray
HomeRight C800879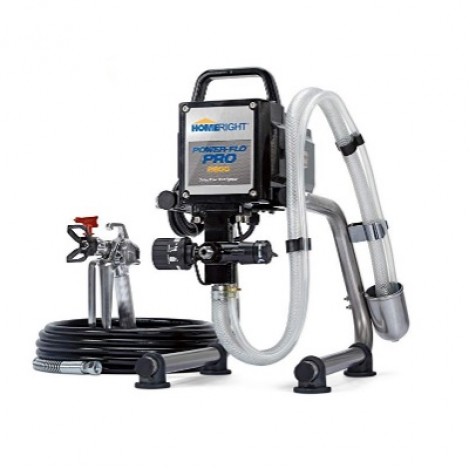 Every professional painter would be thrilled to have a sprayer like HomeRight C800879 in its painting equipment. This sprayer is designed for big projects and it can cover large areas without any difficulty. If this looks like an ideal product for you, keep reading for a more detailed review of HomeRight sprayer.
Expand to see more
Large-Area Sprayer
Power Flo Pro can spray 0.24 gallons of material per minute with a max tip size of 0.015. This tip has a pattern width of 10 inches which is perfect for large surfaces like walls and ceilings, but if you want more precision from the sprayer you'll have to purchase additional parts. The sprayer pushes out material at a pressure of 2800 PSI which is a pretty good performance. If you want better accuracy you can control the pressure by a knob that's located on the unit. Overall, HomeRight C800879 shows the best performance when it comes to large projects, especially because it can work with different materials. However, keep in mind that latex paints might cause clogging.
Easy Handling
Even if it isn't the most lightweight model on the market (23 lbs), you can easily transport it around. Its weight becomes very useful when you put it down – aluminum legs and rubber stoppers prevent any movement so you can go around with the hose without pulling the whole unit. Even if this sprayer might look a bit large and hard to clean, that's not the case! You can use it as soon as you pull it
from the box
, and clean it just as easily.
Cost and Value
Since it's designed for large-area painting, professionals would be very pleased with HomeRight's performance. It may be unsuitable for beginners and not good enough for smaller DIY painting projects. However, it does meet its price with its high-quality features.
An excellent choice for big painting projects
Powerful motor
Features pressure control knob
It can work with different materials
Portable and yet stable unit
Latex paints might cause clogging
Not so good for smaller painting tasks
FLEXIO 590 by Wagner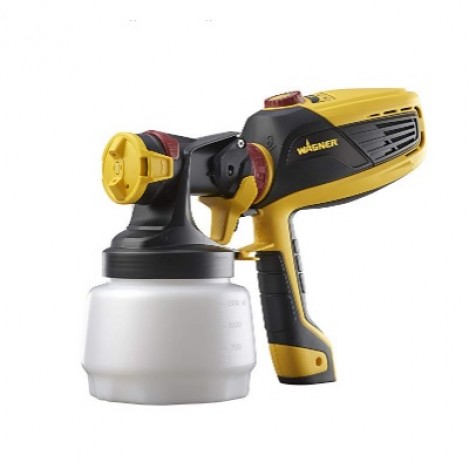 Flexio 590 is a high-quality sprayer suitable for various tasks and surfaces. Although it has many high-quality specs Flexio isn't designed only for professionals. Every DIY enthusiast or painting newbie can use it and still get the work done with high accuracy.
Expand to see more
Versatility
The sprayer comes with two nozzles: iSpray is designed for larger tasks and Detail Finish Nozzle is great for small tasks and fine finish. This versatility is the best feature of Flexio sprayer. You can use a narrow or wider pattern depending on what surface you want to paint – smaller or larger ones. It also has a knob that controls the flow of material allowing you to estimate the amount of paint you want to spray on the surface. However, this sprayer can't work with thick materials and it only supports oil-based paints and stains.
Lock-N-Go
Flexio features Lock-N-Go design which means that the gun is
easy to break apart
. Cleaning the parts separately is easier and saves you a lot of time, especially because you need to do it after every use. Just run the parts under the water, but make sure that electronic parts don't get wet.
The drawback can be the design of the unit itself – unfortunately, it doesn't feature an ergonomic design and it's a bulky device that causes tiredness. Another flaw is a short power cord that forces you to purchase an additional one.
Cost and Value
Flexio comes with great values and a reasonable price. There is no professional or DIY enthusiast that could say no to this great bargain!
Comes with two nozzles
Suitable for both small and large surfaces
It has a knob that controls the flow of material
Lock-N-Go design
Reasonable price
Can't support thick materials
Uncomfortable for long-time usage
Titan ControlMax 1700 PRO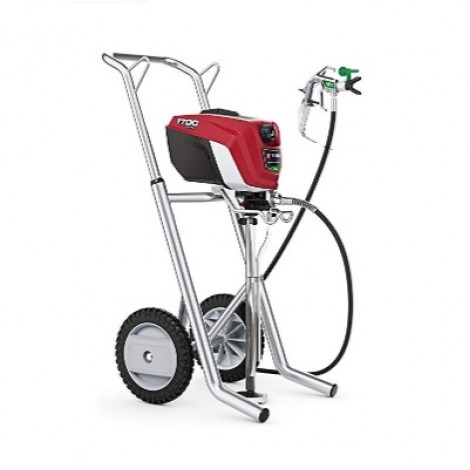 Here we have an ergonomically designed sprayer that every painter wants in its equipment. Titan ControlMax is made to provide good painting results, but also to give you a full and easy painting experience. No matter if you're a professional or not, you'll just love this product!
Expand to see more
Great Capacity
What distinguishes this model is great speed, control, and the ability of consistent spray. Its max operating pressure goes up to 1500 PSI, which is decent power for almost any medium-sized task. Titan can pump out 0.33 gallons per minute, and annual recommendation is 300 gallons. Well, this is an impressive feature. However, what users didn't like about this sprayer is the fact that it tends to clog - a lot!
Additional Features
Titan is placed
on two-wheels for better mobility
. The pump is located in a polymer casing that also has a compact area in case you need to store additional accessories for this sprayer. The gun has an ergonomic design which makes it easy to use, and it's connected to the unit by 50 ft long hose. This longitude is enough for many different tasks, but if you want to extend it the sprayer also supports the 100 ft long one.
Cost and Value
There is only a little room for doubt that Titan could deliver great performance. With 300 gallons per year, it can paint so much that even professionals would be satisfied with it. In the end, it has such a good price for one big sprayer that we can't even criticize it for its flaws.
Pros:
Good speed and control
It has the ability of consistent spray
Ergonomic design
Great mobility
Great value for money
Criteria Used in Evaluation of the Best Airless Paint Sprayers
No matter if you're a professional that paints for a living, or a newbie painter that wants to do all house painting tasks on your own, it's important that you choose the right kind of product for your needs. That's why we thoroughly researched before we made our top 10 list of paint sprayers, and this was our criteria:
Overall Performance
The main thing was to establish what is the overall performance of the airless paint sprayers. The ones with stronger power motor can pour out more paint and finish a painting job in no time. However, accuracy was also an important thing to consider. Every painter wants to have a flawless finish and that's possible only if you have the right tool in your hands. The sprayers that have more adjustable options made to the top of our list because they allow the full control over the painting process.
Portability
Another important factor in the evaluation was the mobility of the airless paint sprayers. Whether we want to paint walls, ceilings, windows or front decks, we need a tool that can be moved around easily. Noting consumes time like a big tool. With a light portable sprayer, you can easily reach all demanding areas.
Ergonomic Design
When we use painting tools like brushes and rollers fatigue strikes in a few minutes. Moving the brush up and down gets your hands and shoulders tired very quickly. That's why many resources were invested in making fully portable sprayers which wouldn't cause any similar problems. We did our evaluation according to this important feature – it's essential that your airless paint sprayers doesn't cause any discomfort and pain, and that you can use it easily every time you need to do some repainting around the house.
Cost and Value
Last but not least, the price was an important thing for evaluation, especially when we're considering to purchase painting tools that should have a longer lifespan. It's natural that you don't want to spend all your money on airless paint sprayers when you only want it for DIY repainting tasks, but even if you do, it's important to get a valuable product. There are many paint sprayers that offer excellent performance and don't cost a fortune! However, for real DIY enthusiast and professional painters, we still have some more expensive products on our list because nobody can deny their great value.
Other Factors to Consider
If you were searching for the right airless paint sprayers, you're probably impatient to make the purchase and try it as soon as possible. However, there are some things you might want to consider before you make your final decision and buy your new shiny airless paint sprayers.
Power
As we have already mentioned above, the airless paint sprayers with a powerful motor can produce more paint and pour it through the gun faster than a regular sprayer. The thing you want to look for is high PSI (pounds per square inch) that tells you whether the sprayer is good for large or small painting jobs. However, before all of this, you need to determine what do you really need to paint! If you establish that you won't be dealing with large surfaces, the smaller sprayer would be good enough and you won't even feel its drawbacks. On the other hand, if you really want to cover a wide area, you should aim for more PSI because it will significantly reduce painting time.
Adjustable Features
Whether you want to use your sprayer outdoors or indoors, or maybe both, you want the one that allows you to adjust its features. When you can raise or lower the pressure, you can meet every job's requirements. It provides more accuracy and flawless finish even for a newbie painter.
Size and Weight
Size and weight of the airless paint sprayers are important factors that can make your life way easier. If you don't need big sprayers for commercial tasks, you'll be more than satisfied with a smaller tool that's easy to move around and to store anywhere. Even if you need a sprayer that can paint large areas effortlessly, you should look for units that are more portable e.g., that can be placed on wheels. A powerful motor doesn't always exclude good mobility!
FAQ
Frequently Asked Questions
Q: Are airless paint sprayers better than paint tools like brushes and rollers?
A: Absolutely! If you ever used brushes and rollers, you know how time-consuming they are. First, you need to protect the whole area from dripping paint, and then you have to face things like frequent cleaning and pain in your arms. In the end, you're not even satisfied with the final result. Airless paint sprayers give you the professional finish in no time, providing easy and simple painting. It's true that they cost more than brushes and rollers, but don't forget that they last longer and therefore you won't be needing any additional tools for quite some time.
Q: How should I clean the airless paint sprayers?
A: Most airless paint sprayers are simple to clean with some water and soap. The process is even easier if the painter is designed to break up into pieces so you can clean them separately. However, you should use only water for latex, mineral spirits for oil-based materials a lacquer thinner for lacquer. Keep in mind that maintaining your sprayer means prolonging its lifespan, so clean it after every use and you shouldn't have any issues.
Q: Do I need to wear a spray mask or respirator?
A: Yes, it would be the smart thing to do. If you don't have them, a simple dust mask will do but make sure you have something. Your lungs weren't made to filter fumes so you need to protect yourself.
Q: Can I spray paint indoors?
A: You can, indeed! Just make sure that you protect the room and yourself before you start. You may want to open the windows to let some fresh air in the room. If you need the sprayer for indoors, the best option is to search for ones that are specially designed for that kind of job. Smaller paint sprayers offer more accuracy and efficiency on smaller areas than bigger ones.